The Great Buenos Aires Beer Hunt
The Buller brewpub in Recoleta is one of the few places in Buenos Aires where you can get a proper pint of beer. 'Proper', of course, refers to two things. Firstly, beer served in a traditional pint glass. That is key. Beer just tastes better that way. But secondly, and far more importantly, the BEER MUST TASTE GOOD, and not like the mass-produced, sub-standard brews that are served in the majority of bars across the world, and is especially prevalent in Argentina, where Quilmes, high on preservatives and additives but low on any kind of taste whatsoever, prevails.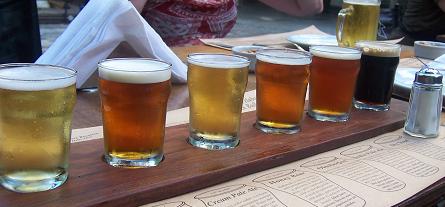 A Short Introduction to Beer in Buenos Aires
Asado Argentina wrote an excellent introduction about beers that are available in Argentina, although it doesn't make for great reading for a beer fan… there is not a whole lot of flavorful beer to be found easily here, and most of the time you will have to make do with the usual suspects of Quilmes, Isenbeck, Brahma (from neighbors Brazil), and some 'international' beers that are actually made under license in Argentina and are closer to Quilmes than anything else: Heineken, Warsteiner, Budweiser and Stella Artois. In fact, it's probable that Quilmes brews most or all of those in Argentina too!
There are fortunately some far better beers to be found in Buenos Aires, but you are going to have to hunt them down. An excellent starting point for such a search is this beer 'scooping' report on Buenos Aires, which shows that there is a large amount of small breweries and brewpubs dotted around Buenos Aires, waiting to be found… but also that many are closing, probably due to lack of business.
Anyway, Buller, is as good as any place to start.

Buller: The Beer
For a more in depth description of each of Buller's six brews, check out  BA blogger Ken's review. To sample the full Buller range, you needn't drink six pints (although it is tempting), instead order the sample taster that Buller do for an affordable price, with cute little quarter pint glasses, as seen in the pictures above and below, with names shown on the table placemat underneath:
As you will note from Ken's posting of his over-the-top tasting notes, the best beers at Buller are the refreshing Light Lager, the deceptively alcholic and complex Honey Beer and the coffee-chocolate Dry Stout, with the 'Cotton Candy' Oktoberfest not far behind. Really the Cream and Indian Pale Ales are nothing to write home about, and did not contain the level of hoppiness that beers in that style should.
Buller: Recoleta Location, Recoleta Prices
The pub is located in the 'tourist strip' of bars, clubs and restaurants that runs along calle R. M. Ortiz, right in front of that most famous (and fascinating) of Buenos Aires tourist attractions, the Recoleta Cemetery.
However, Buller is probably one of the most pleasant places along this strip, almost completely due to the nice patio area it has out the front (see right).
Prices may run a little steep for the home-brewed beer, especially if you are comparing a pint at Buller to a liter of Quilmes at your local supermarket. However, it does taste two to three times better than Quilmes, so keep that in mind. And combatting the higher prices are the happy hour specials, which last from 6-9pm every day.
Bottoms up!
Location of Buller Pub and Brewery
Presidente Roberto M. Ortiz 1827, between Guido and Quintana, Recoleta
[Other location: Paraguay 428, City Center]
Tel: 4808-9061/2
An International Pizza Phenomenon
Piola is an international chain of pizzerias, originally hailing from Treviso, Italy, but now with many restaurants in the USA, Mexico, Chile, Brazil and Argentina. However, it seems as they spread far and wide, they didn't lose much of the supposed stereotypical Italian arrogance on arriving in Buenos Aires. Here's a little example from the Piola website:
"Piola opened in Argentina in 1993, straight from Treviso, Italy. It revolutionized the Buenos Aires food scene to the point where the local press talks about pre and post Piola eras."
A little dramatic, yes, but it's all well and good that they are so sure about the groundbreaking quality of their food. Read on to see if Piola's claims are strong, or if their exaggerations are nothing more than just that.
Stylishly Decorated Interior, Stylishly Slow Wait Staff
The surroundings and atmosphere are certainly not disappointing at Piola – it's clearly hip, trendy, cool. Based in up-market Recoleta, pop-art adorns the walls, the long thin entrance bar is very stylish, there is a lovely little courtyard out the back (see picture below) – perfect for summer evening meals with friends, and of course, many of the thin young waiters and waitresses are as pleasant to look at as the surroundings.
Well, the wait staff had to be hired for something, because they certainly don't do much waiting. The diners are the ones that have to wait at Piola. Service here can be painfully slow, starting with waiting to be acknowledged when seated, and continuing all the way through the night to the long-awaited arrival of the bill. Even by Buenos Aires standards, service is very slow and impersonal at Piola, so take that into concern when planning the rest of your evening.
The Pizza at Piola
Above is the small Quattro Formaggi, representative of  the pizza at Piola which is, as you would expect, more traditionally Italian than the Argentine versions you get in most pizzerias in Buenos Aires (not that the Argentine versions are bad, try the pizza at Guerrin and Banchero for a more local style). Whereas those Argentine pizza versions are big on mozzarella and fluffy dough, Piola does a more understated Italian style ('less is more' for the toppings) that also goes down very nicely indeed.
It is pizza a la piedra, in that it is baked directly on the stone (piedra) floor of the oven (which just about can be seen in the next picture below, behind the chef) and a thin crust version of this style, although it is soft rather than crispy.
Piola Argentina: Nice Food, But a Little Pricey
Yes, the pizza is very nice, but it is a little on the caro (expensive) side. A small pizza for one may cost twice as much than many grande (large) pizzas at local spots. Also on the menu are pastas, including a nice but simple affair called Spaghetti Alla Crudaiola (fresh pasta, tomato, buffalo mozzarella, olive oil, basil and parmesan shavings), as well as coffee and desserts – all a bit overpriced. Nevertheless, it must be noted that BA blogger Robert says that the tiramasu at Piola is 'to die for' (see the 1st comment of that post, by Robert), so it may be worth a taste.
Location of Pizza Piola, Buenos Aires
Libertad 1078, between Av. Santa Fe & Marcelo T de Alvear, Recoleta
Tel: 4812 0690,  Website: http://www.piola.it/