Legendary Locro for the May Revolution
In the heart of Alto Palermo, just in front of where the 41 & 59 buses let off behind the sprawling Parque Las Heras, you will find a curious little hole-in-the-wall with a BIG reputation for serving up authentic regional Northern Argentine cuisine.
A pulperia as its fading, weather-worn storefront sign proudly displays, is the name given to a restaurant that serves the "food of the gauchos" – a classification that is strongly reinforced by the many framed images of this classic Argentine cowboy hanging slightly askew from its walls.
Clearly, this place isn't going for any interior design awards, but that hasn't stopped its famed owner Hector from winning the awards that count: the culinary kind.  One look at his front window emblazoned with effusive praise from Guía Oleo (Buenos Aires' version of Yelp) and TripAdvisor says it all.
The May Revolution / Locro Connection
The BuenosTours team came here in search of a piping hot bowl of Hector's lavishly lauded locro – Argentina's national dish – to celebrate the Día de la Patria, or the anniversary of the May Revolution.  What we found was the faithful reproduction of an indigenous dish that warmed our bellies and spirits on what turned out to be a cold and rainy day in Buenos Aires.  Apropos, since the weather on that fateful day back in 1810 was similarly sopping, but saw a sudden break to sunshine the moment Argentina's independence was declared from the balcony of the Cabildo.  Legend says that this is why the sun appears on the Argentine flag to this day!
After waiting for 2 hrs+ in a line that spilled out 30 people deep in two directions on the sidewalk (one for eat-in and one for take-out), our crew enjoyed an assortment of not only the luscious locro, but a pile of crispy-on-the-outside, soft-on-the-inside empanadas, topped off with the traditional May Revolution dessert of membrillo (quince paste) over a slab of soft white cheese (our sources tell us membrillo was served in little pockets of fried dough by street vendors shortly after independence was declared, which seems as dubious as the sun/flag story, but equally as fun).
In case you're wondering how locro came to be forever associated with this national holiday, remember that the transition from Spanish colonial power to the first Argentine self-government (the so-called Primera Junta) was desirous of a symbol of something distinctly local and Latin in origin.  And what better symbol than a tasty dish from the indigenous Cuyo tribe of the Northern Andes?  There are few things more appreciated here than food, and few things more "local" than honoring our South American mainland ancestors.

In Hector's Words
Hector was kind enough to step away from his duties as both primary server and Man of the Hour to grant us a quick interview so we could find out what all the fuss was about.
BT: What province does your menu represent?
Hector: All of the food comes from Salta, in the North.
BT: How did you learn how to cook this regional cuisine?
Hector: I learned from my father in Salta, who always had regional food in the house.  It was nothing more than wanting to continue the culinary traditions that existed in my house when I was growing up.
BT: And what are the typical foods of that region?
Hector: Locro, tamales, and guisos, among others
BT: What is your favorite flavor of empanada that you offer?
Hector: I like the Salteña, which contains spicy beef and potatoes.
BT: How was this restaurant born?
Hector: This restuarant was founded in the year 1963, when I was still just a boy.  I came to work here in 1973, and in the year 2000, the owner of this place didn't want to keep going, so I took it over with 3 others.  We have continued all the same traditions; we haven't changed a thing.
BT: And one more… what is the origin of the name "Ña Serapia"?
Hector: The word Ña is short for doña, which means woman in the local dialect, and Serapia was my mother's first name.
So there you have it, folks.  A hearty thank you to Hector for keeping the delicious culinary traditions of Salta alive, and for gracing us with an unforgettable bowl of chorizo and hominy stew to celebrate this momentous occasion in Argentine history. Best locro in the city?  It's hard to say without sampling them all, but we'll let the local patrons – one of whom told us that he has been coming here for over 30 years every May 25th for the locro alone – be the judge!
For more information, check out the Inside Buenos Aires and My Beautiful Air blogs, which both mention our main man above.
Address: 3357 Avenida La Heras
Barrio: Palermo
Phone Number: +54 11 4801-5307
Inventive Mexican food in an intimate setting
[Photo courtesy MASA Club de Tacos Facebook Page]
When I tell Argentines that what I miss most about the US (other than family) is the Mexican food, they don't get it.  You see while famous for its beef and wines, Argentina is not known for its food diversity – and forget about spicy foods.  Growing up in Arizona, Mexican food formed the nucleus of my diet, and continued to do so when I moved to California and basically survived on burritos.
So when I heard about a new Mexican-inspired puertas cerradas restaurant in Buenos Aires, I knew I had to check it out. I've scoured Palermo for good Mexican food joints, but I usually end up disappointed and nostalgic. Somehow spending 300 pesos on mediocre tacos and leaving without flaming lips, having doused my food in the "extra spicy" sauce, feels traitorous to my roots. I figured a fellow West Coast yanqui would get it.
Simple, tasty, and creative Mexican-inspired cuisine
Kevin, the creator of MASA Club de Tacos, gets it. MASA is named after the heart of Mexican cuisine, the masa or dough used to make tortillas. In Argentine Spanish, however, masa while still meaning dough, is also a slang term for a cool person. Dinners are hosted every Thursday night in a residential home alternating between Belgrano and Almagro. Guests typically reserve in small groups, and the mixed company provides a perfect opportunity to meet new people — especially Argentines! The experience feels more like a warm dinner among friends than a private restaurant, and the price scheme adds to that feeling: each guest pays what they deem to be the value of the meal, and brings their own beverages.
I arrived with my Argentine partner last Thursday at the Almagro MASA location, and was immediately made welcome by Kevin, a laid-back and friendly California native. He lead us to the kitchen where his quirky and fabulous right-hand-lady Evy was busy with prep work. We chatted about Mexican food in BA and the US as the cooks prepared appetizers. When the rest of the guests arrived, a family from Bahia Blanca and a few young Argentines who work in the tech sector, we settled into the living room, discussing the emerging kite surfing scene on Argentina's Atlantic coast.
Dinner is served!
While we chatted with our fellow guests, Kevin and Evy served us baskets of fried avocados and a creamy jalapeño salsa. To my delight, the salsa sent steam zipping through my nasal cavities! The Argentines seemed a little overwhelmed by the spice, and warned me against dousing the palta slices, but I just couldn't get enough. The avocado was warm and creamy, without being over fried. Delicious.
To avoid gobbling up all the slices on the table, I ventured to the kitchen to find the Negra Modelo I brought with me. With the new Daft Punk album and some classic Outkast tracks pumping in the background, the cooks were preparing the first dish. I asked about the concept of restaurant, and Kevin explained it as an elevated spin on Mexican street tacos. He founded the project after working on a local website with a cultural agenda, with the ideal that going out in Buenos Aires shouldn't have to be exclusive to those who can afford a pricey meal. That's how he came up with the unique, pay-what-you-can price: it makes the hip closed-door phenomenon accessible.
I scuttled back to the table as they plated the salad, an absolutely divine grilled cabbage salad with mango, tomato and a creamy vinaigrette. The cabbage was perfectly grilled to eliminate bitterness but still be crunchy, and my boyfriend has been begging for grilled cabbage since. Peppered with mango slices, the salad was mildly sweet but still light and refreshing.
"Don't judge your taco by its price" -Hunter S. Thompson
As we awaited the main dish, our fellow guests told us about an application they invented called Cook App which allows you to search puertas cerradas restaurants in Buenos Aires. It's like a go-to spot to find different venues on the lively underground restaurant scene.
And then came the main event: two tacos filled with pork carnitas with onion and cilantro, and chicken slow cooked in honey, jalapeño salsa, and blueberry juice, both served on homemade corn tortillas. The tortillas were the best I've eaten in Argentina; they were light and not overwhelmingly corn-y (as corn tortillas often can be), with a perfect touch of griddled flavor. Both meat fillings were delectable, and the pollo (chicken) was particularly juicy. The tacos were served with another salsa, this time made with the Peruvian Locoto chili, and I doused my tacos with the two spicy spreads to the horror of the Argentines. Once again, the tacos delightfully blended sweet and savory flavours.
Swooning in a taco-induced reverie, we cleaned the juice off our hands and discussed the spectacular tortilla masa. The strawberry cupcakes came right at the perfect time and perfect closure for the pallate. Again, these were not too sweet, and the cake itself was spongy and exuded fresh strawberry goodness.
While the family had to leave early, we stayed and talked with Evy and Kevin. We laughed about Argentine and US American cultural differences, and Kevin even admitted that he made corn tortillas since he knew I was coming. Argentines, apparently, are much easier to serve Mexican food. "They pretty much love anything we serve them," noted Evy, while those of us from the US, on the other hand, have lots of expectations about Mexican food. True enough. Overall, I felt the dinner combined traditional Mexican ingredients into fun, and unique dishes.
Our hosts regaled us late into the night with stories about demanding clients, the joys of menu planning, and what it was like serving the rock group The Black Keys.  The MASA Club de Tacos is a unique, friendly experience.
If you'd like to reserve a spot at the next MASA Taco dinner, find further details on the MASA Club del Taco website, or visit their Facebook page. Vegetarians and those with diet restrictions, never fear! The MASA team is willing to accommodate to your requests. Read  more reviews of the restaurant on My Beautiful Air or The Argentine Independent, and happy eating!
An intimate dinner party in the chef's own home

[Photo courtesy of Dan Perlman]
There is something slightly surreal about attending an intimate dinner party in a private home at which the ten guests are total strangers and the host is mostly a background presence, periodically emerging from the kitchen to introduce the dishes and wines before hurrying back to prepare the next course. With diners from Argentina, the United States, Ireland and England, the language at the table switched between English and Spanish and the conversation topics spanned the globe. By all accounts a fairly typical night at Dan Perlman's 'closed door' ('puertas cerradas') restaurant Casa SaltShaker in his apartment in the Recoleta neighborhood of Buenos Aires.
From the outset, eating at Casa SaltShaker is unlike going to a normal restaurant. Dinner places are by reservation only and the address is only revealed once the booking has been confirmed. Guests are warned to inform Perlman in advance of any allergies or dietary requirements, leaving him free to dream up the dishes on the five course set menu, which are usually created on a whim. As Perlman explained, he rarely serves the same dish twice.
Eclectic guest list
Arriving at the apartment block shortly before 9pm (guests are asked to arrive between 8.45pm and 9pm; dinner is served at 9.15pm), I was unsure what to expect. As I rang the doorbell, I wondered what language I should speak. I was greeted by Perlman's partner Henry, who I followed into the apartment, a bright, modern and homely ground floor duplex with shelves stacked full of cookbooks, paintings and family photographs on the walls, low lighting and an outside patio. Elton John was playing in the background. As I was the last to arrive, I could see the other nine guests standing together in a circle in the living room talking. I was handed a ginger, Pineral (an Argentine aperitif) and pink grapefruit juice cocktail and I went over to introduce myself to the group.
Among my dining companions were a couple from Ireland, a Rosarian couple who were in Buenos Aires to visit their son, who was also at the dinner, and a couple from Oregon and their parents / in-laws. We all sat together at a large square table, set with neatly folded napkins, place mats and a promising selection of several different glasses – Perlman is a trained sommelier and each of the five courses was paired with a glass of specially selected wine.
On tonight's menu…
The printed menu awaiting us at the table informed us that the first course would be 'salatit banjan y satata banadoura'. This turned out to be two Middle Eastern style salads, one with tomato, red onions, chili and prawns and the other with aubergine, green pepper, lemon juice and cockles, served on a camembert cheese tuile. The unusual combination seems typical of Perlman's idiosyncratic cooking style and is certainly not the usual Buenos Aires fare. The Nieto-Senetiner Brut Nature champagne we drank with it was even better.

[Photo courtesy of Dan Perlman]
Next up was a truly delicious cheddar and English ale soup served with homemade bread, my favourite dish of the night (how I would love a bowl of it now). Perlman explained that he usually puts a soup of some kind on the menu, since good soup can be hard to come by in Buenos Aires. This one was paired with a Terrazas Chardonnay Reserva.

[Photo courtesy of Dan Perlman]
The course that seemed to be the most popular of all, however, was the one that followed: freshly made pappadelle pasta with peppers, butter beans, walnuts, lemon zest, garlic, rosemary and olive oil, washed down with a Escorihuela Gascon Rosado.

[Photo courtesy of Dan Perlman]
Then came the maincourse, seabass wrapped in Serrano ham with potato risotto, portobello mushrooms with 'mustard caviar' (mustard seeds that are inflated like popcorn). In a city where there is generally a huge chunk of meat at the center of every evening meal, it was a welcome change to eat fish, which was succulent and served with a Malbec reduction sauce.
Although I am not generally keen on deserts, I really enjoyed the slightly unusual passion fruit cheesecake with a coconut crust. It was not too sweet (perhaps why I liked it so much), although it was served with an incongruous dollop of dulce de leche. As we lingered around the table chatting I felt so relaxed I hardly wanted to leave. Luckily Henry came round with a large cafetiere of strong black coffee to give us the boost we needed to head out into the night, full and content.

[Photo courtesy of Dan Perlman]
If you would like to have dinner at Casa Saltshaker, it is necessary to book in advance. For more details on how to make a reservation see the Casa SaltShaker website.
For more about Casa SaltShaker and other 'closed door' resaturants in Buenos Aires see this post in the Argentina Intependent, and A Life Worth Eating's write-up.
Food, wine and instruction on all things porteño

[Photo credit: courtesy of the Argentine Experience]
Dinner at the Argentine Experience is much more than its headline dish of exquisitely cooked fillet steak accompanied by free-flowing Malbec. It is more like an intensive crash course in Argentine culture, complete with empanada and alfajor making sessions.
From the Porteños' fondness for expressing themselves with a wide range of hand gestures to the intricacies of the mate ritual, Argentine customs can be baffling (first-timer mate drinkers beware: NEVER use the bombilla (metal straw) to stir the yerba). For this reason the Argentine Experience is jointly hosted by an expat who understands how strange such idiosyncrasies first seem to outsiders and a local who offers an insider's view.
Shaken, not stirred

[Photo credit: courtesy of the Argentine Experience]
Arriving early for the optional pre-dinner wine cocktail mixology and aroma class, first up was a cocktail making workshop in which the secret ingredient in every 'Malabeca' or 'Torrontea' was wine. Setting the tone for an evening in which interaction was key, we were invited to don a bow tie and step behind to the bar to have a go at mixing ourselves. It's safe to say the raspberry, gin and Malbec & Merlot based rose wine 'Raspberry Blush' cocktails I prepared were a hit. Less successful was my attempt to identify the 20 aromas commonly found in wine by smelling a condensed liquid essence of each one. Not as easy as it sounds.
Ready, steady… cook!
The Argentine Experience started life as a 'closed doors restaurant' in the apartment of founder Leon Lightman and even after the move in 2012 to more restaurant-like premises in Palermo Hollywood it has retained an intimate atmosphere. The new building is modern and light with a sleek downstairs bar area and an upstairs dining room, with two large chunky wooden dining tables and shelves of colorful mate gourds serving as decoration.

[Photo credit: courtesy of the Argentine Experience]
The communal dining tables are the first clue that the Argentine Experience is very much a group effort. Socializing with your fellow guests is compulsory, and the first act of team bonding is to put on a checked apron and chefs hat, ready for action. Our first task was to prepare empanadas (the ubiquitous little savory pastry pies that are usually filled with minced beef). With bowls full of slow-cooked beef stew, onions cooked in Malbec, vegetarian ratatouille and cheese in front of us it was difficult to heed our host Richard's advice not to overfill the empanadas. He showed us how to seal them and fold the pastry in the traditional way.
With our empanadas cooking in the oven, our next challenge was a creative one: the novelty empanada competition. Entries ranged from a recreation of Maradona's 'hand of God' goal to a dinosaur, the winner being a graceful, meat and onion filled ballerina. The winner received a jar of homemade chimichurri sauce and eternal glory in the form of a place on the Argentine Experience empanada wall of fame.
Twenty-four hour steak-out
As the Malbec flowed freely and mini dishes of provoleta cheese and choripan were brought out, we exchanged travel stories and talked to our hosts about Argentinian football. Then, proceedings were brought to a hushed standstill as the evening's star guest was introduced.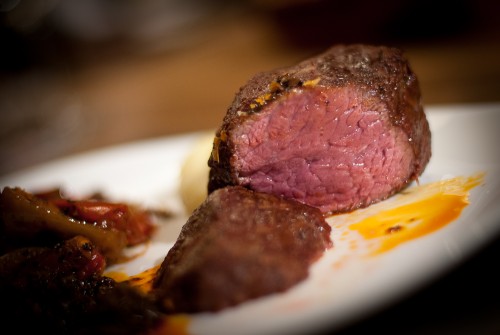 [Photo credit: courtesy of the Argentine Experience]
The steak, Richard explained, had been subject to an extensive screening process. Owner Leon had embarked on a six month pilgrimage across Argentina, tirelessly visiting cattle ranches in search of the perfect beef. The tenderness of the fillet steak we were to eat, he continued, was the result of a finely-honed 24 hour preparation process, involving leaving the meat uncovered in the fridge overnight before flash frying in a hot pan to seal the juices, then flipping it rapidly to ensure an even distribution of meaty juices. For this reason it could well be the most tender meat we had ever eaten, Richard concluded with a flourish, as drool ran from the corners of our mouths.
Naturally, such a steak deserved a serious wine to accompany it, so we would be served a deeper, more full-bodied Malbec. As we ate our main course, the intelligent conversation of earlier in the evening was replaced by a series of grunts and munching sounds. Nobody was disappointed with their steak.
Note: Fish and vegetarian options are also offered, and those who went for them on the night were very impressed with the quality of those dishes. 
Post dinner parlor games

[Photo credit: courtesy of the Argentine Experience]
And so in a Malbec and steak induced state of bliss we were entertained by tutorials and practice sessions on Argentinian hand gestures, preparing mate and making alfajores (dulce de leche filled, chocolate covered biscuits).
Those of us for whom the bottomless wine had made everything a little hazy were reassured to learn that note-taking would not be necessary; an Argentine Experience aftercare email with all the essentials would arrive the next day. So there would be no excuse not to put our new cocktail-shaking, empanada-baking, alfajor-making, mate ritual-partaking and hand gesture mickey-taking skills into action. Try saying that after one too many glasses of Malbec!
For more on the Argentine Experience, check out Cara from Anuva Wine's write up, this post by Tim Fitzgerald on the BBC travel blog, Not quite Nigella's thoughts here and this post by Alison Westwood on the Getaway blog.
Location of the Argentine Experience in Buenos Aires
The Argentine Experience, Fitz Roy 2110 (between Soler and Guatemala), Palermo Hollywood
Lively, open-air steakhouse in Buenos Aires
Walking through Palermo Hollywood for the first time in September, I saw several chic restaurants . Then I got to the corner of El Salvador and Fitz Roy, where a crowd hummed outside a bustling restaurant, and something immediately appeared different.
Las Cabras had me at hello.
This parrilla offers big plates, wonderful ambiance and a price tag that will satisfy any patron. Simplicity distinguishes Las Cabras from other restaurants in the area. Red, wooden tables dot a pebble-covered, shady patio on the Fitz Roy corner. White, crayon-ready paper serves as your tablecloth. The warm lighting from inside helps illuminate the patio, which encompasses both sides of the corner. The place beams with energy and smiles from one table to the next.
Las Cabras is great for a couple's dinner or a reunion with friends. I often see people on dates inside and groups of ten or more outside. It's the kind of place where dinner can last for hours and you can sit, enjoy your company and indulge in Argentina's prized commodities for as long as you like. You're bound to see other travelers or expats at Las Cabras, but porteños dine here nightly as well.
Delicious Argentine foods
My go-to for steak is entraña (skirt steak), which comes with two healthy strips of meat and a Caesar salad. Asado de tira (braised short-cut ribs) is another popular choice among my expat friends. Typical Argentine cuts – ojo de bife (rib-eye steak), bife de chorizo (sirloin) – are on the menu as well.  However, despite being very much a parrilla, the diverse menu at Cabras also reaches out to vegetarians.
The pastel de calabaza y miel (Squash and honey and pie) may be the most delicious, filling and affordable dish in Buenos Aires. It comes in a heavy clay bowl, topped with a layer of melted cheese. The pastel is mashed squash filled with veggies, a really tasty creation that will end any of your hunger pains. The honey adds a light, sweet finish to the taste buds. The salads and antipasto plates at Cabras are also big hits given their ample size and tasty ingredients.
But if you're a carnivore and you only have one night for Las Cabras, you must challenge yourself to the Gran Bife de Las Cabras.  This huge plate includes a sirloin steak, cooked to your preference, and a plethora of sides: fried veggies, a slab of grilled provolone cheese, French fries with a fried egg on top, rice and mashed squash. You may not need to eat breakfast the next day.
The only precaution with Las Cabras is the wait. If you arrive after 9pm, especially on the weekend, expect to wait at least 30 minutes. An 8pm or 8:30pm arrival time should help you avoid rush hour.
Despite any delay to your meal, the fun atmosphere, quality of food and affordability will keep you coming back to Las Cabras for more.
Where is Las Cabras?
Getting there: Unless you know the bus system or take a taxi, bring your walking shoes. The nearest subte stop on the D line is the Palermo station. From there walk two blocks up Santa Fe, go left on Fitz Roy and walk seven blocks to the corner of Fitz Roy and El Salvador.
On the B line, get off at Dorrego, walk twelve blocks along Bonpland, turn right on El Salvador and go one block to Fitz Roy.
The 108 bus line stops within a block of Las Cabras, and it also goes through Recoleta on Av. Santa Fe, plus through Palermo at Plaza Italia.
Could the best American BBQ be in Buenos Aires?
The smoked meat hit my taste buds, I dropped my utensils, sat back in my chair and smiled. This progression of events occurred several times last week at El Tejano (The Texan) in Palermo. An East-Texan expat who landed in Buenos Aires seven years ago, El Tejano is introducing Buenos Aires to BBQ in a way I've never seen in the United States.
I'm no Anthony Bourdain, but I am a BBQ foodie. I've eaten brisket and ribs in New York, Connecticut, Maryland, Virginia, North Carolina, South Carolina, Texas and Florida. You could say I like it.
Buenos Aires boasts of its world-renowned steaks. Steak grilled on the parrilla (large, brick grill) is a staple here. Meat is never cooked on anything but a grill.
Smoked meat is an untold story in Buenos Aires, largely because it doesn't exist. No restaurant in the entire city uses a smoker to cook its meat. Tejano built his own smoker. Thus, when I heard about his private dinners, I quickly contacted him. My expectations were high. El Tejano guaranteed the dinner would be all-you-can-eat. Given that my group of five hadn't seen BBQ all year, barely ate all day and didn't stop talking about our dinner for the week before, I doubted if we would actually have as much as we wanted.
Puerta Cerrada in Buenos Aires
We arrived at a beautiful, private dining room in Palermo Soho. Puerta Cerrada – closed door – dinners are a tradition in Argentina. Although often held in someone's home, El Tejano serves his clients in the Anuva Wines tasting room.
We started off with homemade guacamole, hot sauce and corn chips – all three tough finds here – to appease our hunger. Shortly after, Tejano brought out a black-jalapeño cornbread with dill and pickles. Sweet cornbread with a small, spicy kick. Once the freshly-made coleslaw and sweet tea came to our table, I knew the meat had to be next. Expectations peaked, glands salivated and five friends waited in anticipation for a taste of home.
When Tejano walked the brisket to our table on a huge cutting board, my face froze in half-smile, half-jaw-on-the-floor. It was huge. He cut through the black outside and unveiled a perfect, pink-ringed brisket. Slow, wispy smoke billowed out. It was so tender, when Tejano cut it, the slices crumpled into little pieces. Paired with a sweet, hint-of-cinnamon BBQ sauce, the 8-hour-smoked brisket had excellent texture, flavor and color. My first servings quickly turned into seconds and thirds. It was only the beginning.
If I had any regrets, it was sprinting too soon into this marathon. I thought when we finished with the brisket, Tejano had run out. But I was happily wrong, as our empty cutting board was exchanged for a new one with another slab of brisket. This time we only got through half of it.
After my third serving of mouth-watering, smoked brisket and second of coleslaw, Tejano served us the pork ribs. Juicy, soft and flavorful come to mind. Although the BBQ sauce paired well with the brisket, the pork ribs stood better on their own. To aide our meat binge, Tejano gave our table a corn-bean-jalapeño salad that helped compliment the BBQ.
To put an exclamation point on our dinner, a creative, third meat – Matambre – finished the meal. Stuffed with green apples, cinnamon and onions, the Matambre was also "injected," with Coca-Cola to break down the fat deposits and offer the cut a sweet, meaty taste. Matambre – which basically means "kill hunger" – is a fairly typical meat cut (similar to flank steak) in Argentina, and that's exactly why Tejano uses it. With some creative design and additions, Tejano presents Argentine meat in a whole new light.
A wonderful glass of Malbec completed the marathon to BBQ heaven. Through the food, we really learned about a veteran expat…
The Man Behind the Meat
While serving endless portions of BBQ, Tejano, or Larry, detailed how he smoked the meat, made the cornbread and decided what to pair the BBQ with. This wasn't just a waiter telling us the specials at a restaurant. It was a man explaining his passion. His electric smile glows while he describes smoking the meat and all the details involved. We had no idea what a black jalapeño was until he educated us on the pepper's varieties and why he experimented with this one on his cornbread. We learned that growing up in Austin, Tex., BBQ wasn't something he learned about, it was inherited, passed down through his family.
Larry also provided snippets of his life here in Buenos Aires. He moved here seven years ago after literally flipping a coin. One side meant a move to Chile, the other to Argentina. It landed on Argentina. Larry began serving private dinners earlier last year, and is hoping to do much more. He sells his own homemade hot sauce and wants to to have it manufactured in Argentina soon. The idea of a BBQ food truck in Los Bosques—the parks in Palermo—also interests him. Larry grows his own peppers in a green house in Buenos Aires. When he talks about his plans, clear ideas percolate in Larry's mind at all times. His conviction, energy and enthusiasm make his customers his biggest supporters.
It's his story that puts his BBQ over any other I've ever eaten. The food on its own will keep me coming back, but such a unique expat tale will interest any visitor to Buenos Aires.
The personal attention and stories, accompanied by an exceptional dinner of such an iconic, American food genre, make El Tejano stand out among food innovators in Buenos Aires. We left the dinner hungry on only one question: what will he do next?
To reserve a dinner with El Tejano
Website: www.eltejanoba.com.ar/events
e-Mail: [email protected]
Note: As with all "closed door" restaurants, El Tejano will send the exact dinner location upon booking.
Charming deli in Palermo Soho
Palermo hosts a bevy of restaurants, but few sandwich spots. For the shopping crowd, it may appear difficult to find a quick, tasty bite to eat to fuel your feet to the next boutique while you lug your mounting collection of bags. Plus, you may want to save your budget for the next store and not indulge in a time-consuming lunch.
Near the corner of Malabia and Niceto Vega, a small, colorfully decorated window welcome sandwich-lovers to one of the newest, and best kept, secrets in Palermo. La Francisca looks like a typical fiambreria, offering typical cuts of cured meats and fine cheeses. As you may see, La Francisca's sandwiches make it more of a sandwicheria – real word in Spanish – than a meat and cheese store.
Opened about two years ago, La Francisca is run by a quartet of lovely ladies, who like to practice their English! Last time I went, I tried ordering in Spanish but they kept replying in broken English. I caved and reverted back to English.
A great sandwich spot for shoppers
When I mentioned I was from New York, they suggested I try their hot pastrami sandwich. Yes! Finally, I found hot pastrami in Buenos Aires. Although they made comparisons to Katz's delicatessen in New York, which offers arguably the best pastrami sandwich in the world, this sandwich was quite different. But not in a bad way. In hindsight, I realized I didn't want a gigantic, melted-cheese sandwich that would leave me bloated the rest of the day. La Francisca's pastrami was wonderful, included all the same ingredients of a regular pastrami sandwich, didn't overwhelm and put a smile on my face for my walk home.
Despite the small space, any visitor can immediately see that the owners have packed plenty of character into the place. If you have to wait, there is a huge red lounge chair next to the cashier. They sell an artesanal (microbrew) beer brand "Boj," along with a small, but good collection of wines. Several high-quality jams, sauces and spices dot the shelves on the walls too. The price tags and descriptions are hand written. An outdoor bench lets patrons enjoy sunshine while nibbling on a mid-day sandwich.
The sandwiches are about a foot long, and there's plenty of options. My favorite is their proscuitto (jamon crudo), brie, dried tomatoes (soaked in olive oil) and arugula on a French baguette. Other sandwiches include salami, ham, pancetta and other cured meats. La Francisca also has vegetarian options, such as their eggplant-tomato-arugula sandwich. Each delectable item is prepared well, and isn't sloppy or greasy. The owners also seem unaware of their lucrative location in Palermo Soho because the menu is very reasonably priced – a foreign concept to a boutique-filled neighborhood.
Although La Francisca's sandwiches make it my go-to lunch place, the service almost outdoes the food. The ladies always make me feel welcome. I always find some new detail inside – old golf clubs, a dusty guitar – that add to its abundance of charm. La Francisca is a classic, local deli with Argentine character.
Where is La Francisca?
La Francisca, Niceto Vega 4712 (near the corner with Malabia), Palermo Soho
Telephone: 4771-0172; La Francisca Facebook Page
Open Mondays to Saturdays, 11am to 8pm
Feast all day long on pizza and cake at chef Pablo Massey's joint
The thin crust oven baked pizzas at TV chef Pablo Massey's Montserrat eatery, La Panaderia de Pablo (Defensa 269), seem like the chic Italian cousins who've come over from Naples to visit their doughy, greasy Argentinean relatives from Avenida Corrientes. But according to the chef proprietor, who spent three years in Florence honing his pizza-making skills, try presenting a Porteño with an authentic Italian pizza – tomato sauce, basil and buffalo mozzarella topping – and you'll be met with the response 'Eso no se hace' (that's not how it's done). Instead the crispy slices we were munching on were an Argentina-fied version, made with salty cow's mozzarella with fresh basil leaves on top.
All-day menu of pizzas, sandwiches and more
Although panaderia means bakery, La Panaderia de Pablo is, confusingly, not a panaderia at all, although they do bake five varieties of their own bread on the premises each morning, which you can also buy to take-away. Open from 8am to 7pm Monday to Thursday and 8am to late on Friday, it's a hybrid breakfast / lunch / afternoon tea place serving a simple all-day menu of pizzas, sandwiches, salad and steak along with a mouth-watering selection of pastries and deserts, washed down with Illy coffee, Tealosophy tea blends or wine. Recover from your hangover with Sunday's special brunch menu from 10am to 7pm (closed on Saturdays).
Chic, modern restaurant
Stepping off the history-steeped San Telmo streets into a modern, light-filled space with industrial concrete surfaces, chunky wooden furniture, exposed brick walls and heavy Portuguese cutlery, it feels more like New York's meatpacking district, or at least Palermo Hollywood. Walk past huge shelves stacked with bread, olive oil and balsamic vinegar, olives and pastries to buy and into the main dining room and watch the chefs preparing the pizzas in the open plan kitchen as you wait for your food. But for all its interior-designed style and the celebrity name above the door, prices are reasonable and lunch here need not feel like a massive splurge.
Indulge yourself
After a Fugazzetta (onion, mozzarella and olive oil pizza) or Fugazza (the same without cheese), tuck into the dulce de leche filled, meringue topped Torta Rogel (the best we've tasted) and though you'll feel like you never want to eat again you won't be able to resist stocking up on alfajores on the way out.
For other reviews of La Panaderia de Pablo check out the AhhArgentina's blog post and the review of Sunday Brunch on La Panza Porteña blog.
La Panaderia de Pablo, Defensa 269, City Center (Montserrat)
Telephone: 4331 6728       Website: http://www.lapanaderiadepablo.com/
Chicken is a vegetable, right?

[Original photo credit: lonecellotheory]
In Buenos Aires, the land of steak, it's gotta be hard for vegetarians and vegans. After all this is a place where people asking for meat-free options in restaurants will surely hear the waiter offer up dishes with ham or chicken in them, because, after all, they don't include any carne (beef).
Most people here in Buenos Aires simply cannot comprehend a life without beef, and who could really blame them for this standpoint, when 1. meat is so good in Argentina, and 2. eating beef is so ingrained into daily porteño life. However, if you come to Buenos Aires as a vegetarian or vegan, there are still quite a few dining options available…
Argentina's vegetarian & vegan food options
Some of the most successful vegan dining experiences in Buenos Aires can be had at Filo in Retiro (more or less the city center), where a delicious cheese-less pizza is an excellent choice, and at Bio in Palermo Viejo, where both seitan vegetable curry with coconut milk, and tofu in a Dijon mustard sauce grace the menu.
And there are of course, many other options for vegetarians in Buenos Aires, many of which are also applicable to vegans, or can be easily changed to be so by making a special request…
Vegetarian and vegan restaurants & food in Buenos Aires
Buenos Aires has a strong Italian immigrant heritage, and so pasta dishes are an excellent choice for the vegetarian (and many are suitable for vegans too) – you will find acceptable al dente pasta dishes in many Argentine restaurants.
Along the same lines, Pizza is an excellent choice here for vegetarians – some of the best available at Guerrin in the city center, Morelia in Palermo Hollywood and Banchero in La Boca. For vegans, cheese-less pizzas will be available at most pizzerias, in the form of fuggazza, a type of pizza made from just pizza dough, olive oil, oregano, and onions. But vegans should beware its close relation, the fugazetta, which also has cheese. In addition faina, a fried chickpea dough, is an excellent vegetarian accompaniment to pizza (eaten on top of your slice).
Despite sometimes having a lack of variety, salads are also a good option for vegetarians and vegans in Buenos Aires, and can be found in the majority of restaurants. OK, so many set salads include either eggs, ham or cheese, but in most places you will be able to armar (make/design) your own salad, from a number of choices, such as tomato, lettuce, onion, potato, green beans, carrot, avocado, palm hearts, and so on.
Dan from Saltshaker has a number of good suggestions for vegetarian and vegan food in Buenos Aires. On this page of his you will find his complete list of vegetarian resources and restaurant recommendations. For an interesting vegetarian option from his reviewed list, try Siempre Verde in Belgrano (for Chinese vegetarian food – which is also a good vegetarian option in many other Chinese restaurants and tenedor libres – all you can eat joints), or for a vegan restaurant suggestion, try Krishna Love in Palermo Viejo (scroll down on that page for the review).
For those veggie-lovers traveling with meat-eating companions, a nice compromise is Artemisia in Palermo Viejo, a serene and natural environment that boasts a fresh vegetarian menu of salads, woks and seasonal dishes – with a few fish options for those interested.
Another interesting, potentially spicy possibility for vegetarians in Buenos Aires is the California Burrito Company, in the city center, who offer up tasty vegetarian burritos and salads, which can also be suitable for vegans you pick and choose the ingredients appropriately – which is dead easy, because your burrito or salad is made at the counter right in front of your very eyes.
So there is some "food for thought" before you dine out as a vegan or vegetarian in Buenos Aires.
Read more about Vegan dining in an excellent post by the urban vegan, who came to Buenos Aires to hunt down some excellent vegan food options in Buenos Aires restaurants. She has also posted on Buenos Aires in general, including many fantastic photos of the city (and Colonia del Sacramento too). Go check it out!
Buenos Aires steak at its finest
When it comes to recounting an experience at La Cabrera, words just can't describe the ecstasy of enjoying one of their huge steaks or many other specialties. Take in the pictures or simply head over now to taste some of the finest steak in Buenos Aires, a city famous for its flavorsome beef.
[Image credit: aprillynn77 at Flickr]
La Cabrera  – Beef is the word
As you can see from the two nicely sized cuts of bife de chorizo (sirloin strip steak) shown directly above, La Cabrera is extremely generous with the size of their steaks. Yet it is not only the meat which arrives in large quantities here – every main course order is accompanied with their trademark array of many small, varied side dishes, as can also be viewed in the photo above and another photo further down this post. These side dishes range from complimentary sauces (depending on what you have ordered), to couscous, mashed potato with mustard, tomatoes in sauce, calabaza (squash) puree, sweet pickled garlic, sun-dried tomatoes, guacamole, and so on, and on, and on…
In fact, the choices presented to you on the table at this parrilla (steakhouse) can be almost paralyzing. There is so much to look at, so many different flavors and options to go for, it may become overwhelming. If this happens, a word of advice: focus on the steak.
The Ojo de Bife Napolitano (rib eye steak with plenty of ham, cheese and sun-dried tomatoes on top) pictured above, is a fine specimen. It would be way more than enough for one person, forgetting the side dishes. So just try a few of the flavors on offer from those cute little sideshows whenever this occurs to you, but don't let that detract from the main event, which is always going to be the huge steak.
The flavor of the beef at La Cabrera is delicious, succulent, perfectly cooked (if you ask for a punto – medium – you really do get it medium and not overcooked) and very, very juicy. And all this seems to be true whatever steak you order there, be it bife de chorizo, ojo de bife or bife de lomo – the three most popular cuts to order at La Cabrera.
La Cabrera – A House of Gluttony
And yet, despite the steak alone being more than enough to fill you up before you even think about the variety of side dishes, sometimes you have to go even further into the dark realms of over-eating and La Cabrera will probably tempt you to do so. Starters are completely unnecessary, but absolutely delicious. If you must, try the chorizo sausage (pictured below) or the goat's cheese provolone (a type of cheese grilled on the Argentine parrilla) with sun-dried tomatoes.
If you are having starters, then a main course each would be WAY too much at La Cabrera. In fact, if you are just eating the main course and nothing else, two dishes between three people should probably fill you all to satisfaction. And if you are a couple, one main course between two will probably do, although a side of their fantastic wedge fries would do the steak justice.
Finish off the meal with a fantastic Sorbeto de Limon con Champagne (lemon sorbet with champagne). At this stage of the over-eating proceedings, having a dessert that you can drink through a straw is a very sensible idea (this dessert is also pictured in the group of pictures at the top of the post).
Final words of advice? Stay well away from this place if you are on a diet.
If you're hungry for more, check out delicious steak photos from La Cabrera that were posted/linked to by Asado Argentina (scroll down on that page for the links).
Location of La Cabrera
J.A. Cabrera 5099, corner of Thames, Palermo Soho
[Other Branches: La Cabrera Norte, down a block at J.A. Cabrera 5127, Palermo Soho
La Cabrera Boutique, down the street at J.A. Cabrera 5065, Palermo Soho ]
Tel: 4831-7002,  Website: http://www.lacabrera.com.ar