Browse: BuenosTours › Buenos Aires Guide › Restaurants › Beef › The Argentine Experience
The Argentine Experience
Food, wine and instruction on all things porteño

[Photo credit: courtesy of the Argentine Experience]
Dinner at the Argentine Experience is much more than its headline dish of exquisitely cooked fillet steak accompanied by free-flowing Malbec. It is more like an intensive crash course in Argentine culture, complete with empanada and alfajor making sessions.
From the Porteños' fondness for expressing themselves with a wide range of hand gestures to the intricacies of the mate ritual, Argentine customs can be baffling (first-timer mate drinkers beware: NEVER use the bombilla (metal straw) to stir the yerba). For this reason the Argentine Experience is jointly hosted by an expat who understands how strange such idiosyncrasies first seem to outsiders and a local who offers an insider's view.
Shaken, not stirred

[Photo credit: courtesy of the Argentine Experience]
Arriving early for the optional pre-dinner wine cocktail mixology and aroma class, first up was a cocktail making workshop in which the secret ingredient in every 'Malabeca' or 'Torrontea' was wine. Setting the tone for an evening in which interaction was key, we were invited to don a bow tie and step behind to the bar to have a go at mixing ourselves. It's safe to say the raspberry, gin and Malbec & Merlot based rose wine 'Raspberry Blush' cocktails I prepared were a hit. Less successful was my attempt to identify the 20 aromas commonly found in wine by smelling a condensed liquid essence of each one. Not as easy as it sounds.
Ready, steady… cook!
The Argentine Experience started life as a 'closed doors restaurant' in the apartment of founder Leon Lightman and even after the move in 2012 to more restaurant-like premises in Palermo Hollywood it has retained an intimate atmosphere. The new building is modern and light with a sleek downstairs bar area and an upstairs dining room, with two large chunky wooden dining tables and shelves of colorful mate gourds serving as decoration.

[Photo credit: courtesy of the Argentine Experience]
The communal dining tables are the first clue that the Argentine Experience is very much a group effort. Socializing with your fellow guests is compulsory, and the first act of team bonding is to put on a checked apron and chefs hat, ready for action. Our first task was to prepare empanadas (the ubiquitous little savory pastry pies that are usually filled with minced beef). With bowls full of slow-cooked beef stew, onions cooked in Malbec, vegetarian ratatouille and cheese in front of us it was difficult to heed our host Richard's advice not to overfill the empanadas. He showed us how to seal them and fold the pastry in the traditional way.
With our empanadas cooking in the oven, our next challenge was a creative one: the novelty empanada competition. Entries ranged from a recreation of Maradona's 'hand of God' goal to a dinosaur, the winner being a graceful, meat and onion filled ballerina. The winner received a jar of homemade chimichurri sauce and eternal glory in the form of a place on the Argentine Experience empanada wall of fame.
Twenty-four hour steak-out
As the Malbec flowed freely and mini dishes of provoleta cheese and choripan were brought out, we exchanged travel stories and talked to our hosts about Argentinian football. Then, proceedings were brought to a hushed standstill as the evening's star guest was introduced.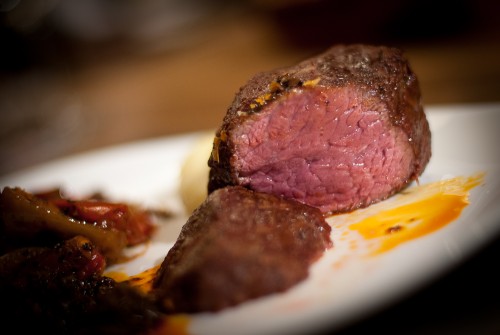 [Photo credit: courtesy of the Argentine Experience]
The steak, Richard explained, had been subject to an extensive screening process. Owner Leon had embarked on a six month pilgrimage across Argentina, tirelessly visiting cattle ranches in search of the perfect beef. The tenderness of the fillet steak we were to eat, he continued, was the result of a finely-honed 24 hour preparation process, involving leaving the meat uncovered in the fridge overnight before flash frying in a hot pan to seal the juices, then flipping it rapidly to ensure an even distribution of meaty juices. For this reason it could well be the most tender meat we had ever eaten, Richard concluded with a flourish, as drool ran from the corners of our mouths.
Naturally, such a steak deserved a serious wine to accompany it, so we would be served a deeper, more full-bodied Malbec. As we ate our main course, the intelligent conversation of earlier in the evening was replaced by a series of grunts and munching sounds. Nobody was disappointed with their steak.
Note: Fish and vegetarian options are also offered, and those who went for them on the night were very impressed with the quality of those dishes. 
Post dinner parlor games

[Photo credit: courtesy of the Argentine Experience]
And so in a Malbec and steak induced state of bliss we were entertained by tutorials and practice sessions on Argentinian hand gestures, preparing mate and making alfajores (dulce de leche filled, chocolate covered biscuits).
Those of us for whom the bottomless wine had made everything a little hazy were reassured to learn that note-taking would not be necessary; an Argentine Experience aftercare email with all the essentials would arrive the next day. So there would be no excuse not to put our new cocktail-shaking, empanada-baking, alfajor-making, mate ritual-partaking and hand gesture mickey-taking skills into action. Try saying that after one too many glasses of Malbec!
For more on the Argentine Experience, check out Cara from Anuva Wine's write up, this post by Tim Fitzgerald on the BBC travel blog, Not quite Nigella's thoughts here and this post by Alison Westwood on the Getaway blog.
Location of the Argentine Experience in Buenos Aires
The Argentine Experience, Fitz Roy 2110 (between Soler and Guatemala), Palermo Hollywood
If you liked this blog post, then you'll love our private guided walking tours of Buenos Aires - the best way to see the city up close and personal. For more information and booking details, just click here.