Browse: BuenosTours › Buenos Aires Guide › Food & Drink › Pubs & Bars › Bröeders
Broeders Craft Beer
Francisco and Marcelo Terren share their beer-brewing secrets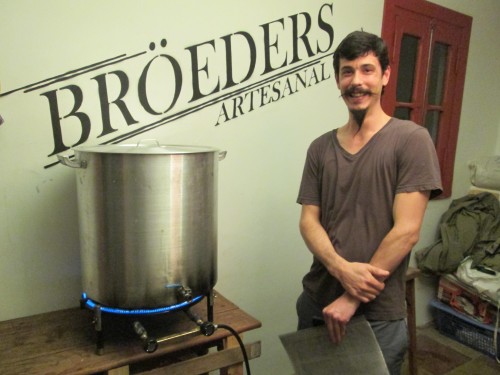 While Buenos Aires has a well-established reputation as a city of fine wines, the typical Argentinian lager will leave any beer lover disappointed. Few bars have beer on tap and while the ubiquitous litre bottles of the local lager Quilmes score points for being cheap and invariably served cold, they get few for taste.
But beer-guzzlers need not panic. The good news is high-quality artesanal beer can be found in Buenos Aires. Following a growing trend in microbreweries in the city led by the likes of Antares and Buller, Bröeders produces some of the best cerveza artesenal (craft beer) around. Being beer enthusiasts, the BuenosTours team jumped at the chance to join Francisco and Marcelo Terren of Bröeders one Tuesday evening to watch them in action and learn about the beer-making process.
Craft Beer in Buenos Aires: Starting out
For just over a year, brothers Francisco and Marcelo Terren have been brewing Bröeders at their home brewery at their mother's Palermo home, when they were inspired to make their own beer after taking a beer-making course. While on holiday in New York, wine-loving Francisco hoped to bring back a beer-making kit he had read about as a birthday present for Marcelo, who had always been keener on beer. But when he was unable to find the kit, back in Buenos Aires the present became signing-up for a beer-making course instead.
Soon they were hooked on brewing. After starting out in the kitchen, brewing in a 20 liter pot on their mother's hob, the brothers later converted the roof top shed into a compact micro-brewery, a well-organised space from which they currently produce 320 liters a month of various beers including Indian Pale Ale, Scottish Ale, Porter, Honey Beer and Barley Wine. All that was missing was the name. Marcelo and Francisco chose the name Bröeders before finding out that broeder means brother in dutch, which served to confirm their choice.
Marcelo put his background in graphic design into use in developing a logo and brand and the brothers started a weekly beer night with NOLAchef. Bröeders Beer Night is every Thursday night at the puertas cerradas (closed door) restaurant, where a selection of 4 different Bröeders beers is teamed with Cajun and Creole food.
Beer brewing process
Working from their expanding folder of beer recipes compiled by experimenting with classic recipes, tweaking and adapting them and taking tips from the network local brew-masters until they are happy with the taste, Marcelo and Francisco get together to 'cook' every Tuesday night. For a beer-lover, peeking inside their impeccably organized micro brewery is akin to Charlie's first glimpse of the inner workings of Willy Wonka's chocolate factory.
In front of me I saw shelves with labelled containers of various hops and malts, neatly stacked brown bottles of beer, barrels, kegs and a large gas burner with a 20 liter pot brewing. There was a tempting aroma that smelt like a sweet, malty porridge; we could hear the liquid bubbling and the hiss of the gas burner, and there was an intense heat emitted from the burner.
"Jesse, we have to cook!"
With a glass of Bröeders IPA in my hand (pulled from a keg on the terrace), I tried to pay attention and fight-off drunkenness as Francisco talked me through the brewing schedule. Each week they begin at about 5pm with the maceration process. After selecting the malts according to the recipe they are using (the flavor of the malts depends on how long they have been toasted, and at what temperature), the next step is to heat the malt and brew it into a big 'tea' for about an hour and half, during which time the bulk of the grain is removed and discarded.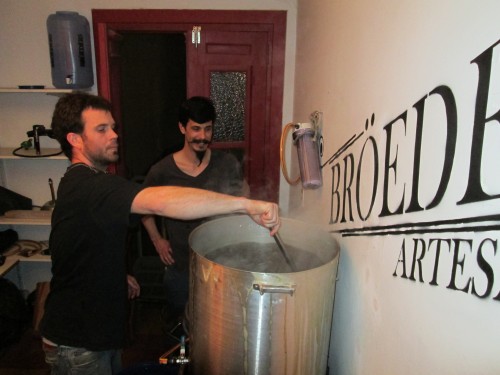 At around 7pm Marcelo and Francisco begin "boiling and hopping" – the hops are added and the  wort (unfermented beer) is boiled for an hour and gently stirred. The brothers use local hops in their ales; cascade hops from El Bosón.
After one hour of boiling, the next stage is to separate the remains of the grains and hops. "This is the whirlpool stage, a key part of the process," Marcelo explained. "What you do is stir the mosto (wort) for a long time so that the centrifugal force draws the trub (brewing term from the German for sediment, the unwanted remains of the hops and the grains) into the middle, where they form a kind of cake. This way we make sure the beer is not astringent."
With the trub gathered into a cake in the center of the pot, the wort is drained and rapidly cooled on its way from the pot to the barrel by passing it through a hose with a second hose containing cold running water adjoined (see photo above).
Let the fermentation begin!
The next step was to add the yeast. There was an air of excitement as Marcelo went downstairs to fetch it from the fridge. "Wait and see how it foams up when you add the yeast, it's like a big party in there," he said. The brothers explained that the type of yeast used is key to the flavor of the beer and they experimented with several types before finding Nottingham Dry Yeast. As promised, as soon as the yeast was added the liquid frothed up dramatically. And with that the barrel was sealed and left to ferment for two weeks.
Keep it clean
By now the fine details of the beer making process were becoming hazy, as I helped myself to another drink from the Bröeders keg. But for Marcelo and Francisco the work wasn't over yet – there was cleaning to do. As soon as the wort was being cooled the brothers took a great deal of care to ensure all the equipment was clean and sterile, spraying taps and nozzles with alcohol and working in a methodical and organized way. This level of meticulousness about cleanliness had come from experience, after they initially had to throw out several barrels that had become 'contaminated'.
With the brewery clean and tidy there was just time to finish the night with a taste of Porter on the terrace. A drink well earned by the Terrens.
More info on Bröeders Beer Night and how to book
To read more about the Bröeders Beer night at Nola see these write-ups on Pick up the Fork, the Argentina Independent, Anuva Wines and Gringo in Buenos Aires.
To make a reservation for Bröeders Beer Night (location in Palermo Viejo provided upon booking), please check:
http://www.nolabuenosaires.com/craft-beer-night-buenos-aires/
OR
http://broedersartesanal.com/
You can also buy pints of Bröeders on tap at a decent price, at the Fukuro Noodle Bar in Palermo Hollywood (Costa Rica 5514, corner with Humboldt).
Cheers!
If you liked this blog post, then you'll love our private guided walking tours of Buenos Aires - the best way to see the city up close and personal. For more information and booking details, just click here.