Browse: BuenosTours › Buenos Aires Guide › Blog
The BuenosTours Blog
Francisco and Marcelo Terren share their beer-brewing secrets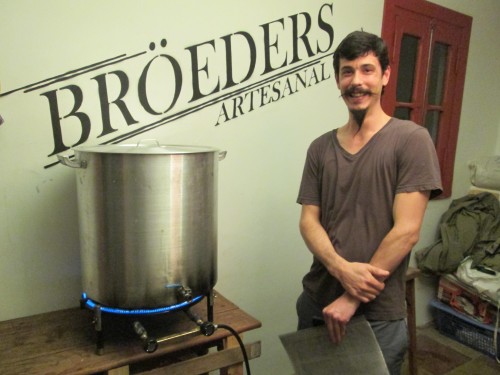 While Buenos Aires has a well-established reputation as a city of fine wines, the typical Argentinian lager will leave any beer lover disappointed. Few bars have beer on tap and while the ubiquitous litre bottles of the local lager Quilmes score points for being cheap and invariably served cold, they get few for taste.
But beer-guzzlers need not panic. The good news is high-quality artesanal beer can be found in Buenos Aires. Following a growing trend in microbreweries in the city led by the likes of Antares and Buller, Bröeders produces some of the best cerveza artesenal (craft beer) around. Being beer enthusiasts, the BuenosTours team jumped at the chance to join Francisco and Marcelo Terren of Bröeders one Tuesday evening to watch them in action and learn about the beer-making process.
Craft Beer in Buenos Aires: Starting out
For just over a year, brothers Francisco and Marcelo Terren have been brewing Bröeders at their home brewery at their mother's Palermo home, when they were inspired to make their own beer after taking a beer-making course. While on holiday in New York, wine-loving Francisco hoped to bring back a beer-making kit he had read about as a birthday present for Marcelo, who had always been keener on beer. But when he was unable to find the kit, back in Buenos Aires the present became signing-up for a beer-making course instead.
Soon they were hooked on brewing. After starting out in the kitchen, brewing in a 20 liter pot on their mother's hob, the brothers later converted the roof top shed into a compact micro-brewery, a well-organised space from which they currently produce 320 liters a month of various beers including Indian Pale Ale, Scottish Ale, Porter, Honey Beer and Barley Wine. All that was missing was the name. Marcelo and Francisco chose the name Bröeders before finding out that broeder means brother in dutch, which served to confirm their choice.
Marcelo put his background in graphic design into use in developing a logo and brand and the brothers started a weekly beer night with NOLAchef. Bröeders Beer Night is every Thursday night at the puertas cerradas (closed door) restaurant, where a selection of 4 different Bröeders beers is teamed with Cajun and Creole food.
Beer brewing process
Working from their expanding folder of beer recipes compiled by experimenting with classic recipes, tweaking and adapting them and taking tips from the network local brew-masters until they are happy with the taste, Marcelo and Francisco get together to 'cook' every Tuesday night. For a beer-lover, peeking inside their impeccably organized micro brewery is akin to Charlie's first glimpse of the inner workings of Willy Wonka's chocolate factory.
In front of me I saw shelves with labelled containers of various hops and malts, neatly stacked brown bottles of beer, barrels, kegs and a large gas burner with a 20 liter pot brewing. There was a tempting aroma that smelt like a sweet, malty porridge; we could hear the liquid bubbling and the hiss of the gas burner, and there was an intense heat emitted from the burner.
"Jesse, we have to cook!"
With a glass of Bröeders IPA in my hand (pulled from a keg on the terrace), I tried to pay attention and fight-off drunkenness as Francisco talked me through the brewing schedule. Each week they begin at about 5pm with the maceration process. After selecting the malts according to the recipe they are using (the flavor of the malts depends on how long they have been toasted, and at what temperature), the next step is to heat the malt and brew it into a big 'tea' for about an hour and half, during which time the bulk of the grain is removed and discarded.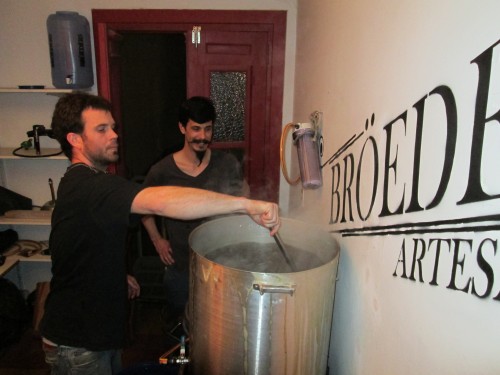 At around 7pm Marcelo and Francisco begin "boiling and hopping" – the hops are added and the  wort (unfermented beer) is boiled for an hour and gently stirred. The brothers use local hops in their ales; cascade hops from El Bosón.
After one hour of boiling, the next stage is to separate the remains of the grains and hops. "This is the whirlpool stage, a key part of the process," Marcelo explained. "What you do is stir the mosto (wort) for a long time so that the centrifugal force draws the trub (brewing term from the German for sediment, the unwanted remains of the hops and the grains) into the middle, where they form a kind of cake. This way we make sure the beer is not astringent."
With the trub gathered into a cake in the center of the pot, the wort is drained and rapidly cooled on its way from the pot to the barrel by passing it through a hose with a second hose containing cold running water adjoined (see photo above).
Let the fermentation begin!
The next step was to add the yeast. There was an air of excitement as Marcelo went downstairs to fetch it from the fridge. "Wait and see how it foams up when you add the yeast, it's like a big party in there," he said. The brothers explained that the type of yeast used is key to the flavor of the beer and they experimented with several types before finding Nottingham Dry Yeast. As promised, as soon as the yeast was added the liquid frothed up dramatically. And with that the barrel was sealed and left to ferment for two weeks.
Keep it clean
By now the fine details of the beer making process were becoming hazy, as I helped myself to another drink from the Bröeders keg. But for Marcelo and Francisco the work wasn't over yet – there was cleaning to do. As soon as the wort was being cooled the brothers took a great deal of care to ensure all the equipment was clean and sterile, spraying taps and nozzles with alcohol and working in a methodical and organized way. This level of meticulousness about cleanliness had come from experience, after they initially had to throw out several barrels that had become 'contaminated'.
With the brewery clean and tidy there was just time to finish the night with a taste of Porter on the terrace. A drink well earned by the Terrens.
More info on Bröeders Beer Night and how to book
To read more about the Bröeders Beer night at Nola see these write-ups on Pick up the Fork, the Argentina Independent, Anuva Wines and Gringo in Buenos Aires.
To make a reservation for Bröeders Beer Night (location in Palermo Viejo provided upon booking), please check:
http://www.nolabuenosaires.com/craft-beer-night-buenos-aires/
OR
http://broedersartesanal.com/
You can also buy pints of Bröeders on tap at a decent price, at the Fukuro Noodle Bar in Palermo Hollywood (Costa Rica 5514, corner with Humboldt).
Cheers!
Step into a world of riding boots and leather chaps
San Antonio de Areco is a historic town that gives visitors a taste of the life of an Argentine Gaucho, or cowboy. Located about an hour and a half northwest of Buenos Aires, San Antonio de Areco also offers a peek into a unique facet of Argentina's immigration history.
Despite being in a country of mostly Spanish and Italian immigrants, San Antonio de Areco has a strong Irish heritage. At the center of the town's beautiful square is a statue dedicated to Hipólito Vieytes, who was born in San Antonio de Areco and played a prominent role in the May Revolution of 1810 and the first independent government of Argentina. Below the statue is a plaque commemorating the visit of then Irish president Mary Robinson in 1995 and inside Areco's main church, next to the square, there is a long list of O'Reillys, Malleys and Maguires who helped build the church and the town's identity.
Pull up a stool and drink with the locals in Argentina's oldest pulperia
Surrounded by flat wetlands that constitute some of the country's richest soil, San Antonio boasts a picturesque town center, where modern life mingles with Argentine traditions. A few blocks from the town square, the oldest gaucho bar in Argentina stands as a historical monument and a community's commitment to its past. When the bar's foundation, originally made of clay, was deemed hazardous, the citizens of Areco cobbled together the money for a new, concrete foundation that would support the building and not alter its facade or interior. They succeeded.
Guillermo Guereño provides a short tour of San Antonio de Areco. A longtime citizen of Areco, Guillermo knows the historical roots of the town, as well as the little quirks. The town's first library was founded by women, who held the power to choose which literature everyone could read. In addition to knowing the people at each stop on tour, many passers-by greet Guillermo warmly. After the hour long tour of Areco, Guillermo escorts his guests to an elegant estancia, or ranch.
A taste of the high life at the grand estancia El Ombu
Located about 10 minutes from the town of San Antonio de Areco, El Ombu de Areco is a magnificent, family-owned estancia. Originally built in 1880, the mansion is the centerpiece of the property, serving as a Bed & Breakfast that's maintained its gaucho character. Enrique Boelcke purchased El Ombu in 1931, and his granddaughter, Eva, is the estancia owner and manager today. In 1993, she expanded the property's services to include a B&B.
The brick architecture is laced with ivy and dotted with a variety of flowers. After driving down a dirt road for a few kilometers, the tree-lined entrance prefaces the rustic yet well-manicured property.
Upon arrival, visitors walk onto a beautiful lawn with wooden tables and benches under a large oak tree. The classic setting is further enhanced when wine and beverages are brought out to start your estancia experience. After the welcome drink, the gauchos invite their patrons on a horse ride around the estancia. With very tame horses, the ride is enjoyable and leisurely. The gauchos have exceptional command of the horses and also know enough English to offer riders instructions on how to guide the horse. El Ombu's expansive beauty becomes clear to visitors on the horse ride.
Argentine Asado

Once back at the mansion, the asado, or Argentine BBQ, begins. Served with several delicious side dishes – salad, tomatoes and onions in a vinaigrette dressing and rice with vegetables – the asado at El Ombu offers the best cuts of meat, from cattle raised either on El Ombu's property, or the adjacent farm. The asado includes chorizo (sausage), morcilla (blood sausage), bife de chorizo (sirloin steak), costillas (ribs) and lomo (tenderloin).
Horses roam freely to the sound of strumming guitars
The gauchos not only serve the asado, they also provide the entertainment, displaying first their guitar skills, and then their intimate bond with their horses.
The gauchos put on a unique display of tricks with the horses, ranging from slowly kneeling the horse down, to doing a handstand on the horse (above) to putting the horses rear foot up against the gaucho's chest – a daring tactic that garners much applause. Another impressive gaucho feat performed on some occasions is when one gaucho, leading a horse with a cowbell around it's neck, has about a dozen horses in unison following him. The horses come right up to everyone's table and "mingle" with patrons. It's a fascinating sight. A dozen horses – completely free – roaming peacefully around a group of people.
Camino Pampa Tours and El Ombu
Click here to book a private estancia day trip with Camino Pampa Tours
Guillermo, who runs Camino Pampa tours, or one of his expert bilingual guides accompanies his clients from their accommodation in Buenos Aires to San Antonio de Areco and El Ombu de Areco. Guillermo's driver, who speaks English well, brings all clients back to their accommodation in the city. Tour pick up is at 9am and return time is approximately 6pm.
A Packing List to cover you in Buenos Aires
[Photo credit: Salihan Laugesen's photostream//CC BY-NC-ND 2.0]
After ruminating over all the exciting destinations around the planet, you've finally decided to travel to Buenos Aires. Great, we know you'll love it here as much as we do. And though you've tossed and turned over your decision, figuring out what to pack can be even more stressful. Start your trip the Argentine way: tranquilo, relax, we've got you covered.
Pack light and in season
If you're coming from the Northern Hemisphere, don't forget that seasons switch when you cross the equator. Argentina's summer is from December to March, autumn is March to May, winter spans June through August, and spring blossoms from September into November. While summer can be insufferably humid, and winter bitter cold, the weather is overall quite temperate and these extremes usually last only about a week. Your best bet is to bring layers and peel off or pile on as necessary.
Regarding style, people in Buenos Aires are quite fashionable and trends change every season. Europeans will find the styles quite aligned to their own, but US Americans may want to leave some of their most casual t-shirts and flip-flops at home. Your best bet will be to pack light and buy a few things once you're in town, if necessary. When in doubt, bring classic, flattering basics and lean toward dressy instead of casual.
These boots were made for walking!
[Photo credit: David Avalos's photostream//CC BY-NC-SA 2.0]
Buenos Aires is an incredibly walk-able city, and we recommend taking a private walking tour to best get to know the place. Without a doubt, the most important thing you can bring to BA is a comfortable pair of shoes.
Having said that, if you are planning to do some trekking in one of the more rugged regions of Argentina, know that hiking boots will definitely stand out in the fashionable capital. Also, if interested in dancing some Tango, you will want comfortable shoes to learn in before whipping out those ravishing heels to show off your moves. Try some simple flats or pick up some alpargatas once you get here.
A quick reference list of what to pack
Of course, what you pack depends completely on your style, gender, travel tastes, length of stay, and itinerary. But here we've compiled a list of essentials to get you started.
Clothing Checklist

| | | |
| --- | --- | --- |
| Item | | Description |
| Comfy walking shoes | | Absolutely essential |
| Another pair of nice shoes or sandals | | Comfortable but more dressy |
| Plenty of socks and under garments | | |
| 3 pairs of pants or jeans | | Good for day and night |
| A few shirts | | For every-day wear |
| 2-4 nice blouses or dress shirts | | For fine dining and tango shows |
| 2 sweaters/sweatshirts | | One lighter; fleece or wool work great |
| 1 light coat | | |
| Pajamas and comfortable clothes | | For hotel and travel |
| Sunglasses | | |
| A hat or scarf | | |
| A raincoat or shell | | For sudden torrential showers |
If this seems like little to you, remember you can
shop
in the city. Below we've listed items for the female traveler. Ladies keep in mind that while BA is very cosmopolitan, you are still traveling in a Latin American, mostly Catholic country and should avoid low cut tops or short skirts if you don't want to attract uncomfortable attention. Showing some skin is not a no-no here, especially in summer, just try to do so tastefully. Women who wear sizes larger than a US dress size 8 will have a challenge finding clothes that fit in BA, as clothes run quite small.
Ladies Clothing

| | | |
| --- | --- | --- |
| Item | | Description |
| 2 dresses and/or long skirts | | keep weather in mind |
| A couple of tanks for layering | | |
| A scarf or two | | depending on your style |
| Nice boots/sandals/low heels | | avoid uncomfortably high heels |
| Pair of leggins | | Great for the plane and totally in style |
| A long shirt | | To wear over your leggings |
| 1 pair of nice shorts | | avoid short-shorts and jean shorts |
Those who rely on hair dryer should note that the voltage is different in Argentina than in the US, and hair dryers may blow-out (it's happened to me!). Your hotel should provide a dryer, and if not bring a voltage converter. Buenos Aires uses 220 volts. Your computer, however, is likely dual-voltage and will be fine. Here's some more information on voltage.
Other items

| | | |
| --- | --- | --- |
| Item | | Description |
| Sunsreen | |  The sun is strong here |
| Medicines | |  Bring any perscriptions you need |
| Toiletries | |  Ladies bring feminine products as options are limited |
| An adapter for electronics | |  See photo below. Can be purchased here. |
| A camera | |  Lots of film and memory! |
| A good book | | For the plane and long bus rides |
| Passport | | Up to date |
| Printed receipt of paid entry fee | | Details here |
| Reusable waterbottle | | Try one with a built in filter |
| Credit/debit card and cash | | US dollars get a great rate here |
What not to bring to Argentina
A tip when packing: pack everything you're planning on taking into your bag. Now reduce that by 20%. You want to leave room in your suitcase for souvenirs. You should also leave valuables at home; flashy jewelry will attract attention on the street in Buenos Aires, and while theft is not out of control here, you wouldn't want your memory of your travels tainted by a lost heirloom.
Lastly, don't bring too many gadgets. LandingPadBA has written quite a lot about checking electronics before you travel here, but we think that apart from your computer and camera, you really won't need anything else. Besides, you're on vacation — take a break from the screen and engage with the amazing city all around you.
For more information on what to pack, read LandingPadBA's article What Not to Wear, and check out what people are wearing on the streets of Buenos Aires on On The Corner. Enjoy your trip!
September 13, 2013 by admin
Photojournalist Jerry Nelson shares his tips for how to get the most out of your point-and-shoot or camera phone
One of the challenges that I face almost daily as a pro photographer is the fact that with the proliferation of cameras, everyone thinks they're a photographer.
I'm not a songwriter and putting a guitar in my hand and showing me a few basic chords doesn't make me a singer and giving me a paintbrush doesn't make me a painter.
Yet, everyone with a camera thinks they are a photographer.
The majority of cameras — 85% according to some studies — in use today are either camera phones or point-and-shoots.  With some guidance and practice even someone with the most basic point-and-shoot can drastically increase their picture taking skills.
Regardless of the platform, most users fall on a continuum between being a Happy Photographer and a Detailed Planner.
Happy Photographer
We all know digital camera users that think that taking pictures is switching on the camera, holding it at arms length at the weirdest angle possible and clicking the shutter over and over and over again — hardly giving any thought to where the subject is in the frame.
At the end of the day, these images are just a ferris wheel ride between some great creative shots and the bizarre.
Detailed Planner
At the other end of the continuum is the Detailed Planner.  We all know photographers like this also.  The person with the camera spends hours — well it feels like it — getting you posed just right and then spends more time staring into their view finder and playing with the controls (if any) to make sure the exposure is perfect.
Once you hear the click of the shutter, you relax and try to move on only to find out that the photographer needs to go through the whole thing again because the sun moved, the reflection changed, someone walked in front of the viewfinder, you closed your eyes or, well, pick any excuse.
So maybe it sounds like I'm making these two types of shooters sound evil.  Truth is, even the best shooters that I know do both at times.
A good shooter has the ability to be spontaneous, experimental and creative yet still take the time to consider the photos that they are shooting BEFORE they go into rapid-fire-sequence.
If you ask yourself just five questions before taking the shot, you'll find the results are better than what you've been getting and you'll get better shots more consistently than if you just randomly fill your card with images.
• What is the subject of this photo?
• What is the mood of the moment?
• What is going on in the background of this shot?
• Is the place I'm shooting in light or dark?
• Is my subject moving or still?
Asking yourself these questions might seem like it puts the brakes on the creative process.  Well, taking too much time can definitely kill the fun and only you can assess the moment to see which end of the spectrum you need to shoot from.
You can save yourself — and your subjects — some aggravation by anticipating the shot, looking through the viewfinder and snapping the picture.  Don't over plan.  Be creative. Have fun.
Camera Phone
No matter what camera you use to make images, composition is the key that makes or breaks them.  It's never the camera that makes the image — it's you.  Or more precisely, it's your eye.
If you're like most iPhone/Camera users, you've downloaded a bunch of camera apps.  Maybe you delete them quickly or maybe there's a few still hanging out that you haven't used in a while.
Doesn't matter.  Delete all the camera apps now.  Go ahead.  I'll wait.
Done?  Good.  Now we can get on with the serious business of making some great images.
Great images come from holding the camera properly, managing perspective and paying attention to composition.
When you're taking the image, hold the camera up while you keep your arms close to the body.  Holding the camera steady is key regardless of what kind of image maker you have, but it's more critical with the small format of the iPhone.
Frame the scene in your viewfinder, take a breath and push the shutter.  That's all there is to it.
Once you get comfortable composing the shot, you will want to take images every day and that's the best way to learn to pay attention to the settings around you.
What is Perspective?
Perspective is one of the ways that the eyeball can judge depth within a scene and refers to the angle and location of parallel lines within a scene.
If you've ever stood on railroad tracks and  noticed how the rails start getting closer in the distance, you've seen perspective.
Another way to think of perspective is the 'binocular' effect your vision experiences when you look at a distant object.  Because your eyes are spaced several inches a part, your brain receives two different images that are combined to produce the feeling of depth and perspective.
The change from binocular to monocular can be challenging when someone loses sight in one eye as all depth perception goes out the window and the person needs time to re-learn and readjust.
A point-and-shoot can never 'learn' how to see depth; you as the photographer have to give it that ability by using a technique called 'layering' to do it.
Layering, like many other things, isn't difficult once you've practiced.
In essence, layering is the placing of one or more objects in the foreground and the subject of your photograph in the background.  Or vice versa – placing something in the background behind your subject that appears in the foreground.
By itself this can get confusing to the viewer of the image though.  Which object is 'the' subject of the photograph; the one in the foreground or background?  A technique called "bokah" comes to the rescue.
If you've seen a photograph where the object in the foreground was in nice, sharp focus while the object(s) in the background were fuzzy and blurred, then you've seen bokah at work.
Depending on the make and model of your camera phone or point and shoot you may be able to achieve bokah also.  If you can't then you'll have to resort to photo editing through software to accomplish it.
Composition
Composing an image through the viewfinder is subjective.  What one person finds pleasing and appealing, someone else won't like it.
Basically, composition is organizing and arranging the individual details of the scene in front of you into a pleasing arrangement.  While there is no right or wrong composition in photography, a composition that shows what your intended meaning was is affective.  If the image confuses the viewer, then it's a bad composition.
Rules of Composition are Just Guidelines
You don't need to think that guidelines of composition are hard-and-fast and the photography police will come take you away if you break them.  The guidelines are just that — guidelines.
Photographic guidelines are valuable.  They are time-tested and have provided great guidelines for shooters regardless of the skill level.
Now, go have fun and make some great images!
September 6, 2013 by admin
Buenos Aires-based photographer Jerry Nelson shares his top tips for better snaps
Welcome to Buenos Aires.  Home of the Casa Rosada, Plaza de Mayo, Metropolitan Cathedral and a bunch of other potentially iconic photographs.
How many times have you stood in front of a world famous landmark and realized that every possible shot that could be taken has already been taken by one of the thousands of tourists that have stood in that spot before you? You are on a once-in-a-lifetime trip and your goal should not be to bring back images that look like the postcards at the hotel or – worse yet – the pictures that are goofy and don't do anything but scream, "An amateur took me!"
So when you visit the Casa Rosada don't try to capture the palm tree to frame the photo with and for Pete's sake, do NOT have someone pose with the Obelisk as if they're holding it up.
Here's some things to keep in mind when you're photographing a famous landmark in Buenos Aires.  Relax, you can use the tips when you return home to keep taking better images than your friends.
1.  Get the cliche shot out of the way.
Go ahead take the shot of the Casa Rosada with the palm tree.  You won't feel right unless you do, so go ahead and take the picture.  Got the shot?  Okay, now think of some different ways you could capture the image and add your OWN iconic slant to the same subject. Look for the buildings reflection in windows or a puddle if it just rained. Include the local architecture, shoot it as a silhouette.  There is really no limiit to what you can do when you are looking for different ways to see.
2.  Practice at home.
Every town and city has its own iconic landmarks. While it may not be a art deco building, it doesn't matter. Maybe there's a statue, a church steeple heck, even a grain elevator.  Get your camera and to out to see it for the first time again. Work the scene and find a creative way to frame it.
3.  Don't forget people.
Be sure to include people in your frame. They can add interest and movement to otherwise stale postcard type shots. People work especially well by adding a sense of scale when you're shooting large buildings.
4.  Practice.
The more you practice the quicker your eye will become at spotting those interesting shots when you visit a new place. Your images will never be boring again!