Hail a cab in Argentina's capital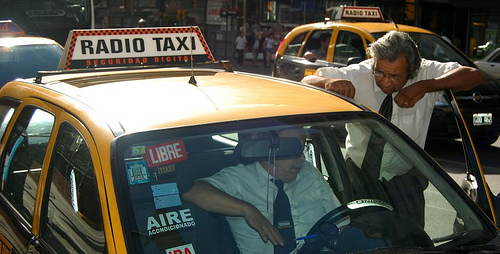 [Photo credit: Kyle Lease's photostream/ /CC BY-BY-SA 2.0]
With hundreds of bus lines and several subway trains, Buenos Aires is an easy city to manage on public transport. But when you don't feel like packing into a steamy subway car, or figuring out which of the hundreds of buses takes to take, hailing a cab is an excellent option. With over 40,000 taxis in the city (about one for every 70 inhabitants), you can easily flag down a black and yellow vehicle on almost any street corner. (With the exception of course, of three situations: when there is a subway or bus strike, when Buenos Aires's torrential rains flood the city, or weekends between 4-6am in Palermo Soho and Hollywood as people leave the boliches [clubs] en masse.)
How to take (or call) a taxi in Buenos Aires
Hailing a taxi is easy! Just to stand on the passenger's side of the street, look for a taxi with the red and white libre (free) light lit up in the upper left-hand corner of the windshield, then stick out your arm. While most taxis are just fine, it's best to look for a Radio Taxi, which you can identify by the "Radio Taxi" logo on top or side of the car. Though odds are you'll be ok in any taxi, Radio Taxi registers all of its drivers and every ride, therefore reducing the chance that your driver will try to scam you (for more safety advice, see below).
Another option is to call a remis, which is a private, unmarked car. If you are heading to the airport, your hotel will likely call a remis for you, as they often specialize in set journeys at a fixed rate.
[Photo credit: Gisela Giardino's photostream/ /CC BY-BY-SA 2.0]
Avoid taxi scams
Once you've waved down your cab, hop in and confidently tell your driver where you're going. It helps to give them the cross streets rather than the exact address, and to have some idea of where you are headed. If you're worried about your Spanish, write the address and/or cross streets on a slip of paper and show your driver. Then, buckle up as taxi rides can be notoriously wild!
As mentioned above, avoid unsavory experiences by taking a Radio Taxi or booking a remis ahead of time. For the most part, cab drivers (chofers) are friendly characters who will be thrilled to help you practice your Spanish. However, a few are always on the look out to make an extra peso. Here's some of the common scams you should try to avoid:
The Fake Bill: Drivers have been known to accept tourists' bills, then switch them out for a counterfeit and tell the passenger that they can't accept a fake. Try to pay your driver in exact change, and if you have to give him a 100 peso note, ostensibly hold the bill up to the light before handing it over, then watch his hands as he gives you change. The only counterfeit bills you need to look out for are 100 and 50 peso notes, and if you think your taxista has given you one for change, ask for a different bill.
The Gringo Tour: Detecting a strong accent, some drivers will take you on a round-about route in order to milk the fare. Avoid this situation by waving a taxi heading in the direction of where you are going, and try to be more or less familiar with the route. If the prospect of figuring out where you are in this enormous city seems daunting, fake it! Show that you are paying attention by reading street signs and watching where the driver goes. Confidence is key.
The Speedy Meter: Though uncommon, there are rigged meters in some taxis. Make sure the driver has turned on the meter once you tell him where you're going, and watch to make sure it's only going up every 200 meters, or 40 seconds in traffic. If you think the meter is going too quickly, you can ask by pointing at the meter, but you should probably get out and hail a new cab to avoid a ridiculous price.
These are the most common things to look out for, but if you want to read more about taxi opportunists, check out this article on Landing Pad BA.
Pricing of taxis
If you ask an Argentine or someone who's been living in BA for a while, taxis are exorbitantly expensive; don't worry, that's just inflation talking! Traveling by taxi is quite affordable. The drop rate (as of March 2015) is 14.30 pesos during the day and 17.10 pesos at night, between 10pm and 6am (so about $1.20 to $1.40 US Dollars), and goes up 1.43 pesos (or 1.71 pesos at night) per 200 meters. If you'd like to get an estimate about how much your journey should cost ahead of time, check out the website Viajo en Taxi. You can type in your location and destination and the site will give you an estimate of how much it should cost. Keep in mind, all depends on traffic!
Try to carry small bills, especially for shorter journeys, as change is often difficult to come by in Buenos Aires.
Suggested taxi companies and drivers
Easy Taxi is an app for the iPhone and Android which allows you to call a cab. The application locates the taxi nearest your location (as determined by GPS), then sends you information about your driver including their name, a photo, phone number, and car model. You can follow the taxi's location on a map, all of which helps assure you get a safe taxi.

[Photo credit: Easy Taxi's Facebook]
We recently interviewed Buenos Aires chauffer Dario Wigodzky. Read our interview here, and e-mail Dario to request an airport transfer at [email protected]
Call a normal Radio Taxi with Taxi Premium at (54-11) 5238-0000. The operator may perhaps speak English, but it is unlikely. Make sure to tell them the address where you need the taxi, and when. Expect also to be asked for a phone number.
For a luxury car service with a native English speaker, we recommend Silver Star Transport.
Taking a taxi from Ezeiza International Airport
When you arrive at the Ezeiza International Airport, make sure to avoid any problems by booking a cab with an official taxi company like Taxi Ezeiza. The Taxi Ezeiza booth is inside the airport, directly opposite arrivals, and your cab is booked and paid for before leaving the terminal building. Do not say yes to anyone offering a cab who is not at an official booth – Ezeiza airport is the one place where even the black and yellow city cabs shouldn't be trusted. Approach the booth and give them the address where you are staying, then you can either choose to pay ahead of time or at the end of your journey, but the rate will definitely be a fixed price. With Taxi Ezeiza, a cab should cost AR$400 as of February 2015 (between US$30 and USD$48, depending on which exchange rate you use). You can pay in dollars or euros if necessary.
For more advice about safety in Buenos Aires, check out our Safety Tips, or read about taking taxis on Wander Argentina. And safe journeys!
*Thanks for visiting BuenosTours! If you find this article useful and it will help save you money for your trip to Buenos Aires, then please consider splashing some of that cash on one of our award-winning private walking tours of Buenos Aires, to get even more great advice and start off your stay in BA in the best way possible!*

*JANUARY 2020 UPDATE – PLEASE NOTE: US Dollar exchange restrictions are back in Argentina, and as a result, so is the "dollar blue". At the time of writing the official exchange rate is about 58 Argentine Pesos to the US Dollar, while the unofficial "dollar blue" rate is about 74 Argentine Pesos to the US Dollar. So most would say it's worthwhile bringing USD cash to Argentina to change to pesos on the unofficial market, but like with everything, there is always the potential for this situation to change. If you have any questions in the meantime feel free to comment below or send us an email.*
Be Savvy with Foreign Money in Argentina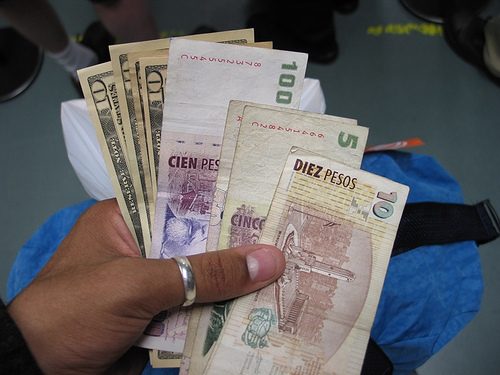 [Photo credit: Thaigo Martins's photostream//CC BY-NC-SA 2.0]
Imagine: your plane finally touches down after a ten hour, cross-continental journey, you wind your way through customs and immigration, and you finally step onto Argentine soil at Ezeiza International Airport. While your initial instinct may be to exchange all of your dollars or euros right then and there, your money may well go further if you don't (although this being Argentina, the situation is always subject to change!)
What currency should I bring to Argentina?
When traveling to Argentina, bring cash, especially US dollars. It is most cost effective to bring all the money you think you will spend on your trip in US Dollars cash (if possible 100 dollar bills, and if not then 50s and 100s, as lower denominations often get a worse exchange rate in Argentina, as do some older series dollar bills, or ones in bad condition). That might sound a little different to the advice you get in general for traveling, but read this article and you could have a better (or at least, cheaper) trip.
In an attempt to inspire confidence in the Argentine peso and reduce inflation, the government has been known to put limits on the amount of US Dollars (and other foreign currency) that people in Argentina can officially purchase (this policy has changed, disappeared, and re-appeared again since we first wrote this post, but at the time of updating this article in January 2020 there are indeed currency controls in place here).
Since Argentines rely heavily on dollars, a parallel, unofficial dollar market exists with a separate rate called the "blue dollar". To give you an idea of the difference, the official exchange rate at the time of the last edit this article was around 58 pesos to the dollar, while the blue rate was around 74 pesos to one dollar. That would mean you get almost 28% more pesos by changing on the unofficial market, and there is always the chance that the gap between the two will increase again (of course, it could also go down, but it's more likely it will trend up).
Since the blue dollar rate is higher, your money will go further if you trade it wisely. You can compare current rates by checking the official and "blue" dollar and euro rates here.

[Photo credit: J's photostream//CC BY-NC 2.0]
How to get the best rate for your dollars in Argentina?
So now that you've made it from the airport into the city (hint: you can pay for your transfer in US Dollars or with a credit card, so you won't need pesos at that stage), what should you do with those dollar bills? The following are a few ways that people in Argentina get pesos at a better rate than the official rate:
Pay for hotels and restaurants in dollars: Hotels and restaurants often accept dollars, and will usually charge at a more favorable rate than the official rate. Many tourists keep some dollars on hand in case restaurants, services, and the like accept foreign currency. Bring along pesos, too, when eating out to avoid being stuck with a bill at a joint where dollars are not accepted.
Trade with an Argentine: Since demand for foreign bills is so high, many people choose to trade dollars for pesos with an Argentine they trust, at a favorable rate to both parties. This is not to say that tourists trade with random citizens, but instead with friends or trusted acquaintances (you could ask around, or at your hotel).
Visit a cueva: A cueva is basically a local slang term for an underground casa de cambio, or money exchange house. These are often close to streets with heavy foot traffic, like Calle Florida in the City Center. As you walk down Florida, keep your ears open! You will hear lots of guys saying "cambio, cambio, cambio" (cam-bee-oh).  This man is a blue-dollar-trader, and takes those interested in selling  their currency to an unmarked office where he offers one of the best rates available. However, tourists should be very cautious if they choose this option, and should not be asked to exchange their cash on the street. If you choose to visit a cueva, you might want to ask around for the location of a reliable one, perhaps in your hotel or maybe to your tour guide.
(DISCLAIMER: BuenosTours does not suggest nor condone trading money on the unofficial market, but instead this writer is describing how many people in Argentina do currently obtain pesos at a more favorable exchange rate.)
[Photo credit: Sebastian J.'s photostream//CC BY-NC-ND 2.0]
The Western Union money transfer service allows you to wire money to Argentina from the US and receive the money in pesos cash usually at a better rate than the official rate, although we can't guarantee that will always be the case, so check their website before sending. This can be a good option if you find that you need more money once you are in the country and don't have cash on hand, but want to avoid bank fees etc. They charge a fee depending on the amount transferred, but usually it's still more advantageous than the official rate and bank fees. Find out more on the Western Union website. You may also find similarly advantageous rates when sending from other international Western Union websites/locations, such as the UK version. Whatever the case, you won't want to be in a rush to get the money, as the online sign-up and authorization process can take at least a full day, sometimes more. Apparently the best Western Union office in Buenos Aires to pick the Argentine Pesos cash up at is the one on the corner of Av Cordoba and Montevideo, which is a very convenient, central location.
Banks, ATMs, and official money exchange houses are your other options for getting money while in Argentina, but all of these will give you the official exchange rate (and banks and official money exchange houses will also need to see your passport before they change money for you, and in fact many banks these days will only change money for their local clients). You may also be charged high fees every time you use an ATM in Argentina with your foreign card, and the amount of pesos you can take out in each transaction is not all that high, so to get a lot you will need to make several withdrawals, paying the fee each time. It is usually better to pay in places with your card, when you can/when they accept that. But perhaps better to avoid the problem entirely and bring enough US Dollars cash with you in the first place.
Don't buy more pesos than you need
Be careful to only exchange or take out the amount of money that you definitely think you will spend in pesos, and keep some dollars on hand to use in restaurants and shops. It can be hard to change pesos back to dollars, and often at an unfavorable rate. And often impossible exchange pesos for any other currency once you leave Argentina. If you do have a receipt from exchanging money at the official rate, hold on to it as you may be able (emphasis on the maybe!) to exchange money back into your home currency with a valid receipt at the Banco de la Nacion in Ezeiza Airport. But probably better just to spend whatever pesos you have left on having a great time in Argentina while you're still here!
A Packing List to cover you in Buenos Aires
[Photo credit: Salihan Laugesen's photostream//CC BY-NC-ND 2.0]
After ruminating over all the exciting destinations around the planet, you've finally decided to travel to Buenos Aires. Great, we know you'll love it here as much as we do. And though you've tossed and turned over your decision, figuring out what to pack can be even more stressful. Start your trip the Argentine way: tranquilo, relax, we've got you covered.
Pack light and in season
If you're coming from the Northern Hemisphere, don't forget that seasons switch when you cross the equator. Argentina's summer is from December to March, autumn is March to May, winter spans June through August, and spring blossoms from September into November. While summer can be insufferably humid, and winter bitter cold, the weather is overall quite temperate and these extremes usually last only about a week. Your best bet is to bring layers and peel off or pile on as necessary.
Regarding style, people in Buenos Aires are quite fashionable and trends change every season. Europeans will find the styles quite aligned to their own, but US Americans may want to leave some of their most casual t-shirts and flip-flops at home. Your best bet will be to pack light and buy a few things once you're in town, if necessary. When in doubt, bring classic, flattering basics and lean toward dressy instead of casual.
These boots were made for walking!
[Photo credit: David Avalos's photostream//CC BY-NC-SA 2.0]
Buenos Aires is an incredibly walk-able city, and we recommend taking a private walking tour to best get to know the place. Without a doubt, the most important thing you can bring to BA is a comfortable pair of shoes.
Having said that, if you are planning to do some trekking in one of the more rugged regions of Argentina, know that hiking boots will definitely stand out in the fashionable capital. Also, if interested in dancing some Tango, you will want comfortable shoes to learn in before whipping out those ravishing heels to show off your moves. Try some simple flats or pick up some alpargatas once you get here.
A quick reference list of what to pack
Of course, what you pack depends completely on your style, gender, travel tastes, length of stay, and itinerary. But here we've compiled a list of essentials to get you started.
Clothing Checklist

| | | |
| --- | --- | --- |
| Item | | Description |
| Comfy walking shoes | | Absolutely essential |
| Another pair of nice shoes or sandals | | Comfortable but more dressy |
| Plenty of socks and under garments | | |
| 3 pairs of pants or jeans | | Good for day and night |
| A few shirts | | For every-day wear |
| 2-4 nice blouses or dress shirts | | For fine dining and tango shows |
| 2 sweaters/sweatshirts | | One lighter; fleece or wool work great |
| 1 light coat | | |
| Pajamas and comfortable clothes | | For hotel and travel |
| Sunglasses | | |
| A hat or scarf | | |
| A raincoat or shell | | For sudden torrential showers |
If this seems like little to you, remember you can
shop
in the city. Below we've listed items for the female traveler. Ladies keep in mind that while BA is very cosmopolitan, you are still traveling in a Latin American, mostly Catholic country and should avoid low cut tops or short skirts if you don't want to attract uncomfortable attention. Showing some skin is not a no-no here, especially in summer, just try to do so tastefully. Women who wear sizes larger than a US dress size 8 will have a challenge finding clothes that fit in BA, as clothes run quite small.
Ladies Clothing

| | | |
| --- | --- | --- |
| Item | | Description |
| 2 dresses and/or long skirts | | keep weather in mind |
| A couple of tanks for layering | | |
| A scarf or two | | depending on your style |
| Nice boots/sandals/low heels | | avoid uncomfortably high heels |
| Pair of leggins | | Great for the plane and totally in style |
| A long shirt | | To wear over your leggings |
| 1 pair of nice shorts | | avoid short-shorts and jean shorts |
Those who rely on hair dryer should note that the voltage is different in Argentina than in the US, and hair dryers may blow-out (it's happened to me!). Your hotel should provide a dryer, and if not bring a voltage converter. Buenos Aires uses 220 volts. Your computer, however, is likely dual-voltage and will be fine. Here's some more information on voltage.
Other items

| | | |
| --- | --- | --- |
| Item | | Description |
| Sunsreen | |  The sun is strong here |
| Medicines | |  Bring any perscriptions you need |
| Toiletries | |  Ladies bring feminine products as options are limited |
| An adapter for electronics | |  See photo below. Can be purchased here. |
| A camera | |  Lots of film and memory! |
| A good book | | For the plane and long bus rides |
| Passport | | Up to date |
| Printed receipt of paid entry fee | | Details here |
| Reusable waterbottle | | Try one with a built in filter |
| Credit/debit card and cash | | US dollars get a great rate here |
What not to bring to Argentina
A tip when packing: pack everything you're planning on taking into your bag. Now reduce that by 20%. You want to leave room in your suitcase for souvenirs. You should also leave valuables at home; flashy jewelry will attract attention on the street in Buenos Aires, and while theft is not out of control here, you wouldn't want your memory of your travels tainted by a lost heirloom.
Lastly, don't bring too many gadgets. LandingPadBA has written quite a lot about checking electronics before you travel here, but we think that apart from your computer and camera, you really won't need anything else. Besides, you're on vacation — take a break from the screen and engage with the amazing city all around you.
For more information on what to pack, read LandingPadBA's article What Not to Wear, and check out what people are wearing on the streets of Buenos Aires on On The Corner. Enjoy your trip!
Inventive Mexican food in an intimate setting
[Photo courtesy MASA Club de Tacos Facebook Page]
When I tell Argentines that what I miss most about the US (other than family) is the Mexican food, they don't get it.  You see while famous for its beef and wines, Argentina is not known for its food diversity – and forget about spicy foods.  Growing up in Arizona, Mexican food formed the nucleus of my diet, and continued to do so when I moved to California and basically survived on burritos.
So when I heard about a new Mexican-inspired puertas cerradas restaurant in Buenos Aires, I knew I had to check it out. I've scoured Palermo for good Mexican food joints, but I usually end up disappointed and nostalgic. Somehow spending 300 pesos on mediocre tacos and leaving without flaming lips, having doused my food in the "extra spicy" sauce, feels traitorous to my roots. I figured a fellow West Coast yanqui would get it.
Simple, tasty, and creative Mexican-inspired cuisine
Kevin, the creator of MASA Club de Tacos, gets it. MASA is named after the heart of Mexican cuisine, the masa or dough used to make tortillas. In Argentine Spanish, however, masa while still meaning dough, is also a slang term for a cool person. Dinners are hosted every Thursday night in a residential home alternating between Belgrano and Almagro. Guests typically reserve in small groups, and the mixed company provides a perfect opportunity to meet new people — especially Argentines! The experience feels more like a warm dinner among friends than a private restaurant, and the price scheme adds to that feeling: each guest pays what they deem to be the value of the meal, and brings their own beverages.
I arrived with my Argentine partner last Thursday at the Almagro MASA location, and was immediately made welcome by Kevin, a laid-back and friendly California native. He lead us to the kitchen where his quirky and fabulous right-hand-lady Evy was busy with prep work. We chatted about Mexican food in BA and the US as the cooks prepared appetizers. When the rest of the guests arrived, a family from Bahia Blanca and a few young Argentines who work in the tech sector, we settled into the living room, discussing the emerging kite surfing scene on Argentina's Atlantic coast.
Dinner is served!
While we chatted with our fellow guests, Kevin and Evy served us baskets of fried avocados and a creamy jalapeño salsa. To my delight, the salsa sent steam zipping through my nasal cavities! The Argentines seemed a little overwhelmed by the spice, and warned me against dousing the palta slices, but I just couldn't get enough. The avocado was warm and creamy, without being over fried. Delicious.
To avoid gobbling up all the slices on the table, I ventured to the kitchen to find the Negra Modelo I brought with me. With the new Daft Punk album and some classic Outkast tracks pumping in the background, the cooks were preparing the first dish. I asked about the concept of restaurant, and Kevin explained it as an elevated spin on Mexican street tacos. He founded the project after working on a local website with a cultural agenda, with the ideal that going out in Buenos Aires shouldn't have to be exclusive to those who can afford a pricey meal. That's how he came up with the unique, pay-what-you-can price: it makes the hip closed-door phenomenon accessible.
I scuttled back to the table as they plated the salad, an absolutely divine grilled cabbage salad with mango, tomato and a creamy vinaigrette. The cabbage was perfectly grilled to eliminate bitterness but still be crunchy, and my boyfriend has been begging for grilled cabbage since. Peppered with mango slices, the salad was mildly sweet but still light and refreshing.
"Don't judge your taco by its price" -Hunter S. Thompson
As we awaited the main dish, our fellow guests told us about an application they invented called Cook App which allows you to search puertas cerradas restaurants in Buenos Aires. It's like a go-to spot to find different venues on the lively underground restaurant scene.
And then came the main event: two tacos filled with pork carnitas with onion and cilantro, and chicken slow cooked in honey, jalapeño salsa, and blueberry juice, both served on homemade corn tortillas. The tortillas were the best I've eaten in Argentina; they were light and not overwhelmingly corn-y (as corn tortillas often can be), with a perfect touch of griddled flavor. Both meat fillings were delectable, and the pollo (chicken) was particularly juicy. The tacos were served with another salsa, this time made with the Peruvian Locoto chili, and I doused my tacos with the two spicy spreads to the horror of the Argentines. Once again, the tacos delightfully blended sweet and savory flavours.
Swooning in a taco-induced reverie, we cleaned the juice off our hands and discussed the spectacular tortilla masa. The strawberry cupcakes came right at the perfect time and perfect closure for the pallate. Again, these were not too sweet, and the cake itself was spongy and exuded fresh strawberry goodness.
While the family had to leave early, we stayed and talked with Evy and Kevin. We laughed about Argentine and US American cultural differences, and Kevin even admitted that he made corn tortillas since he knew I was coming. Argentines, apparently, are much easier to serve Mexican food. "They pretty much love anything we serve them," noted Evy, while those of us from the US, on the other hand, have lots of expectations about Mexican food. True enough. Overall, I felt the dinner combined traditional Mexican ingredients into fun, and unique dishes.
Our hosts regaled us late into the night with stories about demanding clients, the joys of menu planning, and what it was like serving the rock group The Black Keys.  The MASA Club de Tacos is a unique, friendly experience.
If you'd like to reserve a spot at the next MASA Taco dinner, find further details on the MASA Club del Taco website, or visit their Facebook page. Vegetarians and those with diet restrictions, never fear! The MASA team is willing to accommodate to your requests. Read  more reviews of the restaurant on My Beautiful Air or The Argentine Independent, and happy eating!
Historic Shopping Center in Buenos Aires
Housed in a lovely Beaux Arts building in downtown Buenos Aires, the Galerías Pacífico Shopping Mall is a great place to visit for much more than just shopping. Originally constructed in the 1890's as the BA headquarters for the Parisian department store, Le Bon Marche, this prime spot on the Florida pedestrian street has changed through the years, but retains a nostalgic elegance, making it a dazzling place to shop.

[Photo credit: Wally G's photostream/ /CC BY-BY-SA 2.0]
Modeled after the great Italian arcade Gallerias Vittorio Emanuele II in Milan, the building was commissioned exclusively for Le Bon Marche. The department store never occupied the entire building however, as it struggled to compete with the English store Harrods just down the block. (The Harrods building now lays empty, after closing over fourteen years ago.) As a result, other companies and stores occupied parts of the Galerías. It was the first home of the National Museum of Fine Arts, a hotel moved into one corner (now the luxurious Esplendor Buenos Aires), and the Buenos Aires and Pacific Railway converted some of the building into offices, thus the Galerías Florida were renamed Galerías Pacífico, since the rail line reached from Buenos Aires, through Chile, to the Pacific Ocean (el pacifico).
Beautiful ceilings and dark basements

[Photo credit: Barcex's photostream/ /CC BY-BY-SA 2.0]
At the nexus of the galleries you'll find impressive murals painted on the interior dome. Commissioned in 1947, these murals were painted by five of Argentina's greatest artists at the time: Antonio Berni, Juan Carlos Castagnino, Manuel Colmeiro Guimaraes, Lino Enea Spilimbergo, and Demetrio Urruchua. The murals reflect universal themes like brotherhood and man's relationship to nature, and it's an interesting study in the unique styles of each artist within the same medium. Keep an eye out as you stroll through the rest of the mall for some more contemporary murals, as well.
Like many other beautiful sites in Buenos Aires, the history of the Galerias is tainted with the stain of the last military dictatorship. In the late 1980's, a film crew ventured into the basements of the mall, and one of the cameramen recognized the the space as the site where he was held and tortured as an ex-desaparecido in 1976.  The basement still bore ghastly evidence of torture, such as markings made by the imprisoned, including dates and pleas for help. The building was declared a National Historic Monument in 1989.
High-end brand shopping in downtown BA
After lying abandoned for a while, the galleries were converted into a shopping mall in the 1990's, while Argentina was experiencing an economic boom. Today, the stores in Galerias Pacifico are basically the same ones you can find in other malls throughout the city, or walking down Santa Fe avenue, and around Palermo. Foreign brands like Chanel, Tommy Hilfiger, Estee Lauder, and Swarovski have shops among the many Argentine brands, and you can stop for cafe or lunch in the cafes and restaurants both on the bottom floor, and up high under the glass ceiling. Here's a full listing of stores.
[Photo credit: Miguel Cesar's photostream/ /CC BY-BY-NC-SA 2.0]
While you're there, don't miss the Centro Cultural Borges (Borges Cultural Center), which features many wonderful exhibits. Also stroll down the pedestrian Calle Florida for more shopping and lots of interesting people watching (rushed business people, street vendors, travelers, money traders, and buskers all converge here).
For a preview of the Galerias, check out this video, and read more on Wander Argentina.
Location and hours of the Galerias Pacifico
Av. Cordoba and Florida, City Center
Website:  www.galeriaspacifico.com.ar/eng/index.php
Phone: 5555-5110
Hours: Monday – Saturday 10am – 9pm
Sunday – 12pm – 9pm
Centro Cultural Jorge Luis Borges:
Located on the corner of Viamonte and San Martin, City Center

An interview with one of Buenos Aires's taxi drivers
[Photo credit: Luis Argerich's photostream//CC BY-NC 2.0]
If you've been to Argentina's capital city, you've surely noticed the bumble-bee black and yellow taxis, and probably taken at least a few. With over 40,000 cabs in town, the BA taxi driver is a staple character in the city, and will often be up for a good chat. We caught up with Dario Wigodzky, who has driven taxis for over twenty years, who gave us a peek into life from the driver's seat.
How long have you been driving taxis?
I've been driving taxis since 1991, and celebrated my 22nd year in this profession on July 3rd.
Congratulations on your long career, Dario! How did you become a taxi driver?
I chose this career basically for the freedom of choosing my of hours and the independence that it gives me. I was young (just 22 years old) when I started. And I get to be my own boss!
Are you part of any union or company?
Yes. In the first few years I worked independently, then after a while I decided to become a Radio Taxi, which has improved my income and offers me more security.
You certainly get to see the city from a unique perspective; what do you think of Buenos Aires as a place to drive? What are its best and worst traffic laws or situations?
Driving in Buenos Aires is no easy job. We [Argentines] are very imprudent while driving and traffic gets worse every year…my years of experience help me endure the situation pretty well. The most relaxed driving situations are when I move through the zone we call "el bajo" (the streets close to the river), like Libertador Avenue, as traffic flows as best as possible, or when I work on Friday nights, since it's much more laid-back. One of the worst driving situations occurs in downtown intersections, where cars and buses often stop in the middle of the intersection while crossing, producing blocked streets. Also the "piquetes" (protests that occupy streets) on many occasions, I consider abusive.
[Photo credit: Tanoka's photostream//CC BY-NC 2.0]
What are the most popular destinations that travelers ask you to go?
In the morning, the majority of trips are to the City Center. During the day, I circulate a lot in the center, and busy areas like Palermo, Barrio Norte, Belgrano, Caballito and Flores. On Friday nights the majority of journeys are to the zone with all the bars and night clubs. Tourists prefer to go to La Boca, Puerto Madero, Plaza de Mayo, Recoleta, Palermo Soho and Palermo Hollywood.
Which area of Buenos Aires is the most confusing to maneuver?
The most complicated neighborhood is called Parque Chas, because its streets are circular and getting in is easy but getting out of the labyrinth is complicated.
Any streets or corners you avoid or refuse to drive to?
Not usually. In some cases I refuse to take passengers who I consider "suspicious".
Which is your favorite barrio (neighborhood), and why?
I don't think I could choose among the hundred porteño neighborhoods…but the southern part of the city, (Pompeya, Parque Patricios, Barracas, La Boca, etc.) the most old and popular parts, seem to me the most representative of the city and those with the most history and porteño spirit and tango spirit. Their streets speak to our identity as inhabitants of the city of Buenos Aires.
If you could give a tourist in Buenos Aires some advice, what would you tell them?
I'd recommend that they not only do the traditional tourist things, but that they go more to the neighborhoods I just mentioned, which I think would transport them to the real spirit of our beautiful city.
I'm sure you've had some interesting people step into your taxi — could you tell a story about your most memorable client?
In 22 years I have a lot of anecdotes, some difficult to tell in an interview…but if I have to choose just one, this one occurred about 2 months ago and concluded last week. A passenger asked me to take him to the Aeroparque and after a long chat told me that he is a music producer for a very famous Argentine band called Tan Bionica. I told him that my son Nicolas, who is 13, is a big fan of the group, and he invited my son and I to a show that would take place 2 months later in Luna Park Stadium. He left me no more than his last name and the door where he could be found. Last Saturday we approached the stadium (I must admit with very low expectations, my son was more optimistic, of course – he's 13) and what a surprise, there was the passenger, who fulfilled his promise to invite us to see an excellent concert, from a very privileged spot, which we enjoyed exceedingly.
[Photo credit: Tan Bionica's Website]
Any famous passengers?
A lot. Futbol players: El "Pato" Fillol, the goal keeper from the Argentine World Cup champions of 1978. Singer Maria Marta Serra Lima. World champion boxer Jorge "El Roña" Castro, who gave me a boxing lesson during the trip.
What's the strangest thing you've been asked by someone riding in your cab?
A  transvestite once offered to exchange his sexual services for a cab ride. I didn't accept.
Which radio station do you listen to while driving? Any particular songs or albums that you think best accompany your journeys through Capital?
In the day time, my favorite station is 95.1 Metro, they have a general interest program in the morning and another in the afternoon which are very funny. At night I choose classic songs from bands like Queen, Phill Collins, The Police, etc.
Where's the best place to stop and have a coffee or eat and chat with other drivers?
I'm not the kind of driver who stops much during the day to chat with my colleagues, but I have a few good places in different neighborhoods where you can enjoy the best chorizo or proscuttio sandwiches. Some are on the costanera sur or costanera norte. Also, there is a traditional pizzeria in Buenos Aires called La Mezzeta in Chacarita, that has in my humble opinion the best fugazzeta (traditional cheese and onion pizza). That place I save for Friday nights.
[Photo credit: Pizzeria La Mezzeta's Facebook Page]
Are there any good myths or legends about taxis and taxi drivers in Argentina?
One legend says that a taxi chauffeur took a sinister looking passenger to the Chacarita cemetery, and once he entered Parque Chas, neither of the two where ever seen again…
What's hanging from your rear-view mirror?
A red ribbon tied in a bow that my wife hung which she guarantees keeps away envy. I don't believe it, but just in case…
Thanks for your time Dario! Apart from his normal work as a cab driver, Dario does transfers to/from Ezeiza International Airport. If you'd like to get a hold of him, you can send him an e-mail at [email protected] or better, WhatsApp at +54-9-11-5343-8010. And if you are an interesting expat or local in Buenos Aires and would like us to interview you, feel free to get in touch and tell us why.
El Puente de la Mujer in Buenos Aires's business district
Crossing the diques (docks) to Buenos Aires's elite district of Puerto Madero, you'll undoubtedly spot one of BA's most iconic structures: El Puente de La Mujer, or Woman's Bridge. A beacon to all pedestrians, this elegant and sophisticated homage to women is one of the city's most contemporary structures, curving over the waters of the Rio de la Plata.
[Photo credit: efava's photostream//CC BY-NC-SA 2.0]
The bridge was designed by Spanish architect Santiago Calatrava, a pioneer of the Cantilever spar cable-stayed bridge. Open for pedestrian passage only, it was completed in 2001. You may (like I have) spend hours contemplating the angles and shape of the bridge, wondering which parts correspond to a literal representation of a woman or if it's simply a conceptual nod to womanly grace and elegance. But actually it was named as such because the streets of Puerto Madero are all named for famous and important Argentine women; the architect likens the structure to the synthesis of a couple dancing tango (aha, now I see it!).
[Photo credit: shell belle's photostream//CC BY-NC 2.0] 
Puerto Madero is one of the only places in the city where you can see and enjoy the river. So head down to the restored docks on a beautiful day, and experience the bridge for yourself! If you'd like to see how it opens, you could wait around until a ship shows up, but that could be a long while (Puerto Madero is not the city's functioning port, see below); why not just watch a video of the bridge open! It is particularly lovely all lit up at night, or on a windy day, with the brackish river water rippling below.
[Photo credit: verovera78's photostream//CC BY-NC 2.0]
Puerto Madero: from rags to riches
Because the Rio de la Plata river is so shallow, docking cargo ships was a challenge in the old days. Boats used to stop off shore and small crafts would bring passengers closer in, where high-wheeled carriages (or in some cases, slaves) carried passengers ashore. Puerto Madero was finally constructed as the port of the city, commissioned by Eduardo Madero in 1887. It was soon made obsolete, however, by the construction of the New Port (further North, on the waterfront beside the Retiro neighborhood) in 1926. From this point on, the region fell into decay and became one of the most derelict sectors of the city.
In the 1990's, however, the city and national governments joined forces, attracting major local and foreign investment, to revamp the old port into Buenos Aires's most chic and elite neighborhood. Old warehouses were converted into smart offices, lofts, restaurants, and the new space for the private Catholic university, Pontificia Universidad Catolica de Argentina.

[Photo credit: David Sasake's photostream//CC BY-NC-SA 2.0]
If it's a hot day in Buenos Aires, this neighborhood is blessed with a revitalizing breeze. The docks are great for strolling, biking, or sightseeing; keep your eyes open for a crazy guy on roller blades, who skates up and down the block razzing tourists and making jokes. Next head into the Puerto Madero neighborhood itself, and saunter among the towers that house Argentina's wealthy. Sip a luxury cocktail at the Faena Hotel + Universe before exploring one of our favorite regions of the city, the Costanera Sur Ecological Reserve.
Read more about the history of Puerto Madero's development on Wander Argentina, or check out some of the most beautiful pedestrian bridges in the world as rated by Travel + Leisure.
Location of Puente de la Mujer
Juana Manuela de Gorriti between Azucena Villaflor and Macacha Guemes
Puerto Madero
Get your fill of chili this Sunday, June 16th

[Photo credit: Annual Buenos Aires Chili Cook Off Facebook page]
This Sunday June 16th 2013 (from 2pm to 6pm, Vicente Lopez 2134) is the 3rd annual Buenos Aires Chili Cook Off in Recoleta! Come sample the best chili in Buenos Aires, prepared by an array of cooks (including some BuenosTours guides!) and chili aficionados alike. The cooks are competing for the taste buds of a panel of notable judges and international characters. Obviously the majority of chilis will be meaty, but some cooks will also have vegetarian chilis on offer. Just don't tell the Texans.
The event is a fundraiser for the SACS – Send a Child to School Foundation, and all proceeds will help provide necessary school supplies for kids in need in Buenos Aires. Entrance to the Cook Off is free, but you can buy tickets in $5 and $10 peso amounts to enjoy any of the items mentioned on the menu below, including microbrew beer and local boutique wines:
[Photo credit: Annual Buenos Aires Chili Cook Off Facebook page]
For more information, read all the details on the Sugar & Spice blog, like the Facebook page, join the event, or follow the cook-off on Twitter.
And the BA Underground Market is back on Saturday, June 15th!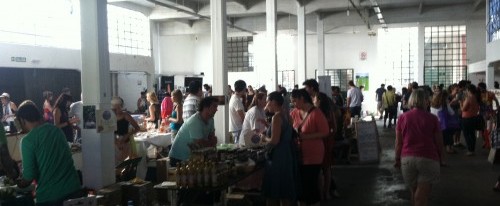 Also this weekend, check out the newest iteration of the BA Underground Market on Saturday, June 15th 2013(from 12pm to 5pm, Querandíes 4290), hosted by the Argentine Independent newspaper. Held in a cool old factory (IMPA) in Almagro, this event features difficult-to-find-in-Buenos-Aires items like microbrew beer, homemade international foods, hot sauce, fudge, and vegan and raw options. See the full list of vendors on the Argentine Independent website, and join the facebook event. Tickets are $5 in advance and $10 at the door.

Have a delicious weekend in Buenos Aires!
Location of the Annual Buenos Aires Chili Cook Off
Pagana Club
Vicente Lopez 2134, between Azcuenaga and Jose Evarista Uriburu
Recoleta
Location of the BA Underground Market
IMPA, Querandíes 4290, between Pringles and Rawson
Almagro
Visit the MALBA (Museo de Arte Latinoamericano de Buenos Aires)
The MALBA is without a doubt one of Buenos Aires's premier museums. Housed in a modern building designed to reflect the city blocks which flank it, this is one of those rare museums where you feel like the architecture is truly part of the show. High, geometric windows allow tons of natural light to illuminate a dazzling collection of modern and contemporary Latin American art.
[Photo credit: kara brugman's photostream/ /CC BY-NC-ND 2.0]
The MALBA opened its doors to the public in 2001, with a mission to "collect, preserve, research, and promote Latin American art from the onset of the 20th century to the present." Created by the Costantini foundation, this museum holds the spectacular collection of Latin American art amassed by Argentine real-estate developer, philanthropist, and patron of the arts Eduardo Costantini.
The building's granite exterior belies the lightness inside: a limestone interior with cristal panes of glass spanning the entirety of one wall, the space was designed to allow optimal use of natural sunlight, while still perserving the artwork. In many ways, the white limestone and clean lines provide a perfect canvas on which pieces of modern and contemporary art pop and explode to the eye. While sleek and modern, the space always features some whimsical touches; for example, the curvy wooden panels hanging from various ledges and balconies finally conjoin into a lovely bench on the second floor. Next to the entrance, a panel that appears to be a giant stop-light is actually equiped with a microphone and reflects the level of ambient noise around the MALBA: this means the red-lights appear at rush hour!
Outstanding collection of Latin American art
The permenant collection is a spectacular homage to Latin American modern and contemporary art. With over 500 pieces in the archives, The MALBA displays around 150 works at a time. All artwork starts from the 20th century, and is arranged to highlight certain regional tendencies. Pieces by Frida Kahlo and David Alfaro Siquieros are immediately recognizable, but even aficionados of Latin American art may be surprised by a cubist Diego Rivera painting. Also noteworthy is a piece by the Colombian Fernando Botero (recognizable for his use of corpulent figures) called Los Viudos or The Widowers.
The museum features Argentine artisits, including several works by beloved watercolor master and esoteric thinker,  Xul Solar. One of the most striking paintings on display, Manifestacion (Protest) by Argentine great Antonio Berni attracts much attention. A response to the Mexican muralists, Manifestacion recalls the magnitude and politics of the muralist tradition, portraying larger-than-life characters and transforming the masses into a union of distinct and intriguing individuals. This painting is, however, one of the most emblamatic of the Argentine tradition; the sign held by the people protesting reads "Pan y trabajo" or bread and work, perhaps a direct reference to Ernesto de Carcova's Sin Pan y Sin Trabajo, on display in the National Museum of Fine Arts.
[Photo credit: Carlos Adampol's photostream/ /CC BY-BY-SA 2.0]
The collection also features interesting  surrealisms by Chilean artist Roberto Matta and Cuban Wilfredo Lam. Also intriguing are a slew of fun optical works, and look out for a few pieces of living art like plants and some fish!
Provocative touring shows at the MALBA
Visiting exhibits at the MALBA tend to be jaw-dropping, moving, beautiful or outrageous. These contemporary shows, typically by Latin American artists, rotate almost monthly; you can check the schedule here. MALBA's movie theatre plays some interesting, off-beat films, and as the Constantini Foundation is dedicated to education, MALBA hosts open workshops on Philosophy, Film, and the Arts and leads guided visits for the hearing, visual, and mentally impaired.
Be sure to bring some pesos with you! The museum store features some funky and truly original things including clothes, notebooks, jewelry, mates, and other do-dads that would make great gifts. Head downstairs and check out the ample collection of art books, magazines, and music. You can also grab a coffee or bite to eat at the lovely museum cafe, Cafe des Arts.
To get a feel for the museum, watch this video, or read more at Wander Argentina.
Location of the Museo de Arte Latinoamericano de Buenos Aires
Avenida Figueroa Alcorta 3415, between San Martin de Tours and Jeronimo Salguero, Palermo
Telephone: 4808 6500
Opening Hours 
Thursday-Friday and Holidays: 12pm to 8pm
Wednesdays: 12pm to 9pm
Tuesdays: closed
Head to the MALBA on Wednesday for discounts!
The world's most beautiful bookstore, in Buenos Aires!
Buenos Aires is a bookworm's city: cozy cafes for snuggling up with a novel on every corner, bargain bookshops on Corrientes Avenue, famous literary personalities, and high taxes on technology make Kindles and Tablets rare (that's right, porteños still read real-life, scribble in the margins, flash them on the subway, wallow in the scent of musty spine, thumb the velvety pages BOOKS!). And of course, Buenos Aires is home to the most beautiful bookstore in the world.
[Photo credit: m4caque's photostream/ /CC BY-NC-ND 2.0]
El Ateneo Grand Splendid is one of the biggest bookstores in South America and certainly the most luxurious. Located in the ritzy Recoleta neighborhood, El Ateneo is as splendid as its name, and exudes Buenos Aires's nostalgic elegance.  The building originally housed the theater Teatro Grand Splendid, designed by architects Pero and Torres Armengol in 1919. After years of popular shows, including performances by the famous tango singers Carlos Gardel and Ignacio Corsini, the Grand Splendid was converted into a movie theater in the late '20's, featuring some of the first sound movies shown in Argentina.
All the bookstore's a stage
The El Ateneo publishing house converted this old theater into a bookstore in 2000, thankfully conserving its original aspect, but replacing seating with bookshelves. The theater's spectacular cupola (dome), painted by Italian artist Nazareno Orlandi, depicts an allegory for peace after WWI. Framed by plush crimson curtains, the stage is now a cafe where literary types and people-watchers alike form part of the spectacle; acting like a porteño by sipping a cafe and struggling over a Cortázar story has never been so literal!
Opened in 1912 by Spaniard Pedro Garcia, El Ateneo started out as a publishing house whose initial catalog included The Divine Comedy, Montaigne's essays, Shakespeare, Ruben Dario, Machiavelli and Homer translated and printed for an Argentine readership. In 1968, the publishers launched "The Spring of Letters", a series of lectures and signings with famous authors which eventually evolved into the International Book Fair held annually in April. Today, the editorial forms part of Argentina's most important literary conglomerate with many bookstores throughout BA and the rest of the country.
BYOB: Bring your own book
[Photo credit: violinha's photostream/ /CC BY-NC-SA 2.0]
If you want to be one of the 3,000 who visit this glorious temple of books daily, I recommend waiting for a spot in any of the reading nooks housed where the box seats once lay. Snuggle up with your selections, admire the ornate views, and watch people from all over the world snap photos and delve into texts.
Don't be disappointed by the English book section, though; it contains almost exclusively romance and mystery novels with an occasional classic. There are, however, many books on Latin American art, regional cuisine, guide books, and Argentine culture which make for fun browsing for even those who don't understand a lick of español. Check the basement for music, DVDs, and an extensive children's section, and the upper floors for great views. The first floor houses mostly medical, psychological, and education texts, and you can find Classical and Opera music on the third floor.
[Photo credit: kara brugman's photostream/ /CC BY-NC-ND 2.0]
Don't believe it's the most beautiful bookstore in the world? Neither did The Guardian; in this article they placed El Ateneo at second. Call me dramatic, but I hold to my claim that El Ateneo is number 1! For a great description of the store, try Atlas Obscuro, and if you want to see some more magical bookstores check out this top twenty list at Flavorwire. Or just sit here and watch the following short video on El Ateneo instead:
Location of El Ateneo Grand Splendid Bookstore
Avenida Santa Fe 1860, between Riobamba and Callao, Recoleta
Telephone: 4813-6052
Monday to Thursday: 9am to 10pm
Friday and Saturday: 9am to 12am
Sunday: 12pm to 10pm