Step into a world of riding boots and leather chaps
San Antonio de Areco is a historic town that gives visitors a taste of the life of an Argentine Gaucho, or cowboy. Located about an hour and a half northwest of Buenos Aires, San Antonio de Areco also offers a peek into a unique facet of Argentina's immigration history.
Despite being in a country of mostly Spanish and Italian immigrants, San Antonio de Areco has a strong Irish heritage. At the center of the town's beautiful square is a statue dedicated to Hipólito Vieytes, who was born in San Antonio de Areco and played a prominent role in the May Revolution of 1810 and the first independent government of Argentina. Below the statue is a plaque commemorating the visit of then Irish president Mary Robinson in 1995 and inside Areco's main church, next to the square, there is a long list of O'Reillys, Malleys and Maguires who helped build the church and the town's identity.
Pull up a stool and drink with the locals in Argentina's oldest pulperia
Surrounded by flat wetlands that constitute some of the country's richest soil, San Antonio boasts a picturesque town center, where modern life mingles with Argentine traditions. A few blocks from the town square, the oldest gaucho bar in Argentina stands as a historical monument and a community's commitment to its past. When the bar's foundation, originally made of clay, was deemed hazardous, the citizens of Areco cobbled together the money for a new, concrete foundation that would support the building and not alter its facade or interior. They succeeded.
Guillermo Guereño provides a short tour of San Antonio de Areco. A longtime citizen of Areco, Guillermo knows the historical roots of the town, as well as the little quirks. The town's first library was founded by women, who held the power to choose which literature everyone could read. In addition to knowing the people at each stop on tour, many passers-by greet Guillermo warmly. After the hour long tour of Areco, Guillermo escorts his guests to an elegant estancia, or ranch.
A taste of the high life at the grand estancia El Ombu
Located about 10 minutes from the town of San Antonio de Areco, El Ombu de Areco is a magnificent, family-owned estancia. Originally built in 1880, the mansion is the centerpiece of the property, serving as a Bed & Breakfast that's maintained its gaucho character. Enrique Boelcke purchased El Ombu in 1931, and his granddaughter, Eva, is the estancia owner and manager today. In 1993, she expanded the property's services to include a B&B.
The brick architecture is laced with ivy and dotted with a variety of flowers. After driving down a dirt road for a few kilometers, the tree-lined entrance prefaces the rustic yet well-manicured property.
Upon arrival, visitors walk onto a beautiful lawn with wooden tables and benches under a large oak tree. The classic setting is further enhanced when wine and beverages are brought out to start your estancia experience. After the welcome drink, the gauchos invite their patrons on a horse ride around the estancia. With very tame horses, the ride is enjoyable and leisurely. The gauchos have exceptional command of the horses and also know enough English to offer riders instructions on how to guide the horse. El Ombu's expansive beauty becomes clear to visitors on the horse ride.
Argentine Asado

Once back at the mansion, the asado, or Argentine BBQ, begins. Served with several delicious side dishes – salad, tomatoes and onions in a vinaigrette dressing and rice with vegetables – the asado at El Ombu offers the best cuts of meat, from cattle raised either on El Ombu's property, or the adjacent farm. The asado includes chorizo (sausage), morcilla (blood sausage), bife de chorizo (sirloin steak), costillas (ribs) and lomo (tenderloin).
Horses roam freely to the sound of strumming guitars
The gauchos not only serve the asado, they also provide the entertainment, displaying first their guitar skills, and then their intimate bond with their horses.
The gauchos put on a unique display of tricks with the horses, ranging from slowly kneeling the horse down, to doing a handstand on the horse (above) to putting the horses rear foot up against the gaucho's chest – a daring tactic that garners much applause. Another impressive gaucho feat performed on some occasions is when one gaucho, leading a horse with a cowbell around it's neck, has about a dozen horses in unison following him. The horses come right up to everyone's table and "mingle" with patrons. It's a fascinating sight. A dozen horses – completely free – roaming peacefully around a group of people.
Camino Pampa Tours and El Ombu
Click here to book a private estancia day trip with Camino Pampa Tours
Guillermo, who runs Camino Pampa tours, or one of his expert bilingual guides accompanies his clients from their accommodation in Buenos Aires to San Antonio de Areco and El Ombu de Areco. Guillermo's driver, who speaks English well, brings all clients back to their accommodation in the city. Tour pick up is at 9am and return time is approximately 6pm.
British writer and adventurer, meets one Argentine at a time
Rosie Hilder traveled to Bolivia four years ago, ready to start life as an expat. Her experience in La Paz didn't turn out so well, but – determined to stay in South America – Rosie moved to Buenos Aires instead of going home to England. Since arriving in 2009, Rosie has become an English teacher, journalist, photographer and blogger.
She started her blog, 52exchanges.com, in 2011, where she documents a year-long challenge to have 52 (one per week) language exchanges in Buenos Aires. A resident of the barrio of Almagro, Rosie sat down with us recently…
Why did you come to Buenos Aires?
I actually originally moved to Bolivia for an English-teaching job and then when I got there – I really liked it – but after about six months, I realized my bosses were a bit sleazy and didn't pay me, so I decided to leave, but I wanted to stay in South America, but come somewhere a bit more developed. I had this idea in my head about how great Buenos Aires would be, so I came to Buenos Aires.
Why did you stay?
I really liked it! At first, I had to stay because I couldn't afford to leave. And then, I got quite a good teaching job, not those sort of normal, flaky institutes. They got me a visa, it's a job, you know so I decided to stay because of that. And then my ex-boyfriend left, and then, I started to meet at bunch of friends and started to really enjoy the city. And now I have a new Argentine boyfriend! Now I won't leave because of him.
Favorite barrio?
Almagro, obviously. Perfect mix.
PG: What about Almagro?
Well it's a barrio, you know? People actually live there. And there's like all these specialist shops that I love. And it's not as fancy as Palermo. And it's in the middle of everything, you can get anywhere from it.
Where's the best place you go for coffee, steak or ice cream?
I'm not really big on coffee, but I've heard the Full City Coffee House, a Colombian one in Chacarita, is supposed to be really good. Steak – well obviously a family asado is the best place to go for beef, but La Cholita [Rodríguez Peña 1165, in Recoleta] is really good. For ice cream, Nonna Bianca [Estados Unidos 425], it's in San Telmo. It's Italian.

(Photo Credit: suziedwards's photostream// CC by 2.0)
What are your favorite events or festivals in Buenos Aires?
BAFICI, the independent film festival, that's in April. It's just a really good chance to see films that you wouldn't normally see. And after, they often have question and answer session with the director, which I always find really interesting… and people always clap at the end, which is great. We don't do that in England.
How do you spend your weekends?
Well I'm really busy normally, but a good place to go to relax is the Costanera Sur. I like to go for a walk in the ecological reserve there, or sit in a café with a book.
(Photo Credit: miguelvieira's photostream // CC by 2.0)
Your last day in Buenos Aires. What are the three things you'd do, or three places you'd go to?
Well, I would definitely go to a park. Maybe the Parque de 3 de Febrero cause just to enjoy the Argentine park experience with mate and family. And that park is really good because there's loads of stuff there you can take good pictures of. What else would I do? Well I would probably go and eat a steak if it's my last day. That's pretty much obligatory, isn't it? Have wine. And then I would go to my favorite bar, which is Senior Duncan in Almagro.
Is it a British bar?
No, it's one of these "closed door" bars, and it's very cool. It's run by five or six Argentines. It's one of those places where you can go and make friends with everyone there. They have good music. On Thursdays they have a swing dancing night. And they have a storytelling event there.
So switching gears, 52 exchanges, what prompted the idea and what was that experience like?
I didn't learn Spanish at all [in school] for seven years. So I thought, "Oh yeah, I'll go learn Spanish." I got to Bolivia and realized I'd forgotten the past tense, couldn't understand anything. I couldn't get by. And then I sort of got up to scratch in Bolivia with private classes and stuff. And then when I got to Argentina and I didn't understand everything – [Argentine Spanish is very unique and sometimes difficult to understand] – obviously, because they use the "Sh" sound for the "ll" and all that. And after two years in Argentina, I felt, "Well now I understand and I know to say "sh" and not the traditional Spanish pronunciation  but I still wanted to feel like I completely knew. People at home would say, 'Are you fluent?' and I would say, 'Well… I don't know.'  What does that mean? Which is a theme in my blog – what does it mean to be fluent? And a friend of mine – someone I know back home – was doing this blog called '52 free gyms' or something like that, and he was going to all these free gyms and writing about it. And I was like 'this is what I should do' – I'm not really into the gyms but I think it could be even better with people. So, another friend told me she'd been on a conversation exchange, and I put the two ideas together and decided to do a blog about 52 conversation exchanges.
If someone's reading your blog for the first time, they're a visitor to Buenos Aires, what lesson do you think they're coming away with?
Well, they'll learn some very useful Spanish vocabulary. They're learning about the city, because I went to different places [for language exchanges] and I said I was in this bar or this place. And they'll learn about Porteños in general. And I guess for me, the blog is really about cultural differences – the fact that what I say isn't necessarily the truth. It's not fact, but it's the way I see it because I'm English. Things that are normal for Argentines aren't normal for me. I think that's the point of the whole thing is trying to get a bit more understanding of the culture, which for me is the most interesting thing about living abroad.
Thank you Rosie! Questions? You can contact Rosie at her personal website: www.rosiehilder.com. And if you are an interesting expat/local in Buenos Aires and would like us to interview you, feel free to get in touch and tell us why.
A must-see show in Buenos Aires
You can feel the beat hit your chest. Everyone's eyes are glued to the stage, mouths attached to their big-cup beers and ears enjoying the thump of congas and djembe drums. The ones not slurping beer are dancing and smiling, kissing their date or just letting the music sink in. If anyone had a case of the Mondays, it left a long time ago.
La Bomba de Tiempo attracts an eclectic crowd to the Konex, their Abasto venue, every Monday night. The event has become a must for many travelers and Porteños in Buenos Aires. Its popularity could have made it an over-touristy event if it weren't for its consistent originality, affordability and great music.
The best of Abasto
Located only a few blocks from the historic Abasto Shopping Center, The Konex is an open-air venue with some fun design. (La Bomba de Tiempo is a rain-or-shine event because the stage is covered. It's actually a fun event in the rain). A large orange staircase, which hosts the mixing desk, is in the middle of the audience. There's a huge metal bug stationed on the roof to the left of the stage. Colorful graffiti covers the walls. But all of these details fade away once the drum band takes stage.
A 17-person band provides the nights' entertainment. They play on an array of drums – congo and djembe mostly – and everyone seems to get a solo of some kind. Mid-way through the show last week, a saxophonist accompanied the band for a few songs, playing for about 30 minutes. The music was lively, perfectly executed and energized the crowd.
The band involves the audience too. In a performance that resembled the Isley Brother's song Shout, the drum band gradually lowered its volume, motioning the audience to kneel down. The entire crowd lowered to the ground until the beat slowly, and then rapidly, picked up. Not before long, everyone was back on their feet, clapping hands.
Although the venue is standing-room only and packed, there isn't a rowdy vibe in the audience. Whether because of the music or not, the jovial, peaceful crowd makes the performance even more enjoyable.
Given its popularity, La Bomba de Tiempo is an event to show up early for. You don't need to worry about tickets selling out, but the line can literally be around the block, and an hour-long wait. The main, La Bomba de Tiempo show starts at 8pm, but there is an opening act at 7pm. Try to arrive at the Konex by 7pm to avoid missing any of the La Bomba show.
For more opinions on La Bomba de Tiempo, check out Wander Argentina's post, Diego's write-up on Expose Buenos Aires and this review by Matador Network.
Where is La Bomba de Tiempo?
The Ciudad Cultural Konex venue, at Sarmiento 3131 (between Jean Juares and Anchorena) Abasto, City of Buenos Aires.
Check out La Bomba de Tiempo's website and Facebook page for any updates. You can also buy tickets on the Ticketek website.
Phone: (+54 11) 4864 3200     Email: [email protected]
Lively, open-air steakhouse in Buenos Aires
Walking through Palermo Hollywood for the first time in September, I saw several chic restaurants . Then I got to the corner of El Salvador and Fitz Roy, where a crowd hummed outside a bustling restaurant, and something immediately appeared different.
Las Cabras had me at hello.
This parrilla offers big plates, wonderful ambiance and a price tag that will satisfy any patron. Simplicity distinguishes Las Cabras from other restaurants in the area. Red, wooden tables dot a pebble-covered, shady patio on the Fitz Roy corner. White, crayon-ready paper serves as your tablecloth. The warm lighting from inside helps illuminate the patio, which encompasses both sides of the corner. The place beams with energy and smiles from one table to the next.
Las Cabras is great for a couple's dinner or a reunion with friends. I often see people on dates inside and groups of ten or more outside. It's the kind of place where dinner can last for hours and you can sit, enjoy your company and indulge in Argentina's prized commodities for as long as you like. You're bound to see other travelers or expats at Las Cabras, but porteños dine here nightly as well.
Delicious Argentine foods
My go-to for steak is entraña (skirt steak), which comes with two healthy strips of meat and a Caesar salad. Asado de tira (braised short-cut ribs) is another popular choice among my expat friends. Typical Argentine cuts – ojo de bife (rib-eye steak), bife de chorizo (sirloin) – are on the menu as well.  However, despite being very much a parrilla, the diverse menu at Cabras also reaches out to vegetarians.
The pastel de calabaza y miel (Squash and honey and pie) may be the most delicious, filling and affordable dish in Buenos Aires. It comes in a heavy clay bowl, topped with a layer of melted cheese. The pastel is mashed squash filled with veggies, a really tasty creation that will end any of your hunger pains. The honey adds a light, sweet finish to the taste buds. The salads and antipasto plates at Cabras are also big hits given their ample size and tasty ingredients.
But if you're a carnivore and you only have one night for Las Cabras, you must challenge yourself to the Gran Bife de Las Cabras.  This huge plate includes a sirloin steak, cooked to your preference, and a plethora of sides: fried veggies, a slab of grilled provolone cheese, French fries with a fried egg on top, rice and mashed squash. You may not need to eat breakfast the next day.
The only precaution with Las Cabras is the wait. If you arrive after 9pm, especially on the weekend, expect to wait at least 30 minutes. An 8pm or 8:30pm arrival time should help you avoid rush hour.
Despite any delay to your meal, the fun atmosphere, quality of food and affordability will keep you coming back to Las Cabras for more.
Where is Las Cabras?
Getting there: Unless you know the bus system or take a taxi, bring your walking shoes. The nearest subte stop on the D line is the Palermo station. From there walk two blocks up Santa Fe, go left on Fitz Roy and walk seven blocks to the corner of Fitz Roy and El Salvador.
On the B line, get off at Dorrego, walk twelve blocks along Bonpland, turn right on El Salvador and go one block to Fitz Roy.
The 108 bus line stops within a block of Las Cabras, and it also goes through Recoleta on Av. Santa Fe, plus through Palermo at Plaza Italia.
Cutting your way through Argentine beef lingo

The Gran Bife at Las Cabras in Palermo Hollywood. The steak is a Bife de Chorizo. Yup, its awesome.
Meat. Carne. Mmmmm…
Argentina is renowned for its high-quality, juicy, gigantic and cheap steaks. Unlike the beef lexicon in the United States, which prescribes a name for the cut followed by "steak," Argentine beef idioms have one name for most items. To the English eye, some names may appear to overlap, sound nothing alike, or generally confuse the non-bilingual.
Although I applaud the brave traveler whose willing to order anything on the parrilla, or steakhouse, menu – "Bring me meat!" – you may want to do some reading before making the blindfolded menu choice. It could be the difference between a rib-eye steak and a cow's testicle – some places, like the famed parrilla La Brigada in San Telmo, serve the entire animal. Nothing goes to waste in Argentina! So take off the blindfold, put on the reading glasses and take notes.
Typical Meat Cuts in Argentina

A classic asado – BBQ with a group of friends, family – with lots of Bife de Lomo
Here is a list of the more common cuts of meat you'll come across in the average Buenos Aires steakhouse:
Chorizo – Sausage. Unlike the word in the US, chorizo here is not spicy. In fact, almost no Argentine food is spicy. Chorizo only means awesome, juicy sausage – when the word is by itself.
Bife de Chorizo – Sirloin Steaks. Typical, mouth-watering Argentine steak. And confusingly, nothing to do with the sausage!
Ojo de Bife – classic Ribeye steak, found in every parrilla in the city.
Vacio – Flank Steak, but with more fat and flavor. It can be quite chewy.
Bife Angosto – Porterhouse or Striploin Steak.
Entraña – Skirt Steak. A favourite of the BuenosTours team. Ask your waiter to grill it "Jugoso" or juicy. Generally served in long strips.
Cuadril– Rump Steak. Commonly used in sandwiches.
Entraña gruesa – Hanger Steak, thicker than Skirt steak.
Bife de Costilla – T-Bone/Porterhouse Steaks.
Bife de lomo – Tenderloin. Less fat than bife de chorizo. Not so much about the flavor, but instead the tenderness. Some Buenos Aires parrillas make a show of cutting it with a spoon upon serving clients!
Chinchulines – Small intestine. For more adventurous carnivores.
Criadillas – Testicles. Good luck.
Morcilla – Blood Sausage. Although not easy to find in many parts of the world, Morcilla is served at almost every parrilla in Buenos Aires.
Some typical Argentine meat sandwiches, often sold at food carts and "hole in the wall" joints:
Choripan – Sausage served on a long bread roll.
Vaciopan – A flank steak sandwich. A superb carnivorous lunch on the go.
Milanesa – Usually a thin, breaded piece of beef fried and served on a roll with typical condiments.
Milanesa de pollo – Same sandwich, but with fried, breaded chicken.
And what life would be worth living without a little salsa?:
Salsa Provenzal – A garlic-parsley-olive oil mix that will leave you with happy taste buds and stinky breath. Works every time. You can cut to the chase and get the same salsa by just asking for Ajo (a-HO), which means garlic.
Salsa Criolla – A colorful, South American condiment. It generally consists of onions, peppers, and tomatoes soaked in olive oil and vinegar or lemon/lime juice. There are a variety of ways to make it, but here is one good recipe.
Chimichurri – An Argentine classic, staple condiment. A must! Whether eating chorizo, milanesa or bife de lomo, indulge in some chimichurri while in Buenos Aires. Here's an interesting recipe for chimichurri.
Ordering Your Meat in Buenos Aires
At Argentine steakhouses and other restaurants/cafes, ordering food is said with direct language. For instance, it is not rude to say, "I want" (Yo quiero). Here are some examples on how to order a steak and to ask it to be cooked a certain way:
Formal: I would like a Sirloin Steak medium rare – Yo quisiera un bife de lomo jugoso (hoo-GO-so).
More common: I want a sirloin steak cooked well/medium well – Yo quiero un bife de lomo bien cocido. 
Other ways to have your steak cooked: a punto = medium (but most likely will come out medium-well, as in Argentina they tend to cook steak more than in the northern hemisphere); bien jugoso = rare; or for those who like their steak "blue", just say vuelta y vuelta, which means very quickly cooked on each side.

When traveling to the Ecological Reserve in Puerto Madero, stop outside the reserve at one of the many parrilla stands for a choripan. They have plenty of condiments and for a small amount of cash, you will be stuffed.
If you're craving more meat literature, here are some recommended reads. Saltshaker provides a list of meat cuts and the best places in Buenos Aires to find each one. Asado Argentina offers a more comprehensive table of meat cuts, and Idle Words has a simply hilarious take on Argentine steak!
Enjoy your beef on your next visit to Buenos Aires! Buen Provecho!
Could the best American BBQ be in Buenos Aires?
The smoked meat hit my taste buds, I dropped my utensils, sat back in my chair and smiled. This progression of events occurred several times last week at El Tejano (The Texan) in Palermo. An East-Texan expat who landed in Buenos Aires seven years ago, El Tejano is introducing Buenos Aires to BBQ in a way I've never seen in the United States.
I'm no Anthony Bourdain, but I am a BBQ foodie. I've eaten brisket and ribs in New York, Connecticut, Maryland, Virginia, North Carolina, South Carolina, Texas and Florida. You could say I like it.
Buenos Aires boasts of its world-renowned steaks. Steak grilled on the parrilla (large, brick grill) is a staple here. Meat is never cooked on anything but a grill.
Smoked meat is an untold story in Buenos Aires, largely because it doesn't exist. No restaurant in the entire city uses a smoker to cook its meat. Tejano built his own smoker. Thus, when I heard about his private dinners, I quickly contacted him. My expectations were high. El Tejano guaranteed the dinner would be all-you-can-eat. Given that my group of five hadn't seen BBQ all year, barely ate all day and didn't stop talking about our dinner for the week before, I doubted if we would actually have as much as we wanted.
Puerta Cerrada in Buenos Aires
We arrived at a beautiful, private dining room in Palermo Soho. Puerta Cerrada – closed door – dinners are a tradition in Argentina. Although often held in someone's home, El Tejano serves his clients in the Anuva Wines tasting room.
We started off with homemade guacamole, hot sauce and corn chips – all three tough finds here – to appease our hunger. Shortly after, Tejano brought out a black-jalapeño cornbread with dill and pickles. Sweet cornbread with a small, spicy kick. Once the freshly-made coleslaw and sweet tea came to our table, I knew the meat had to be next. Expectations peaked, glands salivated and five friends waited in anticipation for a taste of home.
When Tejano walked the brisket to our table on a huge cutting board, my face froze in half-smile, half-jaw-on-the-floor. It was huge. He cut through the black outside and unveiled a perfect, pink-ringed brisket. Slow, wispy smoke billowed out. It was so tender, when Tejano cut it, the slices crumpled into little pieces. Paired with a sweet, hint-of-cinnamon BBQ sauce, the 8-hour-smoked brisket had excellent texture, flavor and color. My first servings quickly turned into seconds and thirds. It was only the beginning.
If I had any regrets, it was sprinting too soon into this marathon. I thought when we finished with the brisket, Tejano had run out. But I was happily wrong, as our empty cutting board was exchanged for a new one with another slab of brisket. This time we only got through half of it.
After my third serving of mouth-watering, smoked brisket and second of coleslaw, Tejano served us the pork ribs. Juicy, soft and flavorful come to mind. Although the BBQ sauce paired well with the brisket, the pork ribs stood better on their own. To aide our meat binge, Tejano gave our table a corn-bean-jalapeño salad that helped compliment the BBQ.
To put an exclamation point on our dinner, a creative, third meat – Matambre – finished the meal. Stuffed with green apples, cinnamon and onions, the Matambre was also "injected," with Coca-Cola to break down the fat deposits and offer the cut a sweet, meaty taste. Matambre – which basically means "kill hunger" – is a fairly typical meat cut (similar to flank steak) in Argentina, and that's exactly why Tejano uses it. With some creative design and additions, Tejano presents Argentine meat in a whole new light.
A wonderful glass of Malbec completed the marathon to BBQ heaven. Through the food, we really learned about a veteran expat…
The Man Behind the Meat
While serving endless portions of BBQ, Tejano, or Larry, detailed how he smoked the meat, made the cornbread and decided what to pair the BBQ with. This wasn't just a waiter telling us the specials at a restaurant. It was a man explaining his passion. His electric smile glows while he describes smoking the meat and all the details involved. We had no idea what a black jalapeño was until he educated us on the pepper's varieties and why he experimented with this one on his cornbread. We learned that growing up in Austin, Tex., BBQ wasn't something he learned about, it was inherited, passed down through his family.
Larry also provided snippets of his life here in Buenos Aires. He moved here seven years ago after literally flipping a coin. One side meant a move to Chile, the other to Argentina. It landed on Argentina. Larry began serving private dinners earlier last year, and is hoping to do much more. He sells his own homemade hot sauce and wants to to have it manufactured in Argentina soon. The idea of a BBQ food truck in Los Bosques—the parks in Palermo—also interests him. Larry grows his own peppers in a green house in Buenos Aires. When he talks about his plans, clear ideas percolate in Larry's mind at all times. His conviction, energy and enthusiasm make his customers his biggest supporters.
It's his story that puts his BBQ over any other I've ever eaten. The food on its own will keep me coming back, but such a unique expat tale will interest any visitor to Buenos Aires.
The personal attention and stories, accompanied by an exceptional dinner of such an iconic, American food genre, make El Tejano stand out among food innovators in Buenos Aires. We left the dinner hungry on only one question: what will he do next?
To reserve a dinner with El Tejano
Website: www.eltejanoba.com.ar/events
e-Mail: [email protected]
Note: As with all "closed door" restaurants, El Tejano will send the exact dinner location upon booking.
"A man sets out to draw the world. As the years go by, he peoples a space with images of provinces, kingdoms, mountains, bays, ships, islands, fishes, rooms, instruments, stars, horses, and individuals. A short time before he dies, he discovers that the patient labyrinth of lines traces the lineaments of his own face." – Jorge Luis Borges
Several of Argentina's icons and leaders have permanent places here in Buenos Aires. The country's liberator, Don Jose de San Martin, lies in a tomb at the national cathedral, guarded every day by soldiers in historical uniform. The Evita museum pays respect to the life of Argentina's most famous female figure. Xul Solar, an abstract painter, has 100 of his paintings on display at his former townhouse, now a museum.
The list goes until Jorge Luis Borges, the literary giant who mused about labyrinths, eternity and felines. His short stories and poetry will undoubtedly be read, analyzed and admired for decades. When I flipped through tourist books, nothing notable is mentioned about a Borges museum, or a place dedicated to his legacy. Channeling my inner literary nerd, I sought out to find an homage to Borges.
Borges' San Telmo Office
A helpful New York Times article on Borges gave me a general outline of places to visit (some places mentioned – like the Confiteria Richmond – unfortunately no longer exist). I first ventured to San Telmo to the former National Library, now the National Center of Music, where Borges served as its director in 1955. Located at Mexico 564, the old National Library seems out of place. The building appears too grand and too big for such a quiet street. When I walked in, the magnificent architecture immediately struck me. A place worthy of Borges!
My hopes to see Borges' old office and the library were dashed when the front desk informed me the museum was under renovation until February for a new exhibit. Borges is still very much a part of the building today. From October to December, French artist Christian Boltanski paid tribute to Borges at the library with his "Flying Books," exhibit, where he suspended hundreds of opened books from the ceiling. Although I didn't attend, the exhibit gave the building a surreal image.
Next to the National Library is El Historico, an upscale Argentine restaurant housed in the former building of the Argentine Society of Writers. The restaurant was practically empty for lunch hour in January, which allowed me to look around. Walking through the first doorway on the right, I saw an old plaque of the Society's board of directors, 1942-1944. A Sr. Jorges Luis Borges is listed a few names down.
I walked back to Avenida de Mayo and took the A Line, the oldest subway line in the Southern Hemisphere, which connects to the C line going to Retiro. I got off at Plaza San Martin, which is a short block from one of Borges' old apartments where he lived intermittently for 40 years. Located at Maipu 994, and closed off to the public, I was only able to take pictures of the outside. The doorman informed me that Borges lived on the sixth floor. I asked if he knew of any places where I could find a good collection of Borges work, and he suggested the Centro Cultural Borges in the Galerias Pacifico mall. I was certain he was fooling me. A Borges center in a shopping mall? With too much time on my hands, I went with low expectations.
Centro Cultural Borges—A Pleasant Surprise
Upon arriving at Galerias Pacifico, bustling shoppers surrounded me on their way to the next high-end clothing store. Ugh. I asked an information desk about this "Centro Borges," and the receptionist told me to go to the top floor. I continued on, certain I was wasting my Borges afternoon in a packed mall.
Opened in 2003, the Centro Cultural Borges is an incredibly pleasant surprise. It is the closest place Buenos Aires has to a museum for him. On the top floor of the Galerias Pacifico, which is in a beautiful, French-style building, is the Centro. It's so quiet I quickly forgot I was in a mall. There's a room dedicated to the life and work of Borges, and several other rooms that host paintings of famous artists and photographers. Painter Diego Torres currently has a collection of his brilliantly colored paintings of famous women on display (above, Evita). An impressive exhibit of photographs by Tina Modotti occupies another gallery room.
The room dedicated to Borges has a few original pages of the transcript from "The Aleph," arguably his most famous work. Several of his famous quotes adorn the white plaster walls too. The front page of La Nacion, a respected newspaper, from the day Borges died is framed. He covered nearly the entire page. One wall lists many important Borges places in Buenos Aires – old apartments, offices, cafes he frequented – along with interesting facts. For instance, at his apartment Anchorena 1672, where Borges lived from 1938-43, he wrote the short story "Las Ruinas Circulares." Although born in an apartment at Tucuman 838, Borges spent his childhood at his grandparents house in Palermo at Serrano 2135, a street that is now named in his honor.
Sitting at Borges' desk
[*Update April 2016 – Unfortunately the bookstore La Ciudad mentioned below has now closed. We are adding this note to save people from a wasted journey, but are leaving the original text below so as not to take away from the article*]
For my last stop, I went back to Calle Maipu to check out La Ciudad bookstore, a place Borges was a regular at, according to the New York Times article. Tucked into a small shopping gallery (the Galeria del Este at Maipu 971), La Ciudad maintains its antique atmosphere very well. A desk covered with old editions of Borges' work welcomes visitors.
When I walked in, a bookstore clerk suggested I sit at the desk. Worried he thought I was buying a very expensive Borges book, I made it clear I only came to look. The clerk waved off my concern, pulled the chair out and asked me to sit. The old wooden chair wobbled and creaked as I lowered into it. I thought it might break. The clerk pointed to the picture frame on the desk. I looked closely and sure enough, it was an old, frail Borges sitting in the exact same chair. I smiled from ear to ear, completely ecstatic. However small, I felt some connection with him, sitting in his old chair.
I began my trek to find an homage to Borges with a simple narrative: there's got to be one place out there where I can spend the afternoon admiring his work. The architect of literary labyrinths and infinite time probably shook his head at me from his heavenly library. Borges was known for aimlessly strolling around Buenos Aires. With a little imagination, it's not difficult to picture him walking out of the National Library, La Ciudad or his apartment on Maipu.
In "The Aleph," he describes an anonymous house on a random corner in the neighborhood of Constitucion where the Aleph resides as, "the only place on earth where all places are." Such symbolism seems to have carried over from his fiction to his legacy. Infinity, and Borges, can exist anywhere.
Borges' cosmic literary concepts cannot be held in a museum. Yes, the Centro Cultural Borges does a good job of commemorating his life, but it's also a platform for other artists. To find Borges, I needed to weave my way through my own labyrinth, not only visiting scheduled places, but asking around, getting lost and discovering the city he loved.
Other places to visit on the Borges trail
Cafe Tortoni: oldest cafe in the city. It has a wax statue of Borges sitting in a chair. Located on Avenida de Mayo near the corner of Suipacha.
El Preferido: opened in the 1950s, Borges mentions it in one of his poems. Located on the corner of Jorge Luis Borges and Guatemala, it's become a famous restaurant because of its ties to Borges. The place remains much like it did during Borges time (minus the English menu). It's the pink building, which dates back to the 19th century.
Jorge Luis Borges International Foundation: Run by Borges' widow, Maria Kodama, the foundation has several of Borges first edition books in several languages. But, you can only visit the foundation by appointment and its hours are 9:30am-2pm daily. Located at Anchorena 1660 in Recoleta.
Map with some Borges locations mentioned in this blog post
Charming deli in Palermo Soho
Palermo hosts a bevy of restaurants, but few sandwich spots. For the shopping crowd, it may appear difficult to find a quick, tasty bite to eat to fuel your feet to the next boutique while you lug your mounting collection of bags. Plus, you may want to save your budget for the next store and not indulge in a time-consuming lunch.
Near the corner of Malabia and Niceto Vega, a small, colorfully decorated window welcome sandwich-lovers to one of the newest, and best kept, secrets in Palermo. La Francisca looks like a typical fiambreria, offering typical cuts of cured meats and fine cheeses. As you may see, La Francisca's sandwiches make it more of a sandwicheria – real word in Spanish – than a meat and cheese store.
Opened about two years ago, La Francisca is run by a quartet of lovely ladies, who like to practice their English! Last time I went, I tried ordering in Spanish but they kept replying in broken English. I caved and reverted back to English.
A great sandwich spot for shoppers
When I mentioned I was from New York, they suggested I try their hot pastrami sandwich. Yes! Finally, I found hot pastrami in Buenos Aires. Although they made comparisons to Katz's delicatessen in New York, which offers arguably the best pastrami sandwich in the world, this sandwich was quite different. But not in a bad way. In hindsight, I realized I didn't want a gigantic, melted-cheese sandwich that would leave me bloated the rest of the day. La Francisca's pastrami was wonderful, included all the same ingredients of a regular pastrami sandwich, didn't overwhelm and put a smile on my face for my walk home.
Despite the small space, any visitor can immediately see that the owners have packed plenty of character into the place. If you have to wait, there is a huge red lounge chair next to the cashier. They sell an artesanal (microbrew) beer brand "Boj," along with a small, but good collection of wines. Several high-quality jams, sauces and spices dot the shelves on the walls too. The price tags and descriptions are hand written. An outdoor bench lets patrons enjoy sunshine while nibbling on a mid-day sandwich.
The sandwiches are about a foot long, and there's plenty of options. My favorite is their proscuitto (jamon crudo), brie, dried tomatoes (soaked in olive oil) and arugula on a French baguette. Other sandwiches include salami, ham, pancetta and other cured meats. La Francisca also has vegetarian options, such as their eggplant-tomato-arugula sandwich. Each delectable item is prepared well, and isn't sloppy or greasy. The owners also seem unaware of their lucrative location in Palermo Soho because the menu is very reasonably priced – a foreign concept to a boutique-filled neighborhood.
Although La Francisca's sandwiches make it my go-to lunch place, the service almost outdoes the food. The ladies always make me feel welcome. I always find some new detail inside – old golf clubs, a dusty guitar – that add to its abundance of charm. La Francisca is a classic, local deli with Argentine character.
Where is La Francisca?
La Francisca, Niceto Vega 4712 (near the corner with Malabia), Palermo Soho
Telephone: 4771-0172; La Francisca Facebook Page
Open Mondays to Saturdays, 11am to 8pm
A writer's cafe in San Telmo
After you attend the San Telmo market – a rite of passage for any traveler in Buenos Aires – you and your tired feet might wonder, "Where can I relax in a quiet place around here?" Surprisingly, you only need to walk one more block.
Although it has received some attention in travel books, La Poesia has maintained its character, bohemian environment and simple, great tastes. Located on the corner of Chile and Bolivar, one block off from the feria on Defensa street, La Poesia ("the poetry") charms its patrons with old, wooden tables, exposed brick ceilings, walls covered with pictures, signs and quotations, and a nice balance between bar and café.
Opened in 1982, closed in the late '80s and reopened four years ago, La Poesia has plenty of history. If Jorge Luis Borges didn't sip coffee here, his admirers did. His quotations adorn the walls, invoking Argentina's literary past.
At the risk of sounding cliché, I think La Poesia is a classic, romantic Argentine café. It's open till 4am Fridays and Saturdays, and is often filled with friends chatting for hours and readers combing through novels. Furthermore, a local, Porteño crowd offers an authentic atmosphere. There isn't an English menu. The place seems destined for a scene in a Woody Allen film.
If the downstairs is bustling with the feria crowd, a staircase to the left of the counter leads to the high-ceiling upstairs, which I've always found quiet with nice views of the street corner (sometimes the upstairs is closed early in the week).
Micro-brewed beer in Buenos Aires!
Argentina has excellent wines. Great Malbecs are available here for very affordable prices. When it comes to wine's brother – beer – the quality is not the same across the board. Simply put, good beer can be hard to find in Buenos Aires.
La Poesia brews its own beer – I recommend the Colorado, a red-tinted lager with a smooth flavor served in a cold mug. They also have a stout and blonde ale. Judging by the surrounding tables last night, people came for the beer.
Coffee drinkers look no further too. One of your trip's best deals in Buenos Aires is at La Poesia. Order the "café con leche, pan casero con dulce de leche y manteca." Coffee with hot milk, a loaf of toasted homemade bread and ample portions of butter and dulce de leche make this a simple pleasure you might order twice. I have.
Poesia's Irish coffee is also well done, large and comes with a small side of cornbread.
The menu at La Poesia can be dizzying. Pages of sandwiches and tapas initially made me feel like I was at a Greek diner in the U.S. where they serve everything under the sun. Like its beer and coffee though, a keep-it-simple mindset will lead you in the right direction. I recommend their meat and cheese plates, or an antipasto plate, chuck full of olives.
Whether in San Telmo for the feria or perusing the streets of Buenos Aires like Borges, take a break at La Poesia. Sip your café con leche, nurse your beer and let life and its worries fade away.
Finding Cafe La Poesia
Getting there: The address is Chile 502 in San Telmo. From Recoleta or Palermo, take the D Line subway to Catedral station and walk six blocks from Plaza de Mayo down Bolivar Street. Bus lines 29 and 45 also stop nearby.
When to go: Monday – Thursday, and Sundays: 8am – 2am; Friday and Saturdays 8am – 4am. I prefer going at night, but the daytime offers more people watching.
Enjoy Buenos Aires' hidden, seasonal market

The arepa made me feel like Pavlov's dogs. I eagerly awaited by a tent to eat this fried-cornbread-sandwich goodness.
"Arepa con todo?" the chef under the tent asked. Yes, I ordered an arepa with every topping available.
Spicy chicken with an avocado salsa and grilled veggies wedged into crispy cornbread offered a taste of South America not usually found in Buenos Aires. Last Saturday, I ventured to Parque Patricios, a quiet neighborhood, to attend the third edition of the BA Underground Market, hosted by The Argentina Independent, an English language website.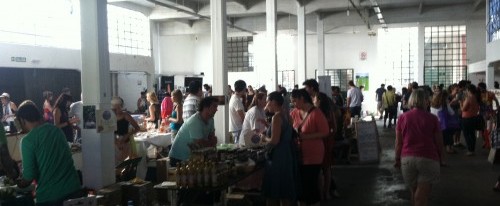 Finding the market in Parque Patricios
The Undergound Market is based off the San Francisco Undergound Market, and it started last June. The first event's popularity called for a second event in September and the most recent one last week. A friendly mix of Porteños and expats come together at the market, an event you wouldn't know about unless you checked the English blogosphere in Buenos Aires.
Walking down Calle Iguazu in Parque Patricios, my friends and I were convinced we had the wrong address. Pin drop quiet. But a smattering of voices echoed past an open yellow doorway, which we decided was our best—and only—option.
The entrance was a big open courtyard with tables and chairs sprawled out to ease those with the meat sweats, a cool, craft beer or perhaps a refreshing glass of peach lemon ice tea. Past the courtyard, the Underground Market buzzed in an old ware-house-style building. A low-key vibe permeated the sunny, Argentine afternoon.
Argentine and foreign cuisine come together
Over the entire afternoon, about 450 people came to taste an array of small dishes. I indulged in a Tio Pelado ($15ARS): a mash of wheat, pumpkin and ginger topped with a sprinkle of cayenne pepper served in a crusty tortilla bowl (above). My friend devoured his "choriman," a spicy sausage with homemade sauces and coleslaw $20 (below).
Warning: this list of foods may make you hungry immediately. Dulce de leche covered donuts, American pancakes, Pecan Pie, pisco sour and Coco trufas (below)—oatmeal balls with DDL and coconut—highlighted the sweets. Artisan cheeses, craft beer, Korean tacos, Quinoa burgers and crispy prosciutto-egg sandwiches rounded out the lunch menu.
For those tired of eating, a massage station awaited them, along with a few tables filled with homemade jewelry and thrifty clothing items.
And for the news junkies like me, a special, print edition of the Argentine Independent fulfilled my last hour while I munched on a flavor-packed falafel sandwich. Not a bad day in Argentina.
When can you go: Its uncertain when exactly the next BA Undergound Market will be, but judging by the last three events, it appears to be seasonal. Check the Argentina Independent for the latest updates or like their Facebook page.
How much: $10 entrance fee, and then you pay the cashier for food vouchers—each one costs five pesos. I decided to get 20 tickets ($100 pesos), which allowed me to try seven items.
How to get to the Buenos Aires Underground Market
How to get there: Buenos Aires Underground Market, Iguazu 451, Parque Patricios. Bus lines 118 and 188 both stop a few blocks from the market. Other lines stop at the actual park in Parque Patricios, which is about five blocks away. Check http://mapa.buenosaires.gov.ar/ to find the best route for you.