Get your fill of chili this Sunday, June 16th

[Photo credit: Annual Buenos Aires Chili Cook Off Facebook page]
This Sunday June 16th 2013 (from 2pm to 6pm, Vicente Lopez 2134) is the 3rd annual Buenos Aires Chili Cook Off in Recoleta! Come sample the best chili in Buenos Aires, prepared by an array of cooks (including some BuenosTours guides!) and chili aficionados alike. The cooks are competing for the taste buds of a panel of notable judges and international characters. Obviously the majority of chilis will be meaty, but some cooks will also have vegetarian chilis on offer. Just don't tell the Texans.
The event is a fundraiser for the SACS – Send a Child to School Foundation, and all proceeds will help provide necessary school supplies for kids in need in Buenos Aires. Entrance to the Cook Off is free, but you can buy tickets in $5 and $10 peso amounts to enjoy any of the items mentioned on the menu below, including microbrew beer and local boutique wines:
[Photo credit: Annual Buenos Aires Chili Cook Off Facebook page]
For more information, read all the details on the Sugar & Spice blog, like the Facebook page, join the event, or follow the cook-off on Twitter.
And the BA Underground Market is back on Saturday, June 15th!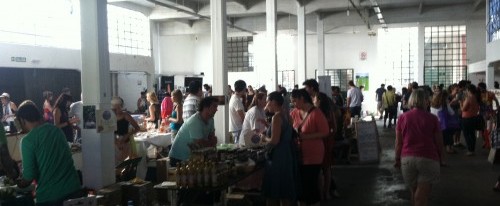 Also this weekend, check out the newest iteration of the BA Underground Market on Saturday, June 15th 2013(from 12pm to 5pm, Querandíes 4290), hosted by the Argentine Independent newspaper. Held in a cool old factory (IMPA) in Almagro, this event features difficult-to-find-in-Buenos-Aires items like microbrew beer, homemade international foods, hot sauce, fudge, and vegan and raw options. See the full list of vendors on the Argentine Independent website, and join the facebook event. Tickets are $5 in advance and $10 at the door.

Have a delicious weekend in Buenos Aires!
Location of the Annual Buenos Aires Chili Cook Off
Pagana Club
Vicente Lopez 2134, between Azcuenaga and Jose Evarista Uriburu
Recoleta
Location of the BA Underground Market
IMPA, Querandíes 4290, between Pringles and Rawson
Almagro
British writer and adventurer, meets one Argentine at a time
Rosie Hilder traveled to Bolivia four years ago, ready to start life as an expat. Her experience in La Paz didn't turn out so well, but – determined to stay in South America – Rosie moved to Buenos Aires instead of going home to England. Since arriving in 2009, Rosie has become an English teacher, journalist, photographer and blogger.
She started her blog, 52exchanges.com, in 2011, where she documents a year-long challenge to have 52 (one per week) language exchanges in Buenos Aires. A resident of the barrio of Almagro, Rosie sat down with us recently…
Why did you come to Buenos Aires?
I actually originally moved to Bolivia for an English-teaching job and then when I got there – I really liked it – but after about six months, I realized my bosses were a bit sleazy and didn't pay me, so I decided to leave, but I wanted to stay in South America, but come somewhere a bit more developed. I had this idea in my head about how great Buenos Aires would be, so I came to Buenos Aires.
Why did you stay?
I really liked it! At first, I had to stay because I couldn't afford to leave. And then, I got quite a good teaching job, not those sort of normal, flaky institutes. They got me a visa, it's a job, you know so I decided to stay because of that. And then my ex-boyfriend left, and then, I started to meet at bunch of friends and started to really enjoy the city. And now I have a new Argentine boyfriend! Now I won't leave because of him.
Favorite barrio?
Almagro, obviously. Perfect mix.
PG: What about Almagro?
Well it's a barrio, you know? People actually live there. And there's like all these specialist shops that I love. And it's not as fancy as Palermo. And it's in the middle of everything, you can get anywhere from it.
Where's the best place you go for coffee, steak or ice cream?
I'm not really big on coffee, but I've heard the Full City Coffee House, a Colombian one in Chacarita, is supposed to be really good. Steak – well obviously a family asado is the best place to go for beef, but La Cholita [Rodríguez Peña 1165, in Recoleta] is really good. For ice cream, Nonna Bianca [Estados Unidos 425], it's in San Telmo. It's Italian.

(Photo Credit: suziedwards's photostream// CC by 2.0)
What are your favorite events or festivals in Buenos Aires?
BAFICI, the independent film festival, that's in April. It's just a really good chance to see films that you wouldn't normally see. And after, they often have question and answer session with the director, which I always find really interesting… and people always clap at the end, which is great. We don't do that in England.
How do you spend your weekends?
Well I'm really busy normally, but a good place to go to relax is the Costanera Sur. I like to go for a walk in the ecological reserve there, or sit in a café with a book.
(Photo Credit: miguelvieira's photostream // CC by 2.0)
Your last day in Buenos Aires. What are the three things you'd do, or three places you'd go to?
Well, I would definitely go to a park. Maybe the Parque de 3 de Febrero cause just to enjoy the Argentine park experience with mate and family. And that park is really good because there's loads of stuff there you can take good pictures of. What else would I do? Well I would probably go and eat a steak if it's my last day. That's pretty much obligatory, isn't it? Have wine. And then I would go to my favorite bar, which is Senior Duncan in Almagro.
Is it a British bar?
No, it's one of these "closed door" bars, and it's very cool. It's run by five or six Argentines. It's one of those places where you can go and make friends with everyone there. They have good music. On Thursdays they have a swing dancing night. And they have a storytelling event there.
So switching gears, 52 exchanges, what prompted the idea and what was that experience like?
I didn't learn Spanish at all [in school] for seven years. So I thought, "Oh yeah, I'll go learn Spanish." I got to Bolivia and realized I'd forgotten the past tense, couldn't understand anything. I couldn't get by. And then I sort of got up to scratch in Bolivia with private classes and stuff. And then when I got to Argentina and I didn't understand everything – [Argentine Spanish is very unique and sometimes difficult to understand] – obviously, because they use the "Sh" sound for the "ll" and all that. And after two years in Argentina, I felt, "Well now I understand and I know to say "sh" and not the traditional Spanish pronunciation  but I still wanted to feel like I completely knew. People at home would say, 'Are you fluent?' and I would say, 'Well… I don't know.'  What does that mean? Which is a theme in my blog – what does it mean to be fluent? And a friend of mine – someone I know back home – was doing this blog called '52 free gyms' or something like that, and he was going to all these free gyms and writing about it. And I was like 'this is what I should do' – I'm not really into the gyms but I think it could be even better with people. So, another friend told me she'd been on a conversation exchange, and I put the two ideas together and decided to do a blog about 52 conversation exchanges.
If someone's reading your blog for the first time, they're a visitor to Buenos Aires, what lesson do you think they're coming away with?
Well, they'll learn some very useful Spanish vocabulary. They're learning about the city, because I went to different places [for language exchanges] and I said I was in this bar or this place. And they'll learn about Porteños in general. And I guess for me, the blog is really about cultural differences – the fact that what I say isn't necessarily the truth. It's not fact, but it's the way I see it because I'm English. Things that are normal for Argentines aren't normal for me. I think that's the point of the whole thing is trying to get a bit more understanding of the culture, which for me is the most interesting thing about living abroad.
Thank you Rosie! Questions? You can contact Rosie at her personal website: www.rosiehilder.com. And if you are an interesting expat/local in Buenos Aires and would like us to interview you, feel free to get in touch and tell us why.
Entry charge for visitors to Argentina from Canada
[Photo credit: http://flic.kr/p/BSihU/ /CC BY 2.0]
*FINAL UPDATE: As of January 1st 2018, the reciprocity fee for Canadian citizens will be rescinded*
*NEW UPDATE: As of July 1st 2017, the reciprocity fee for Australian citizens has been rescinded*
*PAST UPDATE: As of March 24th 2016, the reciprocity fee for US citizens has been rescinded*
While tourists from Canada do not need a visa to enter Argentina, they are charged a so called 'reciprocity fee' to enter the country (see update above: this is now only required if entering Argentina before the end of 2017). This is a bit like an entrance fee and is based on the amount Argentinians are charged in visa fees to enter Canada. For this reason, for example, European Union passport holders do not have to pay a reciprocity fee, as there is no charge for Argentinians to visit European Union countries.
The amount charged and the length and conditions of validity is subject to change, so be sure to check for the latest information on reciprocity fee requirements with your embassy before leaving for Argentina. As our last update to this page in July 2017, the reciprocity fee has to be paid online by credit card prior to arrival in Argentina and the printed receipt presented at immigration control. Failure to do so may result in you being returned to the country from which you departed.
The fee is paid via the Argentinian Immigration website. Click on 'Reciprocity Fee / Tasa Reciprocidad'. A page with explanations in Spanish and English will appear. Read the explanations and click 'continue'. You will be taken to a Provincia Pagos Migraciones webpage (Banco Provincia is the bank that processes the payment). Next you need to select 'sign-up' (in the bottom-left of the page) and enter your details.
Once the payment is complete, remember to print the receipt & keep it with your travel documents/passport when coming to Argentina. If you have any questions, there is further information on the Provincia Pagos Migraciones website, plus they have a phone number on that page in case you need help, or you could even download their badly translated PDF of instructions here. For the fees and length of validity at the time of writing, see below.
Canada
*Note: As of January 1st 2018, the reciprocity fee for Canadian citizens will be rescinded*
Amount charged to Canadian citizens (at time of writing): US$ 78 for all points of entry to Argentina (now including cruise ship passengers).
It is a multiple entry fee valid for 10 years (or up to one month before passport expiration date, whatever occurs first) beginning on the date the payment is made. The fee must be paid online prior to arrival in Argentina, and the receipt printed for presentation at immigration control.
The fee must be paid for all points of entry to Argentina (now including cruise ship passengers) – if you are arriving into Argentina before the end of 2017 (see update notes). It must be paid online prior to arrival in Argentina, and the receipt printed for presentation at immigration control.
*Note: As of January 1st 2018, the reciprocity fee for Canadian citizens will be rescinded*
Australia
*July 2017 update – the reciprocity fee for Australian citizens has been suspended!*
United States of America
*March 2016 update – the reciprocity fee for US citizens has been suspended!*
PS – Bear in mind…
We have heard reports from tourists coming to Argentina that the Provincia Pagos Migraciones website has been experiencing short periods of down-time and temporary errors, so if at first you don't succeed, try, try again! Also giving it a go in different internet browsers such as Chrome, Firefox and Internet Explorer may help if things don't work the first time round.
Finally, all the above advice is intended as useful information to help visitors to Argentina, however the situation described at the time of going to press may well change and is out of our hands, so although we will do our best to post updates, please do check the official Argentine immigration website for the latest information, and your local embassy/consulate. It is also a good idea to check with your travel agent and/or airline before traveling is you have any doubts.