The best part of living in Buenos Aires?

Here at BuenosTours, we feel that outstanding wine is one of the biggest perks of living in Buenos Aires!  Vino (wine in Spanish) is a part of daily life in Argentina; often mixed with soda (sparkling water) or even Coke, it's a staple at the Sunday family asado and the Friday night gathering alike.  The country produces a variety of choices at affordable prices, and a sizable selection is always available at the "Chino", aka the local grocery store ("Chino" meaning Chinese store, since most are run by Asian immigrants. Yes, Argentines can be pretty politically incorrect at times).
For a more professional opinion and better quality, boutique wines, we recommend that you try a wine tasting with our friends at Anuva Wines. But to find out what we here at BuenosTours are drinking, read on…
BuenosTours local wine recommendations
After an arduous sampling period, The BuenosTours Staff presents our picks of Vino from the Chino (drumroll please!).  From Malbec to Torrontés, look for these bottles at your corner store and sip your way through Argentina's lovely harvests!
Alan: Tour guide to the rich and famous, CEO of BuenosTours, and yet he still sometimes adds soda to his wine!
My chino wine faves are Santa Julia and Portillo, all in the mid-to-high twenties range.  As a fan of the Pinot Noir varietal, I appreciate Almas Moras's sense of humor: they call it "Pinot Negro" (negro meaning black in Spanish) rather than sticking to the French name.  It's not always easy to find Pinot Noir in Argentina, but the aforementioned by Finca Las Moras is affordable (about $28 pesos at my local chino), and in a slightly higher price range, Alamos offers a really nice version.
I do NOT recommend Romani's Malbec – the worst bottle I've had in years!  Beautiful label, but don't be fooled by that.  It was overly acidic and had a nasty aftertaste. Avoid.
Isabel: On-location neighborhood reporter, city cyclist and San Lorenzo die hard!
My favourites are:
Gascón malbec (about $35 – $40 a bottle). Really tasty, good with an asado.
Emilia (especially the Malbec/Bonarda mix, about $35 a bottle). Very light and nice to drink with snacks rather than a heavy meal.
I also like:
Elementos – it is often on offer and it's tasty, good mid-week wine. I remember it was $12 in the Chino on the corner in Boedo where I used to live. Now it would be more like $25… I like the Cabernet.
Postales de Fin del Mundo – about $25 a bottle, maybe a bit more, well as we know the prices probably increased in the time it took to write this recommendation…  This bodega has won all kinds of international awards.
And if I am in a rush and strapped for cash, I would grab a Callia (Syrah/Malbec blend) or San Telmo is often on offer and a safe bet.
Quincy: Espresso connoisseur and Argentine lingo lover.
Probably my favorite, the Alma Mora malbec is an assertive, mid-range wine that literally means Blackberry Soul.  It's from San Juan – a region who often sends grapes to neighboring Mendoza to be blended into bigger wineries' varietals.  But Las Moras proudly produces San Juanino wine, and since my boyfriend's family is from there, Alma Mora fills me with nostalgia.
Quara is an affordable fave.  A llama graces the label in homage to that peaceful creature essential to the Incas.  Torrontés, a white, grows exceptionally well in Cafayate, where Quara is from.  While Argentina is most famous for its Malbecs,  Torrontes is actually considered the only 100% Argentine wine.  Also try the Cafayate bodega's Torrontes.
On a forgiving budget? Try San Felipe's Tempranillo.  And when splurging for a special occasion, go for the fragrant San Felicien.
Oliver: Boisterous tour guide, comedian and BA actor!
I pick a wine at the 'Chino' the same way I do anywhere else in the world. I decide on a price range, for example around us$5, and look for wines in that range that other people have bought, by looking for wines where you have to reach back onto the shelf. I figure that random strangers are better at picking wines than I am!

***Oliver, a true man of the people. Looks like the rest of the team will be in charge when picking the wine at our next meeting!***
Pat: Red-meat correspondent and all-American sports fan!
My picks are…..
Uxmal (Malbec):  Has kind of a smoky finish, goes well with meat. Also about 32 pesos at my Chino.
Latitud 33 (Malbec):  Nice, smooth red. Again, in the low-30 peso range. Good for a night cap.
Colón (Syrah or Malbec):  Solid, peoples-wine, and good for 20 pesos. Good for a drink before you go out.
Jessica: In-demand tour guide and soulful San Telmo crooner!
Callia is always my cheap red go-to bottle, Malbec or Syrah.
A little nicer, Finca Flichman makes pretty good Malbec and Cabernet at good prices, and they're aged in oak (roble) which most cheap wines aren't. Way better with food than on its own.
Also, a wildcard, I like white wine, and I have found NO GOOD WHITE WINE IN CHINOS for under 40 pesos (any suggestions?). Except for of course my summer favorite – sweet white! Late harvest! It may be girly, but don't underestimate the Norton Cosecha Tardia Dulce Natural. Ice cold. On a terraza (terrace). At sunset. Mmmmmm…
As far as things to avoid… if I have a dinner party, please do not bring Michel Torino or Valderrobles. It's offensive. On second thought, it's more offensive to come empty handed, so I guess if you do bring them, you'll just have to drink them alone because I'd rather have a coca light.
Ahh, so many vinos, so little time! Keep the aforementioned in mind when in need of some thirst slakers. And let us know: what wine do you pick up when you head to the Chino?
For more information on Argentine wines, WineSur is a great resource, and features wine reviews by international critics.  Or check out this article on the history of wine in Argentina at The Real Argentina.
Food, wine and instruction on all things porteño

[Photo credit: courtesy of the Argentine Experience]
Dinner at the Argentine Experience is much more than its headline dish of exquisitely cooked fillet steak accompanied by free-flowing Malbec. It is more like an intensive crash course in Argentine culture, complete with empanada and alfajor making sessions.
From the Porteños' fondness for expressing themselves with a wide range of hand gestures to the intricacies of the mate ritual, Argentine customs can be baffling (first-timer mate drinkers beware: NEVER use the bombilla (metal straw) to stir the yerba). For this reason the Argentine Experience is jointly hosted by an expat who understands how strange such idiosyncrasies first seem to outsiders and a local who offers an insider's view.
Shaken, not stirred

[Photo credit: courtesy of the Argentine Experience]
Arriving early for the optional pre-dinner wine cocktail mixology and aroma class, first up was a cocktail making workshop in which the secret ingredient in every 'Malabeca' or 'Torrontea' was wine. Setting the tone for an evening in which interaction was key, we were invited to don a bow tie and step behind to the bar to have a go at mixing ourselves. It's safe to say the raspberry, gin and Malbec & Merlot based rose wine 'Raspberry Blush' cocktails I prepared were a hit. Less successful was my attempt to identify the 20 aromas commonly found in wine by smelling a condensed liquid essence of each one. Not as easy as it sounds.
Ready, steady… cook!
The Argentine Experience started life as a 'closed doors restaurant' in the apartment of founder Leon Lightman and even after the move in 2012 to more restaurant-like premises in Palermo Hollywood it has retained an intimate atmosphere. The new building is modern and light with a sleek downstairs bar area and an upstairs dining room, with two large chunky wooden dining tables and shelves of colorful mate gourds serving as decoration.

[Photo credit: courtesy of the Argentine Experience]
The communal dining tables are the first clue that the Argentine Experience is very much a group effort. Socializing with your fellow guests is compulsory, and the first act of team bonding is to put on a checked apron and chefs hat, ready for action. Our first task was to prepare empanadas (the ubiquitous little savory pastry pies that are usually filled with minced beef). With bowls full of slow-cooked beef stew, onions cooked in Malbec, vegetarian ratatouille and cheese in front of us it was difficult to heed our host Richard's advice not to overfill the empanadas. He showed us how to seal them and fold the pastry in the traditional way.
With our empanadas cooking in the oven, our next challenge was a creative one: the novelty empanada competition. Entries ranged from a recreation of Maradona's 'hand of God' goal to a dinosaur, the winner being a graceful, meat and onion filled ballerina. The winner received a jar of homemade chimichurri sauce and eternal glory in the form of a place on the Argentine Experience empanada wall of fame.
Twenty-four hour steak-out
As the Malbec flowed freely and mini dishes of provoleta cheese and choripan were brought out, we exchanged travel stories and talked to our hosts about Argentinian football. Then, proceedings were brought to a hushed standstill as the evening's star guest was introduced.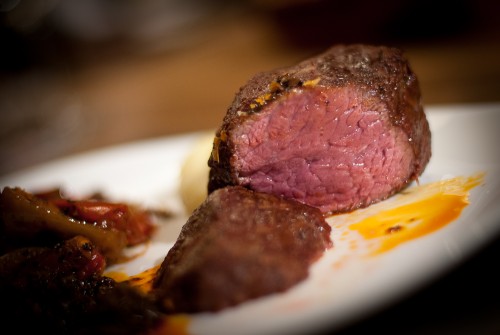 [Photo credit: courtesy of the Argentine Experience]
The steak, Richard explained, had been subject to an extensive screening process. Owner Leon had embarked on a six month pilgrimage across Argentina, tirelessly visiting cattle ranches in search of the perfect beef. The tenderness of the fillet steak we were to eat, he continued, was the result of a finely-honed 24 hour preparation process, involving leaving the meat uncovered in the fridge overnight before flash frying in a hot pan to seal the juices, then flipping it rapidly to ensure an even distribution of meaty juices. For this reason it could well be the most tender meat we had ever eaten, Richard concluded with a flourish, as drool ran from the corners of our mouths.
Naturally, such a steak deserved a serious wine to accompany it, so we would be served a deeper, more full-bodied Malbec. As we ate our main course, the intelligent conversation of earlier in the evening was replaced by a series of grunts and munching sounds. Nobody was disappointed with their steak.
Note: Fish and vegetarian options are also offered, and those who went for them on the night were very impressed with the quality of those dishes. 
Post dinner parlor games

[Photo credit: courtesy of the Argentine Experience]
And so in a Malbec and steak induced state of bliss we were entertained by tutorials and practice sessions on Argentinian hand gestures, preparing mate and making alfajores (dulce de leche filled, chocolate covered biscuits).
Those of us for whom the bottomless wine had made everything a little hazy were reassured to learn that note-taking would not be necessary; an Argentine Experience aftercare email with all the essentials would arrive the next day. So there would be no excuse not to put our new cocktail-shaking, empanada-baking, alfajor-making, mate ritual-partaking and hand gesture mickey-taking skills into action. Try saying that after one too many glasses of Malbec!
For more on the Argentine Experience, check out Cara from Anuva Wine's write up, this post by Tim Fitzgerald on the BBC travel blog, Not quite Nigella's thoughts here and this post by Alison Westwood on the Getaway blog.
Location of the Argentine Experience in Buenos Aires
The Argentine Experience, Fitz Roy 2110 (between Soler and Guatemala), Palermo Hollywood
Lively, open-air steakhouse in Buenos Aires
Walking through Palermo Hollywood for the first time in September, I saw several chic restaurants . Then I got to the corner of El Salvador and Fitz Roy, where a crowd hummed outside a bustling restaurant, and something immediately appeared different.
Las Cabras had me at hello.
This parrilla offers big plates, wonderful ambiance and a price tag that will satisfy any patron. Simplicity distinguishes Las Cabras from other restaurants in the area. Red, wooden tables dot a pebble-covered, shady patio on the Fitz Roy corner. White, crayon-ready paper serves as your tablecloth. The warm lighting from inside helps illuminate the patio, which encompasses both sides of the corner. The place beams with energy and smiles from one table to the next.
Las Cabras is great for a couple's dinner or a reunion with friends. I often see people on dates inside and groups of ten or more outside. It's the kind of place where dinner can last for hours and you can sit, enjoy your company and indulge in Argentina's prized commodities for as long as you like. You're bound to see other travelers or expats at Las Cabras, but porteños dine here nightly as well.
Delicious Argentine foods
My go-to for steak is entraña (skirt steak), which comes with two healthy strips of meat and a Caesar salad. Asado de tira (braised short-cut ribs) is another popular choice among my expat friends. Typical Argentine cuts – ojo de bife (rib-eye steak), bife de chorizo (sirloin) – are on the menu as well.  However, despite being very much a parrilla, the diverse menu at Cabras also reaches out to vegetarians.
The pastel de calabaza y miel (Squash and honey and pie) may be the most delicious, filling and affordable dish in Buenos Aires. It comes in a heavy clay bowl, topped with a layer of melted cheese. The pastel is mashed squash filled with veggies, a really tasty creation that will end any of your hunger pains. The honey adds a light, sweet finish to the taste buds. The salads and antipasto plates at Cabras are also big hits given their ample size and tasty ingredients.
But if you're a carnivore and you only have one night for Las Cabras, you must challenge yourself to the Gran Bife de Las Cabras.  This huge plate includes a sirloin steak, cooked to your preference, and a plethora of sides: fried veggies, a slab of grilled provolone cheese, French fries with a fried egg on top, rice and mashed squash. You may not need to eat breakfast the next day.
The only precaution with Las Cabras is the wait. If you arrive after 9pm, especially on the weekend, expect to wait at least 30 minutes. An 8pm or 8:30pm arrival time should help you avoid rush hour.
Despite any delay to your meal, the fun atmosphere, quality of food and affordability will keep you coming back to Las Cabras for more.
Where is Las Cabras?
Getting there: Unless you know the bus system or take a taxi, bring your walking shoes. The nearest subte stop on the D line is the Palermo station. From there walk two blocks up Santa Fe, go left on Fitz Roy and walk seven blocks to the corner of Fitz Roy and El Salvador.
On the B line, get off at Dorrego, walk twelve blocks along Bonpland, turn right on El Salvador and go one block to Fitz Roy.
The 108 bus line stops within a block of Las Cabras, and it also goes through Recoleta on Av. Santa Fe, plus through Palermo at Plaza Italia.
Cutting your way through Argentine beef lingo

The Gran Bife at Las Cabras in Palermo Hollywood. The steak is a Bife de Chorizo. Yup, its awesome.
Meat. Carne. Mmmmm…
Argentina is renowned for its high-quality, juicy, gigantic and cheap steaks. Unlike the beef lexicon in the United States, which prescribes a name for the cut followed by "steak," Argentine beef idioms have one name for most items. To the English eye, some names may appear to overlap, sound nothing alike, or generally confuse the non-bilingual.
Although I applaud the brave traveler whose willing to order anything on the parrilla, or steakhouse, menu – "Bring me meat!" – you may want to do some reading before making the blindfolded menu choice. It could be the difference between a rib-eye steak and a cow's testicle – some places, like the famed parrilla La Brigada in San Telmo, serve the entire animal. Nothing goes to waste in Argentina! So take off the blindfold, put on the reading glasses and take notes.
Typical Meat Cuts in Argentina

A classic asado – BBQ with a group of friends, family – with lots of Bife de Lomo
Here is a list of the more common cuts of meat you'll come across in the average Buenos Aires steakhouse:
Chorizo – Sausage. Unlike the word in the US, chorizo here is not spicy. In fact, almost no Argentine food is spicy. Chorizo only means awesome, juicy sausage – when the word is by itself.
Bife de Chorizo – Sirloin Steaks. Typical, mouth-watering Argentine steak. And confusingly, nothing to do with the sausage!
Ojo de Bife – classic Ribeye steak, found in every parrilla in the city.
Vacio – Flank Steak, but with more fat and flavor. It can be quite chewy.
Bife Angosto – Porterhouse or Striploin Steak.
Entraña – Skirt Steak. A favourite of the BuenosTours team. Ask your waiter to grill it "Jugoso" or juicy. Generally served in long strips.
Cuadril– Rump Steak. Commonly used in sandwiches.
Entraña gruesa – Hanger Steak, thicker than Skirt steak.
Bife de Costilla – T-Bone/Porterhouse Steaks.
Bife de lomo – Tenderloin. Less fat than bife de chorizo. Not so much about the flavor, but instead the tenderness. Some Buenos Aires parrillas make a show of cutting it with a spoon upon serving clients!
Chinchulines – Small intestine. For more adventurous carnivores.
Criadillas – Testicles. Good luck.
Morcilla – Blood Sausage. Although not easy to find in many parts of the world, Morcilla is served at almost every parrilla in Buenos Aires.
Some typical Argentine meat sandwiches, often sold at food carts and "hole in the wall" joints:
Choripan – Sausage served on a long bread roll.
Vaciopan – A flank steak sandwich. A superb carnivorous lunch on the go.
Milanesa – Usually a thin, breaded piece of beef fried and served on a roll with typical condiments.
Milanesa de pollo – Same sandwich, but with fried, breaded chicken.
And what life would be worth living without a little salsa?:
Salsa Provenzal – A garlic-parsley-olive oil mix that will leave you with happy taste buds and stinky breath. Works every time. You can cut to the chase and get the same salsa by just asking for Ajo (a-HO), which means garlic.
Salsa Criolla – A colorful, South American condiment. It generally consists of onions, peppers, and tomatoes soaked in olive oil and vinegar or lemon/lime juice. There are a variety of ways to make it, but here is one good recipe.
Chimichurri – An Argentine classic, staple condiment. A must! Whether eating chorizo, milanesa or bife de lomo, indulge in some chimichurri while in Buenos Aires. Here's an interesting recipe for chimichurri.
Ordering Your Meat in Buenos Aires
At Argentine steakhouses and other restaurants/cafes, ordering food is said with direct language. For instance, it is not rude to say, "I want" (Yo quiero). Here are some examples on how to order a steak and to ask it to be cooked a certain way:
Formal: I would like a Sirloin Steak medium rare – Yo quisiera un bife de lomo jugoso (hoo-GO-so).
More common: I want a sirloin steak cooked well/medium well – Yo quiero un bife de lomo bien cocido. 
Other ways to have your steak cooked: a punto = medium (but most likely will come out medium-well, as in Argentina they tend to cook steak more than in the northern hemisphere); bien jugoso = rare; or for those who like their steak "blue", just say vuelta y vuelta, which means very quickly cooked on each side.

When traveling to the Ecological Reserve in Puerto Madero, stop outside the reserve at one of the many parrilla stands for a choripan. They have plenty of condiments and for a small amount of cash, you will be stuffed.
If you're craving more meat literature, here are some recommended reads. Saltshaker provides a list of meat cuts and the best places in Buenos Aires to find each one. Asado Argentina offers a more comprehensive table of meat cuts, and Idle Words has a simply hilarious take on Argentine steak!
Enjoy your beef on your next visit to Buenos Aires! Buen Provecho!
El Ingles who took all the buses
Daniel Tunnard was born in Sheffield in England, grew-up in nearby Stockport, and first came to Buenos Aires in 1999.  A writer and translator, he has written a book about taking all 140 bus routes in Buenos Aires.  He lives in Belgrano with his wife and three cats. But most importantly of all, he is the first subject in a series of BuenosTours interviews with interesting expats/locals (of which Daniel is arguably both).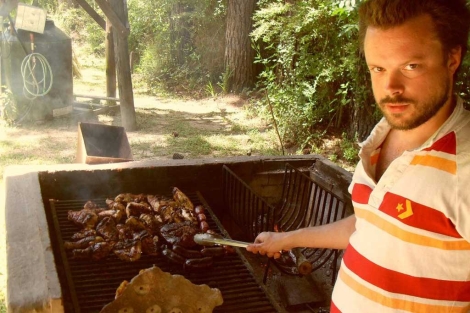 [Photo Credit: Daniel Tunnard]
Why did you first come to Buenos Aires and why did you stay?
I was on holiday in Asunción in Paraguay and I needed to get to Montevideo in Uruguay where I was studying on my year abroad. I spent three nights at the Del Aguila hostel in La Paternal. I met my first wife on the second night there.
What's your daily routine?
Exactly the same as the middle section of The Beatles' 'Day in the Life', minus the comb.
What is your favorite way to spend a Sunday in Buenos Aires?
I like nothing more than to watch Southampton Football Club lose with Buenos Tours chief A-Jelly while enjoying a pint at the Gibraltar pub (Peru 895) in San Telmo.
Where do you go for a romantic night out in Buenos Aires?
If it's just me and Alan J, CEO of BuenosTours any number of gentlemen's clubs along Reconquista street. If I'm with the wife, nothing says romance more than a quiet night in with a wheel of cheese.
[Photo credit: http://www.flickr.com/photos/bdorfman/108918489//CC BY 2.0]
Do you have any collections?
Yes. I have a collection of bus tickets from every bus line in Buenos Aires.
What is your exercise routine?
When are you going to ask me about my book "Colectivaizeishon, one man's pointless quest to take all the buses in Buenos Aires?"
What is your favorite book, and why?
I thought you'd never ask. It's "Colectivaizeishon, one man's pointless quest to take all the buses in Buenos Aires." It's being published by Random House Mondadori in Argentina in 2013. But in Spanish. Yes, my first book to be published is one I wrote in my third language. But enough about me. Ask me about my favorite film.
What is your favorite film, and why?
If I had to choose one, I'd have to say the documentary "Colectivaizeishon, one man's pointless quest to take all the buses in Buenos Aires". "A Serious Man" and "You've Got Mail" are quite good too.
[Photo credit: http://www.flickr.com/photos/pedroalonso/6300964505/ /CC BY 2.0]
What are your favorite websites and blogs?
I've been reading a lot of good stuff on themillions.com and newyorker.com/books.
Obviously, I regularly read pickupthefork.com (fantastic local food blog) and quietly and jealously seethe at the popularity of its author.
What are the most played songs in your music collection?
I have often wondered what juicy statistics I would now have at hand if I had gone through with my idea aged 15 of noting down every song and album I ever listened to at home. I think Queen II and Bowie's Hunky Dorey would be up there. You may like to link to my song for Brian May. Brian May wrote to me to congratulate me on it.
What do you never leave the house without?
A sense of adventure and an elegant timepiece.
What are your earliest memories of Buenos Aires?
I like to think that I was Juan de Garay in a previous life, so I would have to say that my earliest memory of Buenos Aires is the day I founded the bitch. Of course, back in those days we called her "Trinidad".
What is the most unusual thing you have been asked by a stranger in Buenos Aires?
"What is your exercise routine?"
What is your favorite porteño saying or expression?
Any that can be expressed non-verbally.
What three places or things to do would you recommend to a visitor to the city?
Take the 70 or 46 or 23 bus through a villa. Pour wine from a penguin (pictured). Have sex in a telo. In that order.
[Photo credit: http://www.flickr.com/photos/nano/2153928042/ /CC BY 2.0]
What are the best souvenirs or gifts to bring home from Buenos Aires?
Polo ponies make an excellent gift for any small child and are not all that expensive. Failing that, a carton of cigarettes and an amusing fridge magnet.
Any insider tips?
The only snooker table in Buenos Aires is to be found in the basement of 36 Billares on Avenida de Mayo. Anyone who fancies a game can contact me via the blog or twitter @danieltunnard. My highest break is 17, red black red black red. I lost that game 43-17. I highly recommend marrying Argentine women. Psychoanalysis is both rewarding and educational. Do consider osobucco when purchasing your next cut of beef. Simmer for a couple of hours in white wine and your usual condiments. La Tablita on Vidal and José Hernandez in Belgrano has a breathtaking selection of cheeses and cured meats. A large second hand Ken Brown record player, purchased on mercadolibre.com, can give many years of musical pleasure and retro kudos. Buy a house in Tigre and grow a beard. Watch the years fly by. Contemplate the intense flight of the humming bird. Have a quiet night in with a wheel of cheese.
Thank you Daniel! If you are an interesting expat/local in Buenos Aires and would like us to interview you, feel free to get in touch and tell us why.
Carlos Gardel: Argentina's beloved tango crooner
Carlos Gardel is by far Argentina's most famous Tango singer and is a nationally adored figure. They say that if you're itching to get into a fight with an Argentine, just insult any one of their holy trinity of heroes: Diego Maradona, Evita, or Carlos Gardel.
[Photo credit: Alfredo Davies' Flickr/ /CC BY-NC-ND 2.0]
Carlos Gardel was born Charles Gardes to single mother Berthe Gardes in Toulouse, France in 1890.  To escape the social stigma of having a child out of wedlock, Berthe migrated to Argentina, claiming to be a widow.  While we take these facts for granted today, Gardel's origins were something of a mystery for many years: speculators argued over whether he was born in Uruguay, France, or Argentina.  This uncertainty only added to the mystique of the tango legend; similarly foggy are details of his love life and of his death.
Ms. Gardes and son, nicknamed Carlos, settled into the barrio (neighborhood) of Abasto.  As as a child, Carlitos worked in opera houses (Buenos Aires had five at the time, of which the Teatro Colon is the surviving example) organizing props, lifting curtains, and even rousing audiences as a professional applauder.  Inspired by the most important singers of the time, Gardel built his name singing in bars, horse races, and for private parties across Buenos Aires.  He was ultimately launched to fame by the fates of tango when he performed one of the first tango songs known to have lyrics, Mi Noche Triste (My sad night) in 1917.  The recording exploded across the Americas and established Gardel as tango's original singer.
Gardel toured the world, and began filming movies with Paramount Pictures in Paris.  Fellow Argentine Alfredo Le Pera wrote tango lyrics understandable to a diverse Spanish-speaking audience for the films, breaking with the tradition of writing tangos in lunfardo (the slang dialect of Buenos Aires).  This duo is memorialized in multiple recordings of some of Gardel's most famous songs, such as Mi Buenos Aires Querido (My dear Buenos Aires). Listen below:

Gardel's tragic death and memorial
In 1935, Gardel and Le Pera were promoting their newest film, El día que me quieras, when their plane crashed during take-off in Medellín, Colombia.  Neither artist survived.  Gardel's body was carried across Colombia, by steamboat to New York, Rio de Janeiro, Montevideo, and back to Buenos Aires. Huge street processions met the coffin in each city to mourn the loss of "Carlitos".
Gardel is buried with his mother, in the Cemetery of Chacarita.  His grave, declared a National Monument by the late President Néstor Kirchner, boasts plaques of memorial from admirers around the world.  Taxi drivers are known pull up next to his grave, play a tango at full blast, and light a cigarette.  When the song is over, the driver places what's left of the cigarette in the statue's hand.   Fans also tuck a rose into the statue's lapel, so Gardel remains ever debonair.  Since his death, Gardel's memory persists such that there's even a common saying, "cada día canta mejor": he sings better every day.  It must be true, since in 2003, UNESCO declared Gardel's voice to be Patrimony of Mankind.
Abasto: Gardel's neighborhood
Carlos Gardel was a true man of the arrabal, meaning a working-class neighborhood on the outskirts of the city.  In his time, Abasto marked the edge of the city, populated mainly by Italian immigrants, and life revolved around a market fair which brought produce from the country to the city.  Eventually, the Mercado del Abasto, a beautiful Art Deco building, was built to house the fair.  Though the building now contains a shopping mall, it's a stunning jewel in Buenos Aires's architectural pantheon.  Today, almost everything here is named after Gardel, from streets to cafes, and even newspaper stands boast the name of "El morocho del Abasto" ("The dark one from Abasto").
Tango fans will find this part of town worth visiting.  Take a stroll down the Pasaje de Zelaya, a short pedestrian walk full of images of Gardel, and song lyrics on the walls and sidewalks.  Two of Buenos Aire's best alternative theatre spaces are also on this walk: El Cubo and Teatro Ciego, the blind theatre company!  While shows at either of these venues are entirely in Spanish, they sometimes show dance productions or musical (and other sensory) works.
Turn the corner onto Jean Juares and enjoy houses decked out in fileteado artwork, the popular decorative art found on shop windows, buses, and sign posts around BA.  After one block you'll find the Carlos Gardel Museum, which was the singer's (and his mother's) home.  The museum shows relics of Carlos's life, and often hold events and shows.  If you're lucky, you may stumble upon a tango lesson or music performance!  Then check out the Carlos Gardel pedestrian street, where you'll find a statue of Gardel, posing under the Abasto's arches, plus a tourist shop called "Regionales del Abasto", worth visiting if only for the extraordinary fileteado artwork on the walls, as pictured here.
Note that even the subway stop for this part of the city is named Carlos Gardel.  Luca Prodan, another late Argentine music legend,  also lived in Abasto, and in the song Mañana en el Abasto, he sings about waking up in this 'hood, sleeping in the abandoned Abasto building in the late 1980's, then taking the subway from the Carlos Gardel station.
For more information on Gardel, listen to this piece on NPR or read on Rhythm Planet about a chance meeting between Carlos and Frank Sinatra!
Location and hours of Gardel attractions
Chacarita Cemetery:
Avenida Guzman 680 (between Elcano and Federico Lacroze), Chacarita
Sunday – Sunday: 8am to 6pm
Pasaje Zalaya:
Zelaya between Aguero and Jean Juares, Abasto
Carlos Gardel House Museum:
Jean Jaurés 735, between Zelaya and Tucuman, Abasto
Monday, Wednesday, Thursday, Friday: 11am to 6om
Saturday, Sunday, Holidays: 10am to 7pm
Tuesdays: closed
Entrance fee: $1, Wednesday free

Carlos Gardel Pedestrian Street
Carlos Gardel between Jean Juares and Anchorena, Abasto
Abasto Shopping:
Corrientes 3247, between Aguero & Anchorena, Abasto
Open 10am to 10pm daily