A writer's cafe in San Telmo
After you attend the San Telmo market – a rite of passage for any traveler in Buenos Aires – you and your tired feet might wonder, "Where can I relax in a quiet place around here?" Surprisingly, you only need to walk one more block.
Although it has received some attention in travel books, La Poesia has maintained its character, bohemian environment and simple, great tastes. Located on the corner of Chile and Bolivar, one block off from the feria on Defensa street, La Poesia ("the poetry") charms its patrons with old, wooden tables, exposed brick ceilings, walls covered with pictures, signs and quotations, and a nice balance between bar and café.
Opened in 1982, closed in the late '80s and reopened four years ago, La Poesia has plenty of history. If Jorge Luis Borges didn't sip coffee here, his admirers did. His quotations adorn the walls, invoking Argentina's literary past.
At the risk of sounding cliché, I think La Poesia is a classic, romantic Argentine café. It's open till 4am Fridays and Saturdays, and is often filled with friends chatting for hours and readers combing through novels. Furthermore, a local, Porteño crowd offers an authentic atmosphere. There isn't an English menu. The place seems destined for a scene in a Woody Allen film.
If the downstairs is bustling with the feria crowd, a staircase to the left of the counter leads to the high-ceiling upstairs, which I've always found quiet with nice views of the street corner (sometimes the upstairs is closed early in the week).
Micro-brewed beer in Buenos Aires!
Argentina has excellent wines. Great Malbecs are available here for very affordable prices. When it comes to wine's brother – beer – the quality is not the same across the board. Simply put, good beer can be hard to find in Buenos Aires.
La Poesia brews its own beer – I recommend the Colorado, a red-tinted lager with a smooth flavor served in a cold mug. They also have a stout and blonde ale. Judging by the surrounding tables last night, people came for the beer.
Coffee drinkers look no further too. One of your trip's best deals in Buenos Aires is at La Poesia. Order the "café con leche, pan casero con dulce de leche y manteca." Coffee with hot milk, a loaf of toasted homemade bread and ample portions of butter and dulce de leche make this a simple pleasure you might order twice. I have.
Poesia's Irish coffee is also well done, large and comes with a small side of cornbread.
The menu at La Poesia can be dizzying. Pages of sandwiches and tapas initially made me feel like I was at a Greek diner in the U.S. where they serve everything under the sun. Like its beer and coffee though, a keep-it-simple mindset will lead you in the right direction. I recommend their meat and cheese plates, or an antipasto plate, chuck full of olives.
Whether in San Telmo for the feria or perusing the streets of Buenos Aires like Borges, take a break at La Poesia. Sip your café con leche, nurse your beer and let life and its worries fade away.
Finding Cafe La Poesia
Getting there: The address is Chile 502 in San Telmo. From Recoleta or Palermo, take the D Line subway to Catedral station and walk six blocks from Plaza de Mayo down Bolivar Street. Bus lines 29 and 45 also stop nearby.
When to go: Monday – Thursday, and Sundays: 8am – 2am; Friday and Saturdays 8am – 4am. I prefer going at night, but the daytime offers more people watching.
Enjoy Buenos Aires' hidden, seasonal market

The arepa made me feel like Pavlov's dogs. I eagerly awaited by a tent to eat this fried-cornbread-sandwich goodness.
"Arepa con todo?" the chef under the tent asked. Yes, I ordered an arepa with every topping available.
Spicy chicken with an avocado salsa and grilled veggies wedged into crispy cornbread offered a taste of South America not usually found in Buenos Aires. Last Saturday, I ventured to Parque Patricios, a quiet neighborhood, to attend the third edition of the BA Underground Market, hosted by The Argentina Independent, an English language website.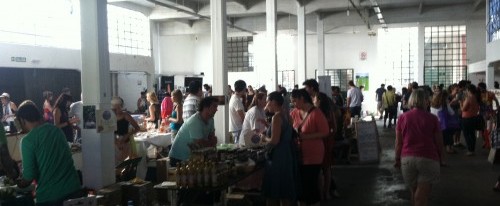 Finding the market in Parque Patricios
The Undergound Market is based off the San Francisco Undergound Market, and it started last June. The first event's popularity called for a second event in September and the most recent one last week. A friendly mix of Porteños and expats come together at the market, an event you wouldn't know about unless you checked the English blogosphere in Buenos Aires.
Walking down Calle Iguazu in Parque Patricios, my friends and I were convinced we had the wrong address. Pin drop quiet. But a smattering of voices echoed past an open yellow doorway, which we decided was our best—and only—option.
The entrance was a big open courtyard with tables and chairs sprawled out to ease those with the meat sweats, a cool, craft beer or perhaps a refreshing glass of peach lemon ice tea. Past the courtyard, the Underground Market buzzed in an old ware-house-style building. A low-key vibe permeated the sunny, Argentine afternoon.
Argentine and foreign cuisine come together
Over the entire afternoon, about 450 people came to taste an array of small dishes. I indulged in a Tio Pelado ($15ARS): a mash of wheat, pumpkin and ginger topped with a sprinkle of cayenne pepper served in a crusty tortilla bowl (above). My friend devoured his "choriman," a spicy sausage with homemade sauces and coleslaw $20 (below).
Warning: this list of foods may make you hungry immediately. Dulce de leche covered donuts, American pancakes, Pecan Pie, pisco sour and Coco trufas (below)—oatmeal balls with DDL and coconut—highlighted the sweets. Artisan cheeses, craft beer, Korean tacos, Quinoa burgers and crispy prosciutto-egg sandwiches rounded out the lunch menu.
For those tired of eating, a massage station awaited them, along with a few tables filled with homemade jewelry and thrifty clothing items.
And for the news junkies like me, a special, print edition of the Argentine Independent fulfilled my last hour while I munched on a flavor-packed falafel sandwich. Not a bad day in Argentina.
When can you go: Its uncertain when exactly the next BA Undergound Market will be, but judging by the last three events, it appears to be seasonal. Check the Argentina Independent for the latest updates or like their Facebook page.
How much: $10 entrance fee, and then you pay the cashier for food vouchers—each one costs five pesos. I decided to get 20 tickets ($100 pesos), which allowed me to try seven items.
How to get to the Buenos Aires Underground Market
How to get there: Buenos Aires Underground Market, Iguazu 451, Parque Patricios. Bus lines 118 and 188 both stop a few blocks from the market. Other lines stop at the actual park in Parque Patricios, which is about five blocks away. Check http://mapa.buenosaires.gov.ar/ to find the best route for you.