Browse: BuenosTours › Buenos Aires Guide › Tango › Milongas › Types of Salon
Tango Salons in Buenos Aires
An Introduction to Dancing Tango in Buenos Aires

An Aire Libre milonga in Plaza Dorrego, San Telmo [Photo credit: nyluke]
If you have been searching for a guide to the types of tango salons in Buenos Aires for those interested in the real world of social tango dancing in the city… look no further! Cherie Magnus, seasoned Buenos Aires tango and milonga expert, imparts her wisdom to help you find the perfect tango spot with the following overview. For more info, check out the Tango Cherie blog.
If you want to dance tango in Buenos Aires, where do you go?
A good question, but this depends on many things:  your age, what style you dance, what day or night of the week you want to go out, if you go with or without a partner, and so on…
Dancing social tango in Buenos Aires has nothing to do with the Tango Show Dancing on the streets of San Telmo, La Boca, calle Florida, or Recoleta, or the many Tango Cena-Shows with an orchestra, stage dancers and dinner. The first thing to know about tango is that what you'll see in those places is a different dance – Tango Entertainment for Export. And that is another post entirely!
Types of Tango Salons in Buenos Aires
First, a tip: when checking where to go to mingle with the locals in Buenos Aires on the dance floor, remember that dances in the same salon vary greatly depending on the organizer, day of the week, time of day etc. In other words, every milonga at Region Leonesa or Canning will not be the same.
The following is a general break-down of the different types of places to dance tango in Buenos Aires, with some examples of each…
SALON DE BAILE
A formal atmosphere especially for dancing, with predominantly elegant attire, tables with tablecloths, uniformed waiters, tango codes are strictly respected, professional DJs play tango, vals and milonga music of the 1930's-50's, often with tandas (blocks) of Latin and Jazz music. The public here is older (50-80) with an intermediate to high level of dancing in the close-embrace milonguero style. Women and men sit on opposite sides of the salon and use the cabaceo (traditional nodding of the head as an invitation to dance). The afternoon milongas tend to be more formal and traditional than the late night dances.
Examples in Buenos Aires: El Arranque, Gricel, Salon Canning, Viejo Correo, Los Consagrados, Maipu 444, Lo de Celia, El Beso, Chique.
CONFITERIA BAILABLE
This old-fashioned type of salon has many of the same characteristics of the Salons de Baile, but also has a restaurant. The public is more varied, with lots of groups. The only example today is the Confiteria Ideal, which is famous for its long life and its architecture. Nowadays only a few Salons de Baile have restaurants, such as Nino Bien and El Beso, but they are milongas first, and only very few of the clients order food from the kitchen.

Dancing Tango in the Confiteria Ideal, Buenos Aires [Photo credit: Gerrysan]
CLUB DE BARRIO
The dance floors are cement basketball courts or the club restaurant. Meals are usually available. Predominantly attended by the neighborhood families and older married couples; the music includes tango, jazz and tropical.
Examples in Buenos Aires: Sin Rumbo, Los Bohemios, Sunderland, Club Chicago.
BAILE JOVEN
Informal atmosphere, young public (18-30), variety of casual dress, often with live music and dance exhibitions. More relaxed standards, a more diverse level of dancing, and more salon-style than close embrace. You will hear the music of Piazzolla, some rock 'n' roll, as well as salsa and cumbia.
Examples in Buenos Aires: La Estrella, La Viruta, Parakultural, La Catedral.
AIRE LIBRE
Outdoor milongas that attract a wide variety of dancers.
Examples in Buenos Aires: La Glorieta and Plaza Dorrego (year round) and La Calesita (in summer).
PRACTICAS
Informal, bare-bones ambiance, no professional DJ.
Examples in Buenos Aires: Cochabamba 444, El Motivo, Tangocool, Soho Tango.
GAY MILONGAS
Informal, relaxed atmosphere, anybody can dance with anybody, alternative music along with the classics.
Examples in Buenos Aires: La Marshall, TangoQueer.
Experience Authentic Social Tango in Buenos Aires
If you want to experience authentic social tango, you really need to know the best places for you to go to watch and dance. You could pick up one of the many free tango publications from shoe salons and hotels which list all of the milongas (places to dance social tango), but unless you have lots of time and money to explore each one, you can't tell which is right for you. And that's why Ruben & Cherie (as well as other bilingual local dancers) provide a service to help tango tourists get the most out of their visits to Buenos Aires. They know where you can have the most fun and how to break the codigos, and will even take you there themselves.
If you are interested in their tango services, you can contact Ruben & Cherie using the following details: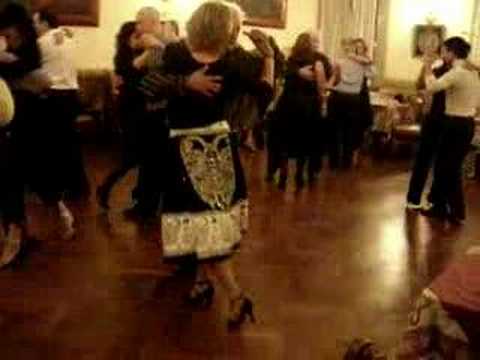 RUBEN AND CHERIE DANCING TANGO AT CHIQUE, A SALON DE BAILE
About Cherie Magnus
Cherie Magnus is a published travel writer and dance critic from Los Angeles, and an expat tango dancer and teacher in Buenos Aires since 2003. She and her Argentine partner Ruben Aybar also do bilingual Tango Tours. Last year they were finalists in the Campeonato Metropolitano de Tango de Buenos Aires. She's working on a memoir, The Church of Tango, and one of her pieces is included in a soon-to-be-published anthology on San Miguel de Allende. You can read more on her blog, TangoCherie.
If you liked this blog post, then you'll love our private guided walking tours of Buenos Aires - the best way to see the city up close and personal. For more information and booking details, just click here.