Get your fill of chili this Sunday, June 16th

[Photo credit: Annual Buenos Aires Chili Cook Off Facebook page]
This Sunday June 16th 2013 (from 2pm to 6pm, Vicente Lopez 2134) is the 3rd annual Buenos Aires Chili Cook Off in Recoleta! Come sample the best chili in Buenos Aires, prepared by an array of cooks (including some BuenosTours guides!) and chili aficionados alike. The cooks are competing for the taste buds of a panel of notable judges and international characters. Obviously the majority of chilis will be meaty, but some cooks will also have vegetarian chilis on offer. Just don't tell the Texans.
The event is a fundraiser for the SACS – Send a Child to School Foundation, and all proceeds will help provide necessary school supplies for kids in need in Buenos Aires. Entrance to the Cook Off is free, but you can buy tickets in $5 and $10 peso amounts to enjoy any of the items mentioned on the menu below, including microbrew beer and local boutique wines:
[Photo credit: Annual Buenos Aires Chili Cook Off Facebook page]
For more information, read all the details on the Sugar & Spice blog, like the Facebook page, join the event, or follow the cook-off on Twitter.
And the BA Underground Market is back on Saturday, June 15th!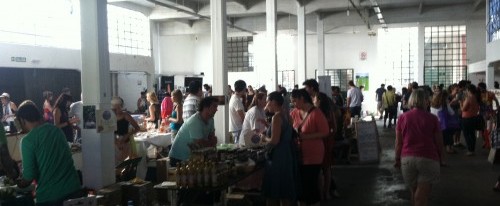 Also this weekend, check out the newest iteration of the BA Underground Market on Saturday, June 15th 2013(from 12pm to 5pm, Querandíes 4290), hosted by the Argentine Independent newspaper. Held in a cool old factory (IMPA) in Almagro, this event features difficult-to-find-in-Buenos-Aires items like microbrew beer, homemade international foods, hot sauce, fudge, and vegan and raw options. See the full list of vendors on the Argentine Independent website, and join the facebook event. Tickets are $5 in advance and $10 at the door.

Have a delicious weekend in Buenos Aires!
Location of the Annual Buenos Aires Chili Cook Off
Pagana Club
Vicente Lopez 2134, between Azcuenaga and Jose Evarista Uriburu
Recoleta
Location of the BA Underground Market
IMPA, Querandíes 4290, between Pringles and Rawson
Almagro
A must-see show in Buenos Aires
You can feel the beat hit your chest. Everyone's eyes are glued to the stage, mouths attached to their big-cup beers and ears enjoying the thump of congas and djembe drums. The ones not slurping beer are dancing and smiling, kissing their date or just letting the music sink in. If anyone had a case of the Mondays, it left a long time ago.
La Bomba de Tiempo attracts an eclectic crowd to the Konex, their Abasto venue, every Monday night. The event has become a must for many travelers and Porteños in Buenos Aires. Its popularity could have made it an over-touristy event if it weren't for its consistent originality, affordability and great music.
The best of Abasto
Located only a few blocks from the historic Abasto Shopping Center, The Konex is an open-air venue with some fun design. (La Bomba de Tiempo is a rain-or-shine event because the stage is covered. It's actually a fun event in the rain). A large orange staircase, which hosts the mixing desk, is in the middle of the audience. There's a huge metal bug stationed on the roof to the left of the stage. Colorful graffiti covers the walls. But all of these details fade away once the drum band takes stage.
A 17-person band provides the nights' entertainment. They play on an array of drums – congo and djembe mostly – and everyone seems to get a solo of some kind. Mid-way through the show last week, a saxophonist accompanied the band for a few songs, playing for about 30 minutes. The music was lively, perfectly executed and energized the crowd.
The band involves the audience too. In a performance that resembled the Isley Brother's song Shout, the drum band gradually lowered its volume, motioning the audience to kneel down. The entire crowd lowered to the ground until the beat slowly, and then rapidly, picked up. Not before long, everyone was back on their feet, clapping hands.
Although the venue is standing-room only and packed, there isn't a rowdy vibe in the audience. Whether because of the music or not, the jovial, peaceful crowd makes the performance even more enjoyable.
Given its popularity, La Bomba de Tiempo is an event to show up early for. You don't need to worry about tickets selling out, but the line can literally be around the block, and an hour-long wait. The main, La Bomba de Tiempo show starts at 8pm, but there is an opening act at 7pm. Try to arrive at the Konex by 7pm to avoid missing any of the La Bomba show.
For more opinions on La Bomba de Tiempo, check out Wander Argentina's post, Diego's write-up on Expose Buenos Aires and this review by Matador Network.
Where is La Bomba de Tiempo?
The Ciudad Cultural Konex venue, at Sarmiento 3131 (between Jean Juares and Anchorena) Abasto, City of Buenos Aires.
Check out La Bomba de Tiempo's website and Facebook page for any updates. You can also buy tickets on the Ticketek website.
Phone: (+54 11) 4864 3200     Email: [email protected]
Enjoy Buenos Aires' hidden, seasonal market

The arepa made me feel like Pavlov's dogs. I eagerly awaited by a tent to eat this fried-cornbread-sandwich goodness.
"Arepa con todo?" the chef under the tent asked. Yes, I ordered an arepa with every topping available.
Spicy chicken with an avocado salsa and grilled veggies wedged into crispy cornbread offered a taste of South America not usually found in Buenos Aires. Last Saturday, I ventured to Parque Patricios, a quiet neighborhood, to attend the third edition of the BA Underground Market, hosted by The Argentina Independent, an English language website.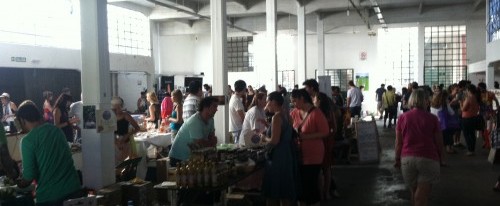 Finding the market in Parque Patricios
The Undergound Market is based off the San Francisco Undergound Market, and it started last June. The first event's popularity called for a second event in September and the most recent one last week. A friendly mix of Porteños and expats come together at the market, an event you wouldn't know about unless you checked the English blogosphere in Buenos Aires.
Walking down Calle Iguazu in Parque Patricios, my friends and I were convinced we had the wrong address. Pin drop quiet. But a smattering of voices echoed past an open yellow doorway, which we decided was our best—and only—option.
The entrance was a big open courtyard with tables and chairs sprawled out to ease those with the meat sweats, a cool, craft beer or perhaps a refreshing glass of peach lemon ice tea. Past the courtyard, the Underground Market buzzed in an old ware-house-style building. A low-key vibe permeated the sunny, Argentine afternoon.
Argentine and foreign cuisine come together
Over the entire afternoon, about 450 people came to taste an array of small dishes. I indulged in a Tio Pelado ($15ARS): a mash of wheat, pumpkin and ginger topped with a sprinkle of cayenne pepper served in a crusty tortilla bowl (above). My friend devoured his "choriman," a spicy sausage with homemade sauces and coleslaw $20 (below).
Warning: this list of foods may make you hungry immediately. Dulce de leche covered donuts, American pancakes, Pecan Pie, pisco sour and Coco trufas (below)—oatmeal balls with DDL and coconut—highlighted the sweets. Artisan cheeses, craft beer, Korean tacos, Quinoa burgers and crispy prosciutto-egg sandwiches rounded out the lunch menu.
For those tired of eating, a massage station awaited them, along with a few tables filled with homemade jewelry and thrifty clothing items.
And for the news junkies like me, a special, print edition of the Argentine Independent fulfilled my last hour while I munched on a flavor-packed falafel sandwich. Not a bad day in Argentina.
When can you go: Its uncertain when exactly the next BA Undergound Market will be, but judging by the last three events, it appears to be seasonal. Check the Argentina Independent for the latest updates or like their Facebook page.
How much: $10 entrance fee, and then you pay the cashier for food vouchers—each one costs five pesos. I decided to get 20 tickets ($100 pesos), which allowed me to try seven items.
How to get to the Buenos Aires Underground Market
How to get there: Buenos Aires Underground Market, Iguazu 451, Parque Patricios. Bus lines 118 and 188 both stop a few blocks from the market. Other lines stop at the actual park in Parque Patricios, which is about five blocks away. Check http://mapa.buenosaires.gov.ar/ to find the best route for you.