Get your fill of chili this Sunday, June 16th

[Photo credit: Annual Buenos Aires Chili Cook Off Facebook page]
This Sunday June 16th 2013 (from 2pm to 6pm, Vicente Lopez 2134) is the 3rd annual Buenos Aires Chili Cook Off in Recoleta! Come sample the best chili in Buenos Aires, prepared by an array of cooks (including some BuenosTours guides!) and chili aficionados alike. The cooks are competing for the taste buds of a panel of notable judges and international characters. Obviously the majority of chilis will be meaty, but some cooks will also have vegetarian chilis on offer. Just don't tell the Texans.
The event is a fundraiser for the SACS – Send a Child to School Foundation, and all proceeds will help provide necessary school supplies for kids in need in Buenos Aires. Entrance to the Cook Off is free, but you can buy tickets in $5 and $10 peso amounts to enjoy any of the items mentioned on the menu below, including microbrew beer and local boutique wines:
[Photo credit: Annual Buenos Aires Chili Cook Off Facebook page]
For more information, read all the details on the Sugar & Spice blog, like the Facebook page, join the event, or follow the cook-off on Twitter.
And the BA Underground Market is back on Saturday, June 15th!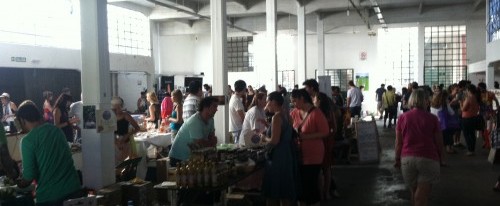 Also this weekend, check out the newest iteration of the BA Underground Market on Saturday, June 15th 2013(from 12pm to 5pm, Querandíes 4290), hosted by the Argentine Independent newspaper. Held in a cool old factory (IMPA) in Almagro, this event features difficult-to-find-in-Buenos-Aires items like microbrew beer, homemade international foods, hot sauce, fudge, and vegan and raw options. See the full list of vendors on the Argentine Independent website, and join the facebook event. Tickets are $5 in advance and $10 at the door.

Have a delicious weekend in Buenos Aires!
Location of the Annual Buenos Aires Chili Cook Off
Pagana Club
Vicente Lopez 2134, between Azcuenaga and Jose Evarista Uriburu
Recoleta
Location of the BA Underground Market
IMPA, Querandíes 4290, between Pringles and Rawson
Almagro
A must-see show in Buenos Aires
You can feel the beat hit your chest. Everyone's eyes are glued to the stage, mouths attached to their big-cup beers and ears enjoying the thump of congas and djembe drums. The ones not slurping beer are dancing and smiling, kissing their date or just letting the music sink in. If anyone had a case of the Mondays, it left a long time ago.
La Bomba de Tiempo attracts an eclectic crowd to the Konex, their Abasto venue, every Monday night. The event has become a must for many travelers and Porteños in Buenos Aires. Its popularity could have made it an over-touristy event if it weren't for its consistent originality, affordability and great music.
The best of Abasto
Located only a few blocks from the historic Abasto Shopping Center, The Konex is an open-air venue with some fun design. (La Bomba de Tiempo is a rain-or-shine event because the stage is covered. It's actually a fun event in the rain). A large orange staircase, which hosts the mixing desk, is in the middle of the audience. There's a huge metal bug stationed on the roof to the left of the stage. Colorful graffiti covers the walls. But all of these details fade away once the drum band takes stage.
A 17-person band provides the nights' entertainment. They play on an array of drums – congo and djembe mostly – and everyone seems to get a solo of some kind. Mid-way through the show last week, a saxophonist accompanied the band for a few songs, playing for about 30 minutes. The music was lively, perfectly executed and energized the crowd.
The band involves the audience too. In a performance that resembled the Isley Brother's song Shout, the drum band gradually lowered its volume, motioning the audience to kneel down. The entire crowd lowered to the ground until the beat slowly, and then rapidly, picked up. Not before long, everyone was back on their feet, clapping hands.
Although the venue is standing-room only and packed, there isn't a rowdy vibe in the audience. Whether because of the music or not, the jovial, peaceful crowd makes the performance even more enjoyable.
Given its popularity, La Bomba de Tiempo is an event to show up early for. You don't need to worry about tickets selling out, but the line can literally be around the block, and an hour-long wait. The main, La Bomba de Tiempo show starts at 8pm, but there is an opening act at 7pm. Try to arrive at the Konex by 7pm to avoid missing any of the La Bomba show.
For more opinions on La Bomba de Tiempo, check out Wander Argentina's post, Diego's write-up on Expose Buenos Aires and this review by Matador Network.
Where is La Bomba de Tiempo?
The Ciudad Cultural Konex venue, at Sarmiento 3131 (between Jean Juares and Anchorena) Abasto, City of Buenos Aires.
Check out La Bomba de Tiempo's website and Facebook page for any updates. You can also buy tickets on the Ticketek website.
Phone: (+54 11) 4864 3200     Email: [email protected]
Enjoy Buenos Aires' hidden, seasonal market

The arepa made me feel like Pavlov's dogs. I eagerly awaited by a tent to eat this fried-cornbread-sandwich goodness.
"Arepa con todo?" the chef under the tent asked. Yes, I ordered an arepa with every topping available.
Spicy chicken with an avocado salsa and grilled veggies wedged into crispy cornbread offered a taste of South America not usually found in Buenos Aires. Last Saturday, I ventured to Parque Patricios, a quiet neighborhood, to attend the third edition of the BA Underground Market, hosted by The Argentina Independent, an English language website.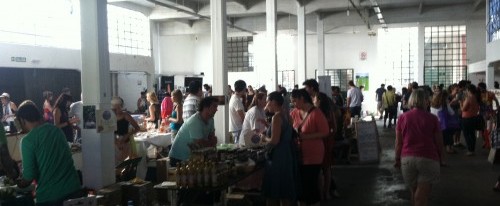 Finding the market in Parque Patricios
The Undergound Market is based off the San Francisco Undergound Market, and it started last June. The first event's popularity called for a second event in September and the most recent one last week. A friendly mix of Porteños and expats come together at the market, an event you wouldn't know about unless you checked the English blogosphere in Buenos Aires.
Walking down Calle Iguazu in Parque Patricios, my friends and I were convinced we had the wrong address. Pin drop quiet. But a smattering of voices echoed past an open yellow doorway, which we decided was our best—and only—option.
The entrance was a big open courtyard with tables and chairs sprawled out to ease those with the meat sweats, a cool, craft beer or perhaps a refreshing glass of peach lemon ice tea. Past the courtyard, the Underground Market buzzed in an old ware-house-style building. A low-key vibe permeated the sunny, Argentine afternoon.
Argentine and foreign cuisine come together
Over the entire afternoon, about 450 people came to taste an array of small dishes. I indulged in a Tio Pelado ($15ARS): a mash of wheat, pumpkin and ginger topped with a sprinkle of cayenne pepper served in a crusty tortilla bowl (above). My friend devoured his "choriman," a spicy sausage with homemade sauces and coleslaw $20 (below).
Warning: this list of foods may make you hungry immediately. Dulce de leche covered donuts, American pancakes, Pecan Pie, pisco sour and Coco trufas (below)—oatmeal balls with DDL and coconut—highlighted the sweets. Artisan cheeses, craft beer, Korean tacos, Quinoa burgers and crispy prosciutto-egg sandwiches rounded out the lunch menu.
For those tired of eating, a massage station awaited them, along with a few tables filled with homemade jewelry and thrifty clothing items.
And for the news junkies like me, a special, print edition of the Argentine Independent fulfilled my last hour while I munched on a flavor-packed falafel sandwich. Not a bad day in Argentina.
When can you go: Its uncertain when exactly the next BA Undergound Market will be, but judging by the last three events, it appears to be seasonal. Check the Argentina Independent for the latest updates or like their Facebook page.
How much: $10 entrance fee, and then you pay the cashier for food vouchers—each one costs five pesos. I decided to get 20 tickets ($100 pesos), which allowed me to try seven items.
How to get to the Buenos Aires Underground Market
How to get there: Buenos Aires Underground Market, Iguazu 451, Parque Patricios. Bus lines 118 and 188 both stop a few blocks from the market. Other lines stop at the actual park in Parque Patricios, which is about five blocks away. Check http://mapa.buenosaires.gov.ar/ to find the best route for you.
Lucha de Almohadas!
Today Parque Tres de Febrero, in front of the Planetario building (Palermo), descended into pure feathery chaos, as Argentina's 1st ever flash mob event took place – a 'Lucha de Almohadas'. Basically, a massive outdoor pillow fight between a group of total strangers, arranged over the internet.
There must have been thousands there*, pillows in hand and ready for the fight, and possibly almost as many taking pictures and videos with their cameras. I brought both camera and pillow, and did a little bit of pillow fighting, and a little bit of pillow recording, sometimes simultaneously 🙂
*EDIT: Update – Clarin newspaper on Sunday (whose front page photo of the pillow fight is no way as good as mine above 😉 ), estimated that over 3,000 people attended the pillow fight, with no injuries (although I saw at least one very bloody nose). That's a lot of pillows!
For those seeking instant gratification…
If this post is too long for you to read it all, and you only want to see one thing, I URGE YOU TO SCROLL DOWN TO THE FINAL YOUTUBE VIDEO (it is the fifth embedded video), which is of a ¨horse¨being ambushed by crazed pillow-wielding maniacs. It is hilarious. Trust me.
For those that would like the full experience, I hope you enjoy my story of the day told in in photos and videos…
Calm before the (feather) storm
Pillow Fights are a dangerous business
And they need to be closely controlled. With tape.
(Does he, to the right, think that pickaxe vs pillow is a fair fight?)
Battle plans are made
Early Skirmishes Occur
Kids will be kids…
The old guy in the short video above, kitted out in a karate costume, was trying to take on all 3,000 people singlehandedly, before the event started. Obviously he'd watched one too many Bruce Lee movies. Did you see the one where he killed 9 men with a single swing of his pillow? 🙂
The 'Guerra de Almohadas' of Argentina Begins
And battle rages on…
And on…
And oon…
And ooon…
And ooooon…..
Every war has its casualties
Be they shoe… (this man was pillowed to death. All that remained is shown in that harrowing picture)…
…or horse! The horse above was in the middle of an interview with the media, quite normal really. Do pillow fighters have no manners? (sorry for the bad camera work!)
What goes up…
…must come down…
Get it? Feathers….down…? OK, bad joke, sorry!
Palermo Park ends in quite a state
As you can see, it all ended in a big old mess. Hundreds of pillows bursting all over the place also played havoc on me and my allergies, but still, it was amazing fun, for me, and the other thousands of people there. It lasted well over an hour, and probably a lot more than that (I gave up and went home, there is only so many unexpected blows to the back of the head a man can take), but I'm guessing it will take Parque Tres de Febrero and the Palermo parks people a lot longer than that to clean up. Sorry guys.
If anyone else that reads this went to the Pillow fight, please post your experiences below in the comments, and feel free to link to your blog with comments and pictures, or YouTube for videos or whatever. And if you link to this post, I of course cordially invite you to 'trackback' (sorry for the netgeek blogspeak). Until next time, pillow fans…
Postscript: How the Buenos Aires Pillow Buzz Began
I first noticed the plans for this crazy event in a blog post by Diva, one of my favorite BA bloggers, pointing to the blog that had the idea and organised the whole thing. I knew immediately I had to go, because I like to hit random strangers with pillows, only modern society is not usually so forgiving to such tendencies. However, I thought it was likely to be a small affair with maybe 100 people max turning up. How wrong I was to be!
Soon after I saw that Global Voices Online had posted a link to a post in a well-known blog (outside of the Buenos Aires Blogosphere), Blogher, by Liz Henry, talking about this event, so at this stage it had basically gone 'international'. What's more, that blog post drew my attention to the fact that the Buenos Aires City Government blog had posted about the upcoming Pillow Fight too! That's some real official recognition, and obviously this was going to be bigger than I thought. Another post from Buenos Aires Weekly, yet another great Buenos Aires blog, confirmed the news was spreading fast.
Soon after it actually became real news! Argentine newspapers and Buenos Aires media all over the shop started picking up on the story, in order: 26 Noticias, Clarin Suplemento SI!, Perfil, Clarin newspaper, Infobae, and even the very respectable La Nacion! After 20,000 people had visited her blogspot blog, organizer Marina Ponzi then decided to get a new website, and even started to claim that this was no longer a flash mob event, even though the name of the new site suggests so. All a little confusing, but it didn't stop the press buzz rolling…
And then, the pillow fight REALLY hit the big time: I posted about it in this blog the other day. That must have driven at least, oooh, one more person to go along 😉
It was interesting for me to watch this internet meme grow in front of my very eyes, as described above, and then be there as the event occurred, so successfully, all starting from one simple idea and a free blogspot blog. And thanks, of course, to Marina for that idea 🙂

The 'Hipodromo Argentino' in Palermo
For fans of horse racing, the 'Hipodromo Argentino' (Argentina's Main Racecourse) is definitely worth a visit. If you are here in mid-November, you may even be able to catch the most important event in the racing calendar, the 'Gran Premio Nacional', which is sometimes also known as the 'Argentine Derby.'
You may expect the Hipodromo to be full of annoying, snooty, better-than-you upper class people, but that couldn't be farther from the truth. Just like race meetings in the UK or US, there is a mix of all types of people there, including many families, enjoying the day out in the sun.
The history of Buenos Aires Hippodrome
This beautiful race track was inaugurated on 7th May 1876, when a horse called Resbaloso took the honors in the first race, watched by 10 thousand people. These days, in addition to this sport being called 'Turf' here in Argentina, almost all of the horses have English names, which means it is often fun to hear the racetrack announcer try and fail with the pronunciation.
The main entrance and stand was built in 1908, with a capacity of 2,000, by a French architect named Faure Dujarric, in the usual lovely Art Nouveau style of that period that is seen all through Buenos Aires, especially in Recoleta and along Avenida de Mayo in the city center.
The Hipodromo has been privately owned since 1992. That probably goes some way towards explaining the over-zealous security guards there who will no doubt harass you not to take pictures.
Also inside that building are seemingly miles and miles of underground slot machines. There are in fact more than 2000 of these automated money grabbers – and they are more popular than the horses, in fact that part of the Hipodromo is open 24 hrs a day, 365 days a year. It's one of those places where can't tell what time of day it is if you lose track of time, or just lose yourself among the miles of slot machines. There is certainly a lot of money in this building, which again may explain the tight security.
The 'Gran Premio Nacional' of Argentina
The Argentine equivalent of the Derby is called the Gran Premio Nacional, running on a chosen Saturday every mid-November. It was first run in 1884. The best horses in Argentina compete in the race, for the honor of being the best in a country that has some excellent horses.
Another nice touch you may get to experience at a historic race such as the Gran Premio is the performance of the national anthem before the main race by the Granaderos, the Argentine horseback regiment formed by General San Martin, who is the main Argentine independence hero.
The Hipodromo – Getting there and getting in
The Hipodromo is not too easily reachable by public transport, but it is definitely doable. You can either get the subway Line D to the Palermo stop, and then walk about 5 blocks along Avenida Intendente Bullrich  (pass 'Jumbo' supermarket) until you reach Av. Dorrego, where you will see the Hipodromo across the street and to the left. Or you can get either bus 10, 36, 160 or 166, which all drop you off in that area. But it is probably easiest to get a taxi there and back.
Entrance to the Hipodromo has varying costs, depending on the day you go and the importance of the race. Not very much for what is a very nice, long day out – races usually start around noon and go right the way into the evening. You can check ahead when races are held by calling 4778-2800 (if you speak Spanish) or on www.palermo.com.ar – click 'Informacion Hipica' followed by 'Calendario y Resultados' for a list of all the race meeting dates, which continue all year round.
Location of the Palermo Hippodrome
Avenida del Libertador 4100, between Avenida Dorrego and Olleros, Palermo
Buenos Aires > Things to do > Buildings and Architecture > Palermo Hippodrome