A porteño emblem par excellence
It was once decorated as a pencil (2006), and twice as a Christmas tree (1973 and 2010).  It has served as a target for vandals, prompting its public closure and an imposing fence to be placed around it in 1987.  During the sinister sequestration period of the 1970s, it served as a masthead to hoist terrifying propaganda intended to silence the government's critics.
In 2005, it was covered in a giant pink condom for World Aids Day.  In 2015, it temporarily "lost" its tip thanks to a grand illusion by the hand of a local artist, making it possible for the first time ever for Argentines to access its towering peak.
A few days after its construction was complete in 1936, an earthquake shook its foundation but couldn't topple it.  A few years later, in 1939, the Argentine government voted 23-3 to demolish it, but they couldn't topple it either (thanks, Mayor Goyeneche).   
For the city's bicentennial celebrations in May 2010, more than 3 million cheering porteños rallied around it as their central symbol of both the city and the nation.  Just a few days before, famed fútbol coach of Argentina's national team and it's favorite ex-star player, Diego Maradona, threatened to run around it buck naked if his team should win the World Cup.
So, what is "it", you ask?
None other than the "silver sword" of porteño pride: el Obelisco de Buenos Aires.
Residing at the intersection of the city's two most important avenues, Av. 9 de Julio and Av. Corrientes, the Obelisk has been steeped in controversy and intrigue since before it was even erected. For starters, it has been popularly (and wrongly) blamed for the destruction of the historic St. Nicholas Church, which once stood on the same site and first hoisted the baby blue and white Argentine flag over its altars (the 1931 widening of Avenida Corrientes was the actual culprit).
Early onlookers questioned the appropriateness of the construction, pointing out that its shape had "nothing to do with" the city and what it stood for. It predictably became a target for local feminist groups that didn't like the perceived machismo attitudes it embodies. And, if the ladies were correct about the message it was intended to send, it was an embarrassment anyway thanks to being less than half as tall as its 555-feet tall North American cousin, the Washington Monument (El Obelisco is just 221.5 feet tall, or 67.5 meters).
Besides that, it wasn't even made out of "local materials"- the Olsen white stone which comprised its outer cladding was from the province of Córdoba. When that tiling started falling off, it was declared a danger to passersby and termed an "intruder" by an opportunistic Congress that grasped for any reason to level it to the ground and start afresh.
An Argentine monument that Buenos Aires learned to accept
But here we are over 80 years later, and it still occupies its prime real estate on the corner of the Broadway of BA and the Widest Avenue in the World. Love it or hate it, one thing is clear: it's impossible to ignore it. After all, it has been the site of enough impassioned protests and soccer celebrations to cement its place in the Port City dweller's hearts forever. More than likeability, the obelisk has familiarity going for it, having served as the centerpiece to many key events in the modern history of Buenos Aires.
In fact, the best way to understand the significance of the structure is perhaps through these stories: the rallies, the raucousness, and (at times) the riots that the monument has borne witness to. If choosing the Obelisk to host an event is synonymous with having an important cultural message to send, let's see what we can glean about the Argentine people from just the happenings there from the past year (at the time of writing, August 2017)…
12 August 2016: Tango Festival and World Cup Kickoff Celebration
What better event to start with for representing Buenos Aires than one related to tango?  Known worldwide as the Festival y Mundial de Tango and locally as simply El Mundial, this important tango competition takes place during the month of August each year in Buenos Aires. Over 400 couples compete each year in national and international preliminaries for a chance to represent their country in the finals at Luna Park at the end of the month in one of two categories: Tango Pista (salon tango), or Tango Escenario (Stage Tango).  In the run-up to that final event, classes, exhibitions, and concerts are offered all for free in an effort to preserve and expand the cultural heritage of the tango.  
In 2016, the festival theme was bringing the tango "back to the barrios" (neighborhoods), and the events were hosted over 42 different venues in the city to include as many enthusiasts as possible (they almost reached a full offering of 48 venues… the official number of barrios in the city, but a valiant effort all the same).  The kickoff celebration at the Obelisco was actually a press conference, but featured some of the musicians and dancers representing Buenos Aires.
Watch last year's champions Cristian Palomo and Melisa Sacchi in the salon category, and Hugo Mastrolorenzo and Agustina Vignau in the stage category.  This year (2017), the festival takes place from the 10th to the 23rd of August.
9 October 2016: The First Annual National Asado Championships
A close second in cultural importance to tango in Argentina (and some would argue for its place in the top spot) is their asado tradition of grilling up the tastiest cuts of meat in the world.  Last October, the city crystallized their efforts to communicate their gastronomic superiority in the carne category by holding a meat mega-festival, with the Obelisk serving as ground zero.  Judges were brought in from some of the best parrillas in the city: Don Julio, La Cabrera, La Carnicería, El Mirasol, Cabaña Las Lilas, Siga la Vaca, Nuestro Secreto and La Cabaña.  
The festival's champion asadores hailed from Mendoza, a Western province of Argentina, and proudly declared after their win that the "secret is patience" in this "ceremony" of Argentine culture.  The event coincided with Argentine Cultural Diversity Day, and featured several booths showing off the cuisines and dances of nearby nations – fitting for a country that celebrates their strong immigrant population.
19 October 2016: The National Women's Strike
Taking a somber turn in our roster of notable gatherings is the mass march that took place last October to protest the brutal femicide of 16 year old Lucía Pérez in Mar Del Plata, a coastal resort town in the province of Buenos Aires.  As part of the Ni Una Menos movement ("not one less", meaning no more women killed from gender violence), the strike took place on "Miércoles Negro," or "Black Wednesday," and made headlines all over the world.  
Thousands of women stopped all activities for an hour and marched from the Obelisk to Plaza de Mayo, where organizers recited speeches about the persistent machista (male-dominated) attitudes that exist here and threaten the women of Argentina, not only in the form of violence but also cultural suppression (over 10% of women are unemployed, with a gender pay gap of 30-40% and 20% of salaried women being employed as low-paid domestic workers).  It is a sad reality, but misogyny and gender-related violence continues to be one of the greatest challenges this country faces.
14-18 November 2016: Artisanal Ice Cream Week
With over 6000 artisanal ice cream shops sprinkled over the city, it is clear that meat is not the only defining delicacy on the porteño menu.  Each year in late November, the city bows to its Italian immigrant traditions and turns the Obelisk into a giant gelato stand, with flavors being made fresh and all the proceeds benefiting local children's hospitals.  In 2016, its 32nd year, the festival drew a crowd of over 4000, with the favorite flavors being (in order): dulce de leche, chocolate, and strawberry (frutilla).  
Far from enjoying their creamy treat from a waffle cone, the preferred delivery method in Buenos Aires is in that styrofoam container known simply as un cuarto – a quarter kilogram of the sweet stuff, because *real* artisanal ice cream is always sold by weight, never volume.  Our advice: don't get into an argument with an Argentine about who sells the best ice cream in the city, because they all have a personal favorite… and they're all right!
29 November 2016: A Tribute To The Chapecoense Football Team
Football is serious business in Argentina.  90% of the populace here claims allegiance to a club, and a woman cheering against her boyfriend's team is automatic grounds for a breakup.  When the national team wins the entire city stops to celebrate, and Diego Maradona (their coach and ex-star player) is still every bit as much of a god as he was in the early 80's.  But on the tragic night of November 29th, 2016, Argentina showed that their true allegiance is to the sport itself rather than any national rivalry.  That was the night that 71 people perished on a Medellín, Colombia mountainside from a chartered flight carrying the players and staff of the rising star team from Chapecoense, Brazil.  
The scrappy underdogs had beaten incredible odds to make it to the final of the Copa Sudamericana, but their lives were lost at the hands of a careless pilot who failed to make a refuel stop.  Football fans the world over went into mourning, and Argentina lit up the Obelisk in bright green – the team's jersey color – in solidarity.  It was a moment that no porteño will soon forget.
7 February 2017: The 'Tetazo' Topless March
What started as 3 women being threatened with arrest (*link NSFW) for bathing topless on a popular beach on the outskirts of the city on January 28th turned into a massive protest (*link NSFW) in the Plaza de la Republica – the small park surrounding the Obelisk – a little over a week later.  That incident renewed a longstanding national debate about the inequalities that still exist between men and women in Argentine society, where women's scantily-clad bodies are routinely used to sell products in advertising alongside being portrayed as lewd for acts such as breastfeeding.  
It was hard to ignore that the protesters had a valid point when a large number of men showed up merely to ogle the bared-chests, with some climbing flagpoles to get a better look and one man exposing his genitals, sparking outrage among the crowd. While legislators continue to debate the legality of topless sunbathing for women, one thing is clear: machismo, at least for now, is here to stay in Buenos Aires.
25 March 2017: Earth Hour Shuts Down The Obelisk
Buenos Aires has come a long way in the last year in their environmental conservation efforts. Instituting a ban on plastic bags in grocery stores at the beginning of 2017, installing dedicated bus lines to cut air and noise pollution, conducting a city-wide trash collection overhaul, and replacing streetlights with energy efficient LED bulbs are just a few of the improvements the city has undergone.  Though they still have a long way to go, it is clear from the notable lack of protests at the hands of a people that aren't afraid to take to the streets that the majority of Argentines consider themselves in favor of measures that protect the environment.  
Since 2015, the city has been participating in Earth Hour: a yearly event taking place in over 170 countries that flicks the switch on the lights that power major monuments around the world.  This year saw not just the Obelisco, but also the Monumento a San Martín, the Monumento a los Españoles, and the Floralis Genérica go dark for an hour.  Now if they could only innovate a new, biodegradable material to replace that standard styrofoam ice cream container.
El Obelisco de Buenos Aires
Tango, grilled meats, fútbol, and women's rights: just a few of the defining cultural facets of Argentina's modern times.  Clearly, if you want to get a bird's eye view of the social landscape, a very good place to start is the steps of that sky-scraping symbol of porteño pride – El Obelisco.
El Puente de la Mujer in Buenos Aires's business district
Crossing the diques (docks) to Buenos Aires's elite district of Puerto Madero, you'll undoubtedly spot one of BA's most iconic structures: El Puente de La Mujer, or Woman's Bridge. A beacon to all pedestrians, this elegant and sophisticated homage to women is one of the city's most contemporary structures, curving over the waters of the Rio de la Plata.
[Photo credit: efava's photostream//CC BY-NC-SA 2.0]
The bridge was designed by Spanish architect Santiago Calatrava, a pioneer of the Cantilever spar cable-stayed bridge. Open for pedestrian passage only, it was completed in 2001. You may (like I have) spend hours contemplating the angles and shape of the bridge, wondering which parts correspond to a literal representation of a woman or if it's simply a conceptual nod to womanly grace and elegance. But actually it was named as such because the streets of Puerto Madero are all named for famous and important Argentine women; the architect likens the structure to the synthesis of a couple dancing tango (aha, now I see it!).
[Photo credit: shell belle's photostream//CC BY-NC 2.0] 
Puerto Madero is one of the only places in the city where you can see and enjoy the river. So head down to the restored docks on a beautiful day, and experience the bridge for yourself! If you'd like to see how it opens, you could wait around until a ship shows up, but that could be a long while (Puerto Madero is not the city's functioning port, see below); why not just watch a video of the bridge open! It is particularly lovely all lit up at night, or on a windy day, with the brackish river water rippling below.
[Photo credit: verovera78's photostream//CC BY-NC 2.0]
Puerto Madero: from rags to riches
Because the Rio de la Plata river is so shallow, docking cargo ships was a challenge in the old days. Boats used to stop off shore and small crafts would bring passengers closer in, where high-wheeled carriages (or in some cases, slaves) carried passengers ashore. Puerto Madero was finally constructed as the port of the city, commissioned by Eduardo Madero in 1887. It was soon made obsolete, however, by the construction of the New Port (further North, on the waterfront beside the Retiro neighborhood) in 1926. From this point on, the region fell into decay and became one of the most derelict sectors of the city.
In the 1990's, however, the city and national governments joined forces, attracting major local and foreign investment, to revamp the old port into Buenos Aires's most chic and elite neighborhood. Old warehouses were converted into smart offices, lofts, restaurants, and the new space for the private Catholic university, Pontificia Universidad Catolica de Argentina.

[Photo credit: David Sasake's photostream//CC BY-NC-SA 2.0]
If it's a hot day in Buenos Aires, this neighborhood is blessed with a revitalizing breeze. The docks are great for strolling, biking, or sightseeing; keep your eyes open for a crazy guy on roller blades, who skates up and down the block razzing tourists and making jokes. Next head into the Puerto Madero neighborhood itself, and saunter among the towers that house Argentina's wealthy. Sip a luxury cocktail at the Faena Hotel + Universe before exploring one of our favorite regions of the city, the Costanera Sur Ecological Reserve.
Read more about the history of Puerto Madero's development on Wander Argentina, or check out some of the most beautiful pedestrian bridges in the world as rated by Travel + Leisure.
Location of Puente de la Mujer
Juana Manuela de Gorriti between Azucena Villaflor and Macacha Guemes
Puerto Madero
Get your fill of chili this Sunday, June 16th

[Photo credit: Annual Buenos Aires Chili Cook Off Facebook page]
This Sunday June 16th 2013 (from 2pm to 6pm, Vicente Lopez 2134) is the 3rd annual Buenos Aires Chili Cook Off in Recoleta! Come sample the best chili in Buenos Aires, prepared by an array of cooks (including some BuenosTours guides!) and chili aficionados alike. The cooks are competing for the taste buds of a panel of notable judges and international characters. Obviously the majority of chilis will be meaty, but some cooks will also have vegetarian chilis on offer. Just don't tell the Texans.
The event is a fundraiser for the SACS – Send a Child to School Foundation, and all proceeds will help provide necessary school supplies for kids in need in Buenos Aires. Entrance to the Cook Off is free, but you can buy tickets in $5 and $10 peso amounts to enjoy any of the items mentioned on the menu below, including microbrew beer and local boutique wines:
[Photo credit: Annual Buenos Aires Chili Cook Off Facebook page]
For more information, read all the details on the Sugar & Spice blog, like the Facebook page, join the event, or follow the cook-off on Twitter.
And the BA Underground Market is back on Saturday, June 15th!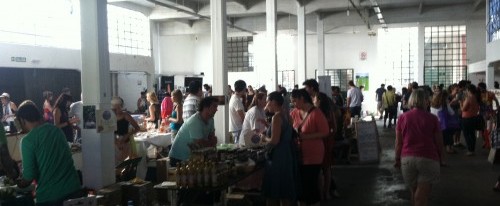 Also this weekend, check out the newest iteration of the BA Underground Market on Saturday, June 15th 2013(from 12pm to 5pm, Querandíes 4290), hosted by the Argentine Independent newspaper. Held in a cool old factory (IMPA) in Almagro, this event features difficult-to-find-in-Buenos-Aires items like microbrew beer, homemade international foods, hot sauce, fudge, and vegan and raw options. See the full list of vendors on the Argentine Independent website, and join the facebook event. Tickets are $5 in advance and $10 at the door.

Have a delicious weekend in Buenos Aires!
Location of the Annual Buenos Aires Chili Cook Off
Pagana Club
Vicente Lopez 2134, between Azcuenaga and Jose Evarista Uriburu
Recoleta
Location of the BA Underground Market
IMPA, Querandíes 4290, between Pringles and Rawson
Almagro
Visit the MALBA (Museo de Arte Latinoamericano de Buenos Aires)
The MALBA is without a doubt one of Buenos Aires's premier museums. Housed in a modern building designed to reflect the city blocks which flank it, this is one of those rare museums where you feel like the architecture is truly part of the show. High, geometric windows allow tons of natural light to illuminate a dazzling collection of modern and contemporary Latin American art.
[Photo credit: kara brugman's photostream/ /CC BY-NC-ND 2.0]
The MALBA opened its doors to the public in 2001, with a mission to "collect, preserve, research, and promote Latin American art from the onset of the 20th century to the present." Created by the Costantini foundation, this museum holds the spectacular collection of Latin American art amassed by Argentine real-estate developer, philanthropist, and patron of the arts Eduardo Costantini.
The building's granite exterior belies the lightness inside: a limestone interior with cristal panes of glass spanning the entirety of one wall, the space was designed to allow optimal use of natural sunlight, while still perserving the artwork. In many ways, the white limestone and clean lines provide a perfect canvas on which pieces of modern and contemporary art pop and explode to the eye. While sleek and modern, the space always features some whimsical touches; for example, the curvy wooden panels hanging from various ledges and balconies finally conjoin into a lovely bench on the second floor. Next to the entrance, a panel that appears to be a giant stop-light is actually equiped with a microphone and reflects the level of ambient noise around the MALBA: this means the red-lights appear at rush hour!
Outstanding collection of Latin American art
The permenant collection is a spectacular homage to Latin American modern and contemporary art. With over 500 pieces in the archives, The MALBA displays around 150 works at a time. All artwork starts from the 20th century, and is arranged to highlight certain regional tendencies. Pieces by Frida Kahlo and David Alfaro Siquieros are immediately recognizable, but even aficionados of Latin American art may be surprised by a cubist Diego Rivera painting. Also noteworthy is a piece by the Colombian Fernando Botero (recognizable for his use of corpulent figures) called Los Viudos or The Widowers.
The museum features Argentine artisits, including several works by beloved watercolor master and esoteric thinker,  Xul Solar. One of the most striking paintings on display, Manifestacion (Protest) by Argentine great Antonio Berni attracts much attention. A response to the Mexican muralists, Manifestacion recalls the magnitude and politics of the muralist tradition, portraying larger-than-life characters and transforming the masses into a union of distinct and intriguing individuals. This painting is, however, one of the most emblamatic of the Argentine tradition; the sign held by the people protesting reads "Pan y trabajo" or bread and work, perhaps a direct reference to Ernesto de Carcova's Sin Pan y Sin Trabajo, on display in the National Museum of Fine Arts.
[Photo credit: Carlos Adampol's photostream/ /CC BY-BY-SA 2.0]
The collection also features interesting  surrealisms by Chilean artist Roberto Matta and Cuban Wilfredo Lam. Also intriguing are a slew of fun optical works, and look out for a few pieces of living art like plants and some fish!
Provocative touring shows at the MALBA
Visiting exhibits at the MALBA tend to be jaw-dropping, moving, beautiful or outrageous. These contemporary shows, typically by Latin American artists, rotate almost monthly; you can check the schedule here. MALBA's movie theatre plays some interesting, off-beat films, and as the Constantini Foundation is dedicated to education, MALBA hosts open workshops on Philosophy, Film, and the Arts and leads guided visits for the hearing, visual, and mentally impaired.
Be sure to bring some pesos with you! The museum store features some funky and truly original things including clothes, notebooks, jewelry, mates, and other do-dads that would make great gifts. Head downstairs and check out the ample collection of art books, magazines, and music. You can also grab a coffee or bite to eat at the lovely museum cafe, Cafe des Arts.
To get a feel for the museum, watch this video, or read more at Wander Argentina.
Location of the Museo de Arte Latinoamericano de Buenos Aires
Avenida Figueroa Alcorta 3415, between San Martin de Tours and Jeronimo Salguero, Palermo
Telephone: 4808 6500
Opening Hours 
Thursday-Friday and Holidays: 12pm to 8pm
Wednesdays: 12pm to 9pm
Tuesdays: closed
Head to the MALBA on Wednesday for discounts!
A must-see show in Buenos Aires
You can feel the beat hit your chest. Everyone's eyes are glued to the stage, mouths attached to their big-cup beers and ears enjoying the thump of congas and djembe drums. The ones not slurping beer are dancing and smiling, kissing their date or just letting the music sink in. If anyone had a case of the Mondays, it left a long time ago.
La Bomba de Tiempo attracts an eclectic crowd to the Konex, their Abasto venue, every Monday night. The event has become a must for many travelers and Porteños in Buenos Aires. Its popularity could have made it an over-touristy event if it weren't for its consistent originality, affordability and great music.
The best of Abasto
Located only a few blocks from the historic Abasto Shopping Center, The Konex is an open-air venue with some fun design. (La Bomba de Tiempo is a rain-or-shine event because the stage is covered. It's actually a fun event in the rain). A large orange staircase, which hosts the mixing desk, is in the middle of the audience. There's a huge metal bug stationed on the roof to the left of the stage. Colorful graffiti covers the walls. But all of these details fade away once the drum band takes stage.
A 17-person band provides the nights' entertainment. They play on an array of drums – congo and djembe mostly – and everyone seems to get a solo of some kind. Mid-way through the show last week, a saxophonist accompanied the band for a few songs, playing for about 30 minutes. The music was lively, perfectly executed and energized the crowd.
The band involves the audience too. In a performance that resembled the Isley Brother's song Shout, the drum band gradually lowered its volume, motioning the audience to kneel down. The entire crowd lowered to the ground until the beat slowly, and then rapidly, picked up. Not before long, everyone was back on their feet, clapping hands.
Although the venue is standing-room only and packed, there isn't a rowdy vibe in the audience. Whether because of the music or not, the jovial, peaceful crowd makes the performance even more enjoyable.
Given its popularity, La Bomba de Tiempo is an event to show up early for. You don't need to worry about tickets selling out, but the line can literally be around the block, and an hour-long wait. The main, La Bomba de Tiempo show starts at 8pm, but there is an opening act at 7pm. Try to arrive at the Konex by 7pm to avoid missing any of the La Bomba show.
For more opinions on La Bomba de Tiempo, check out Wander Argentina's post, Diego's write-up on Expose Buenos Aires and this review by Matador Network.
Where is La Bomba de Tiempo?
The Ciudad Cultural Konex venue, at Sarmiento 3131 (between Jean Juares and Anchorena) Abasto, City of Buenos Aires.
Check out La Bomba de Tiempo's website and Facebook page for any updates. You can also buy tickets on the Ticketek website.
Phone: (+54 11) 4864 3200     Email: [email protected]
A day of art and history at the Museo Nacional de Bellas Artes
The Museo Nacional de Bellas Artes (MNBA), or the National Museum of Fine Arts, should be a destination on the route of every traveler who comes to Buenos Aires (the only reason to miss it would be if you absolutely hate art, history, and free things!).
The building is as pink as the Casa Rosada, and houses an impressive collection of Argentine and international art.  On the ground floor, you'll find pieces spanning from the Middle ages through the 20th Centrury.  Keep your eyes open for classic European artists like Rembrandt van Rijn and El Greco.  The Bellas Artes museum also hosts a breathtaking body of impressionist and post-impressionist artwork, with paintings and drawings from almost every one of this movement's heavy hitters; you'll find Vincent Van Gogh, Claude Monet, Henri de Toulouse-Lautrec, Edgar Degas, Eduardo Manet, Pierre-Auguste Renoir, Paul Gauguin, Berthe Morisot, and Camille Pissarro all represented in one wing, plus an additional room of drawings by Degas and Paul Cezanne.
Argentina's history in brush strokes
The museum originally opened 1896 and was originally located in the Galerias Pacifico (now a shopping mall & cultural center). When you first enter through the main doors, you'll see a lovely plaster sculpture of two lovers, titled Dulce Francia (Lancelot et Genevieve), by the Argentine artist Pablo Curatella Manes.  Behind this piece is a room dedicated to the art popular with Argentina's aristocracy at the the time of the Museum's opening: Pompier.  These sculptures and paintings depict idyllic nudes, most of which are mythological figures.  Also on display is a collection of French furniture of the 18th century popular with the porteña elite, as Paris was considered their "second home" up until World War one.
While all the aforementioned, European art gives an interesting back-story to Argentine life and culture, don't miss the wing dedicated to Argentine artists!  Here you'll find Republican artwork of the mid-1800's, including imposing portraits of the caudillo Juan Manuel de Rosas and his daughter, as well as some wonderful portrayals of Gaucho life.  For those interested in military history, the museum contains a collection of meticulously detailed paintings by Cándido López.  These portray different battles in the War of the Triple Alliance, in which López himself fought and even lost his right arm (he later learned to paint with his left).  He was known to outline these works on the battle field, but their emotive colors are the result of painting later by memory.

[Photo credit: Sebastián-Dario's Fickr account/ /CC BY-NC 2.0]
Tucked away behind the room with Lopez's battle scenes, is a small room of Argentine art of the end of the 19th century.  Here you'll find some striking  paintings and sculptures, which mark the beginning of a particular national artistic cannon.  One is Angel Della Valle's provocative painting La Vuelta del Malón (The Return of the Raid), which displays a group of malevolent Indigenous men on horseback, complete with an unconscious, semi-naked white woman in tow.  This piece was painted after General Roca's infamous Conquest of the Desert, a military campaign by the Argentine government which effectively wiped out most of the indigenous population in Patagonia and is reflective of the debate of "Civilization vs. Barbarism" which dominated Argentine culture of the 1800's.  Another notable piece is Sin Pan  y Sin Trabajo (No Bread and No Work) by Ernesto de la Cárcova which depicts a young couple sitting at an empty table, the man's ax lying idle, and the woman nursing a baby to her emaciated chest, a powerful critique of turn-of-'the-century industrialization and modernization.
Finally, the first floor of the MNBA holds a wonderful collection of Argentine art of the 20th century.  Here the artistic canvas of Argentina's history truly shines, as a unique cultural aesthetic emerges and artists struggle with themes of dictatorship, Peronism, civil unrest, progress, and finally, democracy.  Unfortunately, the first floor of the Bellas Artes museum is currently closed for construction as of mid 2012, with no scheduled date of completion.  Bellow is a detail from the painting Primeros Pasos by Argentine great Antonio Berni, just one of the many exciting pieces to check out once the first floor reopens.

[Photo credit: Sebastián-Dario's Fickr account/ /CC BY-NC 2.0]
Location, location, location! High Culture in Recoleta

The Fine Arts Museum is located in an ideal area: the cultural epicenter of Recoleta.  To get the best out of this region of the city, we recommend you take our Recoleta Walking Tour, which highlights the rich and famous's extravagant tombs in the Recoleta Cemetery, as well as the places they loved while living in BA's upscale neighborhoods of Retiro and Recoleta.  
After touring and checking out the MNBA, have a drink at La Biela cafe, shop the ferias in San Martin de Tours plaza on weekends, then check out a free exhibit at the Recoleta Cultural Center.  After you've strolled through the latest in design in the Buenos Aires Design Mall, cross over the bridge covered with murals, which will lead you to the neoclassical building of University of Buenos Aires's Law School. 
Continuing up Figeroa Alcorta, you'll hit the wonderful Florais Mechanica mechanical flower sculpture, which opens all day, and "wilts" at nightfall.  Cross back across the Plaza Justo park, but watch out for the runners and people exercising on funky looking gym equipment!  This park also holds an interesting collection of sculptures and is an ideal spot to take a seat and reflect on artwork's importance in Argentine culture.  Check out even more ideas of what to do in Recoleta on our Recoleta page.
For more information on the current exhibits and the history of the Bellas Artes museum, check out the MNBA website.  And read other travelers' reviews of the Museum on TripAdvisor.
Location and hours of the Museo Nacional de Bellas Artes
Avenida Del Libertador 1473, between Av. Pueyrredon and Dr. Luis Agote, Recoleta
Free Admission
Tuesday to Friday 12:30 pm to 8:30 pm
Saturday and Sunday 9:30 am to 8:30 pm
Closed Mondays
Website: http://www.mnba.org.ar/english.php
Enjoy Buenos Aires' hidden, seasonal market

The arepa made me feel like Pavlov's dogs. I eagerly awaited by a tent to eat this fried-cornbread-sandwich goodness.
"Arepa con todo?" the chef under the tent asked. Yes, I ordered an arepa with every topping available.
Spicy chicken with an avocado salsa and grilled veggies wedged into crispy cornbread offered a taste of South America not usually found in Buenos Aires. Last Saturday, I ventured to Parque Patricios, a quiet neighborhood, to attend the third edition of the BA Underground Market, hosted by The Argentina Independent, an English language website.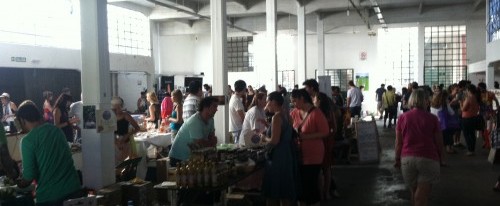 Finding the market in Parque Patricios
The Undergound Market is based off the San Francisco Undergound Market, and it started last June. The first event's popularity called for a second event in September and the most recent one last week. A friendly mix of Porteños and expats come together at the market, an event you wouldn't know about unless you checked the English blogosphere in Buenos Aires.
Walking down Calle Iguazu in Parque Patricios, my friends and I were convinced we had the wrong address. Pin drop quiet. But a smattering of voices echoed past an open yellow doorway, which we decided was our best—and only—option.
The entrance was a big open courtyard with tables and chairs sprawled out to ease those with the meat sweats, a cool, craft beer or perhaps a refreshing glass of peach lemon ice tea. Past the courtyard, the Underground Market buzzed in an old ware-house-style building. A low-key vibe permeated the sunny, Argentine afternoon.
Argentine and foreign cuisine come together
Over the entire afternoon, about 450 people came to taste an array of small dishes. I indulged in a Tio Pelado ($15ARS): a mash of wheat, pumpkin and ginger topped with a sprinkle of cayenne pepper served in a crusty tortilla bowl (above). My friend devoured his "choriman," a spicy sausage with homemade sauces and coleslaw $20 (below).
Warning: this list of foods may make you hungry immediately. Dulce de leche covered donuts, American pancakes, Pecan Pie, pisco sour and Coco trufas (below)—oatmeal balls with DDL and coconut—highlighted the sweets. Artisan cheeses, craft beer, Korean tacos, Quinoa burgers and crispy prosciutto-egg sandwiches rounded out the lunch menu.
For those tired of eating, a massage station awaited them, along with a few tables filled with homemade jewelry and thrifty clothing items.
And for the news junkies like me, a special, print edition of the Argentine Independent fulfilled my last hour while I munched on a flavor-packed falafel sandwich. Not a bad day in Argentina.
When can you go: Its uncertain when exactly the next BA Undergound Market will be, but judging by the last three events, it appears to be seasonal. Check the Argentina Independent for the latest updates or like their Facebook page.
How much: $10 entrance fee, and then you pay the cashier for food vouchers—each one costs five pesos. I decided to get 20 tickets ($100 pesos), which allowed me to try seven items.
How to get to the Buenos Aires Underground Market
How to get there: Buenos Aires Underground Market, Iguazu 451, Parque Patricios. Bus lines 118 and 188 both stop a few blocks from the market. Other lines stop at the actual park in Parque Patricios, which is about five blocks away. Check http://mapa.buenosaires.gov.ar/ to find the best route for you.
Imagine it is your last day ever in Buenos Aires, and you have just 24 hours to see and do all of the things you love in Buenos Aires for the very last time. Makes you think, no?
My Perfect Day in Buenos Aires
This thought inspired the following blog post, an itinerary for which I would definitely need all 24 hours of the day to pack everything in. I hope at least some of my fellow bloggers in Buenos Aires will read this and be able to weigh in with their own post about their perfect day in BA.
Please read on for mine…
Perfect Morning in Buenos Aires
My perfect day in Buenos Aires would have to start with breakfast at Cafe Tortoni (Avenida de Mayo 829, City Center), which is the cafe in a city of cafes. It is also the oldest, having 1st opened in 1858, and one of the most beautiful, with lovely wooden panelling, bevelled mirrors, Argentine artwork, a stained-glass skylight and colorful tiffany lamps. What would I have for breakfast? My sweet tooth dictates chocolate con churros, an old Spanish favorite; a thick, sweet hot chocolate drink with long, thin, sugary donut sticks for dunking.
Exiting Cafe Tortoni, I would walk a few blocks down Avenida de Mayo (towards the Pink House), admiring the beautiful turn of the century art-nouveau facades and balconies along the way.
Upon reaching the sign for Peru station on the Buenos Aires subte (subway) A Line, I would descend the staircase to go almost 100 years back in time. Line A became the first subway / underground in not just Latin America, but the whole of the southern hemisphere, when the 1st train ran here in 1913. Peru station has been beautifully preserved to look like it did back then, with period hand-painted adverts on the colorfully tiled walls, and the original kiosks and ticket offices. What's more, the whole line was built by my fellow Brits, so it runs on the left hand-side, making me feel at home!
A hop on the subway train, and I'm off down to station Saenz Pena. Most of the trains are the original wooden carriages, with subdued lamp lighting on the inside which really makes you feel you have gone back in time. I usually travel in the first carriage, where a front window lets you watch as you snake your way through the underground tunnels; hold on tight for the bumpy, but fun, ride.
I get off at Saenz Pena to enter the amazing Palacio Barolo building. I take a quick tour of the interior (available for a reasonable price from Monday to Thursday between 2pm and 7pm, ask at their front desk), which takes you up to the very top of the tower of what was once the tallest building in Latin America when it was opened in 1923. This gives you some of the best views available of the whole city and out across the river, including an excellent bird's-eye view of Congress and back down Av de Mayo to the Pink House. The Palacio Barolo building itself is one of the most interesting structures in Buenos Aires, both architecturally and symbolically speaking. Here is my slightly blurry photo of the daytime view to Congress from the Barolo tower:
Then it's back down into old Line A of the underground and a ride up to the Castro Barros station in Almagro, although I always call that area Caballito (it's basically on the border between the two, and Caballito is the better known barrio).
A Cake-o-holic's Lunch in Buenos Aires
On a corner very close to the Castro Barros station is Cafe Las Violetas (Avenida Rivadavia 3899, Almagro). As previously confessed, I am a cake-o-holic. The picture in that link is of me stuffing myself with a huge plate full sandwiches and sweet, sweeeeeet cakes at Las Violetas. I can't think of a better way for me to have lunch on my perfect day in Buenos Aires. Las Violetas also happens to be one of the other more beautiful cafes in the city, with even more stunning stained glass than Tortoni. But it's their cakes that really do it for me! Here's a photo of Las Violetas to keep you going:
Now I waddle to catch a taxi on Rivadavia, and head over to Plaza Francia in Recoleta, to walk off, ooh, around 1% of the calories from lunch in its grassy sloping hills.
An Argentine Afternoon
Plaza Francia leads into Recoleta cemetery, which just so happens to be my favorite place for a stroll in Buenos Aires. Now that might sound a little bit morbid, but it's nothing like that at all. It has some amazing architecture, ranging from Egyptian Art Deco to over the top French sculptures, and (literally) contains some of the most interesting Argentine figures from the last few centuries, with many stories to be told. And it's not all about Evita…personally, I prefer the many resident cats. You'll see when you visit!
After I'm finished seeing dead people, there is nothing better to do than sit and have afternoon coffee in La Biela, possibly the most upmarket cafe in Buenos Aires, and a Recoleta landmark. It's my perfect day, so it is sunny, and I'll sit outside under the shade of the massive ancient gomero tree.
Then I walk a few blocks through upper-class Recoleta, until the corner of Santa Fe and Callao, where the Un Altra Volta ice cream parlor is found. I have my usual, a quarter kilo of dulce de leche and chocolate amargo gelato, in the quiet of their nice outdoor patio.
Next up, it's the expat's favorite mode of transport, the 152 bus along Marcelo T de Alvear, to Plaza Italia in Palermo. From here, its a pleasant walk through the green parks of Palermo, until El Rosedal / the Rose Gardens.
After admiring the blooms in the last light of the day, I patter around in a 'pedal boat' on the Rosedal's lake, as the sun goes down…
Exceptional Evening of Eating & Drinking
After sunset at the lake, it's a brisk walk back to Plaza Italia to take the subway to Plaza San Martin (first Line D, changing to Line C at 9 de Julio).
Here I would definitely partake in a pre-dinner gin and tonic, in the lovely, expensive, Art Deco style bar downstairs in the Marriott Plaza Hotel (Florida 1005, facing Plaza San Martin), and then almost certainly some kind of silly fruity trago (cocktail) at the small, colorful, arty Dada bar (San Martin 941, Retiro) a couple of blocks away.
Now we're well lubricated, it's a short stumble down the block to the El Establo parilla restaurant (corner of San Martin & Paraguay), one of my favorite places for a succulent Lomo steak, papas fritas, and an ensalada mixta (a simple classic; tomato, lettuce & onion, with oil and vinegar) even though the waiters will undoubtedly advise that this is too much for me – but, I'm English, so I will not let that phase me. Of course, it's all washed down with a nice glass of Malbec red wine, and maybe finishing up with panqueques con dulce de leche (there's my sweet tooth again), if I am not feeling too stuffed by then.
Night-time to morning: No time for sleep in BA!
After all that indulgence, some exercise is definitely in order. A nice stroll down the slope to Puerto Madero, seguing into a night-time walk along the lit-up docks, and past the beautiful Puente de la Mujer, is the perfect after dinner activity in Buenos Aires.
But don't stop there! Continue along the docks to the Faena Hotel + Universe (Martha Salotti 445, Dique 2, Puerto Madero) and don't be shy…walk in confidently, non-guests of the hotel are still extremely welcome here. There is no better place in Buenos Aires to have a couple of mega-expensive cocktails than in their breathtaking cocktail bar – the design is simply out of this world (or universe). And the staff treat you like royalty (there is even the odd gold throne to sit on!) – all of this actually makes the expensive drinks worthwhile! (for more about this, see my post on the top 5 expensive Hotels in Buenos Aires, and how to enjoy them on a budget)
It may be well into the middle of the night by now, but in Buenos Aires that means most people are probably still getting ready to go out! And so, I hail a taxi to take me all the way back to stylish Palermo Hollywood, to enter Niceto Club (Niceto vega 5510, Palermo Hollywood) – there's no line to wait in, because I'm probably still a little early by BA standards (it's difficult for a Brit to ever fully adjust to this!) – and it's time to dance through to the morning, porteno style, among a crowd that are far trendier and better looking than I'll ever be. Still, maybe something will rub off!
As the sun comes back up, it's time to exit the club and go for breakfast! Coffee and medialunas in any small, neighborhood cafe will do at this point, before I finally fall into bed, with my apartment windows shuttered, to sleep through the rest of the daylight hours…
Your Perfect Day in Buenos Aires?
I'm very interested to hear about other people's perfect days in Buenos Aires. Let us know, either on a blog of your own, or by posting your perfect day in the comments below. Thanks!
Splendid old opera house in Buenos Aires
Back in 2006 took the opportunity to take in a performance at the Teatro Colon (Colon Theater) which many say is the 'jewel in the crown' of Buenos Aires, as one of the most famous opera houses in the world.
I had been prompted to get along to the Colon by the fact that it was closing for reconstruction work at the end of October 2006, with original plans to reopen on May 25, 2008, the 100th anniversary of the opening of the theater. However, in the end the renovations took almost twice as long as expected, and so the Teatro Colon instead reopened on May 25th 2010, the 200th anniversary of the May Revolution, when Argentina split from the Spanish to become an independent nation.
It was a long wait until the re-opening, and knowing Argentina and it's reputation for tardiness, I correctly doubted works would be completed on time, so it was important for me to check the legendary theater out before the prospect of a long wait.
To bring us back to the present for a moment, the Teatro Colon reopened its doors, as expected (the delayed forecast!), on May 25th 2010, after almost 4 years of renovations. And it's now more beautiful than ever.
Show tickets are available either at their ticket office (entrance on Tucumán 1171), or buying online through the Tu Entrada website, using the following link: Buy Teatro Colon Tickets Online Here for Opera, Ballet, other Concerts & Guided Tours (after purchase you will still need to collect the tickets from the ticket office from 2 hours to 30 minutes before the scheduled start of the show). The ticket website is thankfully now working in English (see the language option in the top right corner of their webpage), after many years of only being available in Spanish, making things a little easier for visitors to the city to buy tickets.
The Concert
Back when I visited in 2006, my companions and I saw a concert from the Camerata Bariloche orchestra, playing pieces from Strauss and Beethoven, which was all very pleasing to the ears (I have to admit I'm not much of a classical music fan), but the star of the show was of course the venue itself, which was resplendent in its rich scarlet and gold decoration, along with several forests worth of beautiful wooden construction that make up the auditorium, with hints of Italian, Greek, German and French Renaissance design. And that was before the renovations, when it was looking a little tatty. The place is now back in pristine condition.
It's all very impressive when you are looking down, way, way down, from above, in the 'Paradise' ('Paraiso' – the 7th and final seating level) area, which are the cheapest tickets in the house, but still offer an interesting view and due to the famed acoustics of the Colon, it sounds great from wherever you are sat.
For the record, I turned up in smart shoes, trousers, a shirt and tie, taking note of the dress code I saw in the ticket office earlier that day. I was easily the most over dressed person in the 'Paraiso' area – but in the more expensive areas I did see some well dressed ladies and gentleman. I think in reality you could go along dressed as you please – I saw quite a few people in jeans and t shirts.
Some Teatro Colon History
The famous venue is not without some interesting history. It opened in 1908, almost 20 years after the first cornerstone was laid in 1889, under the direction of architect Francesco Tamburini. You might understand why I thought the recent restorations may not be completed on time when I tell you that the theatre was originally due to be opened in 1892!
But to be fair, a series of tragedies did complicate the process. Tamburini died soon after construction started, and his friend Vittorio Meano took over the project. Who also promptly died (murdered in a love triangle 'gone wrong' – though actually I'm not sure if there are many love triangles that 'go right'). The architects were followed to the grave by another Italian guy, Angelo Ferrari (assassinated), that had been partly funding the building works. Italians dropping like flies…
Fortunately, a Belgian, Julio Dormal, came in and finished the job, breathing a sigh of relief as the finishing touches were made without event. This further confirmed my feeling that Belgians are in fact some of the greatest people on this planet, not only producing the best beer in the world and some of the finest chocolate, but also bucking architectural death trends without batting an eyelid. And that's not to mention the waffles! I used to drink to Dormal and his kind whenever I could (sadly no Belgian beer) inside another of his many BA constructions, the Confiteria Richmond cafe, on pedestrian Florida Street (near Lavalle), but sadly that classic cafe closed to the public in 2011.
The Colon Finally Opens…
But back to the theatre. It finally opened on 25 May 1908 with a performance of Verdi's Aida, and never looked back, as it became one of the world's premiere centers of opera. Over the years the Teatro Colon has hosted such musical greats as Italian conductor Arturo Toscanini, French opera singer Jane Bathori, Italian tenor Enrico Caruso, Greek soprano Maria Callas, the legendary Luciano Pavarotti, Argentine Tango bandoneon maestro Astor Piazzolla and even Weird Al Yankovic. OK, I made that last one up, but it would have been interesting.
Previous Colon Theater
There was actually a Colon theatre before the current one, which had opened in 1857 on the edge of Plaza de Mayo, and served Argentine aristocracy well for a good many years until the current Colon was opened in 1908. These days in the old Colon location you'll find the the Banco de la Nacion – the national bank of Argentina, an imposing structure that looks down upon the tourists that buzz round the Pink House.
Perfect Acoustics
The current theatre, located in the City Center (in the unofficial sub-barrio of Tribunales) and visible from Avenue 9 de Julio, has virtually perfect acoustics. This is one of its main attractions, the sound reaching each and every audience member perfectly – so you can save money and still enjoy the concert, even if the orchestra do look like musical ants from the loftier vantage points.
If that doesn't sound like a nice visual experience, you can always take in the music while staring at the beautiful surroundings, such as the decoration around the top of the stage, the huge, dazzling chandelier, or the ceiling frescoes that surround it. Though sadly the latter are not original, due to damage caused by damp in the 1930s. Instead they were painted in 1966 by famous Argentine muralist Raul Soldi, whose work can also be found on the ceiling of the wonderful Galerias Pacifico shopping center, on Florida street (on the corner of Avenida Cordoba).
Teatro Colon Verdict
I very much recommend that any visitor to Buenos Aires pay a visit to the Teatro Colon – especially now that this great attraction has been restored to its former glory. If you don't have the chance to catch a show there, then you can always go for a guided tour of the building during the daytime, for which tickets can be bought through the Tu Entrada website (click on Visitas Guiadas), or by visiting the theater in person when you get to Buenos Aires. They run on the hour, every hour, from 9am to 5pm, although only a few of the tours through the day are given in English – you can check those times on the Tu Entrada website.
Or if you are really tight for time, the Teatro Colon is still there on Avenida 9 de Julio (although that is the back, go around onto Plaza Lavalle for the front view) to be appreciated from the outside, and that's not such a bad view in itelf…
For more detailed information on the Teatro Colon, check out the history section of the official Colon website. And of course, Wikipedia is always good.
Location of Teatro Colon
Teatro Colon, Tucumán 1171, Tribunales (City Center)
Telephone: (54-11) 4378-7109