Food, wine and instruction on all things porteño

[Photo credit: courtesy of the Argentine Experience]
Dinner at the Argentine Experience is much more than its headline dish of exquisitely cooked fillet steak accompanied by free-flowing Malbec. It is more like an intensive crash course in Argentine culture, complete with empanada and alfajor making sessions.
From the Porteños' fondness for expressing themselves with a wide range of hand gestures to the intricacies of the mate ritual, Argentine customs can be baffling (first-timer mate drinkers beware: NEVER use the bombilla (metal straw) to stir the yerba). For this reason the Argentine Experience is jointly hosted by an expat who understands how strange such idiosyncrasies first seem to outsiders and a local who offers an insider's view.
Shaken, not stirred

[Photo credit: courtesy of the Argentine Experience]
Arriving early for the optional pre-dinner wine cocktail mixology and aroma class, first up was a cocktail making workshop in which the secret ingredient in every 'Malabeca' or 'Torrontea' was wine. Setting the tone for an evening in which interaction was key, we were invited to don a bow tie and step behind to the bar to have a go at mixing ourselves. It's safe to say the raspberry, gin and Malbec & Merlot based rose wine 'Raspberry Blush' cocktails I prepared were a hit. Less successful was my attempt to identify the 20 aromas commonly found in wine by smelling a condensed liquid essence of each one. Not as easy as it sounds.
Ready, steady… cook!
The Argentine Experience started life as a 'closed doors restaurant' in the apartment of founder Leon Lightman and even after the move in 2012 to more restaurant-like premises in Palermo Hollywood it has retained an intimate atmosphere. The new building is modern and light with a sleek downstairs bar area and an upstairs dining room, with two large chunky wooden dining tables and shelves of colorful mate gourds serving as decoration.

[Photo credit: courtesy of the Argentine Experience]
The communal dining tables are the first clue that the Argentine Experience is very much a group effort. Socializing with your fellow guests is compulsory, and the first act of team bonding is to put on a checked apron and chefs hat, ready for action. Our first task was to prepare empanadas (the ubiquitous little savory pastry pies that are usually filled with minced beef). With bowls full of slow-cooked beef stew, onions cooked in Malbec, vegetarian ratatouille and cheese in front of us it was difficult to heed our host Richard's advice not to overfill the empanadas. He showed us how to seal them and fold the pastry in the traditional way.
With our empanadas cooking in the oven, our next challenge was a creative one: the novelty empanada competition. Entries ranged from a recreation of Maradona's 'hand of God' goal to a dinosaur, the winner being a graceful, meat and onion filled ballerina. The winner received a jar of homemade chimichurri sauce and eternal glory in the form of a place on the Argentine Experience empanada wall of fame.
Twenty-four hour steak-out
As the Malbec flowed freely and mini dishes of provoleta cheese and choripan were brought out, we exchanged travel stories and talked to our hosts about Argentinian football. Then, proceedings were brought to a hushed standstill as the evening's star guest was introduced.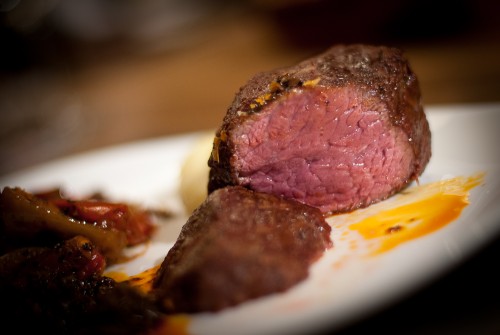 [Photo credit: courtesy of the Argentine Experience]
The steak, Richard explained, had been subject to an extensive screening process. Owner Leon had embarked on a six month pilgrimage across Argentina, tirelessly visiting cattle ranches in search of the perfect beef. The tenderness of the fillet steak we were to eat, he continued, was the result of a finely-honed 24 hour preparation process, involving leaving the meat uncovered in the fridge overnight before flash frying in a hot pan to seal the juices, then flipping it rapidly to ensure an even distribution of meaty juices. For this reason it could well be the most tender meat we had ever eaten, Richard concluded with a flourish, as drool ran from the corners of our mouths.
Naturally, such a steak deserved a serious wine to accompany it, so we would be served a deeper, more full-bodied Malbec. As we ate our main course, the intelligent conversation of earlier in the evening was replaced by a series of grunts and munching sounds. Nobody was disappointed with their steak.
Note: Fish and vegetarian options are also offered, and those who went for them on the night were very impressed with the quality of those dishes. 
Post dinner parlor games

[Photo credit: courtesy of the Argentine Experience]
And so in a Malbec and steak induced state of bliss we were entertained by tutorials and practice sessions on Argentinian hand gestures, preparing mate and making alfajores (dulce de leche filled, chocolate covered biscuits).
Those of us for whom the bottomless wine had made everything a little hazy were reassured to learn that note-taking would not be necessary; an Argentine Experience aftercare email with all the essentials would arrive the next day. So there would be no excuse not to put our new cocktail-shaking, empanada-baking, alfajor-making, mate ritual-partaking and hand gesture mickey-taking skills into action. Try saying that after one too many glasses of Malbec!
For more on the Argentine Experience, check out Cara from Anuva Wine's write up, this post by Tim Fitzgerald on the BBC travel blog, Not quite Nigella's thoughts here and this post by Alison Westwood on the Getaway blog.
Location of the Argentine Experience in Buenos Aires
The Argentine Experience, Fitz Roy 2110 (between Soler and Guatemala), Palermo Hollywood
Lively, open-air steakhouse in Buenos Aires
Walking through Palermo Hollywood for the first time in September, I saw several chic restaurants . Then I got to the corner of El Salvador and Fitz Roy, where a crowd hummed outside a bustling restaurant, and something immediately appeared different.
Las Cabras had me at hello.
This parrilla offers big plates, wonderful ambiance and a price tag that will satisfy any patron. Simplicity distinguishes Las Cabras from other restaurants in the area. Red, wooden tables dot a pebble-covered, shady patio on the Fitz Roy corner. White, crayon-ready paper serves as your tablecloth. The warm lighting from inside helps illuminate the patio, which encompasses both sides of the corner. The place beams with energy and smiles from one table to the next.
Las Cabras is great for a couple's dinner or a reunion with friends. I often see people on dates inside and groups of ten or more outside. It's the kind of place where dinner can last for hours and you can sit, enjoy your company and indulge in Argentina's prized commodities for as long as you like. You're bound to see other travelers or expats at Las Cabras, but porteños dine here nightly as well.
Delicious Argentine foods
My go-to for steak is entraña (skirt steak), which comes with two healthy strips of meat and a Caesar salad. Asado de tira (braised short-cut ribs) is another popular choice among my expat friends. Typical Argentine cuts – ojo de bife (rib-eye steak), bife de chorizo (sirloin) – are on the menu as well.  However, despite being very much a parrilla, the diverse menu at Cabras also reaches out to vegetarians.
The pastel de calabaza y miel (Squash and honey and pie) may be the most delicious, filling and affordable dish in Buenos Aires. It comes in a heavy clay bowl, topped with a layer of melted cheese. The pastel is mashed squash filled with veggies, a really tasty creation that will end any of your hunger pains. The honey adds a light, sweet finish to the taste buds. The salads and antipasto plates at Cabras are also big hits given their ample size and tasty ingredients.
But if you're a carnivore and you only have one night for Las Cabras, you must challenge yourself to the Gran Bife de Las Cabras.  This huge plate includes a sirloin steak, cooked to your preference, and a plethora of sides: fried veggies, a slab of grilled provolone cheese, French fries with a fried egg on top, rice and mashed squash. You may not need to eat breakfast the next day.
The only precaution with Las Cabras is the wait. If you arrive after 9pm, especially on the weekend, expect to wait at least 30 minutes. An 8pm or 8:30pm arrival time should help you avoid rush hour.
Despite any delay to your meal, the fun atmosphere, quality of food and affordability will keep you coming back to Las Cabras for more.
Where is Las Cabras?
Getting there: Unless you know the bus system or take a taxi, bring your walking shoes. The nearest subte stop on the D line is the Palermo station. From there walk two blocks up Santa Fe, go left on Fitz Roy and walk seven blocks to the corner of Fitz Roy and El Salvador.
On the B line, get off at Dorrego, walk twelve blocks along Bonpland, turn right on El Salvador and go one block to Fitz Roy.
The 108 bus line stops within a block of Las Cabras, and it also goes through Recoleta on Av. Santa Fe, plus through Palermo at Plaza Italia.
Could the best American BBQ be in Buenos Aires?
The smoked meat hit my taste buds, I dropped my utensils, sat back in my chair and smiled. This progression of events occurred several times last week at El Tejano (The Texan) in Palermo. An East-Texan expat who landed in Buenos Aires seven years ago, El Tejano is introducing Buenos Aires to BBQ in a way I've never seen in the United States.
I'm no Anthony Bourdain, but I am a BBQ foodie. I've eaten brisket and ribs in New York, Connecticut, Maryland, Virginia, North Carolina, South Carolina, Texas and Florida. You could say I like it.
Buenos Aires boasts of its world-renowned steaks. Steak grilled on the parrilla (large, brick grill) is a staple here. Meat is never cooked on anything but a grill.
Smoked meat is an untold story in Buenos Aires, largely because it doesn't exist. No restaurant in the entire city uses a smoker to cook its meat. Tejano built his own smoker. Thus, when I heard about his private dinners, I quickly contacted him. My expectations were high. El Tejano guaranteed the dinner would be all-you-can-eat. Given that my group of five hadn't seen BBQ all year, barely ate all day and didn't stop talking about our dinner for the week before, I doubted if we would actually have as much as we wanted.
Puerta Cerrada in Buenos Aires
We arrived at a beautiful, private dining room in Palermo Soho. Puerta Cerrada – closed door – dinners are a tradition in Argentina. Although often held in someone's home, El Tejano serves his clients in the Anuva Wines tasting room.
We started off with homemade guacamole, hot sauce and corn chips – all three tough finds here – to appease our hunger. Shortly after, Tejano brought out a black-jalapeño cornbread with dill and pickles. Sweet cornbread with a small, spicy kick. Once the freshly-made coleslaw and sweet tea came to our table, I knew the meat had to be next. Expectations peaked, glands salivated and five friends waited in anticipation for a taste of home.
When Tejano walked the brisket to our table on a huge cutting board, my face froze in half-smile, half-jaw-on-the-floor. It was huge. He cut through the black outside and unveiled a perfect, pink-ringed brisket. Slow, wispy smoke billowed out. It was so tender, when Tejano cut it, the slices crumpled into little pieces. Paired with a sweet, hint-of-cinnamon BBQ sauce, the 8-hour-smoked brisket had excellent texture, flavor and color. My first servings quickly turned into seconds and thirds. It was only the beginning.
If I had any regrets, it was sprinting too soon into this marathon. I thought when we finished with the brisket, Tejano had run out. But I was happily wrong, as our empty cutting board was exchanged for a new one with another slab of brisket. This time we only got through half of it.
After my third serving of mouth-watering, smoked brisket and second of coleslaw, Tejano served us the pork ribs. Juicy, soft and flavorful come to mind. Although the BBQ sauce paired well with the brisket, the pork ribs stood better on their own. To aide our meat binge, Tejano gave our table a corn-bean-jalapeño salad that helped compliment the BBQ.
To put an exclamation point on our dinner, a creative, third meat – Matambre – finished the meal. Stuffed with green apples, cinnamon and onions, the Matambre was also "injected," with Coca-Cola to break down the fat deposits and offer the cut a sweet, meaty taste. Matambre – which basically means "kill hunger" – is a fairly typical meat cut (similar to flank steak) in Argentina, and that's exactly why Tejano uses it. With some creative design and additions, Tejano presents Argentine meat in a whole new light.
A wonderful glass of Malbec completed the marathon to BBQ heaven. Through the food, we really learned about a veteran expat…
The Man Behind the Meat
While serving endless portions of BBQ, Tejano, or Larry, detailed how he smoked the meat, made the cornbread and decided what to pair the BBQ with. This wasn't just a waiter telling us the specials at a restaurant. It was a man explaining his passion. His electric smile glows while he describes smoking the meat and all the details involved. We had no idea what a black jalapeño was until he educated us on the pepper's varieties and why he experimented with this one on his cornbread. We learned that growing up in Austin, Tex., BBQ wasn't something he learned about, it was inherited, passed down through his family.
Larry also provided snippets of his life here in Buenos Aires. He moved here seven years ago after literally flipping a coin. One side meant a move to Chile, the other to Argentina. It landed on Argentina. Larry began serving private dinners earlier last year, and is hoping to do much more. He sells his own homemade hot sauce and wants to to have it manufactured in Argentina soon. The idea of a BBQ food truck in Los Bosques—the parks in Palermo—also interests him. Larry grows his own peppers in a green house in Buenos Aires. When he talks about his plans, clear ideas percolate in Larry's mind at all times. His conviction, energy and enthusiasm make his customers his biggest supporters.
It's his story that puts his BBQ over any other I've ever eaten. The food on its own will keep me coming back, but such a unique expat tale will interest any visitor to Buenos Aires.
The personal attention and stories, accompanied by an exceptional dinner of such an iconic, American food genre, make El Tejano stand out among food innovators in Buenos Aires. We left the dinner hungry on only one question: what will he do next?
To reserve a dinner with El Tejano
Website: www.eltejanoba.com.ar/events
e-Mail: [email protected]
Note: As with all "closed door" restaurants, El Tejano will send the exact dinner location upon booking.
Buenos Aires steak at its finest
When it comes to recounting an experience at La Cabrera, words just can't describe the ecstasy of enjoying one of their huge steaks or many other specialties. Take in the pictures or simply head over now to taste some of the finest steak in Buenos Aires, a city famous for its flavorsome beef.
[Image credit: aprillynn77 at Flickr]
La Cabrera  – Beef is the word
As you can see from the two nicely sized cuts of bife de chorizo (sirloin strip steak) shown directly above, La Cabrera is extremely generous with the size of their steaks. Yet it is not only the meat which arrives in large quantities here – every main course order is accompanied with their trademark array of many small, varied side dishes, as can also be viewed in the photo above and another photo further down this post. These side dishes range from complimentary sauces (depending on what you have ordered), to couscous, mashed potato with mustard, tomatoes in sauce, calabaza (squash) puree, sweet pickled garlic, sun-dried tomatoes, guacamole, and so on, and on, and on…
In fact, the choices presented to you on the table at this parrilla (steakhouse) can be almost paralyzing. There is so much to look at, so many different flavors and options to go for, it may become overwhelming. If this happens, a word of advice: focus on the steak.
The Ojo de Bife Napolitano (rib eye steak with plenty of ham, cheese and sun-dried tomatoes on top) pictured above, is a fine specimen. It would be way more than enough for one person, forgetting the side dishes. So just try a few of the flavors on offer from those cute little sideshows whenever this occurs to you, but don't let that detract from the main event, which is always going to be the huge steak.
The flavor of the beef at La Cabrera is delicious, succulent, perfectly cooked (if you ask for a punto – medium – you really do get it medium and not overcooked) and very, very juicy. And all this seems to be true whatever steak you order there, be it bife de chorizo, ojo de bife or bife de lomo – the three most popular cuts to order at La Cabrera.
La Cabrera – A House of Gluttony
And yet, despite the steak alone being more than enough to fill you up before you even think about the variety of side dishes, sometimes you have to go even further into the dark realms of over-eating and La Cabrera will probably tempt you to do so. Starters are completely unnecessary, but absolutely delicious. If you must, try the chorizo sausage (pictured below) or the goat's cheese provolone (a type of cheese grilled on the Argentine parrilla) with sun-dried tomatoes.
If you are having starters, then a main course each would be WAY too much at La Cabrera. In fact, if you are just eating the main course and nothing else, two dishes between three people should probably fill you all to satisfaction. And if you are a couple, one main course between two will probably do, although a side of their fantastic wedge fries would do the steak justice.
Finish off the meal with a fantastic Sorbeto de Limon con Champagne (lemon sorbet with champagne). At this stage of the over-eating proceedings, having a dessert that you can drink through a straw is a very sensible idea (this dessert is also pictured in the group of pictures at the top of the post).
Final words of advice? Stay well away from this place if you are on a diet.
If you're hungry for more, check out delicious steak photos from La Cabrera that were posted/linked to by Asado Argentina (scroll down on that page for the links).
Location of La Cabrera
J.A. Cabrera 5099, corner of Thames, Palermo Soho
[Other Branches: La Cabrera Norte, down a block at J.A. Cabrera 5127, Palermo Soho
La Cabrera Boutique, down the street at J.A. Cabrera 5065, Palermo Soho ]
Tel: 4831-7002,  Website: http://www.lacabrera.com.ar