An interview with one of Buenos Aires's taxi drivers
[Photo credit: Luis Argerich's photostream//CC BY-NC 2.0]
If you've been to Argentina's capital city, you've surely noticed the bumble-bee black and yellow taxis, and probably taken at least a few. With over 40,000 cabs in town, the BA taxi driver is a staple character in the city, and will often be up for a good chat. We caught up with Dario Wigodzky, who has driven taxis for over twenty years, who gave us a peek into life from the driver's seat.
How long have you been driving taxis?
I've been driving taxis since 1991, and celebrated my 22nd year in this profession on July 3rd.
Congratulations on your long career, Dario! How did you become a taxi driver?
I chose this career basically for the freedom of choosing my of hours and the independence that it gives me. I was young (just 22 years old) when I started. And I get to be my own boss!
Are you part of any union or company?
Yes. In the first few years I worked independently, then after a while I decided to become a Radio Taxi, which has improved my income and offers me more security.
You certainly get to see the city from a unique perspective; what do you think of Buenos Aires as a place to drive? What are its best and worst traffic laws or situations?
Driving in Buenos Aires is no easy job. We [Argentines] are very imprudent while driving and traffic gets worse every year…my years of experience help me endure the situation pretty well. The most relaxed driving situations are when I move through the zone we call "el bajo" (the streets close to the river), like Libertador Avenue, as traffic flows as best as possible, or when I work on Friday nights, since it's much more laid-back. One of the worst driving situations occurs in downtown intersections, where cars and buses often stop in the middle of the intersection while crossing, producing blocked streets. Also the "piquetes" (protests that occupy streets) on many occasions, I consider abusive.
[Photo credit: Tanoka's photostream//CC BY-NC 2.0]
What are the most popular destinations that travelers ask you to go?
In the morning, the majority of trips are to the City Center. During the day, I circulate a lot in the center, and busy areas like Palermo, Barrio Norte, Belgrano, Caballito and Flores. On Friday nights the majority of journeys are to the zone with all the bars and night clubs. Tourists prefer to go to La Boca, Puerto Madero, Plaza de Mayo, Recoleta, Palermo Soho and Palermo Hollywood.
Which area of Buenos Aires is the most confusing to maneuver?
The most complicated neighborhood is called Parque Chas, because its streets are circular and getting in is easy but getting out of the labyrinth is complicated.
Any streets or corners you avoid or refuse to drive to?
Not usually. In some cases I refuse to take passengers who I consider "suspicious".
Which is your favorite barrio (neighborhood), and why?
I don't think I could choose among the hundred porteño neighborhoods…but the southern part of the city, (Pompeya, Parque Patricios, Barracas, La Boca, etc.) the most old and popular parts, seem to me the most representative of the city and those with the most history and porteño spirit and tango spirit. Their streets speak to our identity as inhabitants of the city of Buenos Aires.
If you could give a tourist in Buenos Aires some advice, what would you tell them?
I'd recommend that they not only do the traditional tourist things, but that they go more to the neighborhoods I just mentioned, which I think would transport them to the real spirit of our beautiful city.
I'm sure you've had some interesting people step into your taxi — could you tell a story about your most memorable client?
In 22 years I have a lot of anecdotes, some difficult to tell in an interview…but if I have to choose just one, this one occurred about 2 months ago and concluded last week. A passenger asked me to take him to the Aeroparque and after a long chat told me that he is a music producer for a very famous Argentine band called Tan Bionica. I told him that my son Nicolas, who is 13, is a big fan of the group, and he invited my son and I to a show that would take place 2 months later in Luna Park Stadium. He left me no more than his last name and the door where he could be found. Last Saturday we approached the stadium (I must admit with very low expectations, my son was more optimistic, of course – he's 13) and what a surprise, there was the passenger, who fulfilled his promise to invite us to see an excellent concert, from a very privileged spot, which we enjoyed exceedingly.
[Photo credit: Tan Bionica's Website]
Any famous passengers?
A lot. Futbol players: El "Pato" Fillol, the goal keeper from the Argentine World Cup champions of 1978. Singer Maria Marta Serra Lima. World champion boxer Jorge "El Roña" Castro, who gave me a boxing lesson during the trip.
What's the strangest thing you've been asked by someone riding in your cab?
A  transvestite once offered to exchange his sexual services for a cab ride. I didn't accept.
Which radio station do you listen to while driving? Any particular songs or albums that you think best accompany your journeys through Capital?
In the day time, my favorite station is 95.1 Metro, they have a general interest program in the morning and another in the afternoon which are very funny. At night I choose classic songs from bands like Queen, Phill Collins, The Police, etc.
Where's the best place to stop and have a coffee or eat and chat with other drivers?
I'm not the kind of driver who stops much during the day to chat with my colleagues, but I have a few good places in different neighborhoods where you can enjoy the best chorizo or proscuttio sandwiches. Some are on the costanera sur or costanera norte. Also, there is a traditional pizzeria in Buenos Aires called La Mezzeta in Chacarita, that has in my humble opinion the best fugazzeta (traditional cheese and onion pizza). That place I save for Friday nights.
[Photo credit: Pizzeria La Mezzeta's Facebook Page]
Are there any good myths or legends about taxis and taxi drivers in Argentina?
One legend says that a taxi chauffeur took a sinister looking passenger to the Chacarita cemetery, and once he entered Parque Chas, neither of the two where ever seen again…
What's hanging from your rear-view mirror?
A red ribbon tied in a bow that my wife hung which she guarantees keeps away envy. I don't believe it, but just in case…
Thanks for your time Dario! Apart from his normal work as a cab driver, Dario does transfers to/from Ezeiza International Airport. If you'd like to get a hold of him, you can send him an e-mail at [email protected] or better, WhatsApp at +54-9-11-5343-8010. And if you are an interesting expat or local in Buenos Aires and would like us to interview you, feel free to get in touch and tell us why.
Enjoy Buenos Aires' hidden, seasonal market

The arepa made me feel like Pavlov's dogs. I eagerly awaited by a tent to eat this fried-cornbread-sandwich goodness.
"Arepa con todo?" the chef under the tent asked. Yes, I ordered an arepa with every topping available.
Spicy chicken with an avocado salsa and grilled veggies wedged into crispy cornbread offered a taste of South America not usually found in Buenos Aires. Last Saturday, I ventured to Parque Patricios, a quiet neighborhood, to attend the third edition of the BA Underground Market, hosted by The Argentina Independent, an English language website.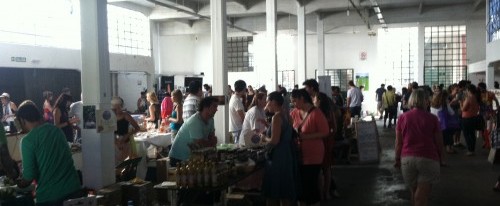 Finding the market in Parque Patricios
The Undergound Market is based off the San Francisco Undergound Market, and it started last June. The first event's popularity called for a second event in September and the most recent one last week. A friendly mix of Porteños and expats come together at the market, an event you wouldn't know about unless you checked the English blogosphere in Buenos Aires.
Walking down Calle Iguazu in Parque Patricios, my friends and I were convinced we had the wrong address. Pin drop quiet. But a smattering of voices echoed past an open yellow doorway, which we decided was our best—and only—option.
The entrance was a big open courtyard with tables and chairs sprawled out to ease those with the meat sweats, a cool, craft beer or perhaps a refreshing glass of peach lemon ice tea. Past the courtyard, the Underground Market buzzed in an old ware-house-style building. A low-key vibe permeated the sunny, Argentine afternoon.
Argentine and foreign cuisine come together
Over the entire afternoon, about 450 people came to taste an array of small dishes. I indulged in a Tio Pelado ($15ARS): a mash of wheat, pumpkin and ginger topped with a sprinkle of cayenne pepper served in a crusty tortilla bowl (above). My friend devoured his "choriman," a spicy sausage with homemade sauces and coleslaw $20 (below).
Warning: this list of foods may make you hungry immediately. Dulce de leche covered donuts, American pancakes, Pecan Pie, pisco sour and Coco trufas (below)—oatmeal balls with DDL and coconut—highlighted the sweets. Artisan cheeses, craft beer, Korean tacos, Quinoa burgers and crispy prosciutto-egg sandwiches rounded out the lunch menu.
For those tired of eating, a massage station awaited them, along with a few tables filled with homemade jewelry and thrifty clothing items.
And for the news junkies like me, a special, print edition of the Argentine Independent fulfilled my last hour while I munched on a flavor-packed falafel sandwich. Not a bad day in Argentina.
When can you go: Its uncertain when exactly the next BA Undergound Market will be, but judging by the last three events, it appears to be seasonal. Check the Argentina Independent for the latest updates or like their Facebook page.
How much: $10 entrance fee, and then you pay the cashier for food vouchers—each one costs five pesos. I decided to get 20 tickets ($100 pesos), which allowed me to try seven items.
How to get to the Buenos Aires Underground Market
How to get there: Buenos Aires Underground Market, Iguazu 451, Parque Patricios. Bus lines 118 and 188 both stop a few blocks from the market. Other lines stop at the actual park in Parque Patricios, which is about five blocks away. Check http://mapa.buenosaires.gov.ar/ to find the best route for you.
Soak in the atmosphere of San Juan y Boedo Antiguo
[Photo credit: Gobierno de la Ciudad de Buenos Aires Flickr account/ /CC BY 2.0]
The corner of San Juan and Boedo, made famous by the tango singer Homero Manzi in the opening lines of his song Sur ('San Juan y Boedo antiguo, y todo el cielo' – 'Old San Juan and Boedo, and all the sky') is the site of a café (now a tango show by night) that was a gathering place for local left-leaning writers and intellectuals in the 1920s. Close to the corner are a number of cafes and restaurants well worth the 20 minute trip from downtown or 30 minutes from Palermo, including Pan y Arte, Cossab and Cafe Margot.
Boedo: Barrio on the rise
You might hear Boedo touted as Buenos Aires' most up-and-coming neighbourhood, with its burgeoning arts scene, old school milongas (Tango dance halls) and claims to be the bona fide birthplace of the Tango. Although the idea that this traditional barrio is on the road to Palermo Soho style development might strike fear into the hearts of those who love it, for now at least it has retained an authentic, residential feel.
[Photo credit: http://www.flickr.com/photos/jglsongs/2227925169/ /CC BY 2.0]
Mingle with the locals at Café Margot
Café Margot was first opened in 1904 and recently completed renovation work has restored the café's exterior to its former glory. Inside, Café Margot is enchanting, with whole hams hanging from the ceiling, exhibitions by local artists on the walls and waiters in waistcoats swerving around closely packed wooden tables, balancing trays of coffees and medialunas (croissants) or bottles of beer and baskets of monkey nuts.
But forget the inside. On a warm summer's evening in the city there are few better places to be than sitting at a pavement table outside Margot drinking a cold beer and eating picadas (a shared plate of food to pick on such as olives, salami, ham and olives). Also recommended are the sandwiches de pavita (turkey, the house special) and, when they have them, the empanadas de parrilla (empanadas filled with slices of steak).
For more reviews of Cafe Margot, check out this blog post by Foodie in BsAs and Dan at Saltshaker's turkey-tastic review.
Location of  Café Margot in Boedo, Buenos Aires
Café Margot, Avenida Boedo 857 (corner with San Ignacio), Boedo
Telephone: 4957-0001
A more colorful Caminito, without the hordes of tourists
Calle Lanin is a beautiful little street in the barrio of Barracas, in the south of Buenos Aires. If you are going to La Boca to see the colorful and historical Caminito Street, then you might also consider taking the time to explore some of the neighboring barrio of Barracas, where you will find the quieter, shady, yet extremely colorful Lanin. (Don't try this at night, it's not really a safe place for tourists to be after dark). The murals there, created in the year 2000 by local artist Marino Santa Maria (who actually lives on this street), are definitely worth the trip to take a look.
Being such a colorful street, the best way to give you an idea of what Lanin street is like is with some photos…
Photos of Calle Lanin
Hope you enjoyed the photos.
You can also check out this post on Calle Lanin by Argentina's Travel Guide for some more info on this sightseeing attraction in Buenos Aires.
Location of Calle Lanin
Lanin 1 – 200, between Brandsen and Suarez, Barracas
Tango dancing in the south of Buenos Aires
*If you want to check out some authentic tango salons in Buenos Aires, the easiest and most fun way to do so is on a private tango nightlife tour, where your personal guide will show you the local scene and explain everything that is going on to you, taking you to the best places on the night of your choice. For more information, click here.*
La Milonga de los Consagrados is just one of the many places in Buenos Aires where you can spot locals dancing tango in a more traditional setting. Different from the professional Tango Shows in Buenos Aires, a milonga is full of regular Buenos Aires residents who come out to dance tango for their own entertainment!
Same venues, different milongas…
As mentioned in the excellent overview on Tango in Buenos Aires, even if a milonga is in the same salon as another, each event will still have its own character depending on the day of the week, the organizer, the crowd, and if it's in the afternoon or at night.
Los Consagrados is in the same salon as the famous former Niño Bien of Thursday nights (in the wonderful Centro Region Leonesa, which is in the barrio of Constitución, just a few blocks away from the adjoining San Telmo), but it is a totally different experience. The fact that it's held on Saturday afternoons, the traditional "difficult" day for singles, makes it even more of a plus.
A perfect tango salon
For one thing, the salon is perfect: large wooden dance floor, high high ceilings with a skylight, a bar, red velvet curtains at each end, a balcony for smokers. It is old and elegant at the same time, with the faded ambiance that foreigners especially love about Buenos Aires.
This is not a tourist milonga by any stretch of the imagination, despite the fact that several tourists do find their way there. The majority of the dancers are locals and regulars – sitting at the same tables week after week.
The atmosphere is friendly and open (although the strict codes of tango – or codigos – do apply). Men sit on one side, women on the other, couples and mixed groups at either end. It is necessary to cabecear (nod) to get a dance. There is very little of the snobbishness and elitism that permeates milongas such as El Beso and Maipu 444. There are also very few of the "bottom feeder" types, who come to prey on foreigners, such as can be found in La Ideal. The level of dancing is fairly high.
Tango with a twist
Unlike many milongas (Chique, for example), tandas (blocks) of other rhythms are always played during the afternoon. You can expect a tanda of tropical rhythms (merengue and cumbia), rock 'n roll (Dixieland to Elvis) and folklore (La Chacarera). The DJ is capable, but tends to be a little unoriginal and repetitive.
Finally, for added excitement, each week there is a sorteo, an entrance ticket prize draw, for a bottle of champagne or a snack plate. Best of luck!
[Article written by Cherie Magnus]
Location of La Milonga de los Consagrados
Humberto Primo 1462, between San Jose & Saenz Pena, Constitución (a few blocks from the neighborhood of San Telmo)
Reservations: 15-5892-2056.
If you want to attend Los Consagrados on your own:
Opens Saturday afternoons 4.30pm-10.30pm
Reservations are necessary (see below for telephone number)
Organizer: Enrique "Gordo" Rosich