El Ingles who took all the buses
Daniel Tunnard was born in Sheffield in England, grew-up in nearby Stockport, and first came to Buenos Aires in 1999.  A writer and translator, he has written a book about taking all 140 bus routes in Buenos Aires.  He lives in Belgrano with his wife and three cats. But most importantly of all, he is the first subject in a series of BuenosTours interviews with interesting expats/locals (of which Daniel is arguably both).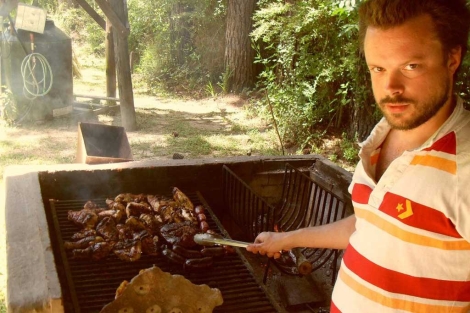 [Photo Credit: Daniel Tunnard]
Why did you first come to Buenos Aires and why did you stay?
I was on holiday in Asunción in Paraguay and I needed to get to Montevideo in Uruguay where I was studying on my year abroad. I spent three nights at the Del Aguila hostel in La Paternal. I met my first wife on the second night there.
What's your daily routine?
Exactly the same as the middle section of The Beatles' 'Day in the Life', minus the comb.
What is your favorite way to spend a Sunday in Buenos Aires?
I like nothing more than to watch Southampton Football Club lose with Buenos Tours chief A-Jelly while enjoying a pint at the Gibraltar pub (Peru 895) in San Telmo.
Where do you go for a romantic night out in Buenos Aires?
If it's just me and Alan J, CEO of BuenosTours any number of gentlemen's clubs along Reconquista street. If I'm with the wife, nothing says romance more than a quiet night in with a wheel of cheese.
[Photo credit: http://www.flickr.com/photos/bdorfman/108918489//CC BY 2.0]
Do you have any collections?
Yes. I have a collection of bus tickets from every bus line in Buenos Aires.
What is your exercise routine?
When are you going to ask me about my book "Colectivaizeishon, one man's pointless quest to take all the buses in Buenos Aires?"
What is your favorite book, and why?
I thought you'd never ask. It's "Colectivaizeishon, one man's pointless quest to take all the buses in Buenos Aires." It's being published by Random House Mondadori in Argentina in 2013. But in Spanish. Yes, my first book to be published is one I wrote in my third language. But enough about me. Ask me about my favorite film.
What is your favorite film, and why?
If I had to choose one, I'd have to say the documentary "Colectivaizeishon, one man's pointless quest to take all the buses in Buenos Aires". "A Serious Man" and "You've Got Mail" are quite good too.
[Photo credit: http://www.flickr.com/photos/pedroalonso/6300964505/ /CC BY 2.0]
What are your favorite websites and blogs?
I've been reading a lot of good stuff on themillions.com and newyorker.com/books.
Obviously, I regularly read pickupthefork.com (fantastic local food blog) and quietly and jealously seethe at the popularity of its author.
What are the most played songs in your music collection?
I have often wondered what juicy statistics I would now have at hand if I had gone through with my idea aged 15 of noting down every song and album I ever listened to at home. I think Queen II and Bowie's Hunky Dorey would be up there. You may like to link to my song for Brian May. Brian May wrote to me to congratulate me on it.
What do you never leave the house without?
A sense of adventure and an elegant timepiece.
What are your earliest memories of Buenos Aires?
I like to think that I was Juan de Garay in a previous life, so I would have to say that my earliest memory of Buenos Aires is the day I founded the bitch. Of course, back in those days we called her "Trinidad".
What is the most unusual thing you have been asked by a stranger in Buenos Aires?
"What is your exercise routine?"
What is your favorite porteño saying or expression?
Any that can be expressed non-verbally.
What three places or things to do would you recommend to a visitor to the city?
Take the 70 or 46 or 23 bus through a villa. Pour wine from a penguin (pictured). Have sex in a telo. In that order.
[Photo credit: http://www.flickr.com/photos/nano/2153928042/ /CC BY 2.0]
What are the best souvenirs or gifts to bring home from Buenos Aires?
Polo ponies make an excellent gift for any small child and are not all that expensive. Failing that, a carton of cigarettes and an amusing fridge magnet.
Any insider tips?
The only snooker table in Buenos Aires is to be found in the basement of 36 Billares on Avenida de Mayo. Anyone who fancies a game can contact me via the blog or twitter @danieltunnard. My highest break is 17, red black red black red. I lost that game 43-17. I highly recommend marrying Argentine women. Psychoanalysis is both rewarding and educational. Do consider osobucco when purchasing your next cut of beef. Simmer for a couple of hours in white wine and your usual condiments. La Tablita on Vidal and José Hernandez in Belgrano has a breathtaking selection of cheeses and cured meats. A large second hand Ken Brown record player, purchased on mercadolibre.com, can give many years of musical pleasure and retro kudos. Buy a house in Tigre and grow a beard. Watch the years fly by. Contemplate the intense flight of the humming bird. Have a quiet night in with a wheel of cheese.
Thank you Daniel! If you are an interesting expat/local in Buenos Aires and would like us to interview you, feel free to get in touch and tell us why.
Nightlife under the lights
The trademark red lights of Rumi are anything but a sign to stop. And as long as you don't, you're in for a good night. Rumi boasts a welcoming and sizable venue for dancing, food, lounging and drinks, and even doubles as a restaurant in the earlier hours (at around 10pm or so).
Rumi is much more of a boliche (nightclub) than a bar or restaurant, but holds on to its desire to be all three just enough. Naturally, like any boliche/bar/restaurant in Buenos Aires, the hour in which you arrive will drastically determine the night you have in store. Because Rumi is the perfect halfway point between the larger clubs like Museum & the once famed Opera Bay, and the smaller boliches (where you find your self fighting for room at the: bar, dance floor, restrooms, entrance, etc…), it's a great way to enjoy Argentine nightlife without having to embrace the extremes. The red lights of Rumi shine from the outside beckoning patrons to enter…
Rumi's Wednesday Night Dinner Special

If you've arrived early then you've already avoided the fuss of waiting in line and probably sauntered your way right on in. At around 10:30pm the club serves dinner. Rumi is known for its Wednesday night, when for a fixed price you can choose between a choices of entrée, drink and dessert. The menu offers rotating options, but could be something like steak and pasta, both of which are delicious, and your choice of beers, wine or coffee. Afterwards, choosing which ice cream dessert most suits your fancy won't be an easy feat!
The Early Bird Catches the Booth in Buenos Aires
The restaurant set up is calming and still, and you'll most likely be set up with a table on the dance floor. Keep in mind you'll hardly notice that the exact spot you're eating at will soon transform into a sea of dancers. However, asking politely, calling ahead, or knowing the owner might get you a booth seat located away from the dance floor. This eating scenario is more reminiscent of higher end restaurants and is also a great place to be seated if you plan on staying for the music and dancing.
The booths turn into a wonderful hiatus from the energy of the dance floor and are a perfect place to rest your feet and rejuvenate your spirits. There are seemingly endless benefits to arriving early, and here are just a few: you can see who's arriving, who's looking good and if it's worth hanging around for.

So, You Think You Can Dance?

If you and your amigos have made other plans and have already enjoyed dinner, a siesta and perhaps a drink or two at another bar, then you're here to dance. Arriving around 2:30am, you're amongst the fashionable Argentines who are here for fun and to bust some moves. At this point the tables have been cleared, the music is pumping and everyone around you is here for the same reason. All those early birds who aren't in it for the long haul, have flown the coop.
Rumi has a lovely outside terrace where people enjoy the fresh air and the occasional cigarette. If you want in, you'll have to wait AND pay your dues. The covers very from weeknight to weekend, coming in a tad steeper on the nights truly dedicated for the night owls. Passing under the red letters of Rumi, yet more red summons you toward the dance floor.
One of Rumi's greatest perks is the bar and dance floor set up. The bar runs the length of the dance floor so there are no corner bars you need to fight and huddle your way into. The DJ booth is opposite the entrance where the man in charge of the decks quickly changes up synthesized pop hits to pumping techno as he feels out the vibe of the crowd. Those relaxing, watching or simply enjoying from afar seem to melt away, making the dance floor the center of a attention. And why shouldn't it be? The surging crowd is filled with energy and the club stays this way until the sun comes up, and your priorities switch from boogie to bed.
A Word About Nightclub Ambiance
As mentioned, the layout of Rumi does a lot for the club. The bathrooms are upstairs and separate from the club and the hallway leading to the dance floor creates a sort of 'calm before the storm'. Here you can find couples snuggling and making out in sphere shaped chairs, between bouts of dancing.
Rumi isn't unaware of its red-light stereotype and hired entertainment is much more "red-light district" than the rest of the club. A feature dancer or two may be propped up for all to see and combing the crowd are other colorful entertainers. It adds a great mix of flavor to the club in the later hours and the crowd digs the extras like glow sticks and candy handed out by the hot-bodied dancers or men in drag. Yet another visual to keep your interest peaked is the footage of live concerts and music videos projected on the screens above the dance floor. You're sure to draw inspiration from somewhere and I'm sure you'll enjoy what Rumi is throwing down on the dance floor.
Getting there
Rumi is located on the Costanera of Buenos Aires, but not near Puerto Madero. Instead, look north. It's much closer to Belgrano and the cab rides are cheap from other eating and nightlife areas such as Recoleta, Palermo or Las Canitas. Mention the club name to a cabbie or scribble down the address and you'll be there in no time.
Location of Rumi Nightclub
Avenida Figueroa Alcorta 6442, near La Pampa, Costanera Norte
Tel: 4782-1307,  Website: http://www.rumiba.com.ar/