Inventive Mexican food in an intimate setting
[Photo courtesy MASA Club de Tacos Facebook Page]
When I tell Argentines that what I miss most about the US (other than family) is the Mexican food, they don't get it.  You see while famous for its beef and wines, Argentina is not known for its food diversity – and forget about spicy foods.  Growing up in Arizona, Mexican food formed the nucleus of my diet, and continued to do so when I moved to California and basically survived on burritos.
So when I heard about a new Mexican-inspired puertas cerradas restaurant in Buenos Aires, I knew I had to check it out. I've scoured Palermo for good Mexican food joints, but I usually end up disappointed and nostalgic. Somehow spending 300 pesos on mediocre tacos and leaving without flaming lips, having doused my food in the "extra spicy" sauce, feels traitorous to my roots. I figured a fellow West Coast yanqui would get it.
Simple, tasty, and creative Mexican-inspired cuisine
Kevin, the creator of MASA Club de Tacos, gets it. MASA is named after the heart of Mexican cuisine, the masa or dough used to make tortillas. In Argentine Spanish, however, masa while still meaning dough, is also a slang term for a cool person. Dinners are hosted every Thursday night in a residential home alternating between Belgrano and Almagro. Guests typically reserve in small groups, and the mixed company provides a perfect opportunity to meet new people — especially Argentines! The experience feels more like a warm dinner among friends than a private restaurant, and the price scheme adds to that feeling: each guest pays what they deem to be the value of the meal, and brings their own beverages.
I arrived with my Argentine partner last Thursday at the Almagro MASA location, and was immediately made welcome by Kevin, a laid-back and friendly California native. He lead us to the kitchen where his quirky and fabulous right-hand-lady Evy was busy with prep work. We chatted about Mexican food in BA and the US as the cooks prepared appetizers. When the rest of the guests arrived, a family from Bahia Blanca and a few young Argentines who work in the tech sector, we settled into the living room, discussing the emerging kite surfing scene on Argentina's Atlantic coast.
Dinner is served!
While we chatted with our fellow guests, Kevin and Evy served us baskets of fried avocados and a creamy jalapeño salsa. To my delight, the salsa sent steam zipping through my nasal cavities! The Argentines seemed a little overwhelmed by the spice, and warned me against dousing the palta slices, but I just couldn't get enough. The avocado was warm and creamy, without being over fried. Delicious.
To avoid gobbling up all the slices on the table, I ventured to the kitchen to find the Negra Modelo I brought with me. With the new Daft Punk album and some classic Outkast tracks pumping in the background, the cooks were preparing the first dish. I asked about the concept of restaurant, and Kevin explained it as an elevated spin on Mexican street tacos. He founded the project after working on a local website with a cultural agenda, with the ideal that going out in Buenos Aires shouldn't have to be exclusive to those who can afford a pricey meal. That's how he came up with the unique, pay-what-you-can price: it makes the hip closed-door phenomenon accessible.
I scuttled back to the table as they plated the salad, an absolutely divine grilled cabbage salad with mango, tomato and a creamy vinaigrette. The cabbage was perfectly grilled to eliminate bitterness but still be crunchy, and my boyfriend has been begging for grilled cabbage since. Peppered with mango slices, the salad was mildly sweet but still light and refreshing.
"Don't judge your taco by its price" -Hunter S. Thompson
As we awaited the main dish, our fellow guests told us about an application they invented called Cook App which allows you to search puertas cerradas restaurants in Buenos Aires. It's like a go-to spot to find different venues on the lively underground restaurant scene.
And then came the main event: two tacos filled with pork carnitas with onion and cilantro, and chicken slow cooked in honey, jalapeño salsa, and blueberry juice, both served on homemade corn tortillas. The tortillas were the best I've eaten in Argentina; they were light and not overwhelmingly corn-y (as corn tortillas often can be), with a perfect touch of griddled flavor. Both meat fillings were delectable, and the pollo (chicken) was particularly juicy. The tacos were served with another salsa, this time made with the Peruvian Locoto chili, and I doused my tacos with the two spicy spreads to the horror of the Argentines. Once again, the tacos delightfully blended sweet and savory flavours.
Swooning in a taco-induced reverie, we cleaned the juice off our hands and discussed the spectacular tortilla masa. The strawberry cupcakes came right at the perfect time and perfect closure for the pallate. Again, these were not too sweet, and the cake itself was spongy and exuded fresh strawberry goodness.
While the family had to leave early, we stayed and talked with Evy and Kevin. We laughed about Argentine and US American cultural differences, and Kevin even admitted that he made corn tortillas since he knew I was coming. Argentines, apparently, are much easier to serve Mexican food. "They pretty much love anything we serve them," noted Evy, while those of us from the US, on the other hand, have lots of expectations about Mexican food. True enough. Overall, I felt the dinner combined traditional Mexican ingredients into fun, and unique dishes.
Our hosts regaled us late into the night with stories about demanding clients, the joys of menu planning, and what it was like serving the rock group The Black Keys.  The MASA Club de Tacos is a unique, friendly experience.
If you'd like to reserve a spot at the next MASA Taco dinner, find further details on the MASA Club del Taco website, or visit their Facebook page. Vegetarians and those with diet restrictions, never fear! The MASA team is willing to accommodate to your requests. Read  more reviews of the restaurant on My Beautiful Air or The Argentine Independent, and happy eating!
An interview with one of Buenos Aires's taxi drivers
[Photo credit: Luis Argerich's photostream//CC BY-NC 2.0]
If you've been to Argentina's capital city, you've surely noticed the bumble-bee black and yellow taxis, and probably taken at least a few. With over 40,000 cabs in town, the BA taxi driver is a staple character in the city, and will often be up for a good chat. We caught up with Dario Wigodzky, who has driven taxis for over twenty years, who gave us a peek into life from the driver's seat.
How long have you been driving taxis?
I've been driving taxis since 1991, and celebrated my 22nd year in this profession on July 3rd.
Congratulations on your long career, Dario! How did you become a taxi driver?
I chose this career basically for the freedom of choosing my of hours and the independence that it gives me. I was young (just 22 years old) when I started. And I get to be my own boss!
Are you part of any union or company?
Yes. In the first few years I worked independently, then after a while I decided to become a Radio Taxi, which has improved my income and offers me more security.
You certainly get to see the city from a unique perspective; what do you think of Buenos Aires as a place to drive? What are its best and worst traffic laws or situations?
Driving in Buenos Aires is no easy job. We [Argentines] are very imprudent while driving and traffic gets worse every year…my years of experience help me endure the situation pretty well. The most relaxed driving situations are when I move through the zone we call "el bajo" (the streets close to the river), like Libertador Avenue, as traffic flows as best as possible, or when I work on Friday nights, since it's much more laid-back. One of the worst driving situations occurs in downtown intersections, where cars and buses often stop in the middle of the intersection while crossing, producing blocked streets. Also the "piquetes" (protests that occupy streets) on many occasions, I consider abusive.
[Photo credit: Tanoka's photostream//CC BY-NC 2.0]
What are the most popular destinations that travelers ask you to go?
In the morning, the majority of trips are to the City Center. During the day, I circulate a lot in the center, and busy areas like Palermo, Barrio Norte, Belgrano, Caballito and Flores. On Friday nights the majority of journeys are to the zone with all the bars and night clubs. Tourists prefer to go to La Boca, Puerto Madero, Plaza de Mayo, Recoleta, Palermo Soho and Palermo Hollywood.
Which area of Buenos Aires is the most confusing to maneuver?
The most complicated neighborhood is called Parque Chas, because its streets are circular and getting in is easy but getting out of the labyrinth is complicated.
Any streets or corners you avoid or refuse to drive to?
Not usually. In some cases I refuse to take passengers who I consider "suspicious".
Which is your favorite barrio (neighborhood), and why?
I don't think I could choose among the hundred porteño neighborhoods…but the southern part of the city, (Pompeya, Parque Patricios, Barracas, La Boca, etc.) the most old and popular parts, seem to me the most representative of the city and those with the most history and porteño spirit and tango spirit. Their streets speak to our identity as inhabitants of the city of Buenos Aires.
If you could give a tourist in Buenos Aires some advice, what would you tell them?
I'd recommend that they not only do the traditional tourist things, but that they go more to the neighborhoods I just mentioned, which I think would transport them to the real spirit of our beautiful city.
I'm sure you've had some interesting people step into your taxi — could you tell a story about your most memorable client?
In 22 years I have a lot of anecdotes, some difficult to tell in an interview…but if I have to choose just one, this one occurred about 2 months ago and concluded last week. A passenger asked me to take him to the Aeroparque and after a long chat told me that he is a music producer for a very famous Argentine band called Tan Bionica. I told him that my son Nicolas, who is 13, is a big fan of the group, and he invited my son and I to a show that would take place 2 months later in Luna Park Stadium. He left me no more than his last name and the door where he could be found. Last Saturday we approached the stadium (I must admit with very low expectations, my son was more optimistic, of course – he's 13) and what a surprise, there was the passenger, who fulfilled his promise to invite us to see an excellent concert, from a very privileged spot, which we enjoyed exceedingly.
[Photo credit: Tan Bionica's Website]
Any famous passengers?
A lot. Futbol players: El "Pato" Fillol, the goal keeper from the Argentine World Cup champions of 1978. Singer Maria Marta Serra Lima. World champion boxer Jorge "El Roña" Castro, who gave me a boxing lesson during the trip.
What's the strangest thing you've been asked by someone riding in your cab?
A  transvestite once offered to exchange his sexual services for a cab ride. I didn't accept.
Which radio station do you listen to while driving? Any particular songs or albums that you think best accompany your journeys through Capital?
In the day time, my favorite station is 95.1 Metro, they have a general interest program in the morning and another in the afternoon which are very funny. At night I choose classic songs from bands like Queen, Phill Collins, The Police, etc.
Where's the best place to stop and have a coffee or eat and chat with other drivers?
I'm not the kind of driver who stops much during the day to chat with my colleagues, but I have a few good places in different neighborhoods where you can enjoy the best chorizo or proscuttio sandwiches. Some are on the costanera sur or costanera norte. Also, there is a traditional pizzeria in Buenos Aires called La Mezzeta in Chacarita, that has in my humble opinion the best fugazzeta (traditional cheese and onion pizza). That place I save for Friday nights.
[Photo credit: Pizzeria La Mezzeta's Facebook Page]
Are there any good myths or legends about taxis and taxi drivers in Argentina?
One legend says that a taxi chauffeur took a sinister looking passenger to the Chacarita cemetery, and once he entered Parque Chas, neither of the two where ever seen again…
What's hanging from your rear-view mirror?
A red ribbon tied in a bow that my wife hung which she guarantees keeps away envy. I don't believe it, but just in case…
Thanks for your time Dario! Apart from his normal work as a cab driver, Dario does transfers to/from Ezeiza International Airport. If you'd like to get a hold of him, you can send him an e-mail at [email protected] or better, WhatsApp at +54-9-11-5343-8010. And if you are an interesting expat or local in Buenos Aires and would like us to interview you, feel free to get in touch and tell us why.
British writer and adventurer, meets one Argentine at a time
Rosie Hilder traveled to Bolivia four years ago, ready to start life as an expat. Her experience in La Paz didn't turn out so well, but – determined to stay in South America – Rosie moved to Buenos Aires instead of going home to England. Since arriving in 2009, Rosie has become an English teacher, journalist, photographer and blogger.
She started her blog, 52exchanges.com, in 2011, where she documents a year-long challenge to have 52 (one per week) language exchanges in Buenos Aires. A resident of the barrio of Almagro, Rosie sat down with us recently…
Why did you come to Buenos Aires?
I actually originally moved to Bolivia for an English-teaching job and then when I got there – I really liked it – but after about six months, I realized my bosses were a bit sleazy and didn't pay me, so I decided to leave, but I wanted to stay in South America, but come somewhere a bit more developed. I had this idea in my head about how great Buenos Aires would be, so I came to Buenos Aires.
Why did you stay?
I really liked it! At first, I had to stay because I couldn't afford to leave. And then, I got quite a good teaching job, not those sort of normal, flaky institutes. They got me a visa, it's a job, you know so I decided to stay because of that. And then my ex-boyfriend left, and then, I started to meet at bunch of friends and started to really enjoy the city. And now I have a new Argentine boyfriend! Now I won't leave because of him.
Favorite barrio?
Almagro, obviously. Perfect mix.
PG: What about Almagro?
Well it's a barrio, you know? People actually live there. And there's like all these specialist shops that I love. And it's not as fancy as Palermo. And it's in the middle of everything, you can get anywhere from it.
Where's the best place you go for coffee, steak or ice cream?
I'm not really big on coffee, but I've heard the Full City Coffee House, a Colombian one in Chacarita, is supposed to be really good. Steak – well obviously a family asado is the best place to go for beef, but La Cholita [Rodríguez Peña 1165, in Recoleta] is really good. For ice cream, Nonna Bianca [Estados Unidos 425], it's in San Telmo. It's Italian.

(Photo Credit: suziedwards's photostream// CC by 2.0)
What are your favorite events or festivals in Buenos Aires?
BAFICI, the independent film festival, that's in April. It's just a really good chance to see films that you wouldn't normally see. And after, they often have question and answer session with the director, which I always find really interesting… and people always clap at the end, which is great. We don't do that in England.
How do you spend your weekends?
Well I'm really busy normally, but a good place to go to relax is the Costanera Sur. I like to go for a walk in the ecological reserve there, or sit in a café with a book.
(Photo Credit: miguelvieira's photostream // CC by 2.0)
Your last day in Buenos Aires. What are the three things you'd do, or three places you'd go to?
Well, I would definitely go to a park. Maybe the Parque de 3 de Febrero cause just to enjoy the Argentine park experience with mate and family. And that park is really good because there's loads of stuff there you can take good pictures of. What else would I do? Well I would probably go and eat a steak if it's my last day. That's pretty much obligatory, isn't it? Have wine. And then I would go to my favorite bar, which is Senior Duncan in Almagro.
Is it a British bar?
No, it's one of these "closed door" bars, and it's very cool. It's run by five or six Argentines. It's one of those places where you can go and make friends with everyone there. They have good music. On Thursdays they have a swing dancing night. And they have a storytelling event there.
So switching gears, 52 exchanges, what prompted the idea and what was that experience like?
I didn't learn Spanish at all [in school] for seven years. So I thought, "Oh yeah, I'll go learn Spanish." I got to Bolivia and realized I'd forgotten the past tense, couldn't understand anything. I couldn't get by. And then I sort of got up to scratch in Bolivia with private classes and stuff. And then when I got to Argentina and I didn't understand everything – [Argentine Spanish is very unique and sometimes difficult to understand] – obviously, because they use the "Sh" sound for the "ll" and all that. And after two years in Argentina, I felt, "Well now I understand and I know to say "sh" and not the traditional Spanish pronunciation  but I still wanted to feel like I completely knew. People at home would say, 'Are you fluent?' and I would say, 'Well… I don't know.'  What does that mean? Which is a theme in my blog – what does it mean to be fluent? And a friend of mine – someone I know back home – was doing this blog called '52 free gyms' or something like that, and he was going to all these free gyms and writing about it. And I was like 'this is what I should do' – I'm not really into the gyms but I think it could be even better with people. So, another friend told me she'd been on a conversation exchange, and I put the two ideas together and decided to do a blog about 52 conversation exchanges.
If someone's reading your blog for the first time, they're a visitor to Buenos Aires, what lesson do you think they're coming away with?
Well, they'll learn some very useful Spanish vocabulary. They're learning about the city, because I went to different places [for language exchanges] and I said I was in this bar or this place. And they'll learn about Porteños in general. And I guess for me, the blog is really about cultural differences – the fact that what I say isn't necessarily the truth. It's not fact, but it's the way I see it because I'm English. Things that are normal for Argentines aren't normal for me. I think that's the point of the whole thing is trying to get a bit more understanding of the culture, which for me is the most interesting thing about living abroad.
Thank you Rosie! Questions? You can contact Rosie at her personal website: www.rosiehilder.com. And if you are an interesting expat/local in Buenos Aires and would like us to interview you, feel free to get in touch and tell us why.
El Ingles who took all the buses
Daniel Tunnard was born in Sheffield in England, grew-up in nearby Stockport, and first came to Buenos Aires in 1999.  A writer and translator, he has written a book about taking all 140 bus routes in Buenos Aires.  He lives in Belgrano with his wife and three cats. But most importantly of all, he is the first subject in a series of BuenosTours interviews with interesting expats/locals (of which Daniel is arguably both).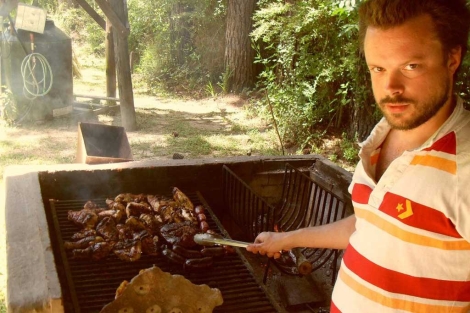 [Photo Credit: Daniel Tunnard]
Why did you first come to Buenos Aires and why did you stay?
I was on holiday in Asunción in Paraguay and I needed to get to Montevideo in Uruguay where I was studying on my year abroad. I spent three nights at the Del Aguila hostel in La Paternal. I met my first wife on the second night there.
What's your daily routine?
Exactly the same as the middle section of The Beatles' 'Day in the Life', minus the comb.
What is your favorite way to spend a Sunday in Buenos Aires?
I like nothing more than to watch Southampton Football Club lose with Buenos Tours chief A-Jelly while enjoying a pint at the Gibraltar pub (Peru 895) in San Telmo.
Where do you go for a romantic night out in Buenos Aires?
If it's just me and Alan J, CEO of BuenosTours any number of gentlemen's clubs along Reconquista street. If I'm with the wife, nothing says romance more than a quiet night in with a wheel of cheese.
[Photo credit: http://www.flickr.com/photos/bdorfman/108918489//CC BY 2.0]
Do you have any collections?
Yes. I have a collection of bus tickets from every bus line in Buenos Aires.
What is your exercise routine?
When are you going to ask me about my book "Colectivaizeishon, one man's pointless quest to take all the buses in Buenos Aires?"
What is your favorite book, and why?
I thought you'd never ask. It's "Colectivaizeishon, one man's pointless quest to take all the buses in Buenos Aires." It's being published by Random House Mondadori in Argentina in 2013. But in Spanish. Yes, my first book to be published is one I wrote in my third language. But enough about me. Ask me about my favorite film.
What is your favorite film, and why?
If I had to choose one, I'd have to say the documentary "Colectivaizeishon, one man's pointless quest to take all the buses in Buenos Aires". "A Serious Man" and "You've Got Mail" are quite good too.
[Photo credit: http://www.flickr.com/photos/pedroalonso/6300964505/ /CC BY 2.0]
What are your favorite websites and blogs?
I've been reading a lot of good stuff on themillions.com and newyorker.com/books.
Obviously, I regularly read pickupthefork.com (fantastic local food blog) and quietly and jealously seethe at the popularity of its author.
What are the most played songs in your music collection?
I have often wondered what juicy statistics I would now have at hand if I had gone through with my idea aged 15 of noting down every song and album I ever listened to at home. I think Queen II and Bowie's Hunky Dorey would be up there. You may like to link to my song for Brian May. Brian May wrote to me to congratulate me on it.
What do you never leave the house without?
A sense of adventure and an elegant timepiece.
What are your earliest memories of Buenos Aires?
I like to think that I was Juan de Garay in a previous life, so I would have to say that my earliest memory of Buenos Aires is the day I founded the bitch. Of course, back in those days we called her "Trinidad".
What is the most unusual thing you have been asked by a stranger in Buenos Aires?
"What is your exercise routine?"
What is your favorite porteño saying or expression?
Any that can be expressed non-verbally.
What three places or things to do would you recommend to a visitor to the city?
Take the 70 or 46 or 23 bus through a villa. Pour wine from a penguin (pictured). Have sex in a telo. In that order.
[Photo credit: http://www.flickr.com/photos/nano/2153928042/ /CC BY 2.0]
What are the best souvenirs or gifts to bring home from Buenos Aires?
Polo ponies make an excellent gift for any small child and are not all that expensive. Failing that, a carton of cigarettes and an amusing fridge magnet.
Any insider tips?
The only snooker table in Buenos Aires is to be found in the basement of 36 Billares on Avenida de Mayo. Anyone who fancies a game can contact me via the blog or twitter @danieltunnard. My highest break is 17, red black red black red. I lost that game 43-17. I highly recommend marrying Argentine women. Psychoanalysis is both rewarding and educational. Do consider osobucco when purchasing your next cut of beef. Simmer for a couple of hours in white wine and your usual condiments. La Tablita on Vidal and José Hernandez in Belgrano has a breathtaking selection of cheeses and cured meats. A large second hand Ken Brown record player, purchased on mercadolibre.com, can give many years of musical pleasure and retro kudos. Buy a house in Tigre and grow a beard. Watch the years fly by. Contemplate the intense flight of the humming bird. Have a quiet night in with a wheel of cheese.
Thank you Daniel! If you are an interesting expat/local in Buenos Aires and would like us to interview you, feel free to get in touch and tell us why.
Get clicking on a creative excursion in Buenos Aires
Walking around a city as photogenic as Buenos Aires without a camera can be a frustrating experience, and never more so than when you are overtaken by a man on a bicycle, talking on his mobile phone while simultaneously walking five variously sized dogs, their leads straining as they struggle to keep up. Watching him wobble down the cycle lane past picturesque old buildings covered in graffiti, even the least enthusiastic photographer will be gripped by the desire to capture the scene on camera.
For those hoping to hone their snapping skills while in town, Foto Ruta organizes photography-based weekly events that are one part photography workshop, one part (unguided) city tour.
[Photo credit: Foto Ruta Facebook page]
Snap happy
Each Saturday Foto-Ruta holds an afternoon excursion in that week's nominated neighborhood, usually San Telmo, Palermo or Villa Crespo (check the diary page on the website for the schedule). It is a chance pick up some picture-taking tips and explore that area of city in the company of other photography enthusiasts, who range from SRL wielding semi-pros to point-and-click holiday snappers.
In the Villa Crespo neighborhood, the meeting place is a closed doors restaurant in a traditional 'casa chorizo' style house. Unassuming from the outside, the street entrance leads down a narrow passageway to a charming and character-filled space, setting the tone for a day of 'getting under the city's skin'; seeing beyond the superficial to capture the real essence of the neighborhood.
[Photo credit: Foto Ruta Facebook page]
Pre-photography boot camp
Seated around a table scattered with inspirational photography books, the first part of the day is an introduction to the neighborhood and a brief teaching session with Foto Ruta founders Becky from England and Joss from Canada, who is a professional photographer.
With the help of images taken at previous Foto Ruta events, Joss talked us through the concept for the day and gave some photography tips about lines, shape, viewpoint, pattern, movement, light, photographing people and so on – probably pretty basic stuff for some of the group, but all new to me. "The best camera is the one you have with you," she said reassuringly, before sending us out onto the streets armed with a map and a list of words.
Your mission should you choose to accept it…
Our task was to explore the neighborhood in small groups and take photos that corresponded to 10 'clues' – words or phrases such as 'behind bars' and 'follow the leader'. The exercise has as much to do with concepts and creativity as photography skills, prompting us to use our imaginations. Becky and Joss describe it as 'slow tourism'; the idea is to take your time, look closely and see the details that are so often missed when visiting a new city.
[Photo credit: Foto Ruta Facebook page]
Once outside, we immediately began spotting potential shots all around us: a frustrated little boy in an Argentina shirt and superhero cape glaring angrily out onto the street from a gated passageway ('behind bars'), a building almost entirely covered with ivy ('connecting with nature') and a labrador with a luminous bow in her hair crossing Avenida Corrientes ('fluorescent female'). Working together to track down the clues while wandering around the neighborhood and stopping to chat to the people we asked to photograph, it felt like a completely fresh way of experiencing the city.
[Photo credit: Foto Ruta Facebook page]
From clicking cameras to chinking wine glasses
After two hours on the streets taking pictures, we reconvened in the closed doors restaurant to select the best shot to represent each clue from each group. While we selected and uploaded, we were served a glass of red or white wine, and finally we watched a slide show of the photos taken by each group, with feedback and comments from Joss. It was clear from the range of shots that we had all risen to the challenge and really captured the essence of Villa Crespo. So next time a leather-clad gaucho clutching a Starbucks frappuccino walks past me I'll be ready.
In addition to the weekly event, Foto Ruta also holds Academia guided photography tours and iPhoneography tours in Buenos Aires and Santiago de Chile.  To find out more go to http://foto-ruta.com/
For more articles about Foto Ruta, see Tim Fitzgerald's post on the BBC Passport travel blog,  this post on The Argentina Independent, this report from the Buenos Aires Herald and this post by travel writer Michael Turtle.
Location of the neighborhood of Villa Crespo in Buenos Aires
Enjoy Buenos Aires' hidden, seasonal market

The arepa made me feel like Pavlov's dogs. I eagerly awaited by a tent to eat this fried-cornbread-sandwich goodness.
"Arepa con todo?" the chef under the tent asked. Yes, I ordered an arepa with every topping available.
Spicy chicken with an avocado salsa and grilled veggies wedged into crispy cornbread offered a taste of South America not usually found in Buenos Aires. Last Saturday, I ventured to Parque Patricios, a quiet neighborhood, to attend the third edition of the BA Underground Market, hosted by The Argentina Independent, an English language website.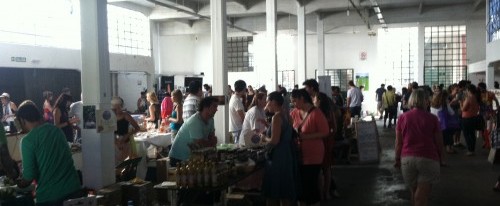 Finding the market in Parque Patricios
The Undergound Market is based off the San Francisco Undergound Market, and it started last June. The first event's popularity called for a second event in September and the most recent one last week. A friendly mix of Porteños and expats come together at the market, an event you wouldn't know about unless you checked the English blogosphere in Buenos Aires.
Walking down Calle Iguazu in Parque Patricios, my friends and I were convinced we had the wrong address. Pin drop quiet. But a smattering of voices echoed past an open yellow doorway, which we decided was our best—and only—option.
The entrance was a big open courtyard with tables and chairs sprawled out to ease those with the meat sweats, a cool, craft beer or perhaps a refreshing glass of peach lemon ice tea. Past the courtyard, the Underground Market buzzed in an old ware-house-style building. A low-key vibe permeated the sunny, Argentine afternoon.
Argentine and foreign cuisine come together
Over the entire afternoon, about 450 people came to taste an array of small dishes. I indulged in a Tio Pelado ($15ARS): a mash of wheat, pumpkin and ginger topped with a sprinkle of cayenne pepper served in a crusty tortilla bowl (above). My friend devoured his "choriman," a spicy sausage with homemade sauces and coleslaw $20 (below).
Warning: this list of foods may make you hungry immediately. Dulce de leche covered donuts, American pancakes, Pecan Pie, pisco sour and Coco trufas (below)—oatmeal balls with DDL and coconut—highlighted the sweets. Artisan cheeses, craft beer, Korean tacos, Quinoa burgers and crispy prosciutto-egg sandwiches rounded out the lunch menu.
For those tired of eating, a massage station awaited them, along with a few tables filled with homemade jewelry and thrifty clothing items.
And for the news junkies like me, a special, print edition of the Argentine Independent fulfilled my last hour while I munched on a flavor-packed falafel sandwich. Not a bad day in Argentina.
When can you go: Its uncertain when exactly the next BA Undergound Market will be, but judging by the last three events, it appears to be seasonal. Check the Argentina Independent for the latest updates or like their Facebook page.
How much: $10 entrance fee, and then you pay the cashier for food vouchers—each one costs five pesos. I decided to get 20 tickets ($100 pesos), which allowed me to try seven items.
How to get to the Buenos Aires Underground Market
How to get there: Buenos Aires Underground Market, Iguazu 451, Parque Patricios. Bus lines 118 and 188 both stop a few blocks from the market. Other lines stop at the actual park in Parque Patricios, which is about five blocks away. Check http://mapa.buenosaires.gov.ar/ to find the best route for you.
Soak in the atmosphere of San Juan y Boedo Antiguo
[Photo credit: Gobierno de la Ciudad de Buenos Aires Flickr account/ /CC BY 2.0]
The corner of San Juan and Boedo, made famous by the tango singer Homero Manzi in the opening lines of his song Sur ('San Juan y Boedo antiguo, y todo el cielo' – 'Old San Juan and Boedo, and all the sky') is the site of a café (now a tango show by night) that was a gathering place for local left-leaning writers and intellectuals in the 1920s. Close to the corner are a number of cafes and restaurants well worth the 20 minute trip from downtown or 30 minutes from Palermo, including Pan y Arte, Cossab and Cafe Margot.
Boedo: Barrio on the rise
You might hear Boedo touted as Buenos Aires' most up-and-coming neighbourhood, with its burgeoning arts scene, old school milongas (Tango dance halls) and claims to be the bona fide birthplace of the Tango. Although the idea that this traditional barrio is on the road to Palermo Soho style development might strike fear into the hearts of those who love it, for now at least it has retained an authentic, residential feel.
[Photo credit: http://www.flickr.com/photos/jglsongs/2227925169/ /CC BY 2.0]
Mingle with the locals at Café Margot
Café Margot was first opened in 1904 and recently completed renovation work has restored the café's exterior to its former glory. Inside, Café Margot is enchanting, with whole hams hanging from the ceiling, exhibitions by local artists on the walls and waiters in waistcoats swerving around closely packed wooden tables, balancing trays of coffees and medialunas (croissants) or bottles of beer and baskets of monkey nuts.
But forget the inside. On a warm summer's evening in the city there are few better places to be than sitting at a pavement table outside Margot drinking a cold beer and eating picadas (a shared plate of food to pick on such as olives, salami, ham and olives). Also recommended are the sandwiches de pavita (turkey, the house special) and, when they have them, the empanadas de parrilla (empanadas filled with slices of steak).
For more reviews of Cafe Margot, check out this blog post by Foodie in BsAs and Dan at Saltshaker's turkey-tastic review.
Location of  Café Margot in Boedo, Buenos Aires
Café Margot, Avenida Boedo 857 (corner with San Ignacio), Boedo
Telephone: 4957-0001
Nightlife under the lights
The trademark red lights of Rumi are anything but a sign to stop. And as long as you don't, you're in for a good night. Rumi boasts a welcoming and sizable venue for dancing, food, lounging and drinks, and even doubles as a restaurant in the earlier hours (at around 10pm or so).
Rumi is much more of a boliche (nightclub) than a bar or restaurant, but holds on to its desire to be all three just enough. Naturally, like any boliche/bar/restaurant in Buenos Aires, the hour in which you arrive will drastically determine the night you have in store. Because Rumi is the perfect halfway point between the larger clubs like Museum & the once famed Opera Bay, and the smaller boliches (where you find your self fighting for room at the: bar, dance floor, restrooms, entrance, etc…), it's a great way to enjoy Argentine nightlife without having to embrace the extremes. The red lights of Rumi shine from the outside beckoning patrons to enter…
Rumi's Wednesday Night Dinner Special

If you've arrived early then you've already avoided the fuss of waiting in line and probably sauntered your way right on in. At around 10:30pm the club serves dinner. Rumi is known for its Wednesday night, when for a fixed price you can choose between a choices of entrée, drink and dessert. The menu offers rotating options, but could be something like steak and pasta, both of which are delicious, and your choice of beers, wine or coffee. Afterwards, choosing which ice cream dessert most suits your fancy won't be an easy feat!
The Early Bird Catches the Booth in Buenos Aires
The restaurant set up is calming and still, and you'll most likely be set up with a table on the dance floor. Keep in mind you'll hardly notice that the exact spot you're eating at will soon transform into a sea of dancers. However, asking politely, calling ahead, or knowing the owner might get you a booth seat located away from the dance floor. This eating scenario is more reminiscent of higher end restaurants and is also a great place to be seated if you plan on staying for the music and dancing.
The booths turn into a wonderful hiatus from the energy of the dance floor and are a perfect place to rest your feet and rejuvenate your spirits. There are seemingly endless benefits to arriving early, and here are just a few: you can see who's arriving, who's looking good and if it's worth hanging around for.

So, You Think You Can Dance?

If you and your amigos have made other plans and have already enjoyed dinner, a siesta and perhaps a drink or two at another bar, then you're here to dance. Arriving around 2:30am, you're amongst the fashionable Argentines who are here for fun and to bust some moves. At this point the tables have been cleared, the music is pumping and everyone around you is here for the same reason. All those early birds who aren't in it for the long haul, have flown the coop.
Rumi has a lovely outside terrace where people enjoy the fresh air and the occasional cigarette. If you want in, you'll have to wait AND pay your dues. The covers very from weeknight to weekend, coming in a tad steeper on the nights truly dedicated for the night owls. Passing under the red letters of Rumi, yet more red summons you toward the dance floor.
One of Rumi's greatest perks is the bar and dance floor set up. The bar runs the length of the dance floor so there are no corner bars you need to fight and huddle your way into. The DJ booth is opposite the entrance where the man in charge of the decks quickly changes up synthesized pop hits to pumping techno as he feels out the vibe of the crowd. Those relaxing, watching or simply enjoying from afar seem to melt away, making the dance floor the center of a attention. And why shouldn't it be? The surging crowd is filled with energy and the club stays this way until the sun comes up, and your priorities switch from boogie to bed.
A Word About Nightclub Ambiance
As mentioned, the layout of Rumi does a lot for the club. The bathrooms are upstairs and separate from the club and the hallway leading to the dance floor creates a sort of 'calm before the storm'. Here you can find couples snuggling and making out in sphere shaped chairs, between bouts of dancing.
Rumi isn't unaware of its red-light stereotype and hired entertainment is much more "red-light district" than the rest of the club. A feature dancer or two may be propped up for all to see and combing the crowd are other colorful entertainers. It adds a great mix of flavor to the club in the later hours and the crowd digs the extras like glow sticks and candy handed out by the hot-bodied dancers or men in drag. Yet another visual to keep your interest peaked is the footage of live concerts and music videos projected on the screens above the dance floor. You're sure to draw inspiration from somewhere and I'm sure you'll enjoy what Rumi is throwing down on the dance floor.
Getting there
Rumi is located on the Costanera of Buenos Aires, but not near Puerto Madero. Instead, look north. It's much closer to Belgrano and the cab rides are cheap from other eating and nightlife areas such as Recoleta, Palermo or Las Canitas. Mention the club name to a cabbie or scribble down the address and you'll be there in no time.
Location of Rumi Nightclub
Avenida Figueroa Alcorta 6442, near La Pampa, Costanera Norte
Tel: 4782-1307,  Website: http://www.rumiba.com.ar/
A more colorful Caminito, without the hordes of tourists
Calle Lanin is a beautiful little street in the barrio of Barracas, in the south of Buenos Aires. If you are going to La Boca to see the colorful and historical Caminito Street, then you might also consider taking the time to explore some of the neighboring barrio of Barracas, where you will find the quieter, shady, yet extremely colorful Lanin. (Don't try this at night, it's not really a safe place for tourists to be after dark). The murals there, created in the year 2000 by local artist Marino Santa Maria (who actually lives on this street), are definitely worth the trip to take a look.
Being such a colorful street, the best way to give you an idea of what Lanin street is like is with some photos…
Photos of Calle Lanin
Hope you enjoyed the photos.
You can also check out this post on Calle Lanin by Argentina's Travel Guide for some more info on this sightseeing attraction in Buenos Aires.
Location of Calle Lanin
Lanin 1 – 200, between Brandsen and Suarez, Barracas