An intimate dinner party in the chef's own home

[Photo courtesy of Dan Perlman]
There is something slightly surreal about attending an intimate dinner party in a private home at which the ten guests are total strangers and the host is mostly a background presence, periodically emerging from the kitchen to introduce the dishes and wines before hurrying back to prepare the next course. With diners from Argentina, the United States, Ireland and England, the language at the table switched between English and Spanish and the conversation topics spanned the globe. By all accounts a fairly typical night at Dan Perlman's 'closed door' ('puertas cerradas') restaurant Casa SaltShaker in his apartment in the Recoleta neighborhood of Buenos Aires.
From the outset, eating at Casa SaltShaker is unlike going to a normal restaurant. Dinner places are by reservation only and the address is only revealed once the booking has been confirmed. Guests are warned to inform Perlman in advance of any allergies or dietary requirements, leaving him free to dream up the dishes on the five course set menu, which are usually created on a whim. As Perlman explained, he rarely serves the same dish twice.
Eclectic guest list
Arriving at the apartment block shortly before 9pm (guests are asked to arrive between 8.45pm and 9pm; dinner is served at 9.15pm), I was unsure what to expect. As I rang the doorbell, I wondered what language I should speak. I was greeted by Perlman's partner Henry, who I followed into the apartment, a bright, modern and homely ground floor duplex with shelves stacked full of cookbooks, paintings and family photographs on the walls, low lighting and an outside patio. Elton John was playing in the background. As I was the last to arrive, I could see the other nine guests standing together in a circle in the living room talking. I was handed a ginger, Pineral (an Argentine aperitif) and pink grapefruit juice cocktail and I went over to introduce myself to the group.
Among my dining companions were a couple from Ireland, a Rosarian couple who were in Buenos Aires to visit their son, who was also at the dinner, and a couple from Oregon and their parents / in-laws. We all sat together at a large square table, set with neatly folded napkins, place mats and a promising selection of several different glasses – Perlman is a trained sommelier and each of the five courses was paired with a glass of specially selected wine.
On tonight's menu…
The printed menu awaiting us at the table informed us that the first course would be 'salatit banjan y satata banadoura'. This turned out to be two Middle Eastern style salads, one with tomato, red onions, chili and prawns and the other with aubergine, green pepper, lemon juice and cockles, served on a camembert cheese tuile. The unusual combination seems typical of Perlman's idiosyncratic cooking style and is certainly not the usual Buenos Aires fare. The Nieto-Senetiner Brut Nature champagne we drank with it was even better.

[Photo courtesy of Dan Perlman]
Next up was a truly delicious cheddar and English ale soup served with homemade bread, my favourite dish of the night (how I would love a bowl of it now). Perlman explained that he usually puts a soup of some kind on the menu, since good soup can be hard to come by in Buenos Aires. This one was paired with a Terrazas Chardonnay Reserva.

[Photo courtesy of Dan Perlman]
The course that seemed to be the most popular of all, however, was the one that followed: freshly made pappadelle pasta with peppers, butter beans, walnuts, lemon zest, garlic, rosemary and olive oil, washed down with a Escorihuela Gascon Rosado.

[Photo courtesy of Dan Perlman]
Then came the maincourse, seabass wrapped in Serrano ham with potato risotto, portobello mushrooms with 'mustard caviar' (mustard seeds that are inflated like popcorn). In a city where there is generally a huge chunk of meat at the center of every evening meal, it was a welcome change to eat fish, which was succulent and served with a Malbec reduction sauce.
Although I am not generally keen on deserts, I really enjoyed the slightly unusual passion fruit cheesecake with a coconut crust. It was not too sweet (perhaps why I liked it so much), although it was served with an incongruous dollop of dulce de leche. As we lingered around the table chatting I felt so relaxed I hardly wanted to leave. Luckily Henry came round with a large cafetiere of strong black coffee to give us the boost we needed to head out into the night, full and content.

[Photo courtesy of Dan Perlman]
If you would like to have dinner at Casa Saltshaker, it is necessary to book in advance. For more details on how to make a reservation see the Casa SaltShaker website.
For more about Casa SaltShaker and other 'closed door' resaturants in Buenos Aires see this post in the Argentina Intependent, and A Life Worth Eating's write-up.
The world's most beautiful bookstore, in Buenos Aires!
Buenos Aires is a bookworm's city: cozy cafes for snuggling up with a novel on every corner, bargain bookshops on Corrientes Avenue, famous literary personalities, and high taxes on technology make Kindles and Tablets rare (that's right, porteños still read real-life, scribble in the margins, flash them on the subway, wallow in the scent of musty spine, thumb the velvety pages BOOKS!). And of course, Buenos Aires is home to the most beautiful bookstore in the world.
[Photo credit: m4caque's photostream/ /CC BY-NC-ND 2.0]
El Ateneo Grand Splendid is one of the biggest bookstores in South America and certainly the most luxurious. Located in the ritzy Recoleta neighborhood, El Ateneo is as splendid as its name, and exudes Buenos Aires's nostalgic elegance.  The building originally housed the theater Teatro Grand Splendid, designed by architects Pero and Torres Armengol in 1919. After years of popular shows, including performances by the famous tango singers Carlos Gardel and Ignacio Corsini, the Grand Splendid was converted into a movie theater in the late '20's, featuring some of the first sound movies shown in Argentina.
All the bookstore's a stage
The El Ateneo publishing house converted this old theater into a bookstore in 2000, thankfully conserving its original aspect, but replacing seating with bookshelves. The theater's spectacular cupola (dome), painted by Italian artist Nazareno Orlandi, depicts an allegory for peace after WWI. Framed by plush crimson curtains, the stage is now a cafe where literary types and people-watchers alike form part of the spectacle; acting like a porteño by sipping a cafe and struggling over a Cortázar story has never been so literal!
Opened in 1912 by Spaniard Pedro Garcia, El Ateneo started out as a publishing house whose initial catalog included The Divine Comedy, Montaigne's essays, Shakespeare, Ruben Dario, Machiavelli and Homer translated and printed for an Argentine readership. In 1968, the publishers launched "The Spring of Letters", a series of lectures and signings with famous authors which eventually evolved into the International Book Fair held annually in April. Today, the editorial forms part of Argentina's most important literary conglomerate with many bookstores throughout BA and the rest of the country.
BYOB: Bring your own book
[Photo credit: violinha's photostream/ /CC BY-NC-SA 2.0]
If you want to be one of the 3,000 who visit this glorious temple of books daily, I recommend waiting for a spot in any of the reading nooks housed where the box seats once lay. Snuggle up with your selections, admire the ornate views, and watch people from all over the world snap photos and delve into texts.
Don't be disappointed by the English book section, though; it contains almost exclusively romance and mystery novels with an occasional classic. There are, however, many books on Latin American art, regional cuisine, guide books, and Argentine culture which make for fun browsing for even those who don't understand a lick of español. Check the basement for music, DVDs, and an extensive children's section, and the upper floors for great views. The first floor houses mostly medical, psychological, and education texts, and you can find Classical and Opera music on the third floor.
[Photo credit: kara brugman's photostream/ /CC BY-NC-ND 2.0]
Don't believe it's the most beautiful bookstore in the world? Neither did The Guardian; in this article they placed El Ateneo at second. Call me dramatic, but I hold to my claim that El Ateneo is number 1! For a great description of the store, try Atlas Obscuro, and if you want to see some more magical bookstores check out this top twenty list at Flavorwire. Or just sit here and watch the following short video on El Ateneo instead:
Location of El Ateneo Grand Splendid Bookstore
Avenida Santa Fe 1860, between Riobamba and Callao, Recoleta
Telephone: 4813-6052
Monday to Thursday: 9am to 10pm
Friday and Saturday: 9am to 12am
Sunday: 12pm to 10pm
A day of art and history at the Museo Nacional de Bellas Artes
The Museo Nacional de Bellas Artes (MNBA), or the National Museum of Fine Arts, should be a destination on the route of every traveler who comes to Buenos Aires (the only reason to miss it would be if you absolutely hate art, history, and free things!).
The building is as pink as the Casa Rosada, and houses an impressive collection of Argentine and international art.  On the ground floor, you'll find pieces spanning from the Middle ages through the 20th Centrury.  Keep your eyes open for classic European artists like Rembrandt van Rijn and El Greco.  The Bellas Artes museum also hosts a breathtaking body of impressionist and post-impressionist artwork, with paintings and drawings from almost every one of this movement's heavy hitters; you'll find Vincent Van Gogh, Claude Monet, Henri de Toulouse-Lautrec, Edgar Degas, Eduardo Manet, Pierre-Auguste Renoir, Paul Gauguin, Berthe Morisot, and Camille Pissarro all represented in one wing, plus an additional room of drawings by Degas and Paul Cezanne.
Argentina's history in brush strokes
The museum originally opened 1896 and was originally located in the Galerias Pacifico (now a shopping mall & cultural center). When you first enter through the main doors, you'll see a lovely plaster sculpture of two lovers, titled Dulce Francia (Lancelot et Genevieve), by the Argentine artist Pablo Curatella Manes.  Behind this piece is a room dedicated to the art popular with Argentina's aristocracy at the the time of the Museum's opening: Pompier.  These sculptures and paintings depict idyllic nudes, most of which are mythological figures.  Also on display is a collection of French furniture of the 18th century popular with the porteña elite, as Paris was considered their "second home" up until World War one.
While all the aforementioned, European art gives an interesting back-story to Argentine life and culture, don't miss the wing dedicated to Argentine artists!  Here you'll find Republican artwork of the mid-1800's, including imposing portraits of the caudillo Juan Manuel de Rosas and his daughter, as well as some wonderful portrayals of Gaucho life.  For those interested in military history, the museum contains a collection of meticulously detailed paintings by Cándido López.  These portray different battles in the War of the Triple Alliance, in which López himself fought and even lost his right arm (he later learned to paint with his left).  He was known to outline these works on the battle field, but their emotive colors are the result of painting later by memory.

[Photo credit: Sebastián-Dario's Fickr account/ /CC BY-NC 2.0]
Tucked away behind the room with Lopez's battle scenes, is a small room of Argentine art of the end of the 19th century.  Here you'll find some striking  paintings and sculptures, which mark the beginning of a particular national artistic cannon.  One is Angel Della Valle's provocative painting La Vuelta del Malón (The Return of the Raid), which displays a group of malevolent Indigenous men on horseback, complete with an unconscious, semi-naked white woman in tow.  This piece was painted after General Roca's infamous Conquest of the Desert, a military campaign by the Argentine government which effectively wiped out most of the indigenous population in Patagonia and is reflective of the debate of "Civilization vs. Barbarism" which dominated Argentine culture of the 1800's.  Another notable piece is Sin Pan  y Sin Trabajo (No Bread and No Work) by Ernesto de la Cárcova which depicts a young couple sitting at an empty table, the man's ax lying idle, and the woman nursing a baby to her emaciated chest, a powerful critique of turn-of-'the-century industrialization and modernization.
Finally, the first floor of the MNBA holds a wonderful collection of Argentine art of the 20th century.  Here the artistic canvas of Argentina's history truly shines, as a unique cultural aesthetic emerges and artists struggle with themes of dictatorship, Peronism, civil unrest, progress, and finally, democracy.  Unfortunately, the first floor of the Bellas Artes museum is currently closed for construction as of mid 2012, with no scheduled date of completion.  Bellow is a detail from the painting Primeros Pasos by Argentine great Antonio Berni, just one of the many exciting pieces to check out once the first floor reopens.

[Photo credit: Sebastián-Dario's Fickr account/ /CC BY-NC 2.0]
Location, location, location! High Culture in Recoleta

The Fine Arts Museum is located in an ideal area: the cultural epicenter of Recoleta.  To get the best out of this region of the city, we recommend you take our Recoleta Walking Tour, which highlights the rich and famous's extravagant tombs in the Recoleta Cemetery, as well as the places they loved while living in BA's upscale neighborhoods of Retiro and Recoleta.  
After touring and checking out the MNBA, have a drink at La Biela cafe, shop the ferias in San Martin de Tours plaza on weekends, then check out a free exhibit at the Recoleta Cultural Center.  After you've strolled through the latest in design in the Buenos Aires Design Mall, cross over the bridge covered with murals, which will lead you to the neoclassical building of University of Buenos Aires's Law School. 
Continuing up Figeroa Alcorta, you'll hit the wonderful Florais Mechanica mechanical flower sculpture, which opens all day, and "wilts" at nightfall.  Cross back across the Plaza Justo park, but watch out for the runners and people exercising on funky looking gym equipment!  This park also holds an interesting collection of sculptures and is an ideal spot to take a seat and reflect on artwork's importance in Argentine culture.  Check out even more ideas of what to do in Recoleta on our Recoleta page.
For more information on the current exhibits and the history of the Bellas Artes museum, check out the MNBA website.  And read other travelers' reviews of the Museum on TripAdvisor.
Location and hours of the Museo Nacional de Bellas Artes
Avenida Del Libertador 1473, between Av. Pueyrredon and Dr. Luis Agote, Recoleta
Free Admission
Tuesday to Friday 12:30 pm to 8:30 pm
Saturday and Sunday 9:30 am to 8:30 pm
Closed Mondays
Website: http://www.mnba.org.ar/english.php
The best Helado / Gelato / Ice Cream in Buenos Aires?
Out of all the ice cream parlors in Buenos Aires, Un Altra Volta in Recoleta is certainly up there in the cream of the crop. And this is in a city where the ice cream is some of the best in the world, due to the heavy Italian influence here. If the picture above does not convince you, read on for more information on Buenos Aires' grand ice cream tradition.
Buenos Aires and the Italian Connection
In related articles reviewing Banchero Pizzeria and Caminito street, both in the 'Italian' barrio of La Boca, you can read more in depth history regarding the huge amounts of Italian immigration into Argentina around the turn of the 20th century. Of course, they brought with them Pizza and Pasta, two staples of both the diets of Italy and Buenos Aires, but also Ice Cream, or gelato (the version more common in Italy), the third prong of the proud Italian food triumvirate.
It has been dared to say that Un Altra Volta (known by most simply as Volta) boasts better ice cream than anywhere in Italy… though that is a bold statement. At this point, it must be clarified that Volta serves gelato, and there is a slight difference between this Italian concoction and your common ice cream or helado.
Ice Cream v. Gelato
So what is gelato anyway? Here, Buenos Aires foodie Saltshaker clears things up in his own review of Un Altra Volta:
"…the nutshell difference between gelato and ice cream…? Gelato has no air whipped into it, even top of the line premium ice creams have some, and lower quality ones have lots. Gelato does not generally contain cream, it uses whole milk, and contains more eggs. This results in a treat that is lower in fat (generally 3-6% versus ice cream's 11-15%) but denser in texture, more intensity of flavor, and it's served at a slightly warmer temperature to make it soft enough to scoop, yet, because of the egg versus cream thing, it doesn't tend to drip all over as quickly."
For the ice cream fanatic, Saltshaker also has an excellent page dedicated to an overview of Ice Cream Parlors in Buenos Aires.
Another well-known Buenos Aires foodie, La Otra Dimension, adds the following about the difference of gelato…
"…gelato flavours are often wonderfully intense thanks two factors. First of all, gelato has a lower fat content than ice cream; and fat, by nature, coats our tastebuds and dulls our perception of flavour. More importantly, gelato is made with a much higher proportion of fresh and natural flavouring agents such as ripe fruits or nuts."
Note that the lower fat content in gelato makes it less filling, so you can eat a lot more, and make up for the fact that it is less fattening than regular ice cream.
Gelato from the gods
Whatever your choice of flavors, Volta does not disappoint. If you're looking for a real taste of Buenos Aires, try the extreme sweetness of dulce de leche flavored gelato. Mix in contrasting strong flavor like chocolate amargo (dark chocolate) to balance the flavors. Both of these choices are just heavenly at Un Altra Volta.
Futuristic ice cream at Un Altra Volta
The ice cream parlor is also a fantastic place to slowly enjoy your gelato, with a very white, futuristic, clean-looking interior that makes you feel like you have been transported into the future where the secret of 100% perfect ice cream has finally been cracked.
It is also a great place for a coffee with friends, especially on a nice spring or summer day when you can sit out in the lovely shaded patio at the back. There is always a nice mix of people there, always quite busy, with a chatty atmosphere, typical of the cafes in Recoleta. Plus, the staff are extremely courteous and attentive. And if you don't feel like ice cream, then a nice alternative is coffee with a few of their finely crafted chocolates, which although they don't quite reach the heights of the gelato, are certainly very tasty.
Location of Un Altra Volta
Avenida Santa Fe 1826, between Av. Callao & Riobamba, Recoleta
[see website for other locations]
Delivery Tel: 0810-88-VOLTA,  Website: http://www.unaltravolta.com.ar/
Tour del Gelato – discovering the world's best gelato.
In search of the perfect empanada in Buenos Aires…
It's tough to try to find the 'best' empanadas in Buenos Aires (just ask Saltshaker). Primarily because there are so many different places to try them at, and of course many different types of empanada from across the different regions of Argentina, and even the rest of Latin America. At Cumana in Recoleta, the empanadas are very good, are of excellent value, and your empanada craving will be properly satiated.
Empanadas, vino tinto and… colorful crayons?
At Cumana, the empanadas are not the only fun to be had. As shown in the photo at the top of this post, colorful crayons are available for children and grown-up kids alike, to be used on the paper tablecloths. This of course inevitably leads to silliness such as chalking down your order on the table in front of you. Still, if your Spanish pronunciation is a little rusty, it definitely beats plain old pointing at the items on the menu that you want to order.
As well as creating this fun juvenile air with the crayons, the general atmosphere at Cumana is also buzzing, busy and brash. The tables and seats are fairly small and packed in tight, and the place always seems to be full at both lunch and dinner sittings, so it is not a place to go for a quiet, relaxed or intimate conversation. Instead, Cumana is there for traditional Argentine food in a traditional energetic, rustic Argentine setting.
OK, so the service is pretty slow, but this is something forgivable in Buenos Aires, because it really is the norm here. You just have to adjust to it, and change your expectations accordingly: i.e. let go and relax, there's no rush.
But enough about the service and atmosphere, and on to the main reason you're here. To sample…
Cumana's Empanadas
As you can see, the empanadas at Cumana look pretty tasty. They should be properly browned in places on the outside, and even slightly burned here and there. It just adds to the flavor a little. So Cumana delivers on that front.
For an introducion to Cumana empanadas, below you will find a more detailed description of a few of the more popular fillings and flavors:
Lomo Picante – Chopped lomo (tenderloin) steak in a mildly spicy, meaty sauce. This is a great one to start with. It's not as spicy as the name suggests, but the more subtle flavors of a frankly delicious sauce to come to the fore. And the chopped lomo steak easily beats the standard minced beef from your average empanada de carne.
Humita – Creamed corn. Cumana's version outdoes most local attempts by using a lot of corn, and just the right amount of tasty white cream sauce, and so their Humita gets the thumbs up.
Jamon y Queso – Ham and cheese. Apart from beef, jamon y queso is the next most common empanada filling you see in Buenos Aires. It is a basic, rarely spectacular empanada filling, and to be honest, quite hard to mess up. Cumana does a respectable version, with a good amount of ham, which sometimes can be a problem.
Choclo, Calabaza y Queso – Corn, squash and cheese. A great combination of fillings that really work wonders together. Not a traditional mix, but one of Cumana's creations that really make their selection a step above the rest.
So, all in all, above average empanada fillings with a couple of stand outs. And, although fairly small as compared to their counterparts at El Sanjuanino, they offer good value. Cumana's empanadas are cooked in a traditional large wood-burning oven, as shown in this picture:
Other Traditional Argentine Dishes at Cumana
Cumana also offers up many other great regional dishes from around the rest of Argentina and Latin America. Their Locro, Mondongo and Tamales are all very tasty. In fact, in addition to enjoying the same empanada fillings at Cumana, Saltshaker also speaks very highly of their Locro.
Also very traditional in the city of Buenos Aires are noquis (gnocchi). Pictured above are noquis con crema de tomate y albahaca (gnocchi in a creamy tomato sauce with basil). They are cooked in a clay pot in the same oven as the empanadas, and with lots of cheese in the creamy tomato sauce, which produces a lovely crunchy top, and a delicious gooey creamy, cheesy mess underneath. Simply spectacular.
Share the goodness
Go with a few friends, order a bunch of different empanadas (especially the delicious lomo picante and choclo, calabaza y queso versions), maybe a few other different traditional Argentine dishes such as the Locro, and share the lot. You will eat extremely well for very few pesos. Wash it all down with the house vino tinto (red wine) and your Cumana experience is complete.
Location of Cumana Empanadas
Rodriguez Pena 1149, between Arenales & Santa Fe, Recoleta
Tel: 4813 9207
The Great Buenos Aires Beer Hunt
The Buller brewpub in Recoleta is one of the few places in Buenos Aires where you can get a proper pint of beer. 'Proper', of course, refers to two things. Firstly, beer served in a traditional pint glass. That is key. Beer just tastes better that way. But secondly, and far more importantly, the BEER MUST TASTE GOOD, and not like the mass-produced, sub-standard brews that are served in the majority of bars across the world, and is especially prevalent in Argentina, where Quilmes, high on preservatives and additives but low on any kind of taste whatsoever, prevails.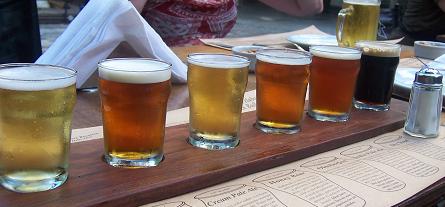 A Short Introduction to Beer in Buenos Aires
Asado Argentina wrote an excellent introduction about beers that are available in Argentina, although it doesn't make for great reading for a beer fan… there is not a whole lot of flavorful beer to be found easily here, and most of the time you will have to make do with the usual suspects of Quilmes, Isenbeck, Brahma (from neighbors Brazil), and some 'international' beers that are actually made under license in Argentina and are closer to Quilmes than anything else: Heineken, Warsteiner, Budweiser and Stella Artois. In fact, it's probable that Quilmes brews most or all of those in Argentina too!
There are fortunately some far better beers to be found in Buenos Aires, but you are going to have to hunt them down. An excellent starting point for such a search is this beer 'scooping' report on Buenos Aires, which shows that there is a large amount of small breweries and brewpubs dotted around Buenos Aires, waiting to be found… but also that many are closing, probably due to lack of business.
Anyway, Buller, is as good as any place to start.

Buller: The Beer
For a more in depth description of each of Buller's six brews, check out  BA blogger Ken's review. To sample the full Buller range, you needn't drink six pints (although it is tempting), instead order the sample taster that Buller do for an affordable price, with cute little quarter pint glasses, as seen in the pictures above and below, with names shown on the table placemat underneath:
As you will note from Ken's posting of his over-the-top tasting notes, the best beers at Buller are the refreshing Light Lager, the deceptively alcholic and complex Honey Beer and the coffee-chocolate Dry Stout, with the 'Cotton Candy' Oktoberfest not far behind. Really the Cream and Indian Pale Ales are nothing to write home about, and did not contain the level of hoppiness that beers in that style should.
Buller: Recoleta Location, Recoleta Prices
The pub is located in the 'tourist strip' of bars, clubs and restaurants that runs along calle R. M. Ortiz, right in front of that most famous (and fascinating) of Buenos Aires tourist attractions, the Recoleta Cemetery.
However, Buller is probably one of the most pleasant places along this strip, almost completely due to the nice patio area it has out the front (see right).
Prices may run a little steep for the home-brewed beer, especially if you are comparing a pint at Buller to a liter of Quilmes at your local supermarket. However, it does taste two to three times better than Quilmes, so keep that in mind. And combatting the higher prices are the happy hour specials, which last from 6-9pm every day.
Bottoms up!
Location of Buller Pub and Brewery
Presidente Roberto M. Ortiz 1827, between Guido and Quintana, Recoleta
[Other location: Paraguay 428, City Center]
Tel: 4808-9061/2
An International Pizza Phenomenon
Piola is an international chain of pizzerias, originally hailing from Treviso, Italy, but now with many restaurants in the USA, Mexico, Chile, Brazil and Argentina. However, it seems as they spread far and wide, they didn't lose much of the supposed stereotypical Italian arrogance on arriving in Buenos Aires. Here's a little example from the Piola website:
"Piola opened in Argentina in 1993, straight from Treviso, Italy. It revolutionized the Buenos Aires food scene to the point where the local press talks about pre and post Piola eras."
A little dramatic, yes, but it's all well and good that they are so sure about the groundbreaking quality of their food. Read on to see if Piola's claims are strong, or if their exaggerations are nothing more than just that.
Stylishly Decorated Interior, Stylishly Slow Wait Staff
The surroundings and atmosphere are certainly not disappointing at Piola – it's clearly hip, trendy, cool. Based in up-market Recoleta, pop-art adorns the walls, the long thin entrance bar is very stylish, there is a lovely little courtyard out the back (see picture below) – perfect for summer evening meals with friends, and of course, many of the thin young waiters and waitresses are as pleasant to look at as the surroundings.
Well, the wait staff had to be hired for something, because they certainly don't do much waiting. The diners are the ones that have to wait at Piola. Service here can be painfully slow, starting with waiting to be acknowledged when seated, and continuing all the way through the night to the long-awaited arrival of the bill. Even by Buenos Aires standards, service is very slow and impersonal at Piola, so take that into concern when planning the rest of your evening.
The Pizza at Piola
Above is the small Quattro Formaggi, representative of  the pizza at Piola which is, as you would expect, more traditionally Italian than the Argentine versions you get in most pizzerias in Buenos Aires (not that the Argentine versions are bad, try the pizza at Guerrin and Banchero for a more local style). Whereas those Argentine pizza versions are big on mozzarella and fluffy dough, Piola does a more understated Italian style ('less is more' for the toppings) that also goes down very nicely indeed.
It is pizza a la piedra, in that it is baked directly on the stone (piedra) floor of the oven (which just about can be seen in the next picture below, behind the chef) and a thin crust version of this style, although it is soft rather than crispy.
Piola Argentina: Nice Food, But a Little Pricey
Yes, the pizza is very nice, but it is a little on the caro (expensive) side. A small pizza for one may cost twice as much than many grande (large) pizzas at local spots. Also on the menu are pastas, including a nice but simple affair called Spaghetti Alla Crudaiola (fresh pasta, tomato, buffalo mozzarella, olive oil, basil and parmesan shavings), as well as coffee and desserts – all a bit overpriced. Nevertheless, it must be noted that BA blogger Robert says that the tiramasu at Piola is 'to die for' (see the 1st comment of that post, by Robert), so it may be worth a taste.
Location of Pizza Piola, Buenos Aires
Libertad 1078, between Av. Santa Fe & Marcelo T de Alvear, Recoleta
Tel: 4812 0690,  Website: http://www.piola.it/
Upscale Neighborhood Location on the edge of Recoleta
The Four Seasons is equidistant between the heart of Recoleta and the Microcentro, and so it is within walking distance of many major attractions (i.e. Recoleta Cemetery, Teatro Colon, The Obelisk, Avenida Alvear, Florida Street, Puerto Madero, Plaza San Martin). Obviously it is also perfectly placed for a very short and cheap taxi trip to any of these places.
The Four Seasons is found close to the end of busy Avenida 9 de Julio, but at that point the noise is not as noticeable. In fact quite the opposite – it is a peaceful, nice area to stay in, where you wouldn't realize how close to the center you actually are. Add to the mix the fact that some of the best (high-end) shopping and restaurants are in this area, and you have one of the best hotel locations in Buenos Aires.
Four Seasons Hotel Rooms
As you would expect in this price range, the rooms are very large, of course very clean & well turned out, tastefully decorated and perfectly furnished, but nothing over the top in extravagance.
The bathrooms are also lush, with nice features like high quality bathrobes, luxurious towels and lovely fluffy slippers. Also the shower and bath are oversized with marble everywhere, the shower being especially nice after a long day's sightseeing, as it has a huge showerhead with an amazing rate of water flow & pressure. The beds are superb, with a down comforter. Very impressive.
Hotel Service
Also for the price, you would expect the staff to keep you well looked after. And they go beyond that, especially the attentive and knowledgeable concierge desk. Make the most of them – ask them to organize, among other things, restaurant reservations for you – you will also get much better service at the restaurants by doing so, due to the power of the Four Seasons name in Buenos Aires!
Most that stay in the Four Seasons say the main factor that sets it apart from other hotels in this upper price range is their outstanding service. Nice to know they are working hard for your money! Extensive personal attention is given to every guest, and you will often be referred to by name by staff you have never seen before. They are on the whole genuinely kind without being over the top or intrusive.
Nice extras like fresh fruit every day are a bonus. And, if anything does go wrong, they will fix it in a flash and usually provide something complimentary for your trouble.
Four Seasons Features
Attractive outdoor pool to the rear of the hotel.
Seven suite turn-of-the-20th-century chateau with 24 hour butler service, where rock stars like U2 and the Rolling Stones stay (complete with crazy fans camping outside day and night) when they are in town. However, it comes at a huge cost. If it's a little out of your budget, you can still appreciate the amazing architecture inside the mansion by taking Sunday brunch there.
Gorgeous gym and impressive spa.
Business center to check email etc, free use, with complimentary drinks.
Cellular phone for local use.
The hotel restaurant is called Le Mistral, and is a quality, opulent establishment.
American-style bar in Recoleta
Shoeless Joe's El Alamo Bar (to use it's full name) doesn't exactly scream 'Buenos Aires'. Instead, it hollers 'American Expat Bar'. A lot of Americans have relocated to Buenos Aires over the last few years, which is probably why El Alamo exists. That, and shorter-term visitors who are feeling a little homesick, or want to catch a US or international sports event here on TV.
To cut a long story short, the main attraction of this bar for most of its visitors is its cheap and plentiful beer (including 4 liter pitchers), sometimes with special promotions:
"Ladies: before 10pm, FREE beer and cocktails"
As for the bar, well it is nothing special, just a typical, unimaginative bar that could be found in any major city, but then I am sure the people come for the cheap drinks, and don't really remember much of the surroundings.
There are two levels, downstairs for food and sports TV (they claim to show all major American and international sports events), and upstairs which is accessed by a separate outside entrance to the left, which has louder music, and is actually a little more pleasing to the eye, decor wise, with nice antique-style tables and chandeliers.

Pub Grub at El Alamo
Finally, the food is decent, solid, unassuming, reasonably priced, american bar food, which may serve as a nice respite to those missing home. They offer a pretty excellent 'Club House' sandwich, of nicely grilled chicken breast, bacon (a novelty in Buenos Aires!), tomato and lettuce, with fries, that unfortunately wilt in their greasyness. Exactly the kind of borderline junk food that many visitors to Buenos Aires miss.
Also available: individual pizzas, which are nice enough, and nachos with guacamole (even more of a novelty in Buenos Aires, though they seem to be gaining in popularity). However, the guacamole is tasteless. Fortunately, the cheap pitcher of beer to wash it all down makes that but a distant thought.
Location of Shoeless Joe's El Alamo Bar
Uruguay 1175 (between Avenida Santa Fe & Arenales), Recoleta
Tel: 4813-7324, website: http://www.facebook.com/pages/El-Alamo-Buenos-Aires/112218648861745