Legendary Locro for the May Revolution
In the heart of Alto Palermo, just in front of where the 41 & 59 buses let off behind the sprawling Parque Las Heras, you will find a curious little hole-in-the-wall with a BIG reputation for serving up authentic regional Northern Argentine cuisine.
A pulperia as its fading, weather-worn storefront sign proudly displays, is the name given to a restaurant that serves the "food of the gauchos" – a classification that is strongly reinforced by the many framed images of this classic Argentine cowboy hanging slightly askew from its walls.
Clearly, this place isn't going for any interior design awards, but that hasn't stopped its famed owner Hector from winning the awards that count: the culinary kind.  One look at his front window emblazoned with effusive praise from Guía Oleo (Buenos Aires' version of Yelp) and TripAdvisor says it all.
The May Revolution / Locro Connection
The BuenosTours team came here in search of a piping hot bowl of Hector's lavishly lauded locro – Argentina's national dish – to celebrate the Día de la Patria, or the anniversary of the May Revolution.  What we found was the faithful reproduction of an indigenous dish that warmed our bellies and spirits on what turned out to be a cold and rainy day in Buenos Aires.  Apropos, since the weather on that fateful day back in 1810 was similarly sopping, but saw a sudden break to sunshine the moment Argentina's independence was declared from the balcony of the Cabildo.  Legend says that this is why the sun appears on the Argentine flag to this day!
After waiting for 2 hrs+ in a line that spilled out 30 people deep in two directions on the sidewalk (one for eat-in and one for take-out), our crew enjoyed an assortment of not only the luscious locro, but a pile of crispy-on-the-outside, soft-on-the-inside empanadas, topped off with the traditional May Revolution dessert of membrillo (quince paste) over a slab of soft white cheese (our sources tell us membrillo was served in little pockets of fried dough by street vendors shortly after independence was declared, which seems as dubious as the sun/flag story, but equally as fun).
In case you're wondering how locro came to be forever associated with this national holiday, remember that the transition from Spanish colonial power to the first Argentine self-government (the so-called Primera Junta) was desirous of a symbol of something distinctly local and Latin in origin.  And what better symbol than a tasty dish from the indigenous Cuyo tribe of the Northern Andes?  There are few things more appreciated here than food, and few things more "local" than honoring our South American mainland ancestors.

In Hector's Words
Hector was kind enough to step away from his duties as both primary server and Man of the Hour to grant us a quick interview so we could find out what all the fuss was about.
BT: What province does your menu represent?
Hector: All of the food comes from Salta, in the North.
BT: How did you learn how to cook this regional cuisine?
Hector: I learned from my father in Salta, who always had regional food in the house.  It was nothing more than wanting to continue the culinary traditions that existed in my house when I was growing up.
BT: And what are the typical foods of that region?
Hector: Locro, tamales, and guisos, among others
BT: What is your favorite flavor of empanada that you offer?
Hector: I like the Salteña, which contains spicy beef and potatoes.
BT: How was this restaurant born?
Hector: This restuarant was founded in the year 1963, when I was still just a boy.  I came to work here in 1973, and in the year 2000, the owner of this place didn't want to keep going, so I took it over with 3 others.  We have continued all the same traditions; we haven't changed a thing.
BT: And one more… what is the origin of the name "Ña Serapia"?
Hector: The word Ña is short for doña, which means woman in the local dialect, and Serapia was my mother's first name.
So there you have it, folks.  A hearty thank you to Hector for keeping the delicious culinary traditions of Salta alive, and for gracing us with an unforgettable bowl of chorizo and hominy stew to celebrate this momentous occasion in Argentine history. Best locro in the city?  It's hard to say without sampling them all, but we'll let the local patrons – one of whom told us that he has been coming here for over 30 years every May 25th for the locro alone – be the judge!
For more information, check out the Inside Buenos Aires and My Beautiful Air blogs, which both mention our main man above.
Address: 3357 Avenida La Heras
Barrio: Palermo
Phone Number: +54 11 4801-5307
To read more please, click here
Francisco and Marcelo Terren share their beer-brewing secrets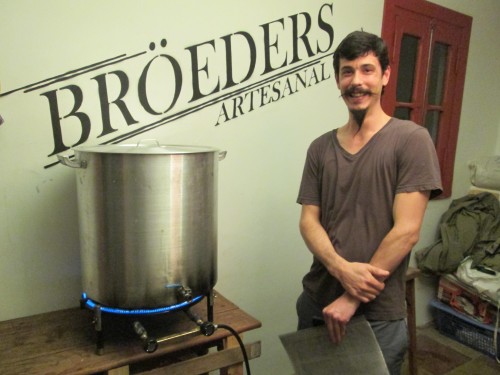 While Buenos Aires has a well-established reputation as a city of fine wines, the typical Argentinian lager will leave any beer lover disappointed. Few bars have beer on tap and while the ubiquitous litre bottles of the local lager Quilmes score points for being cheap and invariably served cold, they get few for taste.
But beer-guzzlers need not panic. The good news is high-quality artesanal beer can be found in Buenos Aires. Following a growing trend in microbreweries in the city led by the likes of Antares and Buller, Bröeders produces some of the best cerveza artesenal (craft beer) around. Being beer enthusiasts, the BuenosTours team jumped at the chance to join Francisco and Marcelo Terren of Bröeders one Tuesday evening to watch them in action and learn about the beer-making process.
Craft Beer in Buenos Aires: Starting out
For just over a year, brothers Francisco and Marcelo Terren have been brewing Bröeders at their home brewery at their mother's Palermo home, when they were inspired to make their own beer after taking a beer-making course. While on holiday in New York, wine-loving Francisco hoped to bring back a beer-making kit he had read about as a birthday present for Marcelo, who had always been keener on beer. But when he was unable to find the kit, back in Buenos Aires the present became signing-up for a beer-making course instead.
Soon they were hooked on brewing. After starting out in the kitchen, brewing in a 20 liter pot on their mother's hob, the brothers later converted the roof top shed into a compact micro-brewery, a well-organised space from which they currently produce 320 liters a month of various beers including Indian Pale Ale, Scottish Ale, Porter, Honey Beer and Barley Wine. All that was missing was the name. Marcelo and Francisco chose the name Bröeders before finding out that broeder means brother in dutch, which served to confirm their choice.
Marcelo put his background in graphic design into use in developing a logo and brand and the brothers started a weekly beer night with NOLAchef. Bröeders Beer Night is every Thursday night at the puertas cerradas (closed door) restaurant, where a selection of 4 different Bröeders beers is teamed with Cajun and Creole food.
Beer brewing process
Working from their expanding folder of beer recipes compiled by experimenting with classic recipes, tweaking and adapting them and taking tips from the network local brew-masters until they are happy with the taste, Marcelo and Francisco get together to 'cook' every Tuesday night. For a beer-lover, peeking inside their impeccably organized micro brewery is akin to Charlie's first glimpse of the inner workings of Willy Wonka's chocolate factory.
In front of me I saw shelves with labelled containers of various hops and malts, neatly stacked brown bottles of beer, barrels, kegs and a large gas burner with a 20 liter pot brewing. There was a tempting aroma that smelt like a sweet, malty porridge; we could hear the liquid bubbling and the hiss of the gas burner, and there was an intense heat emitted from the burner.
"Jesse, we have to cook!"
With a glass of Bröeders IPA in my hand (pulled from a keg on the terrace), I tried to pay attention and fight-off drunkenness as Francisco talked me through the brewing schedule. Each week they begin at about 5pm with the maceration process. After selecting the malts according to the recipe they are using (the flavor of the malts depends on how long they have been toasted, and at what temperature), the next step is to heat the malt and brew it into a big 'tea' for about an hour and half, during which time the bulk of the grain is removed and discarded.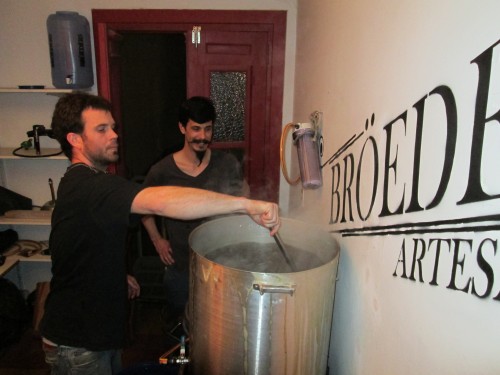 At around 7pm Marcelo and Francisco begin "boiling and hopping" – the hops are added and the  wort (unfermented beer) is boiled for an hour and gently stirred. The brothers use local hops in their ales; cascade hops from El Bosón.
After one hour of boiling, the next stage is to separate the remains of the grains and hops. "This is the whirlpool stage, a key part of the process," Marcelo explained. "What you do is stir the mosto (wort) for a long time so that the centrifugal force draws the trub (brewing term from the German for sediment, the unwanted remains of the hops and the grains) into the middle, where they form a kind of cake. This way we make sure the beer is not astringent."
With the trub gathered into a cake in the center of the pot, the wort is drained and rapidly cooled on its way from the pot to the barrel by passing it through a hose with a second hose containing cold running water adjoined (see photo above).
Let the fermentation begin!
The next step was to add the yeast. There was an air of excitement as Marcelo went downstairs to fetch it from the fridge. "Wait and see how it foams up when you add the yeast, it's like a big party in there," he said. The brothers explained that the type of yeast used is key to the flavor of the beer and they experimented with several types before finding Nottingham Dry Yeast. As promised, as soon as the yeast was added the liquid frothed up dramatically. And with that the barrel was sealed and left to ferment for two weeks.
Keep it clean
By now the fine details of the beer making process were becoming hazy, as I helped myself to another drink from the Bröeders keg. But for Marcelo and Francisco the work wasn't over yet – there was cleaning to do. As soon as the wort was being cooled the brothers took a great deal of care to ensure all the equipment was clean and sterile, spraying taps and nozzles with alcohol and working in a methodical and organized way. This level of meticulousness about cleanliness had come from experience, after they initially had to throw out several barrels that had become 'contaminated'.
With the brewery clean and tidy there was just time to finish the night with a taste of Porter on the terrace. A drink well earned by the Terrens.
More info on Bröeders Beer Night and how to book
To read more about the Bröeders Beer night at Nola see these write-ups on Pick up the Fork, the Argentina Independent, Anuva Wines and Gringo in Buenos Aires.
To make a reservation for Bröeders Beer Night (location in Palermo Viejo provided upon booking), please check:
http://www.nolabuenosaires.com/craft-beer-night-buenos-aires/
OR
http://broedersartesanal.com/
You can also buy pints of Bröeders on tap at a decent price, at the Fukuro Noodle Bar in Palermo Hollywood (Costa Rica 5514, corner with Humboldt).
Cheers!
Q&A with the author of the Pick Up The Fork blog

[Photo courtesy of Allie Lazar]
Originally from Chicago in the United States, Allie Lazar has lived in Buenos Aires for nearly seven years. She is a freelance writer and author of the food blog Pick Up The Fork.
When did you first come to Buenos Aires?
In July 2006, as an exchange student. I "studied" Political Science at UBA (the University of Buenos Aires). It was supposed to be a 6 month study abroad program but I extended it to a year. Which later was extended to 6 more years, without the studying.
Why did you stay?
It gave me anxiety to think my BA expiration date was approaching; there were too many restaurants that I hadn't tried yet. I wasn't crazy about the idea of going back to the US, graduating, getting a real job and becoming an adult, so staying in BA seemed like the least sucky option.
Why did you start to write your blog Pick up the Fork?
Finding a decent restaurant back in the day was a challenge, and so often I became victim of throwing my pesos down the shitter on terrible overpriced meals with horrendous service. There weren't many honest restaurant resources, and even less in English, so I began to put my constant restaurant visiting and annoying food picture taking to some semi-respectable use.
What's your daily routine?
Since I work freelance, writing for magazines or websites, managing social media pages and organizing private food tours, I'm generally working on a few different projects at once – there are some weeks I'm bombarded with work and spend 24/7 at a café clacking away on my computer nonstop while also visiting restaurants. But if I don't have a deadline or project due, there are many days when I don't even put pants on.
How many times do you eat out a week?
Depends on the week and how fat I feel. If I'm working on an article and need to do research, I'll eat out every day – right now I'm working on two articles, one brunch / another lunch specials, so there's a lot of midday/morning eating going on.
What is your favourite neighbourhood in Buenos Aires?
Palermo Hollywood/Colegiales for convenience and street art, Villa Crespo for the eclectic mix of restaurants, Almagro/Abasto for the latino flava. My new favorite spot in BsAs is the lagos de Palermo on a weekday, it's dog park central. It's where all of the dog walkers (pictured below) congregate and take their packs – there are hundreds of dogs hanging out, it's heaven.

[Photo credit: http://flic.kr/p/a1LKKS/ CC BY 2.0]
What is your favourite way to spend a Sunday in Buenos Aires?
If I were a liar (and I am) I'd fabricate some story to make my lounging sedentary weekend sound similar to what an adventurous and active person may do on the weekends, doing some kind of sport and followed by a healthy meal at a cute café.
What is your favourite neighbourhood restaurant?
Since I'm on a constant quest for a great restaurant, I rarely repeat. At the moment I really have a thing for quick, fast food spots: Shawarma inside the Mercado de Belgrano, La Cresta's wraps are bomb (Bulnes 829, Almagro), so is El Banco Rojo's spicy lamb empanadas and doner kebab (Bolivar 914, San Telmo). When I'm homesick, I go to La Crespo (Thames 612, Villa Crespo) for a pastrami sandwich (pictured).

[Photo credit: Allie Lazar, http://pickupthefork.com/2011/06/05/la-crespo-a-jewish-american-palermonites-heaven/]
Where is the best place to get coffee / steak / ice cream / a beer in Buenos Aires?
Ok, so I've never been good at choosing the best, so here are SOME of my favorites:
Coffee: in Bocca al Lupo (Bonpland 1965, Palermo Hollywood), I don't know how they get it to taste so good! And the overall space is pretty perfect.
Steak: I like each one of these places for different reasons, they all might not have the best steak, but something about it makes me happy: Parrilla Peña (Rodriguez Peña 682, Recoleta), La Lechuza (Uriarte 1980, Palermo Soho), La Marucha (11 de Septiembre 3702, Nuñez), El Pobre Luis (Arribeños 2393, Belgrano), La Brigada (Estados Unidos 465, San Telmo), I could go on…
Ice cream: El Capricci's (Paraguay 5201, Palermo) marroc y chocolate profundo, Cadore's (Corrientes 1696, San Nicolas) nutella, Guardiola's (Jorge Newbery 1967, Las Cañitas) passion fruit, anything from Jauja (Av Cerviño 3901, Palermo).
Beer: I'm more of a cocktail drinker, and I just made a list of my favorite bars on the Pick Up The Fork Drink Drank Drunk guide.
What was the best meal you have eaten in Buenos Aires?
Hernan Gipponi just started a new concept on Monday nights with one communal table (called One Table), where he cooks and serves the food table-side. The wines are paired by their sommelier (one of the best in the country) Andres Rosberg, who also happens to be the president of the Argentine Sommelier Association. I went last week and it was phenomenal meal and a wonderful overall dining experience.
What are your favorite shops?
I don't shop for shoes or clothes, instead I spend all my money on ridiculously expensive cheese. Barrio Chino in Belgrano (pictured below) is like my food mecca. Mercado de Progreso (Avenida Rivadavia 5430, Caballito) and Mercado de Belgrano (Juramento 2527, Belgrano) are also good places to shop.

[Photo credit: http://flic.kr/p/9aQTLp/ CC BY-SA 2.0]
Where do you go for a romantic night out in Buenos Aires?
I like to take that special someone on a romantic stroll for a smoky truck of greasy choripanes.
What is your exercise routine?
Pfffffff. It generally consists of two hours debating whether I should work out; sometimes I get far enough to put a sports bra on but ultimately decide that my new work out / diet routine will start tomorrow.
Do you have any collections?
I save a lot of menus, ideal bathroom reading material.
What are your favourite websites and blogs?
I'm on Gawker and The Onion daily. I also read way too many food blogs, my favorites at the moment are First We Feast, Thug Kitchen and The Perennial Plate. And of course Daniel Tunnard's blog, author of "Colectivaizeishon, one man's pointless quest to take all the buses in Buenos Aires."
What are the most played songs in your music collection?
At the moment I listen to mostly NPR podcasts. Yes, I'm 27 going on a liberal, grey haired 55.
What do you never leave the house without?
A bad attitude.
What is the most unusual thing you have been asked by a stranger in Buenos Aires?
A stoner with mulletlocks (dreadlocks + mullet) approached me at Plaza Francia and asked: "No me prestás un zapato?" (Can you lend me a shoe?")

What is your favorite porteño saying or expression?
All of these.
What three places or things to do would you recommend to a visitor to the city?
Wander around Chacarita Cemetery (pictured below), guzzle lots of cheap wine, visit some of the more unknown café notables.

[Photo credit: http://flic.kr/p/ck2Nwh/ CC BY 2.0]
Any insider tips?
You can see all the famous sightseeing spots in less than two days, and most are overrated (cough La Boca cough). The best way to experience Buenos Aires is walking around, going café and restaurant hopping.
Thank you Allie! Questions? You can leave a comment for Allie on her famous food blog Pick up the Fork. And if you are an interesting expat/local in Buenos Aires and would like us to interview you, feel free to get in touch and tell us why.
Visit the MALBA (Museo de Arte Latinoamericano de Buenos Aires)
The MALBA is without a doubt one of Buenos Aires's premier museums. Housed in a modern building designed to reflect the city blocks which flank it, this is one of those rare museums where you feel like the architecture is truly part of the show. High, geometric windows allow tons of natural light to illuminate a dazzling collection of modern and contemporary Latin American art.
[Photo credit: kara brugman's photostream/ /CC BY-NC-ND 2.0]
The MALBA opened its doors to the public in 2001, with a mission to "collect, preserve, research, and promote Latin American art from the onset of the 20th century to the present." Created by the Costantini foundation, this museum holds the spectacular collection of Latin American art amassed by Argentine real-estate developer, philanthropist, and patron of the arts Eduardo Costantini.
The building's granite exterior belies the lightness inside: a limestone interior with cristal panes of glass spanning the entirety of one wall, the space was designed to allow optimal use of natural sunlight, while still perserving the artwork. In many ways, the white limestone and clean lines provide a perfect canvas on which pieces of modern and contemporary art pop and explode to the eye. While sleek and modern, the space always features some whimsical touches; for example, the curvy wooden panels hanging from various ledges and balconies finally conjoin into a lovely bench on the second floor. Next to the entrance, a panel that appears to be a giant stop-light is actually equiped with a microphone and reflects the level of ambient noise around the MALBA: this means the red-lights appear at rush hour!
Outstanding collection of Latin American art
The permenant collection is a spectacular homage to Latin American modern and contemporary art. With over 500 pieces in the archives, The MALBA displays around 150 works at a time. All artwork starts from the 20th century, and is arranged to highlight certain regional tendencies. Pieces by Frida Kahlo and David Alfaro Siquieros are immediately recognizable, but even aficionados of Latin American art may be surprised by a cubist Diego Rivera painting. Also noteworthy is a piece by the Colombian Fernando Botero (recognizable for his use of corpulent figures) called Los Viudos or The Widowers.
The museum features Argentine artisits, including several works by beloved watercolor master and esoteric thinker,  Xul Solar. One of the most striking paintings on display, Manifestacion (Protest) by Argentine great Antonio Berni attracts much attention. A response to the Mexican muralists, Manifestacion recalls the magnitude and politics of the muralist tradition, portraying larger-than-life characters and transforming the masses into a union of distinct and intriguing individuals. This painting is, however, one of the most emblamatic of the Argentine tradition; the sign held by the people protesting reads "Pan y trabajo" or bread and work, perhaps a direct reference to Ernesto de Carcova's Sin Pan y Sin Trabajo, on display in the National Museum of Fine Arts.
[Photo credit: Carlos Adampol's photostream/ /CC BY-BY-SA 2.0]
The collection also features interesting  surrealisms by Chilean artist Roberto Matta and Cuban Wilfredo Lam. Also intriguing are a slew of fun optical works, and look out for a few pieces of living art like plants and some fish!
Provocative touring shows at the MALBA
Visiting exhibits at the MALBA tend to be jaw-dropping, moving, beautiful or outrageous. These contemporary shows, typically by Latin American artists, rotate almost monthly; you can check the schedule here. MALBA's movie theatre plays some interesting, off-beat films, and as the Constantini Foundation is dedicated to education, MALBA hosts open workshops on Philosophy, Film, and the Arts and leads guided visits for the hearing, visual, and mentally impaired.
Be sure to bring some pesos with you! The museum store features some funky and truly original things including clothes, notebooks, jewelry, mates, and other do-dads that would make great gifts. Head downstairs and check out the ample collection of art books, magazines, and music. You can also grab a coffee or bite to eat at the lovely museum cafe, Cafe des Arts.
To get a feel for the museum, watch this video, or read more at Wander Argentina.
Location of the Museo de Arte Latinoamericano de Buenos Aires
Avenida Figueroa Alcorta 3415, between San Martin de Tours and Jeronimo Salguero, Palermo
Telephone: 4808 6500
Opening Hours 
Thursday-Friday and Holidays: 12pm to 8pm
Wednesdays: 12pm to 9pm
Tuesdays: closed
Head to the MALBA on Wednesday for discounts!
*PLEASE NOTE: Anuva Wines unexpectedly closed down permanently on January 12th 2017. We are currently looking into alternative wine tasting options in the city to be able to update the below article – feel free to contact us in the meantime to ask for a wine tasting recommendation in Buenos Aires*
A lovely wine tasting in Palermo, Buenos Aires
Anuva Wines offers wine tastings in Buenos Aires, for those who wish to sample some great boutique wines, but can't necessarily make it to the wine producing regions of the country. Located in a luminous loft in the chic neighborhood of Palermo Soho, this wine club opened in 2007, and offers tastings with English speaking experts that are both educational and fun. All of their wines are boutique, which means you won't find them in the grocery store, here or at home.
I recently attended a Friday afternoon tasting (lucky me!). Upon arrival, a delightful English woman named Cara showed me to my seat, and our table quickly filled up with a lively set of international travelers. I made small talk with the other guests and the staff of Anuva, who graciously answered questions about Buenos Aires and offered suggestions for dining and activities.
And then came the moment we'd all been anxiously awaiting: the tasting!
Surprising white wines
First came a sparkling wine from Hom Espumante. Poppy, who lead our wine tasting, gave us some general tasting advice and then explained the different processes by which wine makers convert whites into sparkling wines. This light and refreshing blend was deliciously drinkable. Once we'd sipped, everyone at the table agreed that Poppy's explanations deepened our appreciation of the bubbly! Each wine was paired with an Argentine tapa specifically selected to accentuate certain flavors in each of the wines, and I found our blue cheese and pear hors d'oeuvre went perfectly with the espumante (sparkling in Spanish).
Next came a marvelous Las Perdices Torrontés. This white was floral on the nose but when paired with two yummy gelatos, the wine's different fruit notes really stood out.  Poppy spoke about the Torrontés grape, one of Argentina's most important and lovingly nicknamed "la uva mentirosa" (the liar grape; can you guess why?). She also explained the wine growing regions of Argentina and how the characteristics of each influence the taste, acidity, and alcohol content.  Tasting the Torrontés, I could tell that the terroir of Salta province has a direct effect on its flavor!
Red, red wine!
Our table discussed the wines we'd tasted so far and raved about Argentina's ice creams as the Anuva staff filled our remaining glasses with three reds.  We were all eager to begin and grateful when Poppy presented the first wine: one of Argentina's famous Malbecs from Carinae vineyards, which was paired with an Argentine picada of cheeses and salamis.
The spectacular hostesses answered questions about wine production in Argentina as we enjoyed the malbec; each of these women is highly knowledgeable of the industry, and I recommend asking any question that occurs to you about the vino (wine in Spanish).  Indeed, the tasting was professional but not at all pretentious, and unlike in other tastings I've been to that give you two drops of each varietal, Anuva gives generous servings and offers refills.
We moved on to what I found to be the stand-out wine of the afternoon: a San Gimignano Syrah! Wonderfully light and minerally, Poppy joked that this wine is a woman's wine, because it's so delicate on the palate.  Here we sampled a traditional meat empanada, yum!
By the time we arrived at the last wine, a robust and velvety Bonarda from Mairena, our table had become best of friends. Anuva's team (and their wines) creates a welcoming, convivial atmosphere, and I learned from my fellow wine tasters! For example, the Australian at the table was impressed that Argentine wines weren't as heady as the Aussies are used to, and Poppy explained how growing conditions affect alcohol content; the pair from San Francisco compared Argentina's dry, high altitude conditions with the more wet Napa Valley and Sonoma county, and considered how that affects sulfide content.
And oh yeah, the Bonarda was to die for, a perfect way to end a delightful tasting!
Here I am with my tasting buddies, happily smiling for the group photo! Once the tasting was through, the staff offered refills and let us know that all the wines sampled (and more) are available for purchase. Best of all, they even deliver to the US with free shipping!
To reserve, click here to book a tasting with Anuva Wines. 
The price is US$52 per person. Exact location details are revealed by Anuva upon booking, but as mentioned, the wine tasting is held in a specialist tasting room in the Palermo Soho neighborhood. The tastings last for about 90 minutes to 2 hours, and are usually scheduled at 3pm or 6pm Mon-Thu, or 2pm or 5pm Fri-Sat (although other times may be available upon request).
Food, wine and instruction on all things porteño

[Photo credit: courtesy of the Argentine Experience]
Dinner at the Argentine Experience is much more than its headline dish of exquisitely cooked fillet steak accompanied by free-flowing Malbec. It is more like an intensive crash course in Argentine culture, complete with empanada and alfajor making sessions.
From the Porteños' fondness for expressing themselves with a wide range of hand gestures to the intricacies of the mate ritual, Argentine customs can be baffling (first-timer mate drinkers beware: NEVER use the bombilla (metal straw) to stir the yerba). For this reason the Argentine Experience is jointly hosted by an expat who understands how strange such idiosyncrasies first seem to outsiders and a local who offers an insider's view.
Shaken, not stirred

[Photo credit: courtesy of the Argentine Experience]
Arriving early for the optional pre-dinner wine cocktail mixology and aroma class, first up was a cocktail making workshop in which the secret ingredient in every 'Malabeca' or 'Torrontea' was wine. Setting the tone for an evening in which interaction was key, we were invited to don a bow tie and step behind to the bar to have a go at mixing ourselves. It's safe to say the raspberry, gin and Malbec & Merlot based rose wine 'Raspberry Blush' cocktails I prepared were a hit. Less successful was my attempt to identify the 20 aromas commonly found in wine by smelling a condensed liquid essence of each one. Not as easy as it sounds.
Ready, steady… cook!
The Argentine Experience started life as a 'closed doors restaurant' in the apartment of founder Leon Lightman and even after the move in 2012 to more restaurant-like premises in Palermo Hollywood it has retained an intimate atmosphere. The new building is modern and light with a sleek downstairs bar area and an upstairs dining room, with two large chunky wooden dining tables and shelves of colorful mate gourds serving as decoration.

[Photo credit: courtesy of the Argentine Experience]
The communal dining tables are the first clue that the Argentine Experience is very much a group effort. Socializing with your fellow guests is compulsory, and the first act of team bonding is to put on a checked apron and chefs hat, ready for action. Our first task was to prepare empanadas (the ubiquitous little savory pastry pies that are usually filled with minced beef). With bowls full of slow-cooked beef stew, onions cooked in Malbec, vegetarian ratatouille and cheese in front of us it was difficult to heed our host Richard's advice not to overfill the empanadas. He showed us how to seal them and fold the pastry in the traditional way.
With our empanadas cooking in the oven, our next challenge was a creative one: the novelty empanada competition. Entries ranged from a recreation of Maradona's 'hand of God' goal to a dinosaur, the winner being a graceful, meat and onion filled ballerina. The winner received a jar of homemade chimichurri sauce and eternal glory in the form of a place on the Argentine Experience empanada wall of fame.
Twenty-four hour steak-out
As the Malbec flowed freely and mini dishes of provoleta cheese and choripan were brought out, we exchanged travel stories and talked to our hosts about Argentinian football. Then, proceedings were brought to a hushed standstill as the evening's star guest was introduced.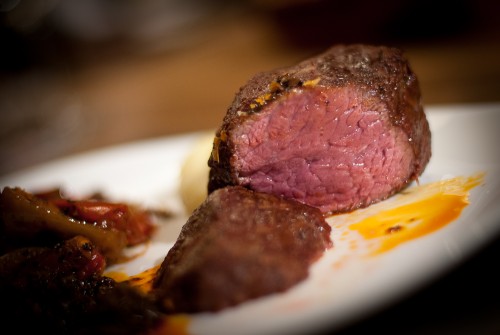 [Photo credit: courtesy of the Argentine Experience]
The steak, Richard explained, had been subject to an extensive screening process. Owner Leon had embarked on a six month pilgrimage across Argentina, tirelessly visiting cattle ranches in search of the perfect beef. The tenderness of the fillet steak we were to eat, he continued, was the result of a finely-honed 24 hour preparation process, involving leaving the meat uncovered in the fridge overnight before flash frying in a hot pan to seal the juices, then flipping it rapidly to ensure an even distribution of meaty juices. For this reason it could well be the most tender meat we had ever eaten, Richard concluded with a flourish, as drool ran from the corners of our mouths.
Naturally, such a steak deserved a serious wine to accompany it, so we would be served a deeper, more full-bodied Malbec. As we ate our main course, the intelligent conversation of earlier in the evening was replaced by a series of grunts and munching sounds. Nobody was disappointed with their steak.
Note: Fish and vegetarian options are also offered, and those who went for them on the night were very impressed with the quality of those dishes. 
Post dinner parlor games

[Photo credit: courtesy of the Argentine Experience]
And so in a Malbec and steak induced state of bliss we were entertained by tutorials and practice sessions on Argentinian hand gestures, preparing mate and making alfajores (dulce de leche filled, chocolate covered biscuits).
Those of us for whom the bottomless wine had made everything a little hazy were reassured to learn that note-taking would not be necessary; an Argentine Experience aftercare email with all the essentials would arrive the next day. So there would be no excuse not to put our new cocktail-shaking, empanada-baking, alfajor-making, mate ritual-partaking and hand gesture mickey-taking skills into action. Try saying that after one too many glasses of Malbec!
For more on the Argentine Experience, check out Cara from Anuva Wine's write up, this post by Tim Fitzgerald on the BBC travel blog, Not quite Nigella's thoughts here and this post by Alison Westwood on the Getaway blog.
Location of the Argentine Experience in Buenos Aires
The Argentine Experience, Fitz Roy 2110 (between Soler and Guatemala), Palermo Hollywood
Lively, open-air steakhouse in Buenos Aires
Walking through Palermo Hollywood for the first time in September, I saw several chic restaurants . Then I got to the corner of El Salvador and Fitz Roy, where a crowd hummed outside a bustling restaurant, and something immediately appeared different.
Las Cabras had me at hello.
This parrilla offers big plates, wonderful ambiance and a price tag that will satisfy any patron. Simplicity distinguishes Las Cabras from other restaurants in the area. Red, wooden tables dot a pebble-covered, shady patio on the Fitz Roy corner. White, crayon-ready paper serves as your tablecloth. The warm lighting from inside helps illuminate the patio, which encompasses both sides of the corner. The place beams with energy and smiles from one table to the next.
Las Cabras is great for a couple's dinner or a reunion with friends. I often see people on dates inside and groups of ten or more outside. It's the kind of place where dinner can last for hours and you can sit, enjoy your company and indulge in Argentina's prized commodities for as long as you like. You're bound to see other travelers or expats at Las Cabras, but porteños dine here nightly as well.
Delicious Argentine foods
My go-to for steak is entraña (skirt steak), which comes with two healthy strips of meat and a Caesar salad. Asado de tira (braised short-cut ribs) is another popular choice among my expat friends. Typical Argentine cuts – ojo de bife (rib-eye steak), bife de chorizo (sirloin) – are on the menu as well.  However, despite being very much a parrilla, the diverse menu at Cabras also reaches out to vegetarians.
The pastel de calabaza y miel (Squash and honey and pie) may be the most delicious, filling and affordable dish in Buenos Aires. It comes in a heavy clay bowl, topped with a layer of melted cheese. The pastel is mashed squash filled with veggies, a really tasty creation that will end any of your hunger pains. The honey adds a light, sweet finish to the taste buds. The salads and antipasto plates at Cabras are also big hits given their ample size and tasty ingredients.
But if you're a carnivore and you only have one night for Las Cabras, you must challenge yourself to the Gran Bife de Las Cabras.  This huge plate includes a sirloin steak, cooked to your preference, and a plethora of sides: fried veggies, a slab of grilled provolone cheese, French fries with a fried egg on top, rice and mashed squash. You may not need to eat breakfast the next day.
The only precaution with Las Cabras is the wait. If you arrive after 9pm, especially on the weekend, expect to wait at least 30 minutes. An 8pm or 8:30pm arrival time should help you avoid rush hour.
Despite any delay to your meal, the fun atmosphere, quality of food and affordability will keep you coming back to Las Cabras for more.
Where is Las Cabras?
Getting there: Unless you know the bus system or take a taxi, bring your walking shoes. The nearest subte stop on the D line is the Palermo station. From there walk two blocks up Santa Fe, go left on Fitz Roy and walk seven blocks to the corner of Fitz Roy and El Salvador.
On the B line, get off at Dorrego, walk twelve blocks along Bonpland, turn right on El Salvador and go one block to Fitz Roy.
The 108 bus line stops within a block of Las Cabras, and it also goes through Recoleta on Av. Santa Fe, plus through Palermo at Plaza Italia.
Could the best American BBQ be in Buenos Aires?
The smoked meat hit my taste buds, I dropped my utensils, sat back in my chair and smiled. This progression of events occurred several times last week at El Tejano (The Texan) in Palermo. An East-Texan expat who landed in Buenos Aires seven years ago, El Tejano is introducing Buenos Aires to BBQ in a way I've never seen in the United States.
I'm no Anthony Bourdain, but I am a BBQ foodie. I've eaten brisket and ribs in New York, Connecticut, Maryland, Virginia, North Carolina, South Carolina, Texas and Florida. You could say I like it.
Buenos Aires boasts of its world-renowned steaks. Steak grilled on the parrilla (large, brick grill) is a staple here. Meat is never cooked on anything but a grill.
Smoked meat is an untold story in Buenos Aires, largely because it doesn't exist. No restaurant in the entire city uses a smoker to cook its meat. Tejano built his own smoker. Thus, when I heard about his private dinners, I quickly contacted him. My expectations were high. El Tejano guaranteed the dinner would be all-you-can-eat. Given that my group of five hadn't seen BBQ all year, barely ate all day and didn't stop talking about our dinner for the week before, I doubted if we would actually have as much as we wanted.
Puerta Cerrada in Buenos Aires
We arrived at a beautiful, private dining room in Palermo Soho. Puerta Cerrada – closed door – dinners are a tradition in Argentina. Although often held in someone's home, El Tejano serves his clients in the Anuva Wines tasting room.
We started off with homemade guacamole, hot sauce and corn chips – all three tough finds here – to appease our hunger. Shortly after, Tejano brought out a black-jalapeño cornbread with dill and pickles. Sweet cornbread with a small, spicy kick. Once the freshly-made coleslaw and sweet tea came to our table, I knew the meat had to be next. Expectations peaked, glands salivated and five friends waited in anticipation for a taste of home.
When Tejano walked the brisket to our table on a huge cutting board, my face froze in half-smile, half-jaw-on-the-floor. It was huge. He cut through the black outside and unveiled a perfect, pink-ringed brisket. Slow, wispy smoke billowed out. It was so tender, when Tejano cut it, the slices crumpled into little pieces. Paired with a sweet, hint-of-cinnamon BBQ sauce, the 8-hour-smoked brisket had excellent texture, flavor and color. My first servings quickly turned into seconds and thirds. It was only the beginning.
If I had any regrets, it was sprinting too soon into this marathon. I thought when we finished with the brisket, Tejano had run out. But I was happily wrong, as our empty cutting board was exchanged for a new one with another slab of brisket. This time we only got through half of it.
After my third serving of mouth-watering, smoked brisket and second of coleslaw, Tejano served us the pork ribs. Juicy, soft and flavorful come to mind. Although the BBQ sauce paired well with the brisket, the pork ribs stood better on their own. To aide our meat binge, Tejano gave our table a corn-bean-jalapeño salad that helped compliment the BBQ.
To put an exclamation point on our dinner, a creative, third meat – Matambre – finished the meal. Stuffed with green apples, cinnamon and onions, the Matambre was also "injected," with Coca-Cola to break down the fat deposits and offer the cut a sweet, meaty taste. Matambre – which basically means "kill hunger" – is a fairly typical meat cut (similar to flank steak) in Argentina, and that's exactly why Tejano uses it. With some creative design and additions, Tejano presents Argentine meat in a whole new light.
A wonderful glass of Malbec completed the marathon to BBQ heaven. Through the food, we really learned about a veteran expat…
The Man Behind the Meat
While serving endless portions of BBQ, Tejano, or Larry, detailed how he smoked the meat, made the cornbread and decided what to pair the BBQ with. This wasn't just a waiter telling us the specials at a restaurant. It was a man explaining his passion. His electric smile glows while he describes smoking the meat and all the details involved. We had no idea what a black jalapeño was until he educated us on the pepper's varieties and why he experimented with this one on his cornbread. We learned that growing up in Austin, Tex., BBQ wasn't something he learned about, it was inherited, passed down through his family.
Larry also provided snippets of his life here in Buenos Aires. He moved here seven years ago after literally flipping a coin. One side meant a move to Chile, the other to Argentina. It landed on Argentina. Larry began serving private dinners earlier last year, and is hoping to do much more. He sells his own homemade hot sauce and wants to to have it manufactured in Argentina soon. The idea of a BBQ food truck in Los Bosques—the parks in Palermo—also interests him. Larry grows his own peppers in a green house in Buenos Aires. When he talks about his plans, clear ideas percolate in Larry's mind at all times. His conviction, energy and enthusiasm make his customers his biggest supporters.
It's his story that puts his BBQ over any other I've ever eaten. The food on its own will keep me coming back, but such a unique expat tale will interest any visitor to Buenos Aires.
The personal attention and stories, accompanied by an exceptional dinner of such an iconic, American food genre, make El Tejano stand out among food innovators in Buenos Aires. We left the dinner hungry on only one question: what will he do next?
To reserve a dinner with El Tejano
Website: www.eltejanoba.com.ar/events
e-Mail: [email protected]
Note: As with all "closed door" restaurants, El Tejano will send the exact dinner location upon booking.
Buenos Aires: Is Fro Yo the new gelato?

[Photo credit: from the Top It Facebook page]
At its hottest and most humid Buenos Aires can feel like a sauna and even a gentle stroll can leave you in serious need of a cooling pit-stop. But another ice cream? Really? Sometimes it is possible to have too much of a good thing, and if all those steaks and empanadas are making your waistband feel tight you might want to consider opting for a frozen yogurt from Top It in Palermo Soho. It's fat and additive free and contains only 100 calories per portion.

[Photo credit: from the Top It Facebook page]
You can't top this
But a trip to Top It is not just for the pious. Not only is the frozen yogurt guilt free, it's also delicious. There are only two flavors – original and a seasonal fruit flavor (e.g. peach or passion fruit) – but, as the name Top It suggests, the variety comes from the choice of toppings. Choose three or four revelations or the yogurt churning machine and then decide what you want on top. There are more than 20 different options, including fresh mango, kiwi, strawberry and chopped nuts.

[Photo credit: from the Top It Facebook page]
Frozen Yoghurt delivery
You can order your frozen yogurt to take-away, enjoy the air conditioned coolness and eat inside the air conditioned shop in Palermo Soho with its bright seating area and shiny perspex covered walls, or bask in the sun on one of the pavement deckchairs. For those days when leaving the house is unappealing, there is also a delivery service. Top It has proved so popular since it opened in October 2010 that it is now available in two branches of sandwich joint Open Kitchen on Reconquista 620 and 1054 in the city center and there is talk of further branches. It seems like frozen yogurt is fast becoming the city's newest (and fairly virtuous) addiction.
For more about Top It take a look at this post on the BSAS ARGENTINA blog.
Location of Top It in Palermo Soho
Top It Frozen Yogurt, Gorriti 4721 (near corner with Malabia), Palermo Soho
Telephone: 4833 2260,  Website: http://topit.com.ar/