The dulce de leche masters
It may not look like much, but the skinny maroon storefront that humbly sits within ground zero of Buenos Aires' theater district on the historic Avenida Corrientes may just serve the best dulce de leche in the world.
Best according to whom?  Well, if their accolades in National Geographic and the BBC didn't convince you, perhaps their prominent listing in the Gold Book of Argentine Ice Creams (authored by porteños, of course) or their frequent hat tip by local taxistas will.
Cadore won its way into the infamously discerning Argentine gelato aficionado's heart thanks to their strict standards for fresh, natural ingredients and time-tested, artisanal techniques.  Using recipes dating back over 130 years to their original location in the village of Cadore in Northern Italy, current owner Gabriel Famá has stayed true to his Uncle Silvestre Olvotti's methods, who founded the flagship parlour in 1881.
Gelato: an Italian "Slow Food" delicacy
And what do those methods entail for their award-winning dulce de leche?  The most Gabriel could tell us was that it involves a daily 14-hour process of slow cooking a vat of fresh, organic milk, saturated with sugar and whole vanilla beans, to evaporate every ounce of water and concentrate the sweet, creamy base that they use to churn out their 5 different varieties, including plain, bombón (chocolate), granizado (sorbet), negro (extra dark), and con nuez (with nuts).
Far from being the only flavors on offer, Cadore also dishes up a mean almendra (almond), chocolate amargo (semi-sweet chocolate), and crema de vainilla (vanilla cream), with new flavors being added every few months.  But don't look for any funky offerings here; Cadore mainly specializes in the classics, with perhaps one or two non-standard selections per day (we spotted crema chai and naranja con genjibre, or orange ginger, during our visit).
Pizza, moscato, faina… and Cadore
Now the President of the AFADHYA, The Association of Artisanal Ice Cream Manufacturers in Buenos Aires, Gabriel proudly displays a plaque behind the counter that the city bestowed upon him when they declared his gelatería of Cultural Interest in 2014. Not far from it appears his TripAdvisor Certificates of Excellence for the last 4 years running, arranged in a neat little row underneath the main menu.
As in previous years, you can expect to find him front and center during Buenos Aires' Artisanal Ice Cream week, held annually in late November and featuring open-air vendors offering delicious tastings around the obelisk that spill out onto Corrientes, the street he calls home.  His 2017 festival booth was indeed impressive, marking the 60th anniversary of the opening of his shop (established back in 1957).
So, stop by this little ice cream stand with a big reputation after you've had your slice of muzza topped with a slab of faina and washed down with some cheap, white moscato wine at Pizzeria Guerrín (just a couple of blocks away).  Then head off to take in a show on the Broadway of BA, Avenida Corrientes, and you can forever boast to your friends that you experienced the classic 1950's-style Buenos Aires evening!
Plan Your Helado Visit
Address: Av. Corrientes 1695
Nearest subway stop: Line B – Uruguay
Phone: +54 9 11 4374 3688, +54 9 11 4373 9797
Website: http://heladeriacadore.com.ar/index.html

A BA newcomer with a New York twist
In the basement of the upscale Moreno Hotel, just two blocks from the historic Plaza De Mayo, couples cozy up and wait for the start of the nightly 9 o'clock show on a chilly August evening.
On the menu: expertly-crafted signature cocktails, picada plates overflowing with that famous porteño assortment of smoked meats and cheeses, and a quartet of world-class musicians headlined by the even smokier vocals of Luciana Morelli.
The newest venue to join the small but thriving jazz scene in BA, Bebop Club opened its doors in March 2014, just a few months after the death of the city's first and most iconic jazz promoter, Jorge "Negro" González.  With his passing came the subsequent closure of his downtown institution "Jazz & Pop," removing the oldest contender in the BA jazz club lineup.
It's hard to ignore the feeling that it was a passing of the baton.
Springing up not far from González' pioneering joint, Bebop is now the only place where you can take in a serious night of jazz East of 9 de Julio.  This is very good news indeed for the many visitors to the city who will choose to stay in the downtown area, and not just because of the proximity— hotspots Notorious, Virasoro Bar, and reigning king Thelonius in the trendy Palermo district are quite a bit harder on the wallet.
Which is not to say that Bebop is a bargain.  A visit there will set you back about as much as an upscale dining experience— but one that leaves you full, happy, and convinced you got a good value for the money.  So the question remains: does this up-and-comer, which bears a Blue Note seal of approval outside its front door, live up to its self-stated mission to "simulate the experience of a NY jazz club"?
As a native New Yorker and someone who has taken in shows at both NYC's Blue Note and New Orleans' historic Preservation Hall, I would argue that it succeeds where it counts: in the caliber of the musicians, and the ability to leave an indelible imprint of the experience.
The small crowd size on this mid-week winter night didn't befit the massive talent on display at the hands of Morelli and her crew.  If perfectly-controlled crooning backed by world class ivory-tickling in an impossibly elegant space is how Bebop celebrates a "slow night," their bar for entry is high, indeed.
And not just for their musicians.  Bebop's interior designer has painstakingly replicated the Blue Note's detailing, and then surpassed it.  You'll find the same signature half-moon, velvet-lined chairs, but adorning separate, circular tables rather than boxy, adjoined ones.  
The stage is kept low, but the floor is smartly raised toward the back for a better view.  The stage is exquisitely in proportion with the room such that the side-dwellers aren't too far out in left or right field— something the cuddling couples on the plush couches lining the walls will appreciate, and the clubs of New York can't quite replicate.
Taken together— the lush lounge seating, the shared picada plates designed to "accidentally" tangle up lover's fingers, and the romance that only a carefully curated array of world-class musicians can muster— Bebop could easily claim to be the best jazz venue in the city for a date. Combined with a pre-show dinner at Aldo's lavish wine bar and restaurant upstairs, this one-two punch is sure to impress.
Embracing Buenos Aires jazz origins
As for the fidelity to the New York facsimile?  To echo and expand on what has already been stated, Bebop succeeds where it counts— and fails where it shouldn't try.  By striving to provide the "NY experience," Bebop, and all other BA hopefuls, misstep. Yes, every good artist must imitate before they find their own voice, but Buenos Aires has already crossed that threshold, and is now failing to claim its own artistic merit.
To wit, Argentina has produced international jazz icons like swing guitarist extraordinaire Oscar Alemán, master pianist Lalo Schifrin, and free jazz pioneer Leandro "Gato" Barbieri.  Their version of the genre has unique roots in the tango orchestras being the first purveyors of its sound, layering on a distinct flavor and giving birth to the important sub genre of Latin jazz.  
They even have the great underdog story of overcoming fierce repression, first from a public who decided it threatened their tango music heritage, and then from a dictatorship who banned it for being "imported" music.
Given that the scene only started to revive in the early 2000's, it should be a mark of pride that Buenos Aires boasts a solid half dozen serious venues and no less than seven yearly jazz festivals. And, although Bebop won't be a host venue this year in the largest of these— the Festival Internacional de Jazz, held each November— we have a feeling that will soon change.  Because regularly playing host to local legends like Art Zaldivar (see video below), Delfina Oliver, Luis Salinas, Jorge Navarro, and Manuel Fraga can't keep them off the radar forever.
So go enjoy a trago (drink) and the buena onda (good vibes) of an unforgettable evening of jazz, perhaps after a lazy Sunday stroll through the nearby San Telmo Feria— and tell them this Yankee sent you.
Plan Your Bebop Club Visit
Address: Moreno 364 (part of the Moreno Hotel), between Defensa and Balcarce
Phone: 4331-3409 / 4343-0823 / 4334-2380
Email: [email protected]
Website: http://bebopclub.com.ar/
Schedule: (Almost) daily 9:00 pm shows, with 2-3 shows per night on Fri-Sat-Sun. Closed Mondays.
Tickets: Purchase online to reserve specific tables, at the venue between 3:00 and 8:00 pm on show day, or directly before the show for best available.
Arrivals: 30 minutes before show start is recommended with no reservation
A porteño emblem par excellence
It was once decorated as a pencil (2006), and twice as a Christmas tree (1973 and 2010).  It has served as a target for vandals, prompting its public closure and an imposing fence to be placed around it in 1987.  During the sinister sequestration period of the 1970s, it served as a masthead to hoist terrifying propaganda intended to silence the government's critics.
In 2005, it was covered in a giant pink condom for World Aids Day.  In 2015, it temporarily "lost" its tip thanks to a grand illusion by the hand of a local artist, making it possible for the first time ever for Argentines to access its towering peak.
A few days after its construction was complete in 1936, an earthquake shook its foundation but couldn't topple it.  A few years later, in 1939, the Argentine government voted 23-3 to demolish it, but they couldn't topple it either (thanks, Mayor Goyeneche).   
For the city's bicentennial celebrations in May 2010, more than 3 million cheering porteños rallied around it as their central symbol of both the city and the nation.  Just a few days before, famed fútbol coach of Argentina's national team and it's favorite ex-star player, Diego Maradona, threatened to run around it buck naked if his team should win the World Cup.
So, what is "it", you ask?
None other than the "silver sword" of porteño pride: el Obelisco de Buenos Aires.
Residing at the intersection of the city's two most important avenues, Av. 9 de Julio and Av. Corrientes, the Obelisk has been steeped in controversy and intrigue since before it was even erected. For starters, it has been popularly (and wrongly) blamed for the destruction of the historic St. Nicholas Church, which once stood on the same site and first hoisted the baby blue and white Argentine flag over its altars (the 1931 widening of Avenida Corrientes was the actual culprit).
Early onlookers questioned the appropriateness of the construction, pointing out that its shape had "nothing to do with" the city and what it stood for. It predictably became a target for local feminist groups that didn't like the perceived machismo attitudes it embodies. And, if the ladies were correct about the message it was intended to send, it was an embarrassment anyway thanks to being less than half as tall as its 555-feet tall North American cousin, the Washington Monument (El Obelisco is just 221.5 feet tall, or 67.5 meters).
Besides that, it wasn't even made out of "local materials"- the Olsen white stone which comprised its outer cladding was from the province of Córdoba. When that tiling started falling off, it was declared a danger to passersby and termed an "intruder" by an opportunistic Congress that grasped for any reason to level it to the ground and start afresh.
An Argentine monument that Buenos Aires learned to accept
But here we are over 80 years later, and it still occupies its prime real estate on the corner of the Broadway of BA and the Widest Avenue in the World. Love it or hate it, one thing is clear: it's impossible to ignore it. After all, it has been the site of enough impassioned protests and soccer celebrations to cement its place in the Port City dweller's hearts forever. More than likeability, the obelisk has familiarity going for it, having served as the centerpiece to many key events in the modern history of Buenos Aires.
In fact, the best way to understand the significance of the structure is perhaps through these stories: the rallies, the raucousness, and (at times) the riots that the monument has borne witness to. If choosing the Obelisk to host an event is synonymous with having an important cultural message to send, let's see what we can glean about the Argentine people from just the happenings there from the past year (at the time of writing, August 2017)…
12 August 2016: Tango Festival and World Cup Kickoff Celebration
What better event to start with for representing Buenos Aires than one related to tango?  Known worldwide as the Festival y Mundial de Tango and locally as simply El Mundial, this important tango competition takes place during the month of August each year in Buenos Aires. Over 400 couples compete each year in national and international preliminaries for a chance to represent their country in the finals at Luna Park at the end of the month in one of two categories: Tango Pista (salon tango), or Tango Escenario (Stage Tango).  In the run-up to that final event, classes, exhibitions, and concerts are offered all for free in an effort to preserve and expand the cultural heritage of the tango.  
In 2016, the festival theme was bringing the tango "back to the barrios" (neighborhoods), and the events were hosted over 42 different venues in the city to include as many enthusiasts as possible (they almost reached a full offering of 48 venues… the official number of barrios in the city, but a valiant effort all the same).  The kickoff celebration at the Obelisco was actually a press conference, but featured some of the musicians and dancers representing Buenos Aires.
Watch last year's champions Cristian Palomo and Melisa Sacchi in the salon category, and Hugo Mastrolorenzo and Agustina Vignau in the stage category.  This year (2017), the festival takes place from the 10th to the 23rd of August.
9 October 2016: The First Annual National Asado Championships
A close second in cultural importance to tango in Argentina (and some would argue for its place in the top spot) is their asado tradition of grilling up the tastiest cuts of meat in the world.  Last October, the city crystallized their efforts to communicate their gastronomic superiority in the carne category by holding a meat mega-festival, with the Obelisk serving as ground zero.  Judges were brought in from some of the best parrillas in the city: Don Julio, La Cabrera, La Carnicería, El Mirasol, Cabaña Las Lilas, Siga la Vaca, Nuestro Secreto and La Cabaña.  
The festival's champion asadores hailed from Mendoza, a Western province of Argentina, and proudly declared after their win that the "secret is patience" in this "ceremony" of Argentine culture.  The event coincided with Argentine Cultural Diversity Day, and featured several booths showing off the cuisines and dances of nearby nations – fitting for a country that celebrates their strong immigrant population.
19 October 2016: The National Women's Strike
Taking a somber turn in our roster of notable gatherings is the mass march that took place last October to protest the brutal femicide of 16 year old Lucía Pérez in Mar Del Plata, a coastal resort town in the province of Buenos Aires.  As part of the Ni Una Menos movement ("not one less", meaning no more women killed from gender violence), the strike took place on "Miércoles Negro," or "Black Wednesday," and made headlines all over the world.  
Thousands of women stopped all activities for an hour and marched from the Obelisk to Plaza de Mayo, where organizers recited speeches about the persistent machista (male-dominated) attitudes that exist here and threaten the women of Argentina, not only in the form of violence but also cultural suppression (over 10% of women are unemployed, with a gender pay gap of 30-40% and 20% of salaried women being employed as low-paid domestic workers).  It is a sad reality, but misogyny and gender-related violence continues to be one of the greatest challenges this country faces.
14-18 November 2016: Artisanal Ice Cream Week
With over 6000 artisanal ice cream shops sprinkled over the city, it is clear that meat is not the only defining delicacy on the porteño menu.  Each year in late November, the city bows to its Italian immigrant traditions and turns the Obelisk into a giant gelato stand, with flavors being made fresh and all the proceeds benefiting local children's hospitals.  In 2016, its 32nd year, the festival drew a crowd of over 4000, with the favorite flavors being (in order): dulce de leche, chocolate, and strawberry (frutilla).  
Far from enjoying their creamy treat from a waffle cone, the preferred delivery method in Buenos Aires is in that styrofoam container known simply as un cuarto – a quarter kilogram of the sweet stuff, because *real* artisanal ice cream is always sold by weight, never volume.  Our advice: don't get into an argument with an Argentine about who sells the best ice cream in the city, because they all have a personal favorite… and they're all right!
29 November 2016: A Tribute To The Chapecoense Football Team
Football is serious business in Argentina.  90% of the populace here claims allegiance to a club, and a woman cheering against her boyfriend's team is automatic grounds for a breakup.  When the national team wins the entire city stops to celebrate, and Diego Maradona (their coach and ex-star player) is still every bit as much of a god as he was in the early 80's.  But on the tragic night of November 29th, 2016, Argentina showed that their true allegiance is to the sport itself rather than any national rivalry.  That was the night that 71 people perished on a Medellín, Colombia mountainside from a chartered flight carrying the players and staff of the rising star team from Chapecoense, Brazil.  
The scrappy underdogs had beaten incredible odds to make it to the final of the Copa Sudamericana, but their lives were lost at the hands of a careless pilot who failed to make a refuel stop.  Football fans the world over went into mourning, and Argentina lit up the Obelisk in bright green – the team's jersey color – in solidarity.  It was a moment that no porteño will soon forget.
7 February 2017: The 'Tetazo' Topless March
What started as 3 women being threatened with arrest (*link NSFW) for bathing topless on a popular beach on the outskirts of the city on January 28th turned into a massive protest (*link NSFW) in the Plaza de la Republica – the small park surrounding the Obelisk – a little over a week later.  That incident renewed a longstanding national debate about the inequalities that still exist between men and women in Argentine society, where women's scantily-clad bodies are routinely used to sell products in advertising alongside being portrayed as lewd for acts such as breastfeeding.  
It was hard to ignore that the protesters had a valid point when a large number of men showed up merely to ogle the bared-chests, with some climbing flagpoles to get a better look and one man exposing his genitals, sparking outrage among the crowd. While legislators continue to debate the legality of topless sunbathing for women, one thing is clear: machismo, at least for now, is here to stay in Buenos Aires.
25 March 2017: Earth Hour Shuts Down The Obelisk
Buenos Aires has come a long way in the last year in their environmental conservation efforts. Instituting a ban on plastic bags in grocery stores at the beginning of 2017, installing dedicated bus lines to cut air and noise pollution, conducting a city-wide trash collection overhaul, and replacing streetlights with energy efficient LED bulbs are just a few of the improvements the city has undergone.  Though they still have a long way to go, it is clear from the notable lack of protests at the hands of a people that aren't afraid to take to the streets that the majority of Argentines consider themselves in favor of measures that protect the environment.  
Since 2015, the city has been participating in Earth Hour: a yearly event taking place in over 170 countries that flicks the switch on the lights that power major monuments around the world.  This year saw not just the Obelisco, but also the Monumento a San Martín, the Monumento a los Españoles, and the Floralis Genérica go dark for an hour.  Now if they could only innovate a new, biodegradable material to replace that standard styrofoam ice cream container.
El Obelisco de Buenos Aires
Tango, grilled meats, fútbol, and women's rights: just a few of the defining cultural facets of Argentina's modern times.  Clearly, if you want to get a bird's eye view of the social landscape, a very good place to start is the steps of that sky-scraping symbol of porteño pride – El Obelisco.
Legendary Locro for the May Revolution
In the heart of Alto Palermo, just in front of where the 41 & 59 buses let off behind the sprawling Parque Las Heras, you will find a curious little hole-in-the-wall with a BIG reputation for serving up authentic regional Northern Argentine cuisine.
A pulperia as its fading, weather-worn storefront sign proudly displays, is the name given to a restaurant that serves the "food of the gauchos" – a classification that is strongly reinforced by the many framed images of this classic Argentine cowboy hanging slightly askew from its walls.
Clearly, this place isn't going for any interior design awards, but that hasn't stopped its famed owner Hector from winning the awards that count: the culinary kind.  One look at his front window emblazoned with effusive praise from Guía Oleo (Buenos Aires' version of Yelp) and TripAdvisor says it all.
The May Revolution / Locro Connection
The BuenosTours team came here in search of a piping hot bowl of Hector's lavishly lauded locro – Argentina's national dish – to celebrate the Día de la Patria, or the anniversary of the May Revolution.  What we found was the faithful reproduction of an indigenous dish that warmed our bellies and spirits on what turned out to be a cold and rainy day in Buenos Aires.  Apropos, since the weather on that fateful day back in 1810 was similarly sopping, but saw a sudden break to sunshine the moment Argentina's independence was declared from the balcony of the Cabildo.  Legend says that this is why the sun appears on the Argentine flag to this day!
After waiting for 2 hrs+ in a line that spilled out 30 people deep in two directions on the sidewalk (one for eat-in and one for take-out), our crew enjoyed an assortment of not only the luscious locro, but a pile of crispy-on-the-outside, soft-on-the-inside empanadas, topped off with the traditional May Revolution dessert of membrillo (quince paste) over a slab of soft white cheese (our sources tell us membrillo was served in little pockets of fried dough by street vendors shortly after independence was declared, which seems as dubious as the sun/flag story, but equally as fun).
In case you're wondering how locro came to be forever associated with this national holiday, remember that the transition from Spanish colonial power to the first Argentine self-government (the so-called Primera Junta) was desirous of a symbol of something distinctly local and Latin in origin.  And what better symbol than a tasty dish from the indigenous Cuyo tribe of the Northern Andes?  There are few things more appreciated here than food, and few things more "local" than honoring our South American mainland ancestors.

In Hector's Words
Hector was kind enough to step away from his duties as both primary server and Man of the Hour to grant us a quick interview so we could find out what all the fuss was about.
BT: What province does your menu represent?
Hector: All of the food comes from Salta, in the North.
BT: How did you learn how to cook this regional cuisine?
Hector: I learned from my father in Salta, who always had regional food in the house.  It was nothing more than wanting to continue the culinary traditions that existed in my house when I was growing up.
BT: And what are the typical foods of that region?
Hector: Locro, tamales, and guisos, among others
BT: What is your favorite flavor of empanada that you offer?
Hector: I like the Salteña, which contains spicy beef and potatoes.
BT: How was this restaurant born?
Hector: This restuarant was founded in the year 1963, when I was still just a boy.  I came to work here in 1973, and in the year 2000, the owner of this place didn't want to keep going, so I took it over with 3 others.  We have continued all the same traditions; we haven't changed a thing.
BT: And one more… what is the origin of the name "Ña Serapia"?
Hector: The word Ña is short for doña, which means woman in the local dialect, and Serapia was my mother's first name.
So there you have it, folks.  A hearty thank you to Hector for keeping the delicious culinary traditions of Salta alive, and for gracing us with an unforgettable bowl of chorizo and hominy stew to celebrate this momentous occasion in Argentine history. Best locro in the city?  It's hard to say without sampling them all, but we'll let the local patrons – one of whom told us that he has been coming here for over 30 years every May 25th for the locro alone – be the judge!
For more information, check out the Inside Buenos Aires and My Beautiful Air blogs, which both mention our main man above.
Address: 3357 Avenida La Heras
Barrio: Palermo
Phone Number: +54 11 4801-5307
To read more please, click here
Francisco and Marcelo Terren share their beer-brewing secrets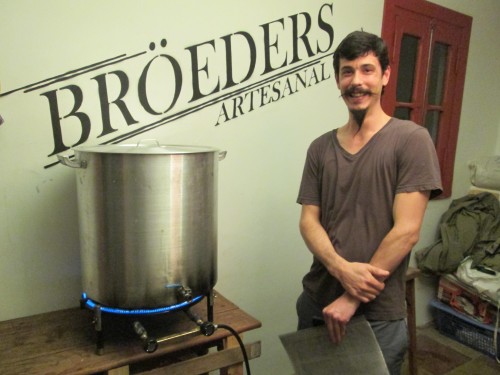 While Buenos Aires has a well-established reputation as a city of fine wines, the typical Argentinian lager will leave any beer lover disappointed. Few bars have beer on tap and while the ubiquitous litre bottles of the local lager Quilmes score points for being cheap and invariably served cold, they get few for taste.
But beer-guzzlers need not panic. The good news is high-quality artesanal beer can be found in Buenos Aires. Following a growing trend in microbreweries in the city led by the likes of Antares and Buller, Bröeders produces some of the best cerveza artesenal (craft beer) around. Being beer enthusiasts, the BuenosTours team jumped at the chance to join Francisco and Marcelo Terren of Bröeders one Tuesday evening to watch them in action and learn about the beer-making process.
Craft Beer in Buenos Aires: Starting out
For just over a year, brothers Francisco and Marcelo Terren have been brewing Bröeders at their home brewery at their mother's Palermo home, when they were inspired to make their own beer after taking a beer-making course. While on holiday in New York, wine-loving Francisco hoped to bring back a beer-making kit he had read about as a birthday present for Marcelo, who had always been keener on beer. But when he was unable to find the kit, back in Buenos Aires the present became signing-up for a beer-making course instead.
Soon they were hooked on brewing. After starting out in the kitchen, brewing in a 20 liter pot on their mother's hob, the brothers later converted the roof top shed into a compact micro-brewery, a well-organised space from which they currently produce 320 liters a month of various beers including Indian Pale Ale, Scottish Ale, Porter, Honey Beer and Barley Wine. All that was missing was the name. Marcelo and Francisco chose the name Bröeders before finding out that broeder means brother in dutch, which served to confirm their choice.
Marcelo put his background in graphic design into use in developing a logo and brand and the brothers started a weekly beer night with NOLAchef. Bröeders Beer Night is every Thursday night at the puertas cerradas (closed door) restaurant, where a selection of 4 different Bröeders beers is teamed with Cajun and Creole food.
Beer brewing process
Working from their expanding folder of beer recipes compiled by experimenting with classic recipes, tweaking and adapting them and taking tips from the network local brew-masters until they are happy with the taste, Marcelo and Francisco get together to 'cook' every Tuesday night. For a beer-lover, peeking inside their impeccably organized micro brewery is akin to Charlie's first glimpse of the inner workings of Willy Wonka's chocolate factory.
In front of me I saw shelves with labelled containers of various hops and malts, neatly stacked brown bottles of beer, barrels, kegs and a large gas burner with a 20 liter pot brewing. There was a tempting aroma that smelt like a sweet, malty porridge; we could hear the liquid bubbling and the hiss of the gas burner, and there was an intense heat emitted from the burner.
"Jesse, we have to cook!"
With a glass of Bröeders IPA in my hand (pulled from a keg on the terrace), I tried to pay attention and fight-off drunkenness as Francisco talked me through the brewing schedule. Each week they begin at about 5pm with the maceration process. After selecting the malts according to the recipe they are using (the flavor of the malts depends on how long they have been toasted, and at what temperature), the next step is to heat the malt and brew it into a big 'tea' for about an hour and half, during which time the bulk of the grain is removed and discarded.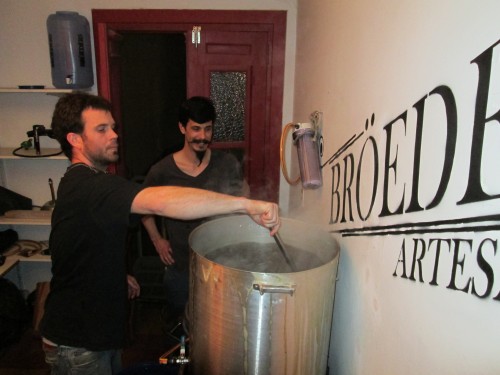 At around 7pm Marcelo and Francisco begin "boiling and hopping" – the hops are added and the  wort (unfermented beer) is boiled for an hour and gently stirred. The brothers use local hops in their ales; cascade hops from El Bosón.
After one hour of boiling, the next stage is to separate the remains of the grains and hops. "This is the whirlpool stage, a key part of the process," Marcelo explained. "What you do is stir the mosto (wort) for a long time so that the centrifugal force draws the trub (brewing term from the German for sediment, the unwanted remains of the hops and the grains) into the middle, where they form a kind of cake. This way we make sure the beer is not astringent."
With the trub gathered into a cake in the center of the pot, the wort is drained and rapidly cooled on its way from the pot to the barrel by passing it through a hose with a second hose containing cold running water adjoined (see photo above).
Let the fermentation begin!
The next step was to add the yeast. There was an air of excitement as Marcelo went downstairs to fetch it from the fridge. "Wait and see how it foams up when you add the yeast, it's like a big party in there," he said. The brothers explained that the type of yeast used is key to the flavor of the beer and they experimented with several types before finding Nottingham Dry Yeast. As promised, as soon as the yeast was added the liquid frothed up dramatically. And with that the barrel was sealed and left to ferment for two weeks.
Keep it clean
By now the fine details of the beer making process were becoming hazy, as I helped myself to another drink from the Bröeders keg. But for Marcelo and Francisco the work wasn't over yet – there was cleaning to do. As soon as the wort was being cooled the brothers took a great deal of care to ensure all the equipment was clean and sterile, spraying taps and nozzles with alcohol and working in a methodical and organized way. This level of meticulousness about cleanliness had come from experience, after they initially had to throw out several barrels that had become 'contaminated'.
With the brewery clean and tidy there was just time to finish the night with a taste of Porter on the terrace. A drink well earned by the Terrens.
More info on Bröeders Beer Night and how to book
To read more about the Bröeders Beer night at Nola see these write-ups on Pick up the Fork, the Argentina Independent, Anuva Wines and Gringo in Buenos Aires.
To make a reservation for Bröeders Beer Night (location in Palermo Viejo provided upon booking), please check:
http://www.nolabuenosaires.com/craft-beer-night-buenos-aires/
OR
http://broedersartesanal.com/
You can also buy pints of Bröeders on tap at a decent price, at the Fukuro Noodle Bar in Palermo Hollywood (Costa Rica 5514, corner with Humboldt).
Cheers!
Historic Shopping Center in Buenos Aires
Housed in a lovely Beaux Arts building in downtown Buenos Aires, the Galerías Pacífico Shopping Mall is a great place to visit for much more than just shopping. Originally constructed in the 1890's as the BA headquarters for the Parisian department store, Le Bon Marche, this prime spot on the Florida pedestrian street has changed through the years, but retains a nostalgic elegance, making it a dazzling place to shop.

[Photo credit: Wally G's photostream/ /CC BY-BY-SA 2.0]
Modeled after the great Italian arcade Gallerias Vittorio Emanuele II in Milan, the building was commissioned exclusively for Le Bon Marche. The department store never occupied the entire building however, as it struggled to compete with the English store Harrods just down the block. (The Harrods building now lays empty, after closing over fourteen years ago.) As a result, other companies and stores occupied parts of the Galerías. It was the first home of the National Museum of Fine Arts, a hotel moved into one corner (now the luxurious Esplendor Buenos Aires), and the Buenos Aires and Pacific Railway converted some of the building into offices, thus the Galerías Florida were renamed Galerías Pacífico, since the rail line reached from Buenos Aires, through Chile, to the Pacific Ocean (el pacifico).
Beautiful ceilings and dark basements

[Photo credit: Barcex's photostream/ /CC BY-BY-SA 2.0]
At the nexus of the galleries you'll find impressive murals painted on the interior dome. Commissioned in 1947, these murals were painted by five of Argentina's greatest artists at the time: Antonio Berni, Juan Carlos Castagnino, Manuel Colmeiro Guimaraes, Lino Enea Spilimbergo, and Demetrio Urruchua. The murals reflect universal themes like brotherhood and man's relationship to nature, and it's an interesting study in the unique styles of each artist within the same medium. Keep an eye out as you stroll through the rest of the mall for some more contemporary murals, as well.
Like many other beautiful sites in Buenos Aires, the history of the Galerias is tainted with the stain of the last military dictatorship. In the late 1980's, a film crew ventured into the basements of the mall, and one of the cameramen recognized the the space as the site where he was held and tortured as an ex-desaparecido in 1976.  The basement still bore ghastly evidence of torture, such as markings made by the imprisoned, including dates and pleas for help. The building was declared a National Historic Monument in 1989.
High-end brand shopping in downtown BA
After lying abandoned for a while, the galleries were converted into a shopping mall in the 1990's, while Argentina was experiencing an economic boom. Today, the stores in Galerias Pacifico are basically the same ones you can find in other malls throughout the city, or walking down Santa Fe avenue, and around Palermo. Foreign brands like Chanel, Tommy Hilfiger, Estee Lauder, and Swarovski have shops among the many Argentine brands, and you can stop for cafe or lunch in the cafes and restaurants both on the bottom floor, and up high under the glass ceiling. Here's a full listing of stores.
[Photo credit: Miguel Cesar's photostream/ /CC BY-BY-NC-SA 2.0]
While you're there, don't miss the Centro Cultural Borges (Borges Cultural Center), which features many wonderful exhibits. Also stroll down the pedestrian Calle Florida for more shopping and lots of interesting people watching (rushed business people, street vendors, travelers, money traders, and buskers all converge here).
For a preview of the Galerias, check out this video, and read more on Wander Argentina.
Location and hours of the Galerias Pacifico
Av. Cordoba and Florida, City Center
Website:  www.galeriaspacifico.com.ar/eng/index.php
Phone: 5555-5110
Hours: Monday – Saturday 10am – 9pm
Sunday – 12pm – 9pm
Centro Cultural Jorge Luis Borges:
Located on the corner of Viamonte and San Martin, City Center

Q&A with the author of the Pick Up The Fork blog

[Photo courtesy of Allie Lazar]
Originally from Chicago in the United States, Allie Lazar has lived in Buenos Aires for nearly seven years. She is a freelance writer and author of the food blog Pick Up The Fork.
When did you first come to Buenos Aires?
In July 2006, as an exchange student. I "studied" Political Science at UBA (the University of Buenos Aires). It was supposed to be a 6 month study abroad program but I extended it to a year. Which later was extended to 6 more years, without the studying.
Why did you stay?
It gave me anxiety to think my BA expiration date was approaching; there were too many restaurants that I hadn't tried yet. I wasn't crazy about the idea of going back to the US, graduating, getting a real job and becoming an adult, so staying in BA seemed like the least sucky option.
Why did you start to write your blog Pick up the Fork?
Finding a decent restaurant back in the day was a challenge, and so often I became victim of throwing my pesos down the shitter on terrible overpriced meals with horrendous service. There weren't many honest restaurant resources, and even less in English, so I began to put my constant restaurant visiting and annoying food picture taking to some semi-respectable use.
What's your daily routine?
Since I work freelance, writing for magazines or websites, managing social media pages and organizing private food tours, I'm generally working on a few different projects at once – there are some weeks I'm bombarded with work and spend 24/7 at a café clacking away on my computer nonstop while also visiting restaurants. But if I don't have a deadline or project due, there are many days when I don't even put pants on.
How many times do you eat out a week?
Depends on the week and how fat I feel. If I'm working on an article and need to do research, I'll eat out every day – right now I'm working on two articles, one brunch / another lunch specials, so there's a lot of midday/morning eating going on.
What is your favourite neighbourhood in Buenos Aires?
Palermo Hollywood/Colegiales for convenience and street art, Villa Crespo for the eclectic mix of restaurants, Almagro/Abasto for the latino flava. My new favorite spot in BsAs is the lagos de Palermo on a weekday, it's dog park central. It's where all of the dog walkers (pictured below) congregate and take their packs – there are hundreds of dogs hanging out, it's heaven.

[Photo credit: http://flic.kr/p/a1LKKS/ CC BY 2.0]
What is your favourite way to spend a Sunday in Buenos Aires?
If I were a liar (and I am) I'd fabricate some story to make my lounging sedentary weekend sound similar to what an adventurous and active person may do on the weekends, doing some kind of sport and followed by a healthy meal at a cute café.
What is your favourite neighbourhood restaurant?
Since I'm on a constant quest for a great restaurant, I rarely repeat. At the moment I really have a thing for quick, fast food spots: Shawarma inside the Mercado de Belgrano, La Cresta's wraps are bomb (Bulnes 829, Almagro), so is El Banco Rojo's spicy lamb empanadas and doner kebab (Bolivar 914, San Telmo). When I'm homesick, I go to La Crespo (Thames 612, Villa Crespo) for a pastrami sandwich (pictured).

[Photo credit: Allie Lazar, http://pickupthefork.com/2011/06/05/la-crespo-a-jewish-american-palermonites-heaven/]
Where is the best place to get coffee / steak / ice cream / a beer in Buenos Aires?
Ok, so I've never been good at choosing the best, so here are SOME of my favorites:
Coffee: in Bocca al Lupo (Bonpland 1965, Palermo Hollywood), I don't know how they get it to taste so good! And the overall space is pretty perfect.
Steak: I like each one of these places for different reasons, they all might not have the best steak, but something about it makes me happy: Parrilla Peña (Rodriguez Peña 682, Recoleta), La Lechuza (Uriarte 1980, Palermo Soho), La Marucha (11 de Septiembre 3702, Nuñez), El Pobre Luis (Arribeños 2393, Belgrano), La Brigada (Estados Unidos 465, San Telmo), I could go on…
Ice cream: El Capricci's (Paraguay 5201, Palermo) marroc y chocolate profundo, Cadore's (Corrientes 1696, San Nicolas) nutella, Guardiola's (Jorge Newbery 1967, Las Cañitas) passion fruit, anything from Jauja (Av Cerviño 3901, Palermo).
Beer: I'm more of a cocktail drinker, and I just made a list of my favorite bars on the Pick Up The Fork Drink Drank Drunk guide.
What was the best meal you have eaten in Buenos Aires?
Hernan Gipponi just started a new concept on Monday nights with one communal table (called One Table), where he cooks and serves the food table-side. The wines are paired by their sommelier (one of the best in the country) Andres Rosberg, who also happens to be the president of the Argentine Sommelier Association. I went last week and it was phenomenal meal and a wonderful overall dining experience.
What are your favorite shops?
I don't shop for shoes or clothes, instead I spend all my money on ridiculously expensive cheese. Barrio Chino in Belgrano (pictured below) is like my food mecca. Mercado de Progreso (Avenida Rivadavia 5430, Caballito) and Mercado de Belgrano (Juramento 2527, Belgrano) are also good places to shop.

[Photo credit: http://flic.kr/p/9aQTLp/ CC BY-SA 2.0]
Where do you go for a romantic night out in Buenos Aires?
I like to take that special someone on a romantic stroll for a smoky truck of greasy choripanes.
What is your exercise routine?
Pfffffff. It generally consists of two hours debating whether I should work out; sometimes I get far enough to put a sports bra on but ultimately decide that my new work out / diet routine will start tomorrow.
Do you have any collections?
I save a lot of menus, ideal bathroom reading material.
What are your favourite websites and blogs?
I'm on Gawker and The Onion daily. I also read way too many food blogs, my favorites at the moment are First We Feast, Thug Kitchen and The Perennial Plate. And of course Daniel Tunnard's blog, author of "Colectivaizeishon, one man's pointless quest to take all the buses in Buenos Aires."
What are the most played songs in your music collection?
At the moment I listen to mostly NPR podcasts. Yes, I'm 27 going on a liberal, grey haired 55.
What do you never leave the house without?
A bad attitude.
What is the most unusual thing you have been asked by a stranger in Buenos Aires?
A stoner with mulletlocks (dreadlocks + mullet) approached me at Plaza Francia and asked: "No me prestás un zapato?" (Can you lend me a shoe?")

What is your favorite porteño saying or expression?
All of these.
What three places or things to do would you recommend to a visitor to the city?
Wander around Chacarita Cemetery (pictured below), guzzle lots of cheap wine, visit some of the more unknown café notables.

[Photo credit: http://flic.kr/p/ck2Nwh/ CC BY 2.0]
Any insider tips?
You can see all the famous sightseeing spots in less than two days, and most are overrated (cough La Boca cough). The best way to experience Buenos Aires is walking around, going café and restaurant hopping.
Thank you Allie! Questions? You can leave a comment for Allie on her famous food blog Pick up the Fork. And if you are an interesting expat/local in Buenos Aires and would like us to interview you, feel free to get in touch and tell us why.
El Puente de la Mujer in Buenos Aires's business district
Crossing the diques (docks) to Buenos Aires's elite district of Puerto Madero, you'll undoubtedly spot one of BA's most iconic structures: El Puente de La Mujer, or Woman's Bridge. A beacon to all pedestrians, this elegant and sophisticated homage to women is one of the city's most contemporary structures, curving over the waters of the Rio de la Plata.
[Photo credit: efava's photostream//CC BY-NC-SA 2.0]
The bridge was designed by Spanish architect Santiago Calatrava, a pioneer of the Cantilever spar cable-stayed bridge. Open for pedestrian passage only, it was completed in 2001. You may (like I have) spend hours contemplating the angles and shape of the bridge, wondering which parts correspond to a literal representation of a woman or if it's simply a conceptual nod to womanly grace and elegance. But actually it was named as such because the streets of Puerto Madero are all named for famous and important Argentine women; the architect likens the structure to the synthesis of a couple dancing tango (aha, now I see it!).
[Photo credit: shell belle's photostream//CC BY-NC 2.0] 
Puerto Madero is one of the only places in the city where you can see and enjoy the river. So head down to the restored docks on a beautiful day, and experience the bridge for yourself! If you'd like to see how it opens, you could wait around until a ship shows up, but that could be a long while (Puerto Madero is not the city's functioning port, see below); why not just watch a video of the bridge open! It is particularly lovely all lit up at night, or on a windy day, with the brackish river water rippling below.
[Photo credit: verovera78's photostream//CC BY-NC 2.0]
Puerto Madero: from rags to riches
Because the Rio de la Plata river is so shallow, docking cargo ships was a challenge in the old days. Boats used to stop off shore and small crafts would bring passengers closer in, where high-wheeled carriages (or in some cases, slaves) carried passengers ashore. Puerto Madero was finally constructed as the port of the city, commissioned by Eduardo Madero in 1887. It was soon made obsolete, however, by the construction of the New Port (further North, on the waterfront beside the Retiro neighborhood) in 1926. From this point on, the region fell into decay and became one of the most derelict sectors of the city.
In the 1990's, however, the city and national governments joined forces, attracting major local and foreign investment, to revamp the old port into Buenos Aires's most chic and elite neighborhood. Old warehouses were converted into smart offices, lofts, restaurants, and the new space for the private Catholic university, Pontificia Universidad Catolica de Argentina.

[Photo credit: David Sasake's photostream//CC BY-NC-SA 2.0]
If it's a hot day in Buenos Aires, this neighborhood is blessed with a revitalizing breeze. The docks are great for strolling, biking, or sightseeing; keep your eyes open for a crazy guy on roller blades, who skates up and down the block razzing tourists and making jokes. Next head into the Puerto Madero neighborhood itself, and saunter among the towers that house Argentina's wealthy. Sip a luxury cocktail at the Faena Hotel + Universe before exploring one of our favorite regions of the city, the Costanera Sur Ecological Reserve.
Read more about the history of Puerto Madero's development on Wander Argentina, or check out some of the most beautiful pedestrian bridges in the world as rated by Travel + Leisure.
Location of Puente de la Mujer
Juana Manuela de Gorriti between Azucena Villaflor and Macacha Guemes
Puerto Madero
An intimate dinner party in the chef's own home

[Photo courtesy of Dan Perlman]
There is something slightly surreal about attending an intimate dinner party in a private home at which the ten guests are total strangers and the host is mostly a background presence, periodically emerging from the kitchen to introduce the dishes and wines before hurrying back to prepare the next course. With diners from Argentina, the United States, Ireland and England, the language at the table switched between English and Spanish and the conversation topics spanned the globe. By all accounts a fairly typical night at Dan Perlman's 'closed door' ('puertas cerradas') restaurant Casa SaltShaker in his apartment in the Recoleta neighborhood of Buenos Aires.
From the outset, eating at Casa SaltShaker is unlike going to a normal restaurant. Dinner places are by reservation only and the address is only revealed once the booking has been confirmed. Guests are warned to inform Perlman in advance of any allergies or dietary requirements, leaving him free to dream up the dishes on the five course set menu, which are usually created on a whim. As Perlman explained, he rarely serves the same dish twice.
Eclectic guest list
Arriving at the apartment block shortly before 9pm (guests are asked to arrive between 8.45pm and 9pm; dinner is served at 9.15pm), I was unsure what to expect. As I rang the doorbell, I wondered what language I should speak. I was greeted by Perlman's partner Henry, who I followed into the apartment, a bright, modern and homely ground floor duplex with shelves stacked full of cookbooks, paintings and family photographs on the walls, low lighting and an outside patio. Elton John was playing in the background. As I was the last to arrive, I could see the other nine guests standing together in a circle in the living room talking. I was handed a ginger, Pineral (an Argentine aperitif) and pink grapefruit juice cocktail and I went over to introduce myself to the group.
Among my dining companions were a couple from Ireland, a Rosarian couple who were in Buenos Aires to visit their son, who was also at the dinner, and a couple from Oregon and their parents / in-laws. We all sat together at a large square table, set with neatly folded napkins, place mats and a promising selection of several different glasses – Perlman is a trained sommelier and each of the five courses was paired with a glass of specially selected wine.
On tonight's menu…
The printed menu awaiting us at the table informed us that the first course would be 'salatit banjan y satata banadoura'. This turned out to be two Middle Eastern style salads, one with tomato, red onions, chili and prawns and the other with aubergine, green pepper, lemon juice and cockles, served on a camembert cheese tuile. The unusual combination seems typical of Perlman's idiosyncratic cooking style and is certainly not the usual Buenos Aires fare. The Nieto-Senetiner Brut Nature champagne we drank with it was even better.

[Photo courtesy of Dan Perlman]
Next up was a truly delicious cheddar and English ale soup served with homemade bread, my favourite dish of the night (how I would love a bowl of it now). Perlman explained that he usually puts a soup of some kind on the menu, since good soup can be hard to come by in Buenos Aires. This one was paired with a Terrazas Chardonnay Reserva.

[Photo courtesy of Dan Perlman]
The course that seemed to be the most popular of all, however, was the one that followed: freshly made pappadelle pasta with peppers, butter beans, walnuts, lemon zest, garlic, rosemary and olive oil, washed down with a Escorihuela Gascon Rosado.

[Photo courtesy of Dan Perlman]
Then came the maincourse, seabass wrapped in Serrano ham with potato risotto, portobello mushrooms with 'mustard caviar' (mustard seeds that are inflated like popcorn). In a city where there is generally a huge chunk of meat at the center of every evening meal, it was a welcome change to eat fish, which was succulent and served with a Malbec reduction sauce.
Although I am not generally keen on deserts, I really enjoyed the slightly unusual passion fruit cheesecake with a coconut crust. It was not too sweet (perhaps why I liked it so much), although it was served with an incongruous dollop of dulce de leche. As we lingered around the table chatting I felt so relaxed I hardly wanted to leave. Luckily Henry came round with a large cafetiere of strong black coffee to give us the boost we needed to head out into the night, full and content.

[Photo courtesy of Dan Perlman]
If you would like to have dinner at Casa Saltshaker, it is necessary to book in advance. For more details on how to make a reservation see the Casa SaltShaker website.
For more about Casa SaltShaker and other 'closed door' resaturants in Buenos Aires see this post in the Argentina Intependent, and A Life Worth Eating's write-up.