A writer's cafe in San Telmo
After you attend the San Telmo market – a rite of passage for any traveler in Buenos Aires – you and your tired feet might wonder, "Where can I relax in a quiet place around here?" Surprisingly, you only need to walk one more block.
Although it has received some attention in travel books, La Poesia has maintained its character, bohemian environment and simple, great tastes. Located on the corner of Chile and Bolivar, one block off from the feria on Defensa street, La Poesia ("the poetry") charms its patrons with old, wooden tables, exposed brick ceilings, walls covered with pictures, signs and quotations, and a nice balance between bar and café.
Opened in 1982, closed in the late '80s and reopened four years ago, La Poesia has plenty of history. If Jorge Luis Borges didn't sip coffee here, his admirers did. His quotations adorn the walls, invoking Argentina's literary past.
At the risk of sounding cliché, I think La Poesia is a classic, romantic Argentine café. It's open till 4am Fridays and Saturdays, and is often filled with friends chatting for hours and readers combing through novels. Furthermore, a local, Porteño crowd offers an authentic atmosphere. There isn't an English menu. The place seems destined for a scene in a Woody Allen film.
If the downstairs is bustling with the feria crowd, a staircase to the left of the counter leads to the high-ceiling upstairs, which I've always found quiet with nice views of the street corner (sometimes the upstairs is closed early in the week).
Micro-brewed beer in Buenos Aires!
Argentina has excellent wines. Great Malbecs are available here for very affordable prices. When it comes to wine's brother – beer – the quality is not the same across the board. Simply put, good beer can be hard to find in Buenos Aires.
La Poesia brews its own beer – I recommend the Colorado, a red-tinted lager with a smooth flavor served in a cold mug. They also have a stout and blonde ale. Judging by the surrounding tables last night, people came for the beer.
Coffee drinkers look no further too. One of your trip's best deals in Buenos Aires is at La Poesia. Order the "café con leche, pan casero con dulce de leche y manteca." Coffee with hot milk, a loaf of toasted homemade bread and ample portions of butter and dulce de leche make this a simple pleasure you might order twice. I have.
Poesia's Irish coffee is also well done, large and comes with a small side of cornbread.
The menu at La Poesia can be dizzying. Pages of sandwiches and tapas initially made me feel like I was at a Greek diner in the U.S. where they serve everything under the sun. Like its beer and coffee though, a keep-it-simple mindset will lead you in the right direction. I recommend their meat and cheese plates, or an antipasto plate, chuck full of olives.
Whether in San Telmo for the feria or perusing the streets of Buenos Aires like Borges, take a break at La Poesia. Sip your café con leche, nurse your beer and let life and its worries fade away.
Finding Cafe La Poesia
Getting there: The address is Chile 502 in San Telmo. From Recoleta or Palermo, take the D Line subway to Catedral station and walk six blocks from Plaza de Mayo down Bolivar Street. Bus lines 29 and 45 also stop nearby.
When to go: Monday – Thursday, and Sundays: 8am – 2am; Friday and Saturdays 8am – 4am. I prefer going at night, but the daytime offers more people watching.
Soak in the atmosphere of San Juan y Boedo Antiguo
[Photo credit: Gobierno de la Ciudad de Buenos Aires Flickr account/ /CC BY 2.0]
The corner of San Juan and Boedo, made famous by the tango singer Homero Manzi in the opening lines of his song Sur ('San Juan y Boedo antiguo, y todo el cielo' – 'Old San Juan and Boedo, and all the sky') is the site of a café (now a tango show by night) that was a gathering place for local left-leaning writers and intellectuals in the 1920s. Close to the corner are a number of cafes and restaurants well worth the 20 minute trip from downtown or 30 minutes from Palermo, including Pan y Arte, Cossab and Cafe Margot.
Boedo: Barrio on the rise
You might hear Boedo touted as Buenos Aires' most up-and-coming neighbourhood, with its burgeoning arts scene, old school milongas (Tango dance halls) and claims to be the bona fide birthplace of the Tango. Although the idea that this traditional barrio is on the road to Palermo Soho style development might strike fear into the hearts of those who love it, for now at least it has retained an authentic, residential feel.
[Photo credit: http://www.flickr.com/photos/jglsongs/2227925169/ /CC BY 2.0]
Mingle with the locals at Café Margot
Café Margot was first opened in 1904 and recently completed renovation work has restored the café's exterior to its former glory. Inside, Café Margot is enchanting, with whole hams hanging from the ceiling, exhibitions by local artists on the walls and waiters in waistcoats swerving around closely packed wooden tables, balancing trays of coffees and medialunas (croissants) or bottles of beer and baskets of monkey nuts.
But forget the inside. On a warm summer's evening in the city there are few better places to be than sitting at a pavement table outside Margot drinking a cold beer and eating picadas (a shared plate of food to pick on such as olives, salami, ham and olives). Also recommended are the sandwiches de pavita (turkey, the house special) and, when they have them, the empanadas de parrilla (empanadas filled with slices of steak).
For more reviews of Cafe Margot, check out this blog post by Foodie in BsAs and Dan at Saltshaker's turkey-tastic review.
Location of  Café Margot in Boedo, Buenos Aires
Café Margot, Avenida Boedo 857 (corner with San Ignacio), Boedo
Telephone: 4957-0001
*PLEASE NOTE: Anuva Wines unexpectedly closed down permanently on January 12th 2017. We are currently looking into alternative wine tasting options in the city to be able to update the below article – feel free to contact us in the meantime to ask for a wine tasting recommendation in Buenos Aires*
Discover the best of Argentina's Wines with a wine tasting in Buenos Aires…
Anuva Wines: The Company
Argentina's wine regions attract wine lovers from the world over, who fall in love with the bountiful and unique wines produced here.  One such man is Daniel Karlin, owner and operator of Anuva Wines, a wine club that offers wine tastings for visitors to Buenos Aires.  Anuva – a Spanglish wordplay on the word uva (grape), is also a name in India and Russia, translated as 'knowledge' and 'new beginning' – a perfectly fitting name and mantra for this new(ish) business which boasts extensive expertise of Argentine wines.
The best Helado / Gelato / Ice Cream in Buenos Aires?
Out of all the ice cream parlors in Buenos Aires, Un Altra Volta in Recoleta is certainly up there in the cream of the crop. And this is in a city where the ice cream is some of the best in the world, due to the heavy Italian influence here. If the picture above does not convince you, read on for more information on Buenos Aires' grand ice cream tradition.
Buenos Aires and the Italian Connection
In related articles reviewing Banchero Pizzeria and Caminito street, both in the 'Italian' barrio of La Boca, you can read more in depth history regarding the huge amounts of Italian immigration into Argentina around the turn of the 20th century. Of course, they brought with them Pizza and Pasta, two staples of both the diets of Italy and Buenos Aires, but also Ice Cream, or gelato (the version more common in Italy), the third prong of the proud Italian food triumvirate.
It has been dared to say that Un Altra Volta (known by most simply as Volta) boasts better ice cream than anywhere in Italy… though that is a bold statement. At this point, it must be clarified that Volta serves gelato, and there is a slight difference between this Italian concoction and your common ice cream or helado.
Ice Cream v. Gelato
So what is gelato anyway? Here, Buenos Aires foodie Saltshaker clears things up in his own review of Un Altra Volta:
"…the nutshell difference between gelato and ice cream…? Gelato has no air whipped into it, even top of the line premium ice creams have some, and lower quality ones have lots. Gelato does not generally contain cream, it uses whole milk, and contains more eggs. This results in a treat that is lower in fat (generally 3-6% versus ice cream's 11-15%) but denser in texture, more intensity of flavor, and it's served at a slightly warmer temperature to make it soft enough to scoop, yet, because of the egg versus cream thing, it doesn't tend to drip all over as quickly."
For the ice cream fanatic, Saltshaker also has an excellent page dedicated to an overview of Ice Cream Parlors in Buenos Aires.
Another well-known Buenos Aires foodie, La Otra Dimension, adds the following about the difference of gelato…
"…gelato flavours are often wonderfully intense thanks two factors. First of all, gelato has a lower fat content than ice cream; and fat, by nature, coats our tastebuds and dulls our perception of flavour. More importantly, gelato is made with a much higher proportion of fresh and natural flavouring agents such as ripe fruits or nuts."
Note that the lower fat content in gelato makes it less filling, so you can eat a lot more, and make up for the fact that it is less fattening than regular ice cream.
Gelato from the gods
Whatever your choice of flavors, Volta does not disappoint. If you're looking for a real taste of Buenos Aires, try the extreme sweetness of dulce de leche flavored gelato. Mix in contrasting strong flavor like chocolate amargo (dark chocolate) to balance the flavors. Both of these choices are just heavenly at Un Altra Volta.
Futuristic ice cream at Un Altra Volta
The ice cream parlor is also a fantastic place to slowly enjoy your gelato, with a very white, futuristic, clean-looking interior that makes you feel like you have been transported into the future where the secret of 100% perfect ice cream has finally been cracked.
It is also a great place for a coffee with friends, especially on a nice spring or summer day when you can sit out in the lovely shaded patio at the back. There is always a nice mix of people there, always quite busy, with a chatty atmosphere, typical of the cafes in Recoleta. Plus, the staff are extremely courteous and attentive. And if you don't feel like ice cream, then a nice alternative is coffee with a few of their finely crafted chocolates, which although they don't quite reach the heights of the gelato, are certainly very tasty.
Location of Un Altra Volta
Avenida Santa Fe 1826, between Av. Callao & Riobamba, Recoleta
[see website for other locations]
Delivery Tel: 0810-88-VOLTA,  Website: http://www.unaltravolta.com.ar/
Tour del Gelato – discovering the world's best gelato.
This black cat in Buenos Aires might not be so unlucky…
On a chilly fall or winter day in Buenos Aires, there is nothing more likely to give you warmth and a big smile than having a delicious spiced tea or coffee in El Gato Negro, one of the city's most historical establishments. The cafe was originally a spice store founded by a Spanish settler in 1929 who spent years traveling in Asia and Siberia, collecting exotic spices and flavors. He brought them to Buenos Aires and named this cafe El Gato Negro after another famous cafe back in Madrid.
Now El Gato Negro is a reminder of the city's European roots, and a wonderful place to read a newspaper or the book you recently bought at one of Avenida Corrientes' many bookstores, or even to enjoy a gourmet dinner in its elegant upstairs dining room.
Heady aromas of teas, coffees and spices
As you walk into the cafe, you are instantly overcome by the mixtures of aromas. Freshly ground coffee, cardamom, black and green teas, and ginger swirl together in the air, hovering over the people sitting at tables or buying bags of spices at the counter. You almost have the sensation of being in an Arab market in the middle of Buenos Aires. Grab a seat and be prepared to relax for an hour or two in the company of a hot drink.
The truth is that El Gato Negro does have rather daunting prices for its offerings, partly due to the fact that it is a fairly touristy environment these days (as with most historical locations), but also because its coffees and teas are mostly imported and of high quality. A delicious delight like the cafe al jengibre, with freshly ground coffee, cream, ginger, honey and cinnamon, may cost more than a cafe con leche across the street, however,  El Gato Negro is worth a visit if only to experience its lovely old world atmosphere.

[Photo Credit: adapar]
Try delicious treats like Irish coffees or vanilla-cinnamon infused teas
Other treats to try here are their Irish coffees, which offer a bit of alcohol to warm you up on a chilly day, and their loose leaf teas and infusions, such as vanilla-cinnamon, green tea-orange, green tea-ginger, and mint. Don't miss specialties such as the cafe cardamomo with fresh cardamom seeds or their delightful cappucino. To accompany your bevarage, El Gato Negro has some tempting desserts and pastries, such as brownies, medialunas, and alfajores.
If you come to El Gato Negro for a light lunch, you could order a sandwich with ham and cheese,  some picadas (ham and cheese platters), or one of their gourmet sandwiches with steak, chicken, or cheese .
El Gato Negro is an acclaimed cafe notable, recognized for its historical importance in Buenos Aires. Most of the original wooden furniture has been preserved, and its a fabulous place to sit and watch people come in to relax after an afternoon of dizzying shopping on bustling Avenida Corrientes in the city center of Buenos Aires.
An interesting range of food, but at a price
El Gato Negro also has a restaurant area upstairs that serves full-course dinners at rather lofty prices, not pleasing to travelers on a budget. Here you will find unique bistro-style dishes and a full wine-list that should please any palate. Among their starters, El Gato Negro has caesar salads with shrimp, regular salads, and a spiced mushroom tart. Main dishes range from the scalloped pork with curried corn pudding, to fish in almond sauce over herbed couscous.
For desserts, try the parfait de Cassis or the chocolate mousse with walnuts. All in all, El Gato Negro is a place for fine-dining in a unique setting, and it's worth the prices if you really need to eat something besides bife de chorizo con pure de papas for a change. The wine list has good Argentine favorites like Benjamin Nieto and Santa Julia, or opt for a more economical glass of house wine.
Take a little of El Gato Negro away with you
If you are souvenir-shopping, El Gato Negro has lovely little spice tins and boxes with their signature black cat over a lush red background. Or, if you are staying long-term in Buenos Aires, this is a good spot to find things that can be difficult to obtain elsewhere in the city, such as exotic spices, soy sauces, couscous, dried mushrooms, fresh and dried spices from all over the world, spice mix for making asado, or dried candied fruits such as kiwis, pears, and pineapples.

[Photo Credit: aardvark]
Location of El Gato Negro
Avenida Corrientes 1669, between Rodriguez Pena & Montevideo, City Center
Tel: 4374-1730
El Federal: People watch, relax, socialize, or dine

[Photo Credit: Villamota]
Grab a buddy and head to El Federal, one of Buenos Aires' most beautiful and classic cafes (in operation since 1864), for a relaxing afternoon coffee, lunch, or dinner. It's a pleasure to sit in this café and admire the vintage ads decorating the walls, under a glow of soft lights. Bar El Federal is a perfect example of how the city has made an effort to preserve its cultural patrimony by maintaining old establishments in good condition.
El Federal also has a beautiful lowered bar (giving you the strange perspective of looking down on the bar staff) with an amazing carved wood and stained glass arching mantel above (see photos later in this post), an open kitchen which you can sneak a glance into if you sit in the back, two rooms full of sturdy wooden tables, and even a quaint little bookstore hidden within. The crowd is a mix of porteños relaxing with friends and family, tourists with their heads buried in Lonely Planet guide books, and eclectic San Telmo 'locals' from all over the world.
A classic café with cuisine that suits all tastes
Sit down at one of the tables and eventually a waiter in a crisp white shirt and black pants will bring you a menu longer and denser than a Borges novel. Whatever your appetite is calling for, Bar El Federal has it, and it will be prepared with fresh, simple ingredients. In general, their offerings fall into the category of cocina porteña: Italian favorites such as fresh homemade agnolottis, spaghettis and raviolis topped with tomato, pesto, or cream sauces; pizzetas with any imaginable toppings, milanesas, hamburgers, omelettes, and sandwiches.

[Photo Credit: Paula Moya]
Elaborating on the topic of sandwiches, this cafe tops the charts in the vast quantity and variety of sandwiches you can choose from. There's even an entire half-page in the menu dedicated to turkey sandwiches, which is not really common in Buenos Aires, as it is rare and very expensive. Then there are the medialunas rellenas, which are croissant sandwiches filled with cheese, ham, and other ingredients. They have traviatas, a sandwich made with crackers instead of bread, for a lighter option. You can choose from classic sandwich ingredients such as ham, cheese, salami, steak, sausage, hearts of palm, and more.
Worth mentioning are the picadas, large plates of finger foods that are served with bread baskets and make a wonderful light but satisfying dinner with some wine. El Federal offers some especially creative selections, such as sautéed eggplant, fried raviolis, peanuts, walnuts, olives, ham, cheese cubes, and goat cheese. The picadas are a great choice if you aren't in the mood for a hot meal, and they are ideal for eating slowly during great conversation or romantic whispers with your date.
El Federal serves fresh homemade Spanish tortillas, and their salads are also notable, which range from specialties such as apples, carrots, walnuts and cheeses to traditional favorites with a lettuce and tomato foundation. The main theme here is fresh and simple, so don't expect fancy bistro salads, but you will not be disappointed with the quality.
Have a coffee, bottle of wine, cocktail, or milkshake
As for quenching your thirst, El Federal is like a bottomless well. You can sip on unique cocktails like a pisco sour, caipirinha, or the classic Negroni – a mix of gin, Campari and vermouth, with a slice of lemon – guzzle handcrafted Argentine beers by the bottle, partake in pitchers of draught beer or cider, or just linger over carafes of Argentine wine. Order like a local by asking for a chopp de sidra (a mug of traditional Argentine cider, on draught). Or you could even go all out and order a bottle of champagne, which is surprisingly affordable at El Federal.
Most of the alcoholic beverages are modestly priced, and as always in Argentina, wine is the best deal you can get if you don't want to spend a lot. El Federal offers trusty, economic wines such as Traful, Lopez, and Concha y Toro.
If you are looking for something that won't get you tipsy, try a classic espresso-based drink such as café con crema, or a tea. And El Federal features licuados, the Argentine version of smoothies and milkshakes, which are made with either water or milk, according to your taste, and consist of any combination of fruits.
If you want a real dessert, Bar El Federal will not disappoint: it also has an extensive list of sweet concoctions, including strudels, pastries, and European-inspired creations of chocolate and fruits. Especially mouth-watering is the apple, pear, and cinnamon strudel, which is baked nearby and brought in fresh daily.
The service at El Federal is relatively slow, but it's not the kind of place where you'll want to rush through a meal or drinks. Enjoy the old-fashioned setting and the background noise of the kitchen sizzling meats and forks clinking on plates, while you experience the laid back lifestyle that Buenos Aires is so famous for.

[Photo Credit: Paula Moya]
Location of El Federal
Peru, corner of Carlos Calvo, San Telmo
Tel: 4300-4313
A Notable San Telmo Bar
A Buenos Aires afternoon is not complete without having coffee, drinks, or a meal in one of the city's famous "notable cafes and bars". A few years ago, a city government commission drew up a fairly comprehensive list of 53 notable bars and cafes and awarded them this special status due to either their historical, cultural or architectural importance to the city of Buenos Aires. Many of these establishments have been in operation since the nineteenth century, and upon entering one of them you are quickly transported back to the city's aristocratic roots.
One picturesque member of this exclusive club of bars and cafes is Bar Seddon, a San Telmo hang-out that was converted into a bar from a nineteenth-century pharmacy.
A bar that takes you into the elegant past of Buenos Aires
If you stand still for a moment in Bar Seddon, you can almost pretend that you are in a salon among intellectuals, philosophers, and young lovers from a Buenos Aires of many years ago. The musty yellow lighting casts an antique glow over the mahogany wooden bar, which shines with the additional luster of candles distributed throughout the bar. Bar Seddon is impressive in its décor, which consists of statues of Roman goddess-like figures, big windows for gazing out into the street, and an original old black-and-white checkered tile floor.
The bar has two stories with plenty of wooden tables and comfortable seats where you can share a bottle of wine and spend hours talking, listening to the bar's music selection, or enjoy a live musical performance on certain nights of the week.

[Photo Credit: Paula Moya]
Wet your whistle or appease your appetite
During the day the bar is open for lunch, and it's a great place to relax with a coffee and pick up a magazine or a diario (newspaper) at the bar. On any night of the week at Bar Seddon you can find an eclectic mix of clientèle, ranging from grungy European backpackers to students from all over the world to porteños seeking a little bit of the laid-back San Telmo attitude.
On Wednesday nights the bar features live bossa nova acoustic guitar and vocals, and on Saturday nights you may find a rock/funk band that transports you from Buenos Aires to New York City. Also, if you are looking for a place to hold a meeting of any kind, you might want to come to Bar Seddon during the late afternoon to enjoy the warmth, good coffee, and relaxed atmosphere. If you like a drink or two, Seddon has a great 2-for-1 happy hour in the late afternoons.
If your belly is rumbling, the chef at Bar Seddon whips up traditional dishes such as costillitas de cerdo (pork ribs), bife de chorizo con pure de zapallo y hojas verdes (beef strip steak with pumpkin puree and fresh greens), homemade pizzas, soups, pastas, and minutas (usually milanesa sandwiches made from either meat, soy, or eggplant).
Bar Seddon – a second home in San Telmo
Seddon is one of those bars where you come once and you just keep coming, whether it's the music, the food, the atmosphere, or the people that traps you. As for the service, it's pleasant and personal. The family who owns Bar Seddon works hard to keep the place clean, friendly, and enjoyable for everyone.
They are promising new deals in the future for backpackers who are staying at hostels to get a free drink with their meals. Also, they are looking into having 'world' specialty nights, such as German or French night, to vary up their cooking and give Bar Seddon a more international appeal.
So grab your date for a candlelit dinner, bring your friends to see a beautiful renovation of a historic building, or simply cozy up to the bar with a magazine and a glass of wine and chat with the smiling bartender while you listen to some Latin tunes. Whatever mood you are in, whoever you are with, Bar Seddon is always a good place to feel the rhythm of San Telmo and imagine the Buenos Aires of a hundred years ago: all with a good bottle of Malbec red wine to liven up the conversation, of course.
Location of Bar Seddon
Defensa 695, on corner of Chile, San Telmo
Tel: 4342-3700

It's all about the beer at Antares
In the search for a true beer drinkers' pub in the city of Buenos Aires, it can be difficult to come across something truly original and refreshing. A long time staple for home grown taste, Buller Brewing Company bar in Recoleta now has some competition from Antares Pub in the stylish neighborhood of Palermo. The limited selection of cerveza artesanal (handcrafted beer) in Buenos Aires makes Antares a must-visit for all beer lovers.
If you are interested in checking out some of the more interesting brews at Antares, they offer a 7 beer sampler which is as tasty as it is cute to look at (Bueller offers its own 6 beer taste-test as described here by BA blogger Ken in his review).
Pictured below, a quick look at the hopeful competitors, the seven different beers at Antares:
Please note that the 7th and final beer, pictured on the right, is a GREEN concoction made specifically to celebrate St. Patrick's day, holding the place for the Imperial Stout, which normally finishes off the set.
Buenos Aires' Best Beer?
In searching for the perfect brew in Buenos Aires, it must be stated that the Scotch Ale at Antares is simply fantastic. It has a sweet aroma somewhat reminiscent of butterscotch, accompanied by an appropriately pleasing caramel color. The flavor is initially so smooth on the palette that you will be lulled into a false sense of security, but it soon moves about the mouth in a complex fashion that leads to an oh-so-welcome pleasantly hoppy finish. After you finish one pint, almost certainly quickly, you'll want another. Antares Scotch Ale, although in a league of it's own, can be likened to the Oktoberfest at Buller, as both have tones of caramel and finish more tartly.
Antares vs. Buller
So, specific beers aside, which place is better for a lover of beer, Antares or Buller? Both places are great if you stick to their strengths – at Buller try the refreshing Light Lager, or their strong and flavorsome Honey Beer. At Antares you have a quite remarkable Scotch Ale, alongside the almost as enjoyable and equally drinkable Porter. Overall, Buller may have a more consistent level of quality, but Antares has two surefire winners up its sleeve. 
Antares Bar – The Place
Antares, as a venue for drinking, is a very nicely done, brand spanking new bar that fits in very well with the other stylish locations found around it in Palermo Soho. From the large shiny beer dispensers to the several pieces of beer related memorabilia, and especially the extremely long bar, there is something for every serious ale drinker. And for those more interested in the ambiance and design of the place, it is beautifully done in a very modern way, and the place does get buzzing fairly early, so Antares does not disappoint in this way either.
Finally, in terms of prices, it's a good deal. Pints are cheap enough, but with a daily 7pm-9pm happy hour, when pints are two for the price of one, you're getting high quality for top value. Let's just hope they can keep the prices and happy hour this way, and not cave in to the spiraling prices we are seeing across the rest of the city.
Location of Antares Pub
Armenia 1447, between Gorriti and Jose A. Cabrera, Palermo Soho
Tel: 4833-9611, Website: http://www.cervezaantares.com
The Great Buenos Aires Beer Hunt
The Buller brewpub in Recoleta is one of the few places in Buenos Aires where you can get a proper pint of beer. 'Proper', of course, refers to two things. Firstly, beer served in a traditional pint glass. That is key. Beer just tastes better that way. But secondly, and far more importantly, the BEER MUST TASTE GOOD, and not like the mass-produced, sub-standard brews that are served in the majority of bars across the world, and is especially prevalent in Argentina, where Quilmes, high on preservatives and additives but low on any kind of taste whatsoever, prevails.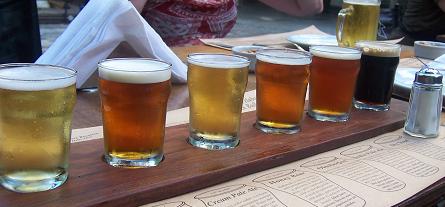 A Short Introduction to Beer in Buenos Aires
Asado Argentina wrote an excellent introduction about beers that are available in Argentina, although it doesn't make for great reading for a beer fan… there is not a whole lot of flavorful beer to be found easily here, and most of the time you will have to make do with the usual suspects of Quilmes, Isenbeck, Brahma (from neighbors Brazil), and some 'international' beers that are actually made under license in Argentina and are closer to Quilmes than anything else: Heineken, Warsteiner, Budweiser and Stella Artois. In fact, it's probable that Quilmes brews most or all of those in Argentina too!
There are fortunately some far better beers to be found in Buenos Aires, but you are going to have to hunt them down. An excellent starting point for such a search is this beer 'scooping' report on Buenos Aires, which shows that there is a large amount of small breweries and brewpubs dotted around Buenos Aires, waiting to be found… but also that many are closing, probably due to lack of business.
Anyway, Buller, is as good as any place to start.

Buller: The Beer
For a more in depth description of each of Buller's six brews, check out  BA blogger Ken's review. To sample the full Buller range, you needn't drink six pints (although it is tempting), instead order the sample taster that Buller do for an affordable price, with cute little quarter pint glasses, as seen in the pictures above and below, with names shown on the table placemat underneath:
As you will note from Ken's posting of his over-the-top tasting notes, the best beers at Buller are the refreshing Light Lager, the deceptively alcholic and complex Honey Beer and the coffee-chocolate Dry Stout, with the 'Cotton Candy' Oktoberfest not far behind. Really the Cream and Indian Pale Ales are nothing to write home about, and did not contain the level of hoppiness that beers in that style should.
Buller: Recoleta Location, Recoleta Prices
The pub is located in the 'tourist strip' of bars, clubs and restaurants that runs along calle R. M. Ortiz, right in front of that most famous (and fascinating) of Buenos Aires tourist attractions, the Recoleta Cemetery.
However, Buller is probably one of the most pleasant places along this strip, almost completely due to the nice patio area it has out the front (see right).
Prices may run a little steep for the home-brewed beer, especially if you are comparing a pint at Buller to a liter of Quilmes at your local supermarket. However, it does taste two to three times better than Quilmes, so keep that in mind. And combatting the higher prices are the happy hour specials, which last from 6-9pm every day.
Bottoms up!
Location of Buller Pub and Brewery
Presidente Roberto M. Ortiz 1827, between Guido and Quintana, Recoleta
[Other location: Paraguay 428, City Center]
Tel: 4808-9061/2
***UPDATE: Acabar has sadly now closed for business. We'll leave the below review online for posterity***
A Resto-Bar with a twist
Acabar is a very nice bar and restaurant – with a twist to make it interesting. The menu itself is far more interesting than the actual food, a colorful distraction to take your attention away from the sub-par dishes:
In the end, it is the "bar" part of "resto-bar" which is worth visiting.
So, what's the twist?
Games. To spice up your weeknight, Acabar offers a selection of board games to help loosen the mood and keep the atmosphere relaxed. You and your friends can choose from old favorites like Jenga, Pictionary and Battleship – and don't be shy to invite neighboring tables of people to play along with you (or against you). The games not only help to enjoyably pass the time, they can function simultaneously with your cocktail as a social lubricant.
Acabar: Nice name
Great name, in fact. Multi-faceted. Firstly, it has all kinds of comedy potential. In English, acabar basically means "to finish", and those who are clever enough in Spanish can manipulate the name of this place into all sorts of sexual innuendos. Secondly, if you break the name down, it separates into two Spanish words: "Aca Bar" translating into "here-bar," letting you know that you have indeed arrived where you wanted.
But the bar itself is great too. Besides the many wonderful board games, the wait staff are extremely nice and friendly, and there are usually enough of them around to be able to grab one quickly for drink orders even when it's busy. And it does get busy, producing a happy, buzzing atmosphere full of mildly inebriated board-gamers.
Acabar is also HUGE, which is helpful for seating large groups of gamers. You'll have no problem getting a table as the place opens up round the corner to the left and backwards, and just keeps on going, and going. At one point it feels like you may even have to traipse through their neighbors' back-patios to reach the end of the bar. But don't let that put you off your drinks.
And all of that space is filled with character… interesting old chandeliers, pop-art on the walls, lots of funny ornaments and bits & bobs, a hundred different types of wooden tables that have definitely seen better days but still add to the rag-tag look. All very pleasant in a hip kind of way, as you would expect from somewhere located in Palermo Hollywood.
Location of Acabar
Honduras 5733, between Bonpland & A.J. Carranza, Palermo Hollywood
Tel: 4772-0845 / 4776-3634