It's all about the beer at Antares
In the search for a true beer drinkers' pub in the city of Buenos Aires, it can be difficult to come across something truly original and refreshing. A long time staple for home grown taste, Buller Brewing Company bar in Recoleta now has some competition from Antares Pub in the stylish neighborhood of Palermo. The limited selection of cerveza artesanal (handcrafted beer) in Buenos Aires makes Antares a must-visit for all beer lovers.
If you are interested in checking out some of the more interesting brews at Antares, they offer a 7 beer sampler which is as tasty as it is cute to look at (Bueller offers its own 6 beer taste-test as described here by BA blogger Ken in his review).
Pictured below, a quick look at the hopeful competitors, the seven different beers at Antares:
Please note that the 7th and final beer, pictured on the right, is a GREEN concoction made specifically to celebrate St. Patrick's day, holding the place for the Imperial Stout, which normally finishes off the set.
Buenos Aires' Best Beer?
In searching for the perfect brew in Buenos Aires, it must be stated that the Scotch Ale at Antares is simply fantastic. It has a sweet aroma somewhat reminiscent of butterscotch, accompanied by an appropriately pleasing caramel color. The flavor is initially so smooth on the palette that you will be lulled into a false sense of security, but it soon moves about the mouth in a complex fashion that leads to an oh-so-welcome pleasantly hoppy finish. After you finish one pint, almost certainly quickly, you'll want another. Antares Scotch Ale, although in a league of it's own, can be likened to the Oktoberfest at Buller, as both have tones of caramel and finish more tartly.
Antares vs. Buller
So, specific beers aside, which place is better for a lover of beer, Antares or Buller? Both places are great if you stick to their strengths – at Buller try the refreshing Light Lager, or their strong and flavorsome Honey Beer. At Antares you have a quite remarkable Scotch Ale, alongside the almost as enjoyable and equally drinkable Porter. Overall, Buller may have a more consistent level of quality, but Antares has two surefire winners up its sleeve. 
Antares Bar – The Place
Antares, as a venue for drinking, is a very nicely done, brand spanking new bar that fits in very well with the other stylish locations found around it in Palermo Soho. From the large shiny beer dispensers to the several pieces of beer related memorabilia, and especially the extremely long bar, there is something for every serious ale drinker. And for those more interested in the ambiance and design of the place, it is beautifully done in a very modern way, and the place does get buzzing fairly early, so Antares does not disappoint in this way either.
Finally, in terms of prices, it's a good deal. Pints are cheap enough, but with a daily 7pm-9pm happy hour, when pints are two for the price of one, you're getting high quality for top value. Let's just hope they can keep the prices and happy hour this way, and not cave in to the spiraling prices we are seeing across the rest of the city.
Location of Antares Pub
Armenia 1447, between Gorriti and Jose A. Cabrera, Palermo Soho
Tel: 4833-9611, Website: http://www.cervezaantares.com
The Great Buenos Aires Beer Hunt
The Buller brewpub in Recoleta is one of the few places in Buenos Aires where you can get a proper pint of beer. 'Proper', of course, refers to two things. Firstly, beer served in a traditional pint glass. That is key. Beer just tastes better that way. But secondly, and far more importantly, the BEER MUST TASTE GOOD, and not like the mass-produced, sub-standard brews that are served in the majority of bars across the world, and is especially prevalent in Argentina, where Quilmes, high on preservatives and additives but low on any kind of taste whatsoever, prevails.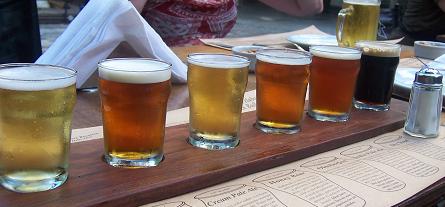 A Short Introduction to Beer in Buenos Aires
Asado Argentina wrote an excellent introduction about beers that are available in Argentina, although it doesn't make for great reading for a beer fan… there is not a whole lot of flavorful beer to be found easily here, and most of the time you will have to make do with the usual suspects of Quilmes, Isenbeck, Brahma (from neighbors Brazil), and some 'international' beers that are actually made under license in Argentina and are closer to Quilmes than anything else: Heineken, Warsteiner, Budweiser and Stella Artois. In fact, it's probable that Quilmes brews most or all of those in Argentina too!
There are fortunately some far better beers to be found in Buenos Aires, but you are going to have to hunt them down. An excellent starting point for such a search is this beer 'scooping' report on Buenos Aires, which shows that there is a large amount of small breweries and brewpubs dotted around Buenos Aires, waiting to be found… but also that many are closing, probably due to lack of business.
Anyway, Buller, is as good as any place to start.

Buller: The Beer
For a more in depth description of each of Buller's six brews, check out  BA blogger Ken's review. To sample the full Buller range, you needn't drink six pints (although it is tempting), instead order the sample taster that Buller do for an affordable price, with cute little quarter pint glasses, as seen in the pictures above and below, with names shown on the table placemat underneath:
As you will note from Ken's posting of his over-the-top tasting notes, the best beers at Buller are the refreshing Light Lager, the deceptively alcholic and complex Honey Beer and the coffee-chocolate Dry Stout, with the 'Cotton Candy' Oktoberfest not far behind. Really the Cream and Indian Pale Ales are nothing to write home about, and did not contain the level of hoppiness that beers in that style should.
Buller: Recoleta Location, Recoleta Prices
The pub is located in the 'tourist strip' of bars, clubs and restaurants that runs along calle R. M. Ortiz, right in front of that most famous (and fascinating) of Buenos Aires tourist attractions, the Recoleta Cemetery.
However, Buller is probably one of the most pleasant places along this strip, almost completely due to the nice patio area it has out the front (see right).
Prices may run a little steep for the home-brewed beer, especially if you are comparing a pint at Buller to a liter of Quilmes at your local supermarket. However, it does taste two to three times better than Quilmes, so keep that in mind. And combatting the higher prices are the happy hour specials, which last from 6-9pm every day.
Bottoms up!
Location of Buller Pub and Brewery
Presidente Roberto M. Ortiz 1827, between Guido and Quintana, Recoleta
[Other location: Paraguay 428, City Center]
Tel: 4808-9061/2
Pool Near The River
(Note: Deep Blue has now been renamed "Bull Bar")
(But many people still refer to it as Deep Blue, so we still will for most of this article!)
Deep Blue / Bull Bar is a fairly expensive pool bar in the bajo (low) area of Buenos Aires City Center, which basically means the part where the land starts to slope down towards the river. It is an area with a high concentration of bars, and due to this also being the banking/business district, you will generally see a lot of the 'after office' crowd about. In any other major city this would probably be a sign of a drunken mess waiting to happen, but in Argentina they are generally not very big drinkers, which is one of the more accurate stereotypes you will hear about the city. Although of course, things can get a bit crazy on Friday and Saturday nights, when these bars become rammed with twenty-something porteños.
High Quality Pool
As for the bar, Deep Blue is a nice place to go for a few games of pool, a beer or a cocktail (or three), and an American style burger (if you are missing that kind of thing). Although the games of pool are pricey per ficha (a ficha is the token you need for each pool game), the tables are of a higher quality than the rest in town, so you can get down to some serious pool shootin' action.
One good thing about Buenos Aires, and Argentina in general, is that people are generally friendly and not in the slightest bit shy. So if you fancy a game of doubles, just ask around and you can easily set up a heated "Yanquis vs Porteños" game with a little bit of light-hearted banter thrown in for good measure.
Cocktails vs Beer
Deep Blue is also a nice place for a few cocktails. Men: don't question your masculinity, ordering up a few colorful concoctions is quite acceptable, and guys at Deep Blue drink them without shame. The beer selection in Argentina is unfortunately sub par by world standards, so it might be a nice reprieve.
If you really must go for the cerveza, Deep Blue has a very interesting, if dangerous, twist on draft beer. You can sit at a table WITH YOUR OWN BEER TAP. Here you can keep on refilling yourself to your heart's content, just don't get so drunk that you lose track and end up with what will be a very expensive tab. Maybe you are better off sticking with the cocktails.
And if you don't feel like anything alcoholic at all, Deep Blue also has a range of delicious milkshakes, many featuring, oddly enough, floating Oreo cookies. These also come in alcoholic varieties for the really adventurous, but these may leave you feeling a little queasy later that night and into the next day, as you can probably deduce from the line-up in the below photo!
Location of Deep Blue Bar (now renamed Bull Bar)
Reconquista 920, between Paraguay & Marcelo T de Alvear, City Center
[Other branches: Alicia Moreau de Justo 1130, Puerto Madero]
Tel: 4312-3377, Website: http://www.barbull.com.ar/
American-style bar in Recoleta
Shoeless Joe's El Alamo Bar (to use it's full name) doesn't exactly scream 'Buenos Aires'. Instead, it hollers 'American Expat Bar'. A lot of Americans have relocated to Buenos Aires over the last few years, which is probably why El Alamo exists. That, and shorter-term visitors who are feeling a little homesick, or want to catch a US or international sports event here on TV.
To cut a long story short, the main attraction of this bar for most of its visitors is its cheap and plentiful beer (including 4 liter pitchers), sometimes with special promotions:
"Ladies: before 10pm, FREE beer and cocktails"
As for the bar, well it is nothing special, just a typical, unimaginative bar that could be found in any major city, but then I am sure the people come for the cheap drinks, and don't really remember much of the surroundings.
There are two levels, downstairs for food and sports TV (they claim to show all major American and international sports events), and upstairs which is accessed by a separate outside entrance to the left, which has louder music, and is actually a little more pleasing to the eye, decor wise, with nice antique-style tables and chandeliers.

Pub Grub at El Alamo
Finally, the food is decent, solid, unassuming, reasonably priced, american bar food, which may serve as a nice respite to those missing home. They offer a pretty excellent 'Club House' sandwich, of nicely grilled chicken breast, bacon (a novelty in Buenos Aires!), tomato and lettuce, with fries, that unfortunately wilt in their greasyness. Exactly the kind of borderline junk food that many visitors to Buenos Aires miss.
Also available: individual pizzas, which are nice enough, and nachos with guacamole (even more of a novelty in Buenos Aires, though they seem to be gaining in popularity). However, the guacamole is tasteless. Fortunately, the cheap pitcher of beer to wash it all down makes that but a distant thought.
Location of Shoeless Joe's El Alamo Bar
Uruguay 1175 (between Avenida Santa Fe & Arenales), Recoleta
Tel: 4813-7324, website: http://www.facebook.com/pages/El-Alamo-Buenos-Aires/112218648861745