The dulce de leche masters
It may not look like much, but the skinny maroon storefront that humbly sits within ground zero of Buenos Aires' theater district on the historic Avenida Corrientes may just serve the best dulce de leche in the world.
Best according to whom?  Well, if their accolades in National Geographic and the BBC didn't convince you, perhaps their prominent listing in the Gold Book of Argentine Ice Creams (authored by porteños, of course) or their frequent hat tip by local taxistas will.
Cadore won its way into the infamously discerning Argentine gelato aficionado's heart thanks to their strict standards for fresh, natural ingredients and time-tested, artisanal techniques.  Using recipes dating back over 130 years to their original location in the village of Cadore in Northern Italy, current owner Gabriel Famá has stayed true to his Uncle Silvestre Olvotti's methods, who founded the flagship parlour in 1881.
Gelato: an Italian "Slow Food" delicacy
And what do those methods entail for their award-winning dulce de leche?  The most Gabriel could tell us was that it involves a daily 14-hour process of slow cooking a vat of fresh, organic milk, saturated with sugar and whole vanilla beans, to evaporate every ounce of water and concentrate the sweet, creamy base that they use to churn out their 5 different varieties, including plain, bombón (chocolate), granizado (sorbet), negro (extra dark), and con nuez (with nuts).
Far from being the only flavors on offer, Cadore also dishes up a mean almendra (almond), chocolate amargo (semi-sweet chocolate), and crema de vainilla (vanilla cream), with new flavors being added every few months.  But don't look for any funky offerings here; Cadore mainly specializes in the classics, with perhaps one or two non-standard selections per day (we spotted crema chai and naranja con genjibre, or orange ginger, during our visit).
Pizza, moscato, faina… and Cadore
Now the President of the AFADHYA, The Association of Artisanal Ice Cream Manufacturers in Buenos Aires, Gabriel proudly displays a plaque behind the counter that the city bestowed upon him when they declared his gelatería of Cultural Interest in 2014. Not far from it appears his TripAdvisor Certificates of Excellence for the last 4 years running, arranged in a neat little row underneath the main menu.
As in previous years, you can expect to find him front and center during Buenos Aires' Artisanal Ice Cream week, held annually in late November and featuring open-air vendors offering delicious tastings around the obelisk that spill out onto Corrientes, the street he calls home.  His 2017 festival booth was indeed impressive, marking the 60th anniversary of the opening of his shop (established back in 1957).
So, stop by this little ice cream stand with a big reputation after you've had your slice of muzza topped with a slab of faina and washed down with some cheap, white moscato wine at Pizzeria Guerrín (just a couple of blocks away).  Then head off to take in a show on the Broadway of BA, Avenida Corrientes, and you can forever boast to your friends that you experienced the classic 1950's-style Buenos Aires evening!
Plan Your Helado Visit
Address: Av. Corrientes 1695
Nearest subway stop: Line B – Uruguay
Phone: +54 9 11 4374 3688, +54 9 11 4373 9797
Website: http://heladeriacadore.com.ar/index.html
Legendary Locro for the May Revolution
In the heart of Alto Palermo, just in front of where the 41 & 59 buses let off behind the sprawling Parque Las Heras, you will find a curious little hole-in-the-wall with a BIG reputation for serving up authentic regional Northern Argentine cuisine.
A pulperia as its fading, weather-worn storefront sign proudly displays, is the name given to a restaurant that serves the "food of the gauchos" – a classification that is strongly reinforced by the many framed images of this classic Argentine cowboy hanging slightly askew from its walls.
Clearly, this place isn't going for any interior design awards, but that hasn't stopped its famed owner Hector from winning the awards that count: the culinary kind.  One look at his front window emblazoned with effusive praise from Guía Oleo (Buenos Aires' version of Yelp) and TripAdvisor says it all.
The May Revolution / Locro Connection
The BuenosTours team came here in search of a piping hot bowl of Hector's lavishly lauded locro – Argentina's national dish – to celebrate the Día de la Patria, or the anniversary of the May Revolution.  What we found was the faithful reproduction of an indigenous dish that warmed our bellies and spirits on what turned out to be a cold and rainy day in Buenos Aires.  Apropos, since the weather on that fateful day back in 1810 was similarly sopping, but saw a sudden break to sunshine the moment Argentina's independence was declared from the balcony of the Cabildo.  Legend says that this is why the sun appears on the Argentine flag to this day!
After waiting for 2 hrs+ in a line that spilled out 30 people deep in two directions on the sidewalk (one for eat-in and one for take-out), our crew enjoyed an assortment of not only the luscious locro, but a pile of crispy-on-the-outside, soft-on-the-inside empanadas, topped off with the traditional May Revolution dessert of membrillo (quince paste) over a slab of soft white cheese (our sources tell us membrillo was served in little pockets of fried dough by street vendors shortly after independence was declared, which seems as dubious as the sun/flag story, but equally as fun).
In case you're wondering how locro came to be forever associated with this national holiday, remember that the transition from Spanish colonial power to the first Argentine self-government (the so-called Primera Junta) was desirous of a symbol of something distinctly local and Latin in origin.  And what better symbol than a tasty dish from the indigenous Cuyo tribe of the Northern Andes?  There are few things more appreciated here than food, and few things more "local" than honoring our South American mainland ancestors.

In Hector's Words
Hector was kind enough to step away from his duties as both primary server and Man of the Hour to grant us a quick interview so we could find out what all the fuss was about.
BT: What province does your menu represent?
Hector: All of the food comes from Salta, in the North.
BT: How did you learn how to cook this regional cuisine?
Hector: I learned from my father in Salta, who always had regional food in the house.  It was nothing more than wanting to continue the culinary traditions that existed in my house when I was growing up.
BT: And what are the typical foods of that region?
Hector: Locro, tamales, and guisos, among others
BT: What is your favorite flavor of empanada that you offer?
Hector: I like the Salteña, which contains spicy beef and potatoes.
BT: How was this restaurant born?
Hector: This restuarant was founded in the year 1963, when I was still just a boy.  I came to work here in 1973, and in the year 2000, the owner of this place didn't want to keep going, so I took it over with 3 others.  We have continued all the same traditions; we haven't changed a thing.
BT: And one more… what is the origin of the name "Ña Serapia"?
Hector: The word Ña is short for doña, which means woman in the local dialect, and Serapia was my mother's first name.
So there you have it, folks.  A hearty thank you to Hector for keeping the delicious culinary traditions of Salta alive, and for gracing us with an unforgettable bowl of chorizo and hominy stew to celebrate this momentous occasion in Argentine history. Best locro in the city?  It's hard to say without sampling them all, but we'll let the local patrons – one of whom told us that he has been coming here for over 30 years every May 25th for the locro alone – be the judge!
For more information, check out the Inside Buenos Aires and My Beautiful Air blogs, which both mention our main man above.
Address: 3357 Avenida La Heras
Barrio: Palermo
Phone Number: +54 11 4801-5307
To read more please, click here
Francisco and Marcelo Terren share their beer-brewing secrets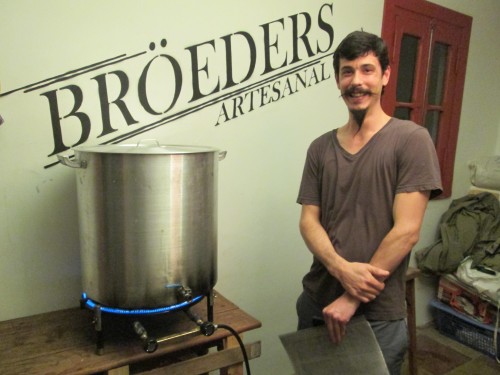 While Buenos Aires has a well-established reputation as a city of fine wines, the typical Argentinian lager will leave any beer lover disappointed. Few bars have beer on tap and while the ubiquitous litre bottles of the local lager Quilmes score points for being cheap and invariably served cold, they get few for taste.
But beer-guzzlers need not panic. The good news is high-quality artesanal beer can be found in Buenos Aires. Following a growing trend in microbreweries in the city led by the likes of Antares and Buller, Bröeders produces some of the best cerveza artesenal (craft beer) around. Being beer enthusiasts, the BuenosTours team jumped at the chance to join Francisco and Marcelo Terren of Bröeders one Tuesday evening to watch them in action and learn about the beer-making process.
Craft Beer in Buenos Aires: Starting out
For just over a year, brothers Francisco and Marcelo Terren have been brewing Bröeders at their home brewery at their mother's Palermo home, when they were inspired to make their own beer after taking a beer-making course. While on holiday in New York, wine-loving Francisco hoped to bring back a beer-making kit he had read about as a birthday present for Marcelo, who had always been keener on beer. But when he was unable to find the kit, back in Buenos Aires the present became signing-up for a beer-making course instead.
Soon they were hooked on brewing. After starting out in the kitchen, brewing in a 20 liter pot on their mother's hob, the brothers later converted the roof top shed into a compact micro-brewery, a well-organised space from which they currently produce 320 liters a month of various beers including Indian Pale Ale, Scottish Ale, Porter, Honey Beer and Barley Wine. All that was missing was the name. Marcelo and Francisco chose the name Bröeders before finding out that broeder means brother in dutch, which served to confirm their choice.
Marcelo put his background in graphic design into use in developing a logo and brand and the brothers started a weekly beer night with NOLAchef. Bröeders Beer Night is every Thursday night at the puertas cerradas (closed door) restaurant, where a selection of 4 different Bröeders beers is teamed with Cajun and Creole food.
Beer brewing process
Working from their expanding folder of beer recipes compiled by experimenting with classic recipes, tweaking and adapting them and taking tips from the network local brew-masters until they are happy with the taste, Marcelo and Francisco get together to 'cook' every Tuesday night. For a beer-lover, peeking inside their impeccably organized micro brewery is akin to Charlie's first glimpse of the inner workings of Willy Wonka's chocolate factory.
In front of me I saw shelves with labelled containers of various hops and malts, neatly stacked brown bottles of beer, barrels, kegs and a large gas burner with a 20 liter pot brewing. There was a tempting aroma that smelt like a sweet, malty porridge; we could hear the liquid bubbling and the hiss of the gas burner, and there was an intense heat emitted from the burner.
"Jesse, we have to cook!"
With a glass of Bröeders IPA in my hand (pulled from a keg on the terrace), I tried to pay attention and fight-off drunkenness as Francisco talked me through the brewing schedule. Each week they begin at about 5pm with the maceration process. After selecting the malts according to the recipe they are using (the flavor of the malts depends on how long they have been toasted, and at what temperature), the next step is to heat the malt and brew it into a big 'tea' for about an hour and half, during which time the bulk of the grain is removed and discarded.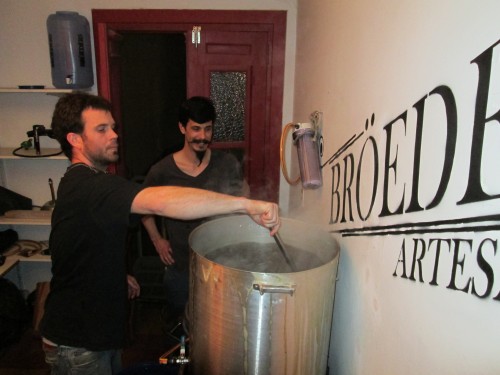 At around 7pm Marcelo and Francisco begin "boiling and hopping" – the hops are added and the  wort (unfermented beer) is boiled for an hour and gently stirred. The brothers use local hops in their ales; cascade hops from El Bosón.
After one hour of boiling, the next stage is to separate the remains of the grains and hops. "This is the whirlpool stage, a key part of the process," Marcelo explained. "What you do is stir the mosto (wort) for a long time so that the centrifugal force draws the trub (brewing term from the German for sediment, the unwanted remains of the hops and the grains) into the middle, where they form a kind of cake. This way we make sure the beer is not astringent."
With the trub gathered into a cake in the center of the pot, the wort is drained and rapidly cooled on its way from the pot to the barrel by passing it through a hose with a second hose containing cold running water adjoined (see photo above).
Let the fermentation begin!
The next step was to add the yeast. There was an air of excitement as Marcelo went downstairs to fetch it from the fridge. "Wait and see how it foams up when you add the yeast, it's like a big party in there," he said. The brothers explained that the type of yeast used is key to the flavor of the beer and they experimented with several types before finding Nottingham Dry Yeast. As promised, as soon as the yeast was added the liquid frothed up dramatically. And with that the barrel was sealed and left to ferment for two weeks.
Keep it clean
By now the fine details of the beer making process were becoming hazy, as I helped myself to another drink from the Bröeders keg. But for Marcelo and Francisco the work wasn't over yet – there was cleaning to do. As soon as the wort was being cooled the brothers took a great deal of care to ensure all the equipment was clean and sterile, spraying taps and nozzles with alcohol and working in a methodical and organized way. This level of meticulousness about cleanliness had come from experience, after they initially had to throw out several barrels that had become 'contaminated'.
With the brewery clean and tidy there was just time to finish the night with a taste of Porter on the terrace. A drink well earned by the Terrens.
More info on Bröeders Beer Night and how to book
To read more about the Bröeders Beer night at Nola see these write-ups on Pick up the Fork, the Argentina Independent, Anuva Wines and Gringo in Buenos Aires.
To make a reservation for Bröeders Beer Night (location in Palermo Viejo provided upon booking), please check:
http://www.nolabuenosaires.com/craft-beer-night-buenos-aires/
OR
http://broedersartesanal.com/
You can also buy pints of Bröeders on tap at a decent price, at the Fukuro Noodle Bar in Palermo Hollywood (Costa Rica 5514, corner with Humboldt).
Cheers!
*PLEASE NOTE: Anuva Wines unexpectedly closed down permanently on January 12th 2017. We are currently looking into alternative wine tasting options in the city to be able to update the below article – feel free to contact us in the meantime to ask for a wine tasting recommendation in Buenos Aires*
A lovely wine tasting in Palermo, Buenos Aires
Anuva Wines offers wine tastings in Buenos Aires, for those who wish to sample some great boutique wines, but can't necessarily make it to the wine producing regions of the country. Located in a luminous loft in the chic neighborhood of Palermo Soho, this wine club opened in 2007, and offers tastings with English speaking experts that are both educational and fun. All of their wines are boutique, which means you won't find them in the grocery store, here or at home.
I recently attended a Friday afternoon tasting (lucky me!). Upon arrival, a delightful English woman named Cara showed me to my seat, and our table quickly filled up with a lively set of international travelers. I made small talk with the other guests and the staff of Anuva, who graciously answered questions about Buenos Aires and offered suggestions for dining and activities.
And then came the moment we'd all been anxiously awaiting: the tasting!
Surprising white wines
First came a sparkling wine from Hom Espumante. Poppy, who lead our wine tasting, gave us some general tasting advice and then explained the different processes by which wine makers convert whites into sparkling wines. This light and refreshing blend was deliciously drinkable. Once we'd sipped, everyone at the table agreed that Poppy's explanations deepened our appreciation of the bubbly! Each wine was paired with an Argentine tapa specifically selected to accentuate certain flavors in each of the wines, and I found our blue cheese and pear hors d'oeuvre went perfectly with the espumante (sparkling in Spanish).
Next came a marvelous Las Perdices Torrontés. This white was floral on the nose but when paired with two yummy gelatos, the wine's different fruit notes really stood out.  Poppy spoke about the Torrontés grape, one of Argentina's most important and lovingly nicknamed "la uva mentirosa" (the liar grape; can you guess why?). She also explained the wine growing regions of Argentina and how the characteristics of each influence the taste, acidity, and alcohol content.  Tasting the Torrontés, I could tell that the terroir of Salta province has a direct effect on its flavor!
Red, red wine!
Our table discussed the wines we'd tasted so far and raved about Argentina's ice creams as the Anuva staff filled our remaining glasses with three reds.  We were all eager to begin and grateful when Poppy presented the first wine: one of Argentina's famous Malbecs from Carinae vineyards, which was paired with an Argentine picada of cheeses and salamis.
The spectacular hostesses answered questions about wine production in Argentina as we enjoyed the malbec; each of these women is highly knowledgeable of the industry, and I recommend asking any question that occurs to you about the vino (wine in Spanish).  Indeed, the tasting was professional but not at all pretentious, and unlike in other tastings I've been to that give you two drops of each varietal, Anuva gives generous servings and offers refills.
We moved on to what I found to be the stand-out wine of the afternoon: a San Gimignano Syrah! Wonderfully light and minerally, Poppy joked that this wine is a woman's wine, because it's so delicate on the palate.  Here we sampled a traditional meat empanada, yum!
By the time we arrived at the last wine, a robust and velvety Bonarda from Mairena, our table had become best of friends. Anuva's team (and their wines) creates a welcoming, convivial atmosphere, and I learned from my fellow wine tasters! For example, the Australian at the table was impressed that Argentine wines weren't as heady as the Aussies are used to, and Poppy explained how growing conditions affect alcohol content; the pair from San Francisco compared Argentina's dry, high altitude conditions with the more wet Napa Valley and Sonoma county, and considered how that affects sulfide content.
And oh yeah, the Bonarda was to die for, a perfect way to end a delightful tasting!
Here I am with my tasting buddies, happily smiling for the group photo! Once the tasting was through, the staff offered refills and let us know that all the wines sampled (and more) are available for purchase. Best of all, they even deliver to the US with free shipping!
To reserve, click here to book a tasting with Anuva Wines. 
The price is US$52 per person. Exact location details are revealed by Anuva upon booking, but as mentioned, the wine tasting is held in a specialist tasting room in the Palermo Soho neighborhood. The tastings last for about 90 minutes to 2 hours, and are usually scheduled at 3pm or 6pm Mon-Thu, or 2pm or 5pm Fri-Sat (although other times may be available upon request).
The best part of living in Buenos Aires?

Here at BuenosTours, we feel that outstanding wine is one of the biggest perks of living in Buenos Aires!  Vino (wine in Spanish) is a part of daily life in Argentina; often mixed with soda (sparkling water) or even Coke, it's a staple at the Sunday family asado and the Friday night gathering alike.  The country produces a variety of choices at affordable prices, and a sizable selection is always available at the "Chino", aka the local grocery store ("Chino" meaning Chinese store, since most are run by Asian immigrants. Yes, Argentines can be pretty politically incorrect at times).
For a more professional opinion and better quality, boutique wines, we recommend that you try a wine tasting with our friends at Anuva Wines. But to find out what we here at BuenosTours are drinking, read on…
BuenosTours local wine recommendations
After an arduous sampling period, The BuenosTours Staff presents our picks of Vino from the Chino (drumroll please!).  From Malbec to Torrontés, look for these bottles at your corner store and sip your way through Argentina's lovely harvests!
Alan: Tour guide to the rich and famous, CEO of BuenosTours, and yet he still sometimes adds soda to his wine!
My chino wine faves are Santa Julia and Portillo, all in the mid-to-high twenties range.  As a fan of the Pinot Noir varietal, I appreciate Almas Moras's sense of humor: they call it "Pinot Negro" (negro meaning black in Spanish) rather than sticking to the French name.  It's not always easy to find Pinot Noir in Argentina, but the aforementioned by Finca Las Moras is affordable (about $28 pesos at my local chino), and in a slightly higher price range, Alamos offers a really nice version.
I do NOT recommend Romani's Malbec – the worst bottle I've had in years!  Beautiful label, but don't be fooled by that.  It was overly acidic and had a nasty aftertaste. Avoid.
Isabel: On-location neighborhood reporter, city cyclist and San Lorenzo die hard!
My favourites are:
Gascón malbec (about $35 – $40 a bottle). Really tasty, good with an asado.
Emilia (especially the Malbec/Bonarda mix, about $35 a bottle). Very light and nice to drink with snacks rather than a heavy meal.
I also like:
Elementos – it is often on offer and it's tasty, good mid-week wine. I remember it was $12 in the Chino on the corner in Boedo where I used to live. Now it would be more like $25… I like the Cabernet.
Postales de Fin del Mundo – about $25 a bottle, maybe a bit more, well as we know the prices probably increased in the time it took to write this recommendation…  This bodega has won all kinds of international awards.
And if I am in a rush and strapped for cash, I would grab a Callia (Syrah/Malbec blend) or San Telmo is often on offer and a safe bet.
Quincy: Espresso connoisseur and Argentine lingo lover.
Probably my favorite, the Alma Mora malbec is an assertive, mid-range wine that literally means Blackberry Soul.  It's from San Juan – a region who often sends grapes to neighboring Mendoza to be blended into bigger wineries' varietals.  But Las Moras proudly produces San Juanino wine, and since my boyfriend's family is from there, Alma Mora fills me with nostalgia.
Quara is an affordable fave.  A llama graces the label in homage to that peaceful creature essential to the Incas.  Torrontés, a white, grows exceptionally well in Cafayate, where Quara is from.  While Argentina is most famous for its Malbecs,  Torrontes is actually considered the only 100% Argentine wine.  Also try the Cafayate bodega's Torrontes.
On a forgiving budget? Try San Felipe's Tempranillo.  And when splurging for a special occasion, go for the fragrant San Felicien.
Oliver: Boisterous tour guide, comedian and BA actor!
I pick a wine at the 'Chino' the same way I do anywhere else in the world. I decide on a price range, for example around us$5, and look for wines in that range that other people have bought, by looking for wines where you have to reach back onto the shelf. I figure that random strangers are better at picking wines than I am!

***Oliver, a true man of the people. Looks like the rest of the team will be in charge when picking the wine at our next meeting!***
Pat: Red-meat correspondent and all-American sports fan!
My picks are…..
Uxmal (Malbec):  Has kind of a smoky finish, goes well with meat. Also about 32 pesos at my Chino.
Latitud 33 (Malbec):  Nice, smooth red. Again, in the low-30 peso range. Good for a night cap.
Colón (Syrah or Malbec):  Solid, peoples-wine, and good for 20 pesos. Good for a drink before you go out.
Jessica: In-demand tour guide and soulful San Telmo crooner!
Callia is always my cheap red go-to bottle, Malbec or Syrah.
A little nicer, Finca Flichman makes pretty good Malbec and Cabernet at good prices, and they're aged in oak (roble) which most cheap wines aren't. Way better with food than on its own.
Also, a wildcard, I like white wine, and I have found NO GOOD WHITE WINE IN CHINOS for under 40 pesos (any suggestions?). Except for of course my summer favorite – sweet white! Late harvest! It may be girly, but don't underestimate the Norton Cosecha Tardia Dulce Natural. Ice cold. On a terraza (terrace). At sunset. Mmmmmm…
As far as things to avoid… if I have a dinner party, please do not bring Michel Torino or Valderrobles. It's offensive. On second thought, it's more offensive to come empty handed, so I guess if you do bring them, you'll just have to drink them alone because I'd rather have a coca light.
Ahh, so many vinos, so little time! Keep the aforementioned in mind when in need of some thirst slakers. And let us know: what wine do you pick up when you head to the Chino?
For more information on Argentine wines, WineSur is a great resource, and features wine reviews by international critics.  Or check out this article on the history of wine in Argentina at The Real Argentina.
Cutting your way through Argentine beef lingo

The Gran Bife at Las Cabras in Palermo Hollywood. The steak is a Bife de Chorizo. Yup, its awesome.
Meat. Carne. Mmmmm…
Argentina is renowned for its high-quality, juicy, gigantic and cheap steaks. Unlike the beef lexicon in the United States, which prescribes a name for the cut followed by "steak," Argentine beef idioms have one name for most items. To the English eye, some names may appear to overlap, sound nothing alike, or generally confuse the non-bilingual.
Although I applaud the brave traveler whose willing to order anything on the parrilla, or steakhouse, menu – "Bring me meat!" – you may want to do some reading before making the blindfolded menu choice. It could be the difference between a rib-eye steak and a cow's testicle – some places, like the famed parrilla La Brigada in San Telmo, serve the entire animal. Nothing goes to waste in Argentina! So take off the blindfold, put on the reading glasses and take notes.
Typical Meat Cuts in Argentina

A classic asado – BBQ with a group of friends, family – with lots of Bife de Lomo
Here is a list of the more common cuts of meat you'll come across in the average Buenos Aires steakhouse:
Chorizo – Sausage. Unlike the word in the US, chorizo here is not spicy. In fact, almost no Argentine food is spicy. Chorizo only means awesome, juicy sausage – when the word is by itself.
Bife de Chorizo – Sirloin Steaks. Typical, mouth-watering Argentine steak. And confusingly, nothing to do with the sausage!
Ojo de Bife – classic Ribeye steak, found in every parrilla in the city.
Vacio – Flank Steak, but with more fat and flavor. It can be quite chewy.
Bife Angosto – Porterhouse or Striploin Steak.
Entraña – Skirt Steak. A favourite of the BuenosTours team. Ask your waiter to grill it "Jugoso" or juicy. Generally served in long strips.
Cuadril– Rump Steak. Commonly used in sandwiches.
Entraña gruesa – Hanger Steak, thicker than Skirt steak.
Bife de Costilla – T-Bone/Porterhouse Steaks.
Bife de lomo – Tenderloin. Less fat than bife de chorizo. Not so much about the flavor, but instead the tenderness. Some Buenos Aires parrillas make a show of cutting it with a spoon upon serving clients!
Chinchulines – Small intestine. For more adventurous carnivores.
Criadillas – Testicles. Good luck.
Morcilla – Blood Sausage. Although not easy to find in many parts of the world, Morcilla is served at almost every parrilla in Buenos Aires.
Some typical Argentine meat sandwiches, often sold at food carts and "hole in the wall" joints:
Choripan – Sausage served on a long bread roll.
Vaciopan – A flank steak sandwich. A superb carnivorous lunch on the go.
Milanesa – Usually a thin, breaded piece of beef fried and served on a roll with typical condiments.
Milanesa de pollo – Same sandwich, but with fried, breaded chicken.
And what life would be worth living without a little salsa?:
Salsa Provenzal – A garlic-parsley-olive oil mix that will leave you with happy taste buds and stinky breath. Works every time. You can cut to the chase and get the same salsa by just asking for Ajo (a-HO), which means garlic.
Salsa Criolla – A colorful, South American condiment. It generally consists of onions, peppers, and tomatoes soaked in olive oil and vinegar or lemon/lime juice. There are a variety of ways to make it, but here is one good recipe.
Chimichurri – An Argentine classic, staple condiment. A must! Whether eating chorizo, milanesa or bife de lomo, indulge in some chimichurri while in Buenos Aires. Here's an interesting recipe for chimichurri.
Ordering Your Meat in Buenos Aires
At Argentine steakhouses and other restaurants/cafes, ordering food is said with direct language. For instance, it is not rude to say, "I want" (Yo quiero). Here are some examples on how to order a steak and to ask it to be cooked a certain way:
Formal: I would like a Sirloin Steak medium rare – Yo quisiera un bife de lomo jugoso (hoo-GO-so).
More common: I want a sirloin steak cooked well/medium well – Yo quiero un bife de lomo bien cocido. 
Other ways to have your steak cooked: a punto = medium (but most likely will come out medium-well, as in Argentina they tend to cook steak more than in the northern hemisphere); bien jugoso = rare; or for those who like their steak "blue", just say vuelta y vuelta, which means very quickly cooked on each side.

When traveling to the Ecological Reserve in Puerto Madero, stop outside the reserve at one of the many parrilla stands for a choripan. They have plenty of condiments and for a small amount of cash, you will be stuffed.
If you're craving more meat literature, here are some recommended reads. Saltshaker provides a list of meat cuts and the best places in Buenos Aires to find each one. Asado Argentina offers a more comprehensive table of meat cuts, and Idle Words has a simply hilarious take on Argentine steak!
Enjoy your beef on your next visit to Buenos Aires! Buen Provecho!
Empanadas: flavorful pastry pockets
Empanadas (literally meaning wrapped in bread) are savory pastry pockets, filled with a variety of delicious stuffings.  As common as asado, pizza, pasta, or alfajores, empanadas are a mainstay in the Argentine diet.  Oven baked (al horno) or deep fried (frito), they are served warm at parties and dinners alike and porteños frequently order empanadas via delivery, just as they might pizza.
Common Argentine empanadas and what to expect inside
In almost every restaurant that serves local fare, you can find at least three kinds of empanada on the menu.  Here are the most typical kinds,  typically named based on their fillings…
de carne = meat, baby! Consider this ground beef stuffing the number one seller in a country of carnivores.  Sometimes these even contain raisins, and go by the name "empanada de carne dulce".  For a recipe, see below!
carne picada or carne cortada al cuchillo = also a meat pastry, but this time the beef is cut by knife.
carne suave vs carne picante = mild beef vs "spicy" beef (but not really all that hot – Argentine cuisine is not famed for its spicy food)
jamon y queso = ham and cheese.
caprese, or tomate y albaca = tomato, cheese (often Argentine mozzarella), and basil.
roquefort = blue cheese.
humita = the filling is based on a traditional dish from the north called humita.  Made of ground or shredded corn with a bit of milk, whole corn kernels, and sometimes onions or even bell pepper. Not to be confused with an empanada de choclo, which usually has whole sweetcorn kernels in a white sauce.
queso y cebolla = cheese and onion.
de pollo = very similar to the carne filling, but with chicken instead.
de verdura = literally "vegetables", usually includes chard or spinach in a white sauce.
de champiñon = mushroom.
de atun = filled with tuna, sometimes onion, boiled egg, or celery (try them at Pizzeria El Cuartito on Talcahuano 937, and tell them Anthony Bourdain sent you!)
dulces = occasionally you'll find a desert empanada, usually made with dulce de leche, but other popular fillings include fruits, nuts, and dulce de batata or dulce de membrillo, which are sweet potato or quince pastes.
These are most of the common empanadas, but chefs are known to create interesting combinations all the time.  Keep your eyes peeled for blue cheese, celery and walnut (roquefort, apio, y nuez); or pancetta and plum (panceta y ciruela).
Regional empanada differences
There are some regional differences in empanadas from various provinces of the country, from size to preparation to ingredients.
Empanadas salteñas from the Northern regions of Salta and Jujuy are filled with meat, potato, boiled egg, and chives.   Sometimes, they're even made with llama meat!  They can be found farther north in Peru and Bolivia, known simply as Salteñas.  Many attribute their diffusion to Juana Manuela Gorriti, a woman writer from Salta who fled with her family to Bolivia during the Rosas regime in the mid-1800's.
The story goes that she and her mother sold empanadas to survive in their early days of exile, though this is perhaps doubtful since she came from a family of high status, and went on to marry the President of Bolivia.  She eventually moved to Peru where she met with other important Latin American writers of her day and became an intellectual figure of her time.  The women of these nations still follow her culinary lead, but while the empanadas are universally called Salteñas, they are often quite different from the Argentine version.
Empanadas catamarqueñas or riojanas from the provinces of Catamarca and La Rioja are very garlicky, and usually made with goat meat.  From Córdoba, empanadas cordobesas are known to be sweet, since they come sprinkled with sugar and stuffed with raisins.  Empanadas sanjuaninas are probably so delectable because they're prepared with lard; they also come with a whole olive in each empanada (watch out for the pit!) and are cooked in traditional wood ovens.  To try these out, El Sanjuanino on Sanchez de Bustamante and Santa Fe (and other locations) comes highly recommended.
In the subtropical regions of Corrientes and Misiones, empanada dough is made from cassava root flour, and it's common to find exotic fillings like surubí or manduvé, two species of catfish; pacú, a relative of the pirana; or golden dorado.  In Entre Ríos, there is an empanada filled with arroz con leche, a rice pudding.  

In the provinces of Patagonia (Neuquén, Río Negro, Chubut, Santa Cruz, and Tierra del Fuego), the empanadas are most commonly filled with lamb, guanaco or fish and shellfish, especially mussels or even Southern King Crab (known as centolla).  Empanadas from these regions are prepared with white wine, making for a juicy filling and a thicker dough.
The people of Tucumán love empanadas so much, that every September they hold the National Empanada Festival.  They are quite traditional, sticking to only three kinds of empanada: matambre (rolled flank steak), chicken, and tripe!
There's an interesting Argentine saying, "todo bicho que camina va a parar al asador", which means any creature that walks will end up on the grill.  Empanadas are no exception to this rule, and any meat available is fair game.  That means armadillo, vizcacha, yacare caiman, carpincho or capybara rodent, and rhea can all be found rolled up in a turnover, somewhere.  But don't worry, they (probably) won't be served in a restaurant!
Making Empanadas the Argentine way!
Making empanadas is fun and you can stuff them with whatever tempts your taste buds!  The easiest route is to pick up some of the pre-made dough at the supermarket, then make your own filling.  But if you're feeling really up to the challenge, try this recipe!
Easy Empanada Recipe
Empanada Dough:
4 cups /500 grams of all-purpose flour

1/4 cup /50 grams softened butter
1/2 cup / 100cc of warm water
salt to taste
NOTE: If you wish to replace with whole-wheat flour, I recommend replacing half and adding a dash of lemon juice, plus extra water if the dough seems dry.
1.   Put all the flour into a big mixing bowl and form a crater in the center.  In a separate container, mix warm water with the butter and salt.  Pour the liquid mix into the center of the crater.
2.  Mix well, then knead until uniform.  Allow the dough to rest for at least 15-20 minutes in the refrigerator.  If you have the time, let it rest overnight.
3.  Flour your surface, then roll the dough a bit thicker than 1/4 inch.  Cut circles about the size of your hand from the dough.  Now you're ready to fill the empanadas!
Beef Empanada Filling:
1/2 kilo / 1 pound of ground beef

2 big yellow onions
 7 grams / 1 1/2 teaspoon paprika
1 pinch cumin
salt and pepper to taste
vegetable oil
2 eggs
50 grams / 1/2 cup of olives
1. Finely dice the onions while allowing enough oil to cover the onions heat in a medium to large saucepan.  When the oil is hot, add the onions and allow to saute until they are clear in color.
2. Add the meat and spices, and cook, stirring frequently.  Once the meat is cooked, remove the mixture from the heat.
3. Hard-boil two eggs.   While these are boiling, slice the olives however you like: or just leave them whole, but remember to remind the guests to watch out for pits!
4. Once the eggs are ready, slice them and add to the meat mixture.  If you have diced the olives, add those too.
TIP: If you're very hungry, just allow the filling to cool before you stuff your empanadas.  But most Argentines actually let this mixture sit in the refrigerator for a day (or two…) before baking.  This helps the mix become uniform.
Procedure:
Pre-heat the oven to a medium temperature.  In the center of each disc, add a heaping spoonful of filling, being sure to leave a generous margin.  Then fold the circle in half.
The hardest part can be folding the empanadas; if the sides don't stick together, wet your finger with a touch of water and fully seal the edges.  Then, pinch a piece of the rim and fold it in towards the center.  To see how this braided closure works, check out some youtube videos!  And don't get discouraged: most of these cooks have been practicing the "repulgue" fold for years.  Even inexperienced Argentines can find the process frustrating; note the concentration, below:
That's my boyfriend's brother, Claudio.  He gave up on folding empanadas after one try.  Don't be like Claudio!  If you can't manage any folds, try closing the seams with a fork.  Just make sure everything is tightly sealed, that way no juices spill out while cooking!  Fortunately, his mom and neighbor whizzed through the empanada preparation, and here's a good example of the fold, below:
If you like, you can brush the empanadas with a mix of equal parts egg yolk and water, and sprinkling the tops with sugar or parmesan cheese.
Once the empanadas are all prepared, into the oven!  Let them cook until slightly browned, about 15 to 20 minutes.  Allow to cool for as long as you can keep your hands off them, and enjoy!
If you'd like to make a traditional, vegetarian, humita empanada, try this recipe on the Seashells and Sunflowers blog.  For recommendations about where to find regional empanadas in the city, try Saltshaker, and don't miss our review of Cumana Empanadas. Happy pastry sampling!
Buenos Aires: Is Fro Yo the new gelato?

[Photo credit: from the Top It Facebook page]
At its hottest and most humid Buenos Aires can feel like a sauna and even a gentle stroll can leave you in serious need of a cooling pit-stop. But another ice cream? Really? Sometimes it is possible to have too much of a good thing, and if all those steaks and empanadas are making your waistband feel tight you might want to consider opting for a frozen yogurt from Top It in Palermo Soho. It's fat and additive free and contains only 100 calories per portion.

[Photo credit: from the Top It Facebook page]
You can't top this
But a trip to Top It is not just for the pious. Not only is the frozen yogurt guilt free, it's also delicious. There are only two flavors – original and a seasonal fruit flavor (e.g. peach or passion fruit) – but, as the name Top It suggests, the variety comes from the choice of toppings. Choose three or four revelations or the yogurt churning machine and then decide what you want on top. There are more than 20 different options, including fresh mango, kiwi, strawberry and chopped nuts.

[Photo credit: from the Top It Facebook page]
Frozen Yoghurt delivery
You can order your frozen yogurt to take-away, enjoy the air conditioned coolness and eat inside the air conditioned shop in Palermo Soho with its bright seating area and shiny perspex covered walls, or bask in the sun on one of the pavement deckchairs. For those days when leaving the house is unappealing, there is also a delivery service. Top It has proved so popular since it opened in October 2010 that it is now available in two branches of sandwich joint Open Kitchen on Reconquista 620 and 1054 in the city center and there is talk of further branches. It seems like frozen yogurt is fast becoming the city's newest (and fairly virtuous) addiction.
For more about Top It take a look at this post on the BSAS ARGENTINA blog.
Location of Top It in Palermo Soho
Top It Frozen Yogurt, Gorriti 4721 (near corner with Malabia), Palermo Soho
Telephone: 4833 2260,  Website: http://topit.com.ar/
Enjoy a cup (or two) of the best café Buenos Aires has to offer
[Photo credit: WallyG's Flickr Account/ /CC BY-NC-ND 2.0]
True to Argentina's celebrated Italian heritage, Buenos Aires boasts a rich cafe culture.  Meeting friends for coffee is an central part of social life, and it's common to find porteños conversing for hours over one cup, in hip cafes and traditional bars alike.  You'll be hard pressed to find drip coffee in BA (that's right, forget bottomless refills!), but the espresso served here is strong enough to keep you buzzing all day long.
La Merienda: Argentine Tea Time
Ever wonder how Argentines manage to wait until 10 pm to eat dinner?  The secret may be in their fourth meal of the day: la merienda (mer-ee-end-ah).  Served between 4:30 and 8:30 pm, the merienda meal usually consists of toast (tostadas), cake (torta), or  croissants (medialunas) dipped in a coffee of choice.  Keep an eye out for special promotions, which often include two medialunas, cafe con leche, and fresh squeezed orange juice.
Coffee Ordering Guide
Though the coffee is delicious, it can be confusing to know which drink to order since the names may mean one thing in your country, something completely different in Buenos Aires.  Here's a quick guide to ordering coffee like the locals: don't forget to sit back, take your time, and relish every sip!
Coffee comes in three possible sizes: chico (chee-co) is usually one shot, un jarrito (har-reeto) about a shot and a half, and doble (doh-blay) the double shot size.  All drinks will come as chico unless otherwise noted, so be sure to add the size after ordering your drink. For example, if you want a medium espresso with just a touch of milk, order un cortado en jarrito.  If you want a big cup of black espresso, order un café doble.  For decalf version of any of the following, don't forget to mention descafenado (dehs-cough-eh-nah-doh).
un café: (cah-fay) one shot of creamy espresso.  Plain and simple, a nice pick-me-up in the afternoon.
un café con crema: a shot of espresso with a spoonful of whipped cream.
un cortado: (core-tah-doh) espresso with a dash of steamed milk and foam. Cortado literally means cut, so the coffee is "cut" by the milk.
una lagrima: (la-greem-ah) steamed milk and foam with just a "tear-drop" (una lagrima) of coffee.
un macchiato: (mak-ee-ah-tow) an espresso with a dollop of foam, but no milk. This drink is less common than the rest.
un americano: (ah-mer-ee-cah-no) a fancy way of saying un café en jarrito. This is basically a shot and a half in a medium cup, in some cafes they will add a touch of water to make it liviano, or weak.
un café con leche: (cah-fey cone ley-che) a classic! Cafe con leche means coffee with milk, and is just that: half espresso, half milk with foam. This drink is similar to a cafe-au-lait or a latte, and automatically comes in a double cup.
un cappuccino: (cah-poo-cheen-oh) the cappuccino is the most visually stunning, as it comes in a tall thin glass, with clear layers of milk, coffee, and foam. It's quite similar to a café-con-leche, but sometimes comes with cinnamon (canela) or chocolate. A cappuccino italiano will have whipped cream as well.
un submarino: (soob-mar-ee-no) not a coffee drink, but lots of fun! This is basically a deconstructed hot chocolate; the waiter will bring you a glass of warm milk and a chocolate bar, which you can plop into the milk and watch drop like a submarine.  Stir and enjoy!
Order any of these delightful combinations at Cafe La Poesia in San Telmo, Cafe Margot in Boedo, or any of the thousands of intriguing cafes you find along your way.
For more information on Buenos Aires coffee culture, check out this Pocket Culture Guide, and for more on ordering coffee including some advanced hand gestures, check out Wander Argentine's Cafe Culture — A Guide to Ordering.