British writer and adventurer, meets one Argentine at a time
Rosie Hilder traveled to Bolivia four years ago, ready to start life as an expat. Her experience in La Paz didn't turn out so well, but – determined to stay in South America – Rosie moved to Buenos Aires instead of going home to England. Since arriving in 2009, Rosie has become an English teacher, journalist, photographer and blogger.
She started her blog, 52exchanges.com, in 2011, where she documents a year-long challenge to have 52 (one per week) language exchanges in Buenos Aires. A resident of the barrio of Almagro, Rosie sat down with us recently…
Why did you come to Buenos Aires?
I actually originally moved to Bolivia for an English-teaching job and then when I got there – I really liked it – but after about six months, I realized my bosses were a bit sleazy and didn't pay me, so I decided to leave, but I wanted to stay in South America, but come somewhere a bit more developed. I had this idea in my head about how great Buenos Aires would be, so I came to Buenos Aires.
Why did you stay?
I really liked it! At first, I had to stay because I couldn't afford to leave. And then, I got quite a good teaching job, not those sort of normal, flaky institutes. They got me a visa, it's a job, you know so I decided to stay because of that. And then my ex-boyfriend left, and then, I started to meet at bunch of friends and started to really enjoy the city. And now I have a new Argentine boyfriend! Now I won't leave because of him.
Favorite barrio?
Almagro, obviously. Perfect mix.
PG: What about Almagro?
Well it's a barrio, you know? People actually live there. And there's like all these specialist shops that I love. And it's not as fancy as Palermo. And it's in the middle of everything, you can get anywhere from it.
Where's the best place you go for coffee, steak or ice cream?
I'm not really big on coffee, but I've heard the Full City Coffee House, a Colombian one in Chacarita, is supposed to be really good. Steak – well obviously a family asado is the best place to go for beef, but La Cholita [Rodríguez Peña 1165, in Recoleta] is really good. For ice cream, Nonna Bianca [Estados Unidos 425], it's in San Telmo. It's Italian.

(Photo Credit: suziedwards's photostream// CC by 2.0)
What are your favorite events or festivals in Buenos Aires?
BAFICI, the independent film festival, that's in April. It's just a really good chance to see films that you wouldn't normally see. And after, they often have question and answer session with the director, which I always find really interesting… and people always clap at the end, which is great. We don't do that in England.
How do you spend your weekends?
Well I'm really busy normally, but a good place to go to relax is the Costanera Sur. I like to go for a walk in the ecological reserve there, or sit in a café with a book.
(Photo Credit: miguelvieira's photostream // CC by 2.0)
Your last day in Buenos Aires. What are the three things you'd do, or three places you'd go to?
Well, I would definitely go to a park. Maybe the Parque de 3 de Febrero cause just to enjoy the Argentine park experience with mate and family. And that park is really good because there's loads of stuff there you can take good pictures of. What else would I do? Well I would probably go and eat a steak if it's my last day. That's pretty much obligatory, isn't it? Have wine. And then I would go to my favorite bar, which is Senior Duncan in Almagro.
Is it a British bar?
No, it's one of these "closed door" bars, and it's very cool. It's run by five or six Argentines. It's one of those places where you can go and make friends with everyone there. They have good music. On Thursdays they have a swing dancing night. And they have a storytelling event there.
So switching gears, 52 exchanges, what prompted the idea and what was that experience like?
I didn't learn Spanish at all [in school] for seven years. So I thought, "Oh yeah, I'll go learn Spanish." I got to Bolivia and realized I'd forgotten the past tense, couldn't understand anything. I couldn't get by. And then I sort of got up to scratch in Bolivia with private classes and stuff. And then when I got to Argentina and I didn't understand everything – [Argentine Spanish is very unique and sometimes difficult to understand] – obviously, because they use the "Sh" sound for the "ll" and all that. And after two years in Argentina, I felt, "Well now I understand and I know to say "sh" and not the traditional Spanish pronunciation  but I still wanted to feel like I completely knew. People at home would say, 'Are you fluent?' and I would say, 'Well… I don't know.'  What does that mean? Which is a theme in my blog – what does it mean to be fluent? And a friend of mine – someone I know back home – was doing this blog called '52 free gyms' or something like that, and he was going to all these free gyms and writing about it. And I was like 'this is what I should do' – I'm not really into the gyms but I think it could be even better with people. So, another friend told me she'd been on a conversation exchange, and I put the two ideas together and decided to do a blog about 52 conversation exchanges.
If someone's reading your blog for the first time, they're a visitor to Buenos Aires, what lesson do you think they're coming away with?
Well, they'll learn some very useful Spanish vocabulary. They're learning about the city, because I went to different places [for language exchanges] and I said I was in this bar or this place. And they'll learn about Porteños in general. And I guess for me, the blog is really about cultural differences – the fact that what I say isn't necessarily the truth. It's not fact, but it's the way I see it because I'm English. Things that are normal for Argentines aren't normal for me. I think that's the point of the whole thing is trying to get a bit more understanding of the culture, which for me is the most interesting thing about living abroad.
Thank you Rosie! Questions? You can contact Rosie at her personal website: www.rosiehilder.com. And if you are an interesting expat/local in Buenos Aires and would like us to interview you, feel free to get in touch and tell us why.
El Ingles who took all the buses
Daniel Tunnard was born in Sheffield in England, grew-up in nearby Stockport, and first came to Buenos Aires in 1999.  A writer and translator, he has written a book about taking all 140 bus routes in Buenos Aires.  He lives in Belgrano with his wife and three cats. But most importantly of all, he is the first subject in a series of BuenosTours interviews with interesting expats/locals (of which Daniel is arguably both).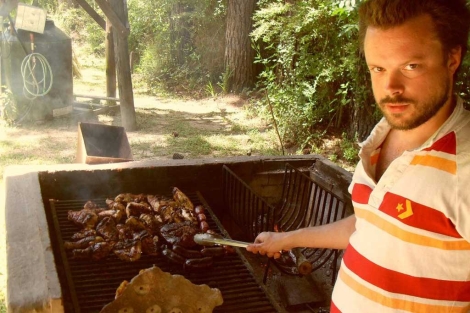 [Photo Credit: Daniel Tunnard]
Why did you first come to Buenos Aires and why did you stay?
I was on holiday in Asunción in Paraguay and I needed to get to Montevideo in Uruguay where I was studying on my year abroad. I spent three nights at the Del Aguila hostel in La Paternal. I met my first wife on the second night there.
What's your daily routine?
Exactly the same as the middle section of The Beatles' 'Day in the Life', minus the comb.
What is your favorite way to spend a Sunday in Buenos Aires?
I like nothing more than to watch Southampton Football Club lose with Buenos Tours chief A-Jelly while enjoying a pint at the Gibraltar pub (Peru 895) in San Telmo.
Where do you go for a romantic night out in Buenos Aires?
If it's just me and Alan J, CEO of BuenosTours any number of gentlemen's clubs along Reconquista street. If I'm with the wife, nothing says romance more than a quiet night in with a wheel of cheese.
[Photo credit: http://www.flickr.com/photos/bdorfman/108918489//CC BY 2.0]
Do you have any collections?
Yes. I have a collection of bus tickets from every bus line in Buenos Aires.
What is your exercise routine?
When are you going to ask me about my book "Colectivaizeishon, one man's pointless quest to take all the buses in Buenos Aires?"
What is your favorite book, and why?
I thought you'd never ask. It's "Colectivaizeishon, one man's pointless quest to take all the buses in Buenos Aires." It's being published by Random House Mondadori in Argentina in 2013. But in Spanish. Yes, my first book to be published is one I wrote in my third language. But enough about me. Ask me about my favorite film.
What is your favorite film, and why?
If I had to choose one, I'd have to say the documentary "Colectivaizeishon, one man's pointless quest to take all the buses in Buenos Aires". "A Serious Man" and "You've Got Mail" are quite good too.
[Photo credit: http://www.flickr.com/photos/pedroalonso/6300964505/ /CC BY 2.0]
What are your favorite websites and blogs?
I've been reading a lot of good stuff on themillions.com and newyorker.com/books.
Obviously, I regularly read pickupthefork.com (fantastic local food blog) and quietly and jealously seethe at the popularity of its author.
What are the most played songs in your music collection?
I have often wondered what juicy statistics I would now have at hand if I had gone through with my idea aged 15 of noting down every song and album I ever listened to at home. I think Queen II and Bowie's Hunky Dorey would be up there. You may like to link to my song for Brian May. Brian May wrote to me to congratulate me on it.
What do you never leave the house without?
A sense of adventure and an elegant timepiece.
What are your earliest memories of Buenos Aires?
I like to think that I was Juan de Garay in a previous life, so I would have to say that my earliest memory of Buenos Aires is the day I founded the bitch. Of course, back in those days we called her "Trinidad".
What is the most unusual thing you have been asked by a stranger in Buenos Aires?
"What is your exercise routine?"
What is your favorite porteño saying or expression?
Any that can be expressed non-verbally.
What three places or things to do would you recommend to a visitor to the city?
Take the 70 or 46 or 23 bus through a villa. Pour wine from a penguin (pictured). Have sex in a telo. In that order.
[Photo credit: http://www.flickr.com/photos/nano/2153928042/ /CC BY 2.0]
What are the best souvenirs or gifts to bring home from Buenos Aires?
Polo ponies make an excellent gift for any small child and are not all that expensive. Failing that, a carton of cigarettes and an amusing fridge magnet.
Any insider tips?
The only snooker table in Buenos Aires is to be found in the basement of 36 Billares on Avenida de Mayo. Anyone who fancies a game can contact me via the blog or twitter @danieltunnard. My highest break is 17, red black red black red. I lost that game 43-17. I highly recommend marrying Argentine women. Psychoanalysis is both rewarding and educational. Do consider osobucco when purchasing your next cut of beef. Simmer for a couple of hours in white wine and your usual condiments. La Tablita on Vidal and José Hernandez in Belgrano has a breathtaking selection of cheeses and cured meats. A large second hand Ken Brown record player, purchased on mercadolibre.com, can give many years of musical pleasure and retro kudos. Buy a house in Tigre and grow a beard. Watch the years fly by. Contemplate the intense flight of the humming bird. Have a quiet night in with a wheel of cheese.
Thank you Daniel! If you are an interesting expat/local in Buenos Aires and would like us to interview you, feel free to get in touch and tell us why.
Abandoned buildings in Buenos Aires, and the past stories they hold
Jeff Barry, over at  Buenos Aires, City of Faded Elegance, has started what should be a very interesting series of posts about deteriorating and abandoned buildings in Buenos Aires.
He started the series with a post about an abandoned building on calle Bolivar in the barrio of Barracas, and tells an interesting story about the lives that would have once been led in crumbling buildings like these. It really is this type of deteriorating building and the stories within that gives a city like Buenos Aires authenticity and an interesting edge – we would be far worse off without these reminders of days gone by.
Jeff then invited other bloggers to join in the series by posting their own pictures of abandoned or deteriorating buildings in Buenos Aires, or indeed anywhere else. Tango Cherie has posted her own thoughts on run-down buildings in Havana, Cuba, that are in fact still very much lived in, despite their state of disrepair.
Joining in with the series, so here is a new photo entry:
Abandoned building on calle Alsina, Monserrat
This building is found on the 400 block of Alsina, just across the street from a favorite old cafes in Buenos Aires, La Puerto Rico (great coffee and pastries). It is also just a block away from Plaza de Mayo, so you would imagine it would be a prime location. However, despite that, it has been in more or less the same horrible condition over the past few years, the only changes being the extra foliage growing on its walls, the changing state of its crumbling old facade, and the different fly posters that adorn its boardings each week.
Some similar buildings further down the block (on the corner opposite the lovely old Farmacia de La Estrella and above that the Buenos Aires city museum) have a sign on them indicating that the Buenos Aires city government is planning to renovate them and create shop space on the ground floors – however it seems that the separate building shown in my photo might be ignored for a while yet. We'll see…
***As of November 2009, this building's facade HAS IN FACT BEEN RENOVATED by the Buenos Aires city goverment!***
[mappress]