Inventive Mexican food in an intimate setting
[Photo courtesy MASA Club de Tacos Facebook Page]
When I tell Argentines that what I miss most about the US (other than family) is the Mexican food, they don't get it.  You see while famous for its beef and wines, Argentina is not known for its food diversity – and forget about spicy foods.  Growing up in Arizona, Mexican food formed the nucleus of my diet, and continued to do so when I moved to California and basically survived on burritos.
So when I heard about a new Mexican-inspired puertas cerradas restaurant in Buenos Aires, I knew I had to check it out. I've scoured Palermo for good Mexican food joints, but I usually end up disappointed and nostalgic. Somehow spending 300 pesos on mediocre tacos and leaving without flaming lips, having doused my food in the "extra spicy" sauce, feels traitorous to my roots. I figured a fellow West Coast yanqui would get it.
Simple, tasty, and creative Mexican-inspired cuisine
Kevin, the creator of MASA Club de Tacos, gets it. MASA is named after the heart of Mexican cuisine, the masa or dough used to make tortillas. In Argentine Spanish, however, masa while still meaning dough, is also a slang term for a cool person. Dinners are hosted every Thursday night in a residential home alternating between Belgrano and Almagro. Guests typically reserve in small groups, and the mixed company provides a perfect opportunity to meet new people — especially Argentines! The experience feels more like a warm dinner among friends than a private restaurant, and the price scheme adds to that feeling: each guest pays what they deem to be the value of the meal, and brings their own beverages.
I arrived with my Argentine partner last Thursday at the Almagro MASA location, and was immediately made welcome by Kevin, a laid-back and friendly California native. He lead us to the kitchen where his quirky and fabulous right-hand-lady Evy was busy with prep work. We chatted about Mexican food in BA and the US as the cooks prepared appetizers. When the rest of the guests arrived, a family from Bahia Blanca and a few young Argentines who work in the tech sector, we settled into the living room, discussing the emerging kite surfing scene on Argentina's Atlantic coast.
Dinner is served!
While we chatted with our fellow guests, Kevin and Evy served us baskets of fried avocados and a creamy jalapeño salsa. To my delight, the salsa sent steam zipping through my nasal cavities! The Argentines seemed a little overwhelmed by the spice, and warned me against dousing the palta slices, but I just couldn't get enough. The avocado was warm and creamy, without being over fried. Delicious.
To avoid gobbling up all the slices on the table, I ventured to the kitchen to find the Negra Modelo I brought with me. With the new Daft Punk album and some classic Outkast tracks pumping in the background, the cooks were preparing the first dish. I asked about the concept of restaurant, and Kevin explained it as an elevated spin on Mexican street tacos. He founded the project after working on a local website with a cultural agenda, with the ideal that going out in Buenos Aires shouldn't have to be exclusive to those who can afford a pricey meal. That's how he came up with the unique, pay-what-you-can price: it makes the hip closed-door phenomenon accessible.
I scuttled back to the table as they plated the salad, an absolutely divine grilled cabbage salad with mango, tomato and a creamy vinaigrette. The cabbage was perfectly grilled to eliminate bitterness but still be crunchy, and my boyfriend has been begging for grilled cabbage since. Peppered with mango slices, the salad was mildly sweet but still light and refreshing.
"Don't judge your taco by its price" -Hunter S. Thompson
As we awaited the main dish, our fellow guests told us about an application they invented called Cook App which allows you to search puertas cerradas restaurants in Buenos Aires. It's like a go-to spot to find different venues on the lively underground restaurant scene.
And then came the main event: two tacos filled with pork carnitas with onion and cilantro, and chicken slow cooked in honey, jalapeño salsa, and blueberry juice, both served on homemade corn tortillas. The tortillas were the best I've eaten in Argentina; they were light and not overwhelmingly corn-y (as corn tortillas often can be), with a perfect touch of griddled flavor. Both meat fillings were delectable, and the pollo (chicken) was particularly juicy. The tacos were served with another salsa, this time made with the Peruvian Locoto chili, and I doused my tacos with the two spicy spreads to the horror of the Argentines. Once again, the tacos delightfully blended sweet and savory flavours.
Swooning in a taco-induced reverie, we cleaned the juice off our hands and discussed the spectacular tortilla masa. The strawberry cupcakes came right at the perfect time and perfect closure for the pallate. Again, these were not too sweet, and the cake itself was spongy and exuded fresh strawberry goodness.
While the family had to leave early, we stayed and talked with Evy and Kevin. We laughed about Argentine and US American cultural differences, and Kevin even admitted that he made corn tortillas since he knew I was coming. Argentines, apparently, are much easier to serve Mexican food. "They pretty much love anything we serve them," noted Evy, while those of us from the US, on the other hand, have lots of expectations about Mexican food. True enough. Overall, I felt the dinner combined traditional Mexican ingredients into fun, and unique dishes.
Our hosts regaled us late into the night with stories about demanding clients, the joys of menu planning, and what it was like serving the rock group The Black Keys.  The MASA Club de Tacos is a unique, friendly experience.
If you'd like to reserve a spot at the next MASA Taco dinner, find further details on the MASA Club del Taco website, or visit their Facebook page. Vegetarians and those with diet restrictions, never fear! The MASA team is willing to accommodate to your requests. Read  more reviews of the restaurant on My Beautiful Air or The Argentine Independent, and happy eating!
Q&A with the author of the Pick Up The Fork blog

[Photo courtesy of Allie Lazar]
Originally from Chicago in the United States, Allie Lazar has lived in Buenos Aires for nearly seven years. She is a freelance writer and author of the food blog Pick Up The Fork.
When did you first come to Buenos Aires?
In July 2006, as an exchange student. I "studied" Political Science at UBA (the University of Buenos Aires). It was supposed to be a 6 month study abroad program but I extended it to a year. Which later was extended to 6 more years, without the studying.
Why did you stay?
It gave me anxiety to think my BA expiration date was approaching; there were too many restaurants that I hadn't tried yet. I wasn't crazy about the idea of going back to the US, graduating, getting a real job and becoming an adult, so staying in BA seemed like the least sucky option.
Why did you start to write your blog Pick up the Fork?
Finding a decent restaurant back in the day was a challenge, and so often I became victim of throwing my pesos down the shitter on terrible overpriced meals with horrendous service. There weren't many honest restaurant resources, and even less in English, so I began to put my constant restaurant visiting and annoying food picture taking to some semi-respectable use.
What's your daily routine?
Since I work freelance, writing for magazines or websites, managing social media pages and organizing private food tours, I'm generally working on a few different projects at once – there are some weeks I'm bombarded with work and spend 24/7 at a café clacking away on my computer nonstop while also visiting restaurants. But if I don't have a deadline or project due, there are many days when I don't even put pants on.
How many times do you eat out a week?
Depends on the week and how fat I feel. If I'm working on an article and need to do research, I'll eat out every day – right now I'm working on two articles, one brunch / another lunch specials, so there's a lot of midday/morning eating going on.
What is your favourite neighbourhood in Buenos Aires?
Palermo Hollywood/Colegiales for convenience and street art, Villa Crespo for the eclectic mix of restaurants, Almagro/Abasto for the latino flava. My new favorite spot in BsAs is the lagos de Palermo on a weekday, it's dog park central. It's where all of the dog walkers (pictured below) congregate and take their packs – there are hundreds of dogs hanging out, it's heaven.

[Photo credit: http://flic.kr/p/a1LKKS/ CC BY 2.0]
What is your favourite way to spend a Sunday in Buenos Aires?
If I were a liar (and I am) I'd fabricate some story to make my lounging sedentary weekend sound similar to what an adventurous and active person may do on the weekends, doing some kind of sport and followed by a healthy meal at a cute café.
What is your favourite neighbourhood restaurant?
Since I'm on a constant quest for a great restaurant, I rarely repeat. At the moment I really have a thing for quick, fast food spots: Shawarma inside the Mercado de Belgrano, La Cresta's wraps are bomb (Bulnes 829, Almagro), so is El Banco Rojo's spicy lamb empanadas and doner kebab (Bolivar 914, San Telmo). When I'm homesick, I go to La Crespo (Thames 612, Villa Crespo) for a pastrami sandwich (pictured).

[Photo credit: Allie Lazar, http://pickupthefork.com/2011/06/05/la-crespo-a-jewish-american-palermonites-heaven/]
Where is the best place to get coffee / steak / ice cream / a beer in Buenos Aires?
Ok, so I've never been good at choosing the best, so here are SOME of my favorites:
Coffee: in Bocca al Lupo (Bonpland 1965, Palermo Hollywood), I don't know how they get it to taste so good! And the overall space is pretty perfect.
Steak: I like each one of these places for different reasons, they all might not have the best steak, but something about it makes me happy: Parrilla Peña (Rodriguez Peña 682, Recoleta), La Lechuza (Uriarte 1980, Palermo Soho), La Marucha (11 de Septiembre 3702, Nuñez), El Pobre Luis (Arribeños 2393, Belgrano), La Brigada (Estados Unidos 465, San Telmo), I could go on…
Ice cream: El Capricci's (Paraguay 5201, Palermo) marroc y chocolate profundo, Cadore's (Corrientes 1696, San Nicolas) nutella, Guardiola's (Jorge Newbery 1967, Las Cañitas) passion fruit, anything from Jauja (Av Cerviño 3901, Palermo).
Beer: I'm more of a cocktail drinker, and I just made a list of my favorite bars on the Pick Up The Fork Drink Drank Drunk guide.
What was the best meal you have eaten in Buenos Aires?
Hernan Gipponi just started a new concept on Monday nights with one communal table (called One Table), where he cooks and serves the food table-side. The wines are paired by their sommelier (one of the best in the country) Andres Rosberg, who also happens to be the president of the Argentine Sommelier Association. I went last week and it was phenomenal meal and a wonderful overall dining experience.
What are your favorite shops?
I don't shop for shoes or clothes, instead I spend all my money on ridiculously expensive cheese. Barrio Chino in Belgrano (pictured below) is like my food mecca. Mercado de Progreso (Avenida Rivadavia 5430, Caballito) and Mercado de Belgrano (Juramento 2527, Belgrano) are also good places to shop.

[Photo credit: http://flic.kr/p/9aQTLp/ CC BY-SA 2.0]
Where do you go for a romantic night out in Buenos Aires?
I like to take that special someone on a romantic stroll for a smoky truck of greasy choripanes.
What is your exercise routine?
Pfffffff. It generally consists of two hours debating whether I should work out; sometimes I get far enough to put a sports bra on but ultimately decide that my new work out / diet routine will start tomorrow.
Do you have any collections?
I save a lot of menus, ideal bathroom reading material.
What are your favourite websites and blogs?
I'm on Gawker and The Onion daily. I also read way too many food blogs, my favorites at the moment are First We Feast, Thug Kitchen and The Perennial Plate. And of course Daniel Tunnard's blog, author of "Colectivaizeishon, one man's pointless quest to take all the buses in Buenos Aires."
What are the most played songs in your music collection?
At the moment I listen to mostly NPR podcasts. Yes, I'm 27 going on a liberal, grey haired 55.
What do you never leave the house without?
A bad attitude.
What is the most unusual thing you have been asked by a stranger in Buenos Aires?
A stoner with mulletlocks (dreadlocks + mullet) approached me at Plaza Francia and asked: "No me prestás un zapato?" (Can you lend me a shoe?")

What is your favorite porteño saying or expression?
All of these.
What three places or things to do would you recommend to a visitor to the city?
Wander around Chacarita Cemetery (pictured below), guzzle lots of cheap wine, visit some of the more unknown café notables.

[Photo credit: http://flic.kr/p/ck2Nwh/ CC BY 2.0]
Any insider tips?
You can see all the famous sightseeing spots in less than two days, and most are overrated (cough La Boca cough). The best way to experience Buenos Aires is walking around, going café and restaurant hopping.
Thank you Allie! Questions? You can leave a comment for Allie on her famous food blog Pick up the Fork. And if you are an interesting expat/local in Buenos Aires and would like us to interview you, feel free to get in touch and tell us why.
British writer and adventurer, meets one Argentine at a time
Rosie Hilder traveled to Bolivia four years ago, ready to start life as an expat. Her experience in La Paz didn't turn out so well, but – determined to stay in South America – Rosie moved to Buenos Aires instead of going home to England. Since arriving in 2009, Rosie has become an English teacher, journalist, photographer and blogger.
She started her blog, 52exchanges.com, in 2011, where she documents a year-long challenge to have 52 (one per week) language exchanges in Buenos Aires. A resident of the barrio of Almagro, Rosie sat down with us recently…
Why did you come to Buenos Aires?
I actually originally moved to Bolivia for an English-teaching job and then when I got there – I really liked it – but after about six months, I realized my bosses were a bit sleazy and didn't pay me, so I decided to leave, but I wanted to stay in South America, but come somewhere a bit more developed. I had this idea in my head about how great Buenos Aires would be, so I came to Buenos Aires.
Why did you stay?
I really liked it! At first, I had to stay because I couldn't afford to leave. And then, I got quite a good teaching job, not those sort of normal, flaky institutes. They got me a visa, it's a job, you know so I decided to stay because of that. And then my ex-boyfriend left, and then, I started to meet at bunch of friends and started to really enjoy the city. And now I have a new Argentine boyfriend! Now I won't leave because of him.
Favorite barrio?
Almagro, obviously. Perfect mix.
PG: What about Almagro?
Well it's a barrio, you know? People actually live there. And there's like all these specialist shops that I love. And it's not as fancy as Palermo. And it's in the middle of everything, you can get anywhere from it.
Where's the best place you go for coffee, steak or ice cream?
I'm not really big on coffee, but I've heard the Full City Coffee House, a Colombian one in Chacarita, is supposed to be really good. Steak – well obviously a family asado is the best place to go for beef, but La Cholita [Rodríguez Peña 1165, in Recoleta] is really good. For ice cream, Nonna Bianca [Estados Unidos 425], it's in San Telmo. It's Italian.

(Photo Credit: suziedwards's photostream// CC by 2.0)
What are your favorite events or festivals in Buenos Aires?
BAFICI, the independent film festival, that's in April. It's just a really good chance to see films that you wouldn't normally see. And after, they often have question and answer session with the director, which I always find really interesting… and people always clap at the end, which is great. We don't do that in England.
How do you spend your weekends?
Well I'm really busy normally, but a good place to go to relax is the Costanera Sur. I like to go for a walk in the ecological reserve there, or sit in a café with a book.
(Photo Credit: miguelvieira's photostream // CC by 2.0)
Your last day in Buenos Aires. What are the three things you'd do, or three places you'd go to?
Well, I would definitely go to a park. Maybe the Parque de 3 de Febrero cause just to enjoy the Argentine park experience with mate and family. And that park is really good because there's loads of stuff there you can take good pictures of. What else would I do? Well I would probably go and eat a steak if it's my last day. That's pretty much obligatory, isn't it? Have wine. And then I would go to my favorite bar, which is Senior Duncan in Almagro.
Is it a British bar?
No, it's one of these "closed door" bars, and it's very cool. It's run by five or six Argentines. It's one of those places where you can go and make friends with everyone there. They have good music. On Thursdays they have a swing dancing night. And they have a storytelling event there.
So switching gears, 52 exchanges, what prompted the idea and what was that experience like?
I didn't learn Spanish at all [in school] for seven years. So I thought, "Oh yeah, I'll go learn Spanish." I got to Bolivia and realized I'd forgotten the past tense, couldn't understand anything. I couldn't get by. And then I sort of got up to scratch in Bolivia with private classes and stuff. And then when I got to Argentina and I didn't understand everything – [Argentine Spanish is very unique and sometimes difficult to understand] – obviously, because they use the "Sh" sound for the "ll" and all that. And after two years in Argentina, I felt, "Well now I understand and I know to say "sh" and not the traditional Spanish pronunciation  but I still wanted to feel like I completely knew. People at home would say, 'Are you fluent?' and I would say, 'Well… I don't know.'  What does that mean? Which is a theme in my blog – what does it mean to be fluent? And a friend of mine – someone I know back home – was doing this blog called '52 free gyms' or something like that, and he was going to all these free gyms and writing about it. And I was like 'this is what I should do' – I'm not really into the gyms but I think it could be even better with people. So, another friend told me she'd been on a conversation exchange, and I put the two ideas together and decided to do a blog about 52 conversation exchanges.
If someone's reading your blog for the first time, they're a visitor to Buenos Aires, what lesson do you think they're coming away with?
Well, they'll learn some very useful Spanish vocabulary. They're learning about the city, because I went to different places [for language exchanges] and I said I was in this bar or this place. And they'll learn about Porteños in general. And I guess for me, the blog is really about cultural differences – the fact that what I say isn't necessarily the truth. It's not fact, but it's the way I see it because I'm English. Things that are normal for Argentines aren't normal for me. I think that's the point of the whole thing is trying to get a bit more understanding of the culture, which for me is the most interesting thing about living abroad.
Thank you Rosie! Questions? You can contact Rosie at her personal website: www.rosiehilder.com. And if you are an interesting expat/local in Buenos Aires and would like us to interview you, feel free to get in touch and tell us why.
Closed door restaurant owner and prolific blogger
Originally from Michigan in the United States, Dan Perlman lived in New York City for 23 years before moving to Buenos Aires in 2005.  He is a  trained chef, pastry chef and sommelier and has written several books about food and wine.  The author of the SaltShaker blog and chef at Casa SaltShaker, his 'closed door restaurant' (a restaurant in a private home that is by reservation only),  he lives in the Recoleta neighborhood of Buenos Aires. And yes, he's the second subject (and second Dan!) of our series of BuenosTours interviews with interesting expats & locals.
When did you first come to Buenos Aires?
In 2005. It was not my planned vacation. I was supposed to go on a two week culinary tour in the Benelux countries but the tour operator cancelled on about a 3 days notice. With time off from work already planned, I scrambled to find a cheap and quick alternative. A friend suggested Argentina, given the economy then.
Why did you stay?
I didn't stay that time, but I did like the city a lot and met Henry, who was working at the B&B where I stayed. We kept in touch and a couple of months later I decided to come back and explore more of the country. Henry and I became "an item" and my stay turned into a longer stretch. After about six months I decided to move down here.
On a typical day, what is your routine?
I don't sleep much, so I'm up by 8am. I usually start the day with a large mug of black coffee and checking the usual nonsense on the internet, answering e-mails, and, a couple of days a week, writing a blog post. If our restaurant, Casa SaltShaker, is open I head out to the markets to do my last minute shopping, then come back and start preparing. That pretty much ties up my day until late afternoon at which point I take a break and then dive back into dinner service, usually finishing up around 1 am. If the restaurant isn't open I often hang out with friends or check out a new restaurant for lunch, or, I stay in and experiment with new recipe ideas. Maybe once a week we go out to dinner.
What is your exercise routine?
I manage to drag myself to the gym a couple of times a week. I've been studying and practicing martial arts for years and so I continue that on my own here (there is no kenpo school here in BA) and even teach a little bit of it. And, I supplement that with some Tai Chi, now and again.
What is your favourite way to spend a Sunday in Buenos Aires?
Relaxing. Brunch with friends, reading or playing online games. I'm a big dungeons & dragons geek.
What is your favourite neighbourhood restaurant?
In my neighborhood Recoleta, it's Tarquino (Rodríguez Peña 1967) – very creative Argentine cooking. And best when someone is treating us to dinner there as it's kind of a budget stretcher. A neighborhood style restaurant, i.e. something casual and comfortable – Las Pizarras in Palermo (Thames 2296). Again, really creative Argentine cooking, but at a much easier on the wallet price.
What are your favourite festivals / events in Buenos Aires?
Last year I had great fun at the Peruvian Gastronomy festival along Avenida de Mayo – hopefully they'll repeat that one!
[Photo credit: http://www.flickr.com/photos/suedehead/7671445664/ /CC BY 2.0]
You are a trained sommelier, what are your favourite Argentinian wines?
My favorite Malbec is the Villa de Acequias "Viña Rosedal" from Luis Segundo Correas. I love the Semillon "Tomero" from Carlos Pulenta. Recently I've really become enamored with the Red and White Blends from the Nicasia Vineyard of Catena Zapata, particularly the Cabernet Franc base on the red side and the Viognier base on the white.
What have been some of the best things to have happened at your closed door restaurant, Casa Saltshaker?
My favorite story happened early on. Two couples, in their late 50s, from the midwest U.S. arrived, separately. The man from one couple and woman from the other kept looking at each other, puzzled. They got to talking and realized that they'd been high school sweethearts and hadn't seen each other since graduation day – he'd gone into the army and by the time he came back she'd moved away. The two couples ended up spending the rest of their vacation together.
Any fights?
We've never had any real serious fights – we've had some political arguments and we had a couple break up their engagement at the table, in front of their respective parents, but it turned out they'd staged it. We once had two people who'd had a bad business deal years before happen to end up at the table together, both guests of a mutual acquaintance – one of them fumed a lot, the other just ignored him.
Who have been the most interesting guests at Casa Saltshaker? Anybody famous?
Oh my, I'm not sure I could get into that. We've certainly had some local television and stage folk come, and a couple of local polo players.
Where is this best place to get empanadas in Buenos Aires?
I think my favorites, at least in this neighborhood, are from La Cocina (Pueyrredón 1508), where they have Catamarqueña style empanadas.
[Photo credit: http://www.flickr.com/photos/foradoeixo/6882355852/ /CC BY 2.0]
What are your favourite food stores?
I love shopping in Barrio Chino (China Town) in Belgrano, and usually go to the "original" store along Arribeños.
Where is the best place to get coffee / steak / ice cream in Buenos Aires?
Coffee, that's easy, Est. General de Café (various locations), there's no better coffee in the city that I've found. I don't know about the best steak, but the best steakhouse experience for me is Don Julio (Guatemala 4691, Palermo) – between ambiance, food and wine list, it's a winner. Scannapieco was my favorite ice cream place when it was on Avenida Córdoba, and they have recently reopened by the Mercado de Pulgas on Alvarez Thomas 14 (and Dorrego) in Colegiales.
Where do you go for a romantic night out in Buenos Aires?
Pura Tierra (3 de Febrero 1167, Belgrano). It's our "go to" place for our anniversary and occasionally other life events. Romantic ambiance, fantastic food, great service.
Do you have any collections?
Stories and egg-cups (pictured below).
What are your favourite websites and blogs?
There are a few food blogs I read all the time – from Yotam Ottolenghi in London, the Baker's Banter blog from King Arthur Flour, Ideas in Food for things that in general I will never, ever do with ingredients. Outside of the food world I'm a big fan of the Strange Maps blog, Letters of Note, and I usually check in on the latest videos on both FORA TV and TED once a week just to see what's new and interesting.
What do you never leave the house without?
My keys. Really, that's about it. I'm not someone who feels the need to be in constant contact and often don't even bother to take my cellphone with me. I usually, though not always, have a camera with me.
What is the most unusual thing you have been asked by a stranger in Buenos Aires?
I was standing at the corner of Pueyrredón and Las Heras and a couple asked me where Retiro station was. On the surface it seems an ordinary enough request, except that they were holding their tablet computer up with an interactive map that showed the station situated right there at the corner. They were a little miffed that they had about a 2km walk ahead of them.
What three places or things to do would you recommend to a visitor to the city?
The walk from the Casa Rosada to the Congreso, with stops at Cafe Tortoni and Palacio Barolo. Museo Xul Solar. The Rosedal.
[Photo credit: http://www.flickr.com/photos/pontodeak/3331021603/ /CC BY 2.0]
What are the best souvenirs or gifts to bring home from Buenos Aires?
Wine and leather goods.
Any insider tips?
Use xoom.com for money tranfers (for people with a US bank account). Don't complain that taxi drivers and kiosks won't take 100 peso notes. Just because you're on vacation doesn't mean you get to behave like an ass because you don't think you'll ever see these people again. Don't eat steak every single meal, there's plenty of other food available here. On the flip side, did you really come all the way to BA just to eat sushi with cream cheese or a plate of spaghetti with bolognese sauce? Don't use Google maps here and expect to end up where you want to be.
Thank you Dan! If you are an interesting expat/local in Buenos Aires and would like us to interview you, feel free to get in touch and tell us why.
El Ingles who took all the buses
Daniel Tunnard was born in Sheffield in England, grew-up in nearby Stockport, and first came to Buenos Aires in 1999.  A writer and translator, he has written a book about taking all 140 bus routes in Buenos Aires.  He lives in Belgrano with his wife and three cats. But most importantly of all, he is the first subject in a series of BuenosTours interviews with interesting expats/locals (of which Daniel is arguably both).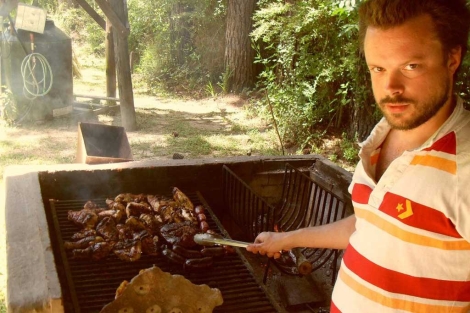 [Photo Credit: Daniel Tunnard]
Why did you first come to Buenos Aires and why did you stay?
I was on holiday in Asunción in Paraguay and I needed to get to Montevideo in Uruguay where I was studying on my year abroad. I spent three nights at the Del Aguila hostel in La Paternal. I met my first wife on the second night there.
What's your daily routine?
Exactly the same as the middle section of The Beatles' 'Day in the Life', minus the comb.
What is your favorite way to spend a Sunday in Buenos Aires?
I like nothing more than to watch Southampton Football Club lose with Buenos Tours chief A-Jelly while enjoying a pint at the Gibraltar pub (Peru 895) in San Telmo.
Where do you go for a romantic night out in Buenos Aires?
If it's just me and Alan J, CEO of BuenosTours any number of gentlemen's clubs along Reconquista street. If I'm with the wife, nothing says romance more than a quiet night in with a wheel of cheese.
[Photo credit: http://www.flickr.com/photos/bdorfman/108918489//CC BY 2.0]
Do you have any collections?
Yes. I have a collection of bus tickets from every bus line in Buenos Aires.
What is your exercise routine?
When are you going to ask me about my book "Colectivaizeishon, one man's pointless quest to take all the buses in Buenos Aires?"
What is your favorite book, and why?
I thought you'd never ask. It's "Colectivaizeishon, one man's pointless quest to take all the buses in Buenos Aires." It's being published by Random House Mondadori in Argentina in 2013. But in Spanish. Yes, my first book to be published is one I wrote in my third language. But enough about me. Ask me about my favorite film.
What is your favorite film, and why?
If I had to choose one, I'd have to say the documentary "Colectivaizeishon, one man's pointless quest to take all the buses in Buenos Aires". "A Serious Man" and "You've Got Mail" are quite good too.
[Photo credit: http://www.flickr.com/photos/pedroalonso/6300964505/ /CC BY 2.0]
What are your favorite websites and blogs?
I've been reading a lot of good stuff on themillions.com and newyorker.com/books.
Obviously, I regularly read pickupthefork.com (fantastic local food blog) and quietly and jealously seethe at the popularity of its author.
What are the most played songs in your music collection?
I have often wondered what juicy statistics I would now have at hand if I had gone through with my idea aged 15 of noting down every song and album I ever listened to at home. I think Queen II and Bowie's Hunky Dorey would be up there. You may like to link to my song for Brian May. Brian May wrote to me to congratulate me on it.
What do you never leave the house without?
A sense of adventure and an elegant timepiece.
What are your earliest memories of Buenos Aires?
I like to think that I was Juan de Garay in a previous life, so I would have to say that my earliest memory of Buenos Aires is the day I founded the bitch. Of course, back in those days we called her "Trinidad".
What is the most unusual thing you have been asked by a stranger in Buenos Aires?
"What is your exercise routine?"
What is your favorite porteño saying or expression?
Any that can be expressed non-verbally.
What three places or things to do would you recommend to a visitor to the city?
Take the 70 or 46 or 23 bus through a villa. Pour wine from a penguin (pictured). Have sex in a telo. In that order.
[Photo credit: http://www.flickr.com/photos/nano/2153928042/ /CC BY 2.0]
What are the best souvenirs or gifts to bring home from Buenos Aires?
Polo ponies make an excellent gift for any small child and are not all that expensive. Failing that, a carton of cigarettes and an amusing fridge magnet.
Any insider tips?
The only snooker table in Buenos Aires is to be found in the basement of 36 Billares on Avenida de Mayo. Anyone who fancies a game can contact me via the blog or twitter @danieltunnard. My highest break is 17, red black red black red. I lost that game 43-17. I highly recommend marrying Argentine women. Psychoanalysis is both rewarding and educational. Do consider osobucco when purchasing your next cut of beef. Simmer for a couple of hours in white wine and your usual condiments. La Tablita on Vidal and José Hernandez in Belgrano has a breathtaking selection of cheeses and cured meats. A large second hand Ken Brown record player, purchased on mercadolibre.com, can give many years of musical pleasure and retro kudos. Buy a house in Tigre and grow a beard. Watch the years fly by. Contemplate the intense flight of the humming bird. Have a quiet night in with a wheel of cheese.
Thank you Daniel! If you are an interesting expat/local in Buenos Aires and would like us to interview you, feel free to get in touch and tell us why.
Abandoned buildings in Buenos Aires, and the past stories they hold
Jeff Barry, over at  Buenos Aires, City of Faded Elegance, has started what should be a very interesting series of posts about deteriorating and abandoned buildings in Buenos Aires.
He started the series with a post about an abandoned building on calle Bolivar in the barrio of Barracas, and tells an interesting story about the lives that would have once been led in crumbling buildings like these. It really is this type of deteriorating building and the stories within that gives a city like Buenos Aires authenticity and an interesting edge – we would be far worse off without these reminders of days gone by.
Jeff then invited other bloggers to join in the series by posting their own pictures of abandoned or deteriorating buildings in Buenos Aires, or indeed anywhere else. Tango Cherie has posted her own thoughts on run-down buildings in Havana, Cuba, that are in fact still very much lived in, despite their state of disrepair.
Joining in with the series, so here is a new photo entry:
Abandoned building on calle Alsina, Monserrat
This building is found on the 400 block of Alsina, just across the street from a favorite old cafes in Buenos Aires, La Puerto Rico (great coffee and pastries). It is also just a block away from Plaza de Mayo, so you would imagine it would be a prime location. However, despite that, it has been in more or less the same horrible condition over the past few years, the only changes being the extra foliage growing on its walls, the changing state of its crumbling old facade, and the different fly posters that adorn its boardings each week.
Some similar buildings further down the block (on the corner opposite the lovely old Farmacia de La Estrella and above that the Buenos Aires city museum) have a sign on them indicating that the Buenos Aires city government is planning to renovate them and create shop space on the ground floors – however it seems that the separate building shown in my photo might be ignored for a while yet. We'll see…
***As of November 2009, this building's facade HAS IN FACT BEEN RENOVATED by the Buenos Aires city goverment!***
[mappress]
Expat Life in Buenos Aires
A fun Buenos Aires blog called Exnat is well worth a read if you think you might be interested in "the existential crises of an expat in Buenos Aires at the beginning of the 21st Century".
If you are more specifically interested in stereotypes, it seems Nathan is too – he, and his team of expert, expat researchers (i.e. anyone that comments on his blog), are putting together a list of the different types of expats, using generous helpings of stereotypical generalization as their main source of power.
So why not go over and contribute to this list of expat archetypes, and while you're at it, stay around to read some more interesting expat commentary.
[Picture credit: http://www.flickr.com/photos/blmurch/2150088956/sizes/m/in/photostream/  CC BY 2.0 ]