A porteño emblem par excellence
It was once decorated as a pencil (2006), and twice as a Christmas tree (1973 and 2010).  It has served as a target for vandals, prompting its public closure and an imposing fence to be placed around it in 1987.  During the sinister sequestration period of the 1970s, it served as a masthead to hoist terrifying propaganda intended to silence the government's critics.
In 2005, it was covered in a giant pink condom for World Aids Day.  In 2015, it temporarily "lost" its tip thanks to a grand illusion by the hand of a local artist, making it possible for the first time ever for Argentines to access its towering peak.
A few days after its construction was complete in 1936, an earthquake shook its foundation but couldn't topple it.  A few years later, in 1939, the Argentine government voted 23-3 to demolish it, but they couldn't topple it either (thanks, Mayor Goyeneche).   
For the city's bicentennial celebrations in May 2010, more than 3 million cheering porteños rallied around it as their central symbol of both the city and the nation.  Just a few days before, famed fútbol coach of Argentina's national team and it's favorite ex-star player, Diego Maradona, threatened to run around it buck naked if his team should win the World Cup.
So, what is "it", you ask?
None other than the "silver sword" of porteño pride: el Obelisco de Buenos Aires.
Residing at the intersection of the city's two most important avenues, Av. 9 de Julio and Av. Corrientes, the Obelisk has been steeped in controversy and intrigue since before it was even erected. For starters, it has been popularly (and wrongly) blamed for the destruction of the historic St. Nicholas Church, which once stood on the same site and first hoisted the baby blue and white Argentine flag over its altars (the 1931 widening of Avenida Corrientes was the actual culprit).
Early onlookers questioned the appropriateness of the construction, pointing out that its shape had "nothing to do with" the city and what it stood for. It predictably became a target for local feminist groups that didn't like the perceived machismo attitudes it embodies. And, if the ladies were correct about the message it was intended to send, it was an embarrassment anyway thanks to being less than half as tall as its 555-feet tall North American cousin, the Washington Monument (El Obelisco is just 221.5 feet tall, or 67.5 meters).
Besides that, it wasn't even made out of "local materials"- the Olsen white stone which comprised its outer cladding was from the province of Córdoba. When that tiling started falling off, it was declared a danger to passersby and termed an "intruder" by an opportunistic Congress that grasped for any reason to level it to the ground and start afresh.
An Argentine monument that Buenos Aires learned to accept
But here we are over 80 years later, and it still occupies its prime real estate on the corner of the Broadway of BA and the Widest Avenue in the World. Love it or hate it, one thing is clear: it's impossible to ignore it. After all, it has been the site of enough impassioned protests and soccer celebrations to cement its place in the Port City dweller's hearts forever. More than likeability, the obelisk has familiarity going for it, having served as the centerpiece to many key events in the modern history of Buenos Aires.
In fact, the best way to understand the significance of the structure is perhaps through these stories: the rallies, the raucousness, and (at times) the riots that the monument has borne witness to. If choosing the Obelisk to host an event is synonymous with having an important cultural message to send, let's see what we can glean about the Argentine people from just the happenings there from the past year (at the time of writing, August 2017)…
12 August 2016: Tango Festival and World Cup Kickoff Celebration
What better event to start with for representing Buenos Aires than one related to tango?  Known worldwide as the Festival y Mundial de Tango and locally as simply El Mundial, this important tango competition takes place during the month of August each year in Buenos Aires. Over 400 couples compete each year in national and international preliminaries for a chance to represent their country in the finals at Luna Park at the end of the month in one of two categories: Tango Pista (salon tango), or Tango Escenario (Stage Tango).  In the run-up to that final event, classes, exhibitions, and concerts are offered all for free in an effort to preserve and expand the cultural heritage of the tango.  
In 2016, the festival theme was bringing the tango "back to the barrios" (neighborhoods), and the events were hosted over 42 different venues in the city to include as many enthusiasts as possible (they almost reached a full offering of 48 venues… the official number of barrios in the city, but a valiant effort all the same).  The kickoff celebration at the Obelisco was actually a press conference, but featured some of the musicians and dancers representing Buenos Aires.
Watch last year's champions Cristian Palomo and Melisa Sacchi in the salon category, and Hugo Mastrolorenzo and Agustina Vignau in the stage category.  This year (2017), the festival takes place from the 10th to the 23rd of August.
9 October 2016: The First Annual National Asado Championships
A close second in cultural importance to tango in Argentina (and some would argue for its place in the top spot) is their asado tradition of grilling up the tastiest cuts of meat in the world.  Last October, the city crystallized their efforts to communicate their gastronomic superiority in the carne category by holding a meat mega-festival, with the Obelisk serving as ground zero.  Judges were brought in from some of the best parrillas in the city: Don Julio, La Cabrera, La Carnicería, El Mirasol, Cabaña Las Lilas, Siga la Vaca, Nuestro Secreto and La Cabaña.  
The festival's champion asadores hailed from Mendoza, a Western province of Argentina, and proudly declared after their win that the "secret is patience" in this "ceremony" of Argentine culture.  The event coincided with Argentine Cultural Diversity Day, and featured several booths showing off the cuisines and dances of nearby nations – fitting for a country that celebrates their strong immigrant population.
19 October 2016: The National Women's Strike
Taking a somber turn in our roster of notable gatherings is the mass march that took place last October to protest the brutal femicide of 16 year old Lucía Pérez in Mar Del Plata, a coastal resort town in the province of Buenos Aires.  As part of the Ni Una Menos movement ("not one less", meaning no more women killed from gender violence), the strike took place on "Miércoles Negro," or "Black Wednesday," and made headlines all over the world.  
Thousands of women stopped all activities for an hour and marched from the Obelisk to Plaza de Mayo, where organizers recited speeches about the persistent machista (male-dominated) attitudes that exist here and threaten the women of Argentina, not only in the form of violence but also cultural suppression (over 10% of women are unemployed, with a gender pay gap of 30-40% and 20% of salaried women being employed as low-paid domestic workers).  It is a sad reality, but misogyny and gender-related violence continues to be one of the greatest challenges this country faces.
14-18 November 2016: Artisanal Ice Cream Week
With over 6000 artisanal ice cream shops sprinkled over the city, it is clear that meat is not the only defining delicacy on the porteño menu.  Each year in late November, the city bows to its Italian immigrant traditions and turns the Obelisk into a giant gelato stand, with flavors being made fresh and all the proceeds benefiting local children's hospitals.  In 2016, its 32nd year, the festival drew a crowd of over 4000, with the favorite flavors being (in order): dulce de leche, chocolate, and strawberry (frutilla).  
Far from enjoying their creamy treat from a waffle cone, the preferred delivery method in Buenos Aires is in that styrofoam container known simply as un cuarto – a quarter kilogram of the sweet stuff, because *real* artisanal ice cream is always sold by weight, never volume.  Our advice: don't get into an argument with an Argentine about who sells the best ice cream in the city, because they all have a personal favorite… and they're all right!
29 November 2016: A Tribute To The Chapecoense Football Team
Football is serious business in Argentina.  90% of the populace here claims allegiance to a club, and a woman cheering against her boyfriend's team is automatic grounds for a breakup.  When the national team wins the entire city stops to celebrate, and Diego Maradona (their coach and ex-star player) is still every bit as much of a god as he was in the early 80's.  But on the tragic night of November 29th, 2016, Argentina showed that their true allegiance is to the sport itself rather than any national rivalry.  That was the night that 71 people perished on a Medellín, Colombia mountainside from a chartered flight carrying the players and staff of the rising star team from Chapecoense, Brazil.  
The scrappy underdogs had beaten incredible odds to make it to the final of the Copa Sudamericana, but their lives were lost at the hands of a careless pilot who failed to make a refuel stop.  Football fans the world over went into mourning, and Argentina lit up the Obelisk in bright green – the team's jersey color – in solidarity.  It was a moment that no porteño will soon forget.
7 February 2017: The 'Tetazo' Topless March
What started as 3 women being threatened with arrest (*link NSFW) for bathing topless on a popular beach on the outskirts of the city on January 28th turned into a massive protest (*link NSFW) in the Plaza de la Republica – the small park surrounding the Obelisk – a little over a week later.  That incident renewed a longstanding national debate about the inequalities that still exist between men and women in Argentine society, where women's scantily-clad bodies are routinely used to sell products in advertising alongside being portrayed as lewd for acts such as breastfeeding.  
It was hard to ignore that the protesters had a valid point when a large number of men showed up merely to ogle the bared-chests, with some climbing flagpoles to get a better look and one man exposing his genitals, sparking outrage among the crowd. While legislators continue to debate the legality of topless sunbathing for women, one thing is clear: machismo, at least for now, is here to stay in Buenos Aires.
25 March 2017: Earth Hour Shuts Down The Obelisk
Buenos Aires has come a long way in the last year in their environmental conservation efforts. Instituting a ban on plastic bags in grocery stores at the beginning of 2017, installing dedicated bus lines to cut air and noise pollution, conducting a city-wide trash collection overhaul, and replacing streetlights with energy efficient LED bulbs are just a few of the improvements the city has undergone.  Though they still have a long way to go, it is clear from the notable lack of protests at the hands of a people that aren't afraid to take to the streets that the majority of Argentines consider themselves in favor of measures that protect the environment.  
Since 2015, the city has been participating in Earth Hour: a yearly event taking place in over 170 countries that flicks the switch on the lights that power major monuments around the world.  This year saw not just the Obelisco, but also the Monumento a San Martín, the Monumento a los Españoles, and the Floralis Genérica go dark for an hour.  Now if they could only innovate a new, biodegradable material to replace that standard styrofoam ice cream container.
El Obelisco de Buenos Aires
Tango, grilled meats, fútbol, and women's rights: just a few of the defining cultural facets of Argentina's modern times.  Clearly, if you want to get a bird's eye view of the social landscape, a very good place to start is the steps of that sky-scraping symbol of porteño pride – El Obelisco.
Legendary Locro for the May Revolution
In the heart of Alto Palermo, just in front of where the 41 & 59 buses let off behind the sprawling Parque Las Heras, you will find a curious little hole-in-the-wall with a BIG reputation for serving up authentic regional Northern Argentine cuisine.
A pulperia as its fading, weather-worn storefront sign proudly displays, is the name given to a restaurant that serves the "food of the gauchos" – a classification that is strongly reinforced by the many framed images of this classic Argentine cowboy hanging slightly askew from its walls.
Clearly, this place isn't going for any interior design awards, but that hasn't stopped its famed owner Hector from winning the awards that count: the culinary kind.  One look at his front window emblazoned with effusive praise from Guía Oleo (Buenos Aires' version of Yelp) and TripAdvisor says it all.
The May Revolution / Locro Connection
The BuenosTours team came here in search of a piping hot bowl of Hector's lavishly lauded locro – Argentina's national dish – to celebrate the Día de la Patria, or the anniversary of the May Revolution.  What we found was the faithful reproduction of an indigenous dish that warmed our bellies and spirits on what turned out to be a cold and rainy day in Buenos Aires.  Apropos, since the weather on that fateful day back in 1810 was similarly sopping, but saw a sudden break to sunshine the moment Argentina's independence was declared from the balcony of the Cabildo.  Legend says that this is why the sun appears on the Argentine flag to this day!
After waiting for 2 hrs+ in a line that spilled out 30 people deep in two directions on the sidewalk (one for eat-in and one for take-out), our crew enjoyed an assortment of not only the luscious locro, but a pile of crispy-on-the-outside, soft-on-the-inside empanadas, topped off with the traditional May Revolution dessert of membrillo (quince paste) over a slab of soft white cheese (our sources tell us membrillo was served in little pockets of fried dough by street vendors shortly after independence was declared, which seems as dubious as the sun/flag story, but equally as fun).
In case you're wondering how locro came to be forever associated with this national holiday, remember that the transition from Spanish colonial power to the first Argentine self-government (the so-called Primera Junta) was desirous of a symbol of something distinctly local and Latin in origin.  And what better symbol than a tasty dish from the indigenous Cuyo tribe of the Northern Andes?  There are few things more appreciated here than food, and few things more "local" than honoring our South American mainland ancestors.

In Hector's Words
Hector was kind enough to step away from his duties as both primary server and Man of the Hour to grant us a quick interview so we could find out what all the fuss was about.
BT: What province does your menu represent?
Hector: All of the food comes from Salta, in the North.
BT: How did you learn how to cook this regional cuisine?
Hector: I learned from my father in Salta, who always had regional food in the house.  It was nothing more than wanting to continue the culinary traditions that existed in my house when I was growing up.
BT: And what are the typical foods of that region?
Hector: Locro, tamales, and guisos, among others
BT: What is your favorite flavor of empanada that you offer?
Hector: I like the Salteña, which contains spicy beef and potatoes.
BT: How was this restaurant born?
Hector: This restuarant was founded in the year 1963, when I was still just a boy.  I came to work here in 1973, and in the year 2000, the owner of this place didn't want to keep going, so I took it over with 3 others.  We have continued all the same traditions; we haven't changed a thing.
BT: And one more… what is the origin of the name "Ña Serapia"?
Hector: The word Ña is short for doña, which means woman in the local dialect, and Serapia was my mother's first name.
So there you have it, folks.  A hearty thank you to Hector for keeping the delicious culinary traditions of Salta alive, and for gracing us with an unforgettable bowl of chorizo and hominy stew to celebrate this momentous occasion in Argentine history. Best locro in the city?  It's hard to say without sampling them all, but we'll let the local patrons – one of whom told us that he has been coming here for over 30 years every May 25th for the locro alone – be the judge!
For more information, check out the Inside Buenos Aires and My Beautiful Air blogs, which both mention our main man above.
Address: 3357 Avenida La Heras
Barrio: Palermo
Phone Number: +54 11 4801-5307
Step into a world of riding boots and leather chaps
San Antonio de Areco is a historic town that gives visitors a taste of the life of an Argentine Gaucho, or cowboy. Located about an hour and a half northwest of Buenos Aires, San Antonio de Areco also offers a peek into a unique facet of Argentina's immigration history.
Despite being in a country of mostly Spanish and Italian immigrants, San Antonio de Areco has a strong Irish heritage. At the center of the town's beautiful square is a statue dedicated to Hipólito Vieytes, who was born in San Antonio de Areco and played a prominent role in the May Revolution of 1810 and the first independent government of Argentina. Below the statue is a plaque commemorating the visit of then Irish president Mary Robinson in 1995 and inside Areco's main church, next to the square, there is a long list of O'Reillys, Malleys and Maguires who helped build the church and the town's identity.
Pull up a stool and drink with the locals in Argentina's oldest pulperia
Surrounded by flat wetlands that constitute some of the country's richest soil, San Antonio boasts a picturesque town center, where modern life mingles with Argentine traditions. A few blocks from the town square, the oldest gaucho bar in Argentina stands as a historical monument and a community's commitment to its past. When the bar's foundation, originally made of clay, was deemed hazardous, the citizens of Areco cobbled together the money for a new, concrete foundation that would support the building and not alter its facade or interior. They succeeded.
Guillermo Guereño provides a short tour of San Antonio de Areco. A longtime citizen of Areco, Guillermo knows the historical roots of the town, as well as the little quirks. The town's first library was founded by women, who held the power to choose which literature everyone could read. In addition to knowing the people at each stop on tour, many passers-by greet Guillermo warmly. After the hour long tour of Areco, Guillermo escorts his guests to an elegant estancia, or ranch.
A taste of the high life at the grand estancia El Ombu
Located about 10 minutes from the town of San Antonio de Areco, El Ombu de Areco is a magnificent, family-owned estancia. Originally built in 1880, the mansion is the centerpiece of the property, serving as a Bed & Breakfast that's maintained its gaucho character. Enrique Boelcke purchased El Ombu in 1931, and his granddaughter, Eva, is the estancia owner and manager today. In 1993, she expanded the property's services to include a B&B.
The brick architecture is laced with ivy and dotted with a variety of flowers. After driving down a dirt road for a few kilometers, the tree-lined entrance prefaces the rustic yet well-manicured property.
Upon arrival, visitors walk onto a beautiful lawn with wooden tables and benches under a large oak tree. The classic setting is further enhanced when wine and beverages are brought out to start your estancia experience. After the welcome drink, the gauchos invite their patrons on a horse ride around the estancia. With very tame horses, the ride is enjoyable and leisurely. The gauchos have exceptional command of the horses and also know enough English to offer riders instructions on how to guide the horse. El Ombu's expansive beauty becomes clear to visitors on the horse ride.
Argentine Asado

Once back at the mansion, the asado, or Argentine BBQ, begins. Served with several delicious side dishes – salad, tomatoes and onions in a vinaigrette dressing and rice with vegetables – the asado at El Ombu offers the best cuts of meat, from cattle raised either on El Ombu's property, or the adjacent farm. The asado includes chorizo (sausage), morcilla (blood sausage), bife de chorizo (sirloin steak), costillas (ribs) and lomo (tenderloin).
Horses roam freely to the sound of strumming guitars
The gauchos not only serve the asado, they also provide the entertainment, displaying first their guitar skills, and then their intimate bond with their horses.
The gauchos put on a unique display of tricks with the horses, ranging from slowly kneeling the horse down, to doing a handstand on the horse (above) to putting the horses rear foot up against the gaucho's chest – a daring tactic that garners much applause. Another impressive gaucho feat performed on some occasions is when one gaucho, leading a horse with a cowbell around it's neck, has about a dozen horses in unison following him. The horses come right up to everyone's table and "mingle" with patrons. It's a fascinating sight. A dozen horses – completely free – roaming peacefully around a group of people.
Camino Pampa Tours and El Ombu
Click here to book a private estancia day trip with Camino Pampa Tours
Guillermo, who runs Camino Pampa tours, or one of his expert bilingual guides accompanies his clients from their accommodation in Buenos Aires to San Antonio de Areco and El Ombu de Areco. Guillermo's driver, who speaks English well, brings all clients back to their accommodation in the city. Tour pick up is at 9am and return time is approximately 6pm.
Inventive Mexican food in an intimate setting
[Photo courtesy MASA Club de Tacos Facebook Page]
When I tell Argentines that what I miss most about the US (other than family) is the Mexican food, they don't get it.  You see while famous for its beef and wines, Argentina is not known for its food diversity – and forget about spicy foods.  Growing up in Arizona, Mexican food formed the nucleus of my diet, and continued to do so when I moved to California and basically survived on burritos.
So when I heard about a new Mexican-inspired puertas cerradas restaurant in Buenos Aires, I knew I had to check it out. I've scoured Palermo for good Mexican food joints, but I usually end up disappointed and nostalgic. Somehow spending 300 pesos on mediocre tacos and leaving without flaming lips, having doused my food in the "extra spicy" sauce, feels traitorous to my roots. I figured a fellow West Coast yanqui would get it.
Simple, tasty, and creative Mexican-inspired cuisine
Kevin, the creator of MASA Club de Tacos, gets it. MASA is named after the heart of Mexican cuisine, the masa or dough used to make tortillas. In Argentine Spanish, however, masa while still meaning dough, is also a slang term for a cool person. Dinners are hosted every Thursday night in a residential home alternating between Belgrano and Almagro. Guests typically reserve in small groups, and the mixed company provides a perfect opportunity to meet new people — especially Argentines! The experience feels more like a warm dinner among friends than a private restaurant, and the price scheme adds to that feeling: each guest pays what they deem to be the value of the meal, and brings their own beverages.
I arrived with my Argentine partner last Thursday at the Almagro MASA location, and was immediately made welcome by Kevin, a laid-back and friendly California native. He lead us to the kitchen where his quirky and fabulous right-hand-lady Evy was busy with prep work. We chatted about Mexican food in BA and the US as the cooks prepared appetizers. When the rest of the guests arrived, a family from Bahia Blanca and a few young Argentines who work in the tech sector, we settled into the living room, discussing the emerging kite surfing scene on Argentina's Atlantic coast.
Dinner is served!
While we chatted with our fellow guests, Kevin and Evy served us baskets of fried avocados and a creamy jalapeño salsa. To my delight, the salsa sent steam zipping through my nasal cavities! The Argentines seemed a little overwhelmed by the spice, and warned me against dousing the palta slices, but I just couldn't get enough. The avocado was warm and creamy, without being over fried. Delicious.
To avoid gobbling up all the slices on the table, I ventured to the kitchen to find the Negra Modelo I brought with me. With the new Daft Punk album and some classic Outkast tracks pumping in the background, the cooks were preparing the first dish. I asked about the concept of restaurant, and Kevin explained it as an elevated spin on Mexican street tacos. He founded the project after working on a local website with a cultural agenda, with the ideal that going out in Buenos Aires shouldn't have to be exclusive to those who can afford a pricey meal. That's how he came up with the unique, pay-what-you-can price: it makes the hip closed-door phenomenon accessible.
I scuttled back to the table as they plated the salad, an absolutely divine grilled cabbage salad with mango, tomato and a creamy vinaigrette. The cabbage was perfectly grilled to eliminate bitterness but still be crunchy, and my boyfriend has been begging for grilled cabbage since. Peppered with mango slices, the salad was mildly sweet but still light and refreshing.
"Don't judge your taco by its price" -Hunter S. Thompson
As we awaited the main dish, our fellow guests told us about an application they invented called Cook App which allows you to search puertas cerradas restaurants in Buenos Aires. It's like a go-to spot to find different venues on the lively underground restaurant scene.
And then came the main event: two tacos filled with pork carnitas with onion and cilantro, and chicken slow cooked in honey, jalapeño salsa, and blueberry juice, both served on homemade corn tortillas. The tortillas were the best I've eaten in Argentina; they were light and not overwhelmingly corn-y (as corn tortillas often can be), with a perfect touch of griddled flavor. Both meat fillings were delectable, and the pollo (chicken) was particularly juicy. The tacos were served with another salsa, this time made with the Peruvian Locoto chili, and I doused my tacos with the two spicy spreads to the horror of the Argentines. Once again, the tacos delightfully blended sweet and savory flavours.
Swooning in a taco-induced reverie, we cleaned the juice off our hands and discussed the spectacular tortilla masa. The strawberry cupcakes came right at the perfect time and perfect closure for the pallate. Again, these were not too sweet, and the cake itself was spongy and exuded fresh strawberry goodness.
While the family had to leave early, we stayed and talked with Evy and Kevin. We laughed about Argentine and US American cultural differences, and Kevin even admitted that he made corn tortillas since he knew I was coming. Argentines, apparently, are much easier to serve Mexican food. "They pretty much love anything we serve them," noted Evy, while those of us from the US, on the other hand, have lots of expectations about Mexican food. True enough. Overall, I felt the dinner combined traditional Mexican ingredients into fun, and unique dishes.
Our hosts regaled us late into the night with stories about demanding clients, the joys of menu planning, and what it was like serving the rock group The Black Keys.  The MASA Club de Tacos is a unique, friendly experience.
If you'd like to reserve a spot at the next MASA Taco dinner, find further details on the MASA Club del Taco website, or visit their Facebook page. Vegetarians and those with diet restrictions, never fear! The MASA team is willing to accommodate to your requests. Read  more reviews of the restaurant on My Beautiful Air or The Argentine Independent, and happy eating!
An interview with one of Buenos Aires's taxi drivers
[Photo credit: Luis Argerich's photostream//CC BY-NC 2.0]
If you've been to Argentina's capital city, you've surely noticed the bumble-bee black and yellow taxis, and probably taken at least a few. With over 40,000 cabs in town, the BA taxi driver is a staple character in the city, and will often be up for a good chat. We caught up with Dario Wigodzky, who has driven taxis for over twenty years, who gave us a peek into life from the driver's seat.
How long have you been driving taxis?
I've been driving taxis since 1991, and celebrated my 22nd year in this profession on July 3rd.
Congratulations on your long career, Dario! How did you become a taxi driver?
I chose this career basically for the freedom of choosing my of hours and the independence that it gives me. I was young (just 22 years old) when I started. And I get to be my own boss!
Are you part of any union or company?
Yes. In the first few years I worked independently, then after a while I decided to become a Radio Taxi, which has improved my income and offers me more security.
You certainly get to see the city from a unique perspective; what do you think of Buenos Aires as a place to drive? What are its best and worst traffic laws or situations?
Driving in Buenos Aires is no easy job. We [Argentines] are very imprudent while driving and traffic gets worse every year…my years of experience help me endure the situation pretty well. The most relaxed driving situations are when I move through the zone we call "el bajo" (the streets close to the river), like Libertador Avenue, as traffic flows as best as possible, or when I work on Friday nights, since it's much more laid-back. One of the worst driving situations occurs in downtown intersections, where cars and buses often stop in the middle of the intersection while crossing, producing blocked streets. Also the "piquetes" (protests that occupy streets) on many occasions, I consider abusive.
[Photo credit: Tanoka's photostream//CC BY-NC 2.0]
What are the most popular destinations that travelers ask you to go?
In the morning, the majority of trips are to the City Center. During the day, I circulate a lot in the center, and busy areas like Palermo, Barrio Norte, Belgrano, Caballito and Flores. On Friday nights the majority of journeys are to the zone with all the bars and night clubs. Tourists prefer to go to La Boca, Puerto Madero, Plaza de Mayo, Recoleta, Palermo Soho and Palermo Hollywood.
Which area of Buenos Aires is the most confusing to maneuver?
The most complicated neighborhood is called Parque Chas, because its streets are circular and getting in is easy but getting out of the labyrinth is complicated.
Any streets or corners you avoid or refuse to drive to?
Not usually. In some cases I refuse to take passengers who I consider "suspicious".
Which is your favorite barrio (neighborhood), and why?
I don't think I could choose among the hundred porteño neighborhoods…but the southern part of the city, (Pompeya, Parque Patricios, Barracas, La Boca, etc.) the most old and popular parts, seem to me the most representative of the city and those with the most history and porteño spirit and tango spirit. Their streets speak to our identity as inhabitants of the city of Buenos Aires.
If you could give a tourist in Buenos Aires some advice, what would you tell them?
I'd recommend that they not only do the traditional tourist things, but that they go more to the neighborhoods I just mentioned, which I think would transport them to the real spirit of our beautiful city.
I'm sure you've had some interesting people step into your taxi — could you tell a story about your most memorable client?
In 22 years I have a lot of anecdotes, some difficult to tell in an interview…but if I have to choose just one, this one occurred about 2 months ago and concluded last week. A passenger asked me to take him to the Aeroparque and after a long chat told me that he is a music producer for a very famous Argentine band called Tan Bionica. I told him that my son Nicolas, who is 13, is a big fan of the group, and he invited my son and I to a show that would take place 2 months later in Luna Park Stadium. He left me no more than his last name and the door where he could be found. Last Saturday we approached the stadium (I must admit with very low expectations, my son was more optimistic, of course – he's 13) and what a surprise, there was the passenger, who fulfilled his promise to invite us to see an excellent concert, from a very privileged spot, which we enjoyed exceedingly.
[Photo credit: Tan Bionica's Website]
Any famous passengers?
A lot. Futbol players: El "Pato" Fillol, the goal keeper from the Argentine World Cup champions of 1978. Singer Maria Marta Serra Lima. World champion boxer Jorge "El Roña" Castro, who gave me a boxing lesson during the trip.
What's the strangest thing you've been asked by someone riding in your cab?
A  transvestite once offered to exchange his sexual services for a cab ride. I didn't accept.
Which radio station do you listen to while driving? Any particular songs or albums that you think best accompany your journeys through Capital?
In the day time, my favorite station is 95.1 Metro, they have a general interest program in the morning and another in the afternoon which are very funny. At night I choose classic songs from bands like Queen, Phill Collins, The Police, etc.
Where's the best place to stop and have a coffee or eat and chat with other drivers?
I'm not the kind of driver who stops much during the day to chat with my colleagues, but I have a few good places in different neighborhoods where you can enjoy the best chorizo or proscuttio sandwiches. Some are on the costanera sur or costanera norte. Also, there is a traditional pizzeria in Buenos Aires called La Mezzeta in Chacarita, that has in my humble opinion the best fugazzeta (traditional cheese and onion pizza). That place I save for Friday nights.
[Photo credit: Pizzeria La Mezzeta's Facebook Page]
Are there any good myths or legends about taxis and taxi drivers in Argentina?
One legend says that a taxi chauffeur took a sinister looking passenger to the Chacarita cemetery, and once he entered Parque Chas, neither of the two where ever seen again…
What's hanging from your rear-view mirror?
A red ribbon tied in a bow that my wife hung which she guarantees keeps away envy. I don't believe it, but just in case…
Thanks for your time Dario! Apart from his normal work as a cab driver, Dario does transfers to/from Ezeiza International Airport. If you'd like to get a hold of him, you can send him an e-mail at [email protected] or better, WhatsApp at +54-9-11-5343-8010. And if you are an interesting expat or local in Buenos Aires and would like us to interview you, feel free to get in touch and tell us why.
Q&A with the author of the Pick Up The Fork blog

[Photo courtesy of Allie Lazar]
Originally from Chicago in the United States, Allie Lazar has lived in Buenos Aires for nearly seven years. She is a freelance writer and author of the food blog Pick Up The Fork.
When did you first come to Buenos Aires?
In July 2006, as an exchange student. I "studied" Political Science at UBA (the University of Buenos Aires). It was supposed to be a 6 month study abroad program but I extended it to a year. Which later was extended to 6 more years, without the studying.
Why did you stay?
It gave me anxiety to think my BA expiration date was approaching; there were too many restaurants that I hadn't tried yet. I wasn't crazy about the idea of going back to the US, graduating, getting a real job and becoming an adult, so staying in BA seemed like the least sucky option.
Why did you start to write your blog Pick up the Fork?
Finding a decent restaurant back in the day was a challenge, and so often I became victim of throwing my pesos down the shitter on terrible overpriced meals with horrendous service. There weren't many honest restaurant resources, and even less in English, so I began to put my constant restaurant visiting and annoying food picture taking to some semi-respectable use.
What's your daily routine?
Since I work freelance, writing for magazines or websites, managing social media pages and organizing private food tours, I'm generally working on a few different projects at once – there are some weeks I'm bombarded with work and spend 24/7 at a café clacking away on my computer nonstop while also visiting restaurants. But if I don't have a deadline or project due, there are many days when I don't even put pants on.
How many times do you eat out a week?
Depends on the week and how fat I feel. If I'm working on an article and need to do research, I'll eat out every day – right now I'm working on two articles, one brunch / another lunch specials, so there's a lot of midday/morning eating going on.
What is your favourite neighbourhood in Buenos Aires?
Palermo Hollywood/Colegiales for convenience and street art, Villa Crespo for the eclectic mix of restaurants, Almagro/Abasto for the latino flava. My new favorite spot in BsAs is the lagos de Palermo on a weekday, it's dog park central. It's where all of the dog walkers (pictured below) congregate and take their packs – there are hundreds of dogs hanging out, it's heaven.

[Photo credit: http://flic.kr/p/a1LKKS/ CC BY 2.0]
What is your favourite way to spend a Sunday in Buenos Aires?
If I were a liar (and I am) I'd fabricate some story to make my lounging sedentary weekend sound similar to what an adventurous and active person may do on the weekends, doing some kind of sport and followed by a healthy meal at a cute café.
What is your favourite neighbourhood restaurant?
Since I'm on a constant quest for a great restaurant, I rarely repeat. At the moment I really have a thing for quick, fast food spots: Shawarma inside the Mercado de Belgrano, La Cresta's wraps are bomb (Bulnes 829, Almagro), so is El Banco Rojo's spicy lamb empanadas and doner kebab (Bolivar 914, San Telmo). When I'm homesick, I go to La Crespo (Thames 612, Villa Crespo) for a pastrami sandwich (pictured).

[Photo credit: Allie Lazar, http://pickupthefork.com/2011/06/05/la-crespo-a-jewish-american-palermonites-heaven/]
Where is the best place to get coffee / steak / ice cream / a beer in Buenos Aires?
Ok, so I've never been good at choosing the best, so here are SOME of my favorites:
Coffee: in Bocca al Lupo (Bonpland 1965, Palermo Hollywood), I don't know how they get it to taste so good! And the overall space is pretty perfect.
Steak: I like each one of these places for different reasons, they all might not have the best steak, but something about it makes me happy: Parrilla Peña (Rodriguez Peña 682, Recoleta), La Lechuza (Uriarte 1980, Palermo Soho), La Marucha (11 de Septiembre 3702, Nuñez), El Pobre Luis (Arribeños 2393, Belgrano), La Brigada (Estados Unidos 465, San Telmo), I could go on…
Ice cream: El Capricci's (Paraguay 5201, Palermo) marroc y chocolate profundo, Cadore's (Corrientes 1696, San Nicolas) nutella, Guardiola's (Jorge Newbery 1967, Las Cañitas) passion fruit, anything from Jauja (Av Cerviño 3901, Palermo).
Beer: I'm more of a cocktail drinker, and I just made a list of my favorite bars on the Pick Up The Fork Drink Drank Drunk guide.
What was the best meal you have eaten in Buenos Aires?
Hernan Gipponi just started a new concept on Monday nights with one communal table (called One Table), where he cooks and serves the food table-side. The wines are paired by their sommelier (one of the best in the country) Andres Rosberg, who also happens to be the president of the Argentine Sommelier Association. I went last week and it was phenomenal meal and a wonderful overall dining experience.
What are your favorite shops?
I don't shop for shoes or clothes, instead I spend all my money on ridiculously expensive cheese. Barrio Chino in Belgrano (pictured below) is like my food mecca. Mercado de Progreso (Avenida Rivadavia 5430, Caballito) and Mercado de Belgrano (Juramento 2527, Belgrano) are also good places to shop.

[Photo credit: http://flic.kr/p/9aQTLp/ CC BY-SA 2.0]
Where do you go for a romantic night out in Buenos Aires?
I like to take that special someone on a romantic stroll for a smoky truck of greasy choripanes.
What is your exercise routine?
Pfffffff. It generally consists of two hours debating whether I should work out; sometimes I get far enough to put a sports bra on but ultimately decide that my new work out / diet routine will start tomorrow.
Do you have any collections?
I save a lot of menus, ideal bathroom reading material.
What are your favourite websites and blogs?
I'm on Gawker and The Onion daily. I also read way too many food blogs, my favorites at the moment are First We Feast, Thug Kitchen and The Perennial Plate. And of course Daniel Tunnard's blog, author of "Colectivaizeishon, one man's pointless quest to take all the buses in Buenos Aires."
What are the most played songs in your music collection?
At the moment I listen to mostly NPR podcasts. Yes, I'm 27 going on a liberal, grey haired 55.
What do you never leave the house without?
A bad attitude.
What is the most unusual thing you have been asked by a stranger in Buenos Aires?
A stoner with mulletlocks (dreadlocks + mullet) approached me at Plaza Francia and asked: "No me prestás un zapato?" (Can you lend me a shoe?")

What is your favorite porteño saying or expression?
All of these.
What three places or things to do would you recommend to a visitor to the city?
Wander around Chacarita Cemetery (pictured below), guzzle lots of cheap wine, visit some of the more unknown café notables.

[Photo credit: http://flic.kr/p/ck2Nwh/ CC BY 2.0]
Any insider tips?
You can see all the famous sightseeing spots in less than two days, and most are overrated (cough La Boca cough). The best way to experience Buenos Aires is walking around, going café and restaurant hopping.
Thank you Allie! Questions? You can leave a comment for Allie on her famous food blog Pick up the Fork. And if you are an interesting expat/local in Buenos Aires and would like us to interview you, feel free to get in touch and tell us why.
British writer and adventurer, meets one Argentine at a time
Rosie Hilder traveled to Bolivia four years ago, ready to start life as an expat. Her experience in La Paz didn't turn out so well, but – determined to stay in South America – Rosie moved to Buenos Aires instead of going home to England. Since arriving in 2009, Rosie has become an English teacher, journalist, photographer and blogger.
She started her blog, 52exchanges.com, in 2011, where she documents a year-long challenge to have 52 (one per week) language exchanges in Buenos Aires. A resident of the barrio of Almagro, Rosie sat down with us recently…
Why did you come to Buenos Aires?
I actually originally moved to Bolivia for an English-teaching job and then when I got there – I really liked it – but after about six months, I realized my bosses were a bit sleazy and didn't pay me, so I decided to leave, but I wanted to stay in South America, but come somewhere a bit more developed. I had this idea in my head about how great Buenos Aires would be, so I came to Buenos Aires.
Why did you stay?
I really liked it! At first, I had to stay because I couldn't afford to leave. And then, I got quite a good teaching job, not those sort of normal, flaky institutes. They got me a visa, it's a job, you know so I decided to stay because of that. And then my ex-boyfriend left, and then, I started to meet at bunch of friends and started to really enjoy the city. And now I have a new Argentine boyfriend! Now I won't leave because of him.
Favorite barrio?
Almagro, obviously. Perfect mix.
PG: What about Almagro?
Well it's a barrio, you know? People actually live there. And there's like all these specialist shops that I love. And it's not as fancy as Palermo. And it's in the middle of everything, you can get anywhere from it.
Where's the best place you go for coffee, steak or ice cream?
I'm not really big on coffee, but I've heard the Full City Coffee House, a Colombian one in Chacarita, is supposed to be really good. Steak – well obviously a family asado is the best place to go for beef, but La Cholita [Rodríguez Peña 1165, in Recoleta] is really good. For ice cream, Nonna Bianca [Estados Unidos 425], it's in San Telmo. It's Italian.

(Photo Credit: suziedwards's photostream// CC by 2.0)
What are your favorite events or festivals in Buenos Aires?
BAFICI, the independent film festival, that's in April. It's just a really good chance to see films that you wouldn't normally see. And after, they often have question and answer session with the director, which I always find really interesting… and people always clap at the end, which is great. We don't do that in England.
How do you spend your weekends?
Well I'm really busy normally, but a good place to go to relax is the Costanera Sur. I like to go for a walk in the ecological reserve there, or sit in a café with a book.
(Photo Credit: miguelvieira's photostream // CC by 2.0)
Your last day in Buenos Aires. What are the three things you'd do, or three places you'd go to?
Well, I would definitely go to a park. Maybe the Parque de 3 de Febrero cause just to enjoy the Argentine park experience with mate and family. And that park is really good because there's loads of stuff there you can take good pictures of. What else would I do? Well I would probably go and eat a steak if it's my last day. That's pretty much obligatory, isn't it? Have wine. And then I would go to my favorite bar, which is Senior Duncan in Almagro.
Is it a British bar?
No, it's one of these "closed door" bars, and it's very cool. It's run by five or six Argentines. It's one of those places where you can go and make friends with everyone there. They have good music. On Thursdays they have a swing dancing night. And they have a storytelling event there.
So switching gears, 52 exchanges, what prompted the idea and what was that experience like?
I didn't learn Spanish at all [in school] for seven years. So I thought, "Oh yeah, I'll go learn Spanish." I got to Bolivia and realized I'd forgotten the past tense, couldn't understand anything. I couldn't get by. And then I sort of got up to scratch in Bolivia with private classes and stuff. And then when I got to Argentina and I didn't understand everything – [Argentine Spanish is very unique and sometimes difficult to understand] – obviously, because they use the "Sh" sound for the "ll" and all that. And after two years in Argentina, I felt, "Well now I understand and I know to say "sh" and not the traditional Spanish pronunciation  but I still wanted to feel like I completely knew. People at home would say, 'Are you fluent?' and I would say, 'Well… I don't know.'  What does that mean? Which is a theme in my blog – what does it mean to be fluent? And a friend of mine – someone I know back home – was doing this blog called '52 free gyms' or something like that, and he was going to all these free gyms and writing about it. And I was like 'this is what I should do' – I'm not really into the gyms but I think it could be even better with people. So, another friend told me she'd been on a conversation exchange, and I put the two ideas together and decided to do a blog about 52 conversation exchanges.
If someone's reading your blog for the first time, they're a visitor to Buenos Aires, what lesson do you think they're coming away with?
Well, they'll learn some very useful Spanish vocabulary. They're learning about the city, because I went to different places [for language exchanges] and I said I was in this bar or this place. And they'll learn about Porteños in general. And I guess for me, the blog is really about cultural differences – the fact that what I say isn't necessarily the truth. It's not fact, but it's the way I see it because I'm English. Things that are normal for Argentines aren't normal for me. I think that's the point of the whole thing is trying to get a bit more understanding of the culture, which for me is the most interesting thing about living abroad.
Thank you Rosie! Questions? You can contact Rosie at her personal website: www.rosiehilder.com. And if you are an interesting expat/local in Buenos Aires and would like us to interview you, feel free to get in touch and tell us why.
Closed door restaurant owner and prolific blogger
Originally from Michigan in the United States, Dan Perlman lived in New York City for 23 years before moving to Buenos Aires in 2005.  He is a  trained chef, pastry chef and sommelier and has written several books about food and wine.  The author of the SaltShaker blog and chef at Casa SaltShaker, his 'closed door restaurant' (a restaurant in a private home that is by reservation only),  he lives in the Recoleta neighborhood of Buenos Aires. And yes, he's the second subject (and second Dan!) of our series of BuenosTours interviews with interesting expats & locals.
When did you first come to Buenos Aires?
In 2005. It was not my planned vacation. I was supposed to go on a two week culinary tour in the Benelux countries but the tour operator cancelled on about a 3 days notice. With time off from work already planned, I scrambled to find a cheap and quick alternative. A friend suggested Argentina, given the economy then.
Why did you stay?
I didn't stay that time, but I did like the city a lot and met Henry, who was working at the B&B where I stayed. We kept in touch and a couple of months later I decided to come back and explore more of the country. Henry and I became "an item" and my stay turned into a longer stretch. After about six months I decided to move down here.
On a typical day, what is your routine?
I don't sleep much, so I'm up by 8am. I usually start the day with a large mug of black coffee and checking the usual nonsense on the internet, answering e-mails, and, a couple of days a week, writing a blog post. If our restaurant, Casa SaltShaker, is open I head out to the markets to do my last minute shopping, then come back and start preparing. That pretty much ties up my day until late afternoon at which point I take a break and then dive back into dinner service, usually finishing up around 1 am. If the restaurant isn't open I often hang out with friends or check out a new restaurant for lunch, or, I stay in and experiment with new recipe ideas. Maybe once a week we go out to dinner.
What is your exercise routine?
I manage to drag myself to the gym a couple of times a week. I've been studying and practicing martial arts for years and so I continue that on my own here (there is no kenpo school here in BA) and even teach a little bit of it. And, I supplement that with some Tai Chi, now and again.
What is your favourite way to spend a Sunday in Buenos Aires?
Relaxing. Brunch with friends, reading or playing online games. I'm a big dungeons & dragons geek.
What is your favourite neighbourhood restaurant?
In my neighborhood Recoleta, it's Tarquino (Rodríguez Peña 1967) – very creative Argentine cooking. And best when someone is treating us to dinner there as it's kind of a budget stretcher. A neighborhood style restaurant, i.e. something casual and comfortable – Las Pizarras in Palermo (Thames 2296). Again, really creative Argentine cooking, but at a much easier on the wallet price.
What are your favourite festivals / events in Buenos Aires?
Last year I had great fun at the Peruvian Gastronomy festival along Avenida de Mayo – hopefully they'll repeat that one!
[Photo credit: http://www.flickr.com/photos/suedehead/7671445664/ /CC BY 2.0]
You are a trained sommelier, what are your favourite Argentinian wines?
My favorite Malbec is the Villa de Acequias "Viña Rosedal" from Luis Segundo Correas. I love the Semillon "Tomero" from Carlos Pulenta. Recently I've really become enamored with the Red and White Blends from the Nicasia Vineyard of Catena Zapata, particularly the Cabernet Franc base on the red side and the Viognier base on the white.
What have been some of the best things to have happened at your closed door restaurant, Casa Saltshaker?
My favorite story happened early on. Two couples, in their late 50s, from the midwest U.S. arrived, separately. The man from one couple and woman from the other kept looking at each other, puzzled. They got to talking and realized that they'd been high school sweethearts and hadn't seen each other since graduation day – he'd gone into the army and by the time he came back she'd moved away. The two couples ended up spending the rest of their vacation together.
Any fights?
We've never had any real serious fights – we've had some political arguments and we had a couple break up their engagement at the table, in front of their respective parents, but it turned out they'd staged it. We once had two people who'd had a bad business deal years before happen to end up at the table together, both guests of a mutual acquaintance – one of them fumed a lot, the other just ignored him.
Who have been the most interesting guests at Casa Saltshaker? Anybody famous?
Oh my, I'm not sure I could get into that. We've certainly had some local television and stage folk come, and a couple of local polo players.
Where is this best place to get empanadas in Buenos Aires?
I think my favorites, at least in this neighborhood, are from La Cocina (Pueyrredón 1508), where they have Catamarqueña style empanadas.
[Photo credit: http://www.flickr.com/photos/foradoeixo/6882355852/ /CC BY 2.0]
What are your favourite food stores?
I love shopping in Barrio Chino (China Town) in Belgrano, and usually go to the "original" store along Arribeños.
Where is the best place to get coffee / steak / ice cream in Buenos Aires?
Coffee, that's easy, Est. General de Café (various locations), there's no better coffee in the city that I've found. I don't know about the best steak, but the best steakhouse experience for me is Don Julio (Guatemala 4691, Palermo) – between ambiance, food and wine list, it's a winner. Scannapieco was my favorite ice cream place when it was on Avenida Córdoba, and they have recently reopened by the Mercado de Pulgas on Alvarez Thomas 14 (and Dorrego) in Colegiales.
Where do you go for a romantic night out in Buenos Aires?
Pura Tierra (3 de Febrero 1167, Belgrano). It's our "go to" place for our anniversary and occasionally other life events. Romantic ambiance, fantastic food, great service.
Do you have any collections?
Stories and egg-cups (pictured below).
What are your favourite websites and blogs?
There are a few food blogs I read all the time – from Yotam Ottolenghi in London, the Baker's Banter blog from King Arthur Flour, Ideas in Food for things that in general I will never, ever do with ingredients. Outside of the food world I'm a big fan of the Strange Maps blog, Letters of Note, and I usually check in on the latest videos on both FORA TV and TED once a week just to see what's new and interesting.
What do you never leave the house without?
My keys. Really, that's about it. I'm not someone who feels the need to be in constant contact and often don't even bother to take my cellphone with me. I usually, though not always, have a camera with me.
What is the most unusual thing you have been asked by a stranger in Buenos Aires?
I was standing at the corner of Pueyrredón and Las Heras and a couple asked me where Retiro station was. On the surface it seems an ordinary enough request, except that they were holding their tablet computer up with an interactive map that showed the station situated right there at the corner. They were a little miffed that they had about a 2km walk ahead of them.
What three places or things to do would you recommend to a visitor to the city?
The walk from the Casa Rosada to the Congreso, with stops at Cafe Tortoni and Palacio Barolo. Museo Xul Solar. The Rosedal.
[Photo credit: http://www.flickr.com/photos/pontodeak/3331021603/ /CC BY 2.0]
What are the best souvenirs or gifts to bring home from Buenos Aires?
Wine and leather goods.
Any insider tips?
Use xoom.com for money tranfers (for people with a US bank account). Don't complain that taxi drivers and kiosks won't take 100 peso notes. Just because you're on vacation doesn't mean you get to behave like an ass because you don't think you'll ever see these people again. Don't eat steak every single meal, there's plenty of other food available here. On the flip side, did you really come all the way to BA just to eat sushi with cream cheese or a plate of spaghetti with bolognese sauce? Don't use Google maps here and expect to end up where you want to be.
Thank you Dan! If you are an interesting expat/local in Buenos Aires and would like us to interview you, feel free to get in touch and tell us why.
Argentinian Rock: a national passion
Rock nacional (literally national rock) is the term used to refer to rock-and-roll music produced by Argentine bands and singers.  Rock is not only popular, but also important to the cultural psyche of the people.  Beloved across generations, the genre incorporates many musical styles, and any Argentine will tell you that theirs was the first rock sung in a language other than English to gain commercial success.
From Elvis to Sandro: Argentina's early twists with Rock-n-roll
Like in many countries around the world, rock was born when Elvis began shaking his hips!  The music hit Argentina at time of political instability: president Juan Peron had been overthrown, civilian governments were fragile and ever changing, and a military coup overtook the country in 1962.  The Argentine students listening to rock were in the streets, protesting, with rock the soundtrack to youthful defiance.
Rock-n-roll gained popularity and Rock Nacional was really born with Sandro (pictured above). Considered the Argentine Elvis, Sandro grew up playing his family's traditional Romani music, and emerged into the spotlight with his band Sandro y Los Del Fuego! Though originally considered rock, Sandro became a (cheesy/awesome) romantic pop and ballad singer.
Rock Nacional's foundations: emergence of an Argentine sound
In Buenos Aires, underground bands played in a bohemian basement bar called La Cueva. After a long, porteño night of rocking, musicians would have breakfast in the nearby cafe La Perla del Once.  One famous rock story is that musicians Tanguito and Lito Nebbia composed the first true Argentine rock song, La balsa, in the men's room of La Perla!  If you're in the Once neighborhood, La Perla still stands, and is worth visiting.
Groups like Almendra (lead by Luis Alberto Spinetta, one of Argentina's most important rockers), Los Gatos, and Manal experimented with sixties rock, and are considered the trilogy of Rock's forefathers. These founders created a uniquely Argentine sound: an international rock sound, in Spanish, with Argentine musical influences.  The genre branched from this base, and heavy rock bands like Pescado Rabioso (formed by Spinetta after Almendra broke up) and Pappo's Blues (Pappo of Los Gatos) emerged.  Pappo would later become Argentina's most important blues musician; he played with BB King in New York, and in true Rock n' Roll fashion, died in a motorcycle crash in 2005.
While these heavy groups were rocking out, acoustic bands like Sui Generis (an Argentine Simon and Garfunkel?) blended Argentine folk with dreamy lyrics. This hippie band was rock great Charly Garcia's first group, and became hugely popular.
Argentina's military dictatorship: suppression of rock
Progressive rock made in-ways as acoustic phased out, and the rock scene was just becoming mainstream when the country's democratic government was toppled by a military junta in 1976.  This dictatorship would become infamous for its violence and repression,  known as the Dirty War.  Rock musicians were considered subversive; facing increasing censorship and repression, rock returned underground.  Groups like Patricio Rey y sus Redonditos de Ricota played clandestine shows. Los Redondos wrote songs whose lyrics, while critical and dark, are vague and often rely on metaphor (making them a favorite of Argentine literature teachers).
By the early 1980's, the conflict between the Argentine junta and the UK over the Malvinas /Falklands Islands was heating up, and the government banned all foreign music from the radio waves.  This left a big void in airtime, and was an opportunity for bands like Los Redondos to explode onto the Argentine consciousness.  Soda Stereo, led by rock great Gustavo Cerati, emerged.  As opposed to the Redondos's left-wing, working class lyrics, Soda Stereo played a new wave pop and sung happy and ironic songs. The first band to reach an audience across Latin America, Soda Stereo became beloved across the continent, inspiring an explosion of rock en español (rock in Spanish). Their hit De Musica Ligera still plays in bars from Mexico to Buenos Aires.
In the early 1980's, Italian-born Luca Prodan moved to Argentina to escape the heroin addiction he'd acquired as a youth in the rock scene in England. He brought with him a post-punk, reggae sound literally unheard of in Argentina, and formed the band Sumo. For an introduction to Argentine rock, this might be the best place to start, not only because the lyrics are mostly in English, but also because their popularity increased after Luca's death in 1987, and have a substantial influence on current rock. After Luca passed, the bland split into two: Divididos and Las Pelotas.  Below is a photo of Sumo musicians Ricardo Mollo (who would later lead Divididos) and Luca Prodan.
[Photo credit: cris.cros's photostream / CC BY-NC-SA 2.0]
Argentine Democracy: Rock music explodes!
In 1983, the dictatorship was finally over, and with the emergence of democracy came the true explosion of Rock Nacional. Songs which had been repressed were now freely played, and on cassette tapes!  The iconic Argentine band Los Fabulosos Cadillac formed in 1983, and won over Latin American audiences until 2001.  Lead singer Vicentico launched a solo career after the band broke up, and his distinctive vocals still grace the radio waves.
Across the continent, Argentine rock's popularity took off.  At home, Rock became synonymous with the freedom and celebration of democracy.  Now playing in an open society, rock musicians were free to sing about things beyond repression, like beautiful women, parties, and other rock-n-roll stuff.
This environment lead to a grand proliferation in rock genres.  The 1990's meant grunge rock, heavy metal, stoner rock, reggae-rock and a whole new "Rollinga" style all gained separate audiences.  (Though the Rolling Stones are beloved in Argentina, Rollingas are a distinct phenomenon.  Rollinga fans dance like Jagger, have bangs like Ronnie Wood, and that's about where the Stones comparison ends; the music is 100% Argentine.)
More contemporary Argentine Rock recommendations
No better way to get a feel for the contemporary rock scene in Argentina than listening to the flowing bands:
Bersuit Vergarabat: chameleons of Argentine music, we mention them here because they seem to mesh rock with even the most unlikely genres: from cumbia, to music in Portuguese, and so on.
Babasonicos: This iconic 1990's band created a style of music which would be dubbed sonic rock in their honor.  Big success across Latin America.
Fito Paez: One of the most important solo artists, Rosarino Fito plays piano and sings.
For punk fans, check out Attaque 77 here.
There is a whole slew of reggae rock in Argentina.  From chill Los Cafres, to upbeat Dancing Mood, the love-crooner Dread Mar I, and the more hardcore/ska band Todos tus Muertos, Argentina covers the reggae bases.
Argentine rock history features a couple of great musicians, who changed bands throughout the years. Mentioned above, Charly Garcia, Spinetta, and Cerati and three of these powerhouses.
I'm sure some of you are wondering WHERE ARE THE WOMEN OF ARGENTINE ROCK? Well, so are we.  Let us know if you hear anyone good!
To show what rock fans are like, we'll leave you with this clip by Argentine comedian Peter Capusotto whose character Pomelo (meaning grapefruit) is an Argentine rock star.  The video is in Spanish, but really all he says is "rrrrock nena" or "rock baby!"
For more information, check out this post on Argentina's best rock singers on the Expanish blog, which highlights the most important rock figures.  On this Expose Argentina page, you can listen to some of the most famous bands. The author has done a great job identifying important bands from different genres.
El Ingles who took all the buses
Daniel Tunnard was born in Sheffield in England, grew-up in nearby Stockport, and first came to Buenos Aires in 1999.  A writer and translator, he has written a book about taking all 140 bus routes in Buenos Aires.  He lives in Belgrano with his wife and three cats. But most importantly of all, he is the first subject in a series of BuenosTours interviews with interesting expats/locals (of which Daniel is arguably both).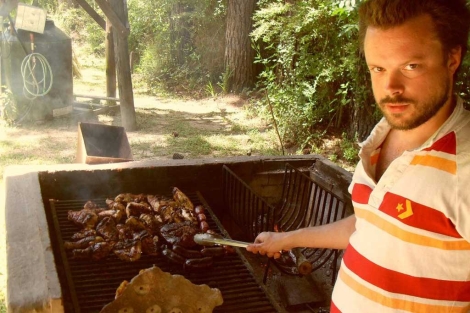 [Photo Credit: Daniel Tunnard]
Why did you first come to Buenos Aires and why did you stay?
I was on holiday in Asunción in Paraguay and I needed to get to Montevideo in Uruguay where I was studying on my year abroad. I spent three nights at the Del Aguila hostel in La Paternal. I met my first wife on the second night there.
What's your daily routine?
Exactly the same as the middle section of The Beatles' 'Day in the Life', minus the comb.
What is your favorite way to spend a Sunday in Buenos Aires?
I like nothing more than to watch Southampton Football Club lose with Buenos Tours chief A-Jelly while enjoying a pint at the Gibraltar pub (Peru 895) in San Telmo.
Where do you go for a romantic night out in Buenos Aires?
If it's just me and Alan J, CEO of BuenosTours any number of gentlemen's clubs along Reconquista street. If I'm with the wife, nothing says romance more than a quiet night in with a wheel of cheese.
[Photo credit: http://www.flickr.com/photos/bdorfman/108918489//CC BY 2.0]
Do you have any collections?
Yes. I have a collection of bus tickets from every bus line in Buenos Aires.
What is your exercise routine?
When are you going to ask me about my book "Colectivaizeishon, one man's pointless quest to take all the buses in Buenos Aires?"
What is your favorite book, and why?
I thought you'd never ask. It's "Colectivaizeishon, one man's pointless quest to take all the buses in Buenos Aires." It's being published by Random House Mondadori in Argentina in 2013. But in Spanish. Yes, my first book to be published is one I wrote in my third language. But enough about me. Ask me about my favorite film.
What is your favorite film, and why?
If I had to choose one, I'd have to say the documentary "Colectivaizeishon, one man's pointless quest to take all the buses in Buenos Aires". "A Serious Man" and "You've Got Mail" are quite good too.
[Photo credit: http://www.flickr.com/photos/pedroalonso/6300964505/ /CC BY 2.0]
What are your favorite websites and blogs?
I've been reading a lot of good stuff on themillions.com and newyorker.com/books.
Obviously, I regularly read pickupthefork.com (fantastic local food blog) and quietly and jealously seethe at the popularity of its author.
What are the most played songs in your music collection?
I have often wondered what juicy statistics I would now have at hand if I had gone through with my idea aged 15 of noting down every song and album I ever listened to at home. I think Queen II and Bowie's Hunky Dorey would be up there. You may like to link to my song for Brian May. Brian May wrote to me to congratulate me on it.
What do you never leave the house without?
A sense of adventure and an elegant timepiece.
What are your earliest memories of Buenos Aires?
I like to think that I was Juan de Garay in a previous life, so I would have to say that my earliest memory of Buenos Aires is the day I founded the bitch. Of course, back in those days we called her "Trinidad".
What is the most unusual thing you have been asked by a stranger in Buenos Aires?
"What is your exercise routine?"
What is your favorite porteño saying or expression?
Any that can be expressed non-verbally.
What three places or things to do would you recommend to a visitor to the city?
Take the 70 or 46 or 23 bus through a villa. Pour wine from a penguin (pictured). Have sex in a telo. In that order.
[Photo credit: http://www.flickr.com/photos/nano/2153928042/ /CC BY 2.0]
What are the best souvenirs or gifts to bring home from Buenos Aires?
Polo ponies make an excellent gift for any small child and are not all that expensive. Failing that, a carton of cigarettes and an amusing fridge magnet.
Any insider tips?
The only snooker table in Buenos Aires is to be found in the basement of 36 Billares on Avenida de Mayo. Anyone who fancies a game can contact me via the blog or twitter @danieltunnard. My highest break is 17, red black red black red. I lost that game 43-17. I highly recommend marrying Argentine women. Psychoanalysis is both rewarding and educational. Do consider osobucco when purchasing your next cut of beef. Simmer for a couple of hours in white wine and your usual condiments. La Tablita on Vidal and José Hernandez in Belgrano has a breathtaking selection of cheeses and cured meats. A large second hand Ken Brown record player, purchased on mercadolibre.com, can give many years of musical pleasure and retro kudos. Buy a house in Tigre and grow a beard. Watch the years fly by. Contemplate the intense flight of the humming bird. Have a quiet night in with a wheel of cheese.
Thank you Daniel! If you are an interesting expat/local in Buenos Aires and would like us to interview you, feel free to get in touch and tell us why.