The dulce de leche masters
It may not look like much, but the skinny maroon storefront that humbly sits within ground zero of Buenos Aires' theater district on the historic Avenida Corrientes may just serve the best dulce de leche in the world.
Best according to whom?  Well, if their accolades in National Geographic and the BBC didn't convince you, perhaps their prominent listing in the Gold Book of Argentine Ice Creams (authored by porteños, of course) or their frequent hat tip by local taxistas will.
Cadore won its way into the infamously discerning Argentine gelato aficionado's heart thanks to their strict standards for fresh, natural ingredients and time-tested, artisanal techniques.  Using recipes dating back over 130 years to their original location in the village of Cadore in Northern Italy, current owner Gabriel Famá has stayed true to his Uncle Silvestre Olvotti's methods, who founded the flagship parlour in 1881.
Gelato: an Italian "Slow Food" delicacy
And what do those methods entail for their award-winning dulce de leche?  The most Gabriel could tell us was that it involves a daily 14-hour process of slow cooking a vat of fresh, organic milk, saturated with sugar and whole vanilla beans, to evaporate every ounce of water and concentrate the sweet, creamy base that they use to churn out their 5 different varieties, including plain, bombón (chocolate), granizado (sorbet), negro (extra dark), and con nuez (with nuts).
Far from being the only flavors on offer, Cadore also dishes up a mean almendra (almond), chocolate amargo (semi-sweet chocolate), and crema de vainilla (vanilla cream), with new flavors being added every few months.  But don't look for any funky offerings here; Cadore mainly specializes in the classics, with perhaps one or two non-standard selections per day (we spotted crema chai and naranja con genjibre, or orange ginger, during our visit).
Pizza, moscato, faina… and Cadore
Now the President of the AFADHYA, The Association of Artisanal Ice Cream Manufacturers in Buenos Aires, Gabriel proudly displays a plaque behind the counter that the city bestowed upon him when they declared his gelatería of Cultural Interest in 2014. Not far from it appears his TripAdvisor Certificates of Excellence for the last 4 years running, arranged in a neat little row underneath the main menu.
As in previous years, you can expect to find him front and center during Buenos Aires' Artisanal Ice Cream week, held annually in late November and featuring open-air vendors offering delicious tastings around the obelisk that spill out onto Corrientes, the street he calls home.  His 2017 festival booth was indeed impressive, marking the 60th anniversary of the opening of his shop (established back in 1957).
So, stop by this little ice cream stand with a big reputation after you've had your slice of muzza topped with a slab of faina and washed down with some cheap, white moscato wine at Pizzeria Guerrín (just a couple of blocks away).  Then head off to take in a show on the Broadway of BA, Avenida Corrientes, and you can forever boast to your friends that you experienced the classic 1950's-style Buenos Aires evening!
Plan Your Helado Visit
Address: Av. Corrientes 1695
Nearest subway stop: Line B – Uruguay
Phone: +54 9 11 4374 3688, +54 9 11 4373 9797
Website: http://heladeriacadore.com.ar/index.html

A BA newcomer with a New York twist
In the basement of the upscale Moreno Hotel, just two blocks from the historic Plaza De Mayo, couples cozy up and wait for the start of the nightly 9 o'clock show on a chilly August evening.
On the menu: expertly-crafted signature cocktails, picada plates overflowing with that famous porteño assortment of smoked meats and cheeses, and a quartet of world-class musicians headlined by the even smokier vocals of Luciana Morelli.
The newest venue to join the small but thriving jazz scene in BA, Bebop Club opened its doors in March 2014, just a few months after the death of the city's first and most iconic jazz promoter, Jorge "Negro" González.  With his passing came the subsequent closure of his downtown institution "Jazz & Pop," removing the oldest contender in the BA jazz club lineup.
It's hard to ignore the feeling that it was a passing of the baton.
Springing up not far from González' pioneering joint, Bebop is now the only place where you can take in a serious night of jazz East of 9 de Julio.  This is very good news indeed for the many visitors to the city who will choose to stay in the downtown area, and not just because of the proximity— hotspots Notorious, Virasoro Bar, and reigning king Thelonius in the trendy Palermo district are quite a bit harder on the wallet.
Which is not to say that Bebop is a bargain.  A visit there will set you back about as much as an upscale dining experience— but one that leaves you full, happy, and convinced you got a good value for the money.  So the question remains: does this up-and-comer, which bears a Blue Note seal of approval outside its front door, live up to its self-stated mission to "simulate the experience of a NY jazz club"?
As a native New Yorker and someone who has taken in shows at both NYC's Blue Note and New Orleans' historic Preservation Hall, I would argue that it succeeds where it counts: in the caliber of the musicians, and the ability to leave an indelible imprint of the experience.
The small crowd size on this mid-week winter night didn't befit the massive talent on display at the hands of Morelli and her crew.  If perfectly-controlled crooning backed by world class ivory-tickling in an impossibly elegant space is how Bebop celebrates a "slow night," their bar for entry is high, indeed.
And not just for their musicians.  Bebop's interior designer has painstakingly replicated the Blue Note's detailing, and then surpassed it.  You'll find the same signature half-moon, velvet-lined chairs, but adorning separate, circular tables rather than boxy, adjoined ones.  
The stage is kept low, but the floor is smartly raised toward the back for a better view.  The stage is exquisitely in proportion with the room such that the side-dwellers aren't too far out in left or right field— something the cuddling couples on the plush couches lining the walls will appreciate, and the clubs of New York can't quite replicate.
Taken together— the lush lounge seating, the shared picada plates designed to "accidentally" tangle up lover's fingers, and the romance that only a carefully curated array of world-class musicians can muster— Bebop could easily claim to be the best jazz venue in the city for a date. Combined with a pre-show dinner at Aldo's lavish wine bar and restaurant upstairs, this one-two punch is sure to impress.
Embracing Buenos Aires jazz origins
As for the fidelity to the New York facsimile?  To echo and expand on what has already been stated, Bebop succeeds where it counts— and fails where it shouldn't try.  By striving to provide the "NY experience," Bebop, and all other BA hopefuls, misstep. Yes, every good artist must imitate before they find their own voice, but Buenos Aires has already crossed that threshold, and is now failing to claim its own artistic merit.
To wit, Argentina has produced international jazz icons like swing guitarist extraordinaire Oscar Alemán, master pianist Lalo Schifrin, and free jazz pioneer Leandro "Gato" Barbieri.  Their version of the genre has unique roots in the tango orchestras being the first purveyors of its sound, layering on a distinct flavor and giving birth to the important sub genre of Latin jazz.  
They even have the great underdog story of overcoming fierce repression, first from a public who decided it threatened their tango music heritage, and then from a dictatorship who banned it for being "imported" music.
Given that the scene only started to revive in the early 2000's, it should be a mark of pride that Buenos Aires boasts a solid half dozen serious venues and no less than seven yearly jazz festivals. And, although Bebop won't be a host venue this year in the largest of these— the Festival Internacional de Jazz, held each November— we have a feeling that will soon change.  Because regularly playing host to local legends like Art Zaldivar (see video below), Delfina Oliver, Luis Salinas, Jorge Navarro, and Manuel Fraga can't keep them off the radar forever.
So go enjoy a trago (drink) and the buena onda (good vibes) of an unforgettable evening of jazz, perhaps after a lazy Sunday stroll through the nearby San Telmo Feria— and tell them this Yankee sent you.
Plan Your Bebop Club Visit
Address: Moreno 364 (part of the Moreno Hotel), between Defensa and Balcarce
Phone: 4331-3409 / 4343-0823 / 4334-2380
Email: [email protected]
Website: http://bebopclub.com.ar/
Schedule: (Almost) daily 9:00 pm shows, with 2-3 shows per night on Fri-Sat-Sun. Closed Mondays.
Tickets: Purchase online to reserve specific tables, at the venue between 3:00 and 8:00 pm on show day, or directly before the show for best available.
Arrivals: 30 minutes before show start is recommended with no reservation
Legendary Locro for the May Revolution
In the heart of Alto Palermo, just in front of where the 41 & 59 buses let off behind the sprawling Parque Las Heras, you will find a curious little hole-in-the-wall with a BIG reputation for serving up authentic regional Northern Argentine cuisine.
A pulperia as its fading, weather-worn storefront sign proudly displays, is the name given to a restaurant that serves the "food of the gauchos" – a classification that is strongly reinforced by the many framed images of this classic Argentine cowboy hanging slightly askew from its walls.
Clearly, this place isn't going for any interior design awards, but that hasn't stopped its famed owner Hector from winning the awards that count: the culinary kind.  One look at his front window emblazoned with effusive praise from Guía Oleo (Buenos Aires' version of Yelp) and TripAdvisor says it all.
The May Revolution / Locro Connection
The BuenosTours team came here in search of a piping hot bowl of Hector's lavishly lauded locro – Argentina's national dish – to celebrate the Día de la Patria, or the anniversary of the May Revolution.  What we found was the faithful reproduction of an indigenous dish that warmed our bellies and spirits on what turned out to be a cold and rainy day in Buenos Aires.  Apropos, since the weather on that fateful day back in 1810 was similarly sopping, but saw a sudden break to sunshine the moment Argentina's independence was declared from the balcony of the Cabildo.  Legend says that this is why the sun appears on the Argentine flag to this day!
After waiting for 2 hrs+ in a line that spilled out 30 people deep in two directions on the sidewalk (one for eat-in and one for take-out), our crew enjoyed an assortment of not only the luscious locro, but a pile of crispy-on-the-outside, soft-on-the-inside empanadas, topped off with the traditional May Revolution dessert of membrillo (quince paste) over a slab of soft white cheese (our sources tell us membrillo was served in little pockets of fried dough by street vendors shortly after independence was declared, which seems as dubious as the sun/flag story, but equally as fun).
In case you're wondering how locro came to be forever associated with this national holiday, remember that the transition from Spanish colonial power to the first Argentine self-government (the so-called Primera Junta) was desirous of a symbol of something distinctly local and Latin in origin.  And what better symbol than a tasty dish from the indigenous Cuyo tribe of the Northern Andes?  There are few things more appreciated here than food, and few things more "local" than honoring our South American mainland ancestors.

In Hector's Words
Hector was kind enough to step away from his duties as both primary server and Man of the Hour to grant us a quick interview so we could find out what all the fuss was about.
BT: What province does your menu represent?
Hector: All of the food comes from Salta, in the North.
BT: How did you learn how to cook this regional cuisine?
Hector: I learned from my father in Salta, who always had regional food in the house.  It was nothing more than wanting to continue the culinary traditions that existed in my house when I was growing up.
BT: And what are the typical foods of that region?
Hector: Locro, tamales, and guisos, among others
BT: What is your favorite flavor of empanada that you offer?
Hector: I like the Salteña, which contains spicy beef and potatoes.
BT: How was this restaurant born?
Hector: This restuarant was founded in the year 1963, when I was still just a boy.  I came to work here in 1973, and in the year 2000, the owner of this place didn't want to keep going, so I took it over with 3 others.  We have continued all the same traditions; we haven't changed a thing.
BT: And one more… what is the origin of the name "Ña Serapia"?
Hector: The word Ña is short for doña, which means woman in the local dialect, and Serapia was my mother's first name.
So there you have it, folks.  A hearty thank you to Hector for keeping the delicious culinary traditions of Salta alive, and for gracing us with an unforgettable bowl of chorizo and hominy stew to celebrate this momentous occasion in Argentine history. Best locro in the city?  It's hard to say without sampling them all, but we'll let the local patrons – one of whom told us that he has been coming here for over 30 years every May 25th for the locro alone – be the judge!
For more information, check out the Inside Buenos Aires and My Beautiful Air blogs, which both mention our main man above.
Address: 3357 Avenida La Heras
Barrio: Palermo
Phone Number: +54 11 4801-5307
Hail a cab in Argentina's capital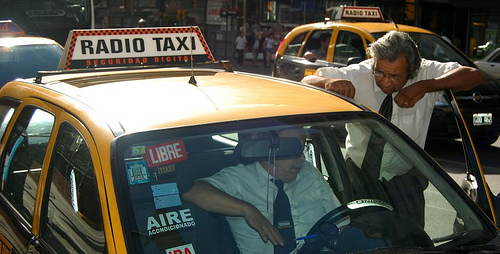 [Photo credit: Kyle Lease's photostream/ /CC BY-BY-SA 2.0]
With hundreds of bus lines and several subway trains, Buenos Aires is an easy city to manage on public transport. But when you don't feel like packing into a steamy subway car, or figuring out which of the hundreds of buses takes to take, hailing a cab is an excellent option. With over 40,000 taxis in the city (about one for every 70 inhabitants), you can easily flag down a black and yellow vehicle on almost any street corner. (With the exception of course, of three situations: when there is a subway or bus strike, when Buenos Aires's torrential rains flood the city, or weekends between 4-6am in Palermo Soho and Hollywood as people leave the boliches [clubs] en masse.)
How to take (or call) a taxi in Buenos Aires
Hailing a taxi is easy! Just to stand on the passenger's side of the street, look for a taxi with the red and white libre (free) light lit up in the upper left-hand corner of the windshield, then stick out your arm. While most taxis are just fine, it's best to look for a Radio Taxi, which you can identify by the "Radio Taxi" logo on top or side of the car. Though odds are you'll be ok in any taxi, Radio Taxi registers all of its drivers and every ride, therefore reducing the chance that your driver will try to scam you (for more safety advice, see below).
Another option is to call a remis, which is a private, unmarked car. If you are heading to the airport, your hotel will likely call a remis for you, as they often specialize in set journeys at a fixed rate.
[Photo credit: Gisela Giardino's photostream/ /CC BY-BY-SA 2.0]
Avoid taxi scams
Once you've waved down your cab, hop in and confidently tell your driver where you're going. It helps to give them the cross streets rather than the exact address, and to have some idea of where you are headed. If you're worried about your Spanish, write the address and/or cross streets on a slip of paper and show your driver. Then, buckle up as taxi rides can be notoriously wild!
As mentioned above, avoid unsavory experiences by taking a Radio Taxi or booking a remis ahead of time. For the most part, cab drivers (chofers) are friendly characters who will be thrilled to help you practice your Spanish. However, a few are always on the look out to make an extra peso. Here's some of the common scams you should try to avoid:
The Fake Bill: Drivers have been known to accept tourists' bills, then switch them out for a counterfeit and tell the passenger that they can't accept a fake. Try to pay your driver in exact change, and if you have to give him a 100 peso note, ostensibly hold the bill up to the light before handing it over, then watch his hands as he gives you change. The only counterfeit bills you need to look out for are 100 and 50 peso notes, and if you think your taxista has given you one for change, ask for a different bill.
The Gringo Tour: Detecting a strong accent, some drivers will take you on a round-about route in order to milk the fare. Avoid this situation by waving a taxi heading in the direction of where you are going, and try to be more or less familiar with the route. If the prospect of figuring out where you are in this enormous city seems daunting, fake it! Show that you are paying attention by reading street signs and watching where the driver goes. Confidence is key.
The Speedy Meter: Though uncommon, there are rigged meters in some taxis. Make sure the driver has turned on the meter once you tell him where you're going, and watch to make sure it's only going up every 200 meters, or 40 seconds in traffic. If you think the meter is going too quickly, you can ask by pointing at the meter, but you should probably get out and hail a new cab to avoid a ridiculous price.
These are the most common things to look out for, but if you want to read more about taxi opportunists, check out this article on Landing Pad BA.
Pricing of taxis
If you ask an Argentine or someone who's been living in BA for a while, taxis are exorbitantly expensive; don't worry, that's just inflation talking! Traveling by taxi is quite affordable. The drop rate (as of March 2015) is 14.30 pesos during the day and 17.10 pesos at night, between 10pm and 6am (so about $1.20 to $1.40 US Dollars), and goes up 1.43 pesos (or 1.71 pesos at night) per 200 meters. If you'd like to get an estimate about how much your journey should cost ahead of time, check out the website Viajo en Taxi. You can type in your location and destination and the site will give you an estimate of how much it should cost. Keep in mind, all depends on traffic!
Try to carry small bills, especially for shorter journeys, as change is often difficult to come by in Buenos Aires.
Suggested taxi companies and drivers
Easy Taxi is an app for the iPhone and Android which allows you to call a cab. The application locates the taxi nearest your location (as determined by GPS), then sends you information about your driver including their name, a photo, phone number, and car model. You can follow the taxi's location on a map, all of which helps assure you get a safe taxi.

[Photo credit: Easy Taxi's Facebook]
We recently interviewed Buenos Aires chauffer Dario Wigodzky. Read our interview here, and e-mail Dario to request an airport transfer at [email protected].
Call a normal Radio Taxi with Taxi Premium at (54-11) 5238-0000. The operator may perhaps speak English, but it is unlikely. Make sure to tell them the address where you need the taxi, and when. Expect also to be asked for a phone number.
For a luxury car service with a native English speaker, we recommend Silver Star Transport.
Taking a taxi from Ezeiza International Airport
When you arrive at the Ezeiza International Airport, make sure to avoid any problems by booking a cab with an official taxi company like Taxi Ezeiza. The Taxi Ezeiza booth is inside the airport, directly opposite arrivals, and your cab is booked and paid for before leaving the terminal building. Do not say yes to anyone offering a cab who is not at an official booth – Ezeiza airport is the one place where even the black and yellow city cabs shouldn't be trusted. Approach the booth and give them the address where you are staying, then you can either choose to pay ahead of time or at the end of your journey, but the rate will definitely be a fixed price. With Taxi Ezeiza, a cab should cost AR$400 as of February 2015 (between US$30 and USD$48, depending on which exchange rate you use). You can pay in dollars or euros if necessary.
For more advice about safety in Buenos Aires, check out our Safety Tips, or read about taking taxis on Wander Argentina. And safe journeys!
*Thanks for visiting BuenosTours! If you find this article useful and it will help save you money for your trip to Buenos Aires, then please consider splashing some of that cash on one of our award-winning private walking tours of Buenos Aires, to get even more great advice and start off your stay in BA in the best way possible!*

*JANUARY 2020 UPDATE – PLEASE NOTE: US Dollar exchange restrictions are back in Argentina, and as a result, so is the "dollar blue". At the time of writing the official exchange rate is about 58 Argentine Pesos to the US Dollar, while the unofficial "dollar blue" rate is about 74 Argentine Pesos to the US Dollar. So most would say it's worthwhile bringing USD cash to Argentina to change to pesos on the unofficial market, but like with everything, there is always the potential for this situation to change. If you have any questions in the meantime feel free to comment below or send us an email.*
Be Savvy with Foreign Money in Argentina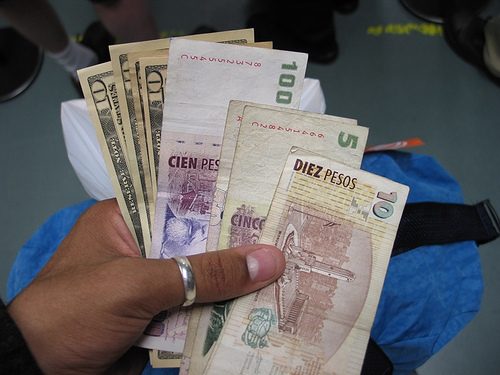 [Photo credit: Thaigo Martins's photostream//CC BY-NC-SA 2.0]
Imagine: your plane finally touches down after a ten hour, cross-continental journey, you wind your way through customs and immigration, and you finally step onto Argentine soil at Ezeiza International Airport. While your initial instinct may be to exchange all of your dollars or euros right then and there, your money may well go further if you don't (although this being Argentina, the situation is always subject to change!)
What currency should I bring to Argentina?
When traveling to Argentina, bring cash, especially US dollars. It is most cost effective to bring all the money you think you will spend on your trip in US Dollars cash (if possible 100 dollar bills, and if not then 50s and 100s, as lower denominations often get a worse exchange rate in Argentina, as do some older series dollar bills, or ones in bad condition). That might sound a little different to the advice you get in general for traveling, but read this article and you could have a better (or at least, cheaper) trip.
In an attempt to inspire confidence in the Argentine peso and reduce inflation, the government has been known to put limits on the amount of US Dollars (and other foreign currency) that people in Argentina can officially purchase (this policy has changed, disappeared, and re-appeared again since we first wrote this post, but at the time of updating this article in January 2020 there are indeed currency controls in place here).
Since Argentines rely heavily on dollars, a parallel, unofficial dollar market exists with a separate rate called the "blue dollar". To give you an idea of the difference, the official exchange rate at the time of the last edit this article was around 58 pesos to the dollar, while the blue rate was around 74 pesos to one dollar. That would mean you get almost 28% more pesos by changing on the unofficial market, and there is always the chance that the gap between the two will increase again (of course, it could also go down, but it's more likely it will trend up).
Since the blue dollar rate is higher, your money will go further if you trade it wisely. You can compare current rates by checking the official and "blue" dollar and euro rates here.

[Photo credit: J's photostream//CC BY-NC 2.0]
How to get the best rate for your dollars in Argentina?
So now that you've made it from the airport into the city (hint: you can pay for your transfer in US Dollars or with a credit card, so you won't need pesos at that stage), what should you do with those dollar bills? The following are a few ways that people in Argentina get pesos at a better rate than the official rate:
Pay for hotels and restaurants in dollars: Hotels and restaurants often accept dollars, and will usually charge at a more favorable rate than the official rate. Many tourists keep some dollars on hand in case restaurants, services, and the like accept foreign currency. Bring along pesos, too, when eating out to avoid being stuck with a bill at a joint where dollars are not accepted.
Trade with an Argentine: Since demand for foreign bills is so high, many people choose to trade dollars for pesos with an Argentine they trust, at a favorable rate to both parties. This is not to say that tourists trade with random citizens, but instead with friends or trusted acquaintances (you could ask around, or at your hotel).
Visit a cueva: A cueva is basically a local slang term for an underground casa de cambio, or money exchange house. These are often close to streets with heavy foot traffic, like Calle Florida in the City Center. As you walk down Florida, keep your ears open! You will hear lots of guys saying "cambio, cambio, cambio" (cam-bee-oh).  This man is a blue-dollar-trader, and takes those interested in selling  their currency to an unmarked office where he offers one of the best rates available. However, tourists should be very cautious if they choose this option, and should not be asked to exchange their cash on the street. If you choose to visit a cueva, you might want to ask around for the location of a reliable one, perhaps in your hotel or maybe to your tour guide.
(DISCLAIMER: BuenosTours does not suggest nor condone trading money on the unofficial market, but instead this writer is describing how many people in Argentina do currently obtain pesos at a more favorable exchange rate.)
[Photo credit: Sebastian J.'s photostream//CC BY-NC-ND 2.0]
The Western Union money transfer service allows you to wire money to Argentina from the US and receive the money in pesos cash usually at a better rate than the official rate, although we can't guarantee that will always be the case, so check their website before sending. This can be a good option if you find that you need more money once you are in the country and don't have cash on hand, but want to avoid bank fees etc. They charge a fee depending on the amount transferred, but usually it's still more advantageous than the official rate and bank fees. Find out more on the Western Union website. You may also find similarly advantageous rates when sending from other international Western Union websites/locations, such as the UK version. Whatever the case, you won't want to be in a rush to get the money, as the online sign-up and authorization process can take at least a full day, sometimes more. Apparently the best Western Union office in Buenos Aires to pick the Argentine Pesos cash up at is the one on the corner of Av Cordoba and Montevideo, which is a very convenient, central location.
Banks, ATMs, and official money exchange houses are your other options for getting money while in Argentina, but all of these will give you the official exchange rate (and banks and official money exchange houses will also need to see your passport before they change money for you, and in fact many banks these days will only change money for their local clients). You may also be charged high fees every time you use an ATM in Argentina with your foreign card, and the amount of pesos you can take out in each transaction is not all that high, so to get a lot you will need to make several withdrawals, paying the fee each time. It is usually better to pay in places with your card, when you can/when they accept that. But perhaps better to avoid the problem entirely and bring enough US Dollars cash with you in the first place.
Don't buy more pesos than you need
Be careful to only exchange or take out the amount of money that you definitely think you will spend in pesos, and keep some dollars on hand to use in restaurants and shops. It can be hard to change pesos back to dollars, and often at an unfavorable rate. And often impossible exchange pesos for any other currency once you leave Argentina. If you do have a receipt from exchanging money at the official rate, hold on to it as you may be able (emphasis on the maybe!) to exchange money back into your home currency with a valid receipt at the Banco de la Nacion in Ezeiza Airport. But probably better just to spend whatever pesos you have left on having a great time in Argentina while you're still here!
Francisco and Marcelo Terren share their beer-brewing secrets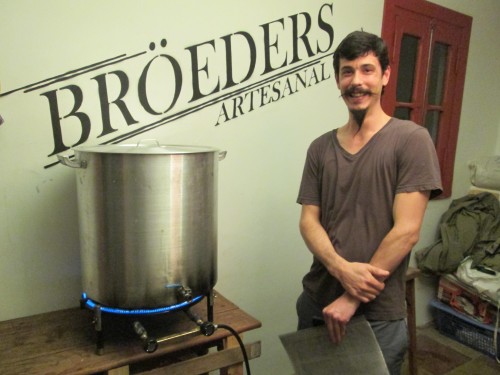 While Buenos Aires has a well-established reputation as a city of fine wines, the typical Argentinian lager will leave any beer lover disappointed. Few bars have beer on tap and while the ubiquitous litre bottles of the local lager Quilmes score points for being cheap and invariably served cold, they get few for taste.
But beer-guzzlers need not panic. The good news is high-quality artesanal beer can be found in Buenos Aires. Following a growing trend in microbreweries in the city led by the likes of Antares and Buller, Bröeders produces some of the best cerveza artesenal (craft beer) around. Being beer enthusiasts, the BuenosTours team jumped at the chance to join Francisco and Marcelo Terren of Bröeders one Tuesday evening to watch them in action and learn about the beer-making process.
Craft Beer in Buenos Aires: Starting out
For just over a year, brothers Francisco and Marcelo Terren have been brewing Bröeders at their home brewery at their mother's Palermo home, when they were inspired to make their own beer after taking a beer-making course. While on holiday in New York, wine-loving Francisco hoped to bring back a beer-making kit he had read about as a birthday present for Marcelo, who had always been keener on beer. But when he was unable to find the kit, back in Buenos Aires the present became signing-up for a beer-making course instead.
Soon they were hooked on brewing. After starting out in the kitchen, brewing in a 20 liter pot on their mother's hob, the brothers later converted the roof top shed into a compact micro-brewery, a well-organised space from which they currently produce 320 liters a month of various beers including Indian Pale Ale, Scottish Ale, Porter, Honey Beer and Barley Wine. All that was missing was the name. Marcelo and Francisco chose the name Bröeders before finding out that broeder means brother in dutch, which served to confirm their choice.
Marcelo put his background in graphic design into use in developing a logo and brand and the brothers started a weekly beer night with NOLAchef. Bröeders Beer Night is every Thursday night at the puertas cerradas (closed door) restaurant, where a selection of 4 different Bröeders beers is teamed with Cajun and Creole food.
Beer brewing process
Working from their expanding folder of beer recipes compiled by experimenting with classic recipes, tweaking and adapting them and taking tips from the network local brew-masters until they are happy with the taste, Marcelo and Francisco get together to 'cook' every Tuesday night. For a beer-lover, peeking inside their impeccably organized micro brewery is akin to Charlie's first glimpse of the inner workings of Willy Wonka's chocolate factory.
In front of me I saw shelves with labelled containers of various hops and malts, neatly stacked brown bottles of beer, barrels, kegs and a large gas burner with a 20 liter pot brewing. There was a tempting aroma that smelt like a sweet, malty porridge; we could hear the liquid bubbling and the hiss of the gas burner, and there was an intense heat emitted from the burner.
"Jesse, we have to cook!"
With a glass of Bröeders IPA in my hand (pulled from a keg on the terrace), I tried to pay attention and fight-off drunkenness as Francisco talked me through the brewing schedule. Each week they begin at about 5pm with the maceration process. After selecting the malts according to the recipe they are using (the flavor of the malts depends on how long they have been toasted, and at what temperature), the next step is to heat the malt and brew it into a big 'tea' for about an hour and half, during which time the bulk of the grain is removed and discarded.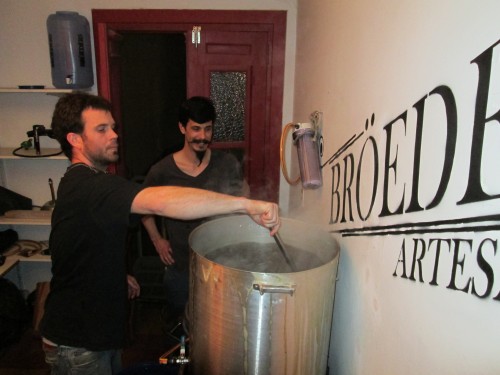 At around 7pm Marcelo and Francisco begin "boiling and hopping" – the hops are added and the  wort (unfermented beer) is boiled for an hour and gently stirred. The brothers use local hops in their ales; cascade hops from El Bosón.
After one hour of boiling, the next stage is to separate the remains of the grains and hops. "This is the whirlpool stage, a key part of the process," Marcelo explained. "What you do is stir the mosto (wort) for a long time so that the centrifugal force draws the trub (brewing term from the German for sediment, the unwanted remains of the hops and the grains) into the middle, where they form a kind of cake. This way we make sure the beer is not astringent."
With the trub gathered into a cake in the center of the pot, the wort is drained and rapidly cooled on its way from the pot to the barrel by passing it through a hose with a second hose containing cold running water adjoined (see photo above).
Let the fermentation begin!
The next step was to add the yeast. There was an air of excitement as Marcelo went downstairs to fetch it from the fridge. "Wait and see how it foams up when you add the yeast, it's like a big party in there," he said. The brothers explained that the type of yeast used is key to the flavor of the beer and they experimented with several types before finding Nottingham Dry Yeast. As promised, as soon as the yeast was added the liquid frothed up dramatically. And with that the barrel was sealed and left to ferment for two weeks.
Keep it clean
By now the fine details of the beer making process were becoming hazy, as I helped myself to another drink from the Bröeders keg. But for Marcelo and Francisco the work wasn't over yet – there was cleaning to do. As soon as the wort was being cooled the brothers took a great deal of care to ensure all the equipment was clean and sterile, spraying taps and nozzles with alcohol and working in a methodical and organized way. This level of meticulousness about cleanliness had come from experience, after they initially had to throw out several barrels that had become 'contaminated'.
With the brewery clean and tidy there was just time to finish the night with a taste of Porter on the terrace. A drink well earned by the Terrens.
More info on Bröeders Beer Night and how to book
To read more about the Bröeders Beer night at Nola see these write-ups on Pick up the Fork, the Argentina Independent, Anuva Wines and Gringo in Buenos Aires.
To make a reservation for Bröeders Beer Night (location in Palermo Viejo provided upon booking), please check:
http://www.nolabuenosaires.com/craft-beer-night-buenos-aires/
OR
http://broedersartesanal.com/
You can also buy pints of Bröeders on tap at a decent price, at the Fukuro Noodle Bar in Palermo Hollywood (Costa Rica 5514, corner with Humboldt).
Cheers!
Step into a world of riding boots and leather chaps
San Antonio de Areco is a historic town that gives visitors a taste of the life of an Argentine Gaucho, or cowboy. Located about an hour and a half northwest of Buenos Aires, San Antonio de Areco also offers a peek into a unique facet of Argentina's immigration history.
Despite being in a country of mostly Spanish and Italian immigrants, San Antonio de Areco has a strong Irish heritage. At the center of the town's beautiful square is a statue dedicated to Hipólito Vieytes, who was born in San Antonio de Areco and played a prominent role in the May Revolution of 1810 and the first independent government of Argentina. Below the statue is a plaque commemorating the visit of then Irish president Mary Robinson in 1995 and inside Areco's main church, next to the square, there is a long list of O'Reillys, Malleys and Maguires who helped build the church and the town's identity.
Pull up a stool and drink with the locals in Argentina's oldest pulperia
Surrounded by flat wetlands that constitute some of the country's richest soil, San Antonio boasts a picturesque town center, where modern life mingles with Argentine traditions. A few blocks from the town square, the oldest gaucho bar in Argentina stands as a historical monument and a community's commitment to its past. When the bar's foundation, originally made of clay, was deemed hazardous, the citizens of Areco cobbled together the money for a new, concrete foundation that would support the building and not alter its facade or interior. They succeeded.
Guillermo Guereño provides a short tour of San Antonio de Areco. A longtime citizen of Areco, Guillermo knows the historical roots of the town, as well as the little quirks. The town's first library was founded by women, who held the power to choose which literature everyone could read. In addition to knowing the people at each stop on tour, many passers-by greet Guillermo warmly. After the hour long tour of Areco, Guillermo escorts his guests to an elegant estancia, or ranch.
A taste of the high life at the grand estancia El Ombu
Located about 10 minutes from the town of San Antonio de Areco, El Ombu de Areco is a magnificent, family-owned estancia. Originally built in 1880, the mansion is the centerpiece of the property, serving as a Bed & Breakfast that's maintained its gaucho character. Enrique Boelcke purchased El Ombu in 1931, and his granddaughter, Eva, is the estancia owner and manager today. In 1993, she expanded the property's services to include a B&B.
The brick architecture is laced with ivy and dotted with a variety of flowers. After driving down a dirt road for a few kilometers, the tree-lined entrance prefaces the rustic yet well-manicured property.
Upon arrival, visitors walk onto a beautiful lawn with wooden tables and benches under a large oak tree. The classic setting is further enhanced when wine and beverages are brought out to start your estancia experience. After the welcome drink, the gauchos invite their patrons on a horse ride around the estancia. With very tame horses, the ride is enjoyable and leisurely. The gauchos have exceptional command of the horses and also know enough English to offer riders instructions on how to guide the horse. El Ombu's expansive beauty becomes clear to visitors on the horse ride.
Argentine Asado

Once back at the mansion, the asado, or Argentine BBQ, begins. Served with several delicious side dishes – salad, tomatoes and onions in a vinaigrette dressing and rice with vegetables – the asado at El Ombu offers the best cuts of meat, from cattle raised either on El Ombu's property, or the adjacent farm. The asado includes chorizo (sausage), morcilla (blood sausage), bife de chorizo (sirloin steak), costillas (ribs) and lomo (tenderloin).
Horses roam freely to the sound of strumming guitars
The gauchos not only serve the asado, they also provide the entertainment, displaying first their guitar skills, and then their intimate bond with their horses.
The gauchos put on a unique display of tricks with the horses, ranging from slowly kneeling the horse down, to doing a handstand on the horse (above) to putting the horses rear foot up against the gaucho's chest – a daring tactic that garners much applause. Another impressive gaucho feat performed on some occasions is when one gaucho, leading a horse with a cowbell around it's neck, has about a dozen horses in unison following him. The horses come right up to everyone's table and "mingle" with patrons. It's a fascinating sight. A dozen horses – completely free – roaming peacefully around a group of people.
Camino Pampa Tours and El Ombu
Click here to book a private estancia day trip with Camino Pampa Tours
Guillermo, who runs Camino Pampa tours, or one of his expert bilingual guides accompanies his clients from their accommodation in Buenos Aires to San Antonio de Areco and El Ombu de Areco. Guillermo's driver, who speaks English well, brings all clients back to their accommodation in the city. Tour pick up is at 9am and return time is approximately 6pm.
A Packing List to cover you in Buenos Aires
[Photo credit: Salihan Laugesen's photostream//CC BY-NC-ND 2.0]
After ruminating over all the exciting destinations around the planet, you've finally decided to travel to Buenos Aires. Great, we know you'll love it here as much as we do. And though you've tossed and turned over your decision, figuring out what to pack can be even more stressful. Start your trip the Argentine way: tranquilo, relax, we've got you covered.
Pack light and in season
If you're coming from the Northern Hemisphere, don't forget that seasons switch when you cross the equator. Argentina's summer is from December to March, autumn is March to May, winter spans June through August, and spring blossoms from September into November. While summer can be insufferably humid, and winter bitter cold, the weather is overall quite temperate and these extremes usually last only about a week. Your best bet is to bring layers and peel off or pile on as necessary.
Regarding style, people in Buenos Aires are quite fashionable and trends change every season. Europeans will find the styles quite aligned to their own, but US Americans may want to leave some of their most casual t-shirts and flip-flops at home. Your best bet will be to pack light and buy a few things once you're in town, if necessary. When in doubt, bring classic, flattering basics and lean toward dressy instead of casual.
These boots were made for walking!
[Photo credit: David Avalos's photostream//CC BY-NC-SA 2.0]
Buenos Aires is an incredibly walk-able city, and we recommend taking a private walking tour to best get to know the place. Without a doubt, the most important thing you can bring to BA is a comfortable pair of shoes.
Having said that, if you are planning to do some trekking in one of the more rugged regions of Argentina, know that hiking boots will definitely stand out in the fashionable capital. Also, if interested in dancing some Tango, you will want comfortable shoes to learn in before whipping out those ravishing heels to show off your moves. Try some simple flats or pick up some alpargatas once you get here.
A quick reference list of what to pack
Of course, what you pack depends completely on your style, gender, travel tastes, length of stay, and itinerary. But here we've compiled a list of essentials to get you started.
Clothing Checklist

| | | |
| --- | --- | --- |
| Item | | Description |
| Comfy walking shoes | | Absolutely essential |
| Another pair of nice shoes or sandals | | Comfortable but more dressy |
| Plenty of socks and under garments | | |
| 3 pairs of pants or jeans | | Good for day and night |
| A few shirts | | For every-day wear |
| 2-4 nice blouses or dress shirts | | For fine dining and tango shows |
| 2 sweaters/sweatshirts | | One lighter; fleece or wool work great |
| 1 light coat | | |
| Pajamas and comfortable clothes | | For hotel and travel |
| Sunglasses | | |
| A hat or scarf | | |
| A raincoat or shell | | For sudden torrential showers |
If this seems like little to you, remember you can
shop
in the city. Below we've listed items for the female traveler. Ladies keep in mind that while BA is very cosmopolitan, you are still traveling in a Latin American, mostly Catholic country and should avoid low cut tops or short skirts if you don't want to attract uncomfortable attention. Showing some skin is not a no-no here, especially in summer, just try to do so tastefully. Women who wear sizes larger than a US dress size 8 will have a challenge finding clothes that fit in BA, as clothes run quite small.
Ladies Clothing

| | | |
| --- | --- | --- |
| Item | | Description |
| 2 dresses and/or long skirts | | keep weather in mind |
| A couple of tanks for layering | | |
| A scarf or two | | depending on your style |
| Nice boots/sandals/low heels | | avoid uncomfortably high heels |
| Pair of leggins | | Great for the plane and totally in style |
| A long shirt | | To wear over your leggings |
| 1 pair of nice shorts | | avoid short-shorts and jean shorts |
Those who rely on hair dryer should note that the voltage is different in Argentina than in the US, and hair dryers may blow-out (it's happened to me!). Your hotel should provide a dryer, and if not bring a voltage converter. Buenos Aires uses 220 volts. Your computer, however, is likely dual-voltage and will be fine. Here's some more information on voltage.
Other items

| | | |
| --- | --- | --- |
| Item | | Description |
| Sunsreen | |  The sun is strong here |
| Medicines | |  Bring any perscriptions you need |
| Toiletries | |  Ladies bring feminine products as options are limited |
| An adapter for electronics | |  See photo below. Can be purchased here. |
| A camera | |  Lots of film and memory! |
| A good book | | For the plane and long bus rides |
| Passport | | Up to date |
| Printed receipt of paid entry fee | | Details here |
| Reusable waterbottle | | Try one with a built in filter |
| Credit/debit card and cash | | US dollars get a great rate here |
What not to bring to Argentina
A tip when packing: pack everything you're planning on taking into your bag. Now reduce that by 20%. You want to leave room in your suitcase for souvenirs. You should also leave valuables at home; flashy jewelry will attract attention on the street in Buenos Aires, and while theft is not out of control here, you wouldn't want your memory of your travels tainted by a lost heirloom.
Lastly, don't bring too many gadgets. LandingPadBA has written quite a lot about checking electronics before you travel here, but we think that apart from your computer and camera, you really won't need anything else. Besides, you're on vacation — take a break from the screen and engage with the amazing city all around you.
For more information on what to pack, read LandingPadBA's article What Not to Wear, and check out what people are wearing on the streets of Buenos Aires on On The Corner. Enjoy your trip!
Inventive Mexican food in an intimate setting
[Photo courtesy MASA Club de Tacos Facebook Page]
When I tell Argentines that what I miss most about the US (other than family) is the Mexican food, they don't get it.  You see while famous for its beef and wines, Argentina is not known for its food diversity – and forget about spicy foods.  Growing up in Arizona, Mexican food formed the nucleus of my diet, and continued to do so when I moved to California and basically survived on burritos.
So when I heard about a new Mexican-inspired puertas cerradas restaurant in Buenos Aires, I knew I had to check it out. I've scoured Palermo for good Mexican food joints, but I usually end up disappointed and nostalgic. Somehow spending 300 pesos on mediocre tacos and leaving without flaming lips, having doused my food in the "extra spicy" sauce, feels traitorous to my roots. I figured a fellow West Coast yanqui would get it.
Simple, tasty, and creative Mexican-inspired cuisine
Kevin, the creator of MASA Club de Tacos, gets it. MASA is named after the heart of Mexican cuisine, the masa or dough used to make tortillas. In Argentine Spanish, however, masa while still meaning dough, is also a slang term for a cool person. Dinners are hosted every Thursday night in a residential home alternating between Belgrano and Almagro. Guests typically reserve in small groups, and the mixed company provides a perfect opportunity to meet new people — especially Argentines! The experience feels more like a warm dinner among friends than a private restaurant, and the price scheme adds to that feeling: each guest pays what they deem to be the value of the meal, and brings their own beverages.
I arrived with my Argentine partner last Thursday at the Almagro MASA location, and was immediately made welcome by Kevin, a laid-back and friendly California native. He lead us to the kitchen where his quirky and fabulous right-hand-lady Evy was busy with prep work. We chatted about Mexican food in BA and the US as the cooks prepared appetizers. When the rest of the guests arrived, a family from Bahia Blanca and a few young Argentines who work in the tech sector, we settled into the living room, discussing the emerging kite surfing scene on Argentina's Atlantic coast.
Dinner is served!
While we chatted with our fellow guests, Kevin and Evy served us baskets of fried avocados and a creamy jalapeño salsa. To my delight, the salsa sent steam zipping through my nasal cavities! The Argentines seemed a little overwhelmed by the spice, and warned me against dousing the palta slices, but I just couldn't get enough. The avocado was warm and creamy, without being over fried. Delicious.
To avoid gobbling up all the slices on the table, I ventured to the kitchen to find the Negra Modelo I brought with me. With the new Daft Punk album and some classic Outkast tracks pumping in the background, the cooks were preparing the first dish. I asked about the concept of restaurant, and Kevin explained it as an elevated spin on Mexican street tacos. He founded the project after working on a local website with a cultural agenda, with the ideal that going out in Buenos Aires shouldn't have to be exclusive to those who can afford a pricey meal. That's how he came up with the unique, pay-what-you-can price: it makes the hip closed-door phenomenon accessible.
I scuttled back to the table as they plated the salad, an absolutely divine grilled cabbage salad with mango, tomato and a creamy vinaigrette. The cabbage was perfectly grilled to eliminate bitterness but still be crunchy, and my boyfriend has been begging for grilled cabbage since. Peppered with mango slices, the salad was mildly sweet but still light and refreshing.
"Don't judge your taco by its price" -Hunter S. Thompson
As we awaited the main dish, our fellow guests told us about an application they invented called Cook App which allows you to search puertas cerradas restaurants in Buenos Aires. It's like a go-to spot to find different venues on the lively underground restaurant scene.
And then came the main event: two tacos filled with pork carnitas with onion and cilantro, and chicken slow cooked in honey, jalapeño salsa, and blueberry juice, both served on homemade corn tortillas. The tortillas were the best I've eaten in Argentina; they were light and not overwhelmingly corn-y (as corn tortillas often can be), with a perfect touch of griddled flavor. Both meat fillings were delectable, and the pollo (chicken) was particularly juicy. The tacos were served with another salsa, this time made with the Peruvian Locoto chili, and I doused my tacos with the two spicy spreads to the horror of the Argentines. Once again, the tacos delightfully blended sweet and savory flavours.
Swooning in a taco-induced reverie, we cleaned the juice off our hands and discussed the spectacular tortilla masa. The strawberry cupcakes came right at the perfect time and perfect closure for the pallate. Again, these were not too sweet, and the cake itself was spongy and exuded fresh strawberry goodness.
While the family had to leave early, we stayed and talked with Evy and Kevin. We laughed about Argentine and US American cultural differences, and Kevin even admitted that he made corn tortillas since he knew I was coming. Argentines, apparently, are much easier to serve Mexican food. "They pretty much love anything we serve them," noted Evy, while those of us from the US, on the other hand, have lots of expectations about Mexican food. True enough. Overall, I felt the dinner combined traditional Mexican ingredients into fun, and unique dishes.
Our hosts regaled us late into the night with stories about demanding clients, the joys of menu planning, and what it was like serving the rock group The Black Keys.  The MASA Club de Tacos is a unique, friendly experience.
If you'd like to reserve a spot at the next MASA Taco dinner, find further details on the MASA Club del Taco website, or visit their Facebook page. Vegetarians and those with diet restrictions, never fear! The MASA team is willing to accommodate to your requests. Read  more reviews of the restaurant on My Beautiful Air or The Argentine Independent, and happy eating!
Buenos Aires-based photographer Jerry Nelson shares his top tips for better snaps
Welcome to Buenos Aires.  Home of the Casa Rosada, Plaza de Mayo, Metropolitan Cathedral and a bunch of other potentially iconic photographs.
How many times have you stood in front of a world famous landmark and realized that every possible shot that could be taken has already been taken by one of the thousands of tourists that have stood in that spot before you? You are on a once-in-a-lifetime trip and your goal should not be to bring back images that look like the postcards at the hotel or – worse yet – the pictures that are goofy and don't do anything but scream, "An amateur took me!"
So when you visit the Casa Rosada don't try to capture the palm tree to frame the photo with and for Pete's sake, do NOT have someone pose with the Obelisk as if they're holding it up.
Here's some things to keep in mind when you're photographing a famous landmark in Buenos Aires.  Relax, you can use the tips when you return home to keep taking better images than your friends.
1.  Get the cliche shot out of the way.
Go ahead take the shot of the Casa Rosada with the palm tree.  You won't feel right unless you do, so go ahead and take the picture.  Got the shot?  Okay, now think of some different ways you could capture the image and add your OWN iconic slant to the same subject. Look for the buildings reflection in windows or a puddle if it just rained. Include the local architecture, shoot it as a silhouette.  There is really no limiit to what you can do when you are looking for different ways to see.
2.  Practice at home.
Every town and city has its own iconic landmarks. While it may not be a art deco building, it doesn't matter. Maybe there's a statue, a church steeple heck, even a grain elevator.  Get your camera and to out to see it for the first time again. Work the scene and find a creative way to frame it.
3.  Don't forget people.
Be sure to include people in your frame. They can add interest and movement to otherwise stale postcard type shots. People work especially well by adding a sense of scale when you're shooting large buildings.
4.  Practice.
The more you practice the quicker your eye will become at spotting those interesting shots when you visit a new place. Your images will never be boring again!