*Thanks for visiting BuenosTours! If you find this article useful and it will help save you money for your trip to Buenos Aires, then please consider splashing some of that cash on one of our award-winning private walking tours of Buenos Aires, to get even more great advice and start off your stay in BA in the best way possible!*

*DECEMBER 2015 UPDATE – PLEASE NOTE: US Dollar exchange restrictions are being removed in Argentina following the election of new President Mauricio Macri. As a result it is getting easier to buy and sell USD in the country, and although it still exists, the difference between the official rate and the unofficial "blue" rate is now a lot smaller (13 vs 13.6, approximately, at the time of writing this update). We will re-write the below article soon to reflect this change – in the meantime feel free to ask any questions you might have in the comments section below*
Be Savvy with Foreign Money in Argentina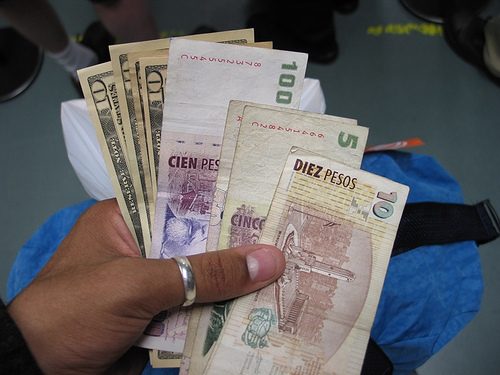 [Photo credit: Thaigo Martins's photostream//CC BY-NC-SA 2.0]
Imagine: your plane finally touches down after a ten hour, cross-continental journey, you wind your way through customs and immigration showing proof you've paid the reciprocity fee, and you finally step onto Argentine soil at Ezeiza International Airport. While your initial instinct may be to exchange all of your dollars or euros right then and there, your money will go a lot (and we mean A LOT!) further if you don't.
What currency should I bring to Argentina?
When traveling to Argentina, bring cash, especially US dollars. It is most cost effective to bring all the money you think you will spend on your trip in US Dollars cash (if possible mainly 50 & 100 dollar bills, as lower denominations often get a worse exchange rate in Argentina). That might sound a little different to the advice you get in general for traveling, but read this article and you could have a better (or at least, cheaper) trip.
In an attempt to inspire confidence in the peso and reduce inflation, the government has almost completely barred Argentine residents (or anyone else) from officially purchasing dollars (this policy has since been relaxed in theory for Argentine residents, though many suggest not really in practice).
Since Argentines rely heavily on dollars, a parallel, unofficial dollar market has emerged with a separate rate called the "blue dollar". To give you an idea of the difference, the official exchange rate at the time of the last edit this article was 8.47 pesos to the dollar, while the blue rate was 12.75 pesos to one dollar.
Since the blue dollar rate is significantly higher (a 50%+ difference at the time of the last edit, but at times it has even been close to double), your money will go much further if you trade it wisely. You can compare current rates by checking the official and "blue" dollar and euro rates here (that link is to La Nacion, a Spanish-language newspaper, but even for a non-Spanish speaker it is still fairly easy to see the rates, and they are updated daily)..

[Photo credit: J's photostream//CC BY-NC 2.0]
How to get the best rate for your dollars in Argentina?
So now that you've made it from the airport into the city (hint: you can pay for your transfer in US Dollars or with a credit card, so you won't need pesos at that stage), what should you do with those dollar bills? The following are a few ways that people in Argentina get pesos at a better rate than the official rate:
Pay for hotels and restaurants in dollars: Hotels and restaurants often accept dollars, and will usually charge at a more favorable rate than the official rate. Many tourists keep some dollars on hand in case restaurants, services, and the like accept foreign currency. Bring along pesos, too, when eating out to avoid being stuck with a bill at a joint where dollars are not accepted.
Trade with an Argentine: Since demand for foreign bills is so high, many people choose to trade dollars for pesos with an Argentine they trust, at a favorable rate to both parties. This is not to say that tourists trade with random citizens, but instead with friends or trusted acquaintances (you could ask around, or at your hotel).
Visit a cueva: A cueva is basically a local slang term for an underground casa de cambio, or money exchange house. These are often close to streets with heavy foot traffic, like Calle Florida in the City Center. As you walk down Florida, keep your ears open! You will hear lots of guys saying "cambio, cambio, cambio" (cam-bee-oh).  This man is a blue-dollar-trader, and takes those interested in selling  their currency to an unmarked office where he offers one of the best rates available. However, tourists should be very cautious if they choose this option, and should not be asked to exchange their cash on the street. If you choose to visit a cueva, you might want to ask around for the location of a reliable one, perhaps in your hotel or maybe to your tour guide.
[Photo credit: Sebastian J.'s photostream//CC BY-NC-ND 2.0]
Xoom is a money transfer service which allows users to wire money to Argentina from a US bank account and receive the money in pesos at a better rate than the official rate (they offered a rate of 11 pesos to the dollar at time of writing). This is a great option if you find that you need more money once you are in the country and don't have cash on hand, but want to avoid bank fees and an unfavorable exchange rate. They charge a fee depending on the amount transferred, but overall it is still more advantageous than the official rate. Find out more on the Xoom website. A similar service for residents of some other countries, including the UK, is Azimo. For either service, you don't want to be in a rush to get the money, as the online sign-up and account authorization process can take a few days.
Banks, ATMS, and official money houses are your other options for getting money while in Argentina, and all of these will give you the official exchange rate. You may also be charged high fees every time you use an ATM or pay with a card, so if you choose to go this route, your best bet is to take out a large chunk of pesos and pay for each thing in cash instead of putting it all on your card. But better to avoid the problem entirely and bring enough US Dollars in the first place.
(DISCLAIMER: BuenosTours does not suggest not condone trading money on the unofficial market, but instead this writer is describing how many people in Argentina currently obtain pesos at a more favorable exchange rate.)
Don't buy more pesos than you need
Be careful to only exchange or take out the amount of money that you definitely think you will spend, and keep some dollars on hand to use in restaurants and shops. Although there is no official information about whether foreigners may repurchase dollars or euros before leaving the country, anecdotal evidence we have seen suggests that it is not possible. If you do have a receipt from exchanging money at the official rate, hold on to it as you might be able to exchange money back into your currency with a valid receipt at the Banco de la Nacion in Ezeiza Airport. But probably better just to spend whatever pesos you have left on having a great time in Argentina while you're still here.
To read more about getting the best exchange rate in Buenos Aires, check out Gringo in Buenos Aires's article here. And, make sure you know how to check for fake bills by following this guide on San Telmo Loft.