*Thanks for visiting BuenosTours! If you find this article useful and it will help save you money for your trip to Buenos Aires, then please consider splashing some of that cash on one of our award-winning private walking tours of Buenos Aires, to get even more great advice and start off your stay in BA in the best way possible!*

*JANUARY 2020 UPDATE – PLEASE NOTE: US Dollar exchange restrictions are back in Argentina, and as a result, so is the "dollar blue". At the time of writing the official exchange rate is about 58 Argentine Pesos to the US Dollar, while the unofficial "dollar blue" rate is about 74 Argentine Pesos to the US Dollar. So most would say it's worthwhile bringing USD cash to Argentina to change to pesos on the unofficial market, but like with everything, there is always the potential for this situation to change. If you have any questions in the meantime feel free to comment below or send us an email.*
Be Savvy with Foreign Money in Argentina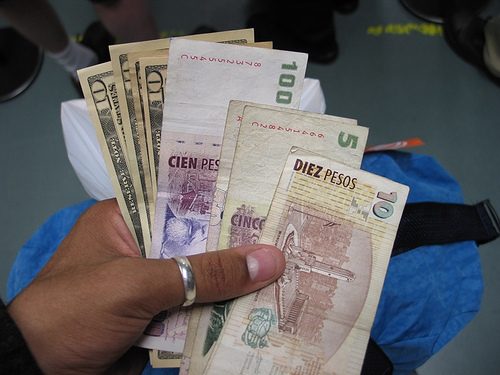 [Photo credit: Thaigo Martins's photostream//CC BY-NC-SA 2.0]
Imagine: your plane finally touches down after a ten hour, cross-continental journey, you wind your way through customs and immigration, and you finally step onto Argentine soil at Ezeiza International Airport. While your initial instinct may be to exchange all of your dollars or euros right then and there, your money may well go further if you don't (although this being Argentina, the situation is always subject to change!)
What currency should I bring to Argentina?
When traveling to Argentina, bring cash, especially US dollars. It is most cost effective to bring all the money you think you will spend on your trip in US Dollars cash (if possible 100 dollar bills, and if not then 50s and 100s, as lower denominations often get a worse exchange rate in Argentina, as do some older series dollar bills, or ones in bad condition). That might sound a little different to the advice you get in general for traveling, but read this article and you could have a better (or at least, cheaper) trip.
In an attempt to inspire confidence in the Argentine peso and reduce inflation, the government has been known to put limits on the amount of US Dollars (and other foreign currency) that people in Argentina can officially purchase (this policy has changed, disappeared, and re-appeared again since we first wrote this post, but at the time of updating this article in January 2020 there are indeed currency controls in place here).
Since Argentines rely heavily on dollars, a parallel, unofficial dollar market exists with a separate rate called the "blue dollar". To give you an idea of the difference, the official exchange rate at the time of the last edit this article was around 58 pesos to the dollar, while the blue rate was around 74 pesos to one dollar. That would mean you get almost 28% more pesos by changing on the unofficial market, and there is always the chance that the gap between the two will increase again (of course, it could also go down, but it's more likely it will trend up).
Since the blue dollar rate is higher, your money will go further if you trade it wisely. You can compare current rates by checking the official and "blue" dollar and euro rates here.

[Photo credit: J's photostream//CC BY-NC 2.0]
How to get the best rate for your dollars in Argentina?
So now that you've made it from the airport into the city (hint: you can pay for your transfer in US Dollars or with a credit card, so you won't need pesos at that stage), what should you do with those dollar bills? The following are a few ways that people in Argentina get pesos at a better rate than the official rate:
Pay for hotels and restaurants in dollars: Hotels and restaurants often accept dollars, and will usually charge at a more favorable rate than the official rate. Many tourists keep some dollars on hand in case restaurants, services, and the like accept foreign currency. Bring along pesos, too, when eating out to avoid being stuck with a bill at a joint where dollars are not accepted.
Trade with an Argentine: Since demand for foreign bills is so high, many people choose to trade dollars for pesos with an Argentine they trust, at a favorable rate to both parties. This is not to say that tourists trade with random citizens, but instead with friends or trusted acquaintances (you could ask around, or at your hotel).
Visit a cueva: A cueva is basically a local slang term for an underground casa de cambio, or money exchange house. These are often close to streets with heavy foot traffic, like Calle Florida in the City Center. As you walk down Florida, keep your ears open! You will hear lots of guys saying "cambio, cambio, cambio" (cam-bee-oh).  This man is a blue-dollar-trader, and takes those interested in selling  their currency to an unmarked office where he offers one of the best rates available. However, tourists should be very cautious if they choose this option, and should not be asked to exchange their cash on the street. If you choose to visit a cueva, you might want to ask around for the location of a reliable one, perhaps in your hotel or maybe to your tour guide.
(DISCLAIMER: BuenosTours does not suggest nor condone trading money on the unofficial market, but instead this writer is describing how many people in Argentina do currently obtain pesos at a more favorable exchange rate.)
[Photo credit: Sebastian J.'s photostream//CC BY-NC-ND 2.0]
The Western Union money transfer service allows you to wire money to Argentina from the US and receive the money in pesos cash usually at a better rate than the official rate, although we can't guarantee that will always be the case, so check their website before sending. This can be a good option if you find that you need more money once you are in the country and don't have cash on hand, but want to avoid bank fees etc. They charge a fee depending on the amount transferred, but usually it's still more advantageous than the official rate and bank fees. Find out more on the Western Union website. You may also find similarly advantageous rates when sending from other international Western Union websites/locations, such as the UK version. Whatever the case, you won't want to be in a rush to get the money, as the online sign-up and authorization process can take at least a full day, sometimes more. Apparently the best Western Union office in Buenos Aires to pick the Argentine Pesos cash up at is the one on the corner of Av Cordoba and Montevideo, which is a very convenient, central location.
Banks, ATMs, and official money exchange houses are your other options for getting money while in Argentina, but all of these will give you the official exchange rate (and banks and official money exchange houses will also need to see your passport before they change money for you, and in fact many banks these days will only change money for their local clients). You may also be charged high fees every time you use an ATM in Argentina with your foreign card, and the amount of pesos you can take out in each transaction is not all that high, so to get a lot you will need to make several withdrawals, paying the fee each time. It is usually better to pay in places with your card, when you can/when they accept that. But perhaps better to avoid the problem entirely and bring enough US Dollars cash with you in the first place.
Don't buy more pesos than you need
Be careful to only exchange or take out the amount of money that you definitely think you will spend in pesos, and keep some dollars on hand to use in restaurants and shops. It can be hard to change pesos back to dollars, and often at an unfavorable rate. And often impossible exchange pesos for any other currency once you leave Argentina. If you do have a receipt from exchanging money at the official rate, hold on to it as you may be able (emphasis on the maybe!) to exchange money back into your home currency with a valid receipt at the Banco de la Nacion in Ezeiza Airport. But probably better just to spend whatever pesos you have left on having a great time in Argentina while you're still here!
General Safety Advice and Street Smarts in Buenos Aires
Yes, Buenos Aires is a beautiful, cosmopolitan tourist destination, but it is still a large city, and large cities come with the typical risks. Violent crime is rare in Buenos Aires, but petty theft, pickpockets and scams are much more common. The best way to avoid them is to be alert and well prepared.
Below you will find some important information and some simple suggestions that will help reduce any chance of trouble.
Basic Preparations
Don't go out with anything you don't need. It is completely unnecessary to carry all of your cash and credit cards with you.
If you have an ID card (a drivers license, for example) that is more easily replaceable than your passport, it will be enough for credit card transactions and the like. The only time a passport is necessary will be to exchange money – but if you are not changing currency, leave the passport at the hotel.
If you must carry important documents like plane tickets, they would be safest in a money belt worn underneath your clothing.
Be discreet. Don't display large amounts of cash in public, and make sure to count bills while they are still in your wallet. It is also wise not to flash expensive technology that may be commonplace back home, so it's best not to stand on a busy street corner near the curb to check your iPhone.
Wearing expensive jewelry, clothing or accessories should be generally avoided, as should anything that could draw extra attention to you (which is a sensible rule to follow in any city in the world).
Take care of your valuables. This mostly refers to women with handbags and purses. Be very careful about where you set things down, whether on a park bench or even inside a restaurant. If you are eating outside, keep your bag on your lap, or at the very least, on the floor with one leg through the strap.
If your bag is on your chair (and this counts for inside too!) make sure it's where you can see it. On the armrest is much better than on the back of the chair. And men are not immune – obviously this applies to camera and computer bags as well.
In addition, sometimes it is easier to guard a bag than it is a wallet in a back pocket, so always be conscious of where you keep your valuables.
Scams to Watch Out For
General Distractions – Raise your safety alert level whenever someone is trying to get your attention. Thieves often work in groups and use ploys, such as, pretending to return money that you dropped, or dropping money themselves and then taking advantage of your awkward position as you stoop to help out. There is no harm in chatting with someone who talks to you, but keep your hand on your camera/bag/wallet as you do!
'Accidental' Spills – A common ploy used by thieves is to spill any sort of liquid on you, as a distraction. They will then grab your bag as you put it down to clean up, or even clean out your pockets as they "help" you out with a tissue or water.
In some cases they may even try to get you to go around the corner to a supposed faucet. If you do have something spilled on you, LEAVE IT, and go inside somewhere safe to clean up. Refuse ALL help, no matter if its an elderly man or a woman in a business suit.
A common variation on this is the "bird crap" approach – the thieves will somehow get a liquid on you that looks like bird's mess (probably without you noticing), and then will come up to you to tell you and try to "help" clean it off. How kind of them!
Taxi Use in Buenos Aires
Radio Taxis – It is generally recommended that you take radio taxis, which can be most easily identified by having a sign on top of the cab. A radio taxi is one that works for a taxi company, rather than being an independent driver. Most of the taxis in BA are radio taxis and are a better option because they have set standards determined by their employer, and each individual driver can be traced back to their company in the event of any problems.
Running up the meter – If you are not paying attention, a driver can easily take the "long way" to your destination to try to run up the fare (it can happen to unassuming locals too). The best way to avoid this is to have a general idea of where you are going and how long it will take you, and to state the address with confidence. If you feel you are being taken for a ride – politely ask the driver and you'll find yourself back on track.
Also, unless getting a taxi from the airport or cruise terminal (where taxi journeys are often a fixed price depending on your destination, and unfortunately more expensive), make sure that the taxi driver turns the meter (reloj, in Spanish – pronounced "REY-LOCK") on as you start your journey – otherwise the driver could just make up and inflated price at the end of the trip. The meter is usually in the top right hand corner, above where the front passenger would sit. If not turned on, point at the meter and say "el reloj", and the driver should switch it on.
Bill swapping – a common scam in taxis is to switch out your good bill for a counterfeit bill. This usually happens when paying with a $100 peso bill, which is why you should try to only use smaller bills ($50 pesos or below) in taxi cabs.
Paying with small bills also helps to avoid a situation where a driver has no change, or a scam such resembling the following…
A taxi driver will take your bill, examine it, and then reject it and hand it back for whatever reason (it's ripped, it's fake, he has no change, etc). If a driver tries to return a bill to you, your alarm bells should go off… he has probably changed the bill for a fake – don't take it! Of course, this can all be avoided by paying with smaller bills!
Confusion from the airport – At the end of a long taxi journey from the international airport, it's easy to get confused about the payment. This is especially true if the driver intentionally tries to confuse you!
Some drivers will try to do this by changing the price, shuffling around bills, handing back strange combinations of change… basically anything that might get you to give more than you actually owe.

Problems can be avoided by taking an official taxi or remis, such as Taxi Ezeiza, where you pre-pay inside the airport at a taxi stand. The current cost with Taxi Ezeiza from EZE airport to the city center (as of February 2015) is 400 Argentine Pesos (between US$30 and US$48, depending on which exchange rate you use). There is no need to book with them in advance for the journey from the airport. But on the way back if you do then you can save 50 pesos!
The Taxi Ezeiza stand can be found immediately in front of you as you exit the glass sliding doors after baggage claim and customs – here's a photo to help locate it:
Counterfeit Money in Argentina
Yes, like in most places, counterfeit money circulates in Argentina, and it is often very hard to spot. The quickest and easiest way to check if a bill is real, is to hold it up to the light (fifties and hundreds have a metallic strip in them).
But probably the best approach is, upon arrival, to ask a trusted local (e.g. a hotel concierge, your BuenosTours tour guide, etc) for some tips about the feel and look (as they are very difficult to describe in writing!)
Bonus Tip: Use of US Dollars in Buenos Aires
At the time of last editing this addition (February 2015) it is still HIGHLY recommended that you bring US Dollars to Buenos Aires, for the majority of your travel funds, rather than changing money into Argentine pesos before you come here, or using ATMs in Argentina to withdraw pesos, funded from your account bank home.
This is because, at present almost all places in Buenos Aires will accept US Dollars in payment in addition to Argentine Pesos, and in fact, often in preference to the local currency. And you will usually get a far better rate of exchange than any "official" exchange rate, plus incur no fees etc, so much more bang for your buck! Granted, it is good to also have some pesos with you too, just in case, as not everywhere is guaranteed to accept dollars, the most common place being taxis (due to their lack of change).
This isn't the place to go into why dollars are preferred in Argentina at the moment (this article is, a must-read and goes into other ways to get the best bang for your buck), and why you can get a better rate than the official exchange rates here, apart from to say that demand for dollars is high and supply is low here right now!
If you have any other safety (& money) advice/tips for Buenos Aires that you would like to see added to this list, please add it in the comments below. Thanks!