Hail a cab in Argentina's capital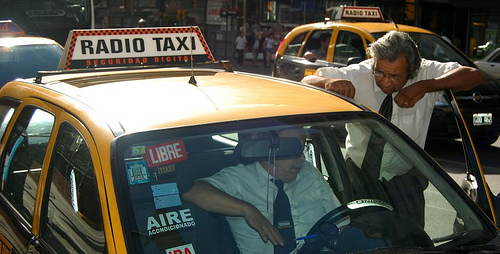 [Photo credit: Kyle Lease's photostream/ /CC BY-BY-SA 2.0]
With hundreds of bus lines and several subway trains, Buenos Aires is an easy city to manage on public transport. But when you don't feel like packing into a steamy subway car, or figuring out which of the hundreds of buses takes to take, hailing a cab is an excellent option. With over 40,000 taxis in the city (about one for every 70 inhabitants), you can easily flag down a black and yellow vehicle on almost any street corner. (With the exception of course, of three situations: when there is a subway or bus strike, when Buenos Aires's torrential rains flood the city, or weekends between 4-6am in Palermo Soho and Hollywood as people leave the boliches [clubs] en masse.)
How to take (or call) a taxi in Buenos Aires
Hailing a taxi is easy! Just to stand on the passenger's side of the street, look for a taxi with the red and white libre (free) light lit up in the upper left-hand corner of the windshield, then stick out your arm. While most taxis are just fine, it's best to look for a Radio Taxi, which you can identify by the "Radio Taxi" logo on top or side of the car. Though odds are you'll be ok in any taxi, Radio Taxi registers all of its drivers and every ride, therefore reducing the chance that your driver will try to scam you (for more safety advice, see below).
Another option is to call a remis, which is a private, unmarked car. If you are heading to the airport, your hotel will likely call a remis for you, as they often specialize in set journeys at a fixed rate.
[Photo credit: Gisela Giardino's photostream/ /CC BY-BY-SA 2.0]
Avoid taxi scams
Once you've waved down your cab, hop in and confidently tell your driver where you're going. It helps to give them the cross streets rather than the exact address, and to have some idea of where you are headed. If you're worried about your Spanish, write the address and/or cross streets on a slip of paper and show your driver. Then, buckle up as taxi rides can be notoriously wild!
As mentioned above, avoid unsavory experiences by taking a Radio Taxi or booking a remis ahead of time. For the most part, cab drivers (chofers) are friendly characters who will be thrilled to help you practice your Spanish. However, a few are always on the look out to make an extra peso. Here's some of the common scams you should try to avoid:
The Fake Bill: Drivers have been known to accept tourists' bills, then switch them out for a counterfeit and tell the passenger that they can't accept a fake. Try to pay your driver in exact change, and if you have to give him a 100 peso note, ostensibly hold the bill up to the light before handing it over, then watch his hands as he gives you change. The only counterfeit bills you need to look out for are 100 and 50 peso notes, and if you think your taxista has given you one for change, ask for a different bill.
The Gringo Tour: Detecting a strong accent, some drivers will take you on a round-about route in order to milk the fare. Avoid this situation by waving a taxi heading in the direction of where you are going, and try to be more or less familiar with the route. If the prospect of figuring out where you are in this enormous city seems daunting, fake it! Show that you are paying attention by reading street signs and watching where the driver goes. Confidence is key.
The Speedy Meter: Though uncommon, there are rigged meters in some taxis. Make sure the driver has turned on the meter once you tell him where you're going, and watch to make sure it's only going up every 200 meters, or 40 seconds in traffic. If you think the meter is going too quickly, you can ask by pointing at the meter, but you should probably get out and hail a new cab to avoid a ridiculous price.
These are the most common things to look out for, but if you want to read more about taxi opportunists, check out this article on Landing Pad BA.
Pricing of taxis
If you ask an Argentine or someone who's been living in BA for a while, taxis are exorbitantly expensive; don't worry, that's just inflation talking! Traveling by taxi is quite affordable. The drop rate (as of March 2015) is 14.30 pesos during the day and 17.10 pesos at night, between 10pm and 6am (so about $1.20 to $1.40 US Dollars), and goes up 1.43 pesos (or 1.71 pesos at night) per 200 meters. If you'd like to get an estimate about how much your journey should cost ahead of time, check out the website Viajo en Taxi. You can type in your location and destination and the site will give you an estimate of how much it should cost. Keep in mind, all depends on traffic!
Try to carry small bills, especially for shorter journeys, as change is often difficult to come by in Buenos Aires.
Suggested taxi companies and drivers
Easy Taxi is an app for the iPhone and Android which allows you to call a cab. The application locates the taxi nearest your location (as determined by GPS), then sends you information about your driver including their name, a photo, phone number, and car model. You can follow the taxi's location on a map, all of which helps assure you get a safe taxi.

[Photo credit: Easy Taxi's Facebook]
We recently interviewed Buenos Aires chauffer Dario Wigodzky. Read our interview here, and e-mail Dario to request an airport transfer at [email protected]
Call a normal Radio Taxi with Taxi Premium at (54-11) 5238-0000. The operator may perhaps speak English, but it is unlikely. Make sure to tell them the address where you need the taxi, and when. Expect also to be asked for a phone number.
For a luxury car service with a native English speaker, we recommend Silver Star Transport.
Taking a taxi from Ezeiza International Airport
When you arrive at the Ezeiza International Airport, make sure to avoid any problems by booking a cab with an official taxi company like Taxi Ezeiza. The Taxi Ezeiza booth is inside the airport, directly opposite arrivals, and your cab is booked and paid for before leaving the terminal building. Do not say yes to anyone offering a cab who is not at an official booth – Ezeiza airport is the one place where even the black and yellow city cabs shouldn't be trusted. Approach the booth and give them the address where you are staying, then you can either choose to pay ahead of time or at the end of your journey, but the rate will definitely be a fixed price. With Taxi Ezeiza, a cab should cost AR$400 as of February 2015 (between US$30 and USD$48, depending on which exchange rate you use). You can pay in dollars or euros if necessary.
For more advice about safety in Buenos Aires, check out our Safety Tips, or read about taking taxis on Wander Argentina. And safe journeys!
There is no simple answer to this question. It all depends on what type of person you are, and what you want to get out of your time in Buenos Aires. The following descriptions of the main areas to stay in Buenos Aires should help you choose. Leave us a comment if you have any questions about a particular Barrio, Hotel or Hostel.
'Microcentro' (City Center)
This area is OBVIOUSLY central! For many people this is ideal, and it will put you close to major tourist attractions such as the Obelisk, Plaza de Mayo, the Pink House, the Cathedral, Avenida de Mayo, Congress, Florida Shopping Street, Teatro Colon, Plaza San Martin and a whole lot more. However, in other ways it is not so perfect, because this area is also the most busy with dangerous traffic, polluted, noisy, and lacking in space. You have to weigh up these pros and cons to make your decision. But if you do stay in the Microcentro, it is very easy to get around on the subte (subway) system, which serves this area well, as opposed to other further-flung parts of Buenos Aires.
Slightly North of Center – Recoleta, Retiro, Barrio Norte
These are generally the most exclusive areas of the City of Buenos Aires (particularly Recoleta), where you will find high class hotels such the Alvear, Four Seasons, Park Hyatt, Sofitel and the Marriott Plaza. Although they obviously come at a price! In keeping with the exclusivity of these areas, you will also find some of the most upmarket shopping centers, leather shops, cafes, restaurants, bars, nightclubs, art galleries, and parks in Buenos Aires. Also, you'll be fairly close to the remarkable Recoleta Cemetery, where Evita Peron is laid to rest among many other amazingly decadent mausoleums of the rich and famous. Recoleta and Retiro (mainly near Plaza San Martin) are probably the most pleasantly upmarket areas to stay, if you have the cash required.
A little Further North – Palermo
Palermo is the largest barrio of Buenos Aires, mainly filled with tranquil, green parks. And so it can be one of the most laid-back areas to base yourselves in. Among the parks you will find the Rosedal (Rose Garden), Botanical Gardens, Japanese Gardens, the 3 de Febrero boating lake, the horse racing track, and the Buenos Aires Zoo. In recent years, parts of Palermo, such as Palermo Hollywood and Palermo Soho, have become the hippest parts of Buenos Aires, with fashionable bars, nightclubs, restaurants, boutique hotels and small designer label shops springing up almost by the minute.
Palermo is quite well served by Line D (Green Line) of the subte system, which conveniently takes you into the city center, or a little further north to Belgrano (which is another nice, tranquil place to stay, although a little bit further out of the way than the other areas mentioned here). The area is great for both families and young couples alike, and is a very popular place for visitors who decide to rent an apartment in Buenos Aires.
Go South! – San Telmo and Monserrat
These adjoining barrios, just south of the Microcentro, are the most 'historic' areas of the city. The olde worlde Buenos Aires, if you like. This is where the city was first founded, and is where some of the few remaining Spanish colonial buildings can be found, mixed in with some beautiful art nouveau and gothic styles from the following historical periods, all in a state of atmospheric decaying grandeur. Cobbled streets abound!
The rich of BA used to live in San Telmo until a yellow fever outbreak in 1871, when they first moved north away from the lowland river areas to their current residences in Recoleta and Retiro. These days, San Telmo is the home to modern Argentine Tango in Buenos Aires, where you will find many Tango shows, clubs, lessons, street performers and even Tango hotels! Sunday in San Telmo's Plaza Dorrego sees the most famous street market (antiques, tango paraphenalia, etc) here, along with the compulsory outdoor Tango dancers and singers.
Adjoining Monserrat has similar architecture, and some of the most interesting churches in the city. However, these areas can be a little sketchy (lots of almost deserted, badly lit streets with little or no police or security presence) at night, and something on the dirty side, so please bear that in mind before deciding on a hotel or apartment in this more 'atmospheric' part of town!
Well, those are the main areas to consider. There are of course others, but these are where most visitors will consider staying. Please leave a comment if you have any questions about these or other areas of BA. I hope you enjoy wherever you stay!