Hail a cab in Argentina's capital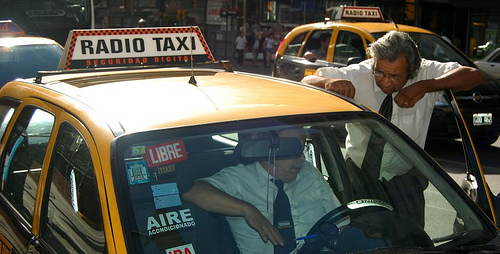 [Photo credit: Kyle Lease's photostream/ /CC BY-BY-SA 2.0]
With hundreds of bus lines and several subway trains, Buenos Aires is an easy city to manage on public transport. But when you don't feel like packing into a steamy subway car, or figuring out which of the hundreds of buses takes to take, hailing a cab is an excellent option. With over 40,000 taxis in the city (about one for every 70 inhabitants), you can easily flag down a black and yellow vehicle on almost any street corner. (With the exception of course, of three situations: when there is a subway or bus strike, when Buenos Aires's torrential rains flood the city, or weekends between 4-6am in Palermo Soho and Hollywood as people leave the boliches [clubs] en masse.)
How to take (or call) a taxi in Buenos Aires
Hailing a taxi is easy! Just to stand on the passenger's side of the street, look for a taxi with the red and white libre (free) light lit up in the upper left-hand corner of the windshield, then stick out your arm. While most taxis are just fine, it's best to look for a Radio Taxi, which you can identify by the "Radio Taxi" logo on top or side of the car. Though odds are you'll be ok in any taxi, Radio Taxi registers all of its drivers and every ride, therefore reducing the chance that your driver will try to scam you (for more safety advice, see below).
Another option is to call a remis, which is a private, unmarked car. If you are heading to the airport, your hotel will likely call a remis for you, as they often specialize in set journeys at a fixed rate.
[Photo credit: Gisela Giardino's photostream/ /CC BY-BY-SA 2.0]
Avoid taxi scams
Once you've waved down your cab, hop in and confidently tell your driver where you're going. It helps to give them the cross streets rather than the exact address, and to have some idea of where you are headed. If you're worried about your Spanish, write the address and/or cross streets on a slip of paper and show your driver. Then, buckle up as taxi rides can be notoriously wild!
As mentioned above, avoid unsavory experiences by taking a Radio Taxi or booking a remis ahead of time. For the most part, cab drivers (chofers) are friendly characters who will be thrilled to help you practice your Spanish. However, a few are always on the look out to make an extra peso. Here's some of the common scams you should try to avoid:
The Fake Bill: Drivers have been known to accept tourists' bills, then switch them out for a counterfeit and tell the passenger that they can't accept a fake. Try to pay your driver in exact change, and if you have to give him a 100 peso note, ostensibly hold the bill up to the light before handing it over, then watch his hands as he gives you change. The only counterfeit bills you need to look out for are 100 and 50 peso notes, and if you think your taxista has given you one for change, ask for a different bill.
The Gringo Tour: Detecting a strong accent, some drivers will take you on a round-about route in order to milk the fare. Avoid this situation by waving a taxi heading in the direction of where you are going, and try to be more or less familiar with the route. If the prospect of figuring out where you are in this enormous city seems daunting, fake it! Show that you are paying attention by reading street signs and watching where the driver goes. Confidence is key.
The Speedy Meter: Though uncommon, there are rigged meters in some taxis. Make sure the driver has turned on the meter once you tell him where you're going, and watch to make sure it's only going up every 200 meters, or 40 seconds in traffic. If you think the meter is going too quickly, you can ask by pointing at the meter, but you should probably get out and hail a new cab to avoid a ridiculous price.
These are the most common things to look out for, but if you want to read more about taxi opportunists, check out this article on Landing Pad BA.
Pricing of taxis
If you ask an Argentine or someone who's been living in BA for a while, taxis are exorbitantly expensive; don't worry, that's just inflation talking! Traveling by taxi is quite affordable. The drop rate (as of March 2015) is 14.30 pesos during the day and 17.10 pesos at night, between 10pm and 6am (so about $1.20 to $1.40 US Dollars), and goes up 1.43 pesos (or 1.71 pesos at night) per 200 meters. If you'd like to get an estimate about how much your journey should cost ahead of time, check out the website Viajo en Taxi. You can type in your location and destination and the site will give you an estimate of how much it should cost. Keep in mind, all depends on traffic!
Try to carry small bills, especially for shorter journeys, as change is often difficult to come by in Buenos Aires.
Suggested taxi companies and drivers
Easy Taxi is an app for the iPhone and Android which allows you to call a cab. The application locates the taxi nearest your location (as determined by GPS), then sends you information about your driver including their name, a photo, phone number, and car model. You can follow the taxi's location on a map, all of which helps assure you get a safe taxi.

[Photo credit: Easy Taxi's Facebook]
We recently interviewed Buenos Aires chauffer Dario Wigodzky. Read our interview here, and e-mail Dario to request an airport transfer at [email protected]
Call a normal Radio Taxi with Taxi Premium at (54-11) 5238-0000. The operator may perhaps speak English, but it is unlikely. Make sure to tell them the address where you need the taxi, and when. Expect also to be asked for a phone number.
For a luxury car service with a native English speaker, we recommend Silver Star Transport.
Taking a taxi from Ezeiza International Airport
When you arrive at the Ezeiza International Airport, make sure to avoid any problems by booking a cab with an official taxi company like Taxi Ezeiza. The Taxi Ezeiza booth is inside the airport, directly opposite arrivals, and your cab is booked and paid for before leaving the terminal building. Do not say yes to anyone offering a cab who is not at an official booth – Ezeiza airport is the one place where even the black and yellow city cabs shouldn't be trusted. Approach the booth and give them the address where you are staying, then you can either choose to pay ahead of time or at the end of your journey, but the rate will definitely be a fixed price. With Taxi Ezeiza, a cab should cost AR$400 as of February 2015 (between US$30 and USD$48, depending on which exchange rate you use). You can pay in dollars or euros if necessary.
For more advice about safety in Buenos Aires, check out our Safety Tips, or read about taking taxis on Wander Argentina. And safe journeys!
*Thanks for visiting BuenosTours! If you find this article useful and it will help save you money for your trip to Buenos Aires, then please consider splashing some of that cash on one of our award-winning private walking tours of Buenos Aires, to get even more great advice and start off your stay in BA in the best way possible!*

*JANUARY 2020 UPDATE – PLEASE NOTE: US Dollar exchange restrictions are back in Argentina, and as a result, so is the "dollar blue". At the time of writing the official exchange rate is about 58 Argentine Pesos to the US Dollar, while the unofficial "dollar blue" rate is about 74 Argentine Pesos to the US Dollar. So most would say it's worthwhile bringing USD cash to Argentina to change to pesos on the unofficial market, but like with everything, there is always the potential for this situation to change. If you have any questions in the meantime feel free to comment below or send us an email.*
Be Savvy with Foreign Money in Argentina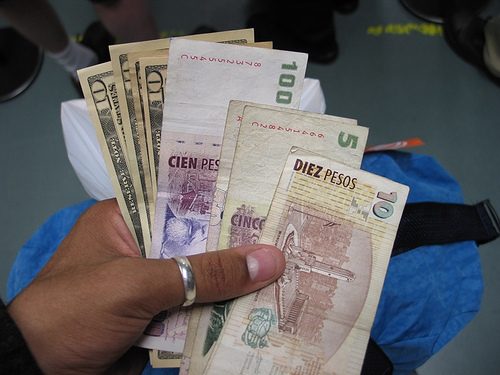 [Photo credit: Thaigo Martins's photostream//CC BY-NC-SA 2.0]
Imagine: your plane finally touches down after a ten hour, cross-continental journey, you wind your way through customs and immigration, and you finally step onto Argentine soil at Ezeiza International Airport. While your initial instinct may be to exchange all of your dollars or euros right then and there, your money may well go further if you don't (although this being Argentina, the situation is always subject to change!)
What currency should I bring to Argentina?
When traveling to Argentina, bring cash, especially US dollars. It is most cost effective to bring all the money you think you will spend on your trip in US Dollars cash (if possible 100 dollar bills, and if not then 50s and 100s, as lower denominations often get a worse exchange rate in Argentina, as do some older series dollar bills, or ones in bad condition). That might sound a little different to the advice you get in general for traveling, but read this article and you could have a better (or at least, cheaper) trip.
In an attempt to inspire confidence in the Argentine peso and reduce inflation, the government has been known to put limits on the amount of US Dollars (and other foreign currency) that people in Argentina can officially purchase (this policy has changed, disappeared, and re-appeared again since we first wrote this post, but at the time of updating this article in January 2020 there are indeed currency controls in place here).
Since Argentines rely heavily on dollars, a parallel, unofficial dollar market exists with a separate rate called the "blue dollar". To give you an idea of the difference, the official exchange rate at the time of the last edit this article was around 58 pesos to the dollar, while the blue rate was around 74 pesos to one dollar. That would mean you get almost 28% more pesos by changing on the unofficial market, and there is always the chance that the gap between the two will increase again (of course, it could also go down, but it's more likely it will trend up).
Since the blue dollar rate is higher, your money will go further if you trade it wisely. You can compare current rates by checking the official and "blue" dollar and euro rates here.

[Photo credit: J's photostream//CC BY-NC 2.0]
How to get the best rate for your dollars in Argentina?
So now that you've made it from the airport into the city (hint: you can pay for your transfer in US Dollars or with a credit card, so you won't need pesos at that stage), what should you do with those dollar bills? The following are a few ways that people in Argentina get pesos at a better rate than the official rate:
Pay for hotels and restaurants in dollars: Hotels and restaurants often accept dollars, and will usually charge at a more favorable rate than the official rate. Many tourists keep some dollars on hand in case restaurants, services, and the like accept foreign currency. Bring along pesos, too, when eating out to avoid being stuck with a bill at a joint where dollars are not accepted.
Trade with an Argentine: Since demand for foreign bills is so high, many people choose to trade dollars for pesos with an Argentine they trust, at a favorable rate to both parties. This is not to say that tourists trade with random citizens, but instead with friends or trusted acquaintances (you could ask around, or at your hotel).
Visit a cueva: A cueva is basically a local slang term for an underground casa de cambio, or money exchange house. These are often close to streets with heavy foot traffic, like Calle Florida in the City Center. As you walk down Florida, keep your ears open! You will hear lots of guys saying "cambio, cambio, cambio" (cam-bee-oh).  This man is a blue-dollar-trader, and takes those interested in selling  their currency to an unmarked office where he offers one of the best rates available. However, tourists should be very cautious if they choose this option, and should not be asked to exchange their cash on the street. If you choose to visit a cueva, you might want to ask around for the location of a reliable one, perhaps in your hotel or maybe to your tour guide.
(DISCLAIMER: BuenosTours does not suggest nor condone trading money on the unofficial market, but instead this writer is describing how many people in Argentina do currently obtain pesos at a more favorable exchange rate.)
[Photo credit: Sebastian J.'s photostream//CC BY-NC-ND 2.0]
The Western Union money transfer service allows you to wire money to Argentina from the US and receive the money in pesos cash usually at a better rate than the official rate, although we can't guarantee that will always be the case, so check their website before sending. This can be a good option if you find that you need more money once you are in the country and don't have cash on hand, but want to avoid bank fees etc. They charge a fee depending on the amount transferred, but usually it's still more advantageous than the official rate and bank fees. Find out more on the Western Union website. You may also find similarly advantageous rates when sending from other international Western Union websites/locations, such as the UK version. Whatever the case, you won't want to be in a rush to get the money, as the online sign-up and authorization process can take at least a full day, sometimes more. Apparently the best Western Union office in Buenos Aires to pick the Argentine Pesos cash up at is the one on the corner of Av Cordoba and Montevideo, which is a very convenient, central location.
Banks, ATMs, and official money exchange houses are your other options for getting money while in Argentina, but all of these will give you the official exchange rate (and banks and official money exchange houses will also need to see your passport before they change money for you, and in fact many banks these days will only change money for their local clients). You may also be charged high fees every time you use an ATM in Argentina with your foreign card, and the amount of pesos you can take out in each transaction is not all that high, so to get a lot you will need to make several withdrawals, paying the fee each time. It is usually better to pay in places with your card, when you can/when they accept that. But perhaps better to avoid the problem entirely and bring enough US Dollars cash with you in the first place.
Don't buy more pesos than you need
Be careful to only exchange or take out the amount of money that you definitely think you will spend in pesos, and keep some dollars on hand to use in restaurants and shops. It can be hard to change pesos back to dollars, and often at an unfavorable rate. And often impossible exchange pesos for any other currency once you leave Argentina. If you do have a receipt from exchanging money at the official rate, hold on to it as you may be able (emphasis on the maybe!) to exchange money back into your home currency with a valid receipt at the Banco de la Nacion in Ezeiza Airport. But probably better just to spend whatever pesos you have left on having a great time in Argentina while you're still here!
A Packing List to cover you in Buenos Aires
[Photo credit: Salihan Laugesen's photostream//CC BY-NC-ND 2.0]
After ruminating over all the exciting destinations around the planet, you've finally decided to travel to Buenos Aires. Great, we know you'll love it here as much as we do. And though you've tossed and turned over your decision, figuring out what to pack can be even more stressful. Start your trip the Argentine way: tranquilo, relax, we've got you covered.
Pack light and in season
If you're coming from the Northern Hemisphere, don't forget that seasons switch when you cross the equator. Argentina's summer is from December to March, autumn is March to May, winter spans June through August, and spring blossoms from September into November. While summer can be insufferably humid, and winter bitter cold, the weather is overall quite temperate and these extremes usually last only about a week. Your best bet is to bring layers and peel off or pile on as necessary.
Regarding style, people in Buenos Aires are quite fashionable and trends change every season. Europeans will find the styles quite aligned to their own, but US Americans may want to leave some of their most casual t-shirts and flip-flops at home. Your best bet will be to pack light and buy a few things once you're in town, if necessary. When in doubt, bring classic, flattering basics and lean toward dressy instead of casual.
These boots were made for walking!
[Photo credit: David Avalos's photostream//CC BY-NC-SA 2.0]
Buenos Aires is an incredibly walk-able city, and we recommend taking a private walking tour to best get to know the place. Without a doubt, the most important thing you can bring to BA is a comfortable pair of shoes.
Having said that, if you are planning to do some trekking in one of the more rugged regions of Argentina, know that hiking boots will definitely stand out in the fashionable capital. Also, if interested in dancing some Tango, you will want comfortable shoes to learn in before whipping out those ravishing heels to show off your moves. Try some simple flats or pick up some alpargatas once you get here.
A quick reference list of what to pack
Of course, what you pack depends completely on your style, gender, travel tastes, length of stay, and itinerary. But here we've compiled a list of essentials to get you started.
Clothing Checklist

| | | |
| --- | --- | --- |
| Item | | Description |
| Comfy walking shoes | | Absolutely essential |
| Another pair of nice shoes or sandals | | Comfortable but more dressy |
| Plenty of socks and under garments | | |
| 3 pairs of pants or jeans | | Good for day and night |
| A few shirts | | For every-day wear |
| 2-4 nice blouses or dress shirts | | For fine dining and tango shows |
| 2 sweaters/sweatshirts | | One lighter; fleece or wool work great |
| 1 light coat | | |
| Pajamas and comfortable clothes | | For hotel and travel |
| Sunglasses | | |
| A hat or scarf | | |
| A raincoat or shell | | For sudden torrential showers |
If this seems like little to you, remember you can
shop
in the city. Below we've listed items for the female traveler. Ladies keep in mind that while BA is very cosmopolitan, you are still traveling in a Latin American, mostly Catholic country and should avoid low cut tops or short skirts if you don't want to attract uncomfortable attention. Showing some skin is not a no-no here, especially in summer, just try to do so tastefully. Women who wear sizes larger than a US dress size 8 will have a challenge finding clothes that fit in BA, as clothes run quite small.
Ladies Clothing

| | | |
| --- | --- | --- |
| Item | | Description |
| 2 dresses and/or long skirts | | keep weather in mind |
| A couple of tanks for layering | | |
| A scarf or two | | depending on your style |
| Nice boots/sandals/low heels | | avoid uncomfortably high heels |
| Pair of leggins | | Great for the plane and totally in style |
| A long shirt | | To wear over your leggings |
| 1 pair of nice shorts | | avoid short-shorts and jean shorts |
Those who rely on hair dryer should note that the voltage is different in Argentina than in the US, and hair dryers may blow-out (it's happened to me!). Your hotel should provide a dryer, and if not bring a voltage converter. Buenos Aires uses 220 volts. Your computer, however, is likely dual-voltage and will be fine. Here's some more information on voltage.
Other items

| | | |
| --- | --- | --- |
| Item | | Description |
| Sunsreen | |  The sun is strong here |
| Medicines | |  Bring any perscriptions you need |
| Toiletries | |  Ladies bring feminine products as options are limited |
| An adapter for electronics | |  See photo below. Can be purchased here. |
| A camera | |  Lots of film and memory! |
| A good book | | For the plane and long bus rides |
| Passport | | Up to date |
| Printed receipt of paid entry fee | | Details here |
| Reusable waterbottle | | Try one with a built in filter |
| Credit/debit card and cash | | US dollars get a great rate here |
What not to bring to Argentina
A tip when packing: pack everything you're planning on taking into your bag. Now reduce that by 20%. You want to leave room in your suitcase for souvenirs. You should also leave valuables at home; flashy jewelry will attract attention on the street in Buenos Aires, and while theft is not out of control here, you wouldn't want your memory of your travels tainted by a lost heirloom.
Lastly, don't bring too many gadgets. LandingPadBA has written quite a lot about checking electronics before you travel here, but we think that apart from your computer and camera, you really won't need anything else. Besides, you're on vacation — take a break from the screen and engage with the amazing city all around you.
For more information on what to pack, read LandingPadBA's article What Not to Wear, and check out what people are wearing on the streets of Buenos Aires on On The Corner. Enjoy your trip!
No more entry charges for visitors to Argentina from Canada, the US or Australia!
[Photo credit: http://flic.kr/p/BSihU/ /CC BY 2.0]
*FINAL UPDATE: As of January 1st 2018, the reciprocity fee for Canadian citizens will be rescinded*
*NEW UPDATE: As of July 1st 2017, the reciprocity fee for Australian citizens has been rescinded*
*PAST UPDATE: As of March 24th 2016, the reciprocity fee for US citizens has been rescinded*
While tourists from Canada do not need a visa to enter Argentina, they are charged a so called 'reciprocity fee' to enter the country (see update above: this is now only required if entering Argentina before the end of 2017). This is a bit like an entrance fee and is based on the amount Argentinians are charged in visa fees to enter Canada. For this reason, for example, European Union passport holders do not have to pay a reciprocity fee, as there is no charge for Argentinians to visit European Union countries.
The amount charged and the length and conditions of validity is subject to change, so be sure to check for the latest information on reciprocity fee requirements with your embassy before leaving for Argentina. As our last update to this page in July 2017, the reciprocity fee has to be paid online by credit card prior to arrival in Argentina and the printed receipt presented at immigration control. Failure to do so may result in you being returned to the country from which you departed.
The fee is paid via the Argentinian Immigration website. Click on 'Reciprocity Fee / Tasa Reciprocidad'. A page with explanations in Spanish and English will appear. Read the explanations and click 'continue'. You will be taken to a Provincia Pagos Migraciones webpage (Banco Provincia is the bank that processes the payment). Next you need to select 'sign-up' (in the bottom-left of the page) and enter your details.
Once the payment is complete, remember to print the receipt & keep it with your travel documents/passport when coming to Argentina. If you have any questions, there is further information on the Provincia Pagos Migraciones website, plus they have a phone number on that page in case you need help, or you could even download their badly translated PDF of instructions here. For the fees and length of validity at the time of writing, see below.
Canada
*Note: As of January 1st 2018, the reciprocity fee for Canadian citizens will be rescinded*
Amount charged to Canadian citizens (at time of writing): US$ 78 for all points of entry to Argentina (now including cruise ship passengers).
It is a multiple entry fee valid for 10 years (or up to one month before passport expiration date, whatever occurs first) beginning on the date the payment is made. The fee must be paid online prior to arrival in Argentina, and the receipt printed for presentation at immigration control.
The fee must be paid for all points of entry to Argentina (now including cruise ship passengers) – if you are arriving into Argentina before the end of 2017 (see update notes). It must be paid online prior to arrival in Argentina, and the receipt printed for presentation at immigration control.
*Note: As of January 1st 2018, the reciprocity fee for Canadian citizens will be rescinded*
Australia
*July 2017 update – the reciprocity fee for Australian citizens has been suspended!*
United States of America
*March 2016 update – the reciprocity fee for US citizens has been suspended!*
PS – Bear in mind…
We have heard reports from tourists coming to Argentina that the Provincia Pagos Migraciones website has been experiencing short periods of down-time and temporary errors, so if at first you don't succeed, try, try again! Also giving it a go in different internet browsers such as Chrome, Firefox and Internet Explorer may help if things don't work the first time round.
Finally, all the above advice is intended as useful information to help visitors to Argentina, however the situation described at the time of going to press may well change and is out of our hands, so although we will do our best to post updates, please do check the official Argentine immigration website for the latest information, and your local embassy/consulate. It is also a good idea to check with your travel agent and/or airline before traveling is you have any doubts.
A General Overview of Basic Words and Phrases en Español
[Photo credit: Magalie L'Abbe's Flickr/ /CC BY-NC 2.0]
…or better yet en castellano, as the Argentines call it, since the Spanish spoken today in Argentina could be traced back to Castilla, Spain.  Here are a few of the basics of communication to help facilitate interchange with the locals.   For ordering in cafes and restaurants, check out our Argentine Menu Reader.  And keep in mind that while English is spoken by many in Buenos Aires, saying hello and thank you in the local language is always appreciated.
Helpful words and phrases

| | | |
| --- | --- | --- |
| Hello / Hi / Hey | | Hola |
| Good day / Good morning | | Buenos días or buen dí­a |
| Good afternoon | | Buenas tardes |
| Good evening | | Buenas noches |
| What's your name? | | ¿Cómo te llamás? / ¿Cómo es tu nombre? |
| My name is… | | Me llamo… / mi nombre es… |
| Nice to meet you. | | Mucho gusto. |
| Nice to meet you too. | | Igualmente. |
| How are you? | | ¿Cómo estás? |
| Fine thanks. | | Bien gracias. |
| And you? | | ¿Y vos? |
| What's up? | | ¿Qué tal? |
| It's all good / everything's good. | | Todo bien. |
| Thank you. | | Gracias. |
| You're welcome | | De nada. |
| Please | | Por favor |
| Yes | | Sí |
| No | | No |
| Goodbye | |  "¡Chau!" |
| See you later | |  Hasta luego |
| Good luck! (Can be used with chau) | |  "¡Suerte!" |
Note that Argentines, instead of asking you cómo estás, will often instead say cómo va (how's it going), or todo bien? (everything good?).  The best response to both is, of course, todo bien (everything's good, it's all good).  Also, Argentines prefer to say goodbye to each other with their version the Italian salutation ciao (chau) instead of adiós, and the latter has a connotation of finality (as if you'll never see the person again).  Fitting with their proud image, don't be surprised if a porteño (someone from Buenos Aires) says no, no, por favor! (no, no, please!) after you've said gracias; they mean to say "it was nothing" or "my pleasure!".
[Photo credit: powerplantop's Flickr / CC BY-NC-ND 2.0]
Pronunciation Guide
Unlike in English, each vowel in Spanish thankfully makes only one kind of sound!
Vowel Sounds
A
ah
E
eh
I
ee
O
oh
U
oo
Y
ee
Most consonants are pronounced as in English, although a bit softer.  The following are the exceptions, and special combinations:

Consonant Sounds

| | | |
| --- | --- | --- |
| ll / y | | sh or soft jhe |
| rr | |  rolled r formed by lifting the tongue to top of the palate and making a "purring" sound |
| r | |  soft r / a d between two vowels |
| j | |  hard h |
| h | |  silent |
| qu | |  k |
| ñ | |  as in canyon |
| v | |  somewhere between a v and a b |
| z | |  s |
Some notes on Rioplatense Spanish
Rioplatense refers to the region around the Río de la Plata river, and is used by linguists to describe the particular, regional Spanish spoken by most people in Argentina and Uruguay.  Influenced heavily by European immigration, this dialect may initially come as a surprise to even a traveler who is somewhat familiar with Spanish.  Especially interesting is the slang dialect Lunfardo, originally developed by the lower classes (many of them immigrants) and now used by all Argentines.
The most noticeable difference of Rioplatense Spanish is the use of the ll and the y, which is here pronounced as in the English word measure.  Thus calle (street) is pronounced cah-sheh instead of cai-yeh.
The next difference you'll notice in the local Spanish is the use of the second person pronoun.  While in many places you is tú, here the second person pronoun is vos, and the formation of the tense changes from llamas (accent on the first a) to llamás (accent on the second a).  To form the vos verb form, take the infinitive (let's say tener) drop the r, accent the vowel and add an s (vos tenés).  If you have never spoken Spanish, don't worry too much about this — just focus on learning some useful phrases.  If you have, however, we recommend you take a quick Spanish lesson here in BA, just to get up to speed on this difference.  Or try Speak Spanish BA's grammar vos breakdown.
Argentine Spanish is pretty informal.  As a result, the formal second person usted is used infrequently (only with the elderly, professors, or someone very distinguished).  You may be taken aback by an Argentine's abruptness.  For example, when ordering food, they will simply say yo quiero… (I want) and hardly ever me gustaría or yo quisiera (I would like…).  This is not because they are rude, but instead straight forward.  Note also that Argentines gesticulate wildly when speaking, another remnant of the Italian legacy.
[Photo credit: eutrophication&hypoxia's Flickr / CC BY 2.0]
More Useful Words and Phrases
Some common phrases you'll hear out of the mouth of an Argentine:

Argentine Phrases

| | | |
| --- | --- | --- |
| che | | hey/you/dude/mate/friend. Universal interjection (also helpful when you can't remember someone's name) |
| buena onda | | good vibes. Can describe a nice person or just mean cool |
| tal cual | | exactly / good point |
| dale | | ok / great/ sounds good / come on |
| ¿de donde sos? | | where are you from? |
| escucháme | | hey / listen to me |
More basic Spanish phrases:

Useful Phrases

| | | |
| --- | --- | --- |
| ¿Donde está…? | | Where is…? |
| ¿Cuanto sale? | | How much does it cost? |
| Yo quiero… | | I want… (good for ordering in a restaurant) |
| La cuenta por favor. | | Check please. |
| Salud | | Cheers / bless you (when someone sneezes) |
| Me gusta / no me gusta | | I like / don't like |
| Permiso | | Excuse me (may I pass?) |
| Perdón | | Excuse me (sorry / didn't hear you / can I have your attention?) |
| ¿Hablás inglés? | | Do you speak English? |
| No hablo castellano | | I don't speak Spanish |
| ¿Donde está el baño? | | Where's the restroom? |
To study and review some Spanish before traveling, try some exercises on StudySpanish.com. For more on Rioplatense Spanish, the Wikipedia is actually pretty extensive.  For an alternative experience, try attending a social event with Spanglish Exchange – you never know, you might even make some great Argentine friends this way!
For those serious about learning the language, please consider taking some Spanish Lessons in Buenos Aires, with our teacher friend Patricio.
June 6, 2012 by Alan Seabright · Comments Off on Buenos Aires Spanish Classes
Learn Spanish in Buenos Aires
If you are going to be in Argentina for a little while, then surely you'll want to improve your Spanish, whether you're a beginner, intermediate, or already advanced (in which case you'll still want to get up to speed on the local Argentine dialect). Patricio, of Che Vos Spanish, is a good friend of BuenosTours and an excellent, experienced, and fun teacher who will help improve your castellano in no time!
About the Spanish Lessons
They are run by Patricio, a Spanish (and English) teacher from Buenos Aires, who has been teaching for 12 years in high schools, language schools and companies, which helped him develop his own dynamic approach to teaching Spanish.
Patricio's classes focus on communication but also include vital elements of Argentine culture, such as songs, movies, newspaper articles, history and politics, sports, local folklore and slang/street porteño Spanish. This makes it more fun to learn and also will give you indispensable local knowledge to help make your time in Buenos Aires happier and more interesting.
The class schedule can be flexible and the lessons are adjusted to your needs, interests and learning pace. The course is very affordable and can be taken in the neighborhood (barrio) of Caballito (close to the Primera Junta stop on the A Line of the Buenos Aires subway), which is in the geographical center of the city, or any other place of your choice for a small extra fee.
What the students say…
"I have been taught by a few people – but this chico Patricio really knows what he is doing. Classes are structured, homework is reasonable and purposeful, and he is patient, thorough and insightful. I'd recommend him to anybody in BsAs looking for a step up, whatever the level. Do it."
Steve Mitchell, South Africa
"I recently took private lessons with Che Vos Spanish after attending a well-know Spanish institute in Buenos Aires. The experience was great and in my opinion is a much better value than that offered by the language schools. The structure and quality of instruction is at least equal to that offered by the schools, but you can tailor the classes to your own interests.
Patricio, my teacher, was very patient and made you feel totally at ease. In addition, he is very intelligent and well-read with the result that he knows a lot about many different things. He makes the classes fun, stimulating, and thought-provoking. And for those on a budget, his prices are very affordable."
Carol Philips, USA
And you can also click here to see more testimonials for Patricio and his Spanish lessons, on his website.
Get in touch about Spanish classes with Patricio
For more information and up to date prices etc, please use the following contact form to get in touch:
General Safety Advice and Street Smarts in Buenos Aires
Yes, Buenos Aires is a beautiful, cosmopolitan tourist destination, but it is still a large city, and large cities come with the typical risks. Violent crime is rare in Buenos Aires, but petty theft, pickpockets and scams are much more common. The best way to avoid them is to be alert and well prepared.
Below you will find some important information and some simple suggestions that will help reduce any chance of trouble.
Basic Preparations
Don't go out with anything you don't need. It is completely unnecessary to carry all of your cash and credit cards with you.
If you have an ID card (a drivers license, for example) that is more easily replaceable than your passport, it will be enough for credit card transactions and the like. The only time a passport is necessary will be to exchange money – but if you are not changing currency, leave the passport at the hotel.
If you must carry important documents like plane tickets, they would be safest in a money belt worn underneath your clothing.
Be discreet. Don't display large amounts of cash in public, and make sure to count bills while they are still in your wallet. It is also wise not to flash expensive technology that may be commonplace back home, so it's best not to stand on a busy street corner near the curb to check your iPhone.
Wearing expensive jewelry, clothing or accessories should be generally avoided, as should anything that could draw extra attention to you (which is a sensible rule to follow in any city in the world).
Take care of your valuables. This mostly refers to women with handbags and purses. Be very careful about where you set things down, whether on a park bench or even inside a restaurant. If you are eating outside, keep your bag on your lap, or at the very least, on the floor with one leg through the strap.
If your bag is on your chair (and this counts for inside too!) make sure it's where you can see it. On the armrest is much better than on the back of the chair. And men are not immune – obviously this applies to camera and computer bags as well.
In addition, sometimes it is easier to guard a bag than it is a wallet in a back pocket, so always be conscious of where you keep your valuables.
Scams to Watch Out For
General Distractions – Raise your safety alert level whenever someone is trying to get your attention. Thieves often work in groups and use ploys, such as, pretending to return money that you dropped, or dropping money themselves and then taking advantage of your awkward position as you stoop to help out. There is no harm in chatting with someone who talks to you, but keep your hand on your camera/bag/wallet as you do!
'Accidental' Spills – A common ploy used by thieves is to spill any sort of liquid on you, as a distraction. They will then grab your bag as you put it down to clean up, or even clean out your pockets as they "help" you out with a tissue or water.
In some cases they may even try to get you to go around the corner to a supposed faucet. If you do have something spilled on you, LEAVE IT, and go inside somewhere safe to clean up. Refuse ALL help, no matter if its an elderly man or a woman in a business suit.
A common variation on this is the "bird crap" approach – the thieves will somehow get a liquid on you that looks like bird's mess (probably without you noticing), and then will come up to you to tell you and try to "help" clean it off. How kind of them!
Taxi Use in Buenos Aires
Radio Taxis – It is generally recommended that you take radio taxis, which can be most easily identified by having a sign on top of the cab. A radio taxi is one that works for a taxi company, rather than being an independent driver. Most of the taxis in BA are radio taxis and are a better option because they have set standards determined by their employer, and each individual driver can be traced back to their company in the event of any problems.
Running up the meter – If you are not paying attention, a driver can easily take the "long way" to your destination to try to run up the fare (it can happen to unassuming locals too). The best way to avoid this is to have a general idea of where you are going and how long it will take you, and to state the address with confidence. If you feel you are being taken for a ride – politely ask the driver and you'll find yourself back on track.
Also, unless getting a taxi from the airport or cruise terminal (where taxi journeys are often a fixed price depending on your destination, and unfortunately more expensive), make sure that the taxi driver turns the meter (reloj, in Spanish – pronounced "REY-LOCK") on as you start your journey – otherwise the driver could just make up and inflated price at the end of the trip. The meter is usually in the top right hand corner, above where the front passenger would sit. If not turned on, point at the meter and say "el reloj", and the driver should switch it on.
Bill swapping – a common scam in taxis is to switch out your good bill for a counterfeit bill. This usually happens when paying with a $100 peso bill, which is why you should try to only use smaller bills ($50 pesos or below) in taxi cabs.
Paying with small bills also helps to avoid a situation where a driver has no change, or a scam such resembling the following…
A taxi driver will take your bill, examine it, and then reject it and hand it back for whatever reason (it's ripped, it's fake, he has no change, etc). If a driver tries to return a bill to you, your alarm bells should go off… he has probably changed the bill for a fake – don't take it! Of course, this can all be avoided by paying with smaller bills!
Confusion from the airport – At the end of a long taxi journey from the international airport, it's easy to get confused about the payment. This is especially true if the driver intentionally tries to confuse you!
Some drivers will try to do this by changing the price, shuffling around bills, handing back strange combinations of change… basically anything that might get you to give more than you actually owe.

Problems can be avoided by taking an official taxi or remis, such as Taxi Ezeiza, where you pre-pay inside the airport at a taxi stand. The current cost with Taxi Ezeiza from EZE airport to the city center (as of February 2015) is 400 Argentine Pesos (between US$30 and US$48, depending on which exchange rate you use). There is no need to book with them in advance for the journey from the airport. But on the way back if you do then you can save 50 pesos!
The Taxi Ezeiza stand can be found immediately in front of you as you exit the glass sliding doors after baggage claim and customs – here's a photo to help locate it:
Counterfeit Money in Argentina
Yes, like in most places, counterfeit money circulates in Argentina, and it is often very hard to spot. The quickest and easiest way to check if a bill is real, is to hold it up to the light (fifties and hundreds have a metallic strip in them).
But probably the best approach is, upon arrival, to ask a trusted local (e.g. a hotel concierge, your BuenosTours tour guide, etc) for some tips about the feel and look (as they are very difficult to describe in writing!)
Bonus Tip: Use of US Dollars in Buenos Aires
At the time of last editing this addition (February 2015) it is still HIGHLY recommended that you bring US Dollars to Buenos Aires, for the majority of your travel funds, rather than changing money into Argentine pesos before you come here, or using ATMs in Argentina to withdraw pesos, funded from your account bank home.
This is because, at present almost all places in Buenos Aires will accept US Dollars in payment in addition to Argentine Pesos, and in fact, often in preference to the local currency. And you will usually get a far better rate of exchange than any "official" exchange rate, plus incur no fees etc, so much more bang for your buck! Granted, it is good to also have some pesos with you too, just in case, as not everywhere is guaranteed to accept dollars, the most common place being taxis (due to their lack of change).
This isn't the place to go into why dollars are preferred in Argentina at the moment (this article is, a must-read and goes into other ways to get the best bang for your buck), and why you can get a better rate than the official exchange rates here, apart from to say that demand for dollars is high and supply is low here right now!
If you have any other safety (& money) advice/tips for Buenos Aires that you would like to see added to this list, please add it in the comments below. Thanks!
Buenos Aires to Colonia del Sacramento Day Trip
UPDATE Below you can read our legendary article (and many comments!) about doing a day trip to Colonia del Sacramento, Uruguay while you are visiting Buenos Aires. But first, we have news!
New Tour Offering: Day Trips to Colonia, Uruguay
Here at BuenosTours we have partnered with another top local tour company to offer all-inclusive Day Trips to Colonia in small-to-medium group sizes, with an expert native-English speaker guide. You'll make the best of your day there, learn a ton of interesting stuff, and won't have to worry about the hassle of reading this article and making all the plans yourself.
We'll take care of it all for you, for a price of just $280 USD per person. You will not find another service like this. The full day tour (of around 12 hours, from approx. 6.30am to 6.30pm, although pick-up and drop-off times vary depending on where you are staying in Buenos Aires) includes:
– An expert guide (whose first language is English) with you from start to finish
– Small-to-medium group size (max 12 passengers- average group size is 5)
– Transport to the Buenos Aires ferry terminal
– Fast ferry (approx. 1 hour) crossing to Colonia del Sacramento
– A fascinating walking tour of the historical heart of Colonia
– A mid-morning drink & snack break in Colonia's main square
– Mate lesson and tasting (pronounced MAH-tay, it's the green tea of South America)
– Traditional Uruguayan chivito lunch (beverages included – wine, beer or soft drink)
– Free time to explore, shop, or just take in the peacefulness that is Colonia
– Optional museum/lighthouse viewing platform entry for during your free time (cost included)
– Afternoon ice cream or in winter, hot chocolate
– Fast ferry (approx. 1 hour) crossing back to Buenos Aires
– Transport from the Buenos Aires ferry terminal
*Note: if you request to book for a date less than a week in advance, there may be a surcharge of 10% added to the US$280 per person cost, to cover the increase in ferry ticket prices at that late stage. We encourage you to book as far in advance as you can, not only to save money, but to ensure availability!*
Please feel free to complete the following form if you're interested, or have any questions – we're looking forward to showing you life on the other side of the Rio de la Plata!:
OK, for those of you who prefer to do things the hard way, please read on for the article and sorry for the above distraction…
A Short Hop Across the Rio de la Plata
Colonia del Sacramento may be in a different city entirely – not to mention in a whole other country – but it is such a popular day trip for people visiting Buenos Aires, that it must be considered as an option. Situated in Uruguay, a short hop across the Rio de la Plata, Colonia is a tranquil beach town that provides an often necessary break from the chaotic city of Buenos Aires. It may sound strange that in guide books, websites, forums etc, a regular answer to the common question "what can I do in Buenos Aires, Argentina?" is "visit Colonia del Sacramento, Uruguay." However, if you are visiting Buenos Aires for a fairly long period, or are an expat living here (perhaps in need of a 3 monthly tourist visa renewal), then a trip to sleepy old Colonia del Sacramento does indeed make for a nice day trip, to get away from the craziness of the city and to remind yourself of what the horizon actually looks like.
How to: Buenos Aires to Colonia by Buquebus Ferry
A trip across the Rio de la Plata from Buenos Aires to Colonia del Sacramento is fairly straightforward, and for a while there has only really been one real option: Buquebus. They run quite a few ferries back and forth between Argentina and Uruguay, seven days a week. To use the website you'll probably have to enlist the help of Google translate, unless you have decent Spanish.
With Buquebus you can choose a fast or a slow ferry to get there (with Seacat all the ferries are fast), and there are usually special offers for both types to be found on their website. There is a fast ferry ("buque rapido") return crossing (approx. 50 minutes each way) as well as a slow ferry return crossing (approx. 3 hours each way), which is slightly less expensive.
For peace of mind, and an easy life, it is recommended that you book online with a credit card at least a week before you want to make the trip, especially if going on a weekend, when the ferries can get booked up quickly. Then you just have to turn up at the Buquebus ferry terminal (Darsena Norte, in Puerto Madero) about an hour before your journey to pick up your tickets (at the desk immediately on your right as you enter the terminal), check in, and get in the passport control line.
The small city of Colonia only really warrants a single day of exploration, so try to book an early morning crossing going, and a late afternoon/early evening crossing coming back to Buenos Aires.
It is generally best to get a taxi to and from the Darsena Norte ferry terminal in Buenos Aires, because it is not the easiest or safest place to get to for tourists – it is literally "the other side of the (train) tracks", which are not nice to cross on foot, in addition to some dangerous roads around that area with potentially confusing crossings.
About the City of Colonia del Sacramento, Uruguay
Colonia del Sacramento was the only Portuguese settlement along the Rio de la Plata when the Spanish were colonizing this area. It was founded in 1680 with the name Nova Colonia do Sacramento by Manuel de Lobo. Colonia's founding kick-started a struggle between the Spanish and the Portuguese over control of this area.
For years Colonia was a smuggling port, evading the strict trade measures imposed in the Americas by the Spanish. Due to this situation, the city changed hands many times between the Portuguese and the Spanish. Even Brazil controlled it for a short while, until the new country of Uruguay declared independence in 1825.
An interesting thing about Colonia is that its colonial center (Barrío Historico), offers an idea of what buildings in Buenos Aires might have looked like back in colonial times, before the city was successively modernized down the years. Colonia was recently made a UNESCO heritage site, so it should remain a time capsule of the Rio de la Plata's colonial past for many years.
A couple of interesting historical sights in Colonia de Sacramento are the Calle de los Suspiros (street of the sighs), a beautiful little cobblestone street lined with colorful houses and Colonia's trademark yellow lamps (see photo) – and the historical city gate and walls.
Five Tips for Enjoying a Day in Colonia
1. Take the chance to relax a little…
Colonia del Sacramento is a world apart from the hustle and bustle of Buenos Aires city, instead offering you an opportunity to relax in its peaceful, idyllic, old-world environs. Take that chance while you can, because at the end of the day you'll be back in Argentina's big smoke, dodging the taxi drivers on the streets once more (in Uruguay most drivers actually stop when you cross the road, rather than speeding up, what a novelty)
2. Cough up for the fast ferry…
With such a small pesos price difference between the 3 hour buquebus ferry and the 50 minutes one, paying that little extra for the faster boat when taking a day trip to Colonia de Sacramento is well worth it. Otherwise, over 7 hours of your day will be spent either traveling in the ferry, or getting on and off it, and that sure is a large portion of the day to waste, meaning less time for relaxing in Colonia.
3. Hire some nifty transport…
A popular Colonia pastime, hiring a scooter and whizzing around the almost deserted coastal and country roads of Uruguay for the best part of a day can be invigorating, fun, and ever so slightly dangerous – what more could you ask for on a holiday? The best place to hire scooters in Colonia, and indeed other forms of transport, from bikes to golf carts to cars, is at Thrifty car rentals, whose office you will find as you walk out of the ferry terminal in Colonia (see photo above). Prices are reasonable and blocks of time are flexible (JUST REMEMBER: you will need your driving license and a credit card). Hiring transport will also give you easier access to parts of Colonia that you otherwise might not get to see, like the more secluded beaches pictured below.
4. Go to the beach…
Now you have that scooter (or golf cart for group travel!), you'll be wondering where to go. Head out to Playa Ferrando, a very scenic beach in a small bay about 15 minutes scooter ride out from the city center. Make sure you get a map from Thrifty Rentals when you go, as the way to Playa Ferrando is marked clearly on there, in addition to other places to visit in and around Colonia. It's the perfect place to lie down and take in a little sun, if there in summer (and even spring or fall), or go for a nice walk if visiting during winter. And yes, if you fancy a paddle, the water is safe to enter on this side of the Rio de la Plata – that murky tinge to the water is just sediment from the bottom of the riverbed.
5. Eat some cheap and cheerful junk food…
If the beach-front restaurants don't tempt you, there is a great little hole in the wall place along Colonia's main avenue (Av. General Flores), a couple of blocks or so away from the old city center, that does simply amazing hamburgers with everything (egg, ham, cheese, pickled vegetables, and all kinds of interesting and/or spicy toppings and sauces). It's called Los Farolitos (see the last photo below), and it certainly won't be reading about in any of the guide books. The problem with the traditional restaurants in Colonia del Sacramento is that none of them come even close to impressing, so this small purveyor of unhealthy comfort food remains an excellent choice – so pull up one of the eight or so dodgy plastic chairs outside it on the sidewalk and dig in.
More Pictures of Colonia del Sacramento, Uruguay
And finally, here are a few more sufficiently random photos from trips to Colonia del Sacramento, Uruguay.
Hope you enjoyed this post and have a great time on your day trip to Colonia!
Ride like a King in Buenos Aires
"Certain Kings… don't travel by camel"
Apparently, Kings in Buenos Aires travel by bus. And it's a bargain too…at just 2 pesso 70 centavos (about 25 US cents) for most journeys within the city (although some shorter journeys should cost 2.50 and other longer ones 2.85, and if you pay in cash it can be up to 5.00).
In today's economy, even a King has to be prudent with his savings.
(See the comments after this post for further explanation of the camels quote. Thanks Nico!)
Buenos Aires Buses
[SPhoto credit: Cobra  Libre's photostream/ CC BY-NC-SA 2.0]
In many ways, colectivos really are the travel choice of Kings in Buenos Aires. There are so many routes, that almost all run with amazing frequency and regularity, even right through the night. Certainly beats the somewhat limited subte (subway) system here in BA, especially in the hot and sticky summer months. And it always beats taxis on value.
So, here is some advice on how to catch a bus in Buenos Aires… a task that may seem simple, but is not as easy as it sounds.
Buy a Guia T Buenos Aires Bus Guide
Buy the pocket-sized 'Guia T' bus route book from any pavement kiosk (they are found on almost every block in main avenues) for somewhere around 20 pesos (under US$3).
Another option is to use the Mapa Buenos Aires website at http://mapa.buenosaires.gob.ar/ . Here you can type in the address or intersection where you are starting (in the 'desde' box) and where you are going  (in the 'hasta' box) and the website will show you what kinds of transport you can take and will map the route for you.
Using the Guia T
Use the front section of the 'Guia T' to find the road and number where you currently are. This should point you towards the correct page and grid number of the maps later in the book.
Use this grid reference to pinpoint exactly where you are on the map, making sure you have the right grid square. Got that? Good.
Now, find the relative grid square on the opposing page to the map, which lists the numbers of all the bus routes that run through that area. Make a mark on that square to keep a note of it, because now you have to find where you are going.
Repeat the above process for where you want to go to, from using the front section to find the road, to finding the square with the bus routes that run through the area you wish to get to.
Now, compare and contrast the two sets of numbers in the squares you found. You need to find bus routes than run through both squares.
Once you have found these routes, flip to the back section of the Guia T and find the details of each route. Here you will see all the streets the buses pass down, both 'Ida y Vuelta' (going and returning).
Using this detailed route plan and the map square where you are currently, find a street that the bus will travel down (in the right direction!) near you.
Catching the bus (Tomar [NOT Coger!] el colectivo)
Now you have found the street where the bus route you want is supposed to travel down (if you are having trouble, ask a local, they will usually try and help), make one last check that the direction of traffic is going the right way for where you want to go (if it isn't, you will need the opposite route, which due to the one way road system here in BA, will often be on a different road nearby).
Walk along the street you found, on the right hand side, until you find the bus stop for your number. It shouldn't be much more than a block.
Queue up politely and patiently, in the direction away from where the bus will come. If you are still not sure the bus you want to take will be going in the right direction, ask someone else in line "este colectivo (point to bus number) va por Microcentro/Recoleta/Palermo/etc?', and they will be pleased to help you!
Before you get too comfortable standing in line, make sure you have change. You will need coins to pay the bus fare. It should cost 5 pesos, so make sure you have a combination of coins that make up 5 pesos or more (the machine does give change back in coins). They do not accept bills. Ever.
Ok, scratch that. Sometimes they do accept bills, but only in one particular situation. If there is a conductor standing at your bus stop, you can pay him with a 2 or a 5, maybe even a 10. But don't count on that happening – the conductor will most likely only appear during peak hours. And only on the busiest routes.
To get a better rate on bus journeys, you can take out a Sube card at certain kiosks and locutorios, for 15 pesos. If you have one of these, the bus will cost you 2.70 instead of 5 pesos and you won't have to worry about scrounging for change!
When you see your colectivo approaching, and it won't be long, make sure to stick your arm out to stop it in good time. Too late and it might go speeding past. No snoozing!
Paying the man (well ok, the machine)
When you get on the bus, say "5 pesos, por favor" (SEEN-CO PAY-SO-S POUR-FAH-VOHR). This means you want a fare of 5 pesoS, which it will usually be. And even if it isn't, it is simpler to just say this every time. Same goes if you have a Sube card, but this time you say "Dos setenta" (DOHS SEH-TENT-AH).
Then, make sure you have your coins ready, and check that the bus driver has pressed his button that changes the digital readout on the money machine (a gray box) behind his seat to read your fare (5.00). If not, give him a quick stare (or perhaps repeat "5 pesos, Por Favor"), and he'll soon realize. If you are using a Sube card, there should be a yellow card reader at the front of the bus. Make sure the screen reads 2.70 then hold the card up to the black part below the screen until it beeps.
When the machine shows the fare, stuff your coins in the top slot one by one, checking they were accepted (sometimes you have to try them a few times), and then your small, thin paper ticket, and any change, will collect in the bottom slot of machine.
Grab your ticket and find a seat! If busy, find a rail and HOLD ON TIGHT. Buenos Aires bus drivers are slightly insane. They enjoy breaking hard at the last moment at junctions, especially if they smell a tourist is on board.
And that's it. Enjoy the ride!
Oh. It seems these directions were so long that you opted the taxi instead. Well, they are pretty cheap in Buenos Aires too, after all.
Current Weather in Buenos Aires and Five Day Forecast
On the banner below you will find the current weather right now in Buenos Aires, usually updated on an hourly basis. Importantly, it includes the humidity percentage as well as the temperature, which you should pay attention to in Buenos Aires – it can be a very humid city, which makes it seem a lot hotter and stickier than the temperature suggests on a summer's day, especially in such a big and busy city.
To get more up to the minute information on the weather in Buenos Aires, including a forecast for the next 5 days, please click on the banner to be taken to the Weather Underground Buenos Aires page.
What weather to expect in Buenos Aires at different times of the year
In general, the climate in Buenos Aires is mild all year round, with no major extremes of temperature or conditions. However, some people may find the summer months too hot and humid (Dec-Feb; average highs of 28C/83F, average lows of 17C/63F), or the winter months a little cold (Jun-Aug; average highs of 15C/59F, average lows of 7C/47F), obviously depending on what kind of weather you are used to at home.
Few will argue that spring is the best time to visit Buenos Aires (Sep-Nov; average highs of 22C/72F, average lows of 14C/57F), which is closely followed by autumn/fall (Mar-May; average highs of 22C/72F, average lows of 14C/57F).
Spring into action and visit Buenos Aires
During spring, the wonderful jacaranda trees that are found throughout much of Buenos Aires burst into a striking purple blossom, which ends up carpeting the streets to wonderful effect. It is also a great time to walk around the many lush parks of the Palermo barrio, and in other green areas of the city such as Plaza San Martin and Parque Lezama. The porteños ("people of the port", i.e. citizens of Buenos Aires), relieved that winter is over, are also generally at their happiest during spring, and these are two of many excellent reasons why this is the best time to visit the city. The sky is bright, crisp and blue (like the Argentine Flag), people are already sunbathing in the parks as if summer has arrived, and yes, most people do seem to have a 'spring' in their step. Why, in such conditions, it seems like a good idea would be to get out and take one of our Private Walking Tours of Buenos Aires!

[Photo credit: blmurch @ flickr / License: CC BY 2.0]
Summer can be overbearing, but less crowded
The summer months can feel overbearingly hot at times, largely because of the lack of a breeze inside the city (despite its name basically meaning "Good Winds") to relieve the heat and high humidity levels, and therefore many porteños disappear off on holiday to the beaches of either Mar del Plata (on the Atlantic coast of Buenos Aires province, a few hours south of the city) or Punta del Este (north across the river estuary in Uruguay, also on the Atlantic coast, but with slightly warmer waters), usually for the much of the month of January or February. This can make a midsummer visit to Buenos Aires less crowded, which could be of interest to some, if you don't mind the hotter city weather.
Autumn means the Argentine football (soccer) season is kicking off
During the fall, the new Argentine football (soccer) season starts, so if you are interested in watching a heated Boca Juniors or River Plate game, this is a good time to visit to guarantee that they will be playing. Also, the weather is comparable to spring, even if the people are not quite as happy – which is understandable – they are getting ready for their winter hibernation after all.
Pack warm for winter
Winter in Buenos Aires is generally fine if you don't mind a little chill, but come prepared: make sure you pack a coat (or plan on buying one of Argentina's famous leather coats on arrival), and maybe even a hat and gloves. It is also the perfect time of year to enjoy some Buenos Aires café culture, safely warm inside a beautiful old cafe or bar, enjoying your café con leche con medialunas (latte coffee with croissants) or chocolate con churros (thick hot chocolate with long, thin Spanish donuts for dipping) and playing the age-old local game of people watching.
It rains the least in winter here (an average of around 2 inches per month, compared to 4 inches per month in summer, and usually somewhere in between the two during spring and autumn).
In fact, it does not rain much at all year-round in Buenos Aires. Granted, when it does rain, you'll know about it – sometimes "raining cats and dogs" stuff that turns the streets momentarily into rivers! But the good news is there isn't much in the way of prolonged rain or continued light drizzle etc here – you get all of your rain in one big storm, usually lasting no more than a few hours, and often shorter. And that's it – soon the sun will be out again and the blue skies will be back.
To sum up, really any time of the year is good to come to Buenos Aires, in regards to the weather and climate, but as stated above, spring and autumn are probably your best bets.