Get your fill of chili this Sunday, June 16th

[Photo credit: Annual Buenos Aires Chili Cook Off Facebook page [1]]
This Sunday June 16th 2013 (from 2pm to 6pm, Vicente Lopez 2134) is the 3rd annual Buenos Aires Chili Cook Off in Recoleta [2]! Come sample the best chili in Buenos Aires, prepared by an array of cooks (including some BuenosTours guides!) and chili aficionados alike. The cooks are competing for the taste buds of a panel of notable judges and international characters [3]. Obviously the majority of chilis will be meaty, but some cooks will also have vegetarian chilis on offer. Just don't tell the Texans.
The event is a fundraiser for the SACS – Send a Child to School Foundation [4], and all proceeds will help provide necessary school supplies for kids in need in Buenos Aires. Entrance to the Cook Off is free, but you can buy tickets in $5 and $10 peso amounts to enjoy any of the items mentioned on the menu below, including microbrew beer [5] and local boutique wines [6]:
[Photo credit: Annual Buenos Aires Chili Cook Off Facebook page [1]]
For more information, read all the details on the Sugar & Spice blog [7], like the Facebook page [1], join the event [8], or follow the cook-off on Twitter [9].
And the BA Underground Market is back on Saturday, June 15th!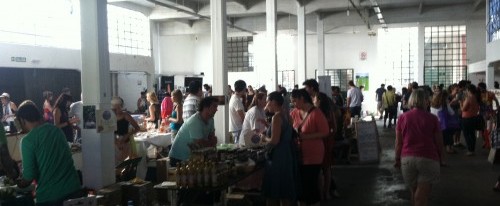 Also this weekend, check out the newest iteration of the BA Underground Market [10] on Saturday, June 15th 2013(from 12pm to 5pm, Querandíes 4290), hosted by the Argentine Independent newspaper. Held in a cool old factory (IMPA) in Almagro [11], this event features difficult-to-find-in-Buenos-Aires items like microbrew beer, homemade international foods, hot sauce, fudge, and vegan and raw options. See the full list of vendors on the Argentine Independent website [12], and join the facebook event [13]. Tickets are $5 in advance and $10 at the door.

Have a delicious weekend in Buenos Aires!
Location of the Annual Buenos Aires Chili Cook Off
Pagana Club
Vicente Lopez 2134, between Azcuenaga and Jose Evarista Uriburu
Recoleta
Location of the BA Underground Market
IMPA, Querandíes 4290, between Pringles and Rawson
Almagro