Francisco and Marcelo Terren share their beer-brewing secrets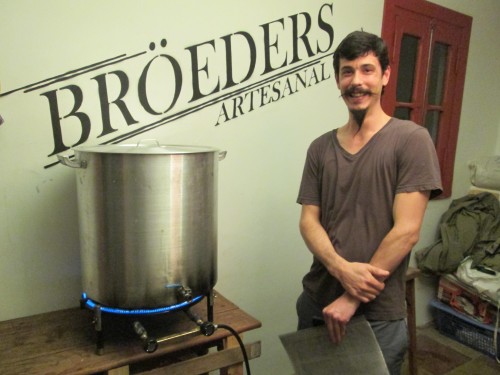 While Buenos Aires has a well-established reputation as a city of fine wines, the typical Argentinian lager will leave any beer lover disappointed. Few bars have beer on tap and while the ubiquitous litre bottles of the local lager Quilmes score points for being cheap and invariably served cold, they get few for taste.
But beer-guzzlers need not panic. The good news is high-quality artesanal beer can be found in Buenos Aires. Following a growing trend in microbreweries in the city led by the likes of Antares and Buller, Bröeders produces some of the best cerveza artesenal (craft beer) around. Being beer enthusiasts, the BuenosTours team jumped at the chance to join Francisco and Marcelo Terren of Bröeders one Tuesday evening to watch them in action and learn about the beer-making process.
Craft Beer in Buenos Aires: Starting out
For just over a year, brothers Francisco and Marcelo Terren have been brewing Bröeders at their home brewery at their mother's Palermo home, when they were inspired to make their own beer after taking a beer-making course. While on holiday in New York, wine-loving Francisco hoped to bring back a beer-making kit he had read about as a birthday present for Marcelo, who had always been keener on beer. But when he was unable to find the kit, back in Buenos Aires the present became signing-up for a beer-making course instead.
Soon they were hooked on brewing. After starting out in the kitchen, brewing in a 20 liter pot on their mother's hob, the brothers later converted the roof top shed into a compact micro-brewery, a well-organised space from which they currently produce 320 liters a month of various beers including Indian Pale Ale, Scottish Ale, Porter, Honey Beer and Barley Wine. All that was missing was the name. Marcelo and Francisco chose the name Bröeders before finding out that broeder means brother in dutch, which served to confirm their choice.
Marcelo put his background in graphic design into use in developing a logo and brand and the brothers started a weekly beer night with NOLAchef. Bröeders Beer Night is every Thursday night at the puertas cerradas (closed door) restaurant, where a selection of 4 different Bröeders beers is teamed with Cajun and Creole food.
Beer brewing process
Working from their expanding folder of beer recipes compiled by experimenting with classic recipes, tweaking and adapting them and taking tips from the network local brew-masters until they are happy with the taste, Marcelo and Francisco get together to 'cook' every Tuesday night. For a beer-lover, peeking inside their impeccably organized micro brewery is akin to Charlie's first glimpse of the inner workings of Willy Wonka's chocolate factory.
In front of me I saw shelves with labelled containers of various hops and malts, neatly stacked brown bottles of beer, barrels, kegs and a large gas burner with a 20 liter pot brewing. There was a tempting aroma that smelt like a sweet, malty porridge; we could hear the liquid bubbling and the hiss of the gas burner, and there was an intense heat emitted from the burner.
"Jesse, we have to cook!"
With a glass of Bröeders IPA in my hand (pulled from a keg on the terrace), I tried to pay attention and fight-off drunkenness as Francisco talked me through the brewing schedule. Each week they begin at about 5pm with the maceration process. After selecting the malts according to the recipe they are using (the flavor of the malts depends on how long they have been toasted, and at what temperature), the next step is to heat the malt and brew it into a big 'tea' for about an hour and half, during which time the bulk of the grain is removed and discarded.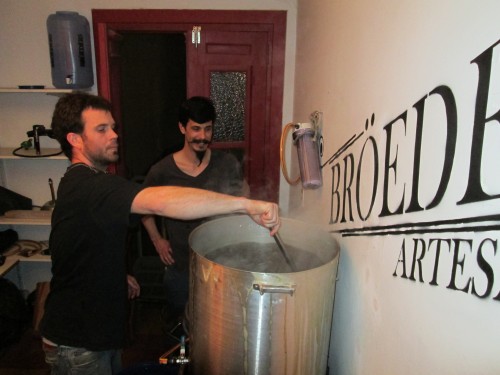 At around 7pm Marcelo and Francisco begin "boiling and hopping" – the hops are added and the  wort (unfermented beer) is boiled for an hour and gently stirred. The brothers use local hops in their ales; cascade hops from El Bosón.
After one hour of boiling, the next stage is to separate the remains of the grains and hops. "This is the whirlpool stage, a key part of the process," Marcelo explained. "What you do is stir the mosto (wort) for a long time so that the centrifugal force draws the trub (brewing term from the German for sediment, the unwanted remains of the hops and the grains) into the middle, where they form a kind of cake. This way we make sure the beer is not astringent."
With the trub gathered into a cake in the center of the pot, the wort is drained and rapidly cooled on its way from the pot to the barrel by passing it through a hose with a second hose containing cold running water adjoined (see photo above).
Let the fermentation begin!
The next step was to add the yeast. There was an air of excitement as Marcelo went downstairs to fetch it from the fridge. "Wait and see how it foams up when you add the yeast, it's like a big party in there," he said. The brothers explained that the type of yeast used is key to the flavor of the beer and they experimented with several types before finding Nottingham Dry Yeast. As promised, as soon as the yeast was added the liquid frothed up dramatically. And with that the barrel was sealed and left to ferment for two weeks.
Keep it clean
By now the fine details of the beer making process were becoming hazy, as I helped myself to another drink from the Bröeders keg. But for Marcelo and Francisco the work wasn't over yet – there was cleaning to do. As soon as the wort was being cooled the brothers took a great deal of care to ensure all the equipment was clean and sterile, spraying taps and nozzles with alcohol and working in a methodical and organized way. This level of meticulousness about cleanliness had come from experience, after they initially had to throw out several barrels that had become 'contaminated'.
With the brewery clean and tidy there was just time to finish the night with a taste of Porter on the terrace. A drink well earned by the Terrens.
More info on Bröeders Beer Night and how to book
To read more about the Bröeders Beer night at Nola see these write-ups on Pick up the Fork, the Argentina Independent, Anuva Wines and Gringo in Buenos Aires.
To make a reservation for Bröeders Beer Night (location in Palermo Viejo provided upon booking), please check:
http://www.nolabuenosaires.com/craft-beer-night-buenos-aires/
OR
http://broedersartesanal.com/
You can also buy pints of Bröeders on tap at a decent price, at the Fukuro Noodle Bar in Palermo Hollywood (Costa Rica 5514, corner with Humboldt).
Cheers!
Q&A with the author of the Pick Up The Fork blog

[Photo courtesy of Allie Lazar]
Originally from Chicago in the United States, Allie Lazar has lived in Buenos Aires for nearly seven years. She is a freelance writer and author of the food blog Pick Up The Fork.
When did you first come to Buenos Aires?
In July 2006, as an exchange student. I "studied" Political Science at UBA (the University of Buenos Aires). It was supposed to be a 6 month study abroad program but I extended it to a year. Which later was extended to 6 more years, without the studying.
Why did you stay?
It gave me anxiety to think my BA expiration date was approaching; there were too many restaurants that I hadn't tried yet. I wasn't crazy about the idea of going back to the US, graduating, getting a real job and becoming an adult, so staying in BA seemed like the least sucky option.
Why did you start to write your blog Pick up the Fork?
Finding a decent restaurant back in the day was a challenge, and so often I became victim of throwing my pesos down the shitter on terrible overpriced meals with horrendous service. There weren't many honest restaurant resources, and even less in English, so I began to put my constant restaurant visiting and annoying food picture taking to some semi-respectable use.
What's your daily routine?
Since I work freelance, writing for magazines or websites, managing social media pages and organizing private food tours, I'm generally working on a few different projects at once – there are some weeks I'm bombarded with work and spend 24/7 at a café clacking away on my computer nonstop while also visiting restaurants. But if I don't have a deadline or project due, there are many days when I don't even put pants on.
How many times do you eat out a week?
Depends on the week and how fat I feel. If I'm working on an article and need to do research, I'll eat out every day – right now I'm working on two articles, one brunch / another lunch specials, so there's a lot of midday/morning eating going on.
What is your favourite neighbourhood in Buenos Aires?
Palermo Hollywood/Colegiales for convenience and street art, Villa Crespo for the eclectic mix of restaurants, Almagro/Abasto for the latino flava. My new favorite spot in BsAs is the lagos de Palermo on a weekday, it's dog park central. It's where all of the dog walkers (pictured below) congregate and take their packs – there are hundreds of dogs hanging out, it's heaven.

[Photo credit: http://flic.kr/p/a1LKKS/ CC BY 2.0]
What is your favourite way to spend a Sunday in Buenos Aires?
If I were a liar (and I am) I'd fabricate some story to make my lounging sedentary weekend sound similar to what an adventurous and active person may do on the weekends, doing some kind of sport and followed by a healthy meal at a cute café.
What is your favourite neighbourhood restaurant?
Since I'm on a constant quest for a great restaurant, I rarely repeat. At the moment I really have a thing for quick, fast food spots: Shawarma inside the Mercado de Belgrano, La Cresta's wraps are bomb (Bulnes 829, Almagro), so is El Banco Rojo's spicy lamb empanadas and doner kebab (Bolivar 914, San Telmo). When I'm homesick, I go to La Crespo (Thames 612, Villa Crespo) for a pastrami sandwich (pictured).

[Photo credit: Allie Lazar, http://pickupthefork.com/2011/06/05/la-crespo-a-jewish-american-palermonites-heaven/]
Where is the best place to get coffee / steak / ice cream / a beer in Buenos Aires?
Ok, so I've never been good at choosing the best, so here are SOME of my favorites:
Coffee: in Bocca al Lupo (Bonpland 1965, Palermo Hollywood), I don't know how they get it to taste so good! And the overall space is pretty perfect.
Steak: I like each one of these places for different reasons, they all might not have the best steak, but something about it makes me happy: Parrilla Peña (Rodriguez Peña 682, Recoleta), La Lechuza (Uriarte 1980, Palermo Soho), La Marucha (11 de Septiembre 3702, Nuñez), El Pobre Luis (Arribeños 2393, Belgrano), La Brigada (Estados Unidos 465, San Telmo), I could go on…
Ice cream: El Capricci's (Paraguay 5201, Palermo) marroc y chocolate profundo, Cadore's (Corrientes 1696, San Nicolas) nutella, Guardiola's (Jorge Newbery 1967, Las Cañitas) passion fruit, anything from Jauja (Av Cerviño 3901, Palermo).
Beer: I'm more of a cocktail drinker, and I just made a list of my favorite bars on the Pick Up The Fork Drink Drank Drunk guide.
What was the best meal you have eaten in Buenos Aires?
Hernan Gipponi just started a new concept on Monday nights with one communal table (called One Table), where he cooks and serves the food table-side. The wines are paired by their sommelier (one of the best in the country) Andres Rosberg, who also happens to be the president of the Argentine Sommelier Association. I went last week and it was phenomenal meal and a wonderful overall dining experience.
What are your favorite shops?
I don't shop for shoes or clothes, instead I spend all my money on ridiculously expensive cheese. Barrio Chino in Belgrano (pictured below) is like my food mecca. Mercado de Progreso (Avenida Rivadavia 5430, Caballito) and Mercado de Belgrano (Juramento 2527, Belgrano) are also good places to shop.

[Photo credit: http://flic.kr/p/9aQTLp/ CC BY-SA 2.0]
Where do you go for a romantic night out in Buenos Aires?
I like to take that special someone on a romantic stroll for a smoky truck of greasy choripanes.
What is your exercise routine?
Pfffffff. It generally consists of two hours debating whether I should work out; sometimes I get far enough to put a sports bra on but ultimately decide that my new work out / diet routine will start tomorrow.
Do you have any collections?
I save a lot of menus, ideal bathroom reading material.
What are your favourite websites and blogs?
I'm on Gawker and The Onion daily. I also read way too many food blogs, my favorites at the moment are First We Feast, Thug Kitchen and The Perennial Plate. And of course Daniel Tunnard's blog, author of "Colectivaizeishon, one man's pointless quest to take all the buses in Buenos Aires."
What are the most played songs in your music collection?
At the moment I listen to mostly NPR podcasts. Yes, I'm 27 going on a liberal, grey haired 55.
What do you never leave the house without?
A bad attitude.
What is the most unusual thing you have been asked by a stranger in Buenos Aires?
A stoner with mulletlocks (dreadlocks + mullet) approached me at Plaza Francia and asked: "No me prestás un zapato?" (Can you lend me a shoe?")

What is your favorite porteño saying or expression?
All of these.
What three places or things to do would you recommend to a visitor to the city?
Wander around Chacarita Cemetery (pictured below), guzzle lots of cheap wine, visit some of the more unknown café notables.

[Photo credit: http://flic.kr/p/ck2Nwh/ CC BY 2.0]
Any insider tips?
You can see all the famous sightseeing spots in less than two days, and most are overrated (cough La Boca cough). The best way to experience Buenos Aires is walking around, going café and restaurant hopping.
Thank you Allie! Questions? You can leave a comment for Allie on her famous food blog Pick up the Fork. And if you are an interesting expat/local in Buenos Aires and would like us to interview you, feel free to get in touch and tell us why.
No more entry charges for visitors to Argentina from Canada, the US or Australia!
[Photo credit: http://flic.kr/p/BSihU/ /CC BY 2.0]
*FINAL UPDATE: As of January 1st 2018, the reciprocity fee for Canadian citizens will be rescinded*
*NEW UPDATE: As of July 1st 2017, the reciprocity fee for Australian citizens has been rescinded*
*PAST UPDATE: As of March 24th 2016, the reciprocity fee for US citizens has been rescinded*
While tourists from Canada do not need a visa to enter Argentina, they are charged a so called 'reciprocity fee' to enter the country (see update above: this is now only required if entering Argentina before the end of 2017). This is a bit like an entrance fee and is based on the amount Argentinians are charged in visa fees to enter Canada. For this reason, for example, European Union passport holders do not have to pay a reciprocity fee, as there is no charge for Argentinians to visit European Union countries.
The amount charged and the length and conditions of validity is subject to change, so be sure to check for the latest information on reciprocity fee requirements with your embassy before leaving for Argentina. As our last update to this page in July 2017, the reciprocity fee has to be paid online by credit card prior to arrival in Argentina and the printed receipt presented at immigration control. Failure to do so may result in you being returned to the country from which you departed.
The fee is paid via the Argentinian Immigration website. Click on 'Reciprocity Fee / Tasa Reciprocidad'. A page with explanations in Spanish and English will appear. Read the explanations and click 'continue'. You will be taken to a Provincia Pagos Migraciones webpage (Banco Provincia is the bank that processes the payment). Next you need to select 'sign-up' (in the bottom-left of the page) and enter your details.
Once the payment is complete, remember to print the receipt & keep it with your travel documents/passport when coming to Argentina. If you have any questions, there is further information on the Provincia Pagos Migraciones website, plus they have a phone number on that page in case you need help, or you could even download their badly translated PDF of instructions here. For the fees and length of validity at the time of writing, see below.
Canada
*Note: As of January 1st 2018, the reciprocity fee for Canadian citizens will be rescinded*
Amount charged to Canadian citizens (at time of writing): US$ 78 for all points of entry to Argentina (now including cruise ship passengers).
It is a multiple entry fee valid for 10 years (or up to one month before passport expiration date, whatever occurs first) beginning on the date the payment is made. The fee must be paid online prior to arrival in Argentina, and the receipt printed for presentation at immigration control.
The fee must be paid for all points of entry to Argentina (now including cruise ship passengers) – if you are arriving into Argentina before the end of 2017 (see update notes). It must be paid online prior to arrival in Argentina, and the receipt printed for presentation at immigration control.
*Note: As of January 1st 2018, the reciprocity fee for Canadian citizens will be rescinded*
Australia
*July 2017 update – the reciprocity fee for Australian citizens has been suspended!*
United States of America
*March 2016 update – the reciprocity fee for US citizens has been suspended!*
PS – Bear in mind…
We have heard reports from tourists coming to Argentina that the Provincia Pagos Migraciones website has been experiencing short periods of down-time and temporary errors, so if at first you don't succeed, try, try again! Also giving it a go in different internet browsers such as Chrome, Firefox and Internet Explorer may help if things don't work the first time round.
Finally, all the above advice is intended as useful information to help visitors to Argentina, however the situation described at the time of going to press may well change and is out of our hands, so although we will do our best to post updates, please do check the official Argentine immigration website for the latest information, and your local embassy/consulate. It is also a good idea to check with your travel agent and/or airline before traveling is you have any doubts.
An intimate dinner party in the chef's own home

[Photo courtesy of Dan Perlman]
There is something slightly surreal about attending an intimate dinner party in a private home at which the ten guests are total strangers and the host is mostly a background presence, periodically emerging from the kitchen to introduce the dishes and wines before hurrying back to prepare the next course. With diners from Argentina, the United States, Ireland and England, the language at the table switched between English and Spanish and the conversation topics spanned the globe. By all accounts a fairly typical night at Dan Perlman's 'closed door' ('puertas cerradas') restaurant Casa SaltShaker in his apartment in the Recoleta neighborhood of Buenos Aires.
From the outset, eating at Casa SaltShaker is unlike going to a normal restaurant. Dinner places are by reservation only and the address is only revealed once the booking has been confirmed. Guests are warned to inform Perlman in advance of any allergies or dietary requirements, leaving him free to dream up the dishes on the five course set menu, which are usually created on a whim. As Perlman explained, he rarely serves the same dish twice.
Eclectic guest list
Arriving at the apartment block shortly before 9pm (guests are asked to arrive between 8.45pm and 9pm; dinner is served at 9.15pm), I was unsure what to expect. As I rang the doorbell, I wondered what language I should speak. I was greeted by Perlman's partner Henry, who I followed into the apartment, a bright, modern and homely ground floor duplex with shelves stacked full of cookbooks, paintings and family photographs on the walls, low lighting and an outside patio. Elton John was playing in the background. As I was the last to arrive, I could see the other nine guests standing together in a circle in the living room talking. I was handed a ginger, Pineral (an Argentine aperitif) and pink grapefruit juice cocktail and I went over to introduce myself to the group.
Among my dining companions were a couple from Ireland, a Rosarian couple who were in Buenos Aires to visit their son, who was also at the dinner, and a couple from Oregon and their parents / in-laws. We all sat together at a large square table, set with neatly folded napkins, place mats and a promising selection of several different glasses – Perlman is a trained sommelier and each of the five courses was paired with a glass of specially selected wine.
On tonight's menu…
The printed menu awaiting us at the table informed us that the first course would be 'salatit banjan y satata banadoura'. This turned out to be two Middle Eastern style salads, one with tomato, red onions, chili and prawns and the other with aubergine, green pepper, lemon juice and cockles, served on a camembert cheese tuile. The unusual combination seems typical of Perlman's idiosyncratic cooking style and is certainly not the usual Buenos Aires fare. The Nieto-Senetiner Brut Nature champagne we drank with it was even better.

[Photo courtesy of Dan Perlman]
Next up was a truly delicious cheddar and English ale soup served with homemade bread, my favourite dish of the night (how I would love a bowl of it now). Perlman explained that he usually puts a soup of some kind on the menu, since good soup can be hard to come by in Buenos Aires. This one was paired with a Terrazas Chardonnay Reserva.

[Photo courtesy of Dan Perlman]
The course that seemed to be the most popular of all, however, was the one that followed: freshly made pappadelle pasta with peppers, butter beans, walnuts, lemon zest, garlic, rosemary and olive oil, washed down with a Escorihuela Gascon Rosado.

[Photo courtesy of Dan Perlman]
Then came the maincourse, seabass wrapped in Serrano ham with potato risotto, portobello mushrooms with 'mustard caviar' (mustard seeds that are inflated like popcorn). In a city where there is generally a huge chunk of meat at the center of every evening meal, it was a welcome change to eat fish, which was succulent and served with a Malbec reduction sauce.
Although I am not generally keen on deserts, I really enjoyed the slightly unusual passion fruit cheesecake with a coconut crust. It was not too sweet (perhaps why I liked it so much), although it was served with an incongruous dollop of dulce de leche. As we lingered around the table chatting I felt so relaxed I hardly wanted to leave. Luckily Henry came round with a large cafetiere of strong black coffee to give us the boost we needed to head out into the night, full and content.

[Photo courtesy of Dan Perlman]
If you would like to have dinner at Casa Saltshaker, it is necessary to book in advance. For more details on how to make a reservation see the Casa SaltShaker website.
For more about Casa SaltShaker and other 'closed door' resaturants in Buenos Aires see this post in the Argentina Intependent, and A Life Worth Eating's write-up.
Closed door restaurant owner and prolific blogger
Originally from Michigan in the United States, Dan Perlman lived in New York City for 23 years before moving to Buenos Aires in 2005.  He is a  trained chef, pastry chef and sommelier and has written several books about food and wine.  The author of the SaltShaker blog and chef at Casa SaltShaker, his 'closed door restaurant' (a restaurant in a private home that is by reservation only),  he lives in the Recoleta neighborhood of Buenos Aires. And yes, he's the second subject (and second Dan!) of our series of BuenosTours interviews with interesting expats & locals.
When did you first come to Buenos Aires?
In 2005. It was not my planned vacation. I was supposed to go on a two week culinary tour in the Benelux countries but the tour operator cancelled on about a 3 days notice. With time off from work already planned, I scrambled to find a cheap and quick alternative. A friend suggested Argentina, given the economy then.
Why did you stay?
I didn't stay that time, but I did like the city a lot and met Henry, who was working at the B&B where I stayed. We kept in touch and a couple of months later I decided to come back and explore more of the country. Henry and I became "an item" and my stay turned into a longer stretch. After about six months I decided to move down here.
On a typical day, what is your routine?
I don't sleep much, so I'm up by 8am. I usually start the day with a large mug of black coffee and checking the usual nonsense on the internet, answering e-mails, and, a couple of days a week, writing a blog post. If our restaurant, Casa SaltShaker, is open I head out to the markets to do my last minute shopping, then come back and start preparing. That pretty much ties up my day until late afternoon at which point I take a break and then dive back into dinner service, usually finishing up around 1 am. If the restaurant isn't open I often hang out with friends or check out a new restaurant for lunch, or, I stay in and experiment with new recipe ideas. Maybe once a week we go out to dinner.
What is your exercise routine?
I manage to drag myself to the gym a couple of times a week. I've been studying and practicing martial arts for years and so I continue that on my own here (there is no kenpo school here in BA) and even teach a little bit of it. And, I supplement that with some Tai Chi, now and again.
What is your favourite way to spend a Sunday in Buenos Aires?
Relaxing. Brunch with friends, reading or playing online games. I'm a big dungeons & dragons geek.
What is your favourite neighbourhood restaurant?
In my neighborhood Recoleta, it's Tarquino (Rodríguez Peña 1967) – very creative Argentine cooking. And best when someone is treating us to dinner there as it's kind of a budget stretcher. A neighborhood style restaurant, i.e. something casual and comfortable – Las Pizarras in Palermo (Thames 2296). Again, really creative Argentine cooking, but at a much easier on the wallet price.
What are your favourite festivals / events in Buenos Aires?
Last year I had great fun at the Peruvian Gastronomy festival along Avenida de Mayo – hopefully they'll repeat that one!
[Photo credit: http://www.flickr.com/photos/suedehead/7671445664/ /CC BY 2.0]
You are a trained sommelier, what are your favourite Argentinian wines?
My favorite Malbec is the Villa de Acequias "Viña Rosedal" from Luis Segundo Correas. I love the Semillon "Tomero" from Carlos Pulenta. Recently I've really become enamored with the Red and White Blends from the Nicasia Vineyard of Catena Zapata, particularly the Cabernet Franc base on the red side and the Viognier base on the white.
What have been some of the best things to have happened at your closed door restaurant, Casa Saltshaker?
My favorite story happened early on. Two couples, in their late 50s, from the midwest U.S. arrived, separately. The man from one couple and woman from the other kept looking at each other, puzzled. They got to talking and realized that they'd been high school sweethearts and hadn't seen each other since graduation day – he'd gone into the army and by the time he came back she'd moved away. The two couples ended up spending the rest of their vacation together.
Any fights?
We've never had any real serious fights – we've had some political arguments and we had a couple break up their engagement at the table, in front of their respective parents, but it turned out they'd staged it. We once had two people who'd had a bad business deal years before happen to end up at the table together, both guests of a mutual acquaintance – one of them fumed a lot, the other just ignored him.
Who have been the most interesting guests at Casa Saltshaker? Anybody famous?
Oh my, I'm not sure I could get into that. We've certainly had some local television and stage folk come, and a couple of local polo players.
Where is this best place to get empanadas in Buenos Aires?
I think my favorites, at least in this neighborhood, are from La Cocina (Pueyrredón 1508), where they have Catamarqueña style empanadas.
[Photo credit: http://www.flickr.com/photos/foradoeixo/6882355852/ /CC BY 2.0]
What are your favourite food stores?
I love shopping in Barrio Chino (China Town) in Belgrano, and usually go to the "original" store along Arribeños.
Where is the best place to get coffee / steak / ice cream in Buenos Aires?
Coffee, that's easy, Est. General de Café (various locations), there's no better coffee in the city that I've found. I don't know about the best steak, but the best steakhouse experience for me is Don Julio (Guatemala 4691, Palermo) – between ambiance, food and wine list, it's a winner. Scannapieco was my favorite ice cream place when it was on Avenida Córdoba, and they have recently reopened by the Mercado de Pulgas on Alvarez Thomas 14 (and Dorrego) in Colegiales.
Where do you go for a romantic night out in Buenos Aires?
Pura Tierra (3 de Febrero 1167, Belgrano). It's our "go to" place for our anniversary and occasionally other life events. Romantic ambiance, fantastic food, great service.
Do you have any collections?
Stories and egg-cups (pictured below).
What are your favourite websites and blogs?
There are a few food blogs I read all the time – from Yotam Ottolenghi in London, the Baker's Banter blog from King Arthur Flour, Ideas in Food for things that in general I will never, ever do with ingredients. Outside of the food world I'm a big fan of the Strange Maps blog, Letters of Note, and I usually check in on the latest videos on both FORA TV and TED once a week just to see what's new and interesting.
What do you never leave the house without?
My keys. Really, that's about it. I'm not someone who feels the need to be in constant contact and often don't even bother to take my cellphone with me. I usually, though not always, have a camera with me.
What is the most unusual thing you have been asked by a stranger in Buenos Aires?
I was standing at the corner of Pueyrredón and Las Heras and a couple asked me where Retiro station was. On the surface it seems an ordinary enough request, except that they were holding their tablet computer up with an interactive map that showed the station situated right there at the corner. They were a little miffed that they had about a 2km walk ahead of them.
What three places or things to do would you recommend to a visitor to the city?
The walk from the Casa Rosada to the Congreso, with stops at Cafe Tortoni and Palacio Barolo. Museo Xul Solar. The Rosedal.
[Photo credit: http://www.flickr.com/photos/pontodeak/3331021603/ /CC BY 2.0]
What are the best souvenirs or gifts to bring home from Buenos Aires?
Wine and leather goods.
Any insider tips?
Use xoom.com for money tranfers (for people with a US bank account). Don't complain that taxi drivers and kiosks won't take 100 peso notes. Just because you're on vacation doesn't mean you get to behave like an ass because you don't think you'll ever see these people again. Don't eat steak every single meal, there's plenty of other food available here. On the flip side, did you really come all the way to BA just to eat sushi with cream cheese or a plate of spaghetti with bolognese sauce? Don't use Google maps here and expect to end up where you want to be.
Thank you Dan! If you are an interesting expat/local in Buenos Aires and would like us to interview you, feel free to get in touch and tell us why.
Food, wine and instruction on all things porteño

[Photo credit: courtesy of the Argentine Experience]
Dinner at the Argentine Experience is much more than its headline dish of exquisitely cooked fillet steak accompanied by free-flowing Malbec. It is more like an intensive crash course in Argentine culture, complete with empanada and alfajor making sessions.
From the Porteños' fondness for expressing themselves with a wide range of hand gestures to the intricacies of the mate ritual, Argentine customs can be baffling (first-timer mate drinkers beware: NEVER use the bombilla (metal straw) to stir the yerba). For this reason the Argentine Experience is jointly hosted by an expat who understands how strange such idiosyncrasies first seem to outsiders and a local who offers an insider's view.
Shaken, not stirred

[Photo credit: courtesy of the Argentine Experience]
Arriving early for the optional pre-dinner wine cocktail mixology and aroma class, first up was a cocktail making workshop in which the secret ingredient in every 'Malabeca' or 'Torrontea' was wine. Setting the tone for an evening in which interaction was key, we were invited to don a bow tie and step behind to the bar to have a go at mixing ourselves. It's safe to say the raspberry, gin and Malbec & Merlot based rose wine 'Raspberry Blush' cocktails I prepared were a hit. Less successful was my attempt to identify the 20 aromas commonly found in wine by smelling a condensed liquid essence of each one. Not as easy as it sounds.
Ready, steady… cook!
The Argentine Experience started life as a 'closed doors restaurant' in the apartment of founder Leon Lightman and even after the move in 2012 to more restaurant-like premises in Palermo Hollywood it has retained an intimate atmosphere. The new building is modern and light with a sleek downstairs bar area and an upstairs dining room, with two large chunky wooden dining tables and shelves of colorful mate gourds serving as decoration.

[Photo credit: courtesy of the Argentine Experience]
The communal dining tables are the first clue that the Argentine Experience is very much a group effort. Socializing with your fellow guests is compulsory, and the first act of team bonding is to put on a checked apron and chefs hat, ready for action. Our first task was to prepare empanadas (the ubiquitous little savory pastry pies that are usually filled with minced beef). With bowls full of slow-cooked beef stew, onions cooked in Malbec, vegetarian ratatouille and cheese in front of us it was difficult to heed our host Richard's advice not to overfill the empanadas. He showed us how to seal them and fold the pastry in the traditional way.
With our empanadas cooking in the oven, our next challenge was a creative one: the novelty empanada competition. Entries ranged from a recreation of Maradona's 'hand of God' goal to a dinosaur, the winner being a graceful, meat and onion filled ballerina. The winner received a jar of homemade chimichurri sauce and eternal glory in the form of a place on the Argentine Experience empanada wall of fame.
Twenty-four hour steak-out
As the Malbec flowed freely and mini dishes of provoleta cheese and choripan were brought out, we exchanged travel stories and talked to our hosts about Argentinian football. Then, proceedings were brought to a hushed standstill as the evening's star guest was introduced.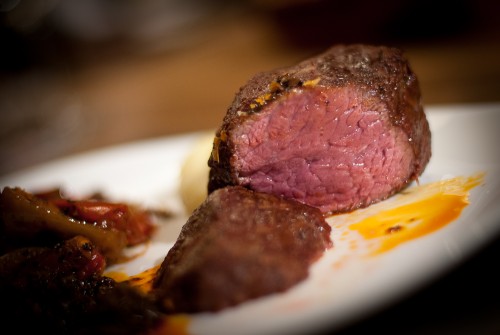 [Photo credit: courtesy of the Argentine Experience]
The steak, Richard explained, had been subject to an extensive screening process. Owner Leon had embarked on a six month pilgrimage across Argentina, tirelessly visiting cattle ranches in search of the perfect beef. The tenderness of the fillet steak we were to eat, he continued, was the result of a finely-honed 24 hour preparation process, involving leaving the meat uncovered in the fridge overnight before flash frying in a hot pan to seal the juices, then flipping it rapidly to ensure an even distribution of meaty juices. For this reason it could well be the most tender meat we had ever eaten, Richard concluded with a flourish, as drool ran from the corners of our mouths.
Naturally, such a steak deserved a serious wine to accompany it, so we would be served a deeper, more full-bodied Malbec. As we ate our main course, the intelligent conversation of earlier in the evening was replaced by a series of grunts and munching sounds. Nobody was disappointed with their steak.
Note: Fish and vegetarian options are also offered, and those who went for them on the night were very impressed with the quality of those dishes. 
Post dinner parlor games

[Photo credit: courtesy of the Argentine Experience]
And so in a Malbec and steak induced state of bliss we were entertained by tutorials and practice sessions on Argentinian hand gestures, preparing mate and making alfajores (dulce de leche filled, chocolate covered biscuits).
Those of us for whom the bottomless wine had made everything a little hazy were reassured to learn that note-taking would not be necessary; an Argentine Experience aftercare email with all the essentials would arrive the next day. So there would be no excuse not to put our new cocktail-shaking, empanada-baking, alfajor-making, mate ritual-partaking and hand gesture mickey-taking skills into action. Try saying that after one too many glasses of Malbec!
For more on the Argentine Experience, check out Cara from Anuva Wine's write up, this post by Tim Fitzgerald on the BBC travel blog, Not quite Nigella's thoughts here and this post by Alison Westwood on the Getaway blog.
Location of the Argentine Experience in Buenos Aires
The Argentine Experience, Fitz Roy 2110 (between Soler and Guatemala), Palermo Hollywood
El Ingles who took all the buses
Daniel Tunnard was born in Sheffield in England, grew-up in nearby Stockport, and first came to Buenos Aires in 1999.  A writer and translator, he has written a book about taking all 140 bus routes in Buenos Aires.  He lives in Belgrano with his wife and three cats. But most importantly of all, he is the first subject in a series of BuenosTours interviews with interesting expats/locals (of which Daniel is arguably both).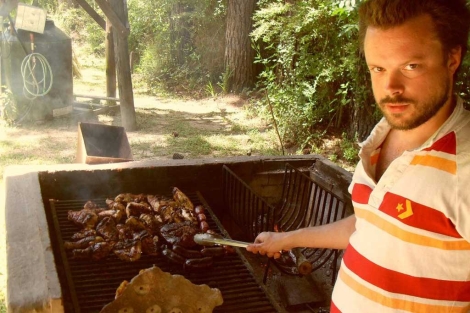 [Photo Credit: Daniel Tunnard]
Why did you first come to Buenos Aires and why did you stay?
I was on holiday in Asunción in Paraguay and I needed to get to Montevideo in Uruguay where I was studying on my year abroad. I spent three nights at the Del Aguila hostel in La Paternal. I met my first wife on the second night there.
What's your daily routine?
Exactly the same as the middle section of The Beatles' 'Day in the Life', minus the comb.
What is your favorite way to spend a Sunday in Buenos Aires?
I like nothing more than to watch Southampton Football Club lose with Buenos Tours chief A-Jelly while enjoying a pint at the Gibraltar pub (Peru 895) in San Telmo.
Where do you go for a romantic night out in Buenos Aires?
If it's just me and Alan J, CEO of BuenosTours any number of gentlemen's clubs along Reconquista street. If I'm with the wife, nothing says romance more than a quiet night in with a wheel of cheese.
[Photo credit: http://www.flickr.com/photos/bdorfman/108918489//CC BY 2.0]
Do you have any collections?
Yes. I have a collection of bus tickets from every bus line in Buenos Aires.
What is your exercise routine?
When are you going to ask me about my book "Colectivaizeishon, one man's pointless quest to take all the buses in Buenos Aires?"
What is your favorite book, and why?
I thought you'd never ask. It's "Colectivaizeishon, one man's pointless quest to take all the buses in Buenos Aires." It's being published by Random House Mondadori in Argentina in 2013. But in Spanish. Yes, my first book to be published is one I wrote in my third language. But enough about me. Ask me about my favorite film.
What is your favorite film, and why?
If I had to choose one, I'd have to say the documentary "Colectivaizeishon, one man's pointless quest to take all the buses in Buenos Aires". "A Serious Man" and "You've Got Mail" are quite good too.
[Photo credit: http://www.flickr.com/photos/pedroalonso/6300964505/ /CC BY 2.0]
What are your favorite websites and blogs?
I've been reading a lot of good stuff on themillions.com and newyorker.com/books.
Obviously, I regularly read pickupthefork.com (fantastic local food blog) and quietly and jealously seethe at the popularity of its author.
What are the most played songs in your music collection?
I have often wondered what juicy statistics I would now have at hand if I had gone through with my idea aged 15 of noting down every song and album I ever listened to at home. I think Queen II and Bowie's Hunky Dorey would be up there. You may like to link to my song for Brian May. Brian May wrote to me to congratulate me on it.
What do you never leave the house without?
A sense of adventure and an elegant timepiece.
What are your earliest memories of Buenos Aires?
I like to think that I was Juan de Garay in a previous life, so I would have to say that my earliest memory of Buenos Aires is the day I founded the bitch. Of course, back in those days we called her "Trinidad".
What is the most unusual thing you have been asked by a stranger in Buenos Aires?
"What is your exercise routine?"
What is your favorite porteño saying or expression?
Any that can be expressed non-verbally.
What three places or things to do would you recommend to a visitor to the city?
Take the 70 or 46 or 23 bus through a villa. Pour wine from a penguin (pictured). Have sex in a telo. In that order.
[Photo credit: http://www.flickr.com/photos/nano/2153928042/ /CC BY 2.0]
What are the best souvenirs or gifts to bring home from Buenos Aires?
Polo ponies make an excellent gift for any small child and are not all that expensive. Failing that, a carton of cigarettes and an amusing fridge magnet.
Any insider tips?
The only snooker table in Buenos Aires is to be found in the basement of 36 Billares on Avenida de Mayo. Anyone who fancies a game can contact me via the blog or twitter @danieltunnard. My highest break is 17, red black red black red. I lost that game 43-17. I highly recommend marrying Argentine women. Psychoanalysis is both rewarding and educational. Do consider osobucco when purchasing your next cut of beef. Simmer for a couple of hours in white wine and your usual condiments. La Tablita on Vidal and José Hernandez in Belgrano has a breathtaking selection of cheeses and cured meats. A large second hand Ken Brown record player, purchased on mercadolibre.com, can give many years of musical pleasure and retro kudos. Buy a house in Tigre and grow a beard. Watch the years fly by. Contemplate the intense flight of the humming bird. Have a quiet night in with a wheel of cheese.
Thank you Daniel! If you are an interesting expat/local in Buenos Aires and would like us to interview you, feel free to get in touch and tell us why.
Get clicking on a creative excursion in Buenos Aires
Walking around a city as photogenic as Buenos Aires without a camera can be a frustrating experience, and never more so than when you are overtaken by a man on a bicycle, talking on his mobile phone while simultaneously walking five variously sized dogs, their leads straining as they struggle to keep up. Watching him wobble down the cycle lane past picturesque old buildings covered in graffiti, even the least enthusiastic photographer will be gripped by the desire to capture the scene on camera.
For those hoping to hone their snapping skills while in town, Foto Ruta organizes photography-based weekly events that are one part photography workshop, one part (unguided) city tour.
[Photo credit: Foto Ruta Facebook page]
Snap happy
Each Saturday Foto-Ruta holds an afternoon excursion in that week's nominated neighborhood, usually San Telmo, Palermo or Villa Crespo (check the diary page on the website for the schedule). It is a chance pick up some picture-taking tips and explore that area of city in the company of other photography enthusiasts, who range from SRL wielding semi-pros to point-and-click holiday snappers.
In the Villa Crespo neighborhood, the meeting place is a closed doors restaurant in a traditional 'casa chorizo' style house. Unassuming from the outside, the street entrance leads down a narrow passageway to a charming and character-filled space, setting the tone for a day of 'getting under the city's skin'; seeing beyond the superficial to capture the real essence of the neighborhood.
[Photo credit: Foto Ruta Facebook page]
Pre-photography boot camp
Seated around a table scattered with inspirational photography books, the first part of the day is an introduction to the neighborhood and a brief teaching session with Foto Ruta founders Becky from England and Joss from Canada, who is a professional photographer.
With the help of images taken at previous Foto Ruta events, Joss talked us through the concept for the day and gave some photography tips about lines, shape, viewpoint, pattern, movement, light, photographing people and so on – probably pretty basic stuff for some of the group, but all new to me. "The best camera is the one you have with you," she said reassuringly, before sending us out onto the streets armed with a map and a list of words.
Your mission should you choose to accept it…
Our task was to explore the neighborhood in small groups and take photos that corresponded to 10 'clues' – words or phrases such as 'behind bars' and 'follow the leader'. The exercise has as much to do with concepts and creativity as photography skills, prompting us to use our imaginations. Becky and Joss describe it as 'slow tourism'; the idea is to take your time, look closely and see the details that are so often missed when visiting a new city.
[Photo credit: Foto Ruta Facebook page]
Once outside, we immediately began spotting potential shots all around us: a frustrated little boy in an Argentina shirt and superhero cape glaring angrily out onto the street from a gated passageway ('behind bars'), a building almost entirely covered with ivy ('connecting with nature') and a labrador with a luminous bow in her hair crossing Avenida Corrientes ('fluorescent female'). Working together to track down the clues while wandering around the neighborhood and stopping to chat to the people we asked to photograph, it felt like a completely fresh way of experiencing the city.
[Photo credit: Foto Ruta Facebook page]
From clicking cameras to chinking wine glasses
After two hours on the streets taking pictures, we reconvened in the closed doors restaurant to select the best shot to represent each clue from each group. While we selected and uploaded, we were served a glass of red or white wine, and finally we watched a slide show of the photos taken by each group, with feedback and comments from Joss. It was clear from the range of shots that we had all risen to the challenge and really captured the essence of Villa Crespo. So next time a leather-clad gaucho clutching a Starbucks frappuccino walks past me I'll be ready.
In addition to the weekly event, Foto Ruta also holds Academia guided photography tours and iPhoneography tours in Buenos Aires and Santiago de Chile.  To find out more go to http://foto-ruta.com/
For more articles about Foto Ruta, see Tim Fitzgerald's post on the BBC Passport travel blog,  this post on The Argentina Independent, this report from the Buenos Aires Herald and this post by travel writer Michael Turtle.
Location of the neighborhood of Villa Crespo in Buenos Aires
Buenos Aires: Is Fro Yo the new gelato?

[Photo credit: from the Top It Facebook page]
At its hottest and most humid Buenos Aires can feel like a sauna and even a gentle stroll can leave you in serious need of a cooling pit-stop. But another ice cream? Really? Sometimes it is possible to have too much of a good thing, and if all those steaks and empanadas are making your waistband feel tight you might want to consider opting for a frozen yogurt from Top It in Palermo Soho. It's fat and additive free and contains only 100 calories per portion.

[Photo credit: from the Top It Facebook page]
You can't top this
But a trip to Top It is not just for the pious. Not only is the frozen yogurt guilt free, it's also delicious. There are only two flavors – original and a seasonal fruit flavor (e.g. peach or passion fruit) – but, as the name Top It suggests, the variety comes from the choice of toppings. Choose three or four revelations or the yogurt churning machine and then decide what you want on top. There are more than 20 different options, including fresh mango, kiwi, strawberry and chopped nuts.

[Photo credit: from the Top It Facebook page]
Frozen Yoghurt delivery
You can order your frozen yogurt to take-away, enjoy the air conditioned coolness and eat inside the air conditioned shop in Palermo Soho with its bright seating area and shiny perspex covered walls, or bask in the sun on one of the pavement deckchairs. For those days when leaving the house is unappealing, there is also a delivery service. Top It has proved so popular since it opened in October 2010 that it is now available in two branches of sandwich joint Open Kitchen on Reconquista 620 and 1054 in the city center and there is talk of further branches. It seems like frozen yogurt is fast becoming the city's newest (and fairly virtuous) addiction.
For more about Top It take a look at this post on the BSAS ARGENTINA blog.
Location of Top It in Palermo Soho
Top It Frozen Yogurt, Gorriti 4721 (near corner with Malabia), Palermo Soho
Telephone: 4833 2260,  Website: http://topit.com.ar/
Soak in the atmosphere of San Juan y Boedo Antiguo
[Photo credit: Gobierno de la Ciudad de Buenos Aires Flickr account/ /CC BY 2.0]
The corner of San Juan and Boedo, made famous by the tango singer Homero Manzi in the opening lines of his song Sur ('San Juan y Boedo antiguo, y todo el cielo' – 'Old San Juan and Boedo, and all the sky') is the site of a café (now a tango show by night) that was a gathering place for local left-leaning writers and intellectuals in the 1920s. Close to the corner are a number of cafes and restaurants well worth the 20 minute trip from downtown or 30 minutes from Palermo, including Pan y Arte, Cossab and Cafe Margot.
Boedo: Barrio on the rise
You might hear Boedo touted as Buenos Aires' most up-and-coming neighbourhood, with its burgeoning arts scene, old school milongas (Tango dance halls) and claims to be the bona fide birthplace of the Tango. Although the idea that this traditional barrio is on the road to Palermo Soho style development might strike fear into the hearts of those who love it, for now at least it has retained an authentic, residential feel.
[Photo credit: http://www.flickr.com/photos/jglsongs/2227925169/ /CC BY 2.0]
Mingle with the locals at Café Margot
Café Margot was first opened in 1904 and recently completed renovation work has restored the café's exterior to its former glory. Inside, Café Margot is enchanting, with whole hams hanging from the ceiling, exhibitions by local artists on the walls and waiters in waistcoats swerving around closely packed wooden tables, balancing trays of coffees and medialunas (croissants) or bottles of beer and baskets of monkey nuts.
But forget the inside. On a warm summer's evening in the city there are few better places to be than sitting at a pavement table outside Margot drinking a cold beer and eating picadas (a shared plate of food to pick on such as olives, salami, ham and olives). Also recommended are the sandwiches de pavita (turkey, the house special) and, when they have them, the empanadas de parrilla (empanadas filled with slices of steak).
For more reviews of Cafe Margot, check out this blog post by Foodie in BsAs and Dan at Saltshaker's turkey-tastic review.
Location of  Café Margot in Boedo, Buenos Aires
Café Margot, Avenida Boedo 857 (corner with San Ignacio), Boedo
Telephone: 4957-0001